Though only recently promoted to the formal Primavera side, Rossoneri right back Raoul Bellanova looks set to become one of Italy's premier young defenders.
The art of the defensive fullback is quickly being forgotten in contemporary football. The plethora of quick modern wingers making their home on the flanks need support from behind, and as clubs shift their tactics to exploiting the offensive connection between defender and winger, the line between a fullback and a wide midfielder becomes more and more blurred. Even in Italy, the undisputed titan of producing defensive players, flanking defenders are transitioning further up the pitch year after year. Clubs like Sassuolo and Stoke City might still value defensive grit over flashy step overs and rarely accurate crosses, but on the world stage defensive fullbacks have gone nigh-extinct.
Milan's wide defenders are no different. Ignazio Abate, the club's first choice right back since 2009, is almost certainly one of the most offensive-minded defenders of his generation. Mattia De Sciglio, the "new Maldini" of 2012, likewise contributes little to defensive plays. Luca Antonelli and Leonel Vangioni are much the same.
Only Davide Calabria, a product of Milan's academy and one of the stars of the club's new youth revolution, has brought defensive talent to the senior squad's flanks. He averages 3.8 tackles per 90 minutes and has emphatically provided defensive relief for the club's overworked center backs in his 10 Serie A starts this season. Despite only just recently graduating Calabria from the Primavera, there is a new defensive fullback already making a name for himself under the tutelage of Stefano Nava. 17-year-old Raoul Bellanova, a 5'10" defender fresh from Milan's lower academy ranks, is establishing himself as a committed and combative fullback on the right of the back four.
The teenager began attracting attention for overachieving performances with Milan's lower academy tiers at the beginning of last year. Chelsea and Liverpool, among other clubs, were reported to be keeping tabs on the then-15 year old's performances with Milan and Italy's U-17 sides. Thankfully a move never materialized, and the youngster earned himself a promotion to the Primavera side in the fall of 2016.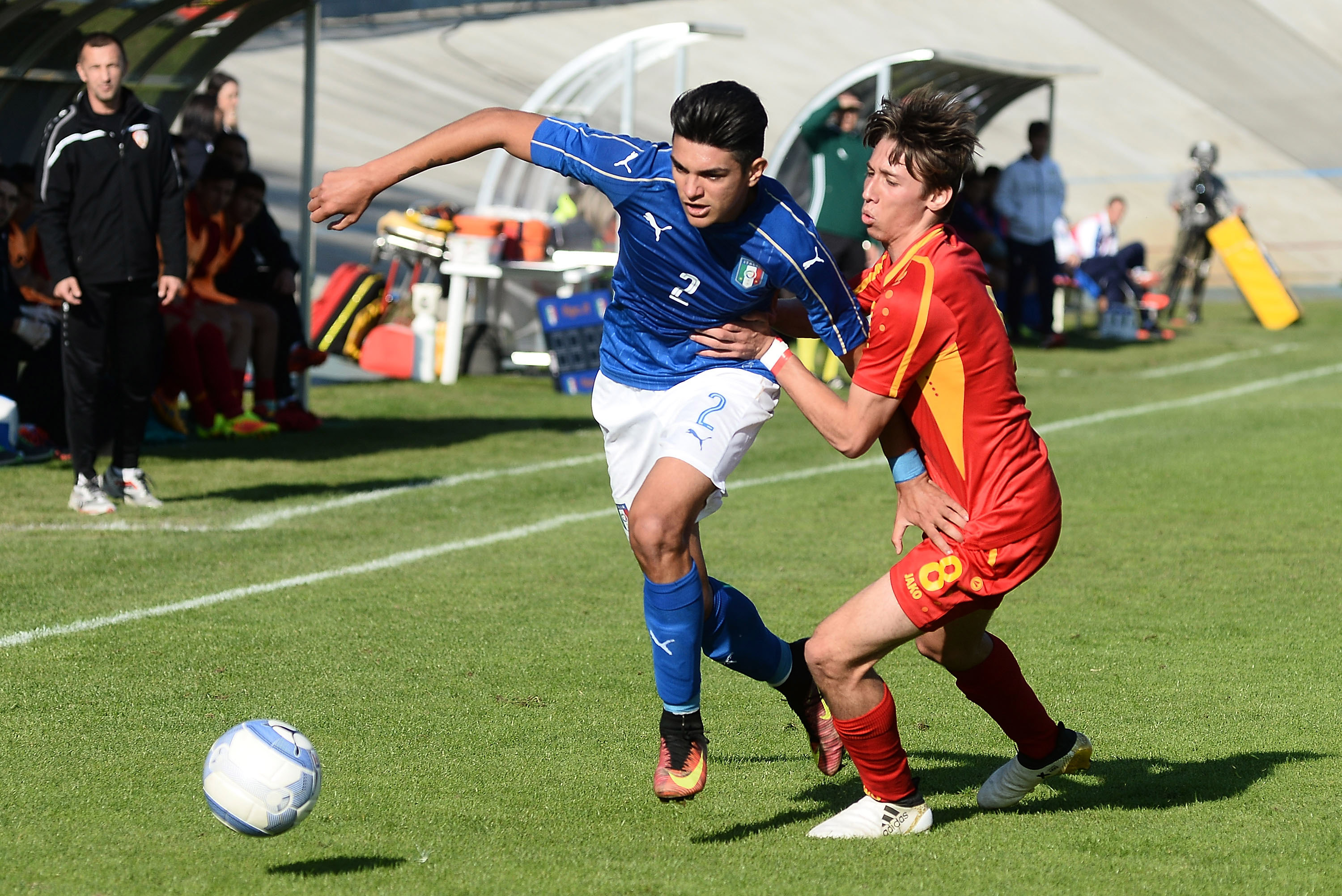 Since moving up in the academy, Bellanova's performances have reflected intelligence and positional awareness that many would be glad to see from players ten years his senior. The teenager's main strengths have grown out of a keen defensive mind, placing emphasis on anticipating opponents' actions and mobility in the back third over forward runs. Out of the 56 defensive duels the youngster was involved in this season, 47 were successful. A success rate of 84% is nothing to sneeze at, even for a youth player, and it is clear that the youngster possesses a knack for disruption opposition play.
When positioning himself off the ball, Bellanova's favored strategy is surprise. More often than not he can be seen tightly marking a player without the ball before a sudden quick sprint into the path of a possession-holding opponent to intercept or disrupt their play. His defensive "jolts" can be likened to the basketball cut in, going from near stationary to a full sprint towards the objective so quickly that opponents don't have time to react. Even if Bellanova doesn't win the ball, the attempt more often than not is enough to stunt a potential goal-scoring sequence, allowing for Milan's Primavera to reorganize and win back possession.
Bellanova's defensive skill comes hand in hand with a tireless work ethic, exemplified in the player's constant tracking on the right flank. The defender frequently involves himself in fast-paced duels with tricky wide midfielders, which normally would not be a problem if Bellanova was a wily attacking fullback used to bombing attacking runs. However he isn't, and this has caused problems for the Italian when coming up against more experienced and developed players. Bellanova has the tenacity to never be far from his man and the vision to anticipate player movement and potential passes, but he simply cannot always physically keep up with some of his speedier opponents.
The right back's solution to coming up against quicker players is to peel off to the side during a duel, intercepting opponents as they inevitably cut in towards the middle and preventing attacks from transitioning to the central lane of the pitch. If the opposition player instead decides to send a cross into the box in lieu of themselves, Bellanova's repositioning closer to the center of the pitch interferes with attempts to get a clean shot or header off in the vicinity of the penalty area.
This strategy has yielded dividends in the junior Italian leagues, where players are not as smart and fall for the defender's tactics more often than not. However, more experienced professionals in Serie A or most other top level football leagues can easily exploit such a move by simply distributing the ball behind Bellanova's run or engaging with a supporting wide player to create a 2 vs 1 situation. There is little the youngster can do to stop a two-on-one advantage, but he can help prevent it through staying closer to a bombing winger and not allowing them to get the necessary space to orient a well-targeted pass.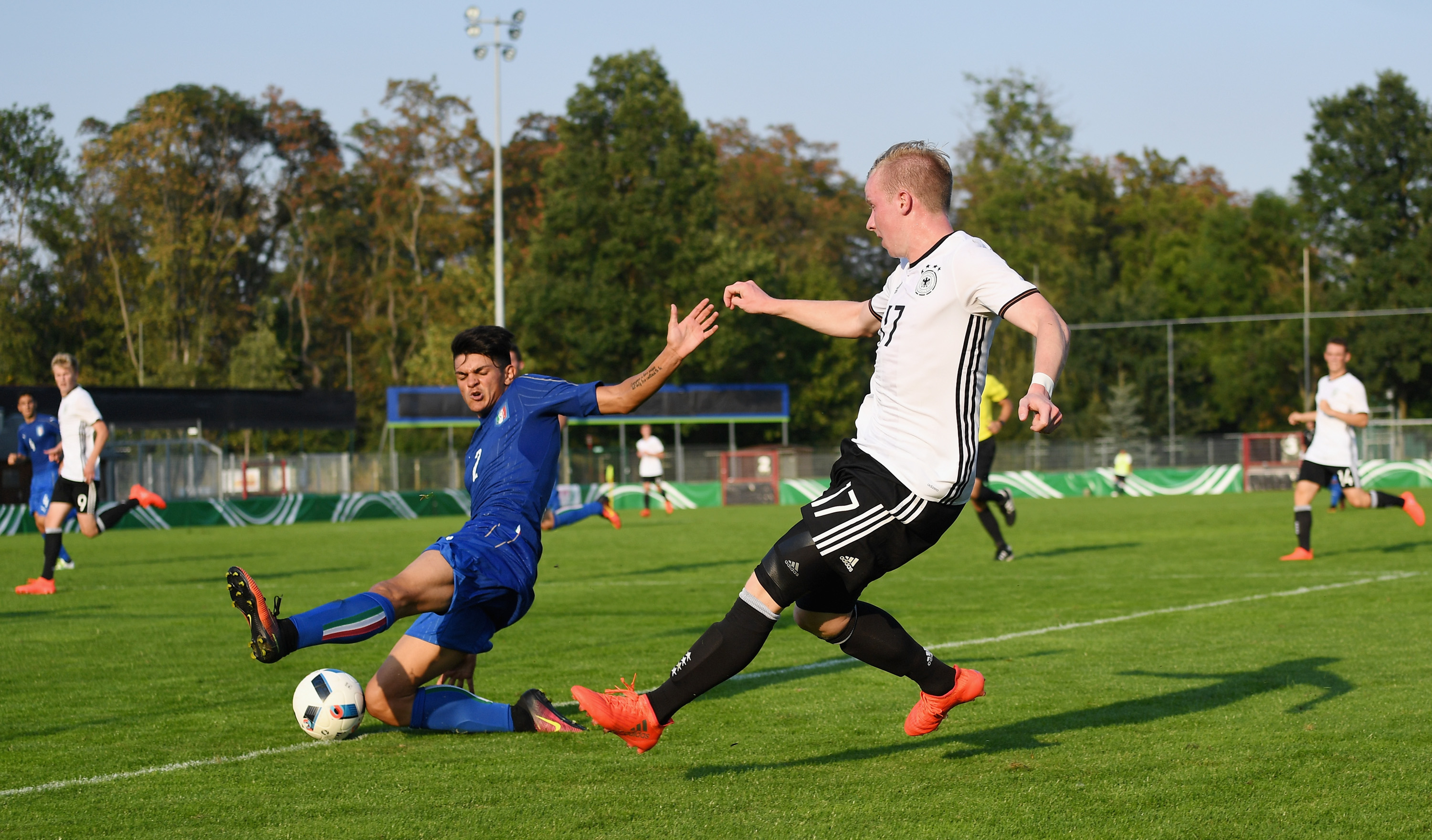 While the 17-year-old clearly demonstrates key defensive qualities, he is also a tidy distributor of possession on the right flank. Completing an average of 37 passes per match at 90% success, Bellanova's skill isn't just in winning the ball back but in his ability to generate attacking sequences immediately afterwards. When synced up with a dynamic wide player like Suso or quick thinking central midfielders (which Milan presently have none of), the right back can become an integral piece of Milan's offensive play creation.
Recent news about Gennaro Gattuso's appointment as the new head coach of Milan's Primavera side presents an excellent opportunity for Bellanova to develop to the next level. Despite being a fullback, He shows glimpses of the same defensive tenacity that made 'Rino' a widely feared player during the 2000s. Defensive coaching from Gattuso can serve to improve Bellanova's grit and encourage the player to make more direct challenges when dueling for possession. While the ex-midfielder's style surely cannot be completely transmitted into a fullback (such a player would see few games without dismissal), Bellanova would do well to adapt the trophy-laden Gattuso's mental toughness and willingness to fight for the Milan shirt.
At 17, Bellanova still has many years before any final judgements on him can be made. However, the recent success of fellow Milan youngsters Gianluigi Donnarumma, Mario Locatelli, and Davide Calabria in breaking into the first team should encourage the right back to stake his claim as a senior team-caliber defender. The raw talent is clearly there, his Primavera performances show as much. The Rossoneri have been hurting defensively for years, and though Ignazio Abate has provided adequate (if never spectacular) cover on the right flank, phasing the Italian international out for an academy gem would be a prudent option for coach Vincenzo Montella to consider.
While the club is now rich and can afford to purchase a replacement in lieu of spending time developing a 17-year-old youngster, Bellanova has shown nothing to demonstrate that he cannot be one of, if not the best young defensive fullback in the world two or three years in the future. The club has not shied away from giving unproven players opportunities to stake their claims on the first team, a strategy which has produced two of the most coveted Italian prospects in years within months of each other. In a couple of seasons, there is no reason why Bellanova cannot join their ranks.