AC Milan missed a plethora of chances and thus claimed just one point from their game against Cremonese this evening. Several players were subpar and down below are the player ratings for the Rossoneri. 
Starting XI
Maignan (6): He couldn't do anything about the goal and apart from that, he was solid both in his goalkeeping and also his passing.
Calabria (5.5): Not his best display as the feeling was the he could have done more when moving forward with the ball. Strong in 1v1s at the back as usual, though.
Kalulu (4.5): He started the game with a lovely assist for Saelemaekers, but the goal was disallowed. Then, on Cremonese's goal, it was really poor defending from him especially since he took out his own teammate (Thiaw) in that situation.
Thiaw (5.5): He was probably one of the best if not the best Milan player out there up until the goal. But he arguably made a big mistake on that along with Kalulu, even if the latter was worse.
Ballo-Toure (5.5): Just like Calabria, not a disastrous display but he also didn't add enough for Milan when going forward.
Vranckx (5): The passing was too poor from him this evening and aside from a few good turns, it was a disappointing evening indeed.
Bennacer (6): It was strange that Pioli took him off at half-time, seeing as the Algerian dictated the play and did so well. Hopefully, he didn't pick up an injury or something.
Saelemaekers (6.5 – MOTM): He was very bright from the beginning and the disallowed goal was almost perfect (only his shoulder was offside). He created the most chances for Milan this evening and looked great on the ball. He should have had an assist when Diaz somehow missed.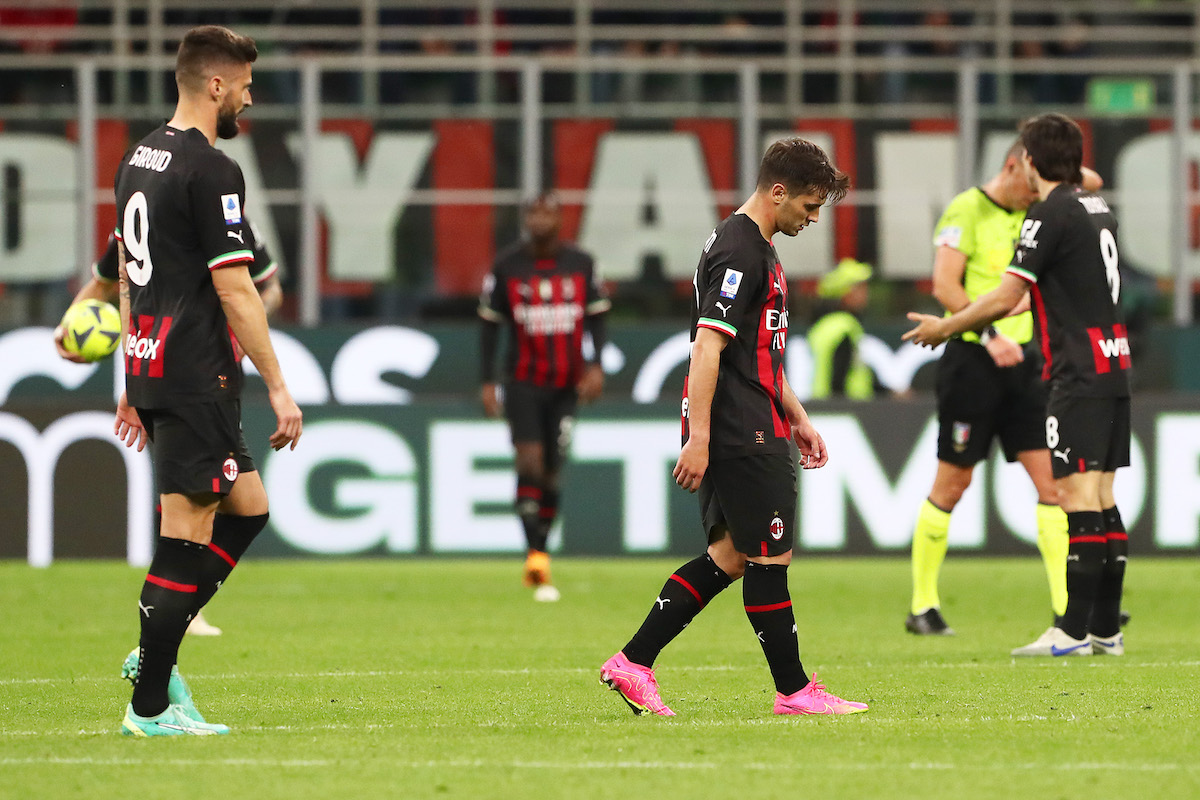 Diaz (4.5): How did he miss? Point-blank range, he just needed to keep the header down. It cost Milan the win and he also missed another good chance shortly after that.
Origi (6): A huge step forward for the former Liverpool man this evening as he not only created a few chances with some quick turns, but also had a couple of efforts that troubled the goalkeeper.
De Ketelaere (5.5): He looked more confident out there tonight as he at least made himself more available and managed to hold onto the ball. But he missed a big 1v1 chance in the first half, although it was a good intervention by the keeper too.
Substitutes
Krunic (6): He came on and did well in replacing Bennacer as he immediately took control of the game. He had a really good effort that was saved well by the keeper in the dying seconds.
Giroud (5): Not enough off the bench from the experienced striker.
Leao (5.5): He did really well to set Diaz up a few minutes after coming on but he then proceeded to fail with all of his crosses.
Tonali (6): He did his job in the minutes he had on the pitch.
Messias (6): Could have been a shout for MOTM (I guess) seeing as he won the free-kick and then converted it, although it took a deflection on the way. He got the goal by the league, though.