AC Milan failed to build on their Champions League success and thus fueled the top-four worries, drawing 1-1 against Salernitana at San Siro tonight. Down below are the player ratings for the Rossoneri. 
Starting XI
Maignan (6.5): He made an incredible tackle to deny Salernitana what should have been a goal after a 1v1. He could do much about the goal, to be honest.
Kalulu (6): He was an important player for Milan in both phases of the game tonight, even if there was indeed a breakdown on the goal conceded. Milan created the most when he pushed up in attack.
Thiaw (4.5): Not a good evening for him, unfortunately. He made a big error that preceded the fantastic Maignan tackle and he chose the wrong man to mark on the goal. One can understand why he made that choice, but clearly he needed to pick up Dia there.
Tomori (5.5): He made a couple of rash fouls this evening and the positioning wasn't always the best. He could have tracked back faster on the goal, but just in general he wasn't the one we saw against Spurs.
Saelemaekers (5.5): A couple of good moments here and there, but not enough contribution in the end. Diaz didn't pass him that often, even if he was in a good position, but he didn't do much on the ball either.
Bennacer (6.5): He started the game very poorly with several misplaced passes but grew into it, assisting Giroud for the goal with a lovely corner. He then had a couple of good chances that were nearly converted.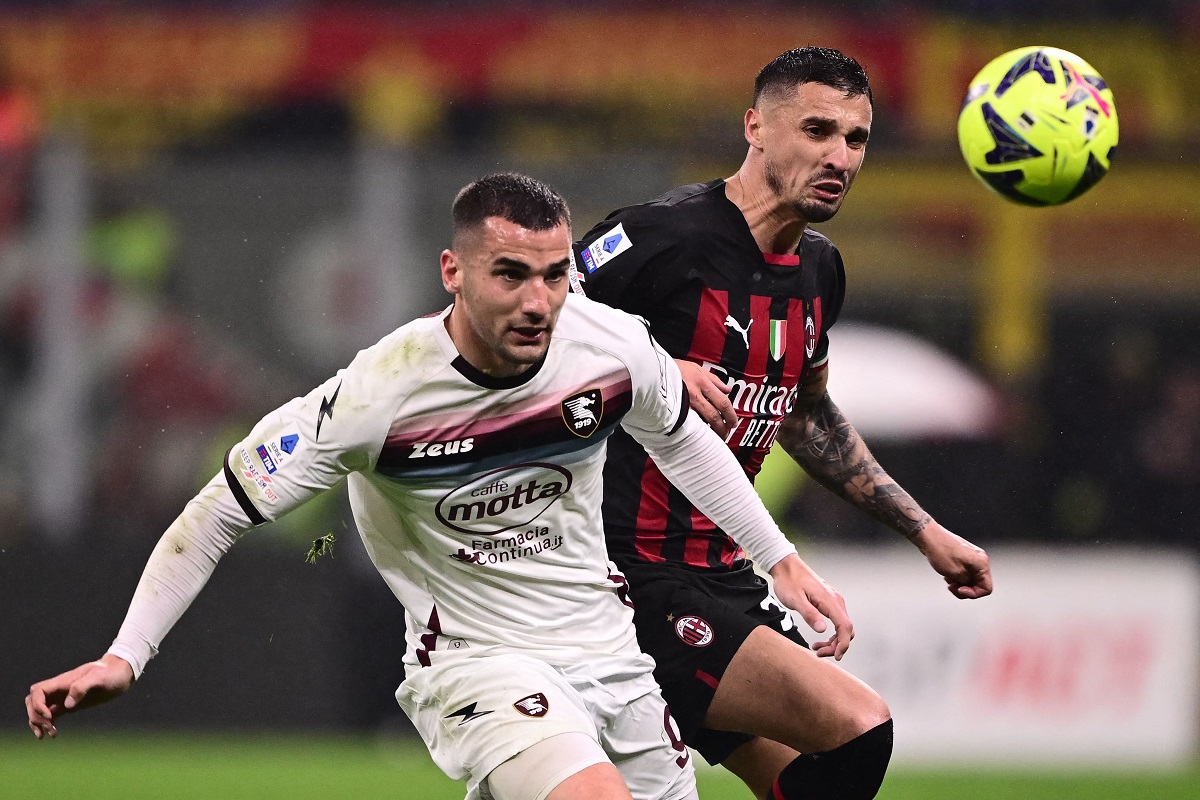 Krunic (7 – MOTM): He was the one constant this evening. He was good from start to finish and did a lot of the dirty work for Milan. In the first half, he also made a crucial block to deny the guests a certain goal. He needs to continue like this.
Hernandez (6): If he had played like he did when Leao went off all game, then the rating would have been higher. He was simply too shy when the Portuguese winger was on the pitch and didn't push up enough (maybe tactical reasons).
Diaz (5.5): He did quite well in the first half and helped Milan break down a tough Salernitana defence. Unfortunately, he faded completely in the second half and this didn't help the team.
Giroud (6.5): He got the crucial goal with a nice header and came close with an overhead kick as well. For a higher rating and the MOTM award, though, he needed to do better in open play.
Leao (3.5): Horrendous from him this evening, truth be told. He made plenty of poor decisions and also failed to create anything when he got into good positions. Everything went wrong. His poor form is now a fact.
Substitutes
Ibrahimovic (6): He won made duels and had a shot that was saved by the keeper in the dying minutes of the game.
De Ketelaere (5.5): He lost a couple of duels and won some, making for a rather uneventful evening for him.
Origi (5.5): Came close to scoring with a chested effort but the keeper did well. Apart from that, though, he wasn't brilliant on the ball.
Florenzi (N/A): It was nice to see him back but he didn't play enough to be properly assessed. Nearly scored a goal but was denied by Kalulu (who had no idea of it).
Tonali (N/A): He didn't play enough to get a rating.