Despite a plethora of chances, AC Milan failed to find the back of the net in the first leg of the Coppa Italia semi-final against Inter this evening. Down below are the player ratings of the Rossoneri. 
Starting XI
Maignan (6): He wasn't called into action that many times but when he was, he did really well. His distribution was also very good this evening and you can't fault him for his performance.
Florenzi (6): His experience was seen on many occasions and unlike when Calabria plays, we saw a lot of balls in behind the defence. Almost every time, the Roma loanee was successful with those. In addition, he did well in defence.
Tomori (6.5): He kept the Inter attackers very quiet this evening and didn't make any mistakes in his defensive duties. He was also solid when it came to the build-up phase, not afraid to his use left foot either.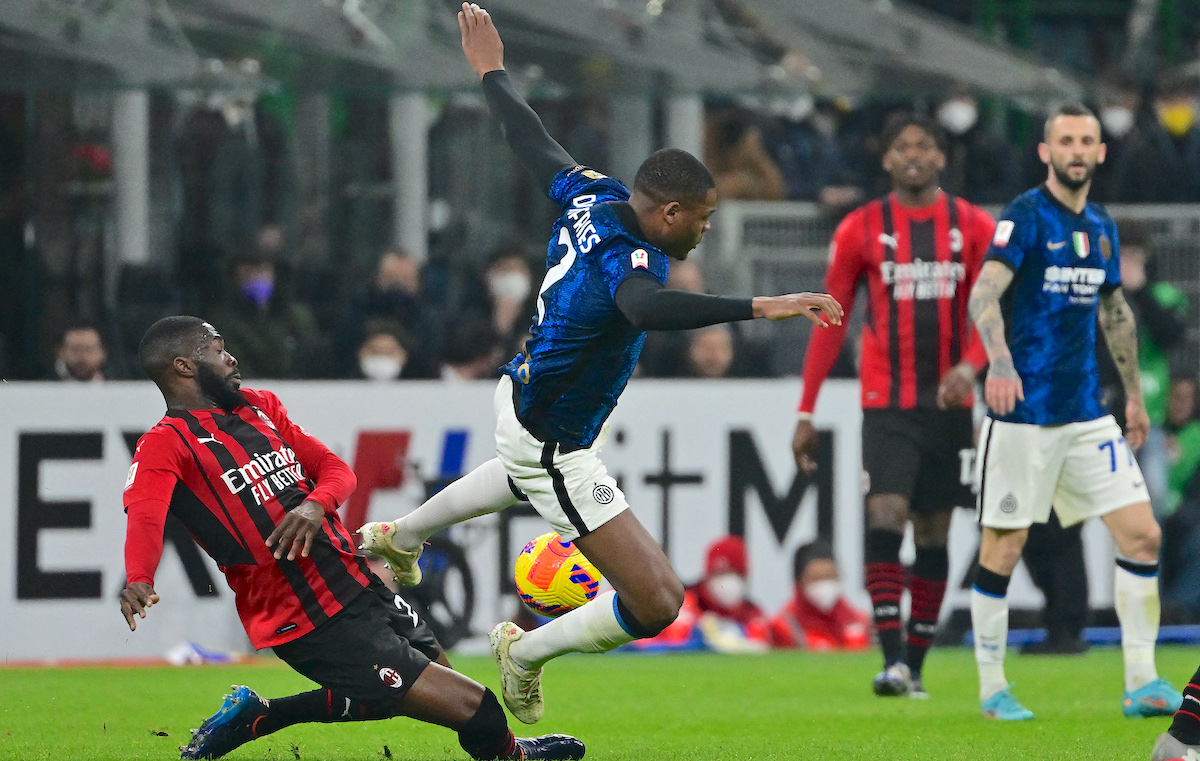 Romagnoli (N/A): He was subbed off after just 26 minutes due to an injury and that's why he hasn't been given a rating. The first reports suggest that it's a muscular injury.
Hernandez (6): It's tough to assess his performance as while he did have a few good runs on the left flank, he wasn't that involved when looking at the game as a whole. But defensively he kept Dumfries quiet and that could prove very important for the second leg.
Bennacer (5.5): Don't get me wrong, overall, the midfielder did what was required of him. He could have improved his rating with more precise passing, though, as some good opportunities were wasted because of the pass being just a tad too short or long. They got there, but could have been better.
Kessie (6): There has been a lot of criticism for this man in the last few weeks and while it may be justified for the contractual situation, he has done quite well on the pitch lately. Tonight was another imposing performance and his passing was also solid.
Saelemaekers (5): The youngster had two very good opportunities to give Milan the lead but his finishing simply wasn't good enough. It was painfully clear tonight that he isn't very prolific and he topped that off with a few poor crosses.
Krunic (5.5): Most of the fans will say that he didn't really do that much and while that was true in the attacking phase, he was very important in the defensive one. He kept Brozovic very quiet and if he had just been a bit more composed on the ball, the rating would have been higher.
Leao (6): When he gets going, it's impossible to stop him. He had a few good runs and one good effort that was saved by Handanovic. He kind of faded and it was right to take him off in the end, but it's also clear he's a big threat.
Giroud (6): He just about gets a six for this as when he did get into good positions, he was mostly let down by his teammates. Either the passes to him were poor, or his teammates failed to convert his passes (that were good, to be honest).
Substitutes
Kalulu (6.5): He was really good, coming off the bench to replace the injured Romagnoli. He kept Dzeko from scoring an easy tap-in with a lovely last-minute interception and also showed off his skills when driving forward with the ball.
Rebic (5): Once again, his display off the bench can be summarised as many sloppy passes and just an overall sense of being really out of form. He just needs to find that one elusive goal or assist.
Messias (6): He did well when in possession and tried his luck with a curler that went wide. With a bit more time, perhaps he would have been able to create something dangerous.
Diaz (6): It was yet another good performance against Inter off the bench, as (perhaps due to the tiredness of Inter) he was able to win some challenges and set up some chances.
Calabria (N/A): He didn't play enough to get a rating.
---
READ MORE – AC Milan 0-0 Inter: Wasteful Rossoneri held to a draw in first leg of semi-final