AC Milan managed to get the job done this evening, despite so many absences, beating Roma by three goals to one. Several players did really well and down below are the player ratings of the Rossoneri. 
Starting XI
Maignan (8 – MOTM): He made several incredible saves this evening, including a stunning reflex save on Abraham, and at one point he really preserved the lead on his own. He very much deserved the MOTM.
Florenzi (6.5): Experienced performance from the Roma loanee, shutting down most attacks in defence. He also added pace when going forward, also winning the ball high up thanks to that. He had a lovely free-kick that hit the crossbar, as well.
Kalulu (6.5): It must be said, considering that he's more comfortable at right-back it was a good performance. Solid in most duels and also had the courage to keep the ball/pass it in the right moments. Had one slip-up which, fortunately, didn't result in a goal conceded.
Gabbia (6.5): He has looked shaky this season but tonight was completely different. He won many duels both aerially and on the ground, which was nice to see. He sent the long ball for Leao's goal as well, which is a plus.
Hernandez (7): He was the captain of the evening and it was indeed a strong performance from him. He 'won' the penalty with a nice shot and also got Karsdorp sent off thanks to a run forward (and also the first yellow card).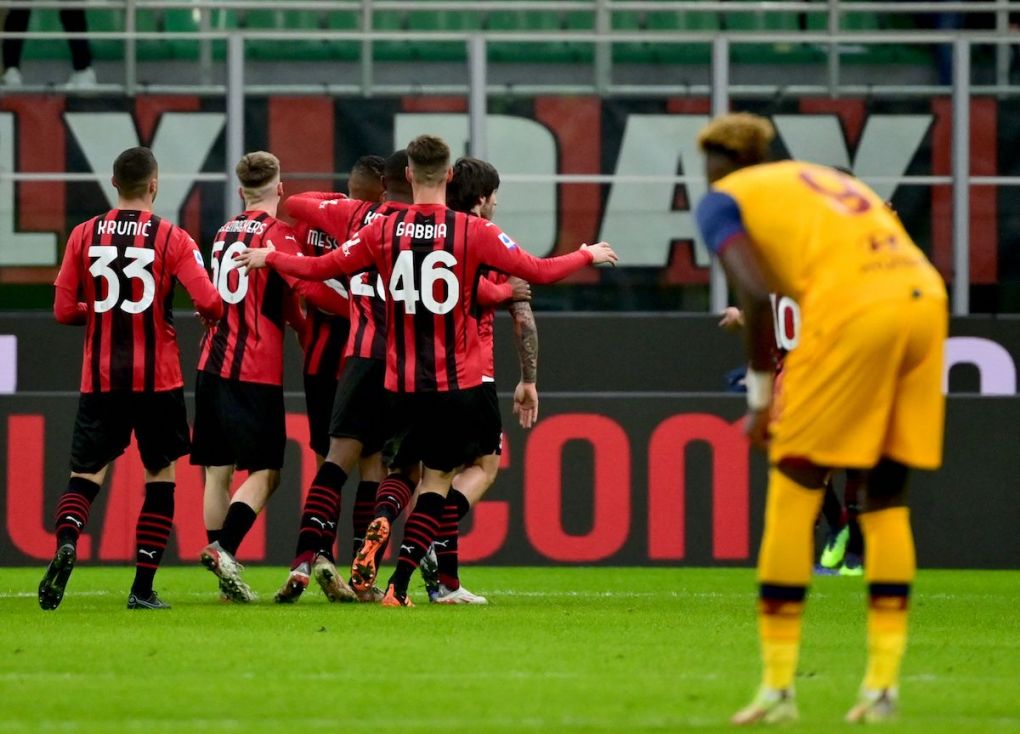 Krunic (5.5): It could have been a better rating for him tonight, as he did well positionally, but he was a bit too sloppy with his feet. He also had a decent chance to score but opted to take one touch too many.
Tonali (6.5): He started the game by winning a duel that wasn't super easy. And that set the tone for the rest of the clash, often finding himself with space on the ball thanks to his positioning. A very good display.
Messias (7): He got on the scoresheet with a nice finish (his fourth goal for the club) and he had a clear advantage on the right-hand side. That worked out well for Milan as they were able to work down that flank.
Diaz (6): He looked a tad better in-play tonight (getting away with the ball a few more times) and he nearly got on the scoresheet with an absolute rocket, which hit the crossbar. The final piece is still missing though.
Saelemaekers (5.5): He didn't really have an impact on the game. He made things a bit too difficult when on the ball and that affected his presence on the pitch. A shame, after such a good display vs. Empoli.
Giroud (7): He got back on the scoresheet with a secure penalty (perhaps he can teach Ibrahimovic) and he also helped create the second goal, although he hit the post with his effort.
Substitutes
Bakayoko (6): He did what was required of him but considering Roma's red card, he couldn't do much wrong although he came on when it was still 11v11. No mistakes tho and solid passing, so it's a 6.
Leao (7.5): Incredible performance off the bench as, in addition to the well-taken goal, he won a penalty and got another Roma man sent off. It was an incredible run that Ibra really should have done more with afterwards.
Conti (5.5): Just like Saelemaekers, we didn't see that much of him this evening (well, we saw him on the ball but it wasn't spectacular nor horrible).
Ibrahimovic (6): It was a nice assist for Leao but he really should've put away the penalty. He hit it in his corner and it was a rather easy save for Rui Patricio.
Maldini (N/A): He didn't play enough to get a rating.
---
READ MORE: AC Milan 3-1 Roma: Giroud, Messias and Leao net as Covid-stricken Rossoneri begin 2022 right