AC Milan broke their run of draws just when they needed it as Olivier Giroud's goal was enough to beat Napoli this evening. Therefore, they are in first place again and down below are the Rossoneri player ratings. 
Starting XI
Maignan (6.5): He didn't have a whole lot to do in terms of saving, bar a few attempts from Osimhem, but he was incredibly good with his feet this evening and that was really needed.
Calabria (5.5): Not the best game from him unfortunately. He was very shaky on the ball, especially in the first half, and that somewhat gave Napoli an advantage on the right-hand side. It might have looked worse if it wasn't for the fact that Milan like to attack on the left. Maybe, just maybe the scuffed shot of an assist could have given him a higher rating.
Kalulu (7.5): Incredible game from the youngster once again, always staying close to Osimhen and the partnership with Tomori was spot on. It's quite astonishing how calm he is with the ball as well, even in tough situations.
Tomori (7.5): Just like his colleague, they did really well to neutralise the Napoli attack and they seemed to have an advantage right until the end. Milan are in safe hands with that centre-back pairing.
Hernandez (7): It was a very good game from the Frenchman who, once again, showed that he has a lot of adrenaline on the pitch. He was involved in quite a lot of attacking moves and also did well in defence, making for a very good overall score.
Tonali (5.5): It wasn't his night unfortunately and that mostly had to do with Napoli's defending, as they applied a high pressure which cut the midfielder off. Rightfully subbed off quite early as his impact wasn't huge.
Bennacer (7): Bar a few shaky moments at the start of the game, he was really good this evening and showed just how good he is with the ball at his feet. The ball seems glued to his left foot sometimes and that's very nice to see.
Messias (6): It was an okay display from the Brazilian with some nice touches and combinations, but there were also a few misplaced passes. Nothing spectacular but certainly not bad either.
Kessie (7): This man deserves a lot of praise for the final stage of the game. In the last 15 minutes, he was quite dominant in the midfield and made use of his incredible stamina to disturb Napoli in their attacking efforts. He also did incredibly well to shield the ball by the corner in the final minute.
Leao (7): His moves opened up a lot of space for Milan and although it didn't result in anything concrete, it was still important to have his x-factor to be able to keep the ball and, most importantly, keep the Napoli defence working.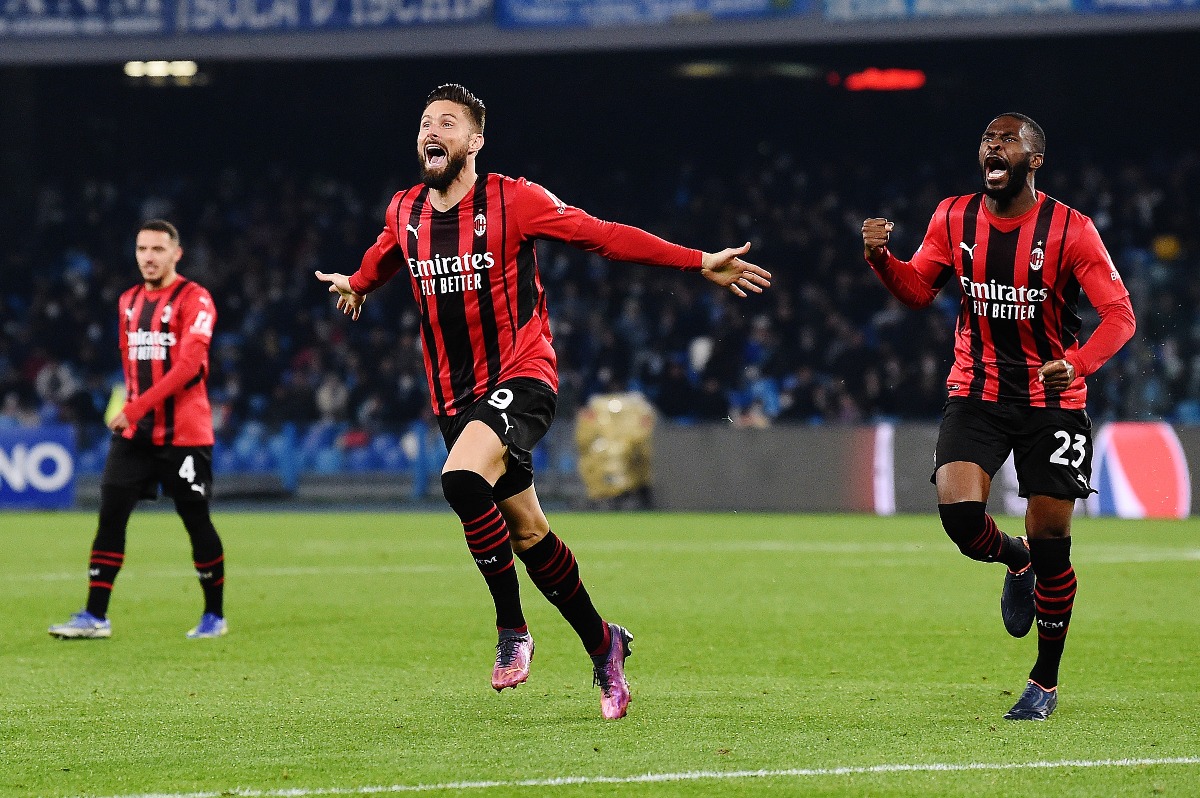 Giroud (7.5 – MOTM): It seemed like a copy of the first goal against Inter as he was once again at the right place at the right time. It was his first goal away from San Siro and it came just when Milan needed it the most.
Substitutes
Rebic (6.5): He looked much better this evening and always applied pressure on the Napoli players. Some of his runs allowed Milan to breathe a little and he should have had an assist in the dying minutes, but Saelemaekers somehow missed.
Krunic (6): It was exactly what you would expect given the circumstances. Pioli clearly brought him on to add physicality and energy, which he successfully did.
Florenzi (6): Just like Krunic, it was a very tactical appearance off the bench and you cannot really complain about that.
Saelemaekers (5.5): While he had some success on the ball, he really should have scored the second for Milan with just a few minutes to go. He was left with just Ospina to beat, with a great angle, but still somehow missed.
Ibrahimovic (N/A): He didn't play enough to get a rating.
---
READ MORE – Napoli 0-1 AC Milan: Giroud decisive again as the Rossoneri go top