AC Milan managed to defend their 1-0 aggregate lead in London tonight and thus knocked out Tottenham of the Champions League, securing their spot in the quarters. Down below are the player ratings for the Rossoneri. 
Starting XI
Maignan (7.5 – MOTM): What. A. Save. It would have been a disaster for Milan to concede that late and the Frenchman really saved them. He was great with his feet as well and commanded the aerial space.
Kalulu (7): A calm performance on the big stage from the youngster, who had no issues with Son on the right flank. He wasn't afraid to move forward either when needed and Pioli can have no complaints.
Thiaw (7): He redeemed himself after the misstep against Fiorentina, more bold this time out with a few good long balls and a sense of calm in possession. Won quite a few duels as well.
Tomori (7.5): A lot was written about him before the game, given his previous club, and he really responded well. He was the leader in defence and allowed Theo to push forward a lot.
Messias (5.5): His positioning wasn't too bad this evening but he had one big chance that he needed to at least get on target. Maybe he could have done something if it hadn't been for the injury, but the sub was looming anyway.
Krunic (6): He had a tough start to the game and especially one moment comes to mind, when he lost the ball even though it looked like he was in complete control. Improved as the game went on and was important defensively.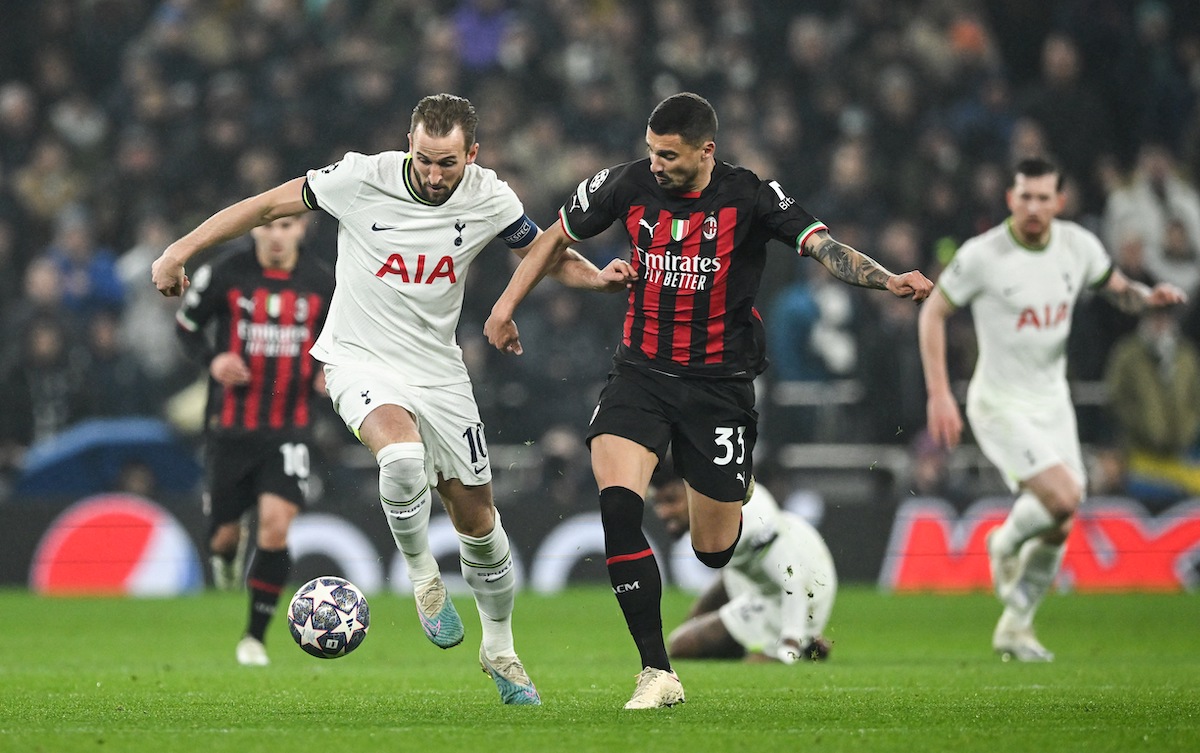 Tonali (6): A lot of running from the midfielder this evening, covering a lot of space and making life difficult for Tottenham. He could have been a bit more effective on the ball, though.
Hernandez (7): He really was Theo 'TGV' Hernandez this evening, returning to his usual level of performance. He was great in defence but also helped Milan in attack, making sure Romero got sent off as well.
Diaz (7.5): He was by far Milan's best player in the first 60 minutes or so. He was involved in everything created in attack and his movement gave the defenders, and midfielders, someone to pass with and break the press. He had one good shot saved and another that he should have hit first time. But kudos.
Giroud (5.5): He won many duels at the star of the game and was important in that sense but he failed too much in the build-up play after that.
Leao (6): It's a tough one because he does create a lot for Milan, but it seems like this isn't really his best position. In any case, his ability to kill time was important in the end.
Substitutes
Saelemaekers (6): Decent off the bench with several interceptions and some skills when moving forward.
Bennacer (6): He was probably instructed to calm things down but he could have pushed a little more at times.
Origi (5.5): Did well to sniff out a couple of chances but missed a great one, hitting the post from close range.
Rebic (N/A): He didn't play enough to get a rating.