AC Milan were held to a frustrating 1-1 draw on Wednesday night against Udinese, with Franck Kessie's last-gasp penalty rescuing a point.
Once again, it was another game where injuries and selection issues appeared to knock Milan's confidence and dent any sense of continuity they were hoping to establish after an impressive win in Rome.
Below is a tactical analysis of the game at San Siro…
Same old problems
As we have documented many times through features and on our podcast, Milan's kryptonite appears to be teams that play a three-man defence and/or pack out the midfield to try and frustrate.
There are a few reasons why this works, but the main ones are that it leaves the centre-forward in isolation unless one of the wingers functions as an inside-forward of sorts, and the second is that it makes it incredibly difficult to move vertically through the thirds at speed, which is a fundamental strength of Milan's style of play.
The image below shows how Luca Gotti's side set up in a compact 3-5-2 formation while off the ball in an attempt to have Milan pass around the wide areas, knowing that with Rafael Leao up front as more of a 'movement-based' centre-forward rather than Zlatan Ibrahimovic and/or Mario Mandzukic, the supply would not be enough.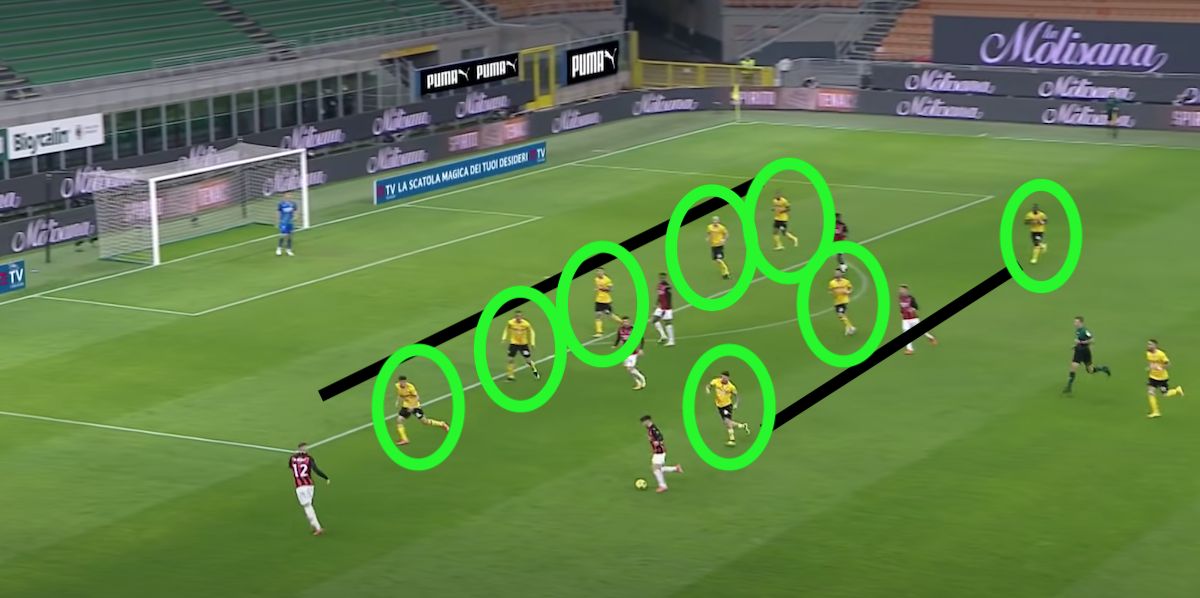 In the first half, Milan prodded and probed with varying degrees of success. They actually did manage to cause Udinese some problems and confusion when a player would move over to one side to try and target the space between the left-sided centre-back and the left wing-back, forming passing triangles with the intention of eventually released Kalulu or Castillejo into a dangerous area near the side of the box.
The image below shows how Milan created the moments of confusion, but that particular 'chance' – as was the case with most openings in the first half – ended with a misplaced pass.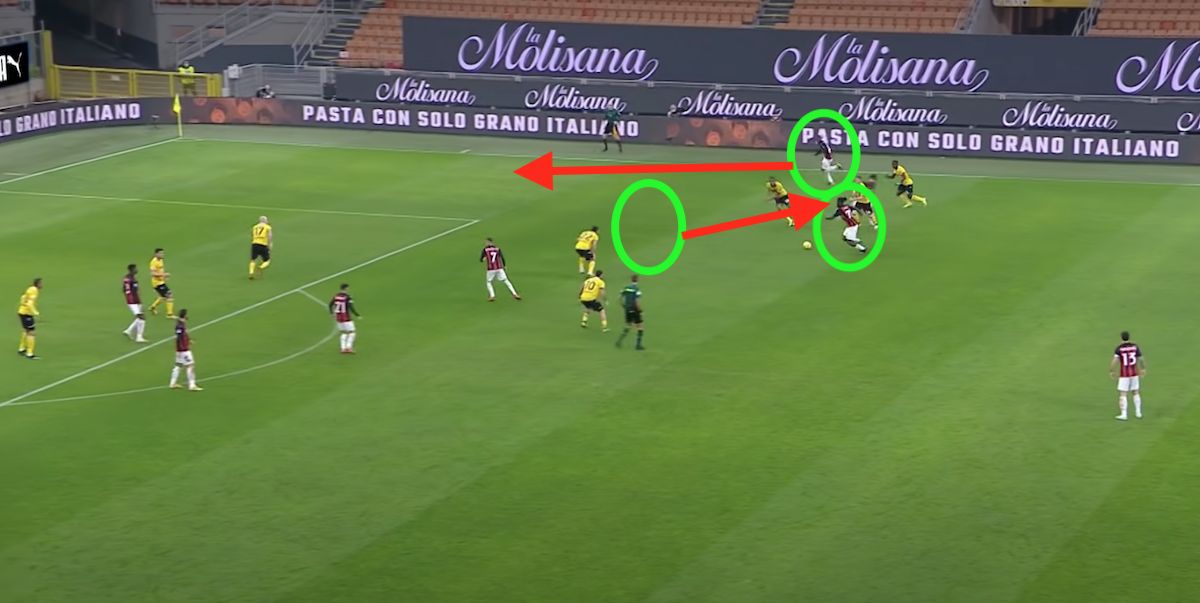 Cutting off the threat
The first thing worth noting about the still below is that Udinese's three centre-backs have Milan's forward options well covered, and they are correctly assuming that neither will run off their shoulder.
Against teams that play a 3-5-2 or a configuration of a three-man defence we have seen Calhanoglu struggle because of the fact he is not press resistance nor the most athletically gifted, meaning he isn't able to quarterback attacks with the usual speed and space he likes.
Brahim Diaz starting for Milan in place of the injured Turk was – at least in theory – a better fit due to the Spaniard's nature to occupy a space between the lines plus his low centre of gravity which allows him to turn and cause panic.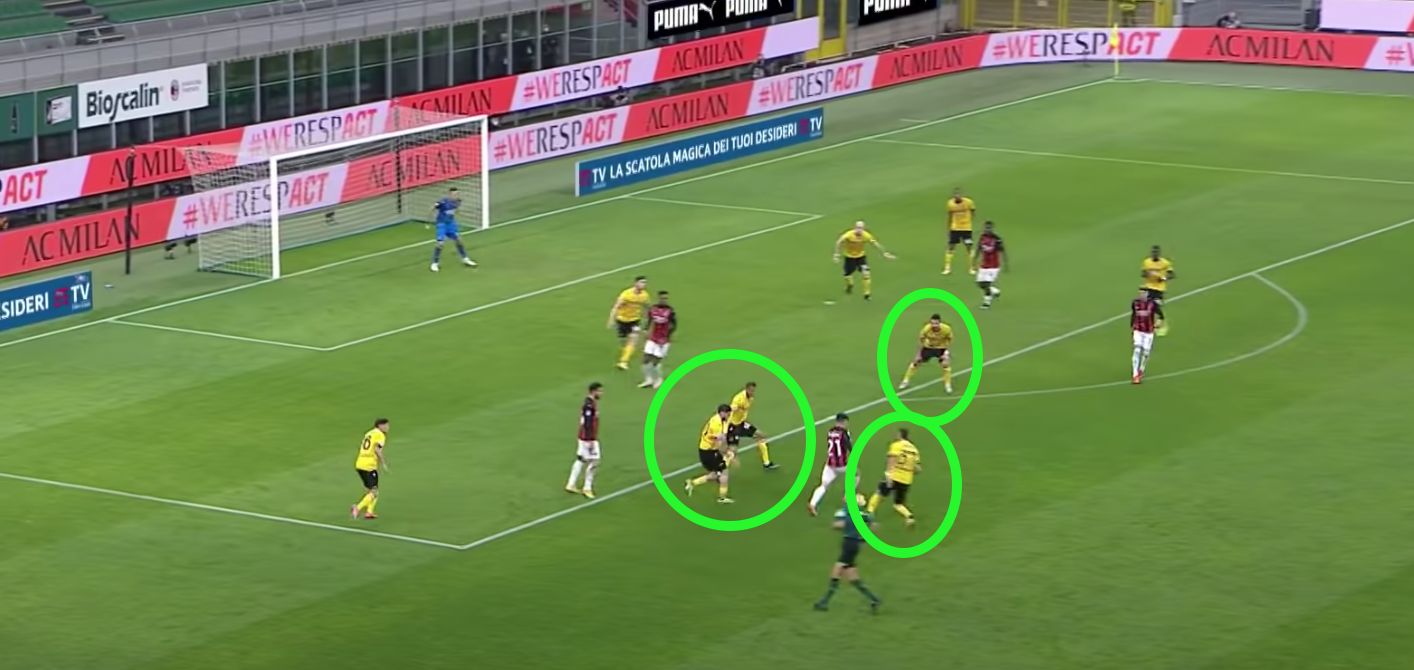 However, it became clear very quickly that whenever Brahim looked like getting the ball or indeed was in possession, the midfield – at this point having made themselves deep and compact to form two banks – would swarm him to stop any chance of him creating anything.
Using every yard
Udinese's attacks were infrequent by nature and not particularly threatening to say they played with two players up front, at least on paper, but their approach was quite an interesting one.
Rather than try and intricately play through Milan with combinations, one-two passing and triangles, they instead attempted to spread themselves as wide as possible and rely on switching the play quickly, as seen below.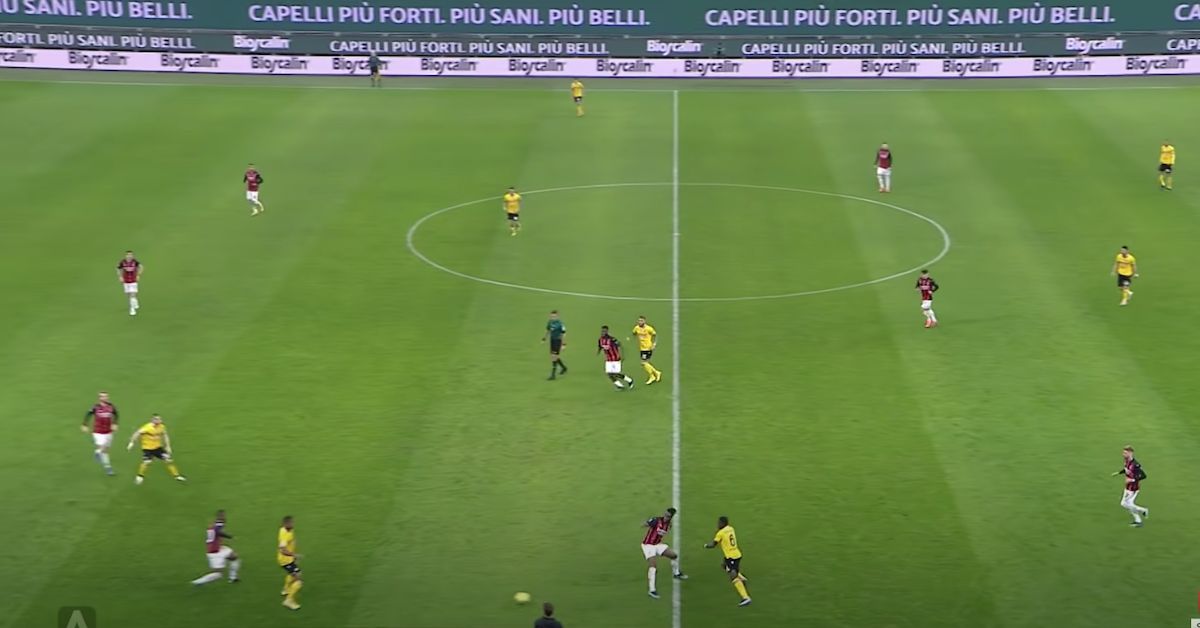 The significance of this is that it is yet another team who have potentially spotted a chink in Milan's armour when it comes to the press. So much of it is geared towards creating overloads on a particular flank and using the touchline as an extra man, but as more and more players commit to it, it creates huge gaps across the field that could have been exploited were it a better opponent playing this system like Inter or Atalanta.
Individual errors nearly costly
An Achilles' Heel for Milan over the past few games is defensive errors costing them goals, which then compromise their entire position within games because Pioli's style of play is one built around getting a lead and building on it rather than chasing a game a goal down.
Below is a sequence that should have ended with Milan trailing in the second half. Theo Hernandez has the ball and is facing goal, being pressured by the wing-back – the blue area is where he should be passing into and is where either Romangoli (though not preferable since he is watching Pereyra) or Donnarumma should be heading to, to boot it clear.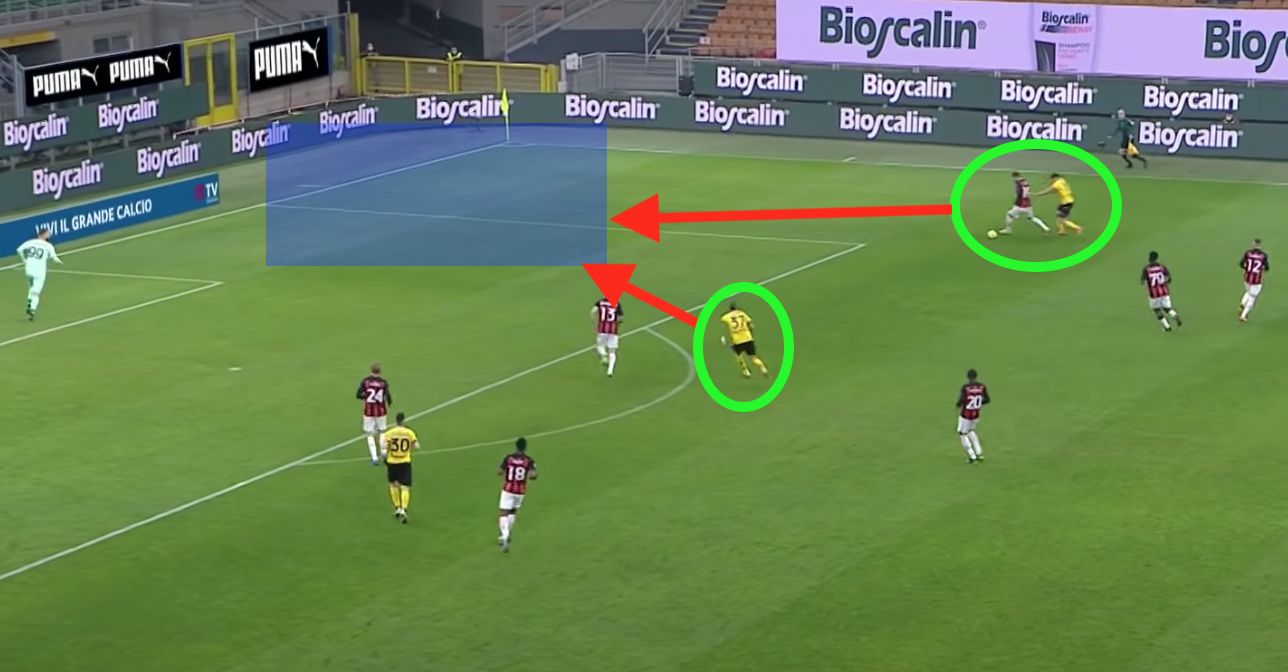 Instead of doing that, Theo rolls a hospital pass in between Donnarumma and Romagnoli that is easy for the Udinese forward to latch onto, and Gigio's momentum means he is unable to prevent himself being rounded nor is he able to stop the cross that comes over. Note how Kjaer is also seemingly unaware of the movements of the man on his shoulder.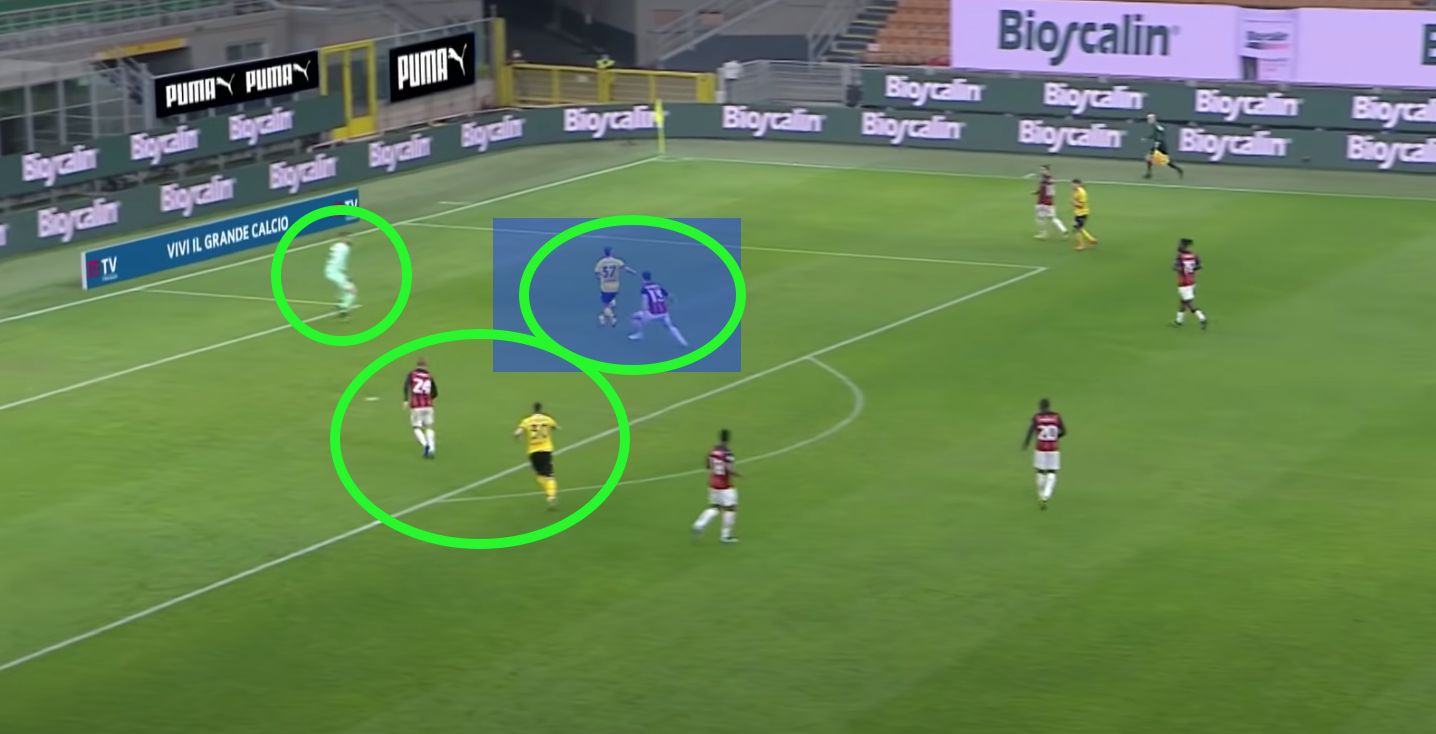 Kjaer then gets stuck in No Man's Land as he neither drops back to protect the goal line (never an instinct, but it served Romagnoli well in the next image) nor does he drop off to ensure that Nesterovski doesn't have a simple easy header into an empty net.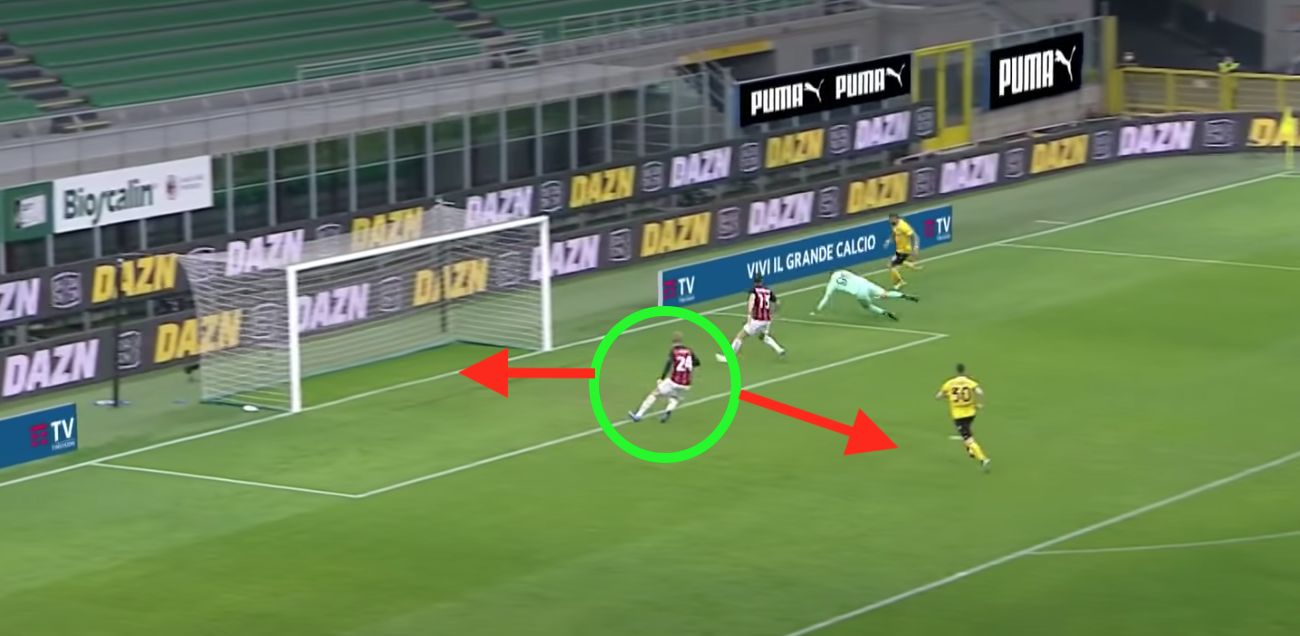 We simply have to admire Romagnoli showing his inner Dida with an excellent reflex stop on the line, but Kjaer and Donnarumma's positioning says it all – that should have been 1-0.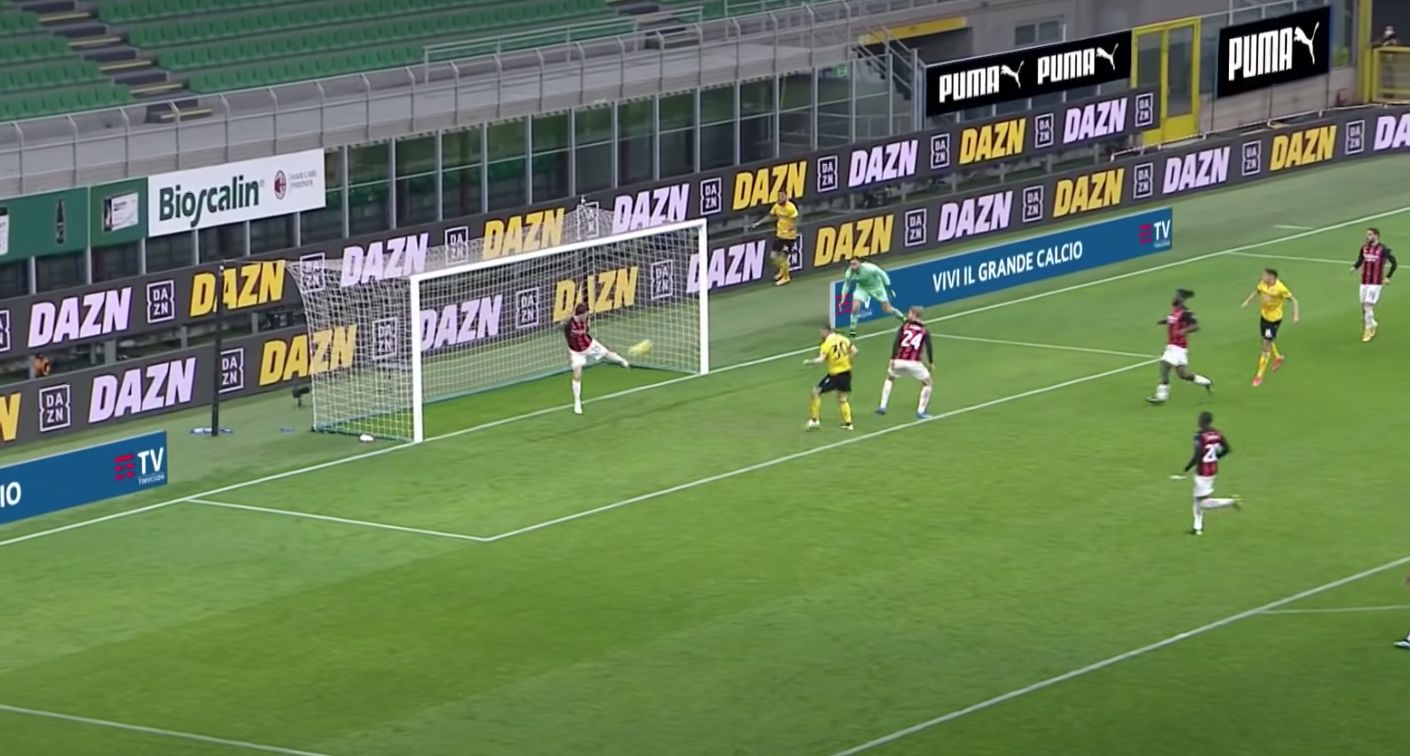 Regarding the actual goals themselves there is little to say. Udinese love getting their taller players involved from set pieces and it is a corner that they scored from, but play that sequence another 99 times and they won't score like that again. An error from Donnarumma cost Milan in what was otherwise a fairly well-defended corner, because Becao's header came from the kind of distance and had the kind of strength that should never result in a goal.
One note about Milan's equaliser as more of a general point is how the team seem to go much more direct when they panic and desperately need a goal. This is undoubtedly a common theme among most teams as they want the ball in dangerous areas as quickly as possible when chasing the game, but with zero height on the pitch the Rossoneri ditched trying to carve Udinese open completely and went for bombardment. A penalty was really the best they could hope for, and they got one.
The data
Serie A produce a match pack after every game which is well worth a look as it contains some interesting data.
Firstly, it shows the players' average positions in the first and second half (Milan in dark blue). The striking thing for Milan is that they were very narrow in both halves, and in the first half in particular there is a very clear 4-2-3-1 shape that in the second half becomes a little bit more erratic

Udinese's approach meanwhile is very easy to see. The back five is present, with three midfielders (one deeper) sitting in front of the three centre-backs, and rather than two up top it is more of a deeper-lying forward plus striker style approach. The second half is interesting as the midfield appears to push up more.
The heat map also shows just how narrow Milan were. So much of the ball was kept in a strip as wide as the six-yard box, from the half way line to the penalty spot. That is exactly the region that Udinese – because of the numbers they got behind the ball and because of their three centre-back, three midfielder approach – wanted Milan to play in. It is no surprise therefore that the hosts found it a nightmare to break them down.
The right region to try and occupy was the corners of the box and the areas a bit wider than the 'tip' seen in the first and second half. Getting between the outside centre-backs and central defender with intelligent movement would have freed up more space in the surrounding areas for the creative players to operate.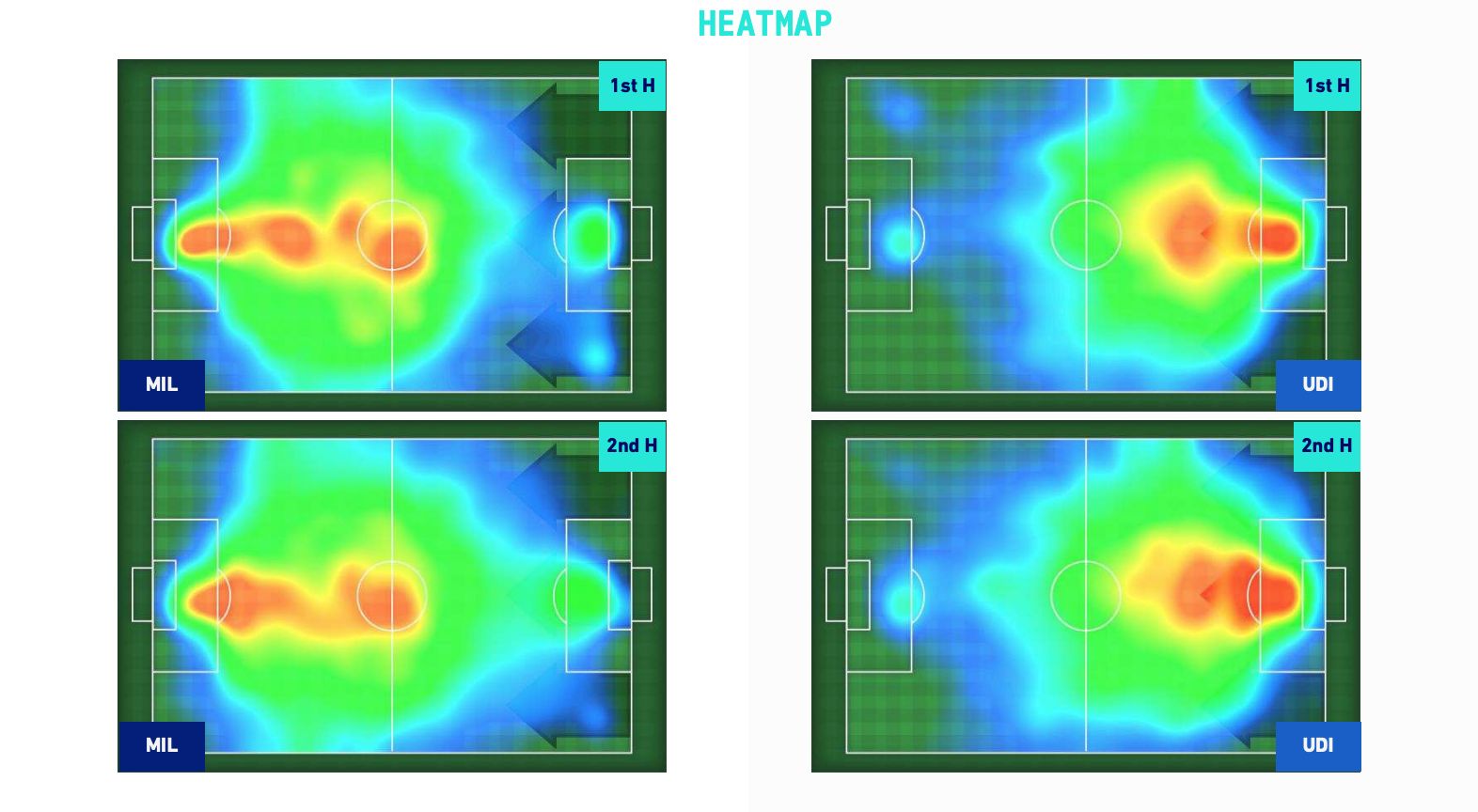 Perhaps the best indicator of how deep Udinese played is in the comparison of the defensive position. Their average line was almost 20 metres deeper than Milan's in both halves and it was also less spread, again showing the compact nature and the way they set up to frustrate.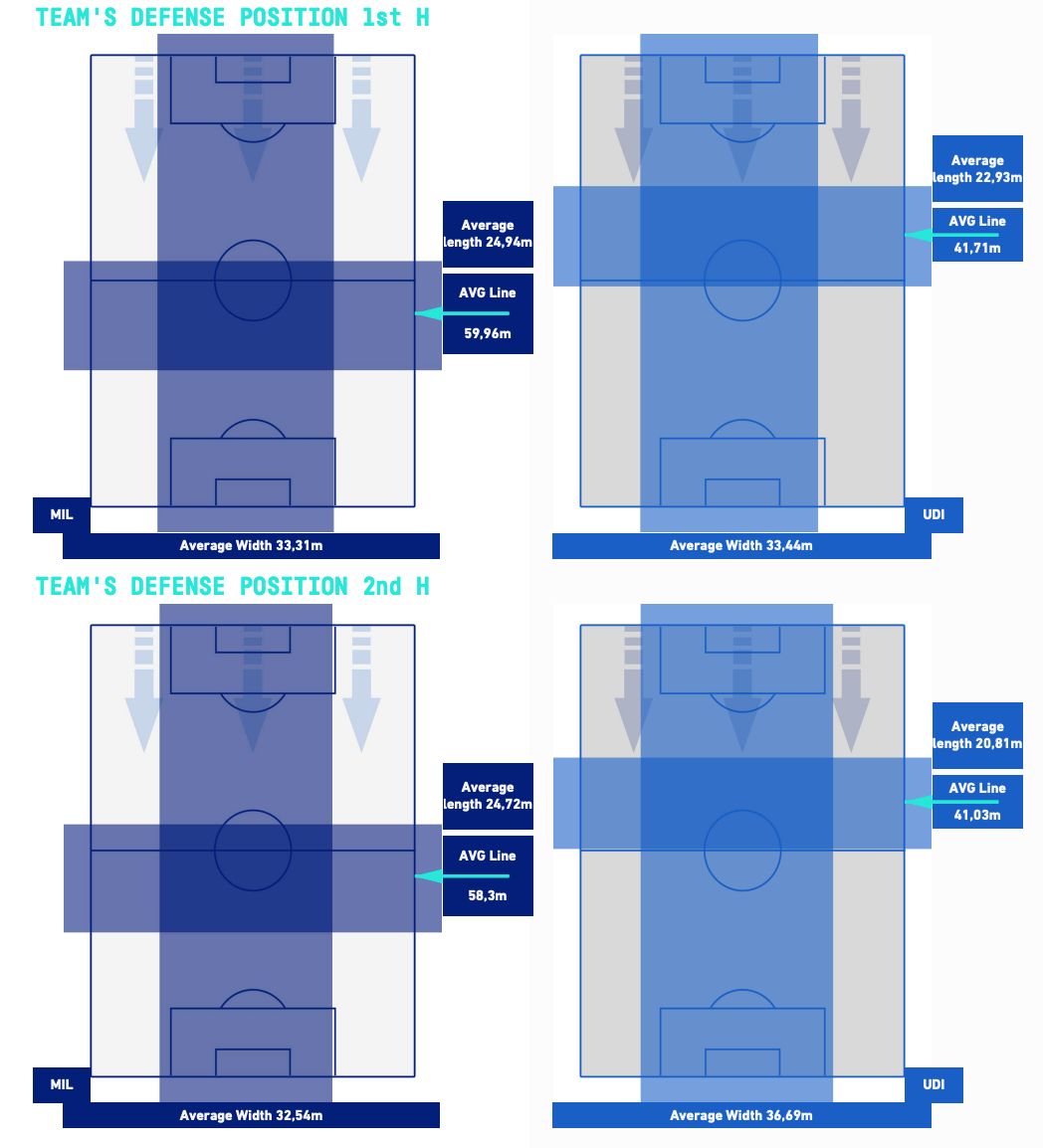 Finally, the attack map below highlights a couple of interesting things. The first is that Milan had seven shots on target and three of them were from eight yards out or even closer to goal – law of averages suggests that if that happens again the team would surely score from open play.
Secondly, Udinese attacked down the centre and right on 18 out of the 23 times they went forward, showing they were targeting a particular flank as many teams have: the left side of Milan's defence where Theo often leaves a gaping space allowing the opponent to run at Romagnoli in isolation.
Finally, Rafael Leao only had seven touches in the attacking zone – far too few for a centre-forward who should be proactively looking to get on the ball and hurt with the dribble rather than playing as a target man. For comparison, defensive midfielder Franck Kessie was second with six.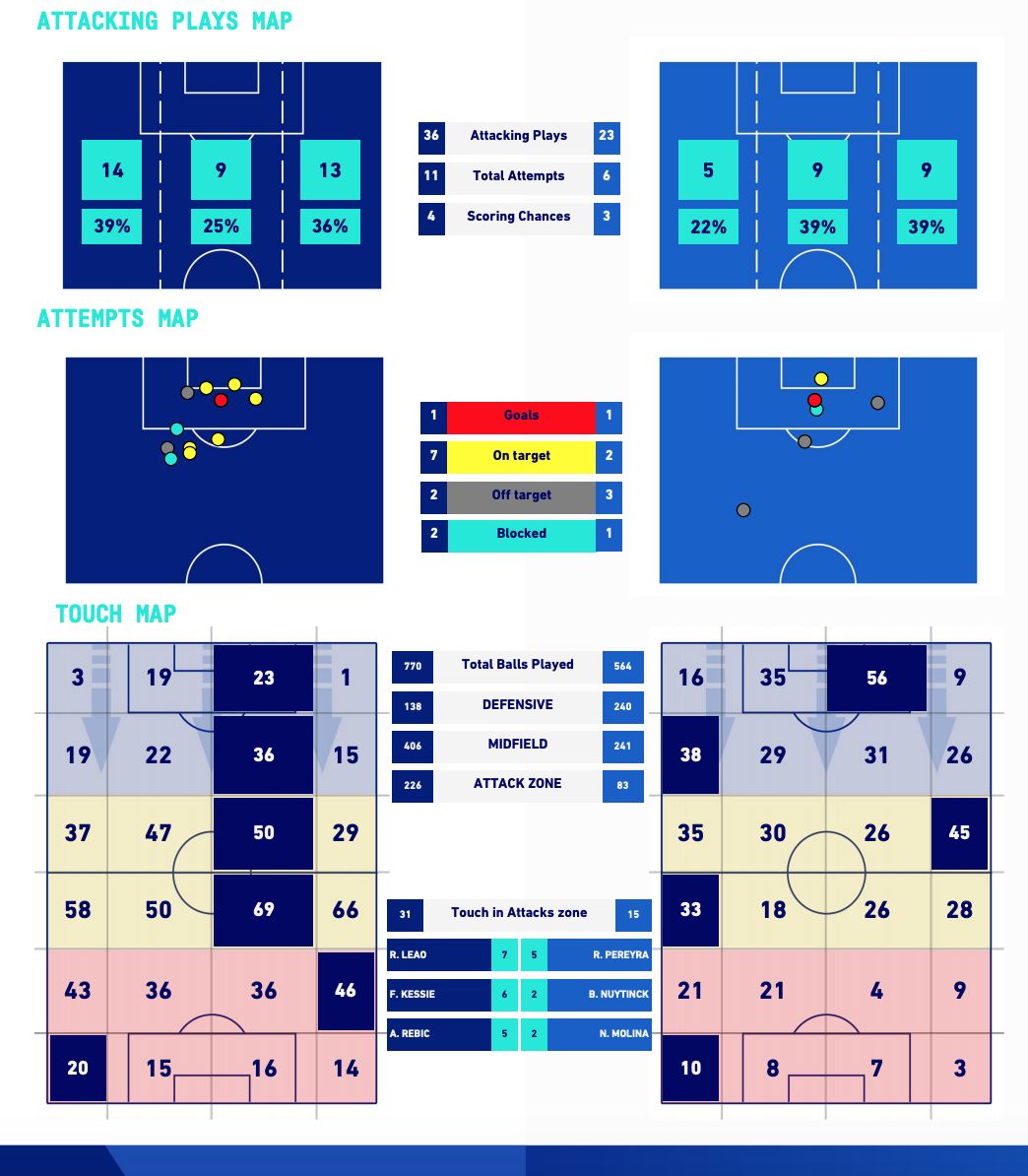 Conclusions
It feels like we have been banging the same drum for weeks and weeks now, but when teams play a three-man defence and pack the midfield Milan are yet to come up with the right answers to the questions it poses, even when facing a side against whom their is a gulf in quality in their favour.
What should worry fans is that unlike the Inter game when Handanovic was forced into three world-class saves, there was a genuine lack of clear scoring chances for the Diavolo as they looked laboured and out of ideas the moment the half-time whistle went.
The best teams know more than one way to skin a cat, and that is why Inter, Juventus and even the likes of Atalanta and Roma seem to be more effective at breaking teams down. They move the ball into better areas, they establish better positions, they are quicker and more decisive and finally they are clinical when the chances do come. Food for thought.