After the disappointment against Spezia, Milan headed to Belgrade to face Red Star in the Europa League Round of 32 first leg. Unfortunately for Pioli, his team was held to a 2-2 draw because of a stoppage time equaliser and the team will have to finish the job at the San Siro.
There were several changes to the starting XI with the derby against Inter on Sunday in mind. Calabria, Kjaer, Kessie, Calhanoglu, Saelemaekers, Leao and Ibrahimovic were all rested for the game to preserve energy.
Milan were the more active team in the first half as they scored two goals which were disallowed by VAR before finally breaking the deadlock through an own goal. The bad news from the first half was the injury Bennacer picked up as the Algerian has just come back from a muscle problem, replaced by Sandro Tonali.
In the second half, Red Star managed to equalise but it was short lived as Milan were awarded a penalty, converted with confidence by Theo Hernandez. The last twenty minutes should have been easy for Milan as their opponents received a red card, but instead of attacking the Rossoneri were trying to kill the game thus allowing Red Star to equalise in added time through a header from a corner.
Here are fives things we learned…
1. Lagging behind
While the game was an odd one as it seemed that Milan wanted to preserve as much energy as they can for the upcoming derby, it was pretty obvious that some players did better than others. Speaking of which, it was Romagnoli again with an unconvincing performance against a side that shouldn't trouble him as much.
Not to take anything away from Red Star, but being the captain of a team fighting for the Scudetto would suggest that you are not a mediocre player. That being said, the Italian has had a lot of criticism this season as he really hasn't made the leap that his team-mates have made in the past year.
Now, we won't go into deep analysis as to what is not working for Alessio as we have already done that here, but the fact is that he has no taken the next step in his career and if he stood out in a mid-table Milan side, now he is increasingly looking like the weaker link in this new and ambitious squad.
2. A false start
Mario Mandzukic came on a free transfer in January and is yet to score his first goal for Milan. The Croat was handed his first start against Red Star, but was lacking the service to get him into scoring position.
With Mario, though, we cannot be too harsh as he hasn't played a competitive games in a while and has time to pick up the pace as he will be behind Ibrahimovic in the pecking order anyway. The veteran striker will therefore have time to get his fitness up to speed and will need to get the most of the chances he gets.
3. A missing piece?
To the surprise of many, Hauge was left out of the squad for the knockout stages in the Europa League even though the Norwegian was at his very best exactly in this tournament. While the summer signing has struggled to showcase his potential in Serie A, he was able to shine in the Europa League with his three goals and one assist, making him the top scorer in the competition for the Rossoneri.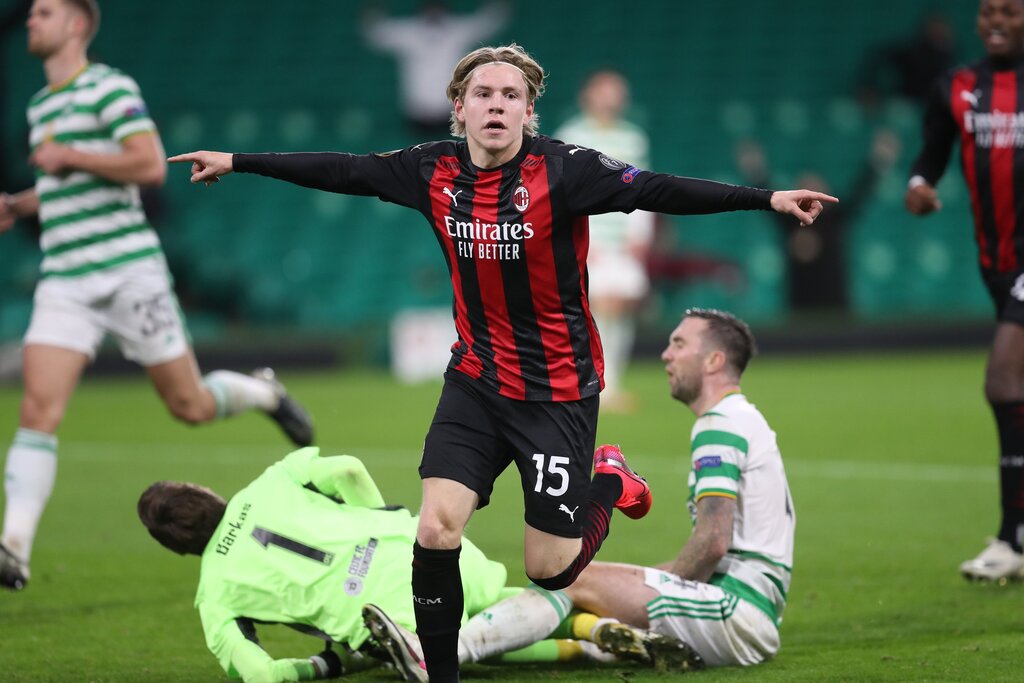 It is weird for him to be left out while a player like Krunic was included, especially when Milan have both Brahim and Hakan to play behind the striker and an additional four holding midfielders in the likes of Bennacer, Kessie, Tonali and Meite. Of course, Bennacer left the pitch injured against Red Star.
The decision made by Pioli still seems odd as we saw a lot of the players were trying to preserve energy for Serie A. Instead of including a youngster who has brilliant in Europe and giving him time in that competition, he left him out of the squad and he is barely giving him playing time in the league.
4. A positive outing
With Bennacer coming off injured again it was Sandro Tonali to take his place in the midfield. While the title says "Positive", we must say that the Italian's defensive work, as we all know, needs to improve and he is still yet to adapt to that double pivot. However, his distribution of the ball was good against Red Star and he was crucial for Milan's second goal with a brilliant run.
The Italian could have also scored a goal as he had the opportunity to shoot in the final part of the game, but he wasn't really efficient even when he had space or his first touch let him down.
We've mentioned his difficult enough, but Tonali had a rough start to life at Milan and he is improving. It is key to remember that he is 20 years of age and played for a side that was relegated last season. A jump to a team fighting for the Scudetto and potentially a European trophy is surely putting a lot of pressure on him.
5. Mismanagement by Pioli
Now, Pioli did the right changes, resting some of the players and giving others a chance, but the instructions the players had looked somewhat off.
The game started off well for Milan as they scored twice and although both goals were disallowed the Rossoneri found the back of the net before half-time. In the second half when Red Star received a red card and the score was 2-1 it seemed reasonable for the Rossoneri to attack, secure the win and have an easier night at the San Siro so they can focus again on Serie A.
However, that wasn't the case as Pioli's men allowed Red Star to attack instead of looking for the third goal and ultimately got held to a draw in stoppage time. A draw away from home in Europe might not be such a catastrophe, but against a weaker opponent with a red card it seemed odd to not try and finish the job there and now, but rather leave everything for the reverse fixture.
---