Due to injuries, inexperience or technical choices, the list of players that haven't played a single minute for AC Milan this season so far, offers some nice surprises. 
For the Rossoneri, there are four senior players that have remained on the bench for every game this season, when it comes to competitive tournaments, and not friendlies. These four may not sound surprising to you, but considering that Milan have played 18 competitive games so far, and these player have not featured in any of them, it's quite interesting. 
1. Leonel Vangioni: The Argentinian arrived on a free transfer to AC Milan (of course) and at the time he looked like a promising signing. However, this hasn't turned out to be the case, as Montella has made it clear that De Sciglio is his first choice at left-back, with Antonelli being second. The only game Vangioni has featured in for AC Milan was the Rossoneri's friendly against Bournemouth, I guess he didn't impress coach Montella. 
2. Rodrigo Ely: The Brazilian-Italian defender returned to AC Milan last season after being on loan at Avellino, and at first sight, he looked like he was going to compete for a starting spot. In fact, the defender got the chance quite a few times under Mihajovic and did surprisingly well.
However, most like Vangioni, Ely found himself on the bench after a terrible performance in the opening game against Fiorentina, where he even got sent off. This got worse as Ely scored an own-goal against Napoli in round 7. Ely also played in AC Milan's friendly against Bournemouth this season.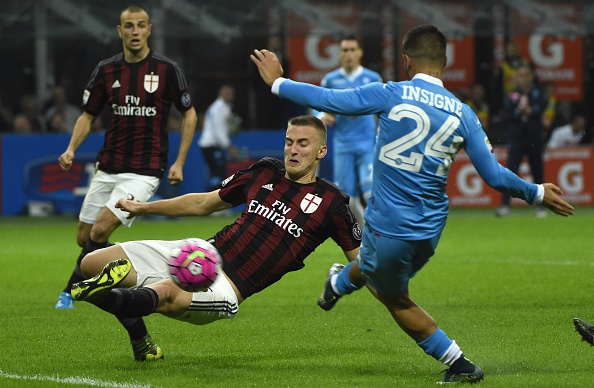 3. Cristian Zapata: Now this Colombian defender, is not exactly in the same situation as the two above, as he actually is expected to get some playing time under Montella. However, an injury stopped Zapata from featuring this season up until November, when he featured in a friendly vs. the club's youth team. With that said, Montella believes he's still not ready for a competitive game, although important steps towards that are being made. 
4. Gabriel: Not so surprisingly, Gabriel has not made a single appearance for AC Milan in a competitive game the season, as Donnarumma has continued to deliver high-quality saves game after game. The Goalkeeper played in AC Milan's friendly against Bournemouth but has remained on the bench ever since. 
*This list only includes senior players, not youth team players such as Plizzari. The list is also limited to competitive games and not friendly games or tournaments.