Milan went into their Europa League Play-Off against Rio Ave in Portugal amid an injury crisis of sorts, and it was anything but an easy game.
The match finished in an incredible way with Calhanoglu scoring a 120th minute penalty to send the tie – ironically – to a penalty shootout and fortunately for the Rossoneri after 24 spot kicks progressed with a 9-8 win.
While the happy ending was there, the game was one to forget for the fans as the performance was a contestant to be the worst of the calendar year.
The management have brought players in this summer, but against Rio Ave the team had a lot of absences which almost cost them European football. This highlighted the need for additions in the attacking department as even though the squad has depth, the quality is somewhat missing while the likes of Zlatan and Rebic are not there.
Here are five things we learned from the game…
1. Problematic department 
The attack was by far the biggest problem for Milan against Rio Ave and it was highlighted with the absence of both Zlatan Ibrahimovic and Ante Rebic.
Milan failed to bring in a deputy for Ibrahimovic and this game further proved that the team cannot rely on Daniel Maldini or Colombo as much and especially in big games like that. While the youngsters have potential they simply cannot make the same impact at the moment and occupy as many defenders.
On the wings Samu Castillejo and Alexis Saelemaekers had mixed fortunes. The Spaniard had yet another terrible performance and is further proving that he is no more than a rotation player. Alexis on the other hand had a really good game, even scoring a goal, but as of now he isn't the difference maker Milan need on the right wing.
Leao is another player that failed to deliver against Rio Ave. And while the youngster did have his preseason preparations delayed by COVID and he is still building up fitness, we need to remember that he didn't manage to establish himself last year and there is no guarantee that he will this year.
Finally, with Jens Petter Hauge, the management seems to have brought a good quality player to fit in while Rebic is missing, but the right wing and the striker position in Zlatan's absence are looking really underwhelming.
2. Positive signs from Tonali
Sandro Tonali started on the bench yet again, but when he came onto the pitch in looked different this time. Tonali seemed really hungry and could have seen his desire just judging by the body language that he wanted to do everything to get his team in the Europa League groups.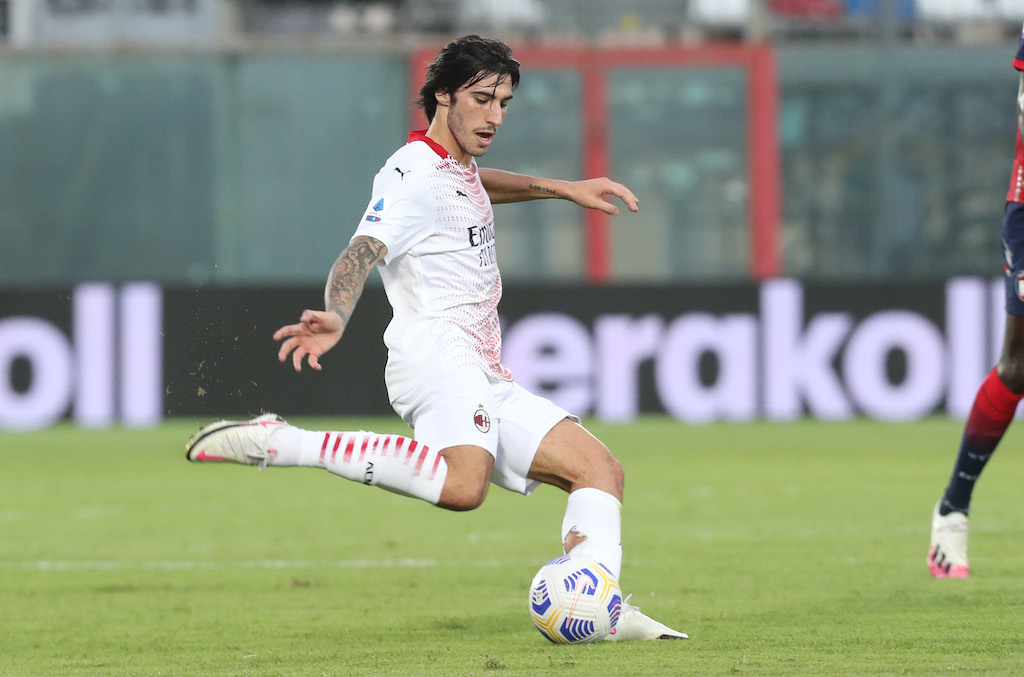 The 20-year-old brought some life and energy to the team and looked massively improved compared to his previous performances. He had a few good runs going forward and managed to pull off some lovely long balls.
Sandro didn't seem too bothered by the ongoing pressure and played an impressive game which may well give him another start on the weekend as he is slowly but surely finding his fitness and form.
3. Diaz can be the difference
Brahim Diaz came into the game after the break and was an instant upgrade to Castillejo. he brought pace and sharpness to the Milan attack as he was involved in most of the dangerous moves for the Rossoneri in the second half.
His ability to take on players was quite impressive as well and the former Real Madrid player is picking up pace and improving his game every week. A performance like that should surely be enough to earn him a starting spot at the weekend as Castillejo has failed to impress since the start of the season.
One thing about Diaz, though, is that he needs to keep it a bit simpler as he tends to hold onto the ball longer than he should at times, but that will hopefully come with the build up of chemistry between him and his team-mates.
4. Young duo not ready yet
It was always going to be a tough ask for Daniel Maldini to command the forward line having been handed his first senior start over Lorenzo Colombo, a decision that baffled a few given how the latter is a much more physically imposing figure.
Ultimately, Maldini Jr. would disappoint as he was feeding off scraps and never managed to assert himself into the game against the two centre-backs, nor did he manage to draw them out of position at any point.
Perhaps Colombo wasn't fit enough for a start, but it seems questionable that Maldini was allowed to toil away up front when so much of his early development should be based around honing in on what he is good at by putting him in advantageous positions to succeed.
As for Colombo, he did grab a goal against Bodo/Glimt in a 5/10 performance and he was instrumental in winning the 120th minute penalty in Portugal, but to think that he can somehow come close to simulating Ibrahimovic's impact is dangerous. It may be irresponsible to assume a deputy centre-forward – a natural one – is not needed.
5. Donnarumma the saviour 
Gianluigi Donnarumma keeps putting in match-saving and match-winning performances while the contract situation looms over his head, but at this point we are inclined to tell Paolo Maldini and Elliott to pay the man his money.
He could do nothing about either goal and he did blast his penalty over, but he came up clutch when needed most with what was basically a €15m penalty save.
We could watch this all night 😍pic.twitter.com/Dd9xZ2CMok

— MilanGifs (@MilanGifs) October 1, 2020
The more decisive he is, the more his salary demands will probably go up. From €6m per season to €8m, maybe even double figures. Nip that in the bud and get his renewal sorted.