AC Milan completed their second official signing of the summer last week, with Ruben Loftus-Cheek joining from Chelsea on a four-year deal.
Loftus-Cheek was heavily linked with a move to Milan in the weeks leading up to the end of the 2022-23 season when Paolo Maldini and Ricky Massara looked to be lining up business for the summer.
Their sacking then caused the rumours to slow down, but by the time they fired back up again things moved very quickly from an initial offer to the player being due in Italy for a medical at La Madonnina clinic.
Loftus-Cheek is the first of several additions needed to help fill the void left after Sandro Tonali's exit, and Fabrizio Romano reports that it is a €16m initial fee plus €4m in add-ons to Chelsea.
Back story
Born in Lewisham in London and of Guyanese descent, Loftus-Cheek actually grew up in Kent and went to High Firs Primary School and Orchards Academy.
Growing up watching football on TV, he idolised Zinedine Zidane and Thierry Henry who were two of the greats of that time, although in his first interview with Milan TV he revealed he also admired Kaka's remarkable dribbling ability.
Loftus-Cheek joined Chelsea at the age of eight and rose through the ranks thanks to his technical ability but also his physique. A hip injury set him back but he made it to the U18 and then the U21 level – the last one before the senior side.
The honours rolled in with the youth team at Chelsea as he won the 2011-12 and 2013-14 FA Youth Cup as well as the U21 Development League in 2013-14 and the UEFA Youth League – the youth equivalent of the Champions League – a year later.
At the end of the 2012-13 season he was even named in the first-team squad for a post-season friendly against Manchester City, showing that the senior management were keeping a firm eye on his development.
Loftus-Cheek made his senior debut for the Blues back in December 2014, replacing Cesc Fàbregas for the final stage of a Champions League group stage game against Sporting CP at Stamford Bridge.
His first Premier League appearance came in January 2015, and then Jose Mourinho promoted him fully into the first-team squad. He made three appearances that season, but got a Premier League winners' medal because Mourinho valued his contribution so much.
After signing a five-year deal in February 2016, an interesting period under Antonio Conte followed in which he was tried as a striker in preseason.
The 2017-18 season saw him loaned to Crystal Palace where he generally impressed and they even tried to sign him permanently, but Maurizio Sarri wanted to make him a part of his plans.
Under Sarri he played his best football, showing the qualities we will go on to highlight further on in the piece, but he suffered an achilles injury during a charity match against New England Revolution which would set him back a year.
By the time he was ready to go again and with another five-year deal signed, the Covid pandemic hit. By this point a lot of his formative years were being impacted as a young player.
He was loaned to Fulham in October 2020 for the remainder of the season but they really struggled and were relegated without much of a fight which did not help his confidence.
There is also an England career to mention at this point too, having made his debut with the U16s in 2011 and playing for the U17s, U19s and U21s, with whom he scored seven goals in 17 games.
His full England debut came in 2017 and he has made 10 appearances for his country so far, most notably being part of the squad for Gareth Southgate's side's run to the semi-finals of the 2018 World Cup.
We spoke to Simon Johnson from The Athletic about Ruben, who he has gotten to know very well over his years covering Chelsea, and he told us an anecdote from before that semi-final against Croatia which revealed a lot about his ultra laid-back demeanour.
A period in the wilderness at Chelsea brings us up to today, with a merry-go-round of managers all trusting Loftus-Cheek to varying degrees in varying roles.
After 19 years as a Chelsea player with 155 apperances, 13 goals and 18 assists to his name, he decided it is time for a new experience at 27 on the cusp of his prime.
Playing style
Having played under many managers, Loftus-Cheek has played in a few different roles but his best season came under Sarri at Chelsea playing as a No.8 on the left side of the midfield three.
Loftus-Cheek is not someone who likes to see the ball a lot: he is someone who loves to make off the ball runs and act as a passing option.
When playing under Sarri, he would occupy the half spaces in the attacking half of the pitch while playing alongside Eden Hazard with whom he built a good bond.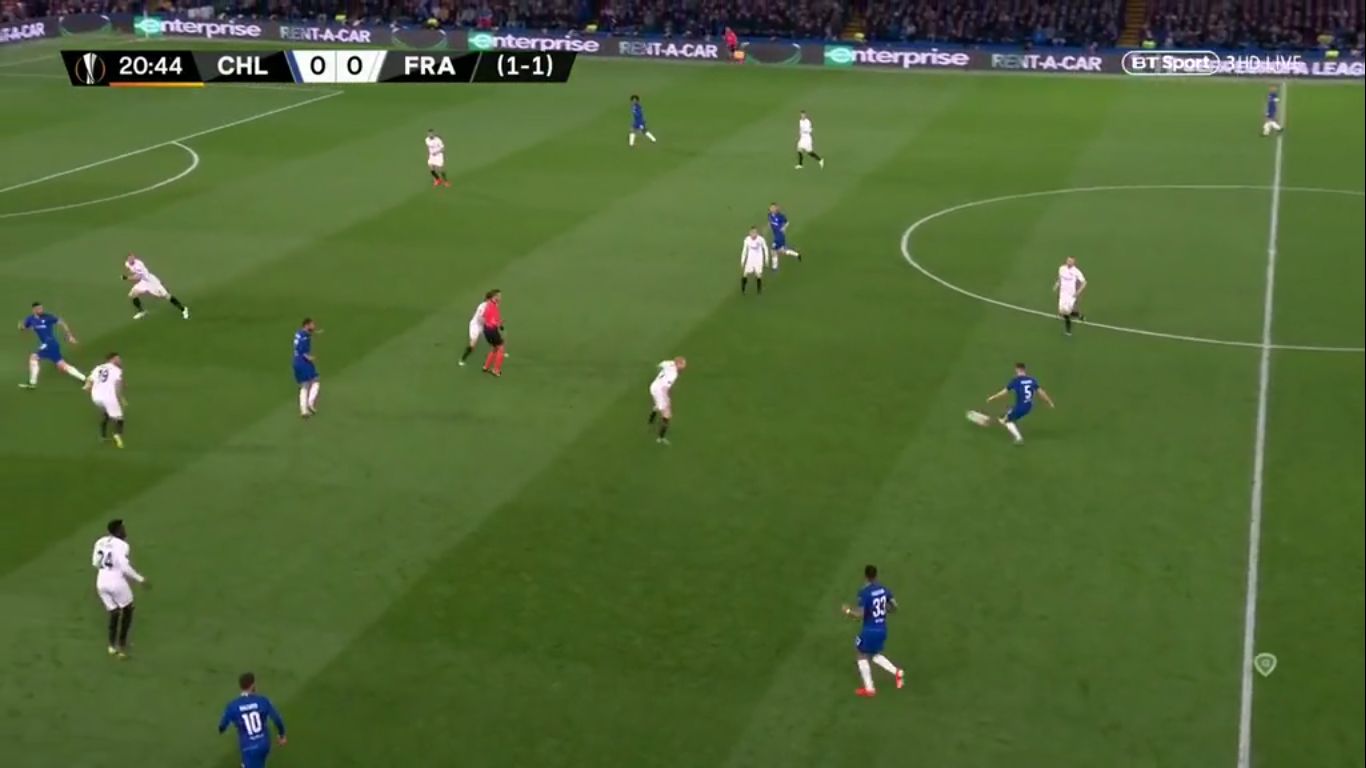 Against Milan he played in the midfield pairing in a 3-4-3 under Graham Potter and acted as more of the defensive midfielder while Mateo Kovacic was the deep-lying playmaker. He was given the task to mark Charles De Keteleare against the Rossoneri.
Loftus-Cheek does not physically press players but he is tactically adept to cover passing lanes, a style of play Pioli uses. Standing at 1.91m tall, he is able to use his rather long legs to reach for balls and recover them.
He isn't a tough tackler which makes him unsuited for a defensive midfielder role. The 27-year-old rarely touches the wide areas and likes to say inside or the half spaces while operating as a passing option to players who are pressed wide by the opposition.
Even though he is a very sizeable guy, his movements are silent and quick and this has given him the ability to make runs behind defenders into space.
Using his tall frame he is able to receive kicks from the keeper or make defensive headers, although he isn't very aerially very dominant. Trying to use his physicality means he draws a lot of fouls.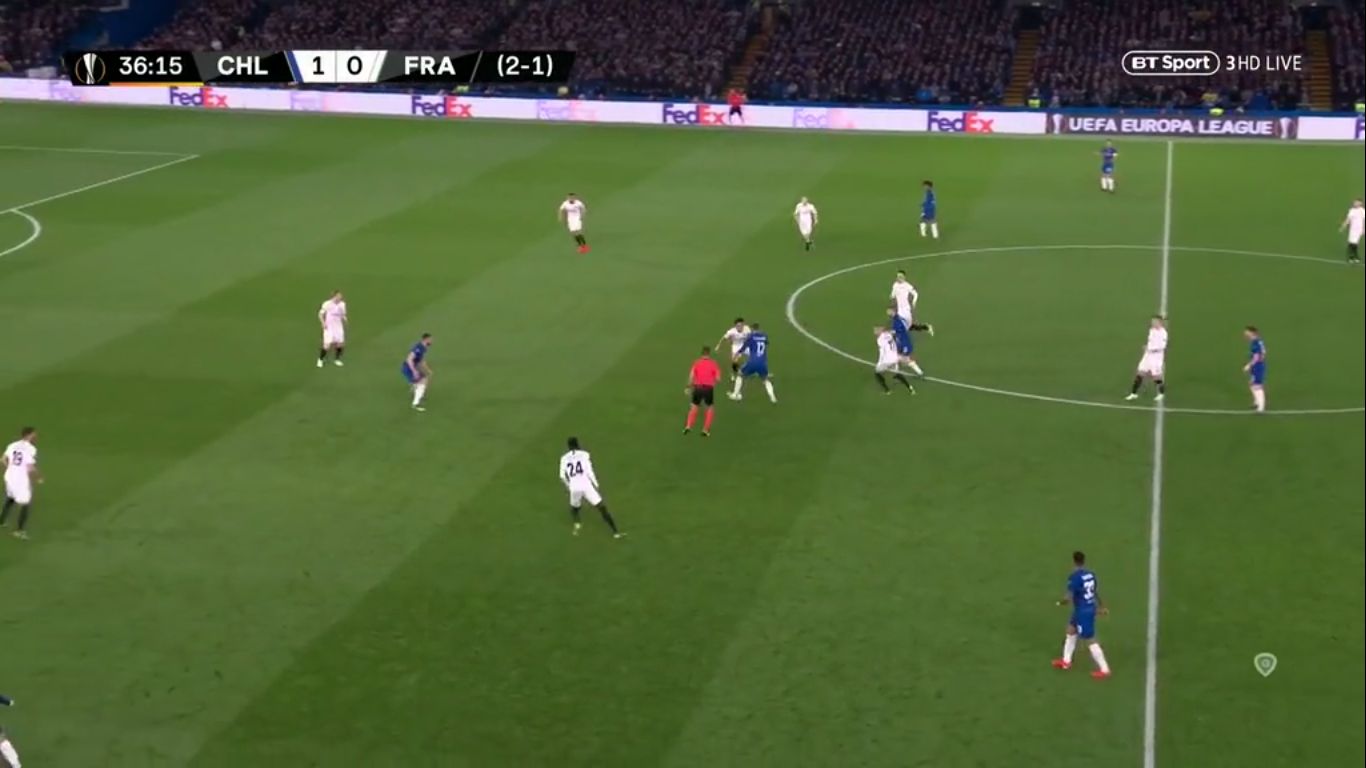 In terms of passing, he is usually someone who opts for the safest option. He tends to re-cycle possession and keep the ball in play.
Strengths
Physicality: At 191cm tall, Loftus-Cheek has a very big frame and he uses this to get effect. He is not easily pushed off the ball, instead using his size as a shield against the opposition player. His hold up play is also good which makes him draw a lot of fouls.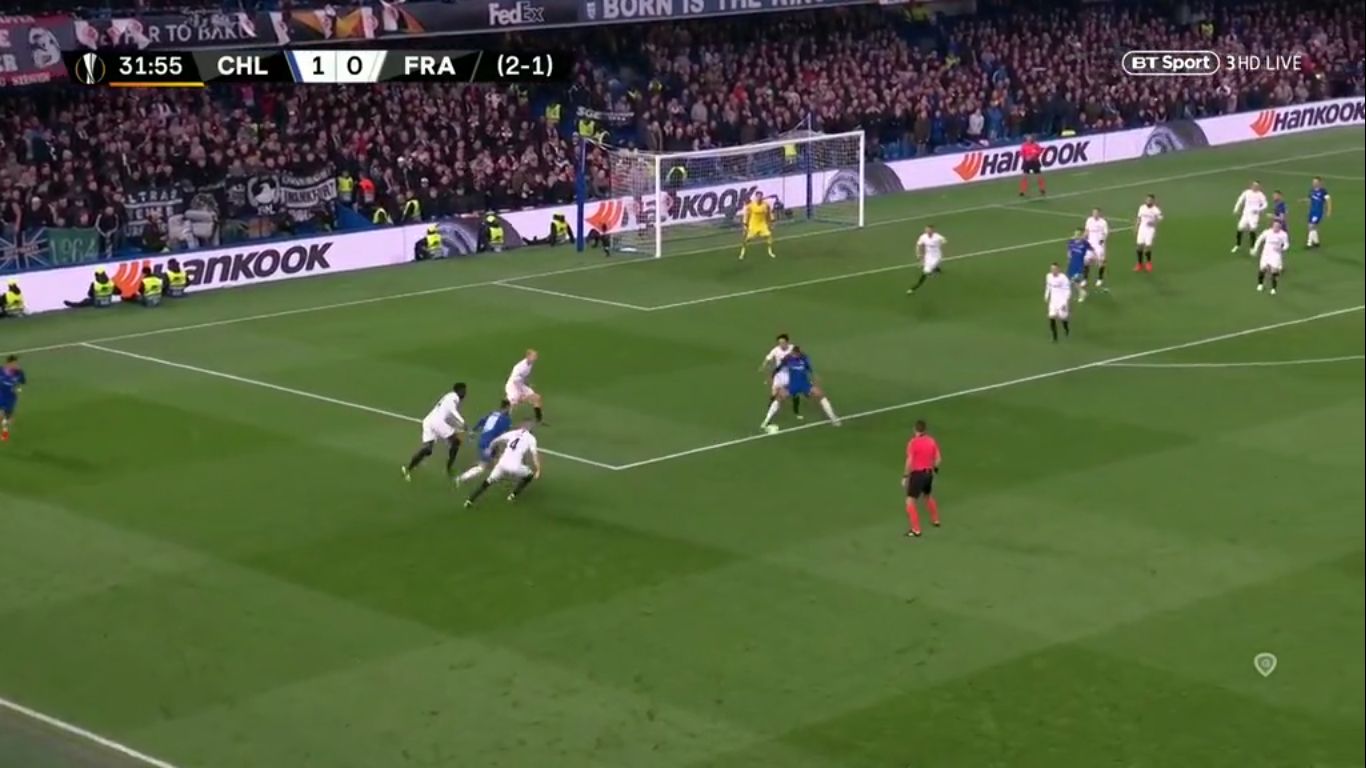 Finding spaces: From a tactical standpoint, Loftus-Cheek has a keen sense of finding space and this makes him a very good passing option for any player. Whether vertically or between the lines, he likes to find pockets of space and attract press towards him freeing up more creative players to make forward runs.
Tight spaces and attacking runs: With a good first touch and decent close control, Loftus Cheek can help his team-mates escape the press and in-turn dribble forward or make the pass to avoid losing possession. He likes to make diagonal runs behind defenders into space and if the creative player can find him then it can lead to a dangerous situation.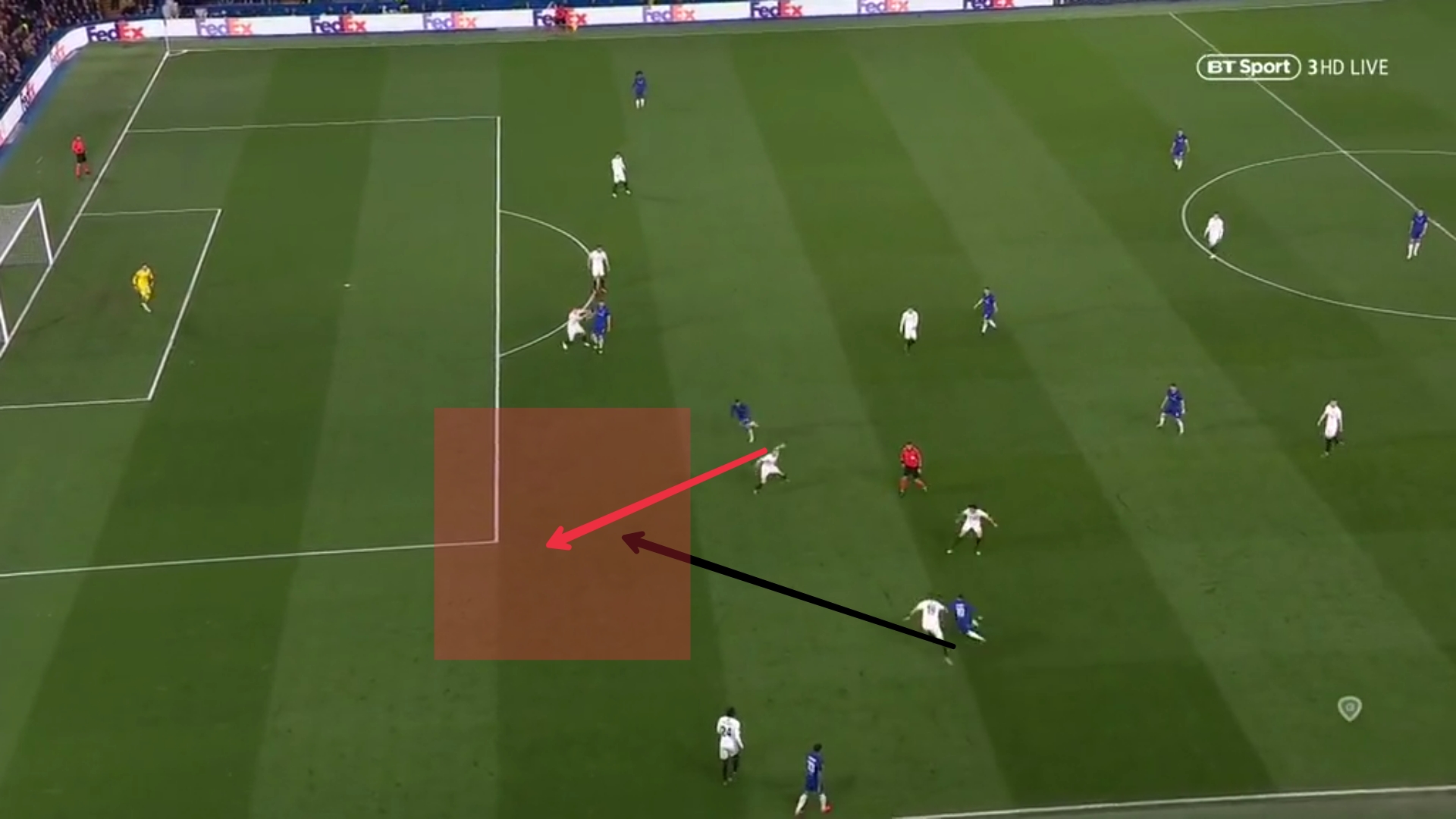 Ball carrying and pace: Loftus-Cheek has an ability to accelerate very quickly with or without the ball, making him extremely useful during counter-attacking situation. As reflected in his numbers, he is more of a dribbler than a passer and he carries the ball a fair bit.
Areas to improve
Injuries and mentality: Having a start-stop career due to injuries means Loftus-Cheek has had his confidence dented a lot. He was a player that was confident on the ball, but now can appear over-cautious and not making runs behind the defence like he once used to.
Going missing: As somebody who does not see the ball much, Loftus-Cheek can get lost in the middle of a match and have no impact on the game, which is not ideal when looking to establish a foothold.
Defensive work rate: If RLC truly has to hit heights then he should improve his defensive work rate and cover more ground.
End product: For a player who plays an advanced role, Loftus-Cheek's best season had 15 goal contributions in 2018-19 but since then his numbers have been poor. One can attribute this to little game time, but he certainly has the quality to improve.
Stats
In 2022-23 the Cobham graduate played 25 games in which he had 19 starts and 1536 minutes.
In terms of passing (all stats per 90 minutes) he attempted a total 46 passes with a passing accuracy of 86.2%. He completed close to 1.05 passes into the penalty box per game.
As described, Loftus-Cheek acts as a passing option whole Chelsea are trying to move into opposition box under pressure. He averages 5.03 passes received in the opposition half of play which shows his usefulness to the sides progression.
In terms of Shot Creating Actions (SCA) and Goal Creating Actions (GCA), Loftus Cheek averages 2.11 SCA per game and 0.23 GCA per 90.
Defensively Loftus Cheek's Tackles Won plus Interceptions average is at around 2.16 per game while winning 46% of his aerial duels. As mentioned, Loftus-Cheek's style of play gets a lot of fouls to the extent he draws almost 2 fouls per game.
Finally, he is an excellent ball carrier. His Ball Progression per 90 while Dribbling is 3.27 per game of which 1.7 is into the final third of the pitch.
Statistical comparison
Defensive actions: Tackles + Interceptions + Blocks per 90.
Offensive actions: Progressive Carries + Progressive Passes + Progressive passes received.
As we can see here Ruben Loftus-Cheek is head and shoulders above the rest of the pack in terms of offensive actions. This would be a welcome change for Milan fans who have seen their side crumble or settle for draws against teams lower in the table and needing a spark from midfield with Bennacer or Tonali unable to provide it.
Conclusion
With 'Moneyball' taking effect on Milan after Maldini's departure, the club have embarked on yet another risky summer. Loftus-Cheek is yet to prove himself but has been touted as a Rolls Royce football player.
Given the talent pool of midfielders available at Milan with the departure of Tonali, Milan need not just starting players but good depth to manage the work load all season.
Transfer rating: 7/10