Former AC Milan head coach Arrigo Sacchi seems to have liked what he saw from Stefano Pioli's side during their round one victory against Bologna.
Milan started their 2023-24 Serie A season with three points, beating Bologna 2-0 in the sweltering summer heat of the Stadio Renato Dall'Ara and passing a tricky test against a Thiago Motta side that finished ninth last season.
Both goals for Milan came in a frantic opening half-hour, with Olivier Giroud getting the first one as he thumped in from a narrow angle to give Tijjani Reijnders his first assist in the process.
Christian Pulisic got his first Serie A goal less than 10 minutes later, rocketing a strike inside the far past from outside the box after some neat interplay with Giroud.
Sacchi spoke in his weekly interview with La Gazzetta dello Sport about Milan's league debut and the positive signs that emerged, as well as the areas that they must remain attentive moving forward.
"Let them not think that they have already arrived, because it's quick to fall from the clouds and it also hurts us… They must continue on this path and, indeed, improve because some corrections, in my opinion, are necessary," he began.
Which ones, for example?
"I would like to see a more orderly team, even if it must be said that Milan have changed many elements compared to last season and to achieve certain automatisms you need time, patience and lots of training.
"What matters to me is above all one thing: there must always be eleven players in an active position with and without the ball. Only in this way can you reach the maximum of the game, and in the possession phase there must always be movement.
"One goes deep and one comes towards you, one offers up for the lateral pass and another covers the back."
However, did the victory the other night at the Dall'Ara satisfy you?
"Yes, first of all because I was very curious to see Pioli's group at work and I had some doubts, given the many newcomers this summer.
"Well, I have to admit the Rossoneri played a positive game, the goals came quite easily and the team was in control of the pitch and the game, however…"
There is always a 'but'…
"You know that I am never satisfied, it is part of my character. I think aggression, i.e. pressing, needs to be improved. If the 4-3-3 is chosen as the reference formation, it is necessary for the two wingers to return more to the defensive phase and press the opposing ball carrier high and hard.
"On the left, where Leao played, this was not always done. Perhaps because Leao doesn't have the temperament for this type of movement, but he needs to convince himself that he can do it and, above all, that he must do it.
"Pressing and attacking spaces, this is his job: he doesn't lack physical and technical qualities."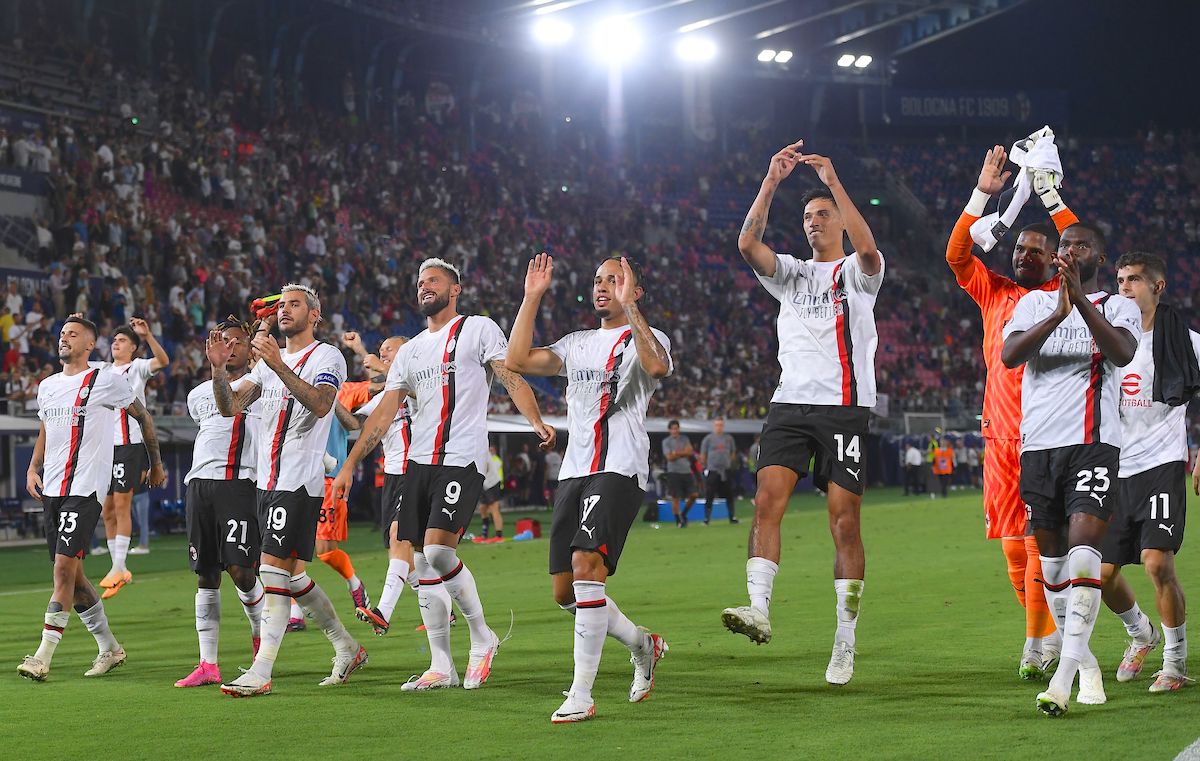 It will be Pioli's responsibility to work to make Milan even more of a team…
"He must be good at convincing everyone that playing one's game is the most important thing and the best antidote to stop the opponent. But Stefano is a very prepared coach and an intelligent man, I am convinced that he will have already identified the details on which to intervene."
What would you do?
"The times of the games must be improved, which must be precise, and the distances must also be corrected. Milan managed to stay compact, but they must be even more so: the defenders must go up to the midfield line in the attack phase."
What did you think of Pulisic and Reijnders?
"Pulisic scored a great goal and I liked the way he moved on the wing. He must learn to help more in the defensive phase. Reijnders seemed like a player from head to toe. He did it all and did it well.
"A midfielder who attacks with the right timing, he knows when it's time to play deep or when, on the other hand, it's more correct to make a horizontal pass."
A miniature Rijkaard?
"Eh, let's not exaggerate with the comparisons. There have been few like Frank. But this Reijnders intrigues me a lot and I will follow him carefully.
"He impressed me because, as soon as he received the ball, he always showed he knew what to do. This means that he thinks in advance, and this is no small advantage."
Another novelty was the inverted full-backs. What do you think?
"A nice idea that, logically, needs to be perfected. The full-backs, like all the other players, have to rush into the free spaces. This foresees modern football, which is no longer the static and somewhat boring football of the 1960s.
"Milan seems to want to continue on the path of modernity, and this makes me very happy."