There are several heroes from AC Milan's title-winning season but few of them have had quite the metamorphosis that Sandro Tonali had.
Tonali is a self-professed born and bred Milanista and Milan fans were crying out for his signature given his impressive debut season in Serie A with fellow Lombardy side Brescia. Dreams became reality when the Rossoneri signed him on a loan with option to buy deal in summer 2020.
It would be fair to say in hindsight that things didn't go to plan in his first campaign with Milan as Tonali did not meet the perhaps lofty expectations set by the media and supporters. However, Milan fans vehemently defended him given he was only 21, remembering his love for the club and believing his quality and potential would shine through.
He initially needed time to get used to playing in a double pivot having been the deepest of a three-man midfield at Brescia, but few expected the explosion that came in 2021-22…
The deal itself
Before we get into the tactical details, Tonali showed he belonged at Milan taking a salary cut to help facilitate his permanent move to the Diavolo, which came not long after a certain goalkeeper declined terms and ended up at Paris Saint-Germain.
Brescia president Massimo Cellino said he had higher offers to sell Tonali but his insistence to play for Milan gave him no choice, which was certainly a very good footing to start off on when he was officially announced as a permanent Milan player in an operation worth around €25m in total.
Physical transformation
With a tough first year under his belt, Tonali has changed a lot in the meantime but perhaps his biggest transformation has been physically. From looking like a meek young boy who struggled to assert himself in games, he then appeared a muscular and confident player ready to take on the opposition.
There is no doubt that having some physical problems in the summer of 2020 – thus resulting in a delayed start to his preseason – certainly hindered his adaptation, but being able to get right up to speed last year gave him a positive outlook to begin with.
Pressing
One of the key elements of Stefano Pioli's tactical approach has been based around pressing, and Tonali was the focal part of this mechanism. Against Atalanta in Bergamo just as an example, Tonali's clever pressing eventually forced Freuler into a mistake and he netted his second of the season.
Tonali made a total of 576 pressing actions this season and the team gained possession 32% of the time that he pressed, showing that he led from the fore with his new-found confidence in commanding the middle of the park.
Quick vertical release
At the core of its philosophy, the gegenpress emphasises pressing and vertical counter-transitions and for this you need players who can play balls vertically. One example that springs to mind is Tonali's key pass to Ante Rebic for Zlatan Ibrahimovic's goal in Milan's win against Lazio at San Siro.
Here is a detailed explanation of Tonali doing this against Fiorentina.
Positional switches
Another of Tonali's tactical qualities has been how he switches positions based on a real understanding with his team-mates. To scatter their markers, Pioli asked his players to change their positions in order not to give easy reference points, and Tonali would engage in these shifts by moving out wide or far forward.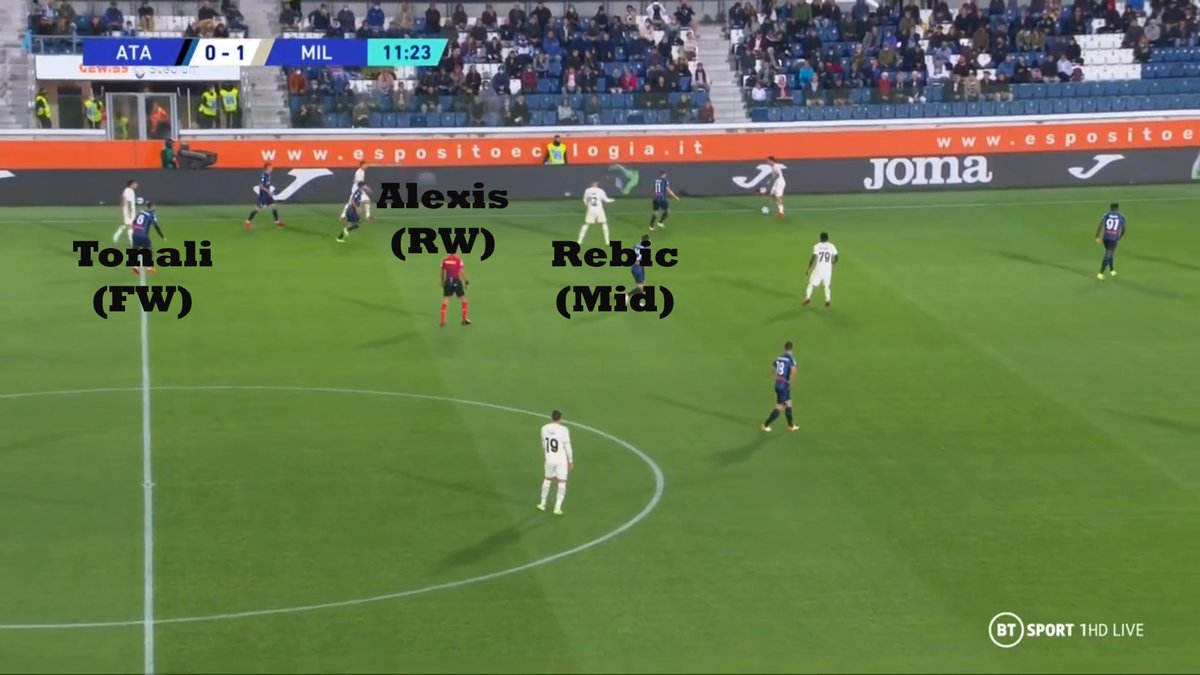 Role in build-up play
To facilitate playing from the back and beating the press of the opposition, Tonali would sit in between the two centre-backs and allow Theo Hernandez and/or Davide Calabria to split wide, also allowing the now wider centre-backs to go forward and take part in the build-up.
Ball progression and passing
Tonali is incredibly gifted at dribbling past markers and breaking the lines to create space. His close control and his changes in pace to beat opposing players is extremely difficult for them to stop.
Versatility and end product
Tonali can play anywhere among the midfielders in the 4-2-3-1. Against Napoli he was used as a holding midfielder in a three-man midfield to recover the loose balls and mark against Zielinski.
In the last few games Pioli utilised him in a mezzala role and the Italian was given the onus to mark his opposition player while also providing more impetus to the attack. His goals against Lazio and Verona late in the season are good examples of how he learned to make runs into the box and find the net in the most difficult of circumstances.
Recovery pace
Tonali recorded an average speed of 35km/h in the 2020-21 Serie A season and for a central midfielder this is quite high, which then led to Pioli utilising him better in the 2021-22 season and putting more faith in his athletic ability.
Whenever Milan played a high line and pushed forward, Tonali was tasked with stopping counter-attacks because of his speed and ability to get back recover the loose balls.
The data
In the chart below prepared by @calcio_danny, he uses npxG which is the xG (Expected Goals) that does not include penalties and compares it to the xA (Expected Assists) which is the quality of chances created.
You can see that Sandro Tonali ranges somewhere in the middle of the graph. Of course he can do better and he still needs time to develop given his young age, but it shows it is a sign of good things to come and a big improvement from the previous season.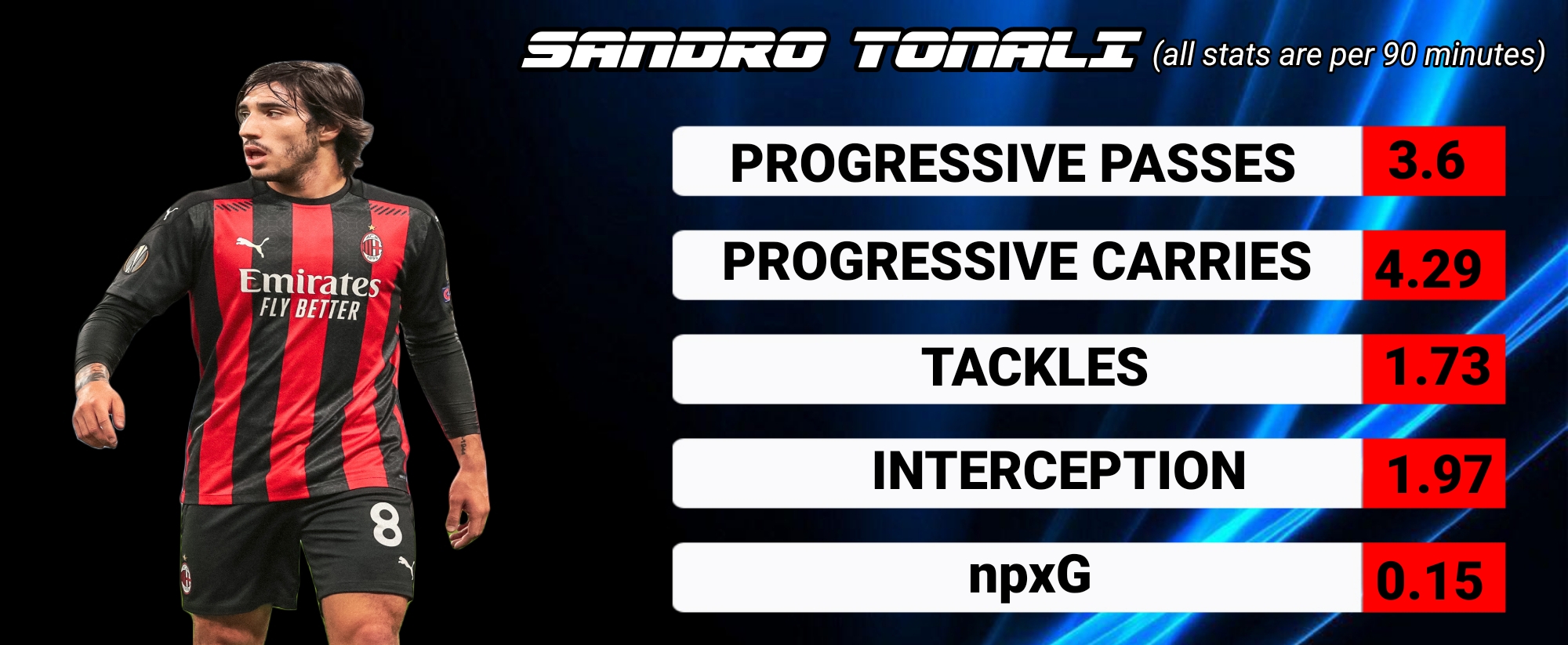 Another metric for measuring a player like Tonali's effectiveness is to understand his performances in key areas.
In terms of progressive passes, Tonali averages 3.6 progressive passes per 90 minutes. His dribble progression is 4.29 which shows he is a better dribbler, while he averages 1.73 tackles per game and 1.97 interceptions per 90 minutes.
Conclusion
In terms of distance covered in a single match, Tonali had the highest distance covered on round 33, 34, 35 and 36 against Genoa, Lazio, Fiorentina and Verona respectively. This shows how much he translated his passion for the club into performances as he is quite literally ready to run himself into the ground for Milan.
The fairytale is coming good, and one of our favourite parts of Tonali's season was his face expression when he saw he was going to get substituted against Atalanta in the win at San Siro. Despite an incredible shift, he wanted to be out there to see out the win.