Sandro Tonali was a player that found himself on the wish list of some of Europe's top clubs. However, the self-proclaimed life-long fan of Milan has found his way home.
A move to Inter seemed all but sealed, but the Nerazzurri's reluctance and Antonio Conte's demand for more experience in the middle of the park allowed Milan to act quickly and swoop to seal a deal within 72 hours.
It is reported that Milan will sign Tonali on the formula of a €10m loan plus a €15m option to buy and €10m in further bonuses, and a future sell on fee of %15.
Sandro is home, but what should Milan fans expect?
Back story
Tonali took his first steps as a young player for Lombardia Uno, a Milanese team with which he competed in the Pulcini category in the 2007-08 season, when he was just seven.The following year he moved to Piacenza, where he stayed for three seasons, before moving to Brescia at the age of 12.
Tonali made his senior debut for Brescia at the age of 17 coming on as a substitute in a Serie B match on 26 August 2017. He finished that season with two goals and two assists, making 19 league appearances.
In the 2018-19 season Tonali was part of the Brescia team that won the Serie B title and gained direct promotion to Serie A. He made his Serie A debut against Cagilari in the 2019-20 campaign and played a total of 35 matches this season.
Tonali has never hidden his support for Milan and has always been vocal of his support for club legend Gennaro Gattuso. A letter written by Tonali as a child surfaced on social media where he asks for a Milan shirt.
A letter from a young Sandro a Tonali asking for a Milan shirt.

🔜🔴⚫️🤔 pic.twitter.com/BzQpzzLgff

— SempreMilan (@SempreMilanCom) August 29, 2020
Brescia president Cellino said "We have received offer in January from Barcelona for Tonali. Manchester United made a bid for him before Milan, but once Milan came forward the player went crazy and asked to join Milan because it's the team he supported since he was a child."
Playing style
For Eugenio Corini's Brescia side, Tonali played as a Regista in a 4-3-1-2 which functioned as a 4-1-2-1-2 at times. He would sit in front of the defence and dictate play with quick balls forward to start attacks.
However, Italy coach Roberto Mancini has used him as a Mezzala (box-to-box midfielder) since they already have a Regista in the form of Jorginho in the Azzurri setup. Tonali has the skillset to play both roles very capably. He carries out Corini's game plan while putting his own imprint onto the game despite his tender age.
Tonali's main role in the team is to be initiator of build-up play. He acts as a single point of reference by positioning himself between the first two lines to form an asymmetrical triangle while receiving passes.
While defenders pass out from the back, the full-backs push up for Brescia acting as passing options for Tonali. Usually when he receives the ball from one of the defenders he uses his dribbling skills to power through the lines of defence or uses his passing ability to advance play.
A distinguishing aspect of Pirlo's passing was his unique body orientation that helped him angle in passes between defenders. Tonali has imbibed some of this technique in his stride which has gained him comparisons to Pirlo and a lot of praise from the maestro himself, who even called him 'more complete'.
With Brescia not being a technically gifted side, Corini had Tonali play in front of his defence as a shield. When the attack progressed into Brescia's final third Tonali would position himself between Brescia's two centre-backs creating what was essentially a five-man rear guard.
Tonali's main defensive strength lays in his unique ability to read the game and often the mind of the opponent. This gives him quite a number of opportunities to intercept passes and put his foot into tackles.
The 20-year-old does not dive into tackles but he does have a habit of giving fouls away in dangerous areas of the pitch, which is something to work on. His pro-active sense of defending has drawn comparisons to Gattuso, who was a wrecking ball on the pitch.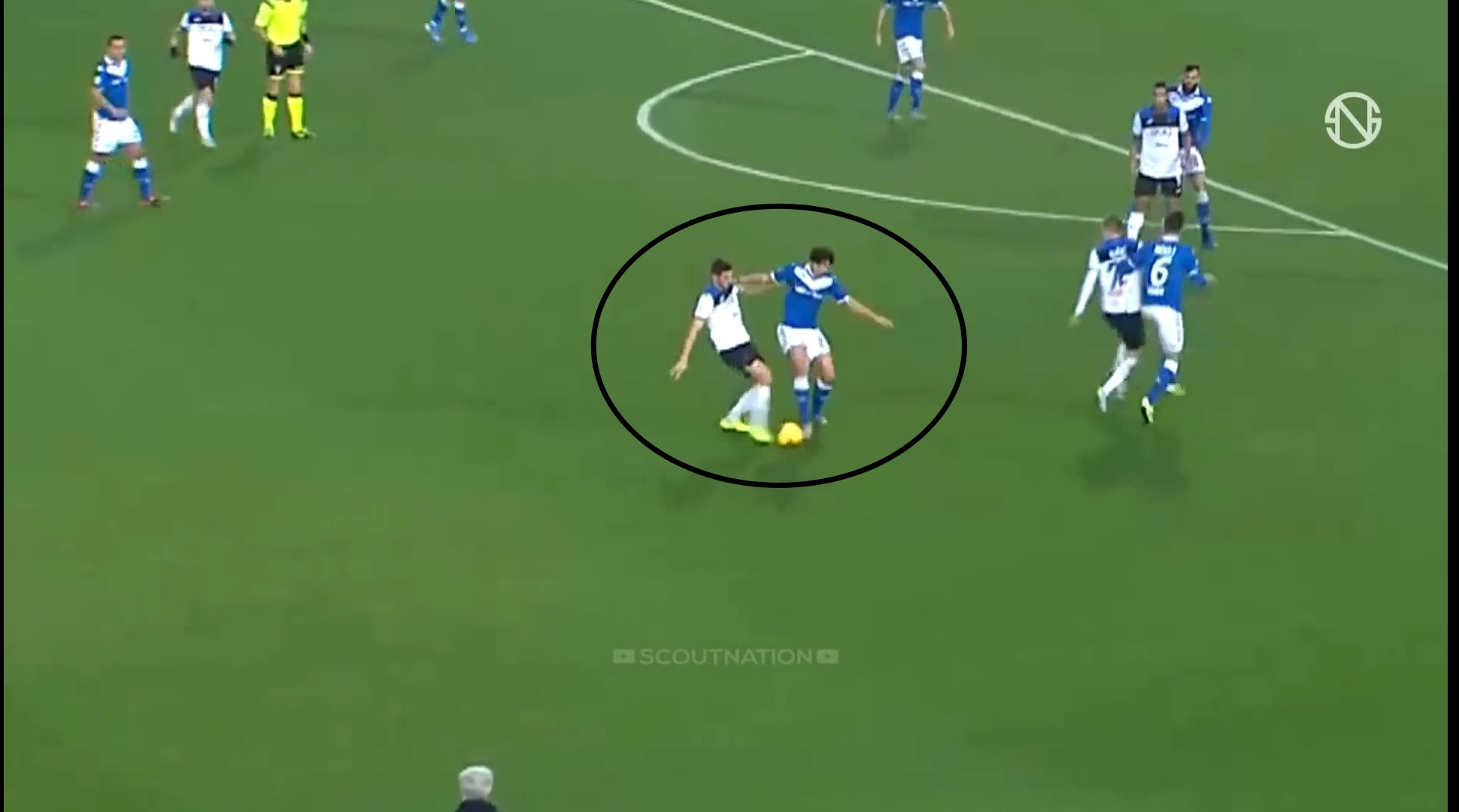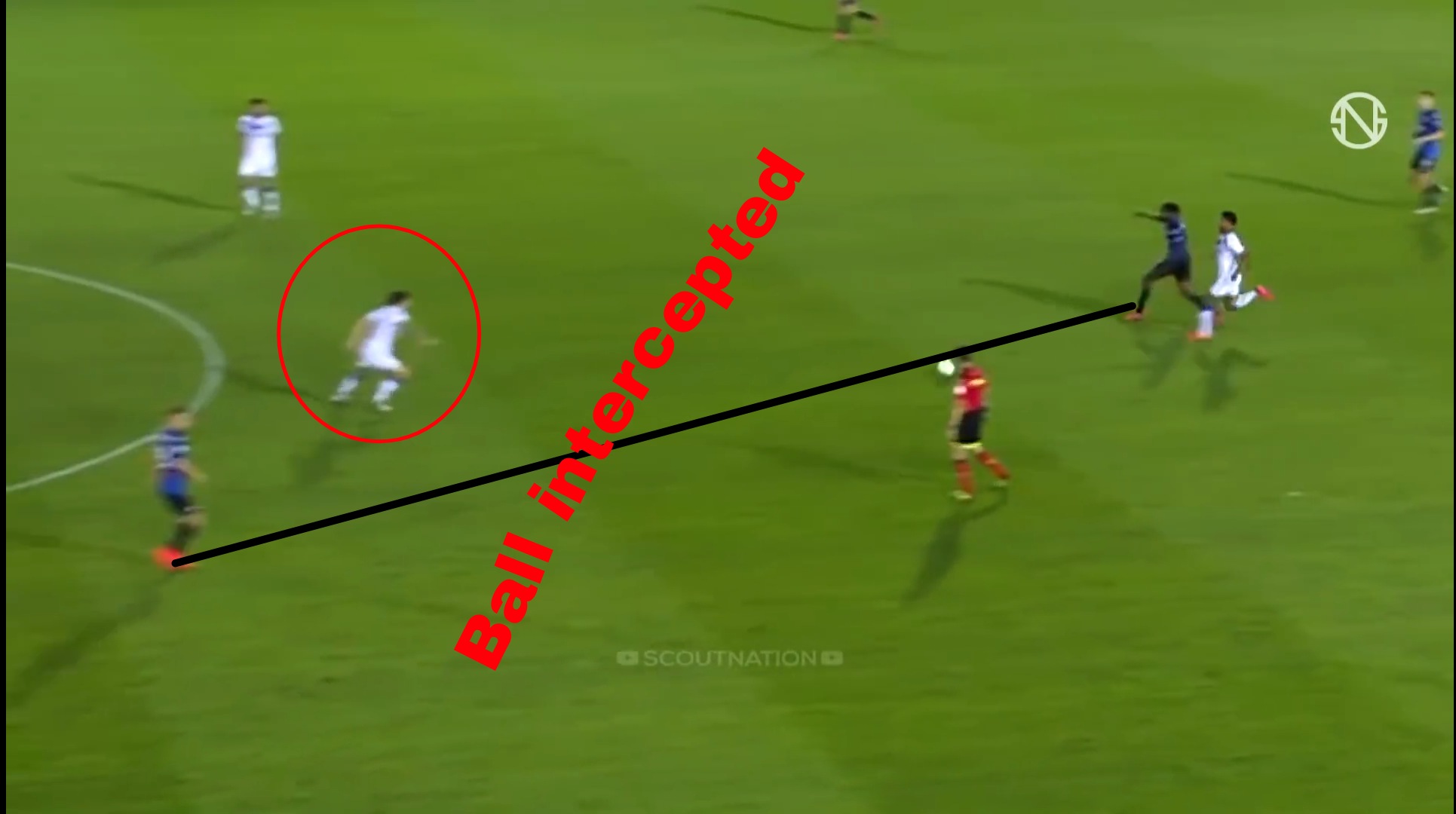 Once Brescia win the ball back, Tonali would position himself in a pocket of space closest to ball carrier. Being the crux of Brescia's build up, he tries to keep the distance between him and his team-mate in possession minimal so as to not turn the ball over.
Once the ball is at his feet, the Lodi-born midfielder scans the pitch for his team-mates to try and gauge who is not being marked and could therefore generate a chance.
Tonali must be aware of the strengths and weaknesses of who he plays with in order to make the appropriate passing choice. He has a wide range of passing in his armoury and does not shy away from going long.
He also can float in balls inside the box from wide areas but wastefulness has been a big problem of Brescia's relegation season. Tonali however being the Regista can mostly be seen occupying central areas of the pitch or occupying half spaces between the opposition's lines of defence.
Another weapon in his arsenal is his unusual acceleration. He can be seen participating in Brescia's counter-attacks with their forward players. He can also be seen holding players off by shielding them and has a fair amount of physicality to show he has some brawn and not all brains.
Tonali was also the designated set piece taker for Brescia. His only goal in Serie A came via a curving free-kick from an acute angle. He is also the designated corner taker.
🤔 We feel like we've seen a similar free-kick to this before…pic.twitter.com/aIWLOKq2sn

— SempreMilan (@SempreMilanCom) August 27, 2020
Statistical comparison
A player of a similar nature currently at Milan is Ismael Bennacer. Signed from relegated Empoli, Bennacer has been Milan's dynamo in the middle.
Bennacer played a total of 31 matches while Tonali played 35 games last season. In terms of interceptions, Bennacer has the upper hand over Tonali with 1.7 per game compared to the Italian's 1.2.
Bennacer has a higher passing accuracy at 88.3% completion, with Tonali only managing 76.1%. This could be down to Tonali attempting far more riskier passes as he plays as the single pivot in the midfield and is tasked with being key in the build-up.
The Algerian attempted 3.6 tackles per game coming out successful in 2.2, while Tonali won 1.1 out of 2.2 tackles. Perhaps this could point to the reason as to why Bennacer has 14 yellow cards while Tonali has only four.
In terms of attacking productivity, Bennacer has zero assists while Tonali stands out with seven mostly due to his added feature of taking set pieces. They both scored one goal.
Considering all factors, Bennacer seems to be edging Tonali to the starting spot but rest assured the youngster will give his new team-mate a run for his money.
Deal or no deal
Midfield depth has been something Milan fans have missed since the start of the club's downturn. From having a midfield of Poli, De Jong, Montolivo, Muntari et al., Milan are looking increasingly likely to have Kessie, Bennacer, Tonali and perhaps Bakayoko at their disposal for 2020-21.
Such a marquee acquisition is a serious show of ambition by the management and ownership, and there is a certain romance about a lifelong Milan fan realising his dream at only 20 years old.
He will join Donnarumma, Romagnoli and hopefully Gabbia in forming the core of Italy's future, while the likes of Bennacer, Theo Hernandez and Rafael Leao have created the pillars of the Rossoneri's future.
His skillset would ensure the creativity burden would not just rest on the shoulders of Castillejo, Calhanoglu and Rebic too. Furthermore, a set-piece specialist would ensure Milan score more goals, something that has plagued them before the COVID-induced break.
What makes it sweeter from Milan fans is that the transfer was snatched from crosstown rivals Inter. Cellino's words regarding Tonali's undying love for the club and his grinta has already given him a cult status among the fans, who will hopefully be able to give him a warm welcome at San Siro sooner rather than later.
Transfer rating: 8.5/10