Few Milan fans went into this weekend's clash with Sassuolo expecting anything less than three points.
The Rossoneri had been flying high, steamrolling their way to Sunday's clash at the Mapei off the back of a 12 game domestic unbeaten streak. Their opponents were on somewhat of a streak themselves, but the Milan faithful trusted in their team to call upon the hunger seen in recent months to provide a path to victory.
But at the end of the 90 minutes, it was the hosts that were celebrating. Alfred Duncan and Nicola Sansone struck on either side of halftime, giving the hosts a hard-fought 2-0 victory over their close league competitors. This loss, coupled with Inter Milan's 3-1 drubbing of Palermo, means Milan now have to make up four points to grab 5th place from their San Siro roommates. However despite the loss, the match, like many others during the season, was a very mixed bag.
There were definitely negatives, but there were some positive takeaways from the defeat as well. This piece is (hopefully) the first in a series that aims to clarify and explain the bad, the ugly, but also the good moments of Milan's remaining Serie A fixtures.
THE BAD
Naturally, the result is not a positive one. Every loss hurts, and losing to a team that is not only close to you on points but one that has consistently caused you problems in recent times makes it that much worse. Milan now have a lot to do if they intend to steal a European spot, as they are now four back from Inter and six behind Fiorentina. With 10 games remaining in the season this may still not seem like an awful lot, but with every passing week, the amount of opportunities to grab some points on their league rivals shrinks fast. Inter's inconsistencies provide somewhat of a guarantee that points will be made up on them at some point before the end of the campaign, but Fiorentina's largely productive form over the past month and a half means Milan will have to cause some big upsets if they intend to have a chance at pulling ahead of the Viola.
On the pitch, a separate group of faults reared its head. Defensively, Milan completely lost out to Sassuolo, particularly in the air. According to WhoScored, Milan won just five aerial battles, compared to Sassuolo's 12. On the ground, the defense frequently gave way to quick Sassuolo counter-attacks down the flanks, a problem that has plagued Milan since the beginning of the campaign. Antonelli and Abate (or in this week's case Mattia De Sciglio) are nice to have when you are pressing the attack, but far less so when your opponents unleash an unexpected burst down the side of the pitch, catching your defensively-inept fullbacks by surprise.
This was seen in earnest in the buildup to the second goal, with Milan's defense, particularly the flanking players, unable to do anything about Berardi and Vrsaljko's push towards the Rossoneri box. It was also seen in the 52nd minute, when Berardi moved unmarked down the side of the pitch before receiving a pass from the middle, cutting into the box and sending a curling strike towards the goal that was just barely kept out by an outstretched Donnarumma.
In addition, the midfield looked quite weak and lacked ideas. Juraj Kucka had an uncharacteristically quiet game, doing nothing of note save for a couple of tackles that ended up having no effect on the outcome of the match. His partner Andrea Bertolacci put in his trademark poor performance, contributing near nothing and generally looking quite anonymous throughout the game. Many Milan fans are wondering how the Italian is still starting matches, and performances like these are not helping his case for a first-team spot next season. The double pivot in Milan's 4-4-2 has to step it up in the remaining matches, as they are the ones that will largely be responsible for whether Milan is able to climb back into continental competition this season.
THE GOOD
With so many negatives, it is hard to believe that some sort of good things came from this defeat. As unlikely as it sounds, it is in fact true. Though Milan looked frail defensively and in the midfield, the Rossoneri mostly held their own in attack. Semi-frequently, several players would set up a combination to try and test Andrea Consigli, and though none of the attacks resulted in goals, several of them looked more dangerous than the one that resulted in Sassuolo's goal from open play.
Another and perhaps somewhat controversial positive lies in the result itself. Some Milan fans (the writer included) see the defeat as a blessing in disguise. After a nine-match unbeaten streak in the league, the team was flying higher than it had been for several years. Things were clicking together and communication within the team looked to be at an all-time high. The run fueled a huge confidence boost, and in several games the team was essentially functioning solely on the aim of preserving this undefeated spell.
Had the defeat–and the defeat was inevitable, with multiple nigh-unwinnable fixtures on the horizon–come later in the season, it could have completely unsettled the remainder of the Rossoneri campaign. However, the defeat came with 10 matches still to play. This gives the team an opportunity to return to Earth, ground themselves, regroup, and formulate a plan of attack for the remainder of the season. Now this, of course, is all just pure speculation. Perhaps Milan could have continued the streak until the last matchday or perhaps this loss will completely botch the remainder of Milan's Serie A run. But in the author's opinion, it closes the chapter of the previous 28 matches and sets up Milan for a strong finish to the campaign.
THE UGLY
Ah yes, the ugly portion of this trifecta of opinions. For this week's article, the section will focus on Sassuolo's goals. In particular, the second goal. The first one gets somewhat of a pass because although Duncan had a huge amount of space into which to run and Berardi had far too much space to send the ball into, no amount of defending could have stopped the thunderous strike the Sassuolo midfielder sent past Donnarumma. The second goal, however, was a cacophony of unacceptably poor defending and complete lack of situational awareness from Milan.
This is the entire play for the Neroverdi's second, game-sealing strike:
Two situations in particular showcase the real "ugliness" that this section aims to bring to light. The first one is at the very beginning of the play.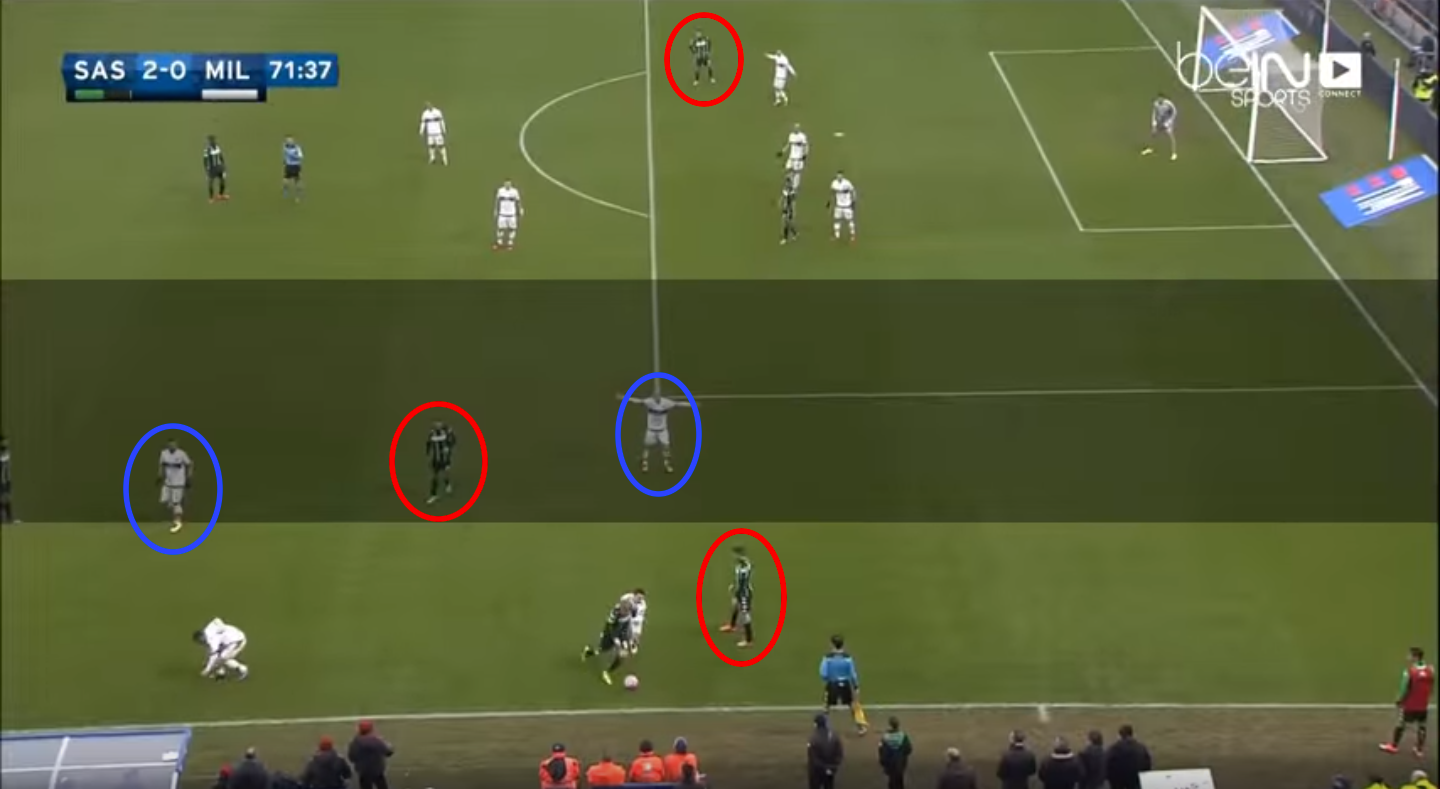 Circled in read, from top to bottom, are eventual goalscorer Nicola Sansone, key player Domenico Berardi, and eventual goal creator Sime Vrsaljko. One thing instantly does not look right; Berardi is completely unmarked. You cannot of course expect a player to be within three centimeters of him the entire game, but in this photo he is a good 10-12 feet away from either Milan defender (circled in blue). For a player that can impact the game as much as Berardi has consistently proved he can, such a distance is completely unacceptable. A few seconds later, this lack of tight marking leads to a breakaway into the box.
Here, Biondini (number 8) slots the ball through Antonelli's legs to an awaiting Vrsaljko, who quickly plays a pass to wide-open Berardi. Berardi proceeds to give the ball right back to Vrsaljko, kickstarting the right-back's run into the box. By leaving the Italian winger open, Milan left themselves open to a simple one-two play with potentially devastating consequences. After such a huge blunder, it can seem like there is no way Milan could have something equally bad defensively up their sleeve. Sadly, you would be wrong.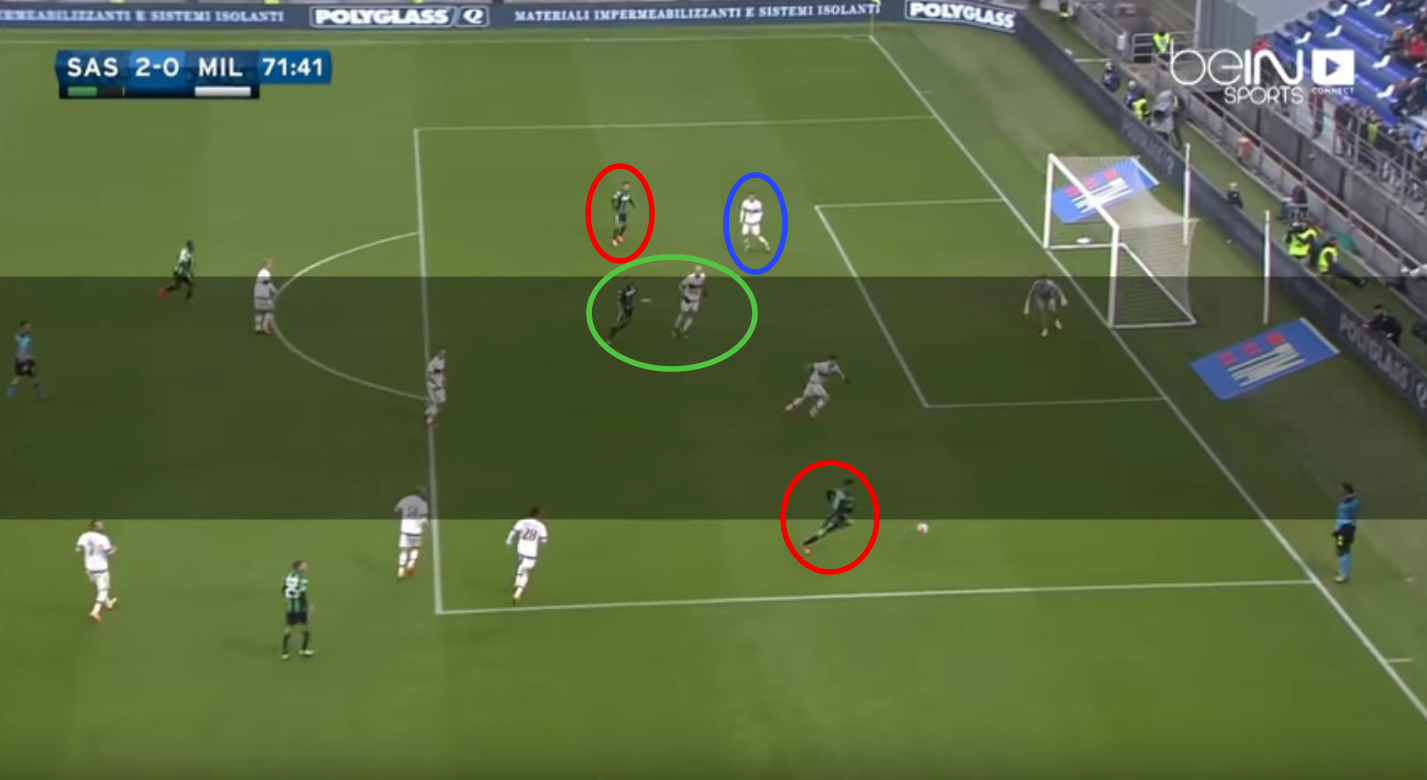 Circled in red at the bottom is a charging Sime Vrsaljko, wide open with plenty of space into which to launch a driving pass or loping cross. In green is a pair of players, one on Sassuolo looking to get open for Vrsaljko's delivery, the other a Milan defender keeping close tabs on him. This is the proper defensive arrangement, one player trying to get open, the other close by trying to thwart him. What's going on above them, however,is a different story.
Mattia De Sciglio (circled in blue) is nowhere near his mark, and Sansone (in red at the top) has plenty of space, much like Berardi had just seconds earlier. This glaring oversight from De Sciglio provided Sansone with just enough space to squeeze past the two defenders closest to him and smash in a strike from close range following Vrsaljko's exemplary delivery.
The goal could have easily been prevented with tighter marking in either situation, but Milan's lack of attention to defensive detail ended up costing them the goal and any chance of finding a way back into contention for even one point. Credit to Sassuolo of course, the play was perfectly executed, but a team with Milan's stature should be able to at the very least know the basics of man-marking when the opposition looks to be preparing an attack.
In sum, the match was a very mixed bag, mostly negatives but some positives too. For Milan fans it's best not to dwell too much on the result, as nothing seen in this match is anything not seen before. The second goal was a series of hilariously amatuer defensive decisions, yes, but they are not decisions the Rossoneri faithful haven't seen many times before. The best course of action is to pick your chin up, soldier on, and pray that this loss is just a fluke in Milan's smashing end-of-season run to grab European competition qualification.