AC Milan president Paolo Scaroni has given an interesting interview in which he talked about the club's goals for the season, their financial situation and Zlatan Ibrahimovic's potential return.
Scaroni spoke during an interview with Rai GR Parliament with his words relayed by MilanNews, and he began by discussing the minimum objectives that Milan have for the 2023-24 season, stressing the importance of European football.
"In the meantime, let me enjoy this budget profit after all these years, where I have made a small contribution and this is an agonising goal and we have gotten there," he said.
"When people talk to me about objectives, I say that this is what Milan must always be in the Champions League. Both for economic reasons and for our fans all over the world."
Scaroni was asked about the potential for another Scudetto battle with their city rivals Inter, especially after the 5-1 scoreline in the derby the weekend before last.
"I hope that's the case and I hope that in the next derby we can smile again after these five defeats. Our fans suffered from these defeats. The three points lost against Inter are not worth double, but I say this half-jokingly and when I see the score for this 2023 season, I go home with my ears down.
"After the 5-1 I was in a terrible mood for 24 hours. Then, however, Pioli made us eliminate the bad feeling and I think it's no longer there. Against Lazio I saw a beautiful, serene, cohesive team that doesn't look back but looks forward.
"The first is Wednesday in Dortmund. In October we have a terrifying calendar and we must do well in both competitions in which we are involved."
The president was quizzed on how exactly the path was drawn up to move from such large losses to registering a first profit since 2006.
"Milan is a company. I have been involved with companies all my life and Milan is one of them. We need to grow revenues. Consider that those recorded in the latest budget have doubled compared to four years ago.
"We pay a lot of attention to costs, which for us are the first team and we try to follow a careful and severe policy. We are ready on the signing front, with a summer transfer campaign bringing home some great players.
"But we are very careful about wages because they are a source of cost that weigh on us and make player transfers difficult. Salaries make any transfers or loans difficult.
"Giorgio Furlani and I owe a lot to RedBird for the experts it makes available to us. The 'revolution' is the result of the need for a Milan and sustainable Italian football.
"The tycoon who pumps 100 million into the club no longer exists and if he did exist, he would be banned by UEFA. Milan's ambition is to be sustainable before the transfer market. The '22-23 balance sheet is positive without the sale of Tonali and we are aiming for tidy accounts regardless of the market.
"The market can be a success or not. Last year we weren't very happy with the purchases we made, now it seems to me that things are going for the better. First there is the ordinary economic sustainability of the club."
One of the next steps that Milan can take is the construction of their own stadium, something that saw a development last week as an official plan was submitted to San Donato council. Scaroni was asked why the attitude towards stadiums is the way it is in Italy.
"It is a fact that the structures are obsolete. Why are we like this? Because there are a number of incredible obstacles and the phenomena that exist in Milan are everywhere.
"The commissioner? He must be supported by a set of laws that allow him to overcome obstacles, otherwise there would be great difficulty for him too.
"The last time there were investments in stadiums dates back to Italia 90 where existing stadiums were enlarged. Italy needs new stadiums."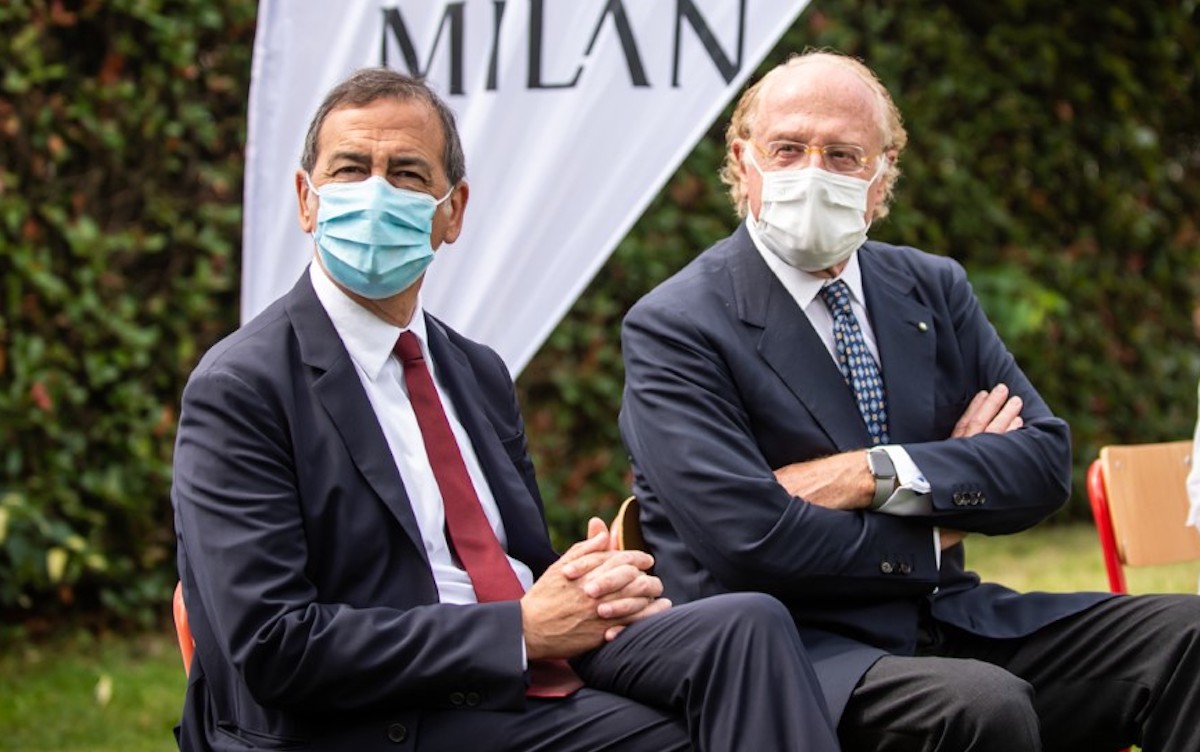 Scaroni is a boyhood fan of Milan, and he was asked what it means to represent the club as the president.
"It's nice to be the president of Milan when you win matches, when you lose a lot less. After losing 5-0 against Atalanta, I was sick for three days. As regards the stadium, we and Inter started with the idea of ​​building a new stadium.
"Renovation was impossible. On the new facility they clipped our wings in every way and so we fell back on the pattern of the big Europeans, meaning everyone has their own stadium.
"We were ready to give up a unique home, also because we have always been in line with Inter on the stadium issue and also because San Siro has an iconic charm. We lower our arms in front of a project that we really liked.
"The new San Siro project? We have not yet definitively closed the door. The pre-declaration of the superintendency on the constraint relating to the second tier makes me think that many scholars come to study it in an empty stadium.
"Since the stadium belongs to the Council of Milan, the ball is in the mayor's court who should try to overturn this decision on the restriction.
"In the stadium project that we presented in San Donato, the entire roof would made with solar panels, we recycle the water etc. From an environmental point of view it is a much more ecological stadium than the beloved San Siro."
Zlatan Ibrahimovic's possible return to the club has been mentioned in the media and this was intensified by the fact he has been at San Siro for a couple of recent home games.
"Zlatan was also at the stadium on Saturday. He met Cardinale, he had a meeting with me and then with Furlani. Now he is going on a gap year. When he is ready to accept return hypotheses, we will be happy to explore them together with him," Scaroni said.
On the new signings, he added:  "I like them all. Even those like Adli who played little last year. Making a new signing and seeing him fit in with the team, in harmony with everyone, isn't always successful but this year it seems like that is the case."
Finally, Scaroni spoke on TV rights and Milan's development in the North American market.
"As regards the closure of the Italian rights, I am moderately optimistic and I am convinced that we will close them at a level close to the current one.
"I'm worried about the rights in the American market. Milan absolutely needs to be seen in an important way in the United States, while on international rights we are doing well."