Summer is over and the AC Milan Women will soon be back in action, with the first game just around the corner and some news to catch up on.
Here's an overview of what the Rossonere have been up to lately…
AC Milan's first game of the season will take place on Sunday, September 17th. The game will take place at 15:00 CEST.
The Rossonere recently completed the signing of defender Allyson Swaby. The Jamaica international has signed a contract until June of 2026 and will wear the No.13 shirt.
The Rossonere have also shown their support for Spanish forward Jenni Hermoso. Jenni has been in the world's spotlight for the past few days after Spanish FA president, Luis Rubiales, forced a kiss upon her during the awards ceremony for the Women's World Cup final.
What was supposed to be a happy and momentous occasion for Hermoso was completely marred by this incident. There has been much fall-out in the wake of this since the August 20th final.
Rubiales has currently been suspended over his actions and former Spain coach, Jorge Vilda, has been dismissed both from his potion as head coach and sporting direction of the Spanish federation.
Hermoso has also filed a criminal complaint against Rubiales and has accused him of sexual assault.
A few Milan players have shown their support for Hermoso over the past few days. Both AC Milan and Atlético Madrid players held up a banner that said 'Contigo Jennifer Hermoso' ('We are with you, Jennifer Hermoso') during the final game of The Women's Cup, which was a friendly tournament held in Madrid.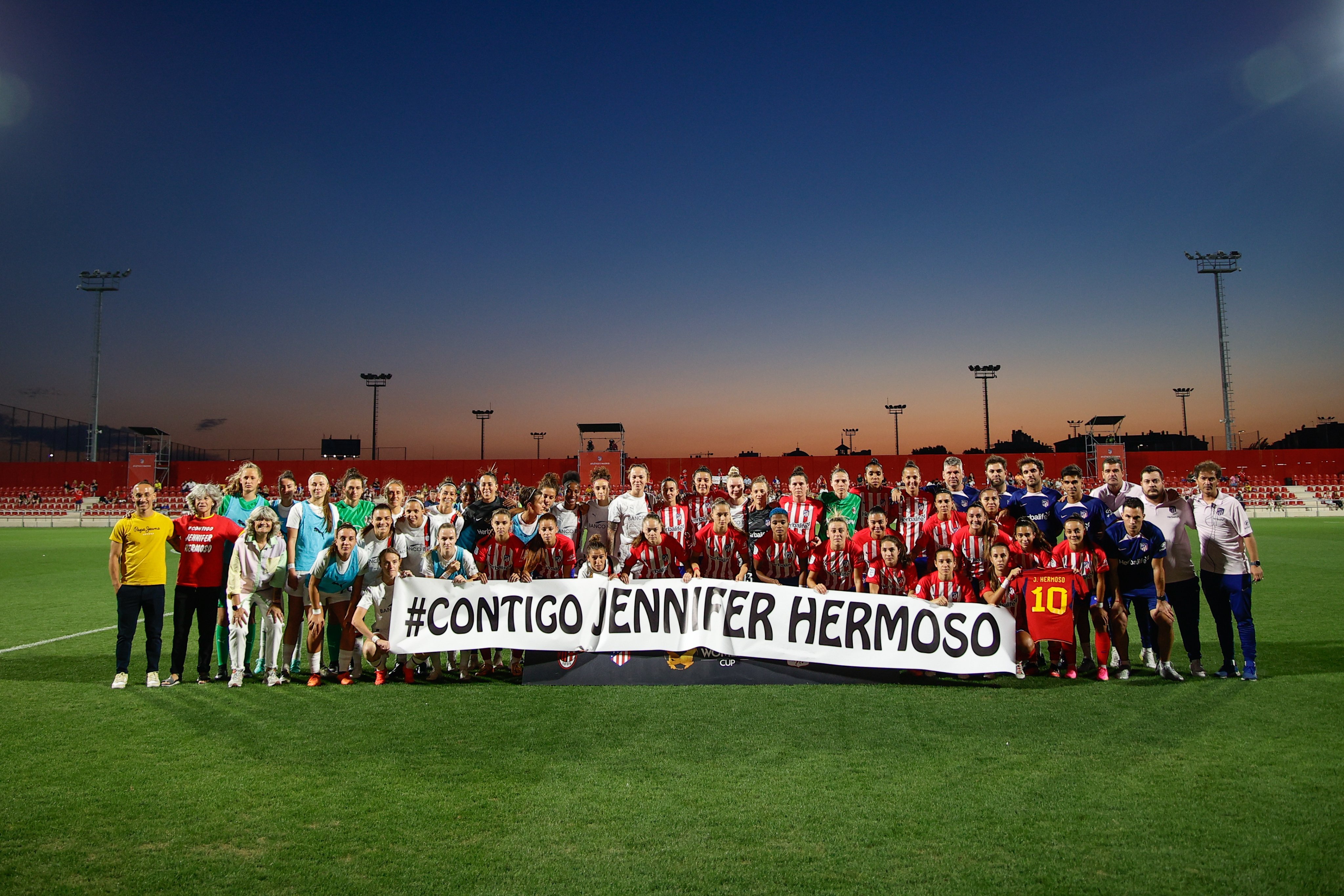 The Milan players have also issued individual statements in support of the player, including Christy Grimshaw, and Kosovare Asllani.
The Women's World Cup has highlighted how many sexual abusers there are in charge of women's soccer!
Players has to be protected from sexual abuse and other forms of physical and emotional abuse! Action must be taken, abusers must be forced out! Enough is enough!

— Kosovare Asllani (@KosovareAsllani) August 25, 2023
SempreMilan has also written of the past mistreatment of the Spanish Women. This was done to raise awareness of the abuse the players have endured just to do what they love and play the beautiful game.
Former Milan player, Verónica Boquete, who was the forefront of the movement to remove her former coach, Ignacio Quereda, and to bring attention to the abuse and mismanagement towards women that has been rife in the Spanish system.
Sadly, Spain is not alone when it comes to mistreating their women's players. Another former Milan player, Dominika Čonč, spoke of the abuse and harassment that she and the Slovenian Women have endured while playing for their country.
This resulted in head coach, Borut Jarc, stepping down from his position after he was alleged to have perpetuated some of the abuse.
The struggle for equality is an ongoing fight and the current and former Milan players have been at the forefront of it.
SempreMilan will also continue to use our platform to highlight these issues and aid these players in their struggles. We also hope that they'll finally be able to play without having to fight so hard for the bare minimum and without having to endure abuse while doing so.