Now the season has finally come to a close, we have decided to take a look back at some of the key moments and best performers.
Below, the SempreMilan writing staff have made their choices in a number of different categories in the 2019-20 seasonal awards…
Best player
Oli: Theo Hernandez. There are plenty of candidates for this, including top scorer Ante Rebic plus Zlatan Ibrahimovic and Simon Kjaer, though they only really showed up in 2020. That's why Theo gets my vote, as he has been consistently exceptional and a breath of fresh air on that left side.
Nikita: Franck Kessie. Criticised by many, but constantly the engine of our midfield. After the break he found himself in the double pivot and gained the acknowledgement of sceptics as well.
Fred: Zlatan Ibrahimovic. The Swede saved Milan's season and his experience and confidence elevated everyone's game. His style is also in line with Milan's strengths and limitations as the team desperately needed a target man and Ibrahimovic was perfect for the job.
Anthony: Bennacer or Kessie. Can't call it.
Ivan: Theo Hernandez. Although a lot of players have made a huge impact in the second half, Theo has been a consistent beast game-in game-out, with amazing stats for a defender and up there with the best in the world in his position.
Madison: Donnarumma. He has had his best season in a Milan kit, and it would be hard not to give him this.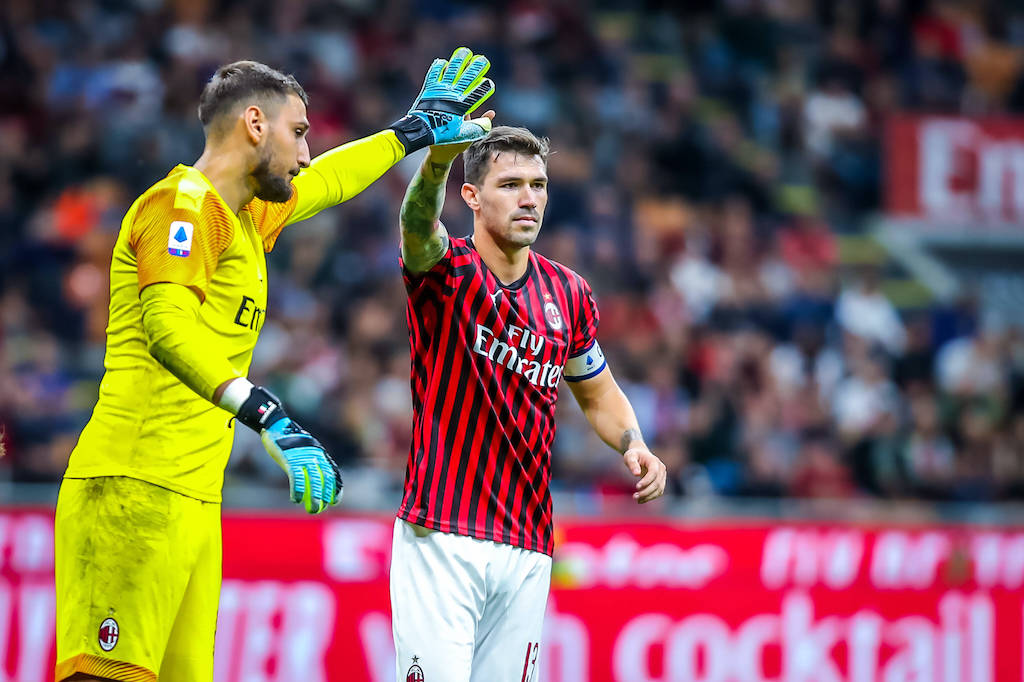 Rohit: Gianluigi Donnarumma. Second highest clean sheets in the league and 200 games for Milan by 2021. Donnarumma saved 2 penalties in 2 games and has been Milan's most consistent performer despite Milan's outfield players having a roller coaster season.
Isak: Hakan Calhanoglu. Although he got most of his points after the restart, amassing five goals and one assist prior to that, the Turkish international was an important point of reference in the attack. Sure, he didn't always contribute on the scoresheet, but he often created chances and added a sense of security on the ball.
We don't have to say much about his period after the restart, which was simply sensational and the best he has performed with the Milan shirt. Onwards and upwards, hopefully, with Pioli putting a lot of faith in him.
Worst player
Oli: Andrea Conti. Again, a few candidates, but the right-back spot was the biggest issue all season and it was because the former Atalanta man failed to step up. Calabria came in for the last few games and looked much better, which says a lot.
Nikita: Lucas Paqueta. Inconsistent, unreliable, not enough quality shown and still no clarity on what his ideal role is and what exactly his strengths are.
Fred: Lucas Biglia. Between long injuries and a series of awful performances, Biglia was without a doubt the most useless Milan player this season.
Anthony: Lucas Biglia. Constantly injured and towards the end of season he returned and the quality drop off was massive.
Ivan: Lucas Paqueta. Expectations were massive after he was doing well in Serie A last since after his arrival. His performances this since were bellow average and he is struggling to find his spot.
Madison: Krzysztof Piatek. Everyone seems to have forgotten about Piatek. He was expected to be the leading goal scorer for us this season and left the club after just being here for a year.
Rohit: Names like Suso, Piatek come to my mind but they left mid season, so for me it has to Paqueta. Milan made him the club's 3rd most expensive player by forking out €38m for his services and Paqueta went this whole season without a goal and only registered two assists. A clear indication why Milan have been a mid-table side can be seen from their transfer policy.
Isak: Andrea Conti. It's no surprise that Milan are looking to sign a right-back this September, and although the former Atalanta man is set to remain, he didn't perform well. Way too inconsistent and the defending was subpar, which he failed to make up for in the attacking phase.
Most improved player
Oli: Ante Rebic. Going into the Christmas break you'd have got about 1000/1 on him being Milan's top scorer for the season, but that run of goals before and after lockdown is what seemed to really get Milan going. Everything he touched turned to goals.
Nikita: Ante Rebic. Looked lost in the first half of the season. Clumsy and clearly not accustomed to Serie A. After the Christmas break he experienced a rebirth and became one of the most important player's of Pioli's high-pressing game plan.
Fred: Franck Kessie. Since moving to a double pivot alongside Bennacer, Kessie has improved significantly, constantly dominating the midfield and scoring a couple of impressive goals in the process.
Anthony: Rebic. Started the season very poorly, by January rumours had suggested he could be sent back early from his loan, then by the end of the season he was the top scorer.
In 2020, only Erling Haaland (13 goals) and Robert Lewandowski (12) have scored more goals than Ante Rebic (11) among the top-5 European Leagues, excluding penalties.

[Via @OptaPaolo]

🇭🇷🔥🔴⚫️ pic.twitter.com/AzCLTm6Ant

— MilanData📊 (@acmilandata) July 18, 2020
Ivan: Rebic could be, but he didn't play much in the first half, so I'm gonna go for Calhanoglu. Simply brilliant after the break scoring 6 goals and adding 8 assists and his overall performance has been brilliant.
Madison: Rebic. After the season that he had last year in Germany, he was expected to come in to Italy and score goals. He was not able to find his feet at the beginning of the season but finished the second half strong.
Rohit: Rebic. I considered Kessie and Bennacer but Rebic's contribution is what changed our season. After only 1 start until January, Rebic got more used to the style of Serie A and with Ibrahimoviç he formed a good partnership. Defenders in Serie A are not able to handle his pace and power and it has contributed to many goals and assists.
Isak: Ismael Bennacer. The start of the season was tough for all the player, but especially the Algerian. Giampaolo opted to start Lucas Biglia instead and Bennacer wasn't allowed to show his qualities. Above all, he didn't get the time to acclimatise.
Fortunately, Stefano Pioli's arrival changed it all and it's safe to say that Bennacer was an extremely important player for Milan this past season. The likes of Man City and PSG are monitoring his situation and I'm not surprised at all by that.
Best moment of the season
Oli: The 4-2 win against Juventus. It's a shame it happened behind closed doors in truth, because that was one of the best nights in Milan's recent history.
Nikita: Comeback against Juventus. No words needed.
Fred: The win over Juventus. It has been tough beating Juventus lately for any team, especially Milan. So coming back after conceding two goals to win 4-2 against the Old Lady at the San Siro was exciting to watch.
Anthony: 4-2 over Juventus. Nobody saw that coming ever. Especially after being down 2-0. That comeback was something I'll never forget.
Ivan: The 4-2 comeback win over Juve.
Madison: 4-2 win over Juventus.
Rohit: Undoubtedly the win vs Juventus. Coming back from 2-0 down to win 4-2 takes a lot of courage. Milan hit Juventus where it hurts and came away with 3 points.
Isak: The win against Juventus. Claiming three points against Juventus is an achievement in itself, but coming back from a 2-0 deficit to lead within minutes is certainly something else. The Rossoneri refused to give up and showed what they are capable of that night. Truly a wonderful game.
Worst moment of the season
Oli: 5-0 loss against Atalanta. The lowest point I've ever had as a Milan fan, the second half capitulation was really difficult to watch – especially against a regional rival.
Nikita: 5-0 defeat to Atalanta. Again, no words needed.
Fred: The derby loss. The second derby of the season was perhaps the perfect contrast to Milan's game against Juventus later on this season. While the team managed to rise to the occasion and come from behind to win the game, the Rossoneri completely crumbled against their city rivals after being up by two goals, conceding four goals in the second half and losing a crucial game.
Anthony: 5-0 loss to Atalanta. After everything the season was to start, this was the rotten cherry on top telling us it was time to change everything.
Ivan: Losing 5-0 to Atalanta.
Madison: 4-2 derby defeat to Inter.
Rohit: No contenders for worst moment of the season. The 5-0 loss was Milan's breaking point since a long time. It finally got the management to respond and bring back Zlatan.
Isak: Derby loss against Inter. Some would say the 5-0 loss against Atalanta was worse, but at least then we were outplayed. The loss against Inter was hard to swallow given that we had a 2-0 lead heading into the interval. It's never nice to fall victim to a comeback, especially not in the Milan derby.
Goal of the season
Oli: Rafael Leao against Fiorentina. Kessie against Parma was the most 'wow' goal, but seeing Leao glide past three defenders and finish with such composure had me screaming. Even if we were 3-0 down.
Nikita: Kessie's thunder strike against Parma.
Fred: Theo Hernandez volley. An absolute beauty from Hernandez who can be easily considered the biggest surprise of the season.
Anthony: Leao's consolation goal against Fiorentina. A depressing game that was instantly lit up by a moment of brilliance in a losing effort.
Ivan: Calhanoglu against Atalanta. Finally got his amazing free-kick goal for Milan and what a strike it was. Also finished our amazing run against the top 7 teams and was a huge moral boost to show us how far we have come since the 5-0 to end up the game at 1-1 with key players missing.
Madison: Rafael Leao against Fiorentina. We had been battered the entire game, but the he came on late in the second half, and wowed the entire stadium.
RAFAEL LEAO! pic.twitter.com/Y5FF3q8TnG

— MilanGifs (@MilanGifs) September 29, 2019
Rohit: Leao's Solo effort against Fiorentina. Beating 3-4 opposition players and sliding it past Dragowski was a joy to watch.
Isak: Calhanoglu against Atalanta. Sure, Franck Kessie's long-range screamer against Parma was fantastic. However, Calhanoglu's free-kick against Atalanta involved more technique and it's a goal that is very hard to replicate. I don't know if he meant to shoot, or if the cross was overhit, either way it curled beautifully into the top corner from a tough angle.
Rating out of 10 for the season
Oli: 6. Ultimately, a sixth place finish is a failure for Milan, but the second half of the season suggests there are so many encouraging signs. It could become an 8 if the good form carries on into 2020-21, because the foundations have been laid, but it could also be lower if there's a difficult start again.
Nikita: 6. Disastrous beginning, only saved by a fantastic second half of the season and especially the period after the COVID break. Still unsatisfactory standing but some promise for the future based on the positive game plan from the season finale.
Fred: 6. A terrible start to the season saved by an incredible ending. Another season filled with regrets for the red and blacks who emerged with only a Europa League spot as a consolation prize.
Anthony: Pre-COVID 3/10, post-COVID 9/10 so overall a 6.
Ivan: 6 – 3/10 first half and 9/10 second.
Madison: After the way we started, ill give us a 7/10. We started horribly but then somehow finished in 6th and qualified for the Europa league
Rohit: 6.5/10. Dismal start, wobbly middle part and extra strong finish. Milan last season finished one point off the UCL spots but this season we fell behind by a further 12.
Isak: 6/10. Under the circumstances, with the Giampaolo fiasco and all, Stefano Pioli and his men did very well to salvage the season and secure Europa League qualification. Fifth place would have made it even better, but now there is a good foundation to build on. That being said, of course, the goal was Champions League and the Rossoneri failed.