Italian football is known for tactical play, a tight and near-impenetrable defence, clinical efficiency, and methodical football.
These 10 stars contributed to making sure that Serie A betting odds could never be ignored because Italian football was an absolute undisputable delight.
Carlo Ancelotti
Ancelotti is now more popularly thought of as a manager, however, before he became manager, Carlo Ancelotti played for Milan, Parma, Roma and of course the Italian national team. While at Roma, he won a Scudetto with the team, a coveted award given to the champions of Italy's top team in the professional division. He won multiple championship titles including three Serie A titles, four Italian Cups as well as participated in two World Cups.
Paolo Maldini
This Italian born, AC Milan defender holds the record for most appearances, knocking Alessandro Del Piero down to second place having appeared in 902 games for Milan. He made his mark very early in his career playing in the starting XI since he was 17 years old. He played for Milan for 25 years, his entire career, and his records include 126 caps, seven Serie A titles, five Champions League wins and one Coppa Italia. His impact is so treasured in Milan that the number 3 jersey was retired for him.
Roberto Baggio
He won the Ballon d'Or and the World Footballer of the Year in 1993 and he is famous for a magnificent and near impeccable career if you don't count a damning missed World Cup penalty. During his time with Milan, Baggio scored 19 goals in 67 appearances in all competitions and 12 of his goals were scored in Serie A, in 51 appearances. He won Serie A in 1996, and was one of a few superstars of the time that made the league the most popular and glamorous in the world.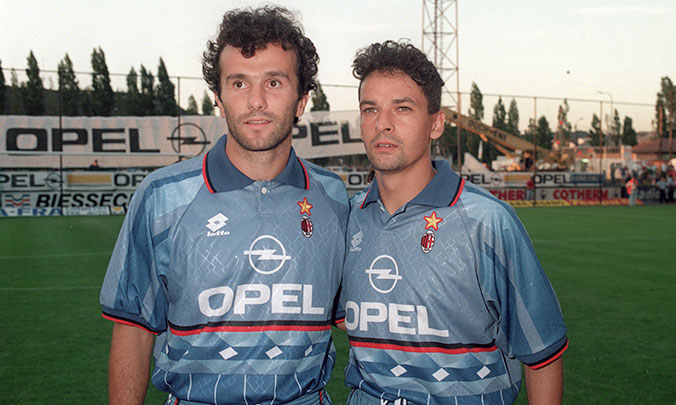 Kaka
Kaká was quite simply a revolutionary player. Having made his professional club debut at age 18 at São Paulo in Brazil in 2001, he joined the Rossoneri in 2003. He helped Milan finish runners up in the 2004-05 Champions League as the top assist provider of the tournament, and was named the UEFA Club Midfielder of the Year. He won both the 2006-07 UEFA Champions League and the 2007 Ballon d'Or, at a time when he was regarded as one of the best to have every played in Serie A. His playing style was electric: pace, power, dribbling, finesse and an ability to make things happen out of nowhere.
Gianni Rivera
Another attacking midfielder who won the Ballon d'Or while at Milan, Rivera was and still is nothing short of an Italian football icon. As Wikipedia writes, Rivera "was an elegant, efficient, and creative offensive playmaker, with an eye for goal, who possessed excellent vision and technical ability, and who was highly regarded for his footballing intelligence, leadership, correct behaviour, and class". With over 500 club appearances and 12 major trophies, it would be fair to call the 'Golden Boy' a player who redefined and established the 'silky attacking midfielder' role.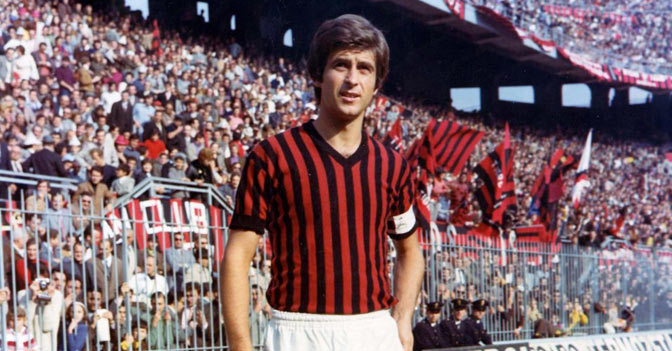 Ruud Gullit
In 1987, Gullit moved from PSV to Milan for a then-world record transfer fee and was was part of a Dutch trio at the club which included Marco van Basten and Frank Rijkaard. Gullit won three Serie A titles and two European Cups with Milan, but his ability to be deployed in multiple positions made him revolutionary. He played as a striker, support striker, attacking midfielder and a midfielder for the Diavolo, and went on to play as a sweeper for Chelsea later on.
George Best famously commented in 1990: "Ruud Gullit is a great player by any standards. He has all the skills. He's not afraid to do things with the ball. And he looks as if he's enjoying every second of it. By my reckoning that's what makes him an even better player than Maradona. Both have the key quality you will find in all the best players: balance. You just can't knock them off the ball. It was the same with Pelé, Beckenbauer and Cruyff."
Franco Baresi
We finish with arguably Milan's most treasured player, along with Paolo Maldini and the like. Baresi mainly played as a sweeper or as a central defender and spent his entire 20-year career with his beloved Rossoneri, captaining the club for 15 seasons. His speed, strength, aggression, concentration, anticipation, longevity and stamina made him the best defender in the world at the time, and he became the mould for the 'modern centre-back'. Il Capitano.
---
READ MORE: Milan not interested in Raiola-led swap deal with Juventus – the two reasons