A lot of emphasis has been placed upon AC Milan's youth project and that extends beyond the first team into the Primavera side currently coached by Ignazio Abate, but also further than that into the various age groups of the youth sector.
The likes of Chaka Traore, Youns El Hilali, Victor Eletu, Andrei Coubis, Andrea Bozzolan and other from the Primavera have (rightly) already been written about at length, but what about those who are even younger and aim to follow their footsteps?
Scout7Calcio has put together an excellent thread looking at the teenage talents that Milan's youth sector boasts, and who are well worth keeping an eye out on for the future…
Francesco Camarda
Age: 14
Position: Striker
Foot: Right-footed
Camarda went viral last year when his ridiculous record over close to 500 goals in the various youth age groups at Milan came to light, and there is certainly reason to be excited about him given he is now scoring against adults too.
He possesses good composure, loves to drop deep to be a passing option, is surprisingly good at aerial duels, possesses good dribbling and pace over a longer distance. He is physical and can hold the ball up well, and has shown a good footballing IQ with his runs and finding space, in addition to good control and first touch. In short, he could develop into something special.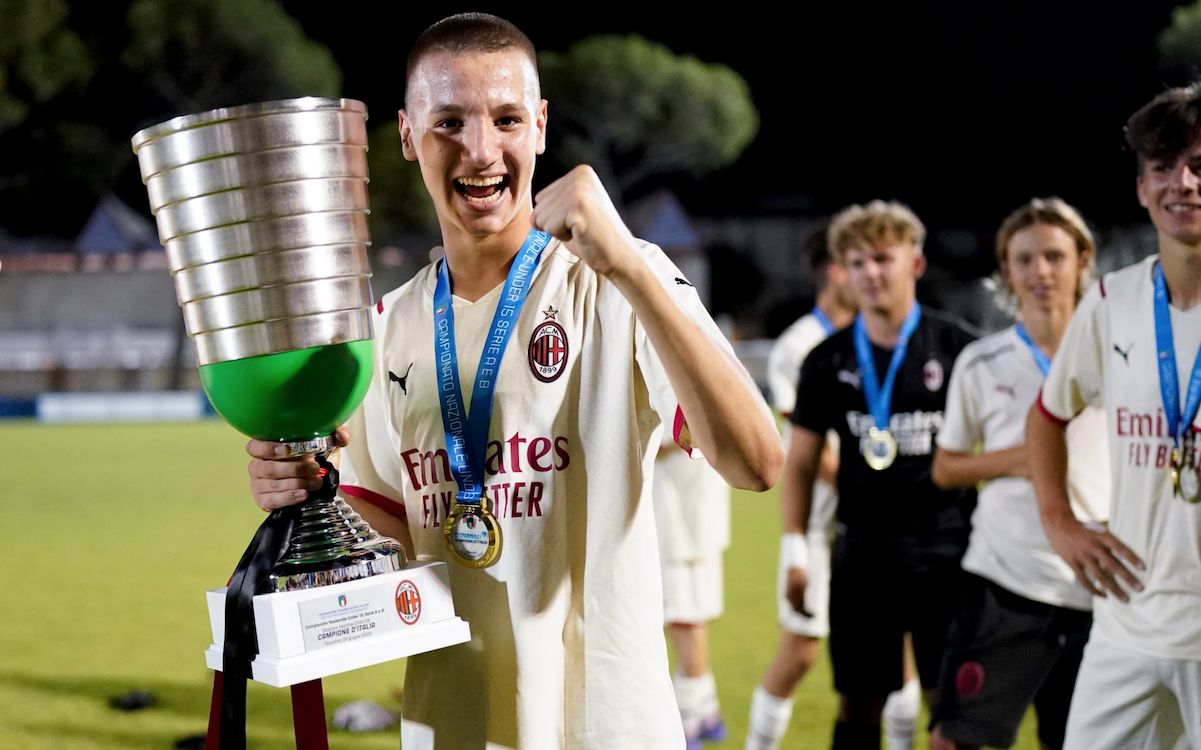 Mattia Liberali
Age: 15
Position: Winger/playmaker
Foot: Left-footed
The main feature of Liberali's exploits so far are his pace and his explosive acceleration, which he has combined with the ability to dribble well at full speed. He has good vision and his passing (particularly vertical play) are also strong points.
That is why he is so effective at breaking opponents' pressing which is also thanks to his composure and his incredible first touch. Camarda and Liberali seem a match made in heaven.
Christian Comotto
Age: 14
Position: Midfielder
Foot: Right-footed (can finish with both)
Comottio is the engine of his team as perhaps his biggest asset is his immense work rate. He has also shown good anticipation of the ball/player movements from opponents, is very agile and has good dribbling.
However, he is far from just a busy presence as he also has composure and is extremly calm on the ball under pressure, but
still needs time to develop his physique.
Alessandro Longoni
Age: 14
Position: Goalkeeper
Longoni certainly has an imposing frame for a 14-year-old, and this helps him be so strong in coming to claim high balls and also being quick off his line to snuff out danger.
His anticipation and positioning are also impressive, and he is already very vocal as he talks a lot with his defence. Longoni possesses fast reactions and good reflexes, but developing his all-around game will take time.
Tommaso Mancioppi
Age: 16
Position: Midfielder (box-to-box and holding)
Foot: Right-footed
Mancioppi is already excelling in the physical duels side of being a midfielder, and he covers a lot of ground too. He likes to take the ball from the defence to dictate the game and create, which is helped by the face he is very comfortable and calm on the ball.
He has good ball control, vision and is in terms of his attributes he is comparable to Sandro Tonali, albeit with a lot of development to do yet.
Samuele Pisati
Age: 13
Position: Midfielder (box-to-box and playmaker)
Foot: Right-footed
Pisati is another very highly skilled dribbler who is very comfortable and composed on the ball, but he also does dirty work as he is good at winning the ball back.
He has the vision and the passing skills to find the space team-mates will run into making him a threat on that side of things as well, and he is expected to progress up the age groups in the years to come.