If you asked any AC Milan fan to name the stand-out performers of the club's incredible run in 2020, Simon Kjaer would be very near the top of their list.
The Danish defender joined back in the January transfer window on an initial loan spell from Sevilla having had a difficult few months on loan at Atalanta, and he quickly established himself as an immovable rock at the heart of Milan's defence.
Fast forward to now and he is very much still that, having signed on a permanent deal from the LaLiga side over the summer for a fee believed to be in the region of €3.5m – an absolute bargain already in relative terms.
Our editor Oli Fisher spoke to his agent Mikkel Beck to get some background on how Kjaer's move to Milan came to fruition and why he has settled in so well.
From a personal point of view, what is it like to be an agent? Is it strange to have been a player before and now to be on the other side, or does that make it easier in a way?
"I mean if you asked me if I would prefer to still play football myself or to be an agent, I would of course still love to be playing football, but you know football unfortunately is a sport that you can only play until a certain age and then afterwards you have to do something else," Beck said.
"I think I'm fortunate to still be part of the football world where I want to be and this is a very good compromise for me, to be an agent, because I stay in touch with lots of my former colleagues and I like the football world. So being an agent means I can stay in touch with football and I like it a lot."
Is it a straightforward process, and do you become an agent because you know lots of players and you express a desire to manage them or do you have to go through a lot of training?
"At the beginning when you decide to become an agent you don't have any players – you have to find the players first. I could have done many things, I could have worked in television or for my sponsor Nike at that time, I could have become a coach or a sporting director, I could have done lots of things but in the end it was the thing that suited me best.
"When I decided to become an agent I didn't know if it was the perfect thing for me, I suppose you try things in life and you never know if it's the right thing or the wrong thing so when I started it was more me testing myself and seeing if the agency world would be the right thing for me and luckily it turned out to be the right thing for me, so luckily here I am 16 years later still doing it."
When did you first meet Simon and how did you become his representative?
"Well I first saw him playing for his former Danish club when he was a kid at 15 years old and playing a tournament in France. I already liked him when I saw him the first time, I though he was a great central defender with lots of personality – a born leader basically.
"He was already captaining his team at that time and he was leading them as you should when you're a good player and you're captain of your team. I started working for him when he was 16 and here we are 15 years later. It's been a long and successful co-operation between him and me."
Before he joined Milan he had quite a tough spell at Atalanta because he wasn't getting any games, how did the move to the Rossoneri come about?
"As you say Simon was not playing as much as he should at Atalanta. Atalanta wanted him and we decided to join them but for some reason the coach [Gasperini] did not look his way as we thought he was going to do, so that's when you start thinking that a move is not the best thing.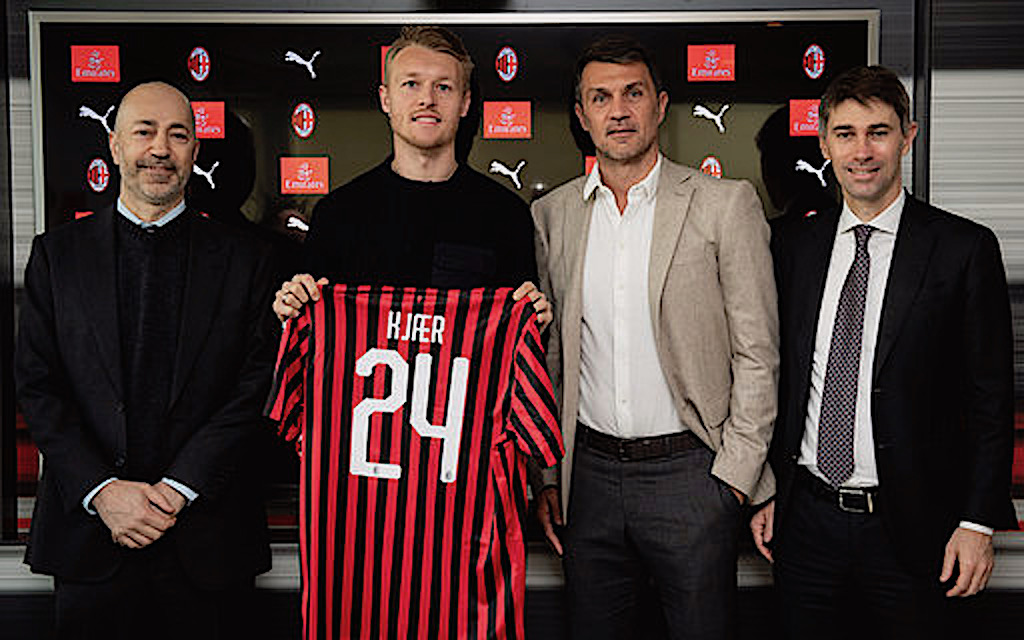 "We have a history with Milan. Simon has been close to joining them many times in his career, it never turned out but Milan came back in for him in January and this was the right time to join them, and luckily so because since he joined them he has not looked back and he has looked like someone who has been playing for the team for the past 10 years."
Simon has said before in the media that he has always dreamed of playing for Milan, is that something that he has mentioned to you before?
"Yes. He started at Palermo and when he left to go to Wolfsburg he mentioned to me back then that he had loved his time so much in Italy and that he wanted to come back one day again and he wanted to come back and play for one of the big teams.
"I always knew that since he was a kid Milan had been his favourite team, his big idols were Nesta and Maldini, especially Maldini. It was always a dream, we both said let's work hard towards this so hopefully one day it can become a dream come true."
How often do you speak to Simon, and does he seem happy to be realising his dream at Milan?
"Oh yeah, oh yeah. We speak a lot, sometimes every day sometimes once a week but we always talk after his games and it has been like that since we started working together. We have always talked after every game he has played, and talked about the game itself and how he has done.
"Simon like all my clients is someone I'm always in contact with and we have a very very special relationship, a very close one. It's not just professional, over the years it has almost become family. When you work for so long with the same player and his family you basically become his family and that's how it should be."
So you will have spoken to him after Saturday's win against Inter – I'd imagine he was thrilled?
"Of course, very much so. It was a special week for him, I don't think he'll ever forget that week. To play your 100th game for Denmark at Wembley and then three days later beat Inter in one of the biggest derbies in the football world – it's a week to remember for the rest of his life."
Simon Kjær vs Inter (A) @simonkjaer1989 pic.twitter.com/k118kwKWpi

— ACM Comps (@CompsACM) October 19, 2020
Simon is under contract at Milan until 2022, has there been any thought at all about going beyond that?
"We've only just signed, so you don't talk about extensions just after having signed a new contract. It's still early days, if he keeps playing the way he is playing and he still likes it at Milan in two years time and Milan still like him then why not, we can always think about it at that time.
"Right now he's not really thinking about anything other than taking one game at a time and just enjoying his football."
Does Simon have any personal aims for the season and are there any team aims you know of such as a top four finish?
"I think Simon together with the whole team just wants to finish as high as possible. When you are Milan and you have a good team like they have now then I think the aim should be to fight for the title and at least to qualify for the Champions League for next season.
"This season they're also playing in the Europa League so I think they're also thinking about going for that. At least they will see if they can try and win a title and why not the Scudetto, I think with this team and those players anything is possible. And also with this coach by the way, he's done magnificently well with the team."
Just on Pioli, I'll read you a quote from him on Kjaer from after the derby…
"Honestly I hoped for this performance, but the contribution that Simon is giving on and off the pitch is of a high level. We are talking about an impeccable professional and an intelligent man."
From your experience as a player and as an agent, how much does it mean to have the confidence of the coach?
"It means a lot. At the end of the day the coach is the boss so it's always very important that the coach likes what you do and that he trusts you and that he's 100% behind you.
"That gives you confidence and then brings the best performances out of you, so it's super important the relationship the relationship that Simon and Pioli have, and it was like this from the very first day, so Simon has always felt 110% trust from his coach from his first day."
When Simon joined there were some stories about when he clashed with Ibrahimovic in a previous Europa League game – would it be fair to say they have a much better relationship now they're sharing a dressing room?
"Yeah, for sure (laughs). They have a very good relationship now and are two very important players for the team, so they both fight together now and they fight for the same case, so yes they have a very good relationship."