Natasha Dowie joined AC Milan Women last summer and has been a big help towards the Rossonere's title challenge and champions league qualification goals.
Dowie – who is an England international and two-time winner of the Womens' Super League – has featured 12 times for Milan this season, scoring six goals including a double in the derby. With Giunti's side only three points behind league leaders Juventus, Natasha will be hoping to use her great experience to push the team on and catch the Turin side.
We are honoured to have been able to speak to her about her time at Milan so far, her team-mates and aspirations for the future.
You have been in Italy now just over half a year, how are you finding your experience here?
"The experience is very challenging with the different culture, language barrier and pandemic, however I have never been the player to go for the easy option and when I look back at my career it will be one that I am determined to walk away have achieved success."
From a footballing perspective how does playing in the Italian league compare to the others around the world you have played in?
"The league is competitive which is exciting and enjoyable, however the tempo of the games is not as fast as in the USA and England. In England ball retention is better, I believe this is down to players tactical and technical upbringing and the league has been professional for a lot longer."
Do you think that the Serie A Femminile is moving in the right direction to becoming one of the Elite leagues?
"Yes, I believe so, especially if the men's clubs keep increasing their support in their female counterparts."
What is your relationship with Valentina Giacinti like?
"I do not speak great Italian and she does not speak much English so off the pitch communication is difficult. However, we are both here at Milan to win so on the pitch none of that matters. We both go out on the field wanting to win and help the team win in which every way we both can."
How much have you learned from Maurizio Ganz?
"It was a big attraction signing for AC Milan to have the opportunity to play under Mister Ganz, as he was a top centre forward in the men's game.
"He has a very different style to other coaches i have worked with but I am always receptive and trying to implement what he is asking of me."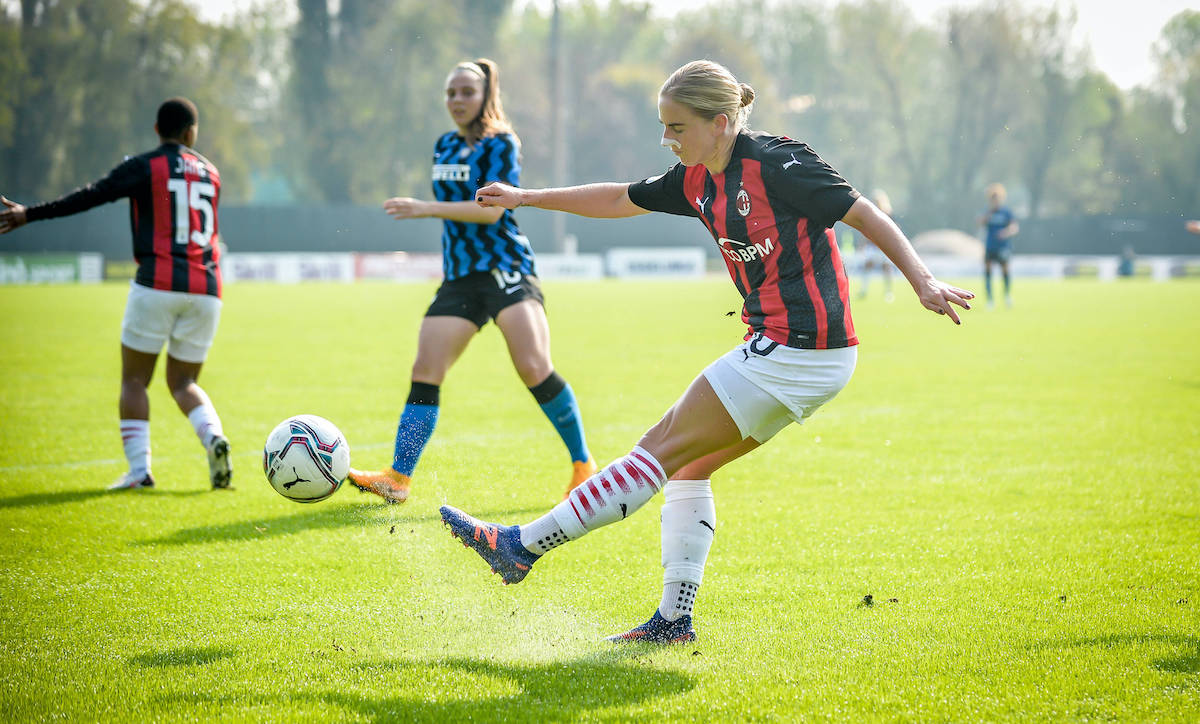 Who was your idol growing up?
"I did not have a sporting idol growing up, I looked up to father and mother as my role models. I used to enjoy watching Abby Wambach play for the US women's team and Thierry Henry for Arsenal."
Who are you closest with in the squad and what is the team's chemistry like? What are you and the squad hoping to achieve this season?
"Caroline Rask and Christy Grimshaw have been my day ones. The first players I met when landing in Milan, the players I drive to training with every morning. I like to think I can talk to a large majority of the team with ease and comfort.
"We have different nationalities, players with varying life and football experiences which I am hoping come the end of the season will click and come together as one to help Milan create history and make Champions League and be crowned Champions of Serie A."
What has been your favourite moment so far?
"Scoring a double in the Derby."
Milan is one of the most beautiful cities in the world. What is your favourite thing about it?
"The Duomo is incredible, breathe taking. I also love the Navigli area with the canals and restaurants."
How long do you see yourself staying for?
"Who knows? I want to be happy and enjoying my football first and foremost but I also have come here to win trophies and be successful, so if both of these things are happening then I won't be going anywhere."
When you hang up your boots have you thought about what is next? Are you hoping to stay within the game?
"I would love to get into the coaching world, I am currently doing my A Licence badge. I would also enjoy the media side, whether that is in the studios or doing the commentary."
Finally, a small message for the fans?
"We wish you could be at the games cheering us on and I am sad for this but we feel your support via social media and when we see some of you traveling to the games still. We are doing everything we can to make you proud and we hope we can bring you silver wear come the end of the season."
As a footnote, we would like to thank our writer Steph for all her excellent work on the womens' section of the site, including match reviews, interviews and player profiles.
---
READ MORE: Rating each operation from Milan's 2021 January window