After picking up all three points against Venezia, the Rossoneri had the task of travelling play against Spezia, a side they lost to the last time they played at the Stadio Alberto Picco.
Pioli decided to rest some players as the likes of Rafael Leao, Davide Calabria – back from injury – and Brahim Diaz started on the bench. Giroud was also back in the starting XI making Rebic move back wide on the left. The biggest surprise, however, was the decision to hand Daniel Maldini his first ever start in Serie A.
There was some skepticism about that decision, but Pioli's confidence in the youngster paid off as he scored the opening goal through a lovely header from which Kalulu picked up an assist, building on his recent good performances as well.
Unfortunately for the Rossoneri, Spezia managed to equalise through nasty deflection that left Maignan helpless, but the team reacted well with Saelemaekers picking up another assist and Brahim Diaz securing all three points for his team. Here are five things we learned…
1. The legacy lives on
Is pretty obvious that this would've been a talking point if Daniel Maldini had a good game and fortunately he did. The youngster has slowly been getting more time with the first team and he has shown promising signs in this pre-season in particular.
The attacking midfielder showed that he has that Maldini magic in his feet showcasing nice technique and lots of raw potential. Hopefully the goal and the good performance with give him a nice confidence boost as he clearly has the potential.
Repaying Pioli's trust will also do him wonders as he might just start getting more and more game time, especially with the tight schedule that Milan have ahead of themselves.
Daniel Maldini 🆚 Spezia

⭐️ Hopefully the start of something special.

📹 @CompsACM pic.twitter.com/UBW5mWuBO2

— SempreMilan (@SempreMilanCom) September 26, 2021
2. Knocking on the door
Another youngster who had a really good game was Pierre Kalulu. The right-back was the architect of Maldini's goal with a brilliant cross and while Calabria is still ahead of him in the pecking order and probably will stay ahead due to his immense growth in the last two seasons, Kalulu might just be pushing Florenzi down a position.
The Italian is currently injured, but hasn't really set the world alight when he got a chance to do so in the few games he played whilst Kalulu has been nothing but impressive when given the chance by Pioli.
Kalulu is another raw gem in this Milan side, and a player that is being left to develop in peace with little to no pressure on him allowing him to grow and display that growth when given the chance. He is also a very versatile player and has proven he can play as a centre-back if needed, so eh might be really handy if Kjaer's injury problems continue further into the season.
3. Duo disappoint 
Giroud and Rebic were certainly not amongst the best on the field in Liguria. The duo were rather disappointing which isn't really a big surprise for the Frenchman as he's had injury problems and starting was always going to be a push, but he will need to bounce back sooner than later as Pellegri is yet to impress and Ibrahimovic is going to be an unknown this season in terms of the games he'll end up playing.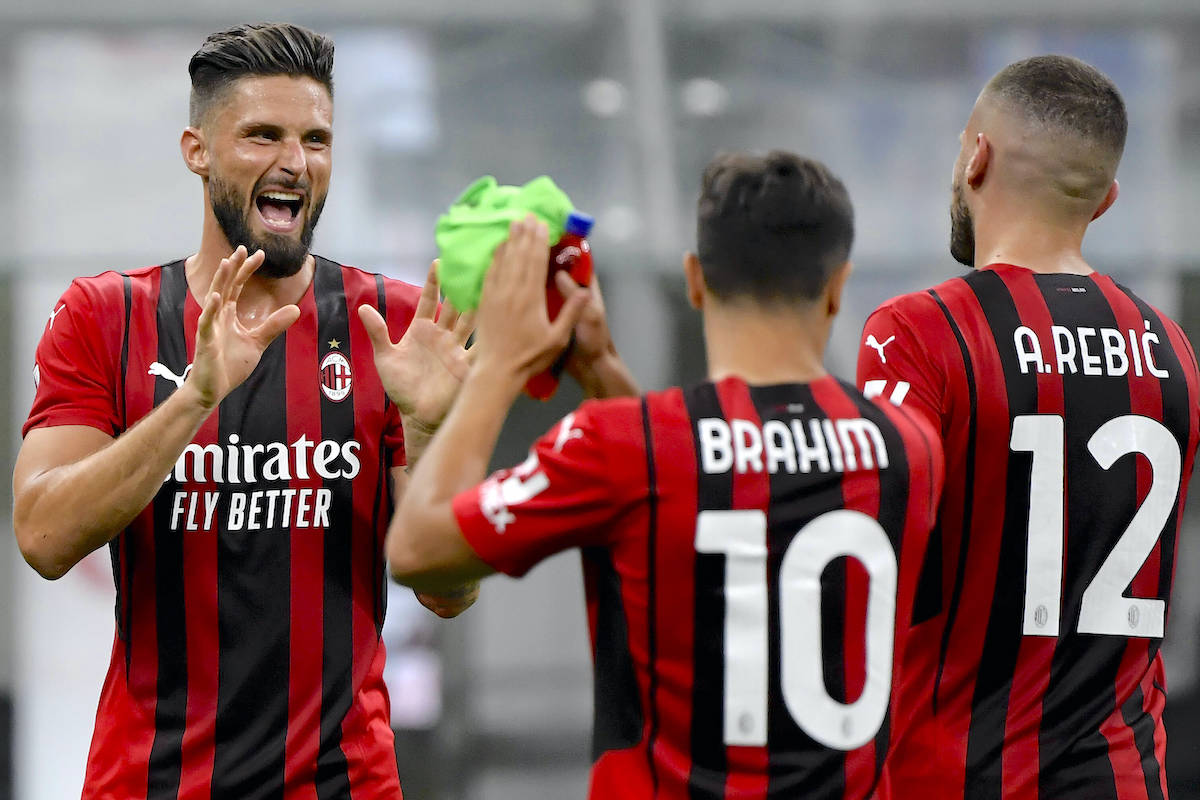 As for Rebic, the Croatian has been on fire playing on a striker striker, but against Spezia he started in his supposedly favoured position on the left flank, but that didn't seem to help him as he struggled throughout the game. He had a lot of poor passes and just wasn't his day, though fatigue may be a factor.
4. Game changer
We've sure spoken a lot about Rafael Leao in recent times, but the fact of the matter is that the Portuguese has really matured and looks determined to play a pivotal role in this Milan side.
The youngster was on the bench as Pioli wanted him fully fit for the Champions League game against Atletico Madrid next Tuesday, but with Rebic struggling on the left the coach decided to throw him into the action.
Leao completely changed the game as he was involved in both of Milan's goals as well as hitting the post and causing all sorts of problems for the opposition. Milan will need that energy against Atletico if they want to win and keep their chances of qualifying for the knockout stages alive.
5. Pioli does it again
Pioli made quite a few rotations against Spezia and managed to pick up all three points whilst giving resting some key players. Whilst the squad's depth is on another level compared to recent seasons, it's fair to say that the boss has transformed a lot of the youngsters into more complete players.
This means he can allow himself to play a lot of his substitutes with the confidence that they are good enough to win the game on their own and if not he can always bring his starters off the bench.
Kalulu and Daniel Maldini were the players that he put his trust in and especially with the latter it was a bit of a gamble, but it paid off. In the second half Leao was a game changer off the bench as well as Brahim Diaz who scored the second goal. Pellegri, Bennacer and Calabria also had good games after coming on, helping the Rossoneri secure all the three points but more importantly proving Pioli's decisions right.
---
READ MORE: Magnificent Maldini and brilliant Brahim – All the key stats from Milan's win over Spezia