AC Milan head coach Stefano Pioli insists there is a lot of 'confidence and concentration' in his squad, who are not feeling the pressure of being top of the league.
Milan have been in fine form since the beginning of February, opening the month with a 2-1 derby comeback win against Inter to reopen the title race, then reaching the cup semi-finals with a 4-0 hammering of Lazio, and moving top with a 1-0 win over Sampdoria last Sunday to take advantage of Napoli's 1-1 draw with Inter.
It is certainly the right kind of form to tackle a potential banana skin such as Salernitana, whose on-field struggles this season have only been distracted from because of the off-field chaos including attempts to sell the club before they are automatically demoted.
Pioli spoke to the media ahead of the trip south at his pre-match press conference, with his comments transcribed by MilanNews and relayed below.
What Salernitana do you expect tomorrow?
"There will be more unknowns given the change of coach. We have been thinking above all of us this week. We know the characteristics of their players, it is a different team than the first leg, so it will be a match to be faced with attention and concentration."
What has changed at Milan after the derby?
"Every game has a particular interpretation. We have understood that if we play continuously and stay in every game we have the right cards to win. In every game we have to show our principles."
On the basis of what do you choose Diaz or Kessie as attacking midfielder?
"They have different characteristics. When chosen I look first at the physical condition and then I also look at what kind of match we have to play."
Do you feel more pressure in first place?
"The table is not yet true as some teams have to recover matches. We have to give continuity to our performance. The pressure is there, but the team is ready to hold it."
How is Ibra? 
"He is better, I believe that between tomorrow and Sunday he will resume running. Then we will evaluate day after day, we will see when he can return to the group."
Can the desire to win a first Scudetto make a difference for many of you?
"We just have to think about giving our best and the best. We need great conviction in the things we do by giving our best."
How much enthusiasm is there in the group?
"I see a lot of confidence and concentration in my players. We know the season is long and we will have to push hard."
What difficulties will there be tomorrow? 
"We have prepared well even if we don't know how they will play after the change of coach. But we are ready, the fundamental thing is the approach and the quality of the choices we will make."
What do you say to players who risk finding less playing time?
"The players have to give their best every day, only in this way can they make it difficult for me to make choices. After Salernitana we will have three games in 10 days, there will be room for everyone. The important thing is that everyone is well, then I will make the choices."
How did you see Kessie after the reaction at San Siro?
"I saw Franck calm and composed. The situation is positive. The whole group is compact, we know we have to give our best. There are no problems."
How's Rebic doing?
"He is better, even the minutes with Sampdoria helped him. He entered well, he lacked a goal. He is an important player for us."
How much do you believe in the Scudetto?
"We think we will do our best to win the next match: it is our only thought. Clearly we want to win them all to improve last year's final position."
To stay top, do you need to find continuity even against the lower teams?
"You have to win a lot of matches, it doesn't matter who you are against. Let's think about tomorrow's match."
Did Inter's defeat in the Champions League confirm the distance between the English side and the Italian side?
"It was a clear result only in the result. Inter have shown that they are close to one of the best English teams. The distance is there because the economic difference is large and therefore they can make big investments. The English clubs are the strongest, but the Italians are growing well."
How important is competition in the group?
"For a coach, the fundamental thing is to have the availability of all the players. At Milan there is a desire to put myself in difficulty in training. We must insist on this if we want to stay on top."
Messias is one of the fittest players…
"All my players are doing well. I expect a lot from Messias, it can be even more decisive. He is entering well."
What's the difference between Bennacer and Kessie?
"They are complete midfielders who can do both phases well. Bennacer is very explosive, Kessie is more physical. They are two complete and quality players."
You win many corners, but score so few. How come?
"We have to improve, whoever has to kick must do it with more quality and whoever is in the area must improve the timing of insertion." 
How is Lazetic?
"He's back in condition, he needs a personalised programme. I think he still needs 7-10 days to get together with the group. He has important characteristics." 
How do you approach those who underestimate AC Milan's results?
"I respect all opinions. We must find awareness from ourselves and our qualities, not from the opinions of others."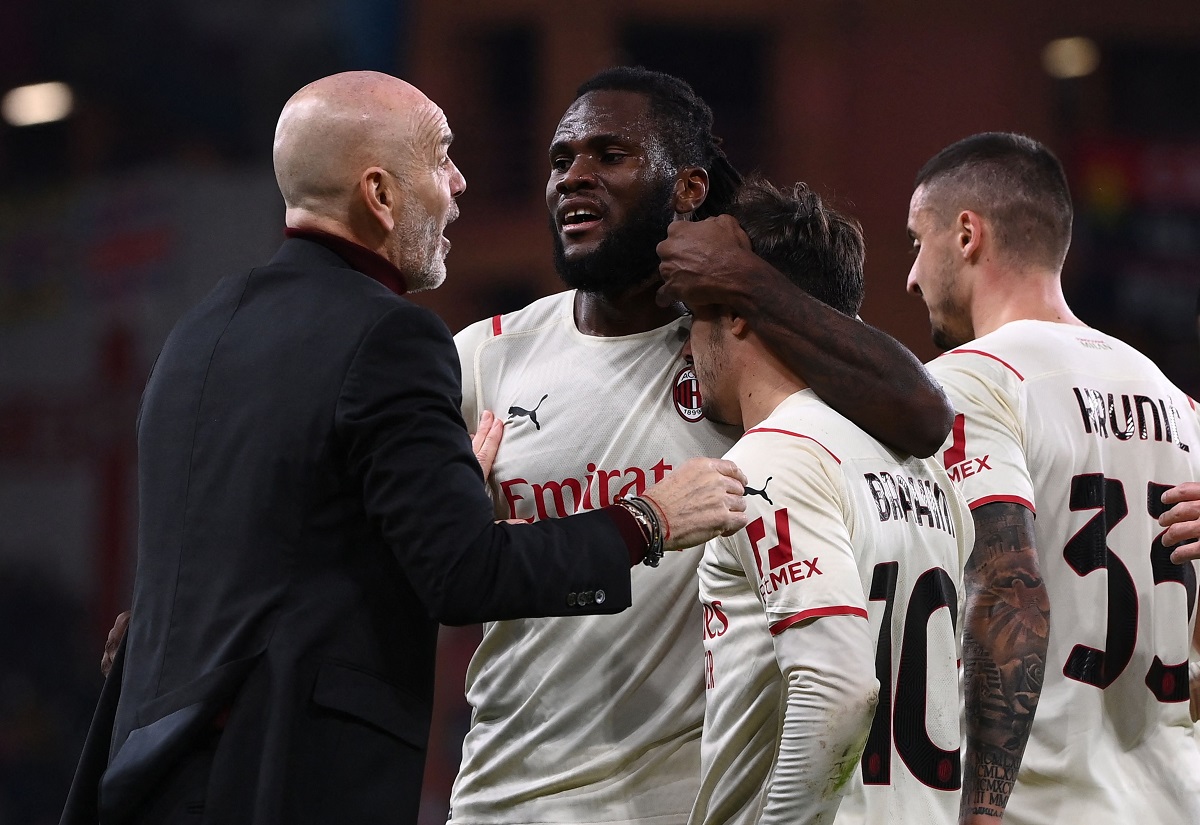 Is it a defining moment of the season?
"There are still many games to go. Each match has an important specific weight, we will all try to win as many games as possible." 
Did you expect Maignan to be so good?
"I'm not surprised. From day one he has shown that he is very curious and eager to work. He has a great personality, we need players and people like him in such a young group." 
Are AC Milan among the 16 strongest teams in Europe?
"No because we weren't able to get through the group. Today we are stronger than when we faced the Champions group. I would have liked to play certain games now. We have to keep growing, the important thing is to return to the Champions League next year."
How do you feel seeing AC Milan first in view of the next matches?
"Before matches I am always worried. I always want to encourage my players to give their all, then we'll see what happens." 
What's the secret to staying focused?
"We have to give our best. We will need the right approach and we will have to make the right decisions during the match. We will have to be good at interpreting all game situations."
How does having the full squad affect the week?
"Raises the bar, the intensity of the work and the quality."
Are Perotti and Ribery dangerous?
"They have always been decisive players, they will have to be controlled well."