One of the most fascinating tactical designs that has ever emerged in the history of football is Catenaccio.
It is always associated with negative or defensive football and some of today's stereotypes such as 'park the bus', but there is far more to it. Here, our writer Rohit Rajeev takes a deep dive into how the tactic emerged and what made it so successful…
The terminology
Catenaccio in Italy refers to a chain that is used to bolt the door of a house. Of course nowadays it refers to the defensive element of football that swamped Italian football in the 50s and peaked in the 60s.
Emergence
Despite being an Italian term, Catenaccio did not originate in Italy but in Switzerland. Austrian professional Karl Rappan was assigned to take over Swiss local league team Servette, who were filled with players who were semi-professional and did not possess physical or technical skills the better teams had, so Rappan had to find a way.
Meanwhile in England, the FA passed a new amendment to the offside rule in 1925, the 'two-player rule' which gave rise to the famous WM formation devised by famous Arsenal and Huddersfield Town manager Herbert Chapman.
In the 1930's, when Rappan took over Servette, the WM formation was rampant in Swiss football and as mentioned earlier Servette couldn't compete against the professionals.
Rappan came up with a counter-measure: he had his half-wing players (called Mezzalas in Italian) play alongside the two full-backs who became centre-backs when the half-backs retreated. This system was famously referred to as the 'Verrou'.
The most interesting development of the Verrou was the spare man at the back. Whichever flank the opposition attacked, Servette – from the half-wingers and the full-back converted centre-back – would man mark their opponents leaving a spare man.
In the centre there was a player to sweep up in case the ball got past the defence. This spare man was called as the Verroullier or Libero in Italian. Cesare Maldini, Franz Beckenbauer and Armando Picchi are some of the more famous Liberos in football.
Rappan became the coach of Switzerland and employed the Verrou and got results in the 1938 World Cup, but still his approach did not become mainstream.
A similar system, independent from Verrou, sprang up in the USSR. A team called as Krylya were promoted to the first division in 1945 having been newly formed and they came up against technically superior sides such CSKA Moscow and Dinamo Moscow and used to get beaten by big scores.
This forced their coach Abramov to employ a conservative strategy by having a full-back drop deep and have a centre-half sweep behind the full-backs. It is a slightly different method to Verrou, but a similar principle. Even then, Catenaccio was seen as tactics used by inferior teams.
Rise of Vianema and Catenaccio
The Swiss had left a lot of influence on Italians during the war and it extended to football. A few teams started to use the Verrou but the one who found success with it originally was Gippo Viani, then coach of Salernitana.
Viani's explanation was that he got the idea of using a sweeper to clear lose balls behind the defense while watching fisherman using a spare net to catch the fish on the docks. While he was busy executing his ideas, a native of Trieste – Nereo Rocco – was coming through the ranks of Serie B. With Catenaccio he had taken his native Trieste to top four finishes and Padova to promotion while using Catenaccio.
The tactic was still known as the "right of the weak" mostly because none of the historical top teams used Catenaccio, until Inter in the mid 1950s. Alberto Foni, who coached Inter then, won the league after emerging 1-0 victors in six consecutive games and came under fire from the press.
He used the legendary Ivano Blason as a sweeper and introduced the concept of a 'Tornati' – a winger who tracks back and helps out in defence.
Catenaccio hits Milan
In 1961, Viani persuaded the then-Padova coach Nereo Rocco to take over at Milan due to Viani's health. Rocco would take over at Milan and with Catenaccio he would win the 1961-62 Scudetto and most importantly the 1962-63 European cup against Benfica.
In his team he housed a Libero in the great Cesare Maldini, a proactive defensive midfielder in the form of Giovani Trappatoni, a very intelligent striker in Altafini and most importantly he had the 'Golden Boy' Gianni Rivera.
Rivera was the link between the defence and attack, and once the Rossoneri got the ball back they would pass to the No.10 who would launch quick counters.
Turning blue
If Milan introduced Catenaccio to Europe, Inter sealed its legacy. One of the most famous and notorious practitioners were Inter and their manager Helenio Herrera, a man who was reviled by players and coaches outside Italy.
A perfectionist and sometimes eccentric personality, Herrera controlled everything at Inter. He controlled players' diets, their training, nutrition and introduced the ritiro where the squad were essentially locked up inside the training ground three days before a match to remove distractions.
Now, Herrera was not a coach who used Catenaccio at first, but was inspired by Rocco after Milan drubbed Inter 3-0 which saw Herrera risk losing his job.
Herrera then reverted to the 'doorbolt', which today's generation would refer to as the 3-5-2 formation most notably used by Conte. Herrera used this to win two consecutive trophies until he was beaten by Jock Stein's Celtic 2-1 in a game which was regaled as the victory of attack over defence. In the end, Herrera's strength became his weakness and Inter disintegrated after the 1967-68 season, when he left for Roma.
Tactical analysis
Catenaccio as a tactic was initially used by teams that could not physically or technically match their opponent, until it reached Italy. Before the arrival of Total Football from the Netherlands and the concept of Zonal marking introduced by the Dutch in Europe, man marking was widely used.
In Catenaccio, with the use of the Libero the defending team had a spare man to sweep up any loose ball or any player who beat his marker. This came at the cost of a spare man in attack.
Catenaccio was all about players marking their opposite number tightly, not allowing space and forcing them to play horizontal passes. According to Rocco, if you make a mistake making a horizontal pass, you usually conceded a goal.
Using Milan as an example, here we can see tight man marking by Milan denying any space to Ajax in their European Cup final in 1969.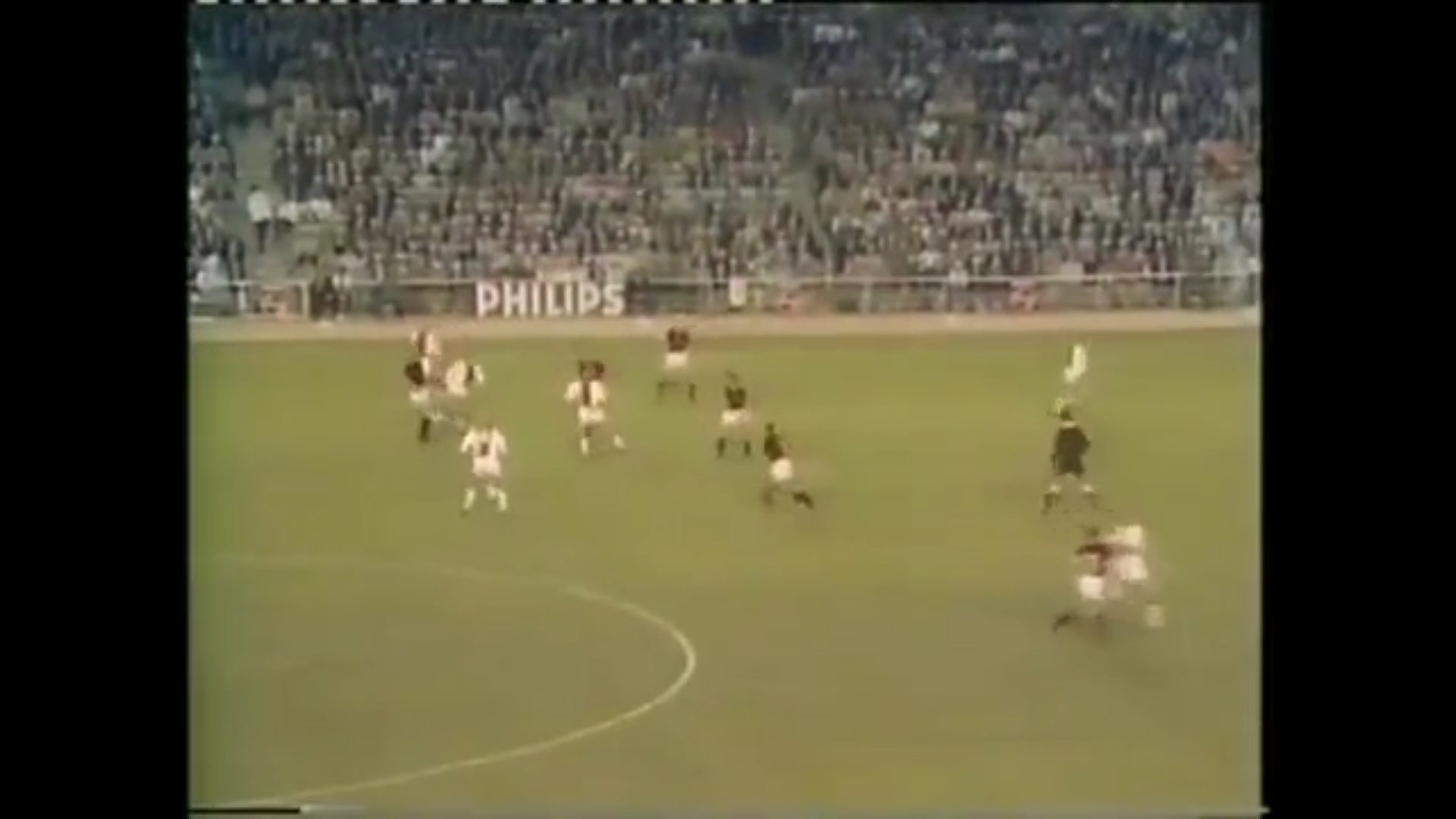 Here we can see Ajax's Danilsson dancing past his marker but he cannot beat Milan's Libero.
In terms of forward play, Catenaccio was all about quick counter-attacks. Back when the WM formation was used extensively wingers did not track back to midfield to help in defence. When teams used to get the ball they would launch quick breaks and score goals. Here is a goal on the counter by Prati against Ajax…
For Milan the creative force was Gianni Rivera and for Inter it was Luis Suarez, intelligent playmakers who could operate between the lines of any defence. They would make themselves quick passing options for their team-mates to find and launch fast vertical balls.
However, Rocco and Herrera had different approaches to their styles of play. Rocco had one sweeper back and two stoppers in front of the Libero. Either one of the inside forwards (Dino Sani or Lodetti) would drop to prevent the overload in the central areas.
Herrera was more defensive. He had a sweeper in Armando Picchi, accompanied by three full-backs in Fachetti, Guarneni and Burgnich. Whenever Inter lost the ball, Inter's right wing-half would act as a Tornati and drop in as a modern wing-back, making it a five-man defence.
One thing that Herrera and Rocco agreed on was that horizontal football was a complete waste of time and both wanted to launch direct vertical passes to their forward players.
The death of Catenaccio
When Ajax beat Inter in 1972 European Cup final with Total Football, the Dutch newspaper celebrated it as the death of the Italian system.
What essentially happened was that, with many teams copying Catenaccio, its weakness became prevalent: the midfield can often get overloaded.
Below we can see that when played against a team playing WM formation the front three goes against the opposition's three, the inside forwards up against the opposition's half wingers then the team's centre-half will be overloaded by the opposition's inside forwards in a 2v1.
Initially Rappan solved it by defending with a deep line but with Total Football using zonal marking and beating man marking Catenaccio was slowly getting outdated.
Why it isn't 'parking the bus'
Ever since Jose Mourinho coined the term 'bus driver' and parked it against Barcelona in 2010, people tend to associate Catenaccio to the phrase, which is not the case.
As we can see the main idea behind parking the bus is to stay narrow and stay horizontally packed in order to deny any space to the opposition. They also do not press their opponents in order to not concede space.
Zona Mista
As mentioned earlier, the central overload meant Catenaccio was getting outdated and coaches were trying to fix it. Finally, one of the disciples of Nereo Rocco – Giovanni Trappatoni – found the solution.
Using a combination of zonal and man marking they were able to neutralise the opponent's man marking. This tactic was called as the "Zona Mista" or the Giocatore Al' Italiana (Game of the Italians).
Catenaccio evolved and became Zona Mista. Trappatoni won the 1985 European Cup with Zona Mista and Italy won the 1982 World Cup with Enzo Bearzot as coach beating the 4-2-4 of the Brazilians.
---
READ MORE: Milan's full home kit for 2021-22 season leaked – stripes to vary in thickness