After the derby defeat, AC Milan returned to winning ways in Serie A with a 1-0 victory over Hellas Verona at the San Siro.
Rafael Leão scored the decisive goal in the eighth minute after Milan capitalised upon some lapses in Verona possession. Chances for either side remained few and far between for the remainder of the match, with Milan comfortably holding out to secure the three points.
One of the more interesting aspects of the game was Milan's starting eleven and choice of system. Stefano Pioli revealed after the game that Milan had: "…prepared to play with our usual system, then yesterday (Friday) we found out that (Davide) Calabria and Theo (Hernández) couldn't start. So with a lack of full-backs, we decided to go with a back three."
Here are @Tactics_Tweets's tactical observations of what these adjustments meant for Milan and how they impacted the game.
Set-Ups
Pioli made six changes to his starting line-up from their midweek outing against Newcastle United, with a number of alterations enforced due to injury.
However, one player's loss is another player's opportunity and these injuries enabled Marco Sportiello, Alessandro Florenzi and Yunus Musah to make their first starts of the 2023/24 season.
Due to the aforementioned "lack of full-backs", Milan named three central defenders in their side, with Simon Kjær starting in between Malick Thiaw and Fikayo Tomori.
The Milan system switched depending on whether with or without the ball. When in possession, Florenzi moved into central midfield alongside Rade Krunić to give the side a 3-2 build-up base.
Ahead of this base, were five more advanced players whose most predominant roles involved; Musah providing width on the right-wing, Christian Pulisic operating in and around the right half-space, Oliver Giroud being the central attacking focal point, Tijjani Reijnders advanced in and around the left half-space, and Leão starting on left-wing but with license to roam.
When out of possession, the home side dropped into a 3-4-3 / 5-2-3, with Musah and Florenzi operating as wing-backs.
For Verona, Marco Baroni made two changes to his side, with Darko Lazović and Filippo Terracciano coming in. The visitors lined up in a 3-4-3 when on-the-ball and implemented a 5-3-2 mid-block when off which triggered into a player-orientated approach when pressing.
System match-ups
As a result of Calabria and Hernández missing, the Milan manager saw this as an opportunity to match-up to Verona's attacking shape when without the ball.
The home side's ten outfield players each had a direct opponent to cover, as can be seen in the opening minute.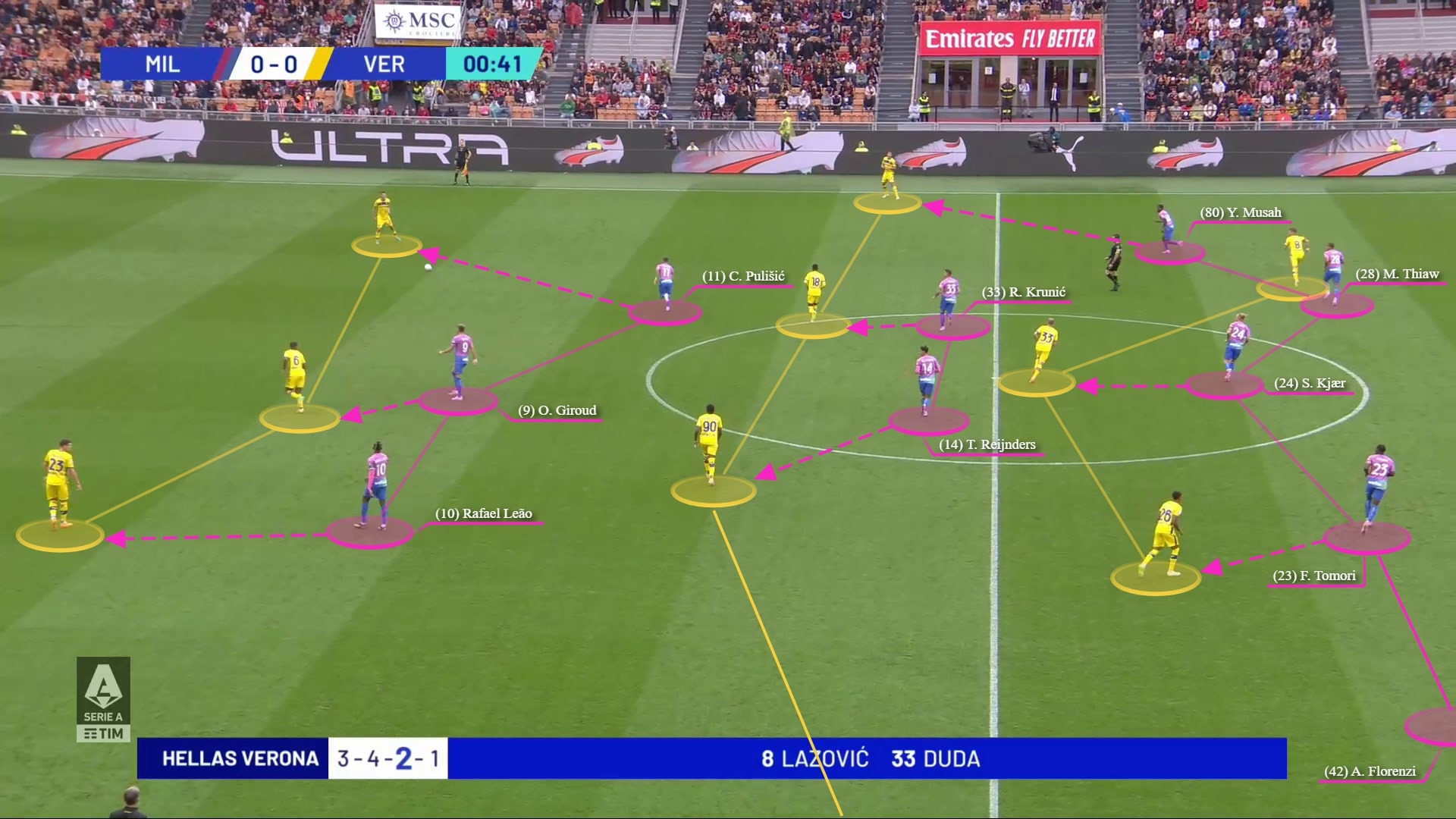 This system enabled Milan to maintain their player-orientated out of possession approach when facing a back three and wing-back system, as described in this Inter tactical preview.
The primary aims for Milan of this approach are to reduce the opposition's passing options, with all ball-near opponents being covered by a Milan player.
As a result, Milan are able to force 1) turnovers in the opposition half and 2) rushed – and therefore lower quality – forward passes which the aggressive Milan backline can then intercept and regain possession.
And against Verona, both of these outcomes happened repeatedly.
Here, in the 30th minute, Verona's 3-4-3 is covered by Milan's player-orientated scheme. The away side tried to progress play down their left-hand side with a pass to their wing-back. This triggered Musah to jump and engage, likewise Thiaw who followed out the opposition attacker (Ondrej Duda).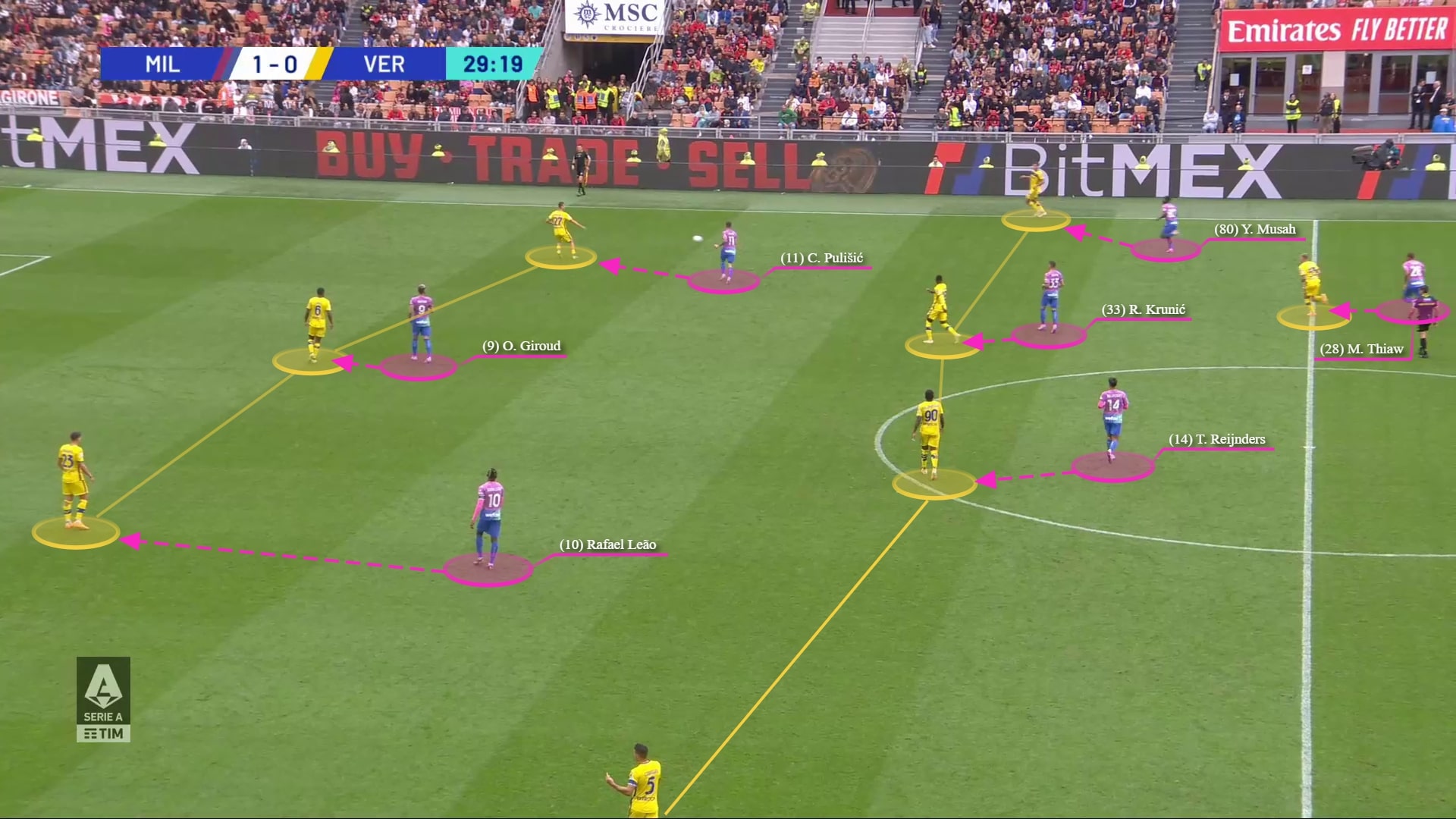 Verona attempted to execute a one-two on their left wing, but Musah's pace enabled him to retreat and get to the ball first to deal with the situation.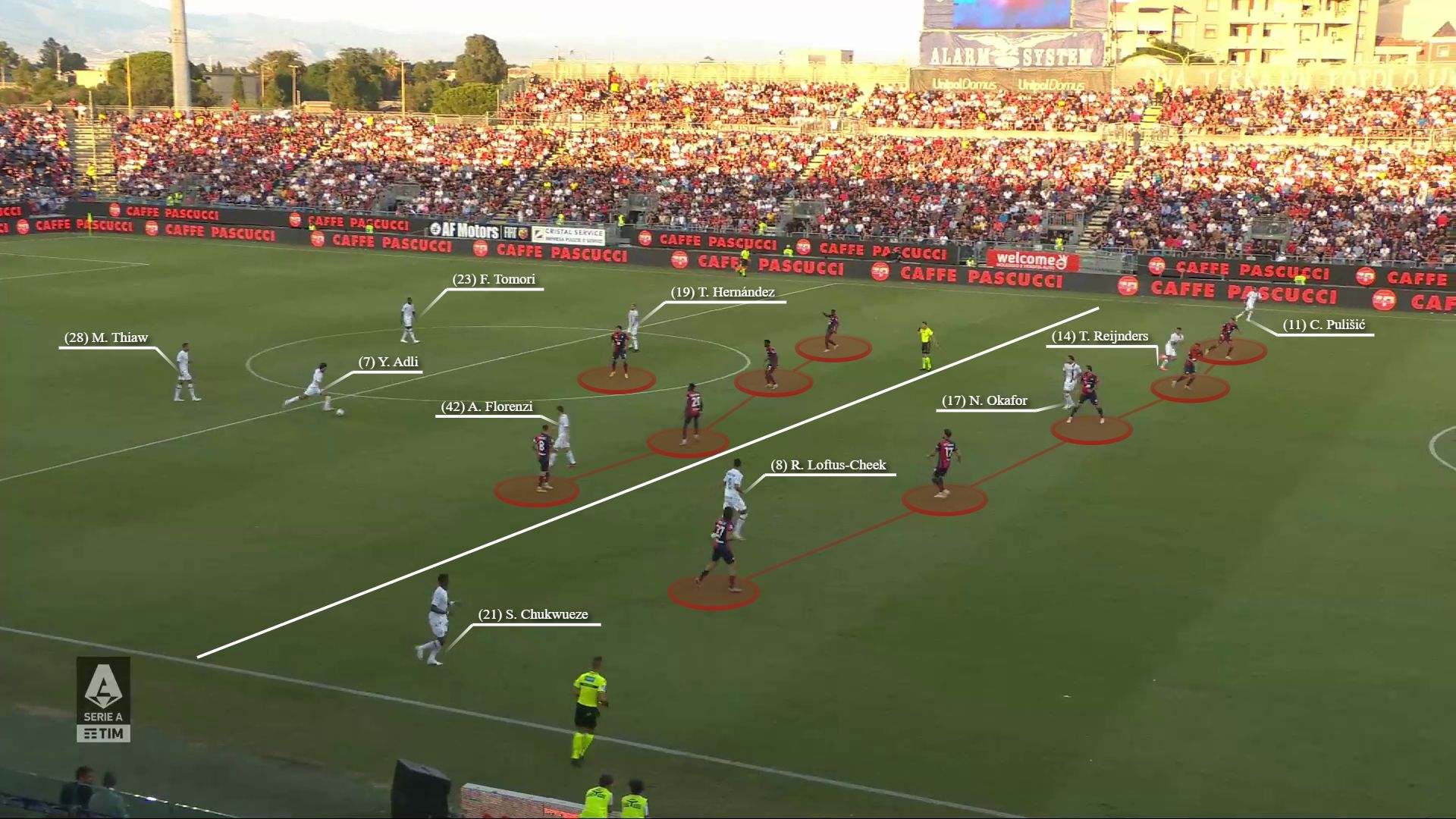 In the image above, you can see how Florenzi (the ball-far wing-back) has dropped into the backline to provide coverage.
The rationale being that this covering wing-back helps maintain numerical parity or overload against the opposition forward line (3v2 in the example above). With a trade-off being that this allows the team to have a 'weak-side' e.g. affording space on one side of the pitch, with potentially an unmarked opponent (Verona right wing-back in the above instance).
In the 34th minute, the Verona goalkeeper had the ball, and not for the last time in the match, went direct to their forward line.
As you can see, the Milan players are each in close proximity to their designated opponents. On this occasion, Giroud has jumped to press Lorenzo Montipò but is using his cover shadow on his primary Verona player.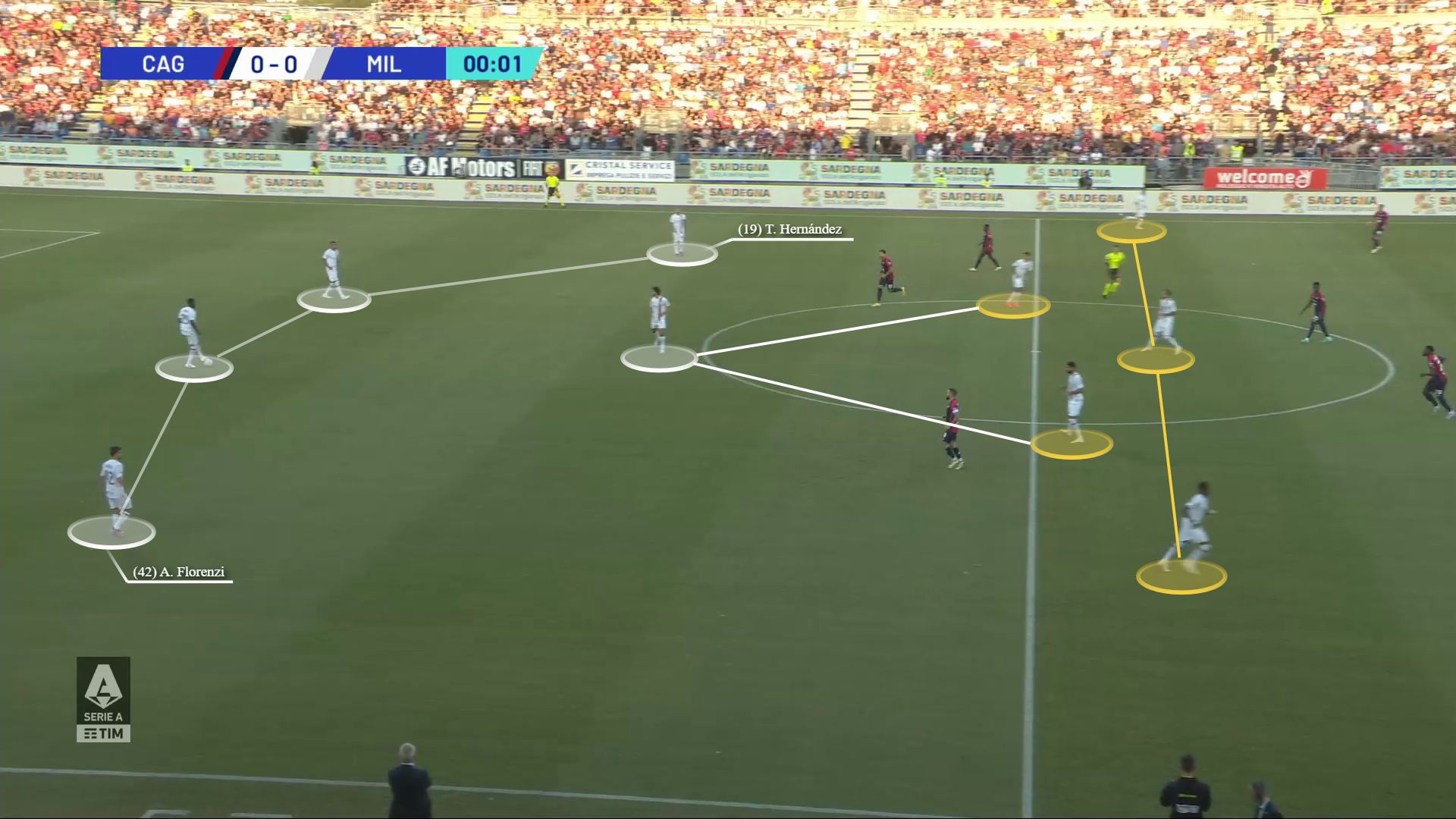 But this direct pass is returned to sender by Tomori who wins his aerial duel against his Verona man. In this sequence, you can again see how Florenzi is providing cover in the backline due to Musah preemptively jumping to the left wing-back.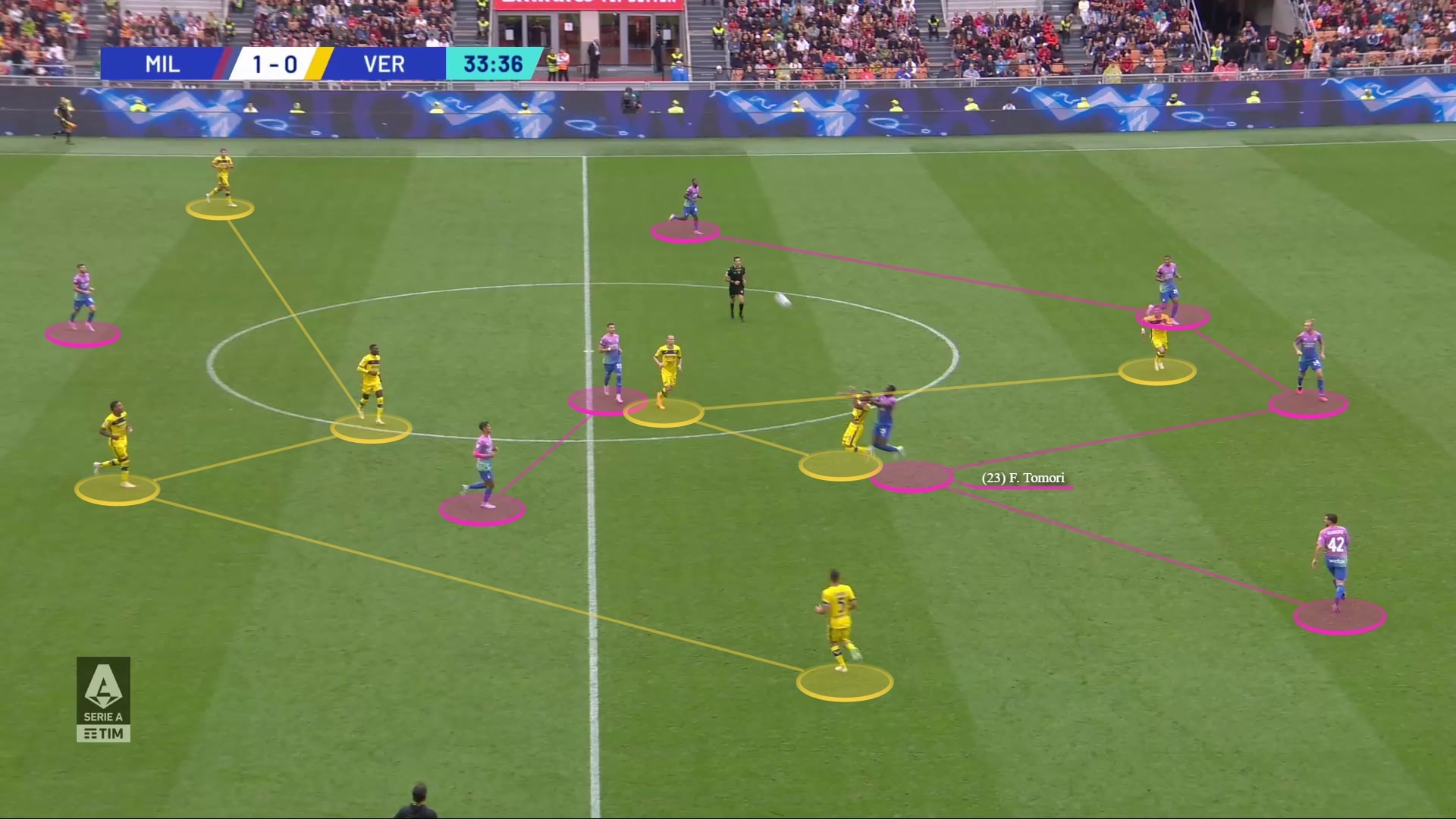 With the ball back with Verona, they then circulated possession along their backline, initially towards their right-hand side which caused Florenzi to jump. But as the away side then changed direction back towards their left, as you can see below, the Milan player (lowest Milan player in the image) turned backwards and began to retreat.
This progression attempt on the Verona left-hand side triggered presses from the Milan right-hand side…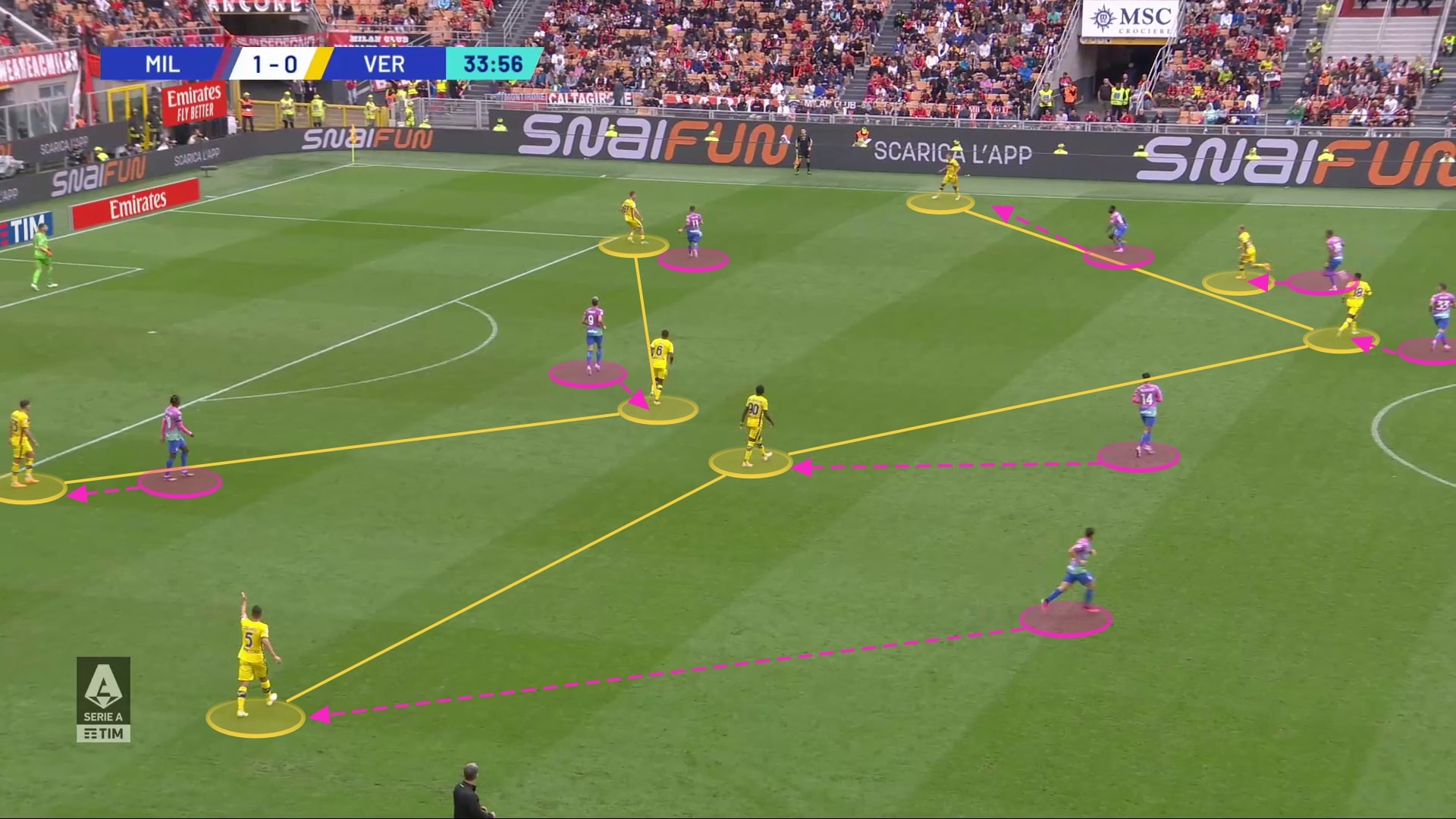 …and this limited Verona to the touchline where Milan's aggressive approach intercepted and conceded a throw-in. Whilst not a turnover, it did allow Milan to get back set into their defensive shape. And for reference, Milan regained possession quickly after the throw-in was taken.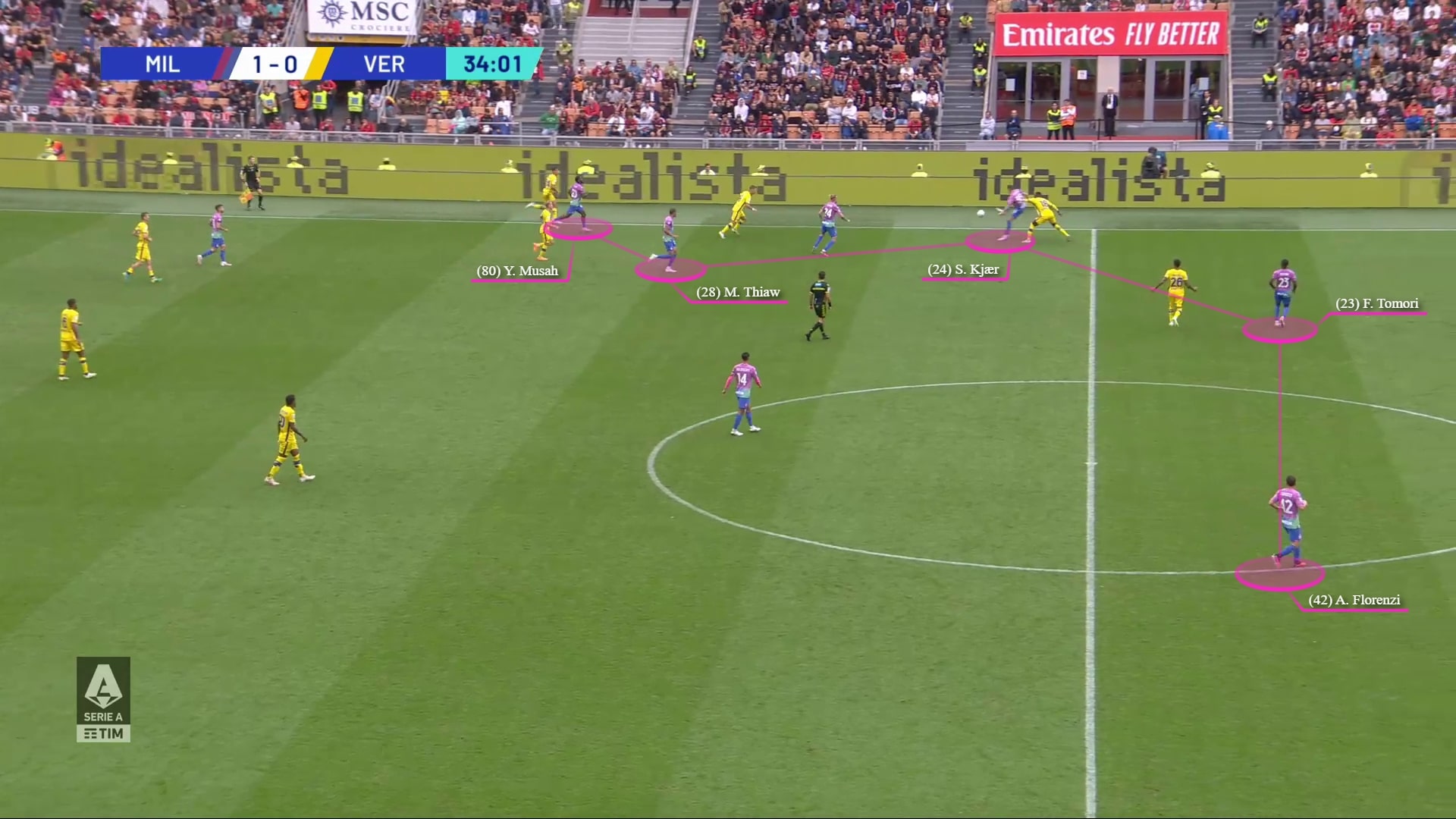 In the image above, you can see how the Milan backline would follow out their opponent high and wide, but how they would try to maintain some coverage with the ball-far wing-back dropping – as you can see with the now fully retreated Florenzi.
These themes continued into the second half. In the 63rd minute, the Verona goalkeeper makes a short pass to his left-sided central defender to draw out the Milan player-orientated pressing scheme – which you can see Pulisic and Musah duly obliged.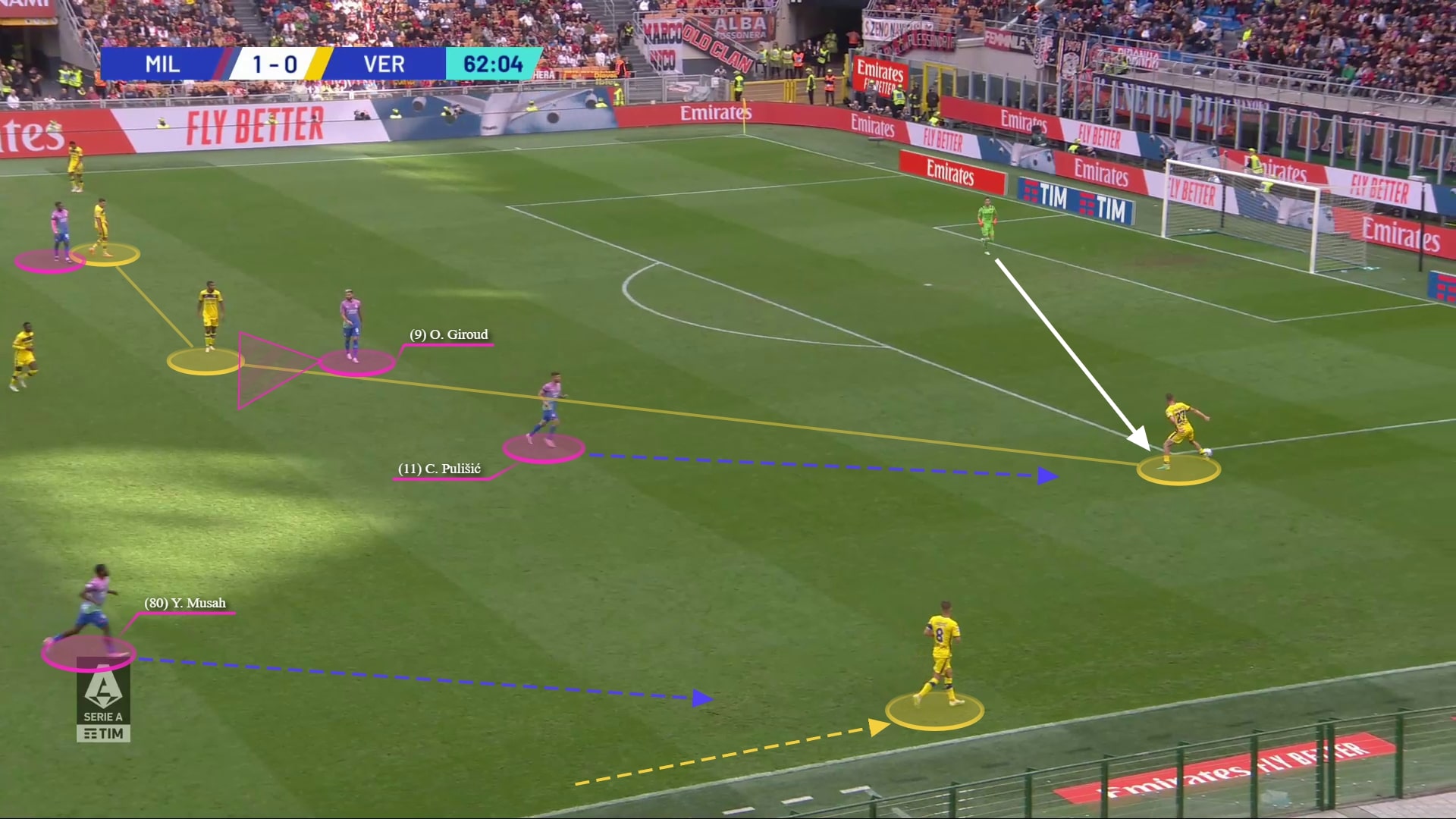 With no nearby (and safe) passing option available (plus, likely always the intention), Verona pass back to their goalkeeper who opts to go direct (again).
In this passage, Giroud has again vacated his opponent to rush the goalkeeper's long pass (in an attempt to reduce his time to pick out an option and potentially reduce the accuracy). Plus, how aggressive Krunić and Thiaw, in particular, have tracked their opponents.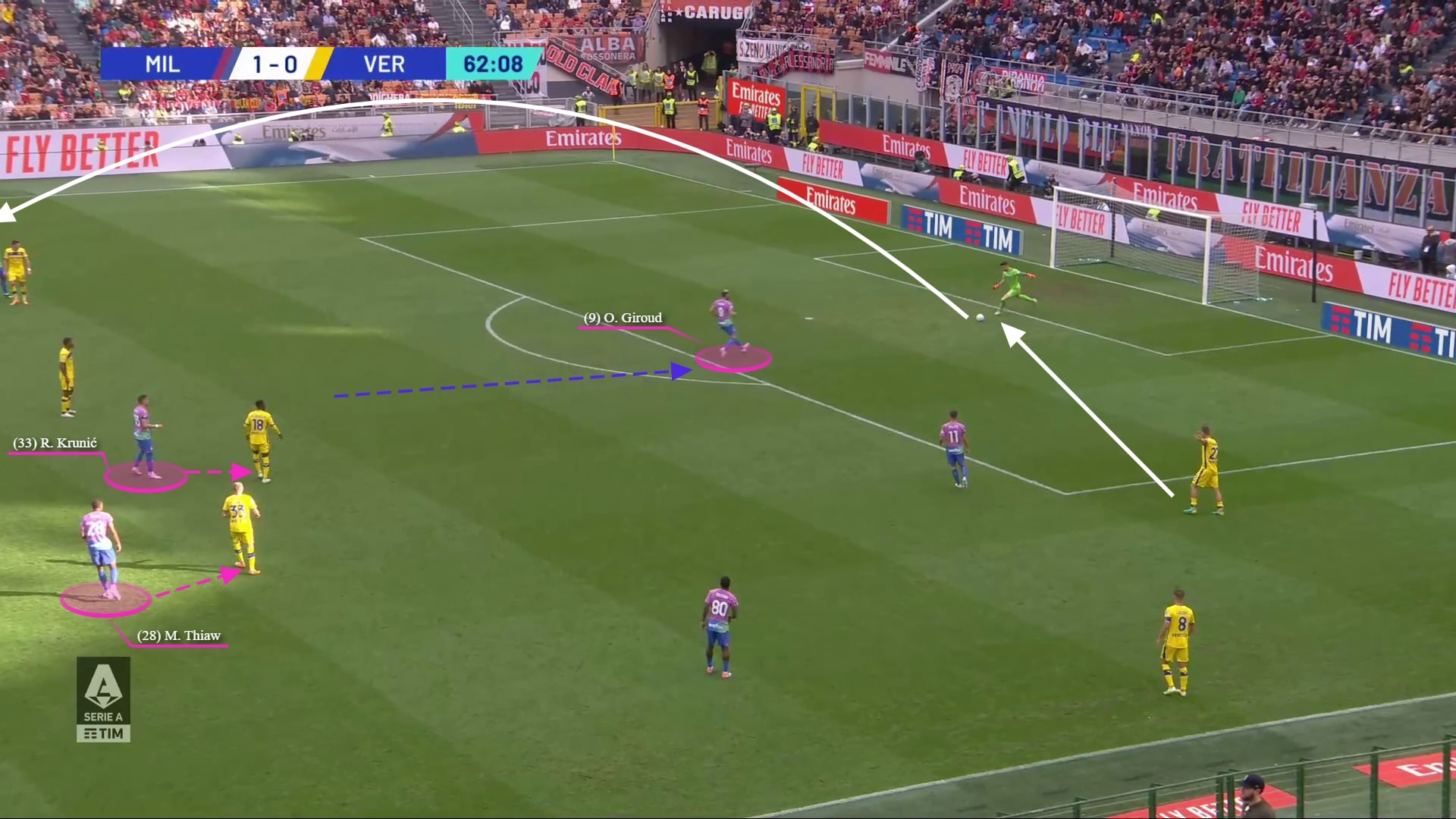 The goalkeeper's long pass ended up with Tomori competing for an aerial duel. In this example, you can see how as a result of the direct pass, the Milan midfielders leave their Verona player to retreat so in good areas to win second balls…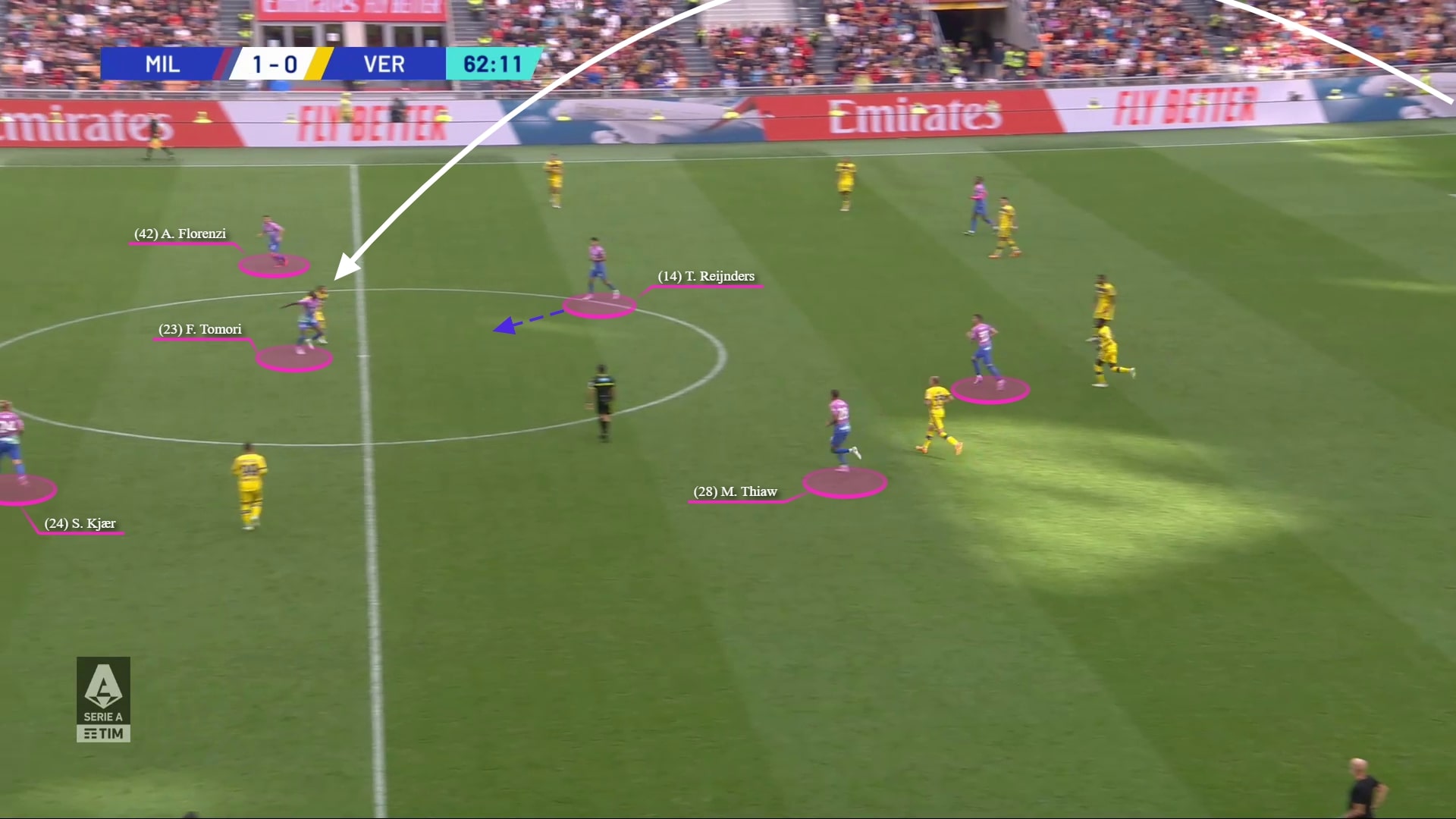 …which Reijnders does on this occasion…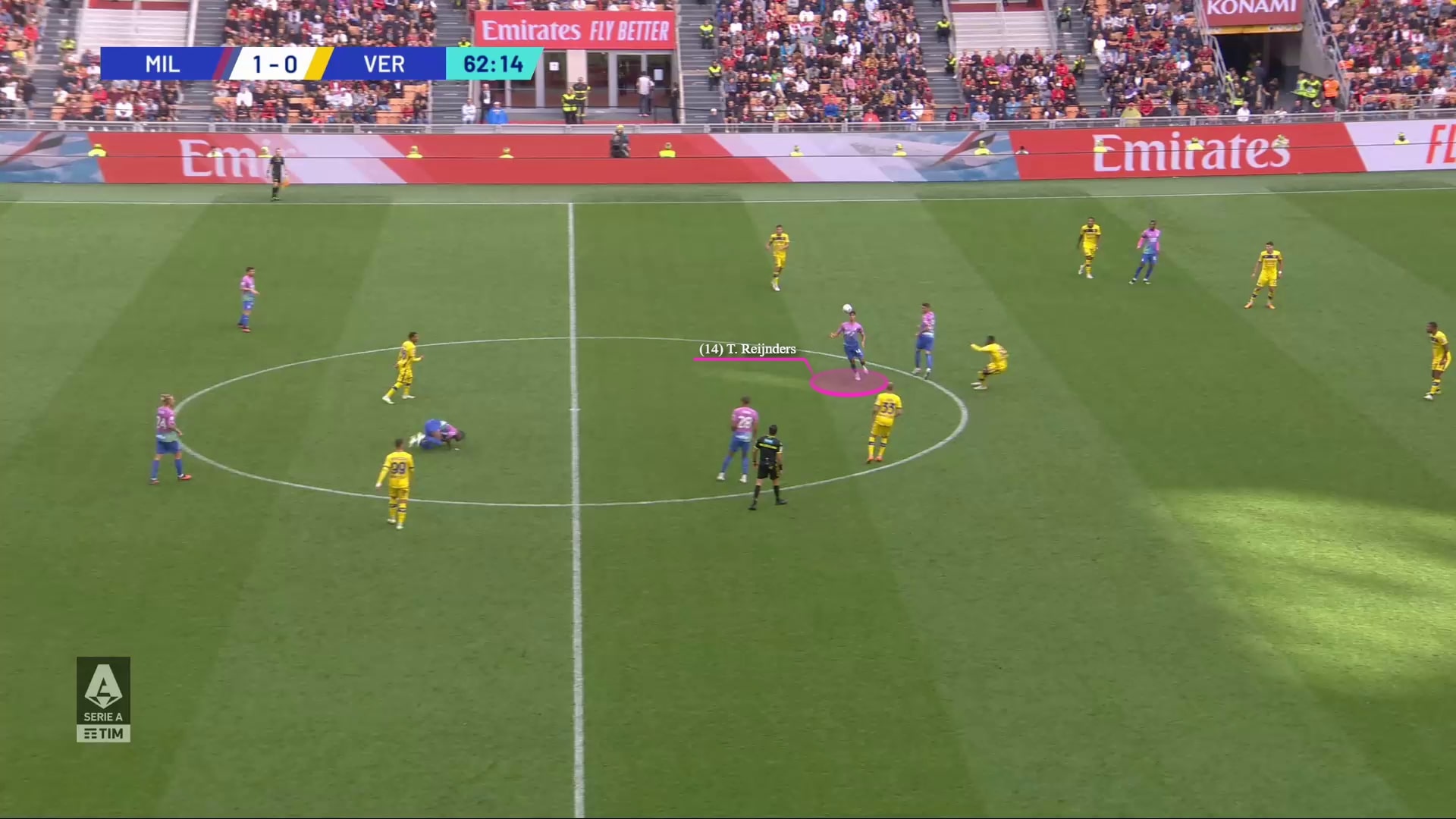 …but then ended up getting dispossessed himself, with a Verona player intercepting and passing the ball to their left wing-back. However, as you can see, due to Milan's player-orientated approach, they have players in close proximity to immediately engage…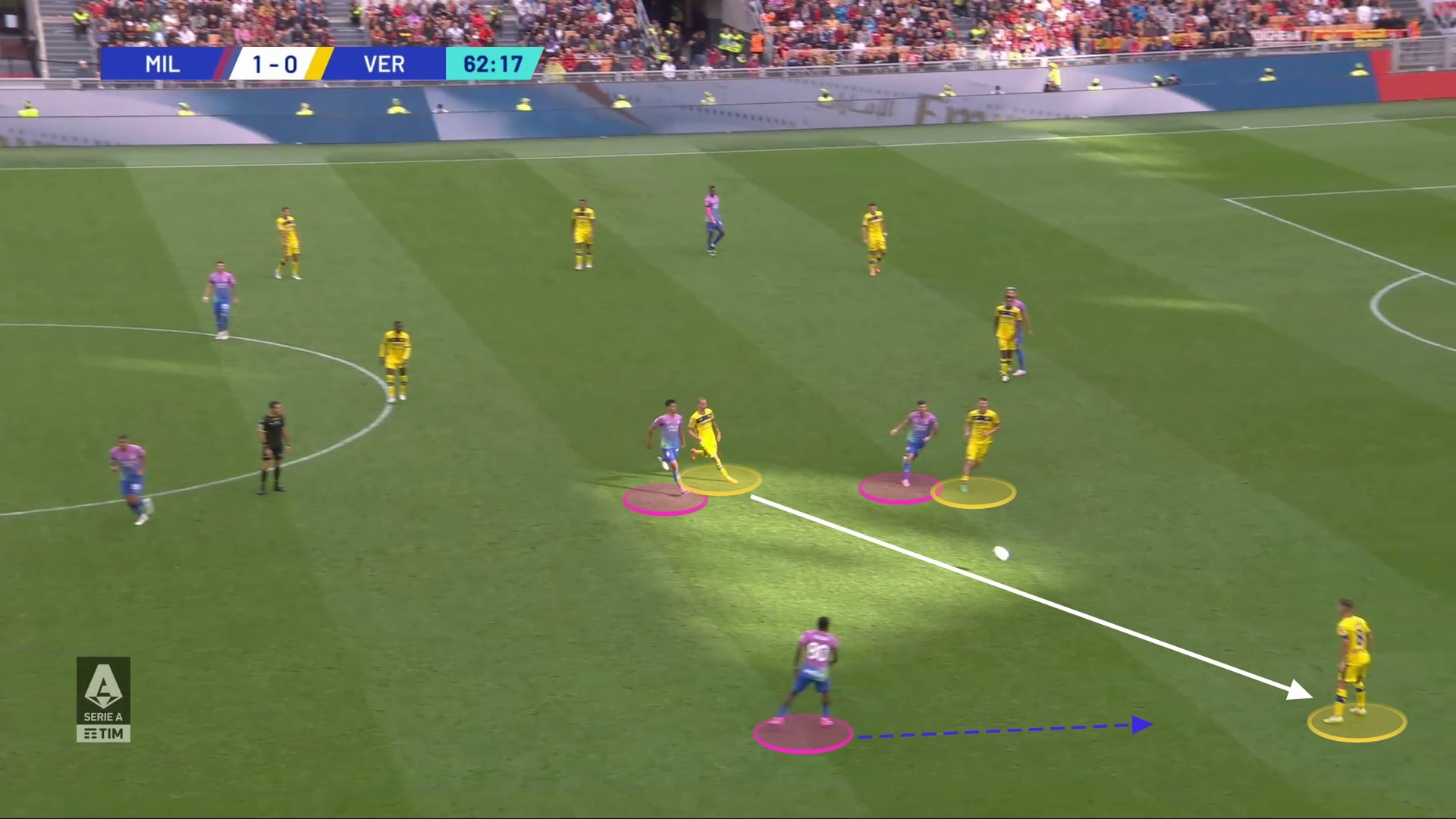 …and this forces the Verona player to make a poor decision in a rushed and inaccurate forward pass which Milan easily sweep up in their backline.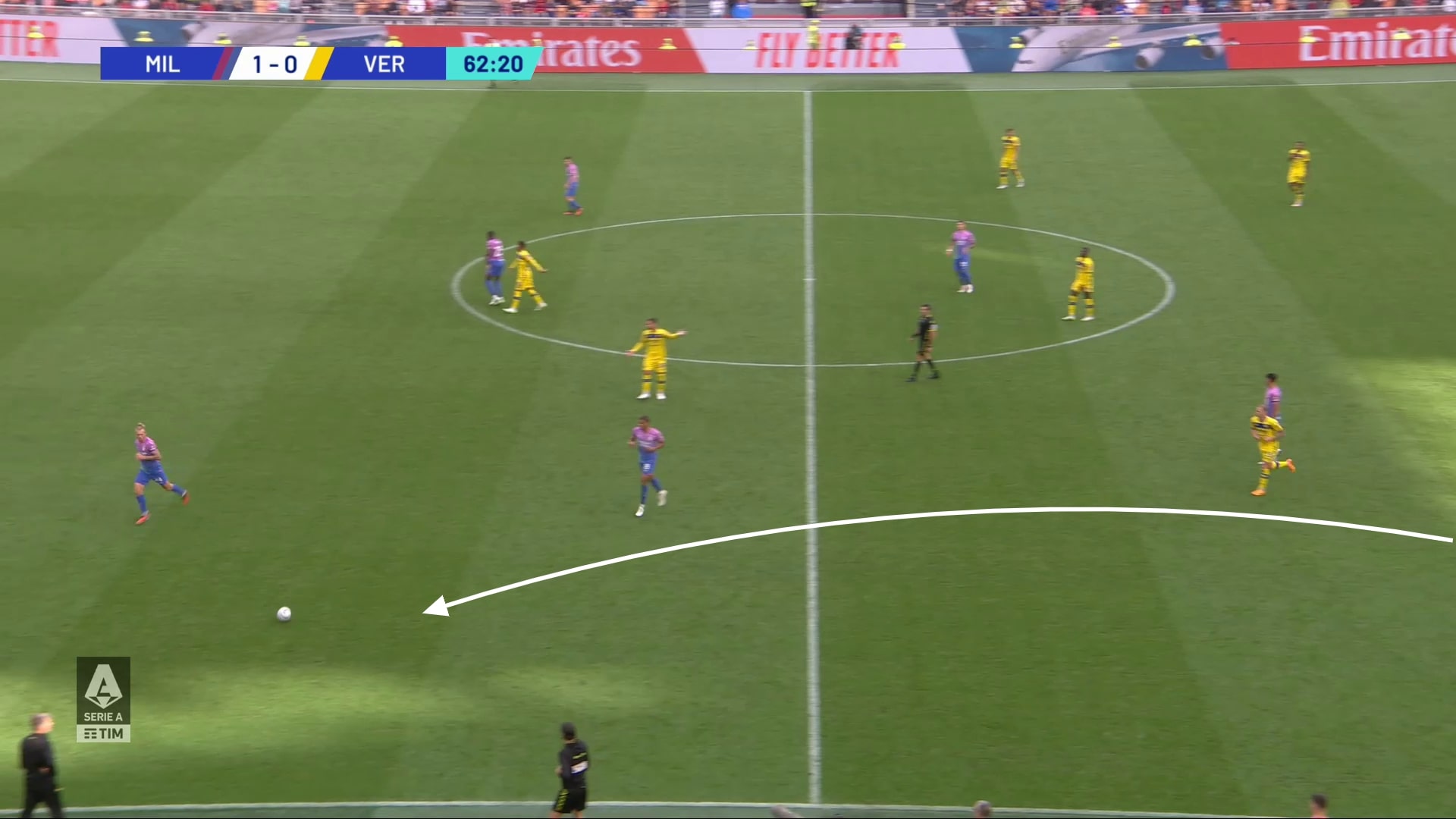 As seen in the examples above, dealing with defensive duels is a byproduct of this player-orientated approach. And throughout the game, the Milan defenders were superior in their many out of possession individual battles.
According to Wyscout, each of the Milan backline won at least two thirds of their defensive duels against Verona; Musah won 8/9, Thiaw won 4/6, Kjær won 5/7,Tomori won 5/5 and Florenzi won 6/7.
And the Milan backline were often called upon to deal with a defensive duel due to Verona's tendency to go direct to their forward line from their goalkeeper. In Serie A this season, Verona have attempted the most goalkeeper-launched passes (passes longer than 40 yards), with an average of 24 per 90 (source FBRef).
Against Milan, Montipò attempted 27 launched passes, his second highest total of the season (the highest being 32 versus Roma). Therefore, these defensive duel successes from the Milan backline were a key defensive aspect of their gameplan – and perhaps, the knowledge of this long ball tendency further influenced Piolo to make this tactical adjustment of adding in a third central defender to aid this player-orientated approach.
Milan limited the volume (9 shots) and quality of chances (0.47 xG) Verona created throughout the game (both stats sourced from Wyscout). But it was not just about winning first and second balls for Milan, they were also required to remain flexible and either fully stay with opponents or coordinate passing-on to a nearer teammate when Verona attempted positional interchanges and opposite movements.
On the whole, Milan dealt with the threat comfortably across the ninety minutes. However, in the 20th minute, Verona showed how Milan's out of possession approach could be disjointed and then beaten by exploiting the potential weaknesses in the system.
The action started with Verona trying to progress the ball upfield but due to Milan's pressure, began passing backwards towards their backline. Below, you can see the 5-2-3 Milan shape, each players' designated opponent and how players can be pulled out of position e.g. see Krunić near the touchline.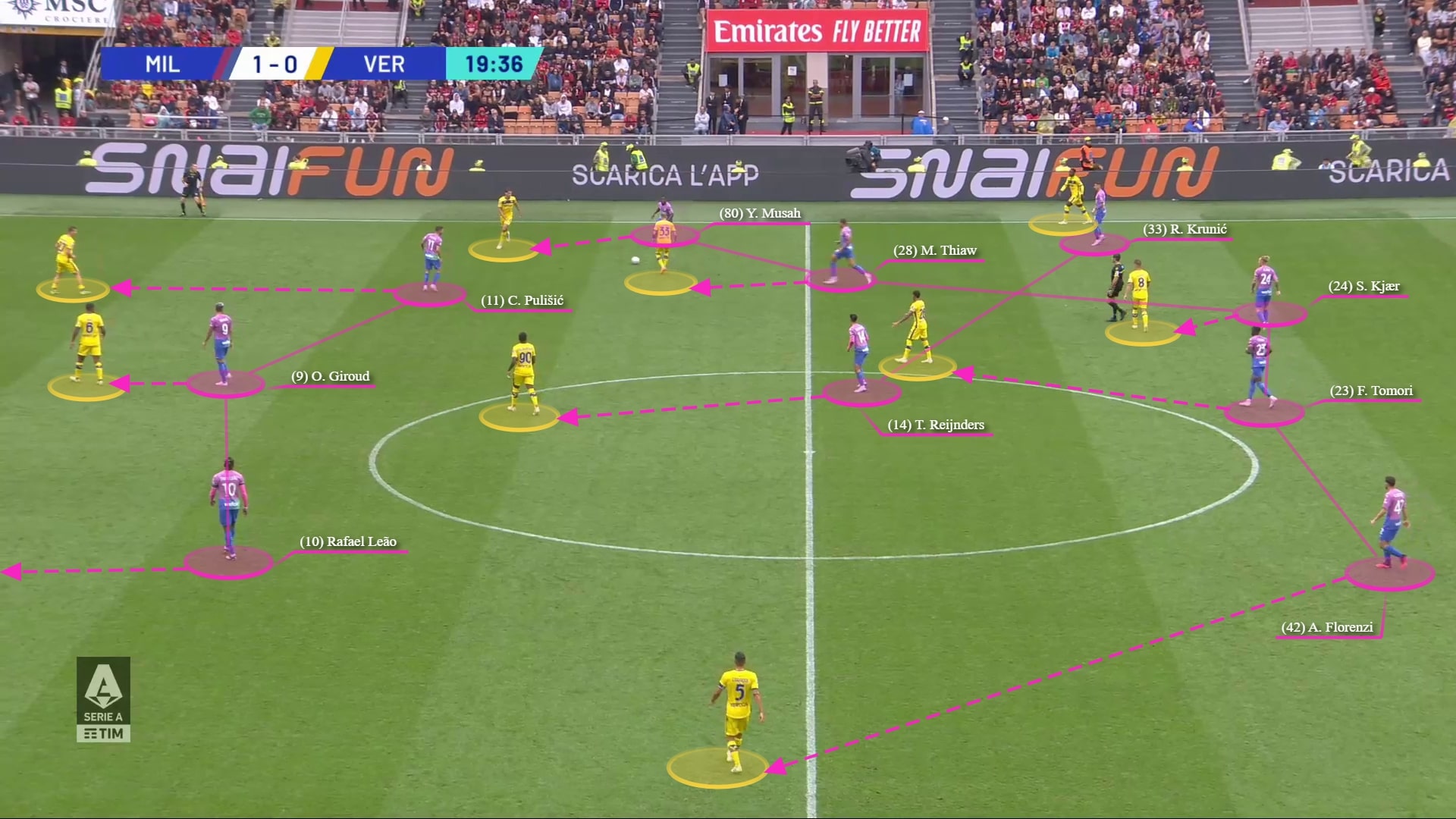 With access down their left-hand side denied, Verona worked the ball over to their right which triggered the left-hand side of Milan to jump up and engage. In the scenario below, it's namely Leão and Florenzi.
However, also in this visual you can see the Verona midfielder beginning to make a forward off-ball movement in anticipation of a coordinated pattern of play…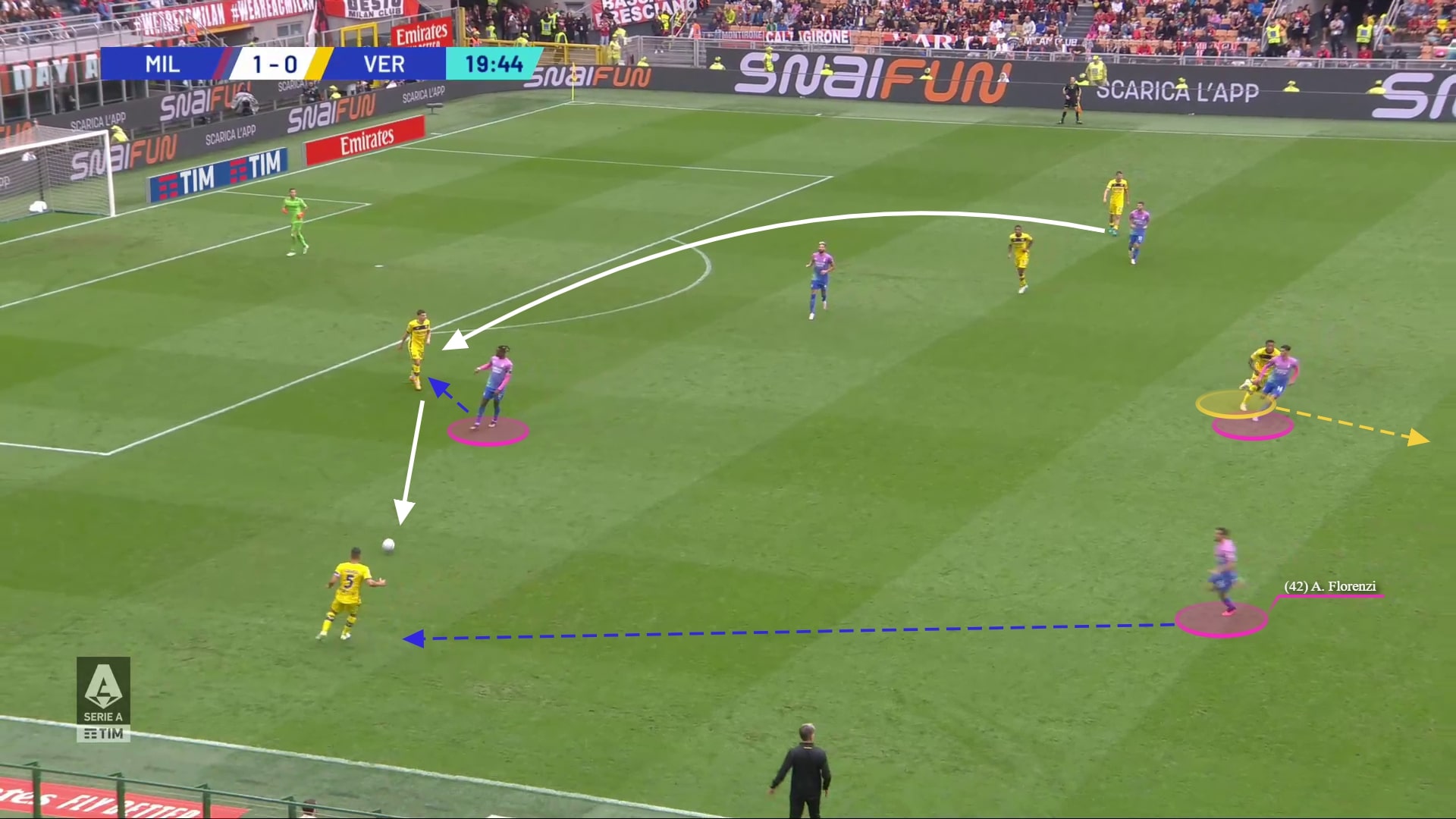 …which becomes more evident below, where you can see a Verona attacker has dropped lower to draw out Tomori and therefore, the midfielder's opposite movement can capitalise upon this space vacated.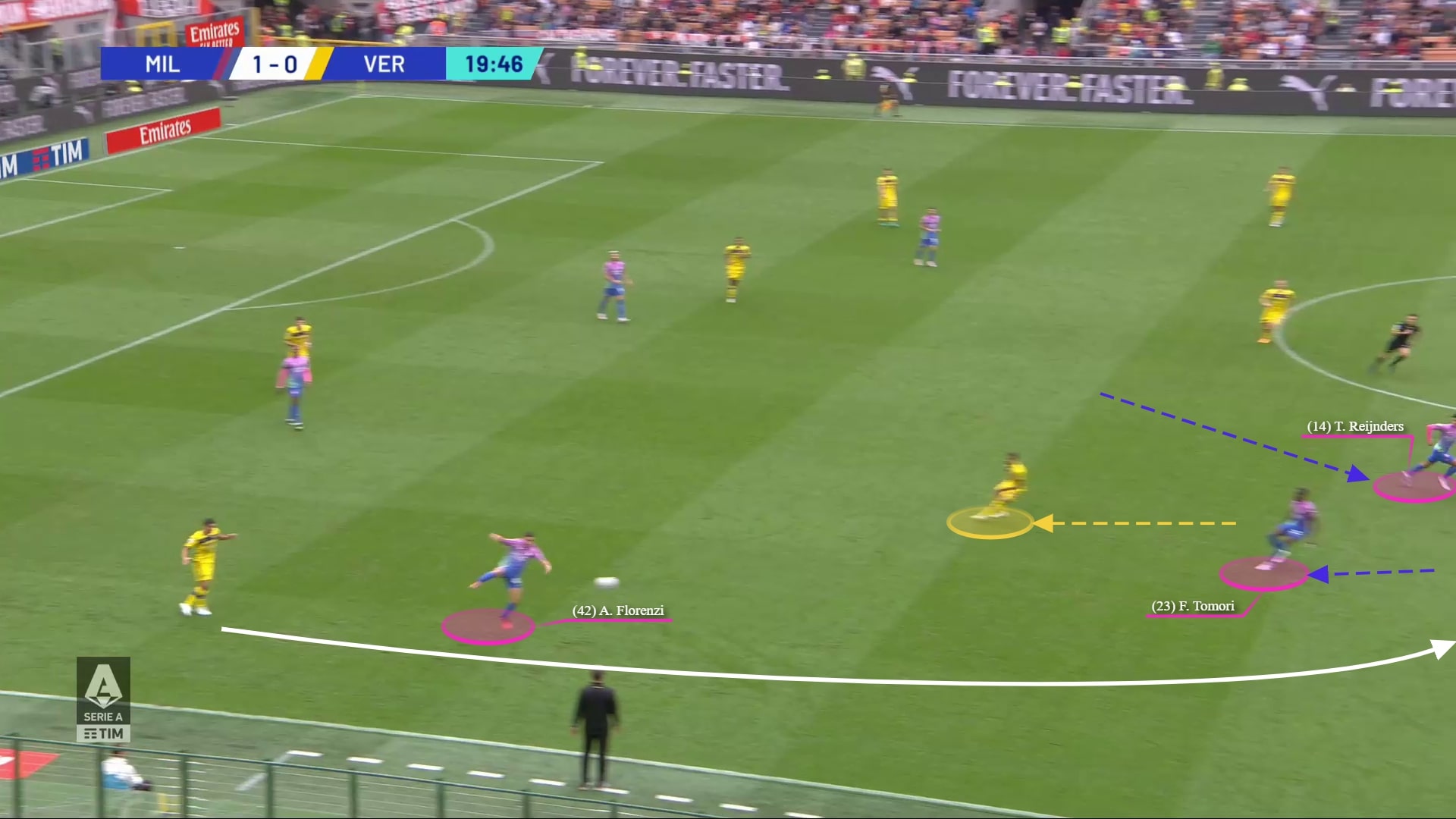 The Verona midfielder (Michael Folorunsho) received the forward pass against a disjointed (and retreating) Milan backline and overall structure.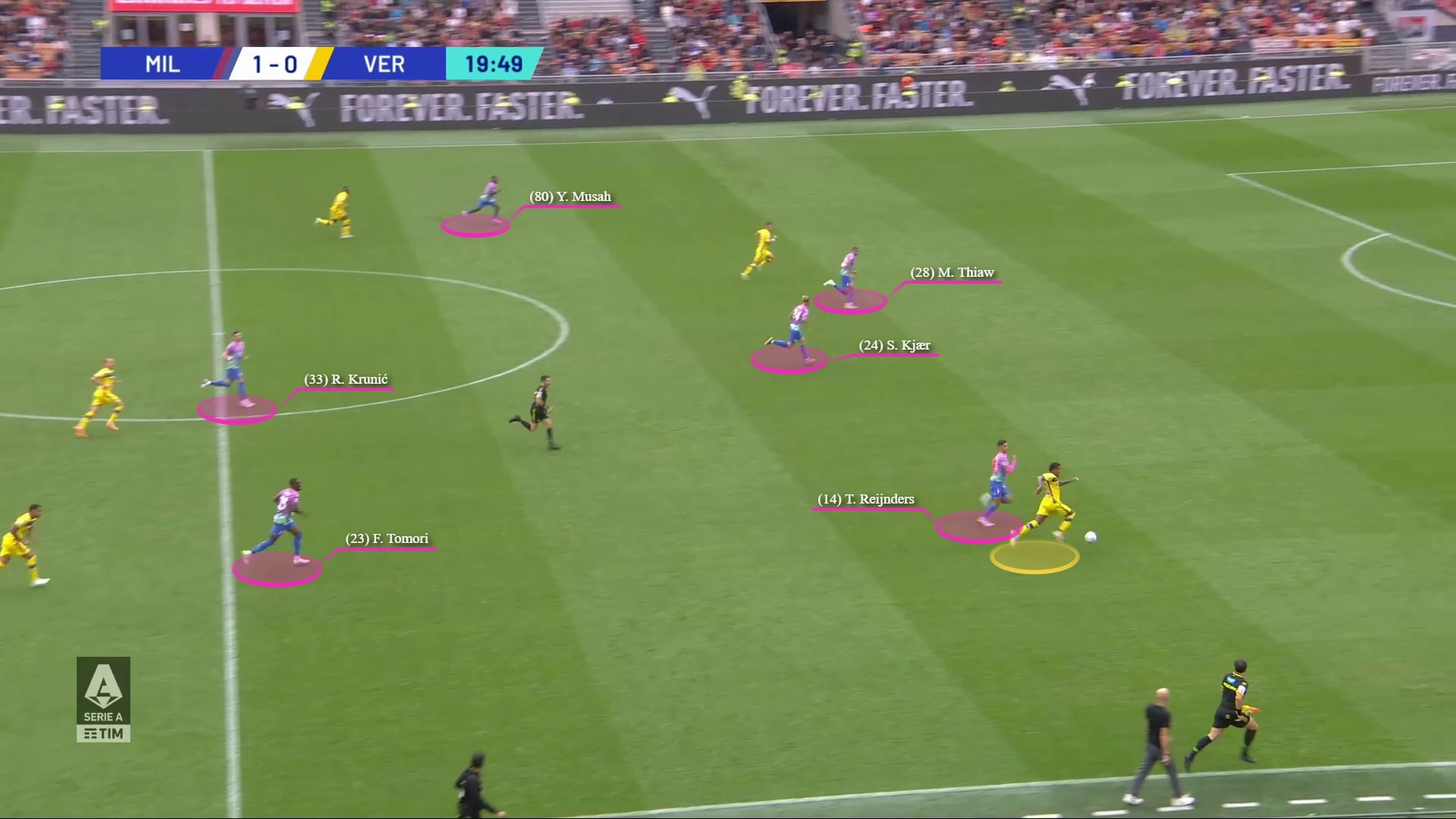 From here, Folorunsho chopped inside and played a pass out towards the left-hand side. Below, you can see how whilst Milan have been able to retreat in numbers their organisation is disjointed and there is an overload opportunity at the far post.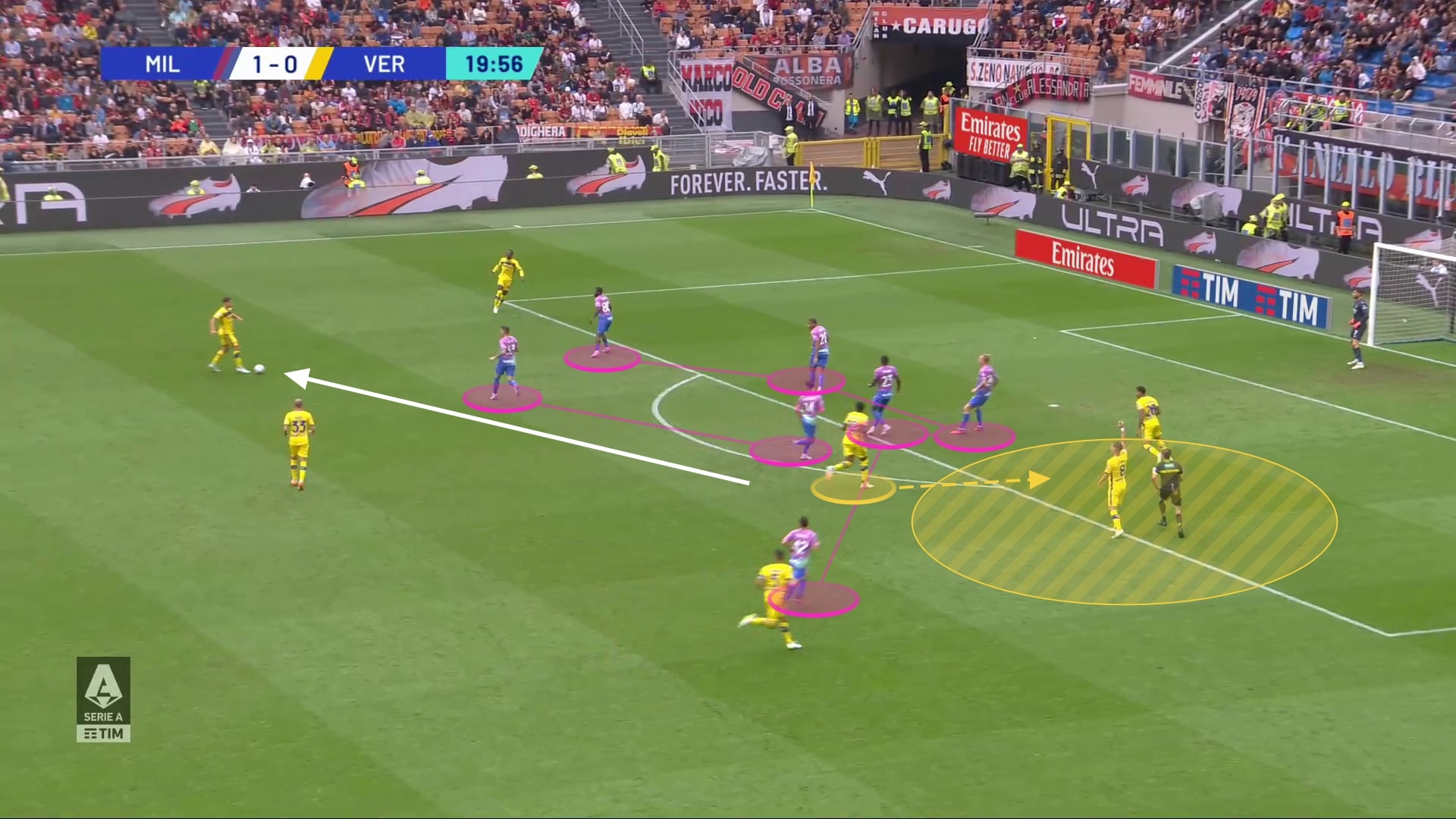 The Verona cross is aimed towards this area but is actually met by Folorunsho who headed towards goal but Sportiello managed to acrobatically save and preserve Milan's lead.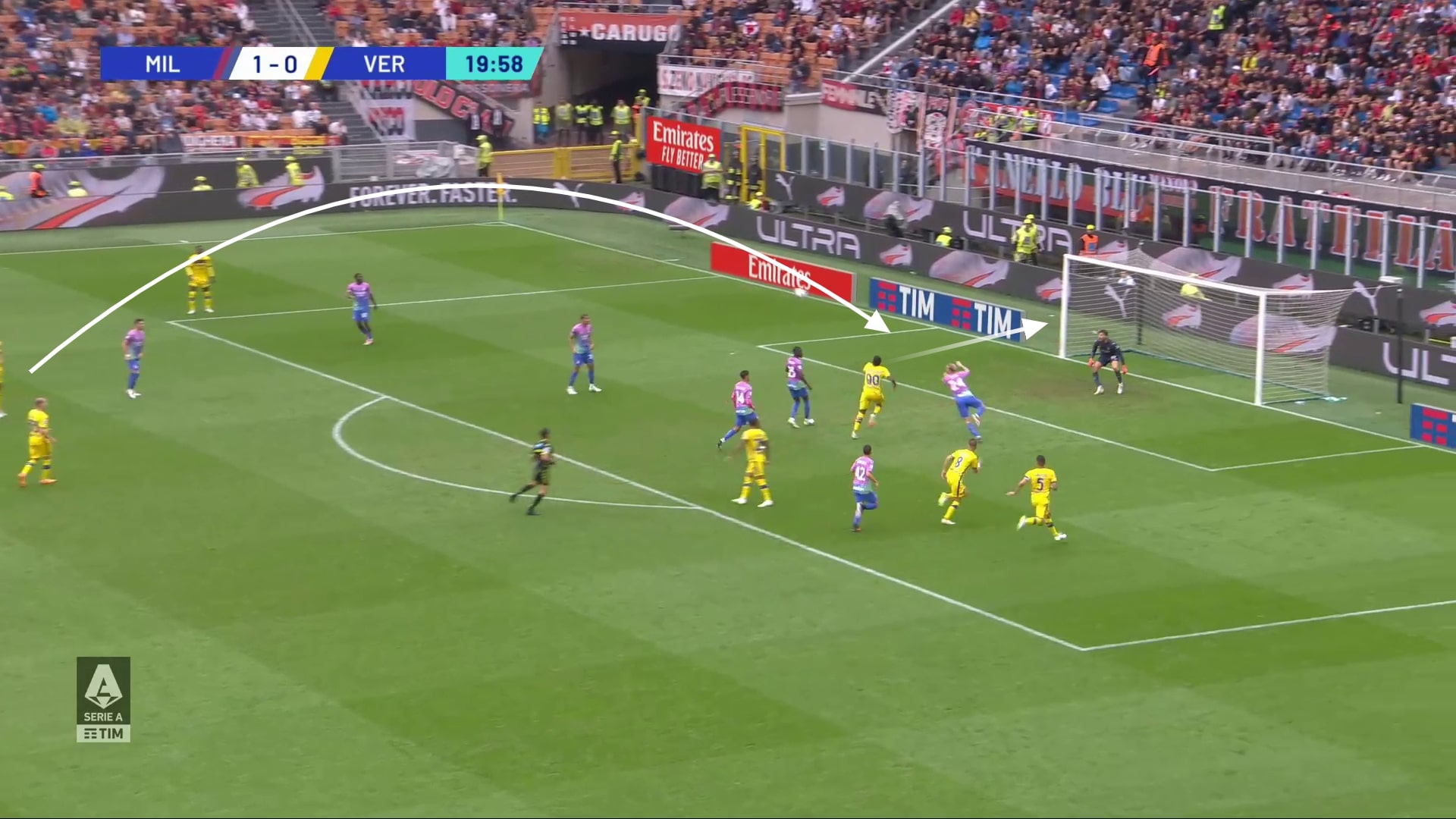 Throughout this section, evidence has been provided as to how and why Pioli opted to match-up to Verona's attacking shape when out of possession. Whilst there are weaknesses that can be exploited in any defensive system and approach, overall, Milan's ability to better their direct opponent helped the home side execute a predominantly dominant defensive display.
But this tactical adjustment from Pioli was not only for defensive purposes. It also had an attacking aspect to it too.
Rest-attack opportunities
By implementing a player-orientated approach out of possession, Milan also knew that when they did regain the ball – whether in their backline or higher up the pitch – they would immediately have players in advanced positions to spring counterattacking moments.
With Verona using a back-three, the Milan front-three were less required to drop too deep positionally when defending. Whilst Pulisic did tend to drop more – to help out his defence and midfield lines, plus provide numerical advantage – Giroud and Leão tended to stay higher in more rest-attack roles.
And this afforded Milan opportunities in attacking transitions.
In the 25th minute, Verona had possession in the home team's half and Milan were in their settled defensive shape. Here, you can see Pulisic has dropped a little deeper to help his midfield line, but how Giroud and Leão are separated with less defensive responsibility.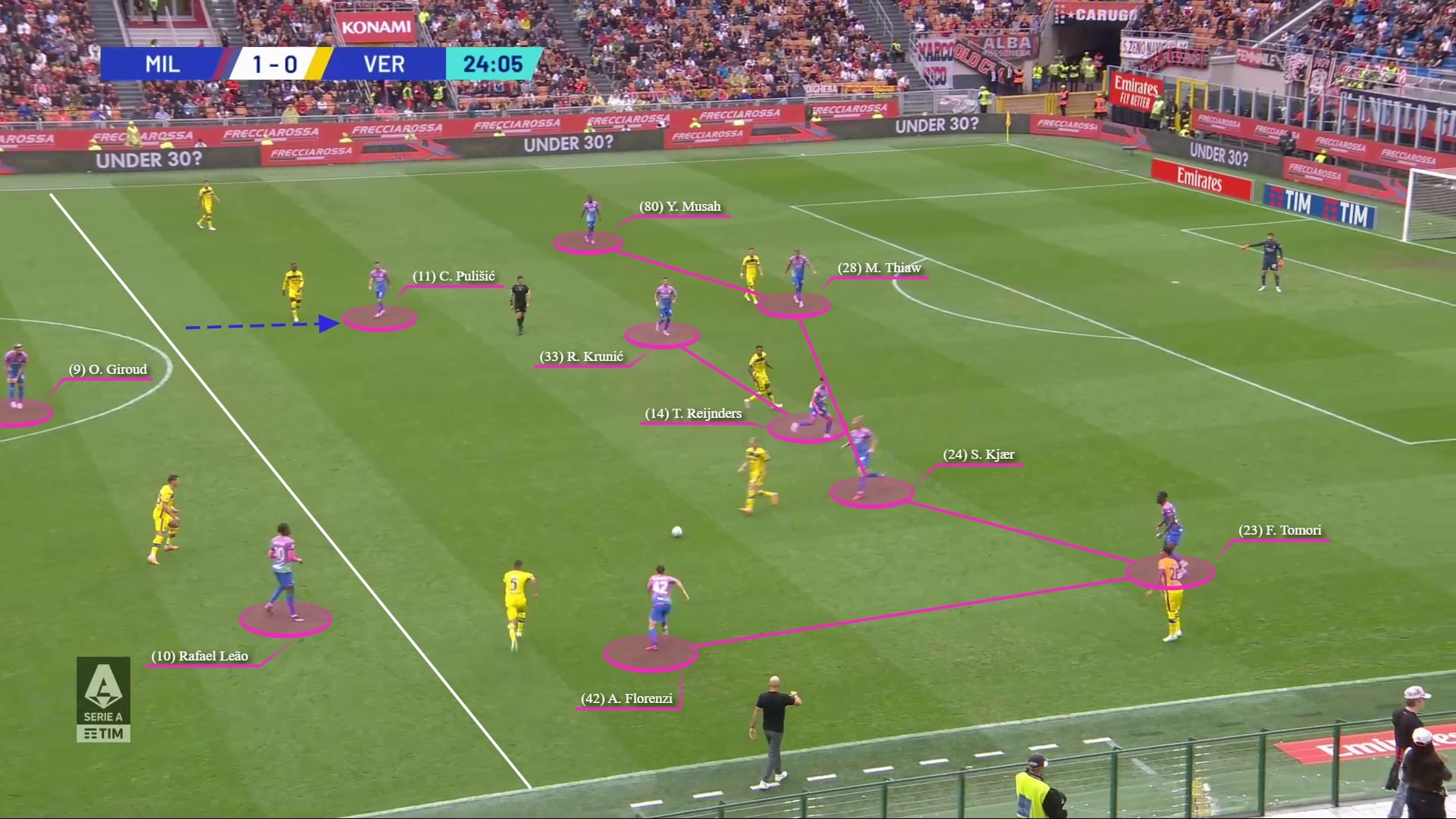 After Milan forced a turnover, a pass was immediately made into Giroud who then immediately looked to lay into the path of Leão to exploit the space in behind the Verona backline.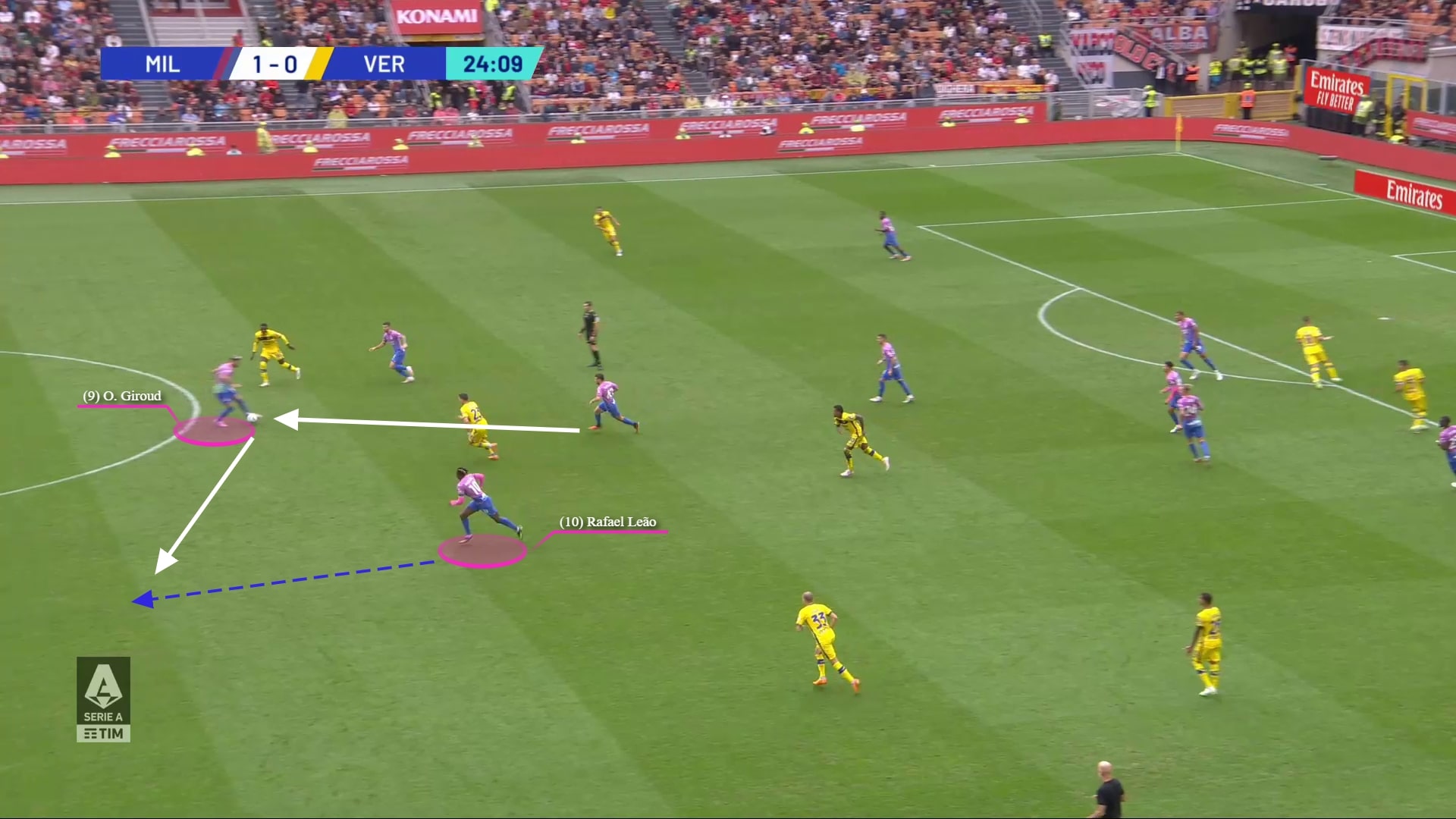 Leão carried the ball into the Verona half against their disjointed formation…
…and into their penalty area, where he attempted a cross but overhit it, resulting in it being an opportunity missed.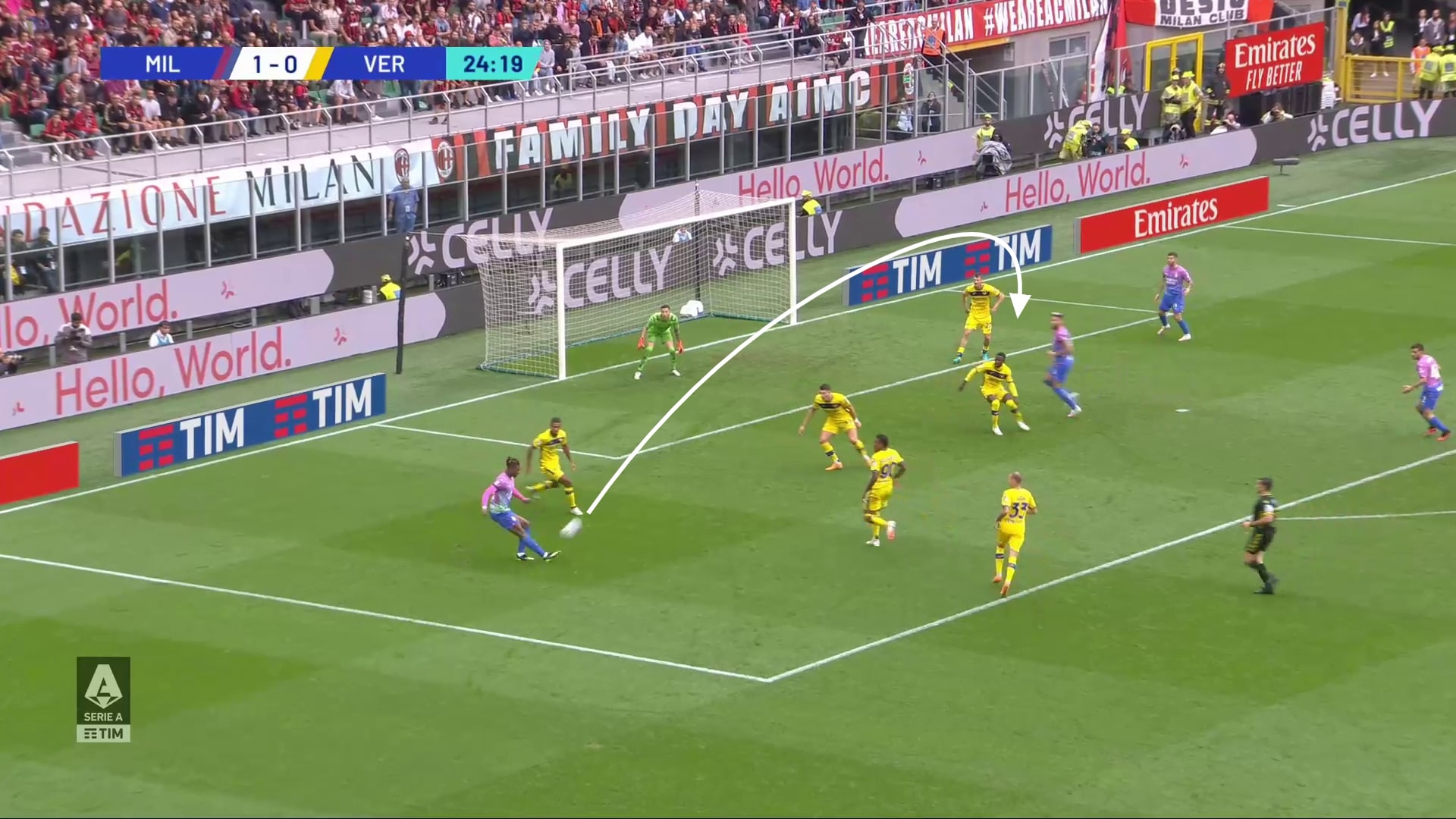 In another example, in the 73rd minute, the Milan midfield and backline were retreating to defend a potential Verona attack…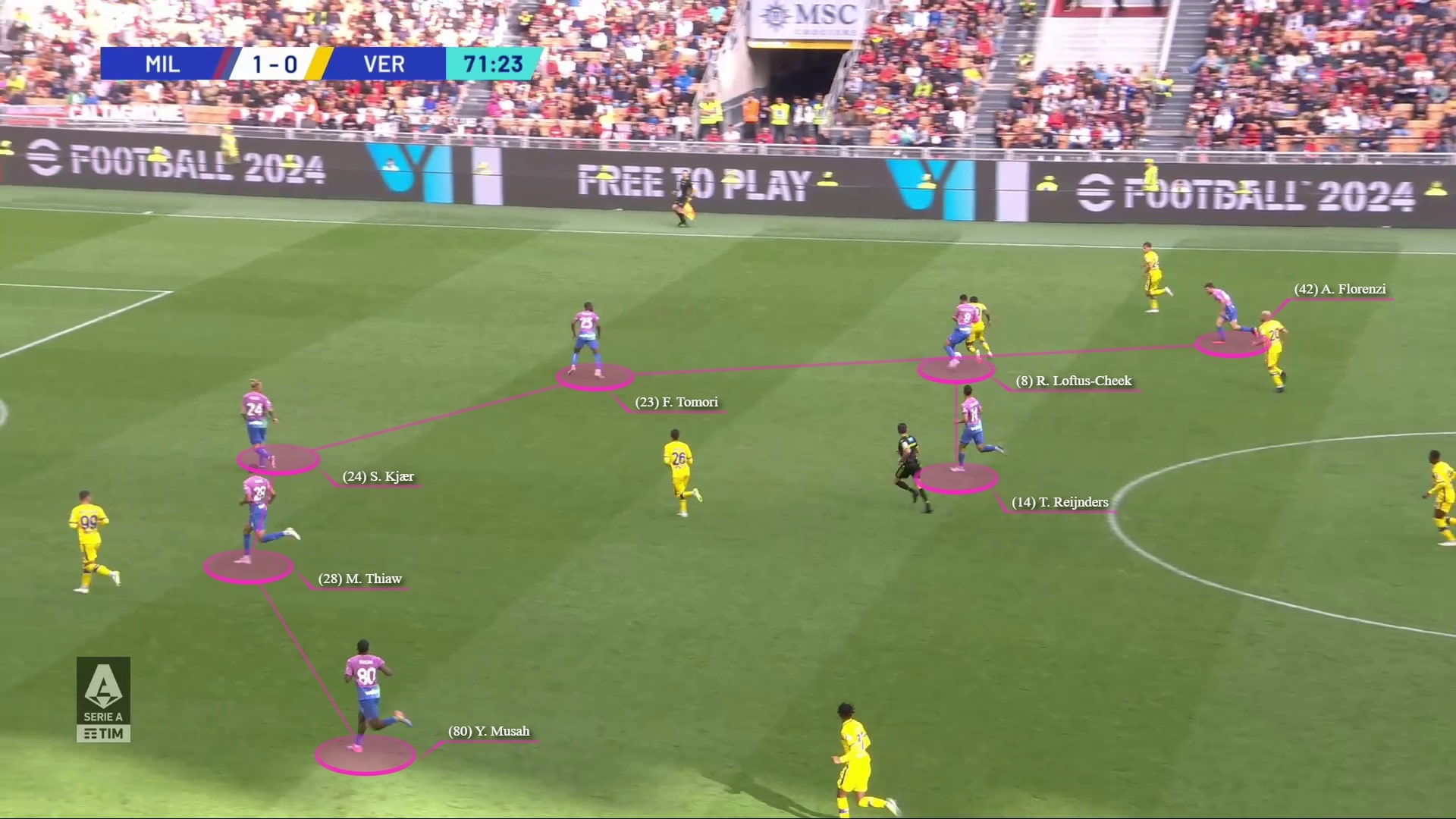 …but substitute Ruben Loftus-Cheek recovered possession and was then able to face forwards knowing he had three attackers ahead of him. The midfielder's pass advanced play onto Pulisic…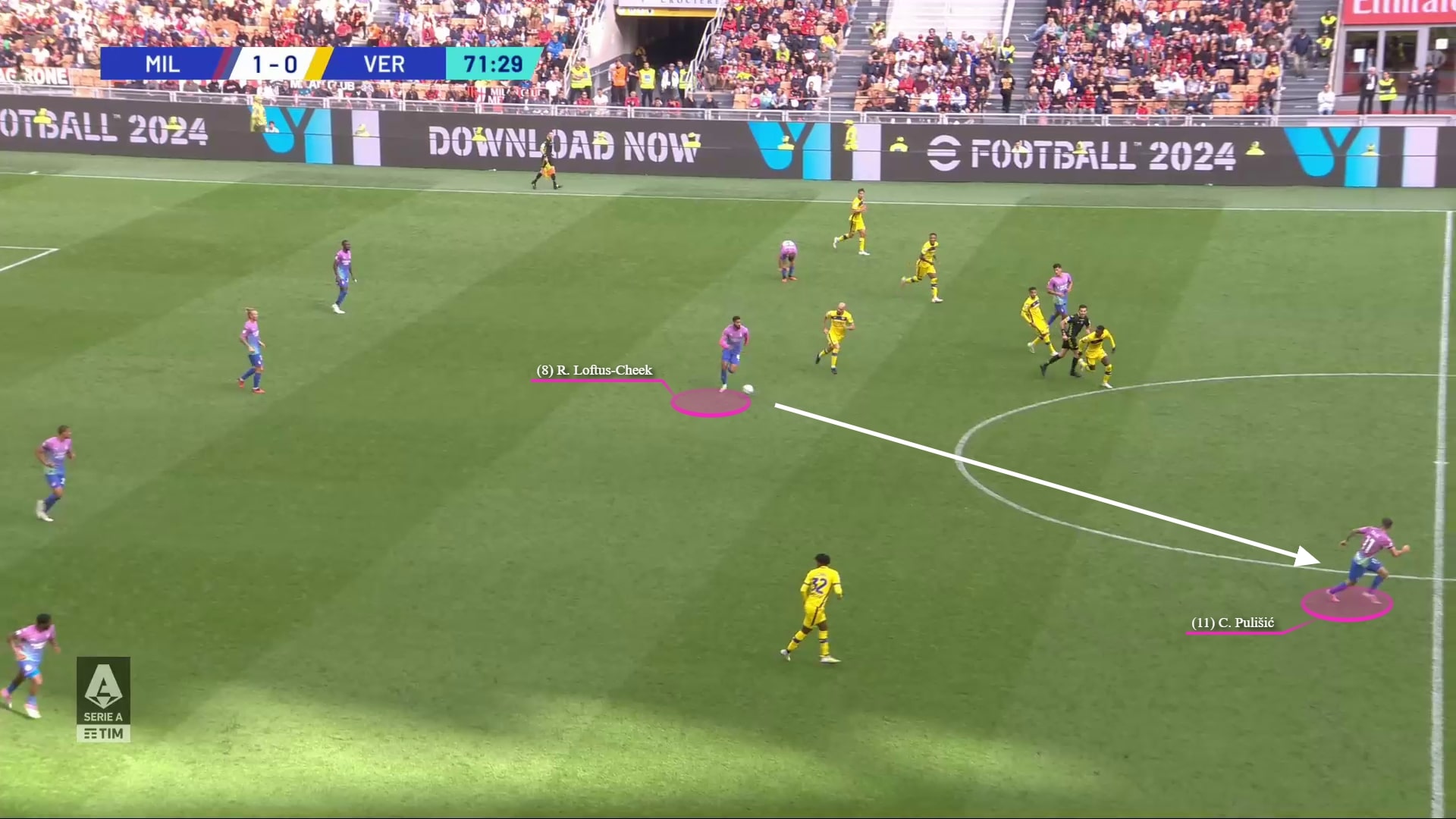 …who's higher position enabled Milan to immediately attack the Verona back three.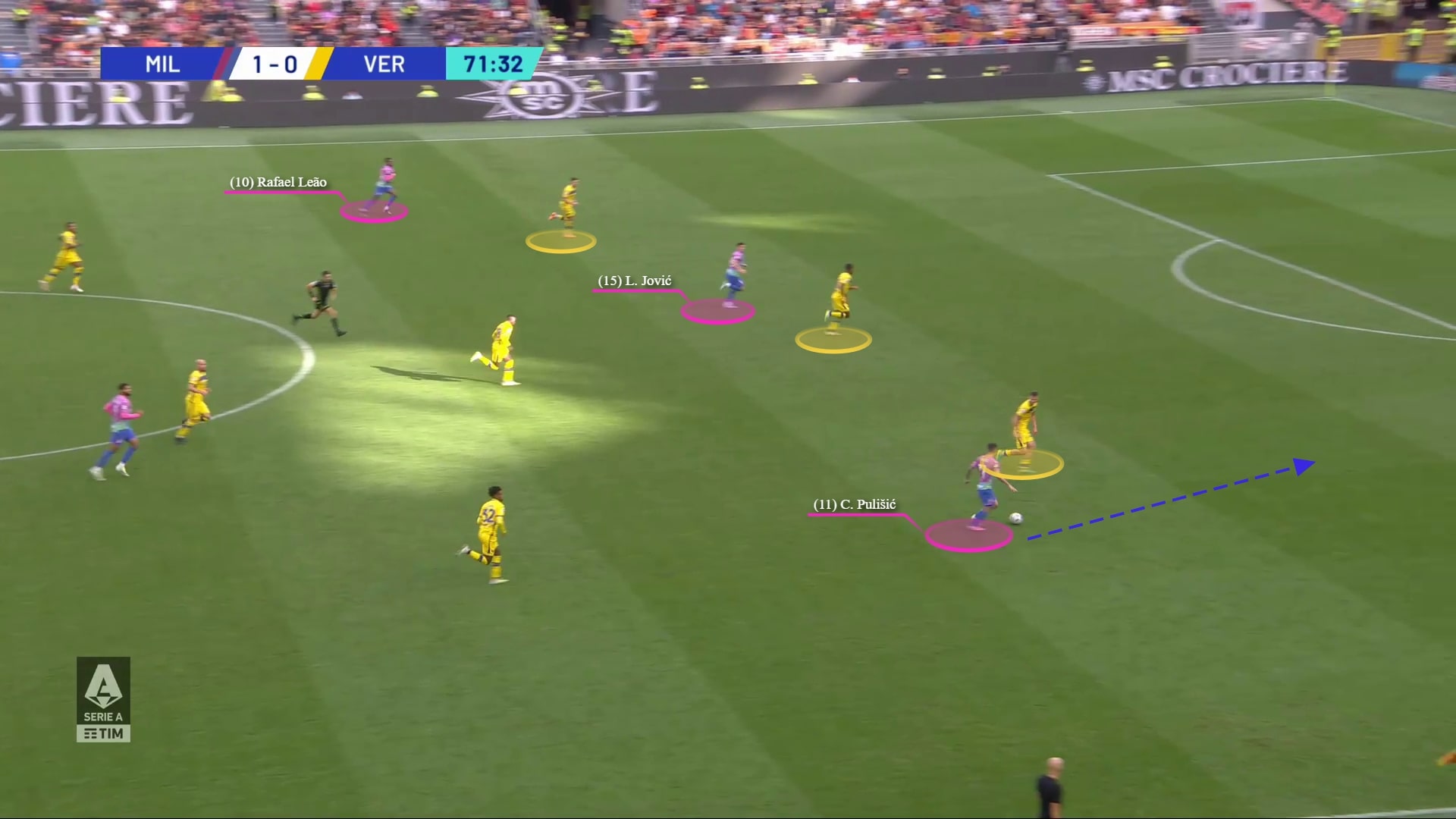 From here, the Milan attacker carried the ball into the penalty area where his shot forced a save from the Verona goalkeeper.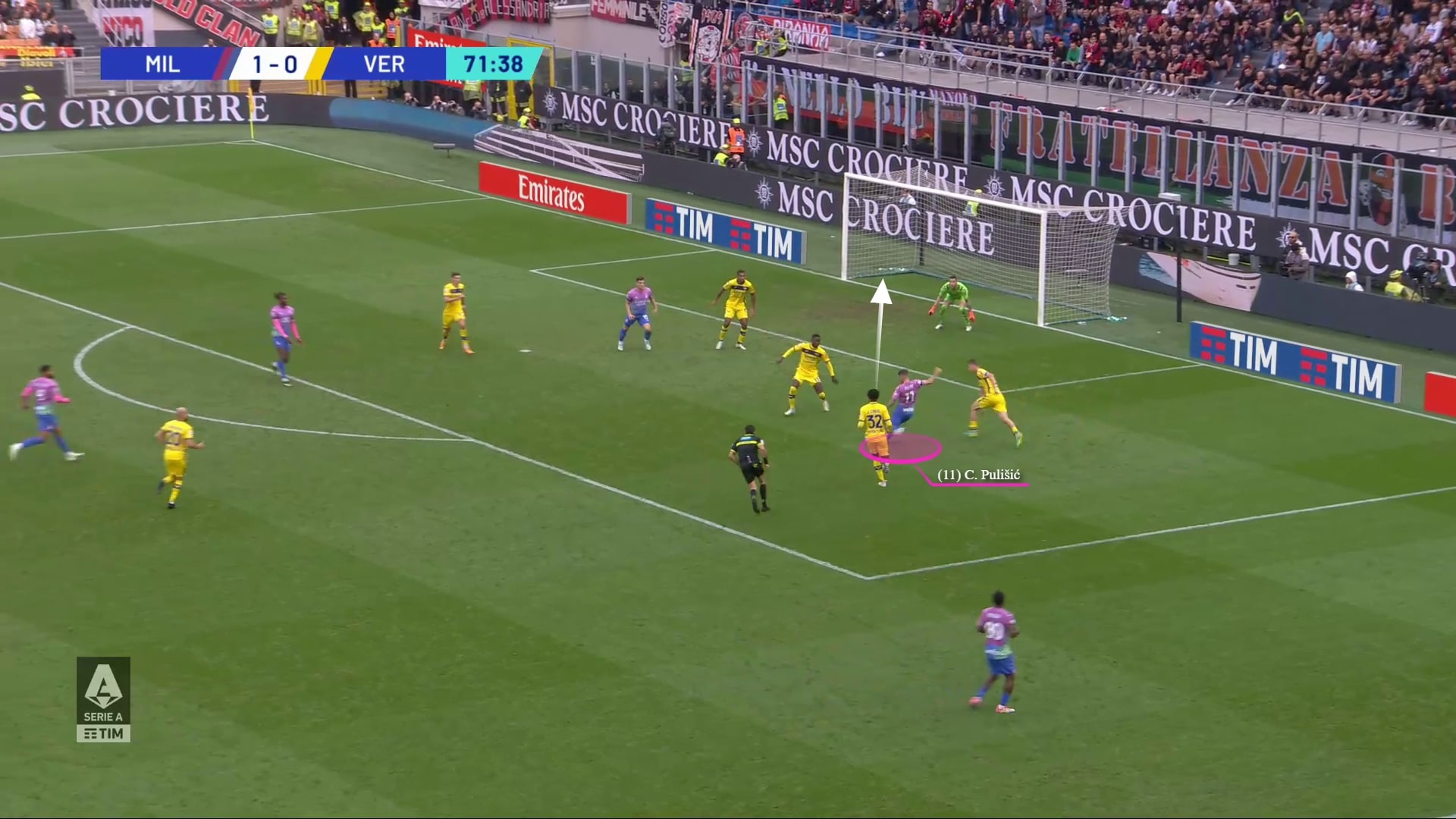 But nowhere was the upside of these rest-attack roles more evident than the game's only goal. And in addition to this, the passage of play that led to this decisive moment, also included some elements of Milan's out of possession approach.
Piolo's gameplan in a nutshell, all coming to fruition in one moment in the game to the home side's benefit.
Play started with a Milan goal kick taken short to Florenzi in an attempt to draw out the Verona press and then go direct towards the forward line – a recurring feature of the game, with Milan trying to manufacture 5v5 opportunities against the Verona backline.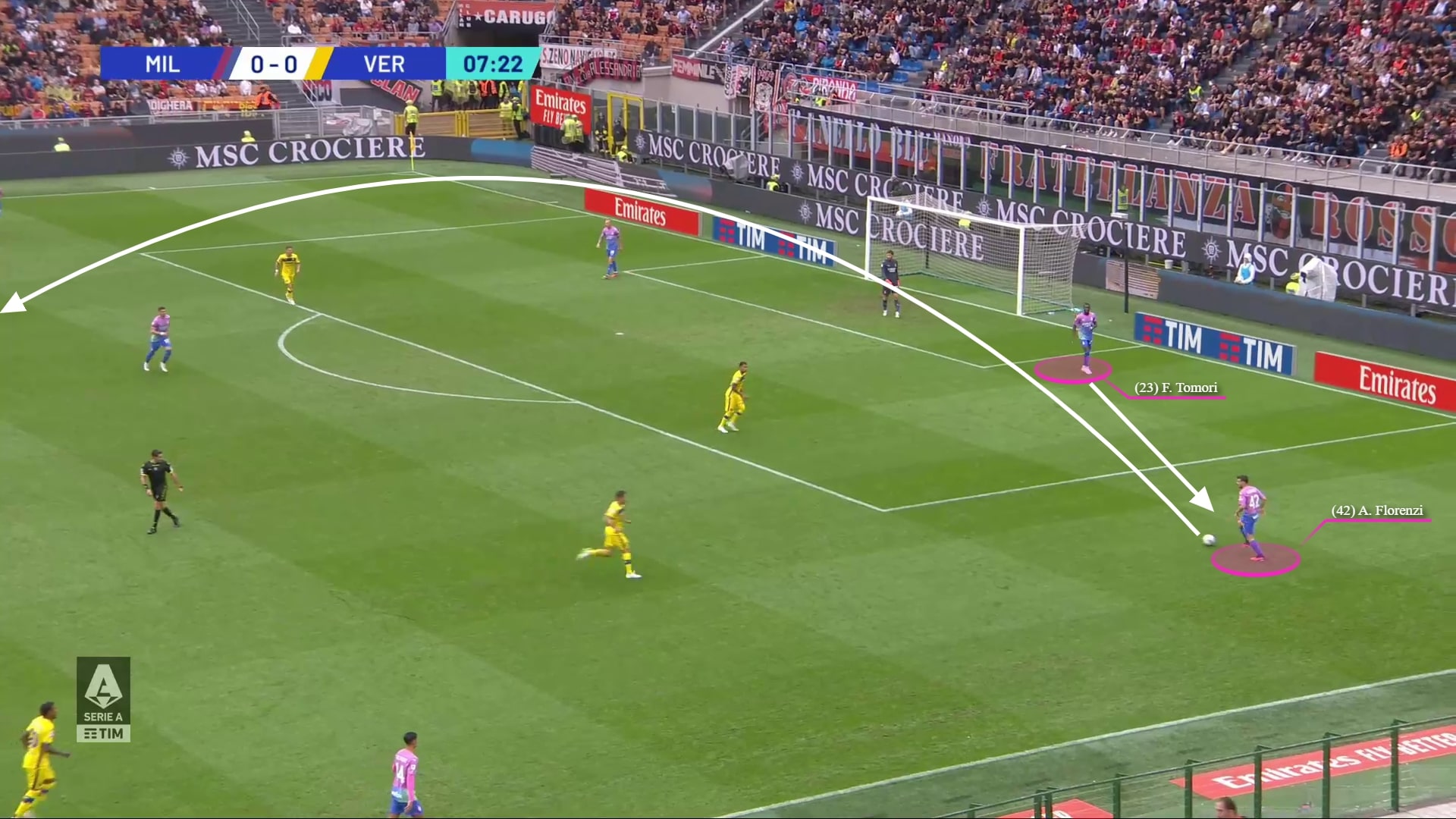 But Florenzi's pass lacked power and accuracy and Verona were able to regain possession.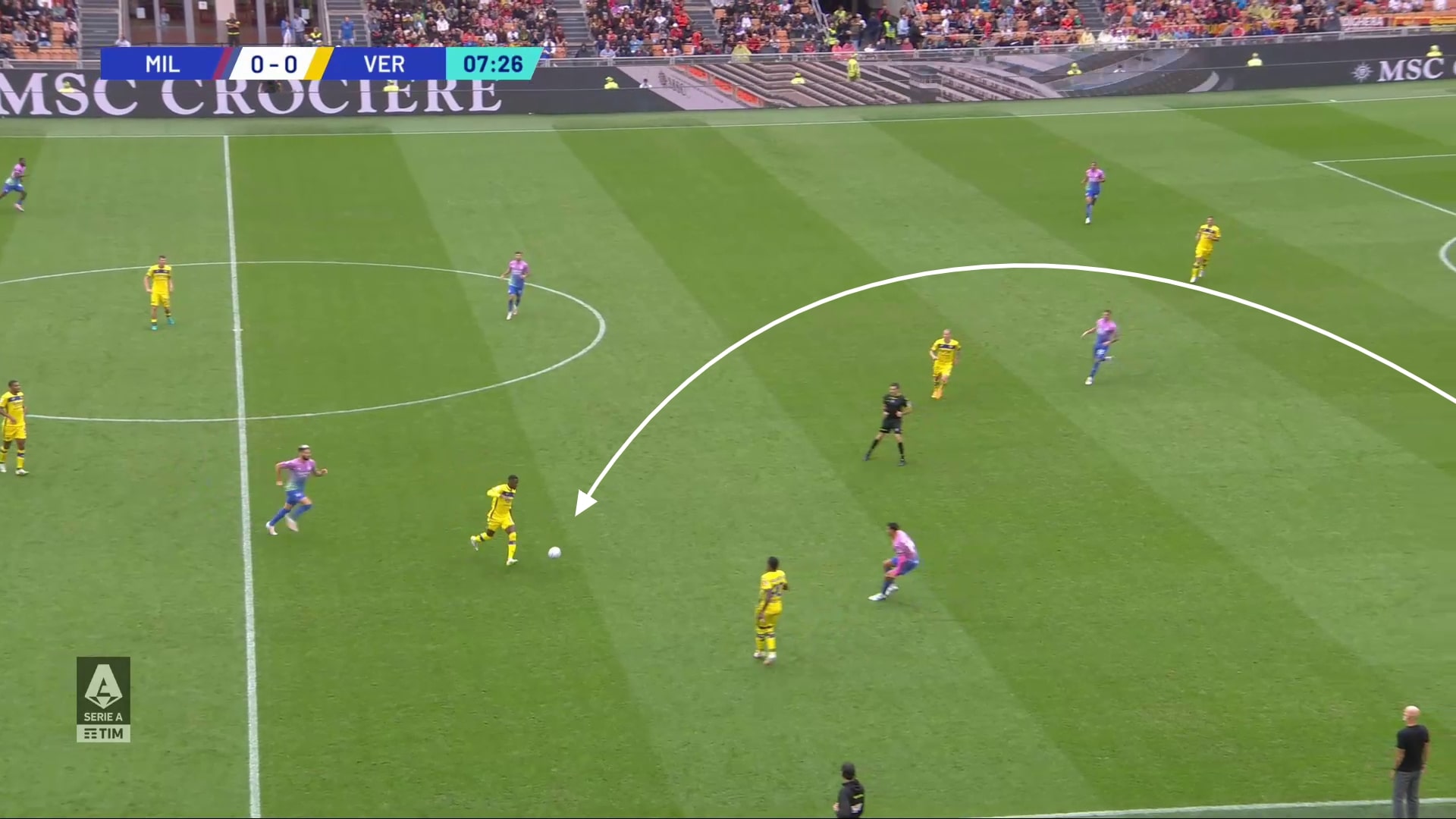 Milan players quickly reacted to get near their designated opponent and around the player in possession and with no forward passing options available (and likely in an attempt to gain some early control in the game), the Verona midfielder attempted a backwards pass to his backline.
As you can also see below, Leão looks relatively uninterested in any defensive responsibility, knowing that his job is to stay high.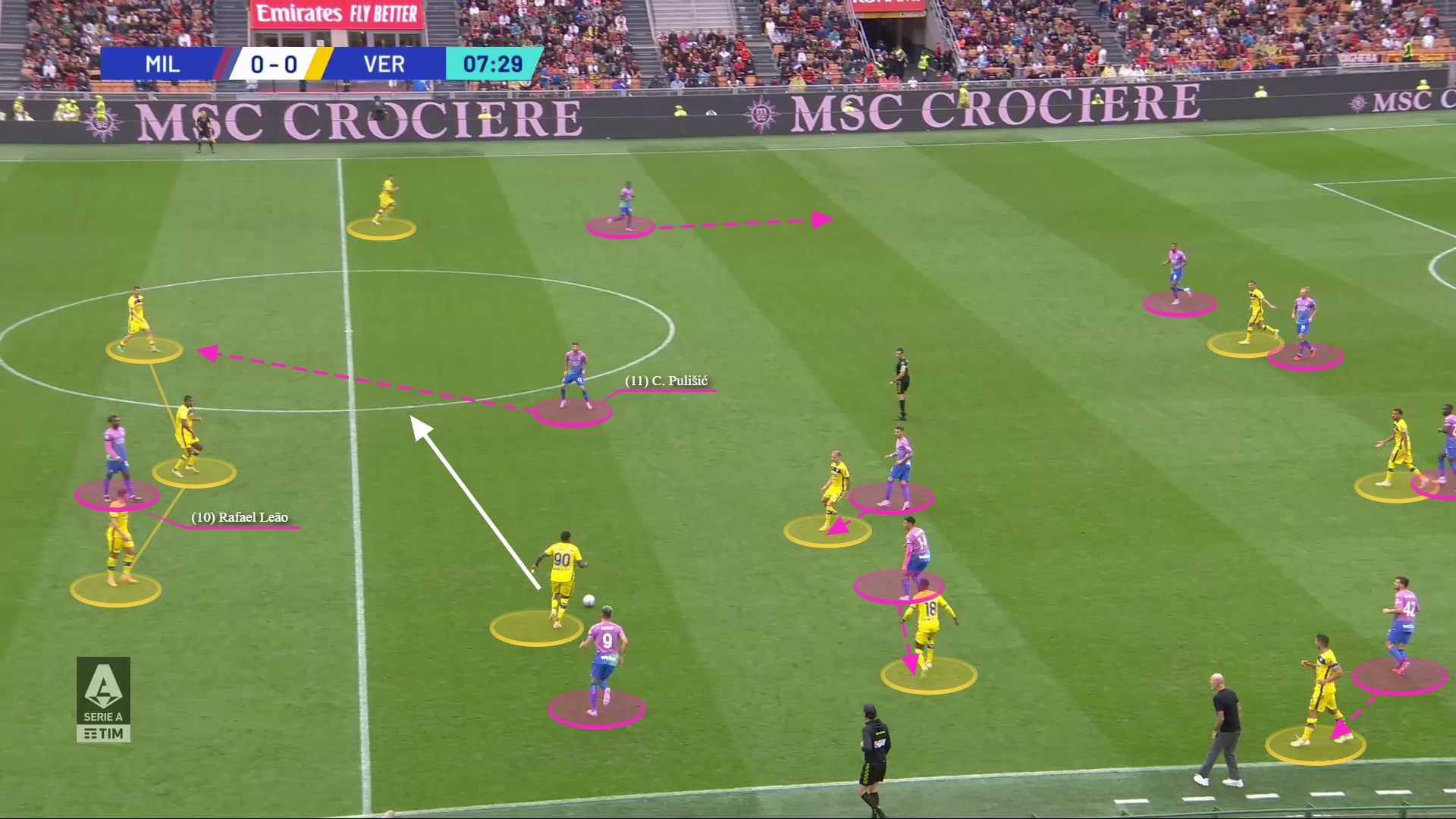 And after the Verona midfielder's poor backwards pass got intercepted by Pulisic, Leão immediately burst into life looking to exploit the space in behind.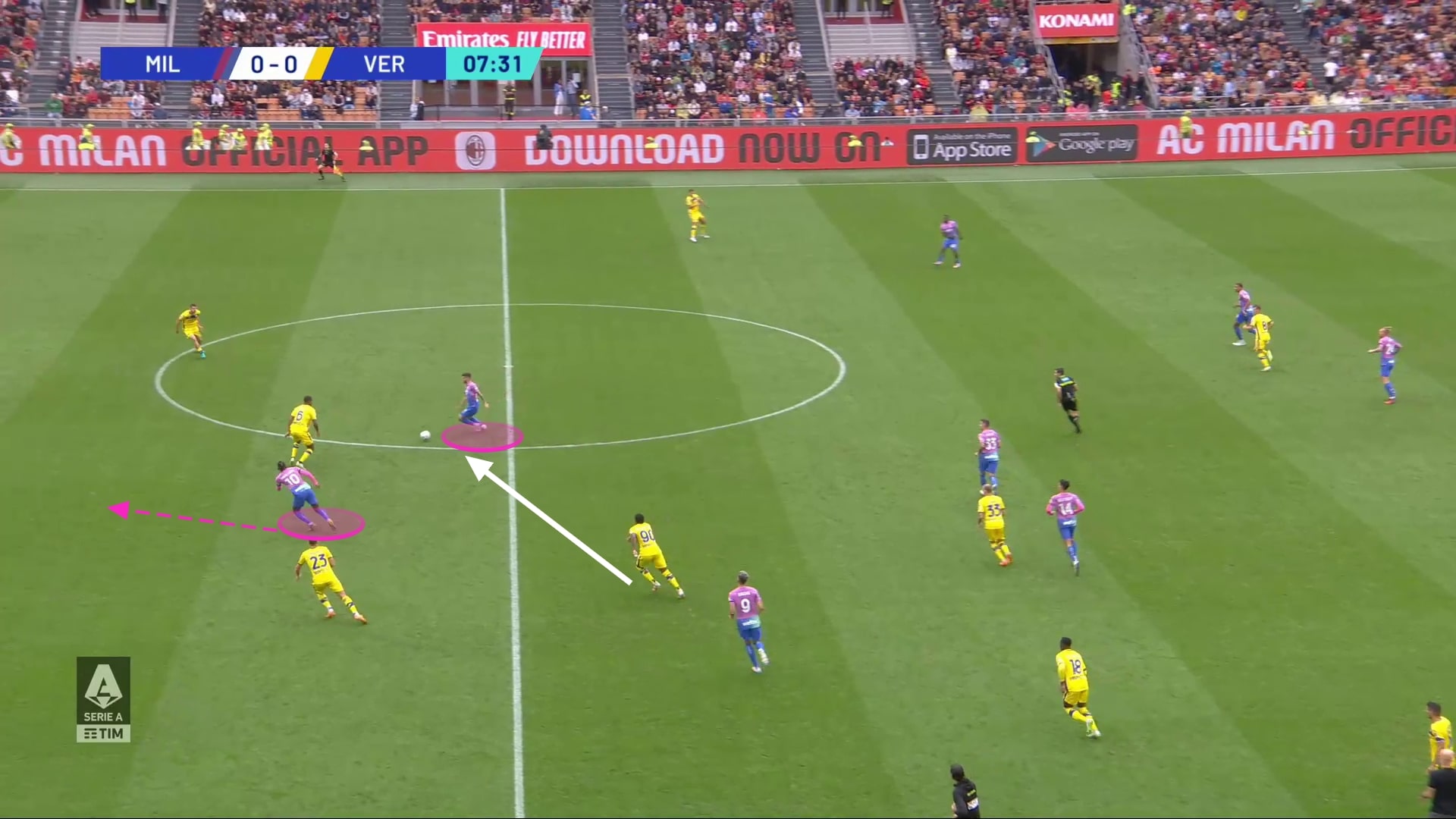 However, the nearby Verona defender managed to momentarily regain possession before compounding the succession of calamitous errors from the visitors by immediately getting (re)dispossessed by Pulisic whose interception poked the ball towards Giroud who then immediately diverted the ball into the path of Leão.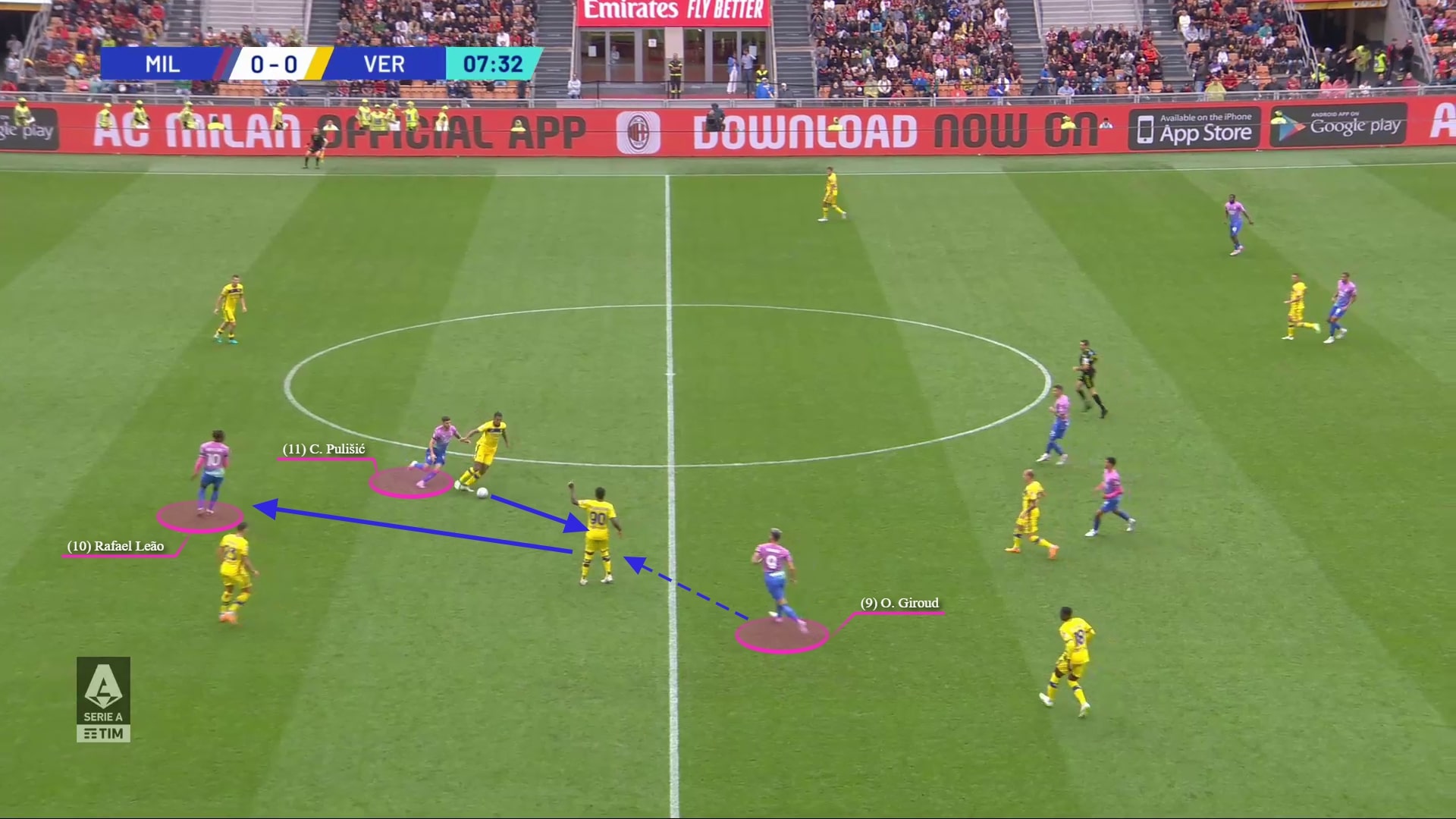 And on this occasion, it was not a false start. The Portuguese attacker was in between and in behind the Verona backline, courtesy of his initial rest-attack role, with only the opposition goalkeeper to beat…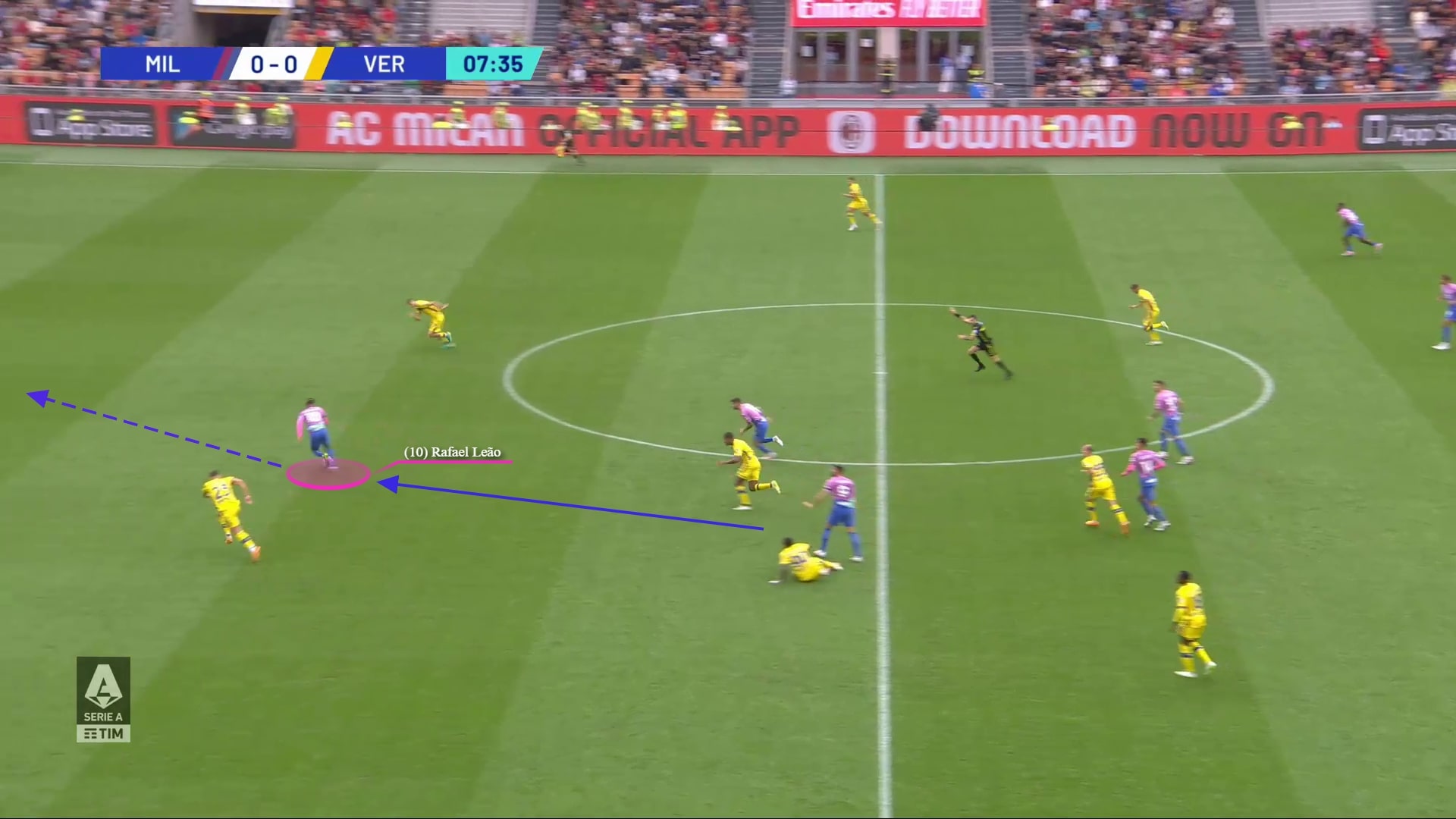 …which he did to put his side into an early 1-0 lead that would subsequently go onto to become the winning goal of the match.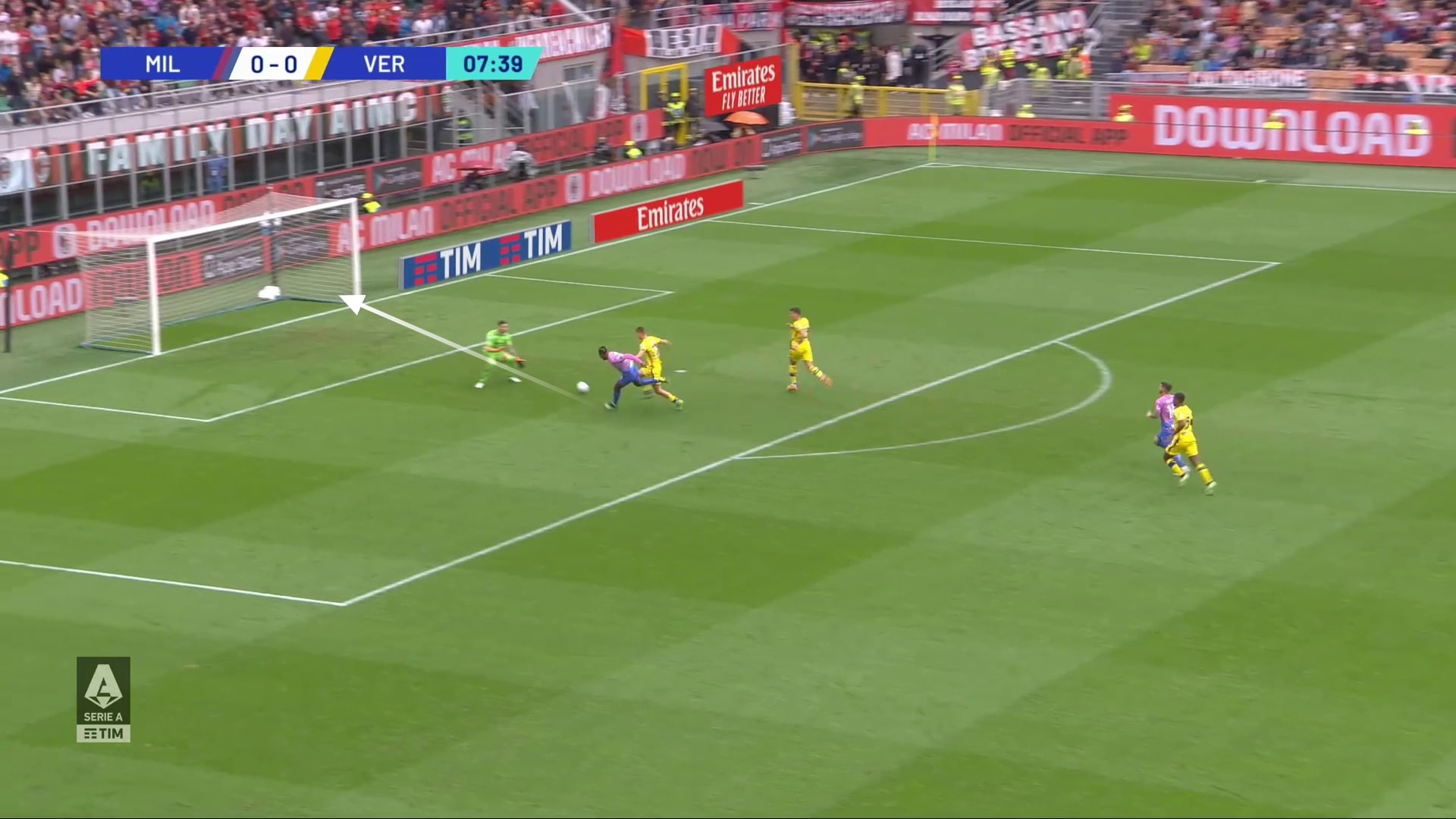 Summary
So, despite having to adjust his side's system the day before the game, Piolo's tactical decisions had an impact on this fixture, both offensively and defensively.
It may not have helped contribute to an enthralling encounter, but after their previous Serie A result, three points was the priority and this was achieved.
Next up, Cagliari on Wednesday evening.