AC Milan began the new Serie A season with a home match against Udinese on Saturday evening looking to start their title defence the right way.
The new Serie A season is upon us and with renewed expectations and fierce competition, Milan faced their bogey team Udinese – whom they had drawn their three previous league games against – on the opening day at a packed San Siro.
After losing one of their midfield centrepieces in Franck Kessie and with Charles De Keteleare having arrived from Club Brugge for a sizeable fee, a change in approach was signalled by Pioli.
Line-up
Milan lined up in their usual 4-2-3-1 system on paper, with Stefano Pioli opting to not field any new faces from the start and sticking to the team that won them the Scudetto. This meant Brahim Diaz and Junior Messias kept their place in the line-up while De Ketelaere had to wait to make a debut.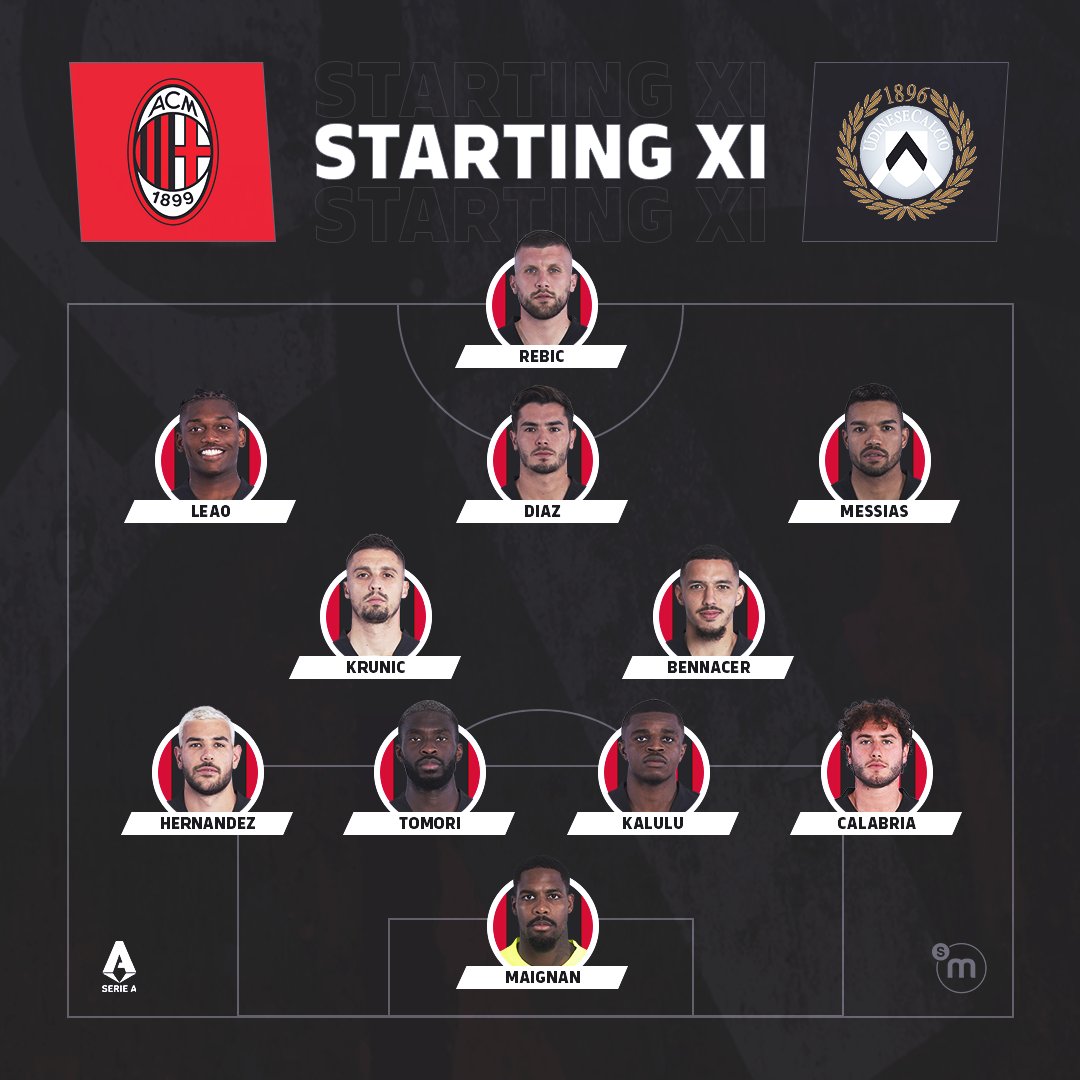 Udinese's approach
Udinese always had one of their forwards – either Deulofeu or Success – drop into midfield to receive a vertical pass and hold the ball up while the wing-backs would make the runs.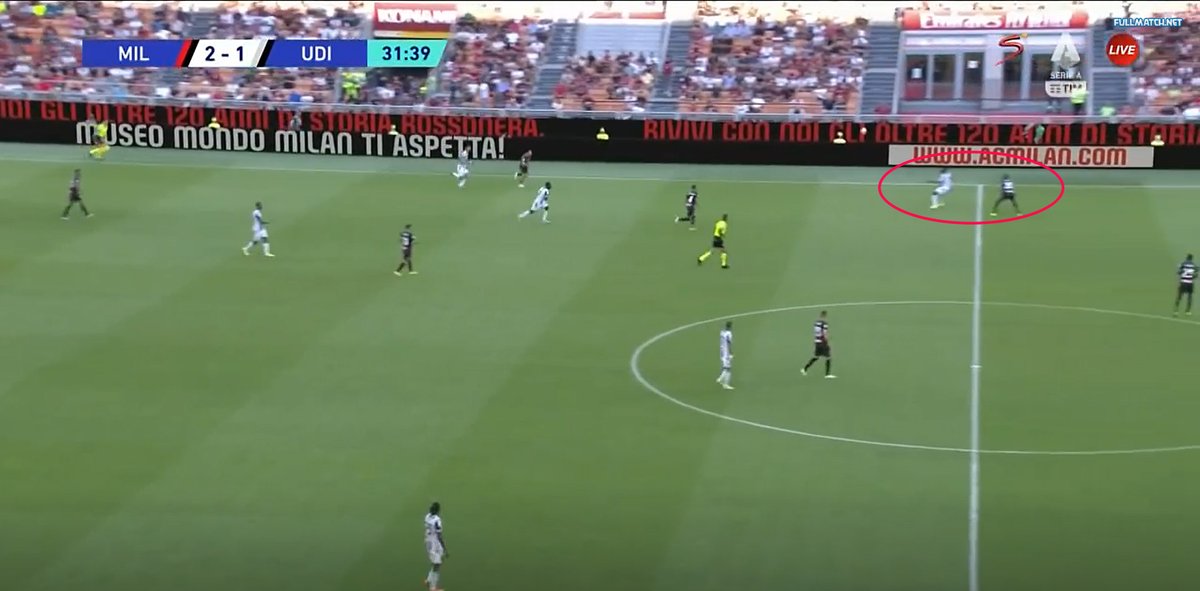 They would take advantage of Milan's narrow shape and try to switch sides quickly to launch quick counter-attacks.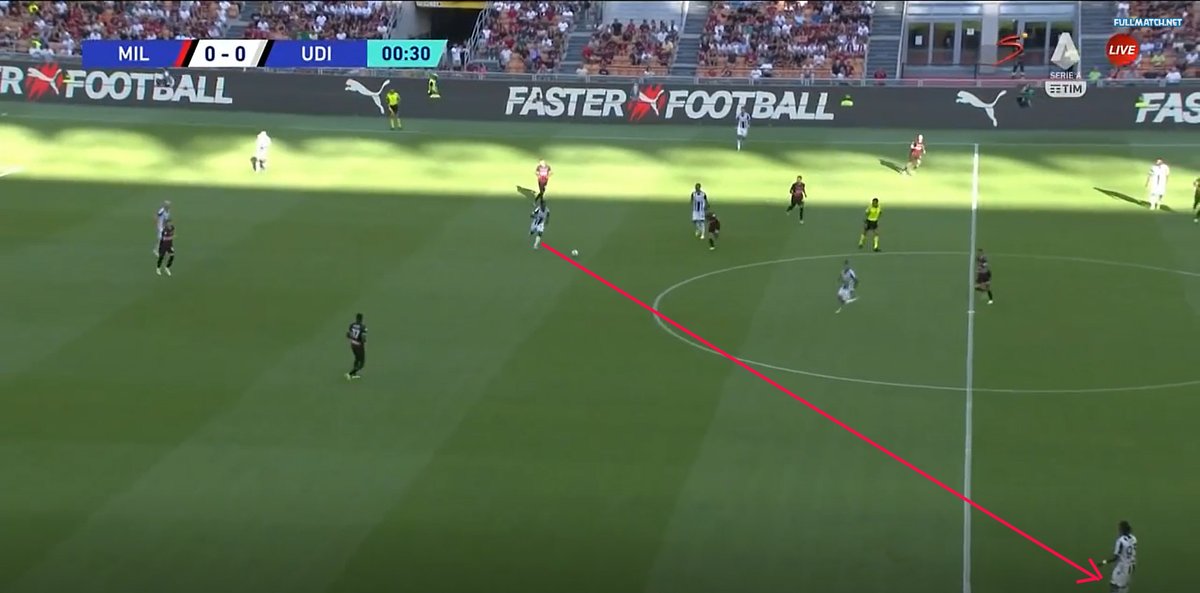 Udinese started with a 3-5-2, so it was natural when they didn't have the ball they defended in a 5-3-2 which at times would look like 4-4-2.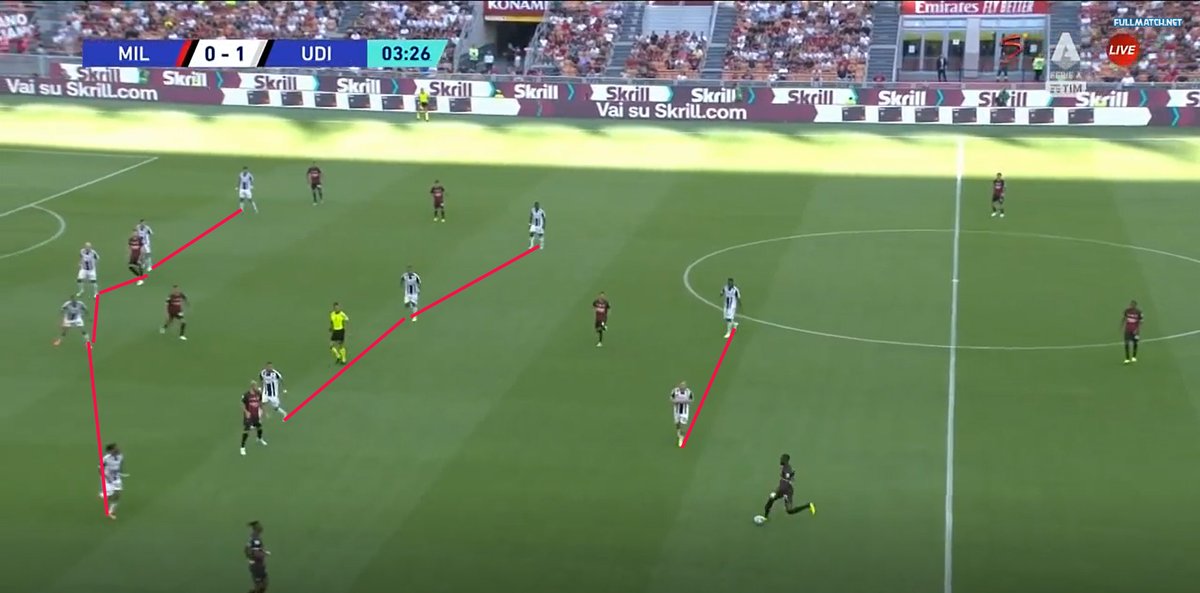 Having midfield engines like Wallace, Makengo and Pereyra meant Udinese would move as a block whenever Milan would play through the wings as seen below.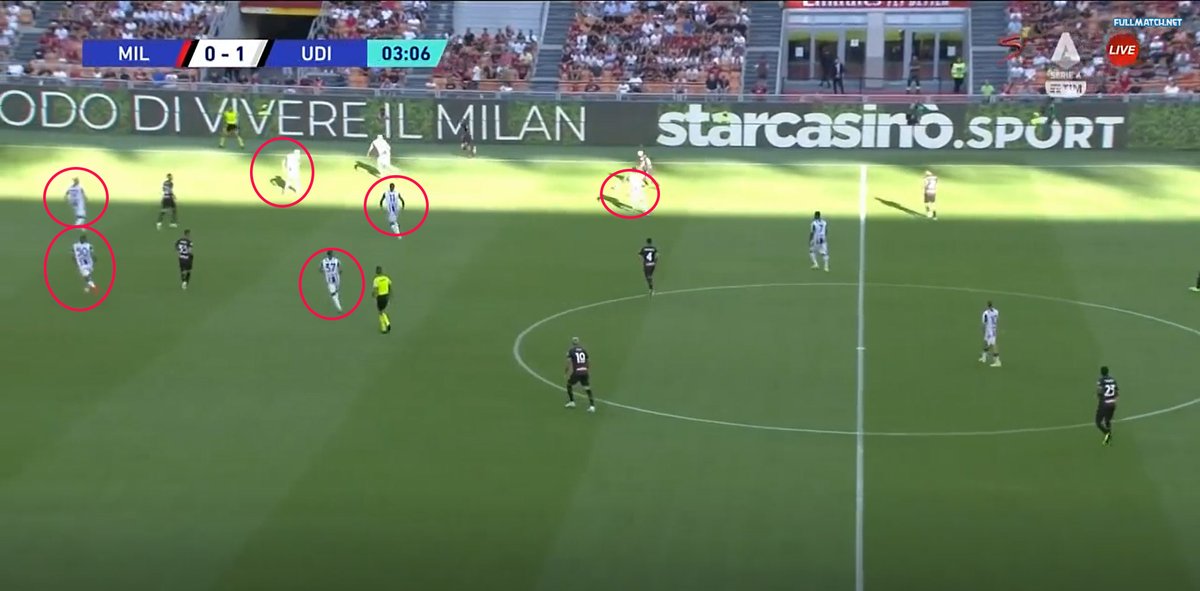 Midfield combinations
Milan would bring the ball out from the back and engage in a lot of positional rotations
With two strikers up front for Udinese, they were both focused on not allowing the ball to reach Bennacer. So this gave space to Tomori to move forward with the ball.
Krunic as part of the double pivot took up the space vacated by Leao who pulled wide to take up the position of Theo Hernandez. Theo meanwhile shifted to a midfield position.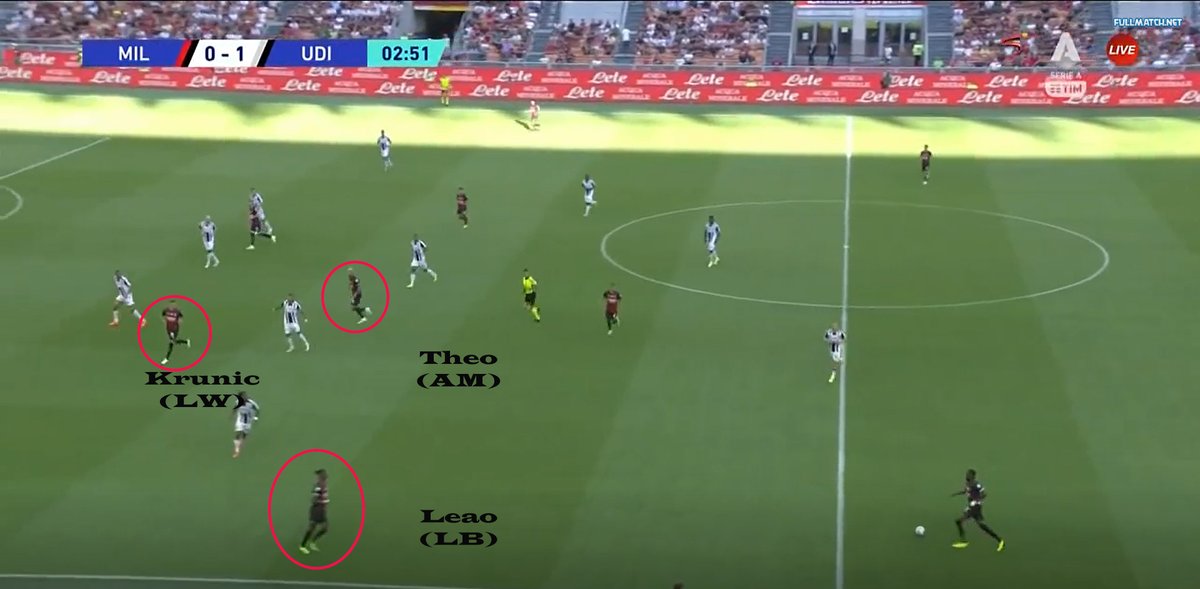 One particular bit of build-up play Milan used saw Theo bring the ball forward engaging Pereyra and taking Udinese's strikers out of the game. With Pereyra going forward to tackle Theo and losing Krunic it meant Becao needed to step out of the three-man defence.
With Soppy still marking Leao there was a gap between the CB and the LWB vacated by Becao. If Leao had a more accurate pass, a dangerous chance could have happened.
— Rohit Rajeev (@keralista_v2) August 15, 2022
One such action is what led to the second goal. Calabria brought the ball forward on the right flank and with Rebic – the false nine – dropping into that area it created a 3v3.
Messias then cleverly pulled Masina out of the move and allowed Calabria to continue his run and Diaz put the ball into his path.
— Rohit Rajeev (@keralista_v2) August 15, 2022
If one had to understand the role of Bennacer in attacking build-up you can see it below. Diaz drops into a deep-lying playmaker role while Bennacer stays up. Not trying to get away from his marker, he attracts Wallace to him and creates space for Messias to run into.
— Rohit Rajeev (@keralista_v2) August 15, 2022
The third goal was also a product of these midfield shifts. Krunic dropped into the double pivot which created vacant space between the lines and this was occupied by Rebic.
He pulled Becao out of position to create space, which was occupied by Leao. With Krunic's diagonal ball to an unmarked Theo, Soppy was in a 2v1 situation. He couldn't get across in time and Becao was scampering back to head the ball away meaning two players were unmarked in the box.
— Rohit Rajeev (@keralista_v2) August 15, 2022
Off the ball
Pioli in an interview to DAZN explained how he preferred his players to mark their opponents instead of cutting off the passing lanes. Perhaps this explains Romagnoli's comments as to how there were more 1v1 situations at Milan and he wasn't comfortable with it.
Three players would engage in a front line press and try to press the ball carrier while the other player would make their man covering vertically and horizontally. Here is one example.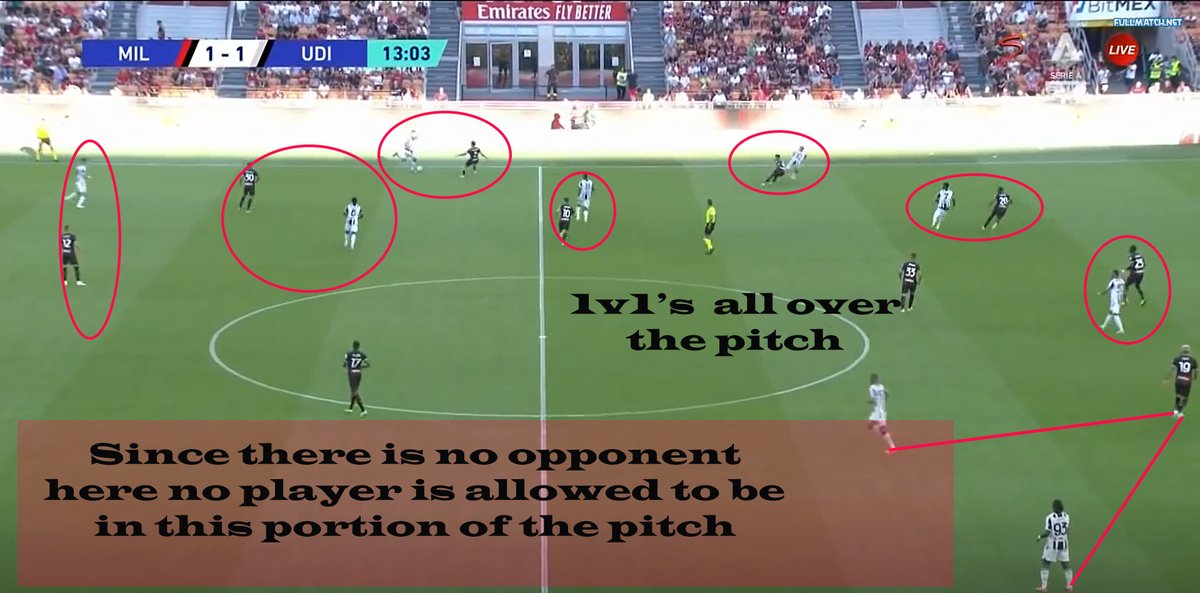 Here is another example whereas Kalulu here is blocking the vertical option of a cross/shot.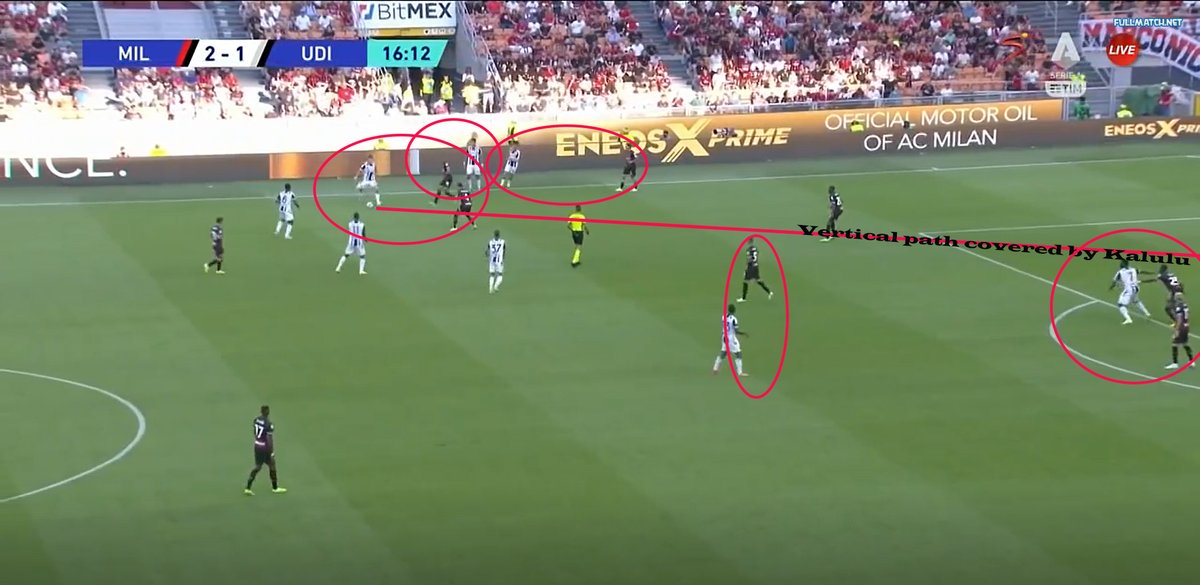 Pressing occurs in tandem and it requires a lot of understanding and chemistry between team-mates. A disorganised press is worse than not pressing at all because it leaves gaps.
One pressing partnership that was lethal was Diaz and Messias. The second goal scored by Rebic was purely manufactured by Diaz and Messias bullying Pereyra into losing the ball due to the fact he didn't have many options.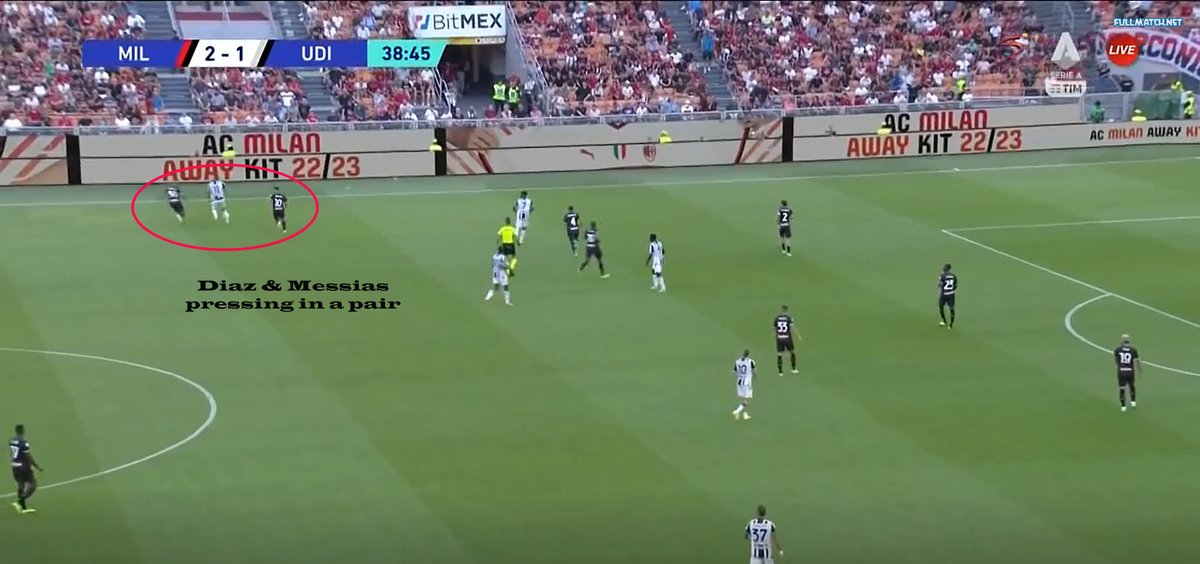 Substitutions and the 4-3-3
When Divock Origi came on in the 85th minute, Milan switched to a 4-3-1-2 for a brief moment. De Ketelaere acted as a trequartista while Origi played as a second striker behind Giroud, who was a natural striker.
The full-backs operated on the premise of a one-up one down system where Pioli restricted their freedom in order to keep defensive shape.
The majority of Milan's attack came through the centre either through counter-attack or Bennacer combining with De Ketelaere.
Brahim's role change
Now here is an interesting observation. Looking at the average position map we can understand that Milan played a 4-3-3 formation when they had the ball. This meant Diaz dropped deep into the half spaces on the right flank away from the midfielders and defenders of Udinese, thus not getting barged or bullied off the ball.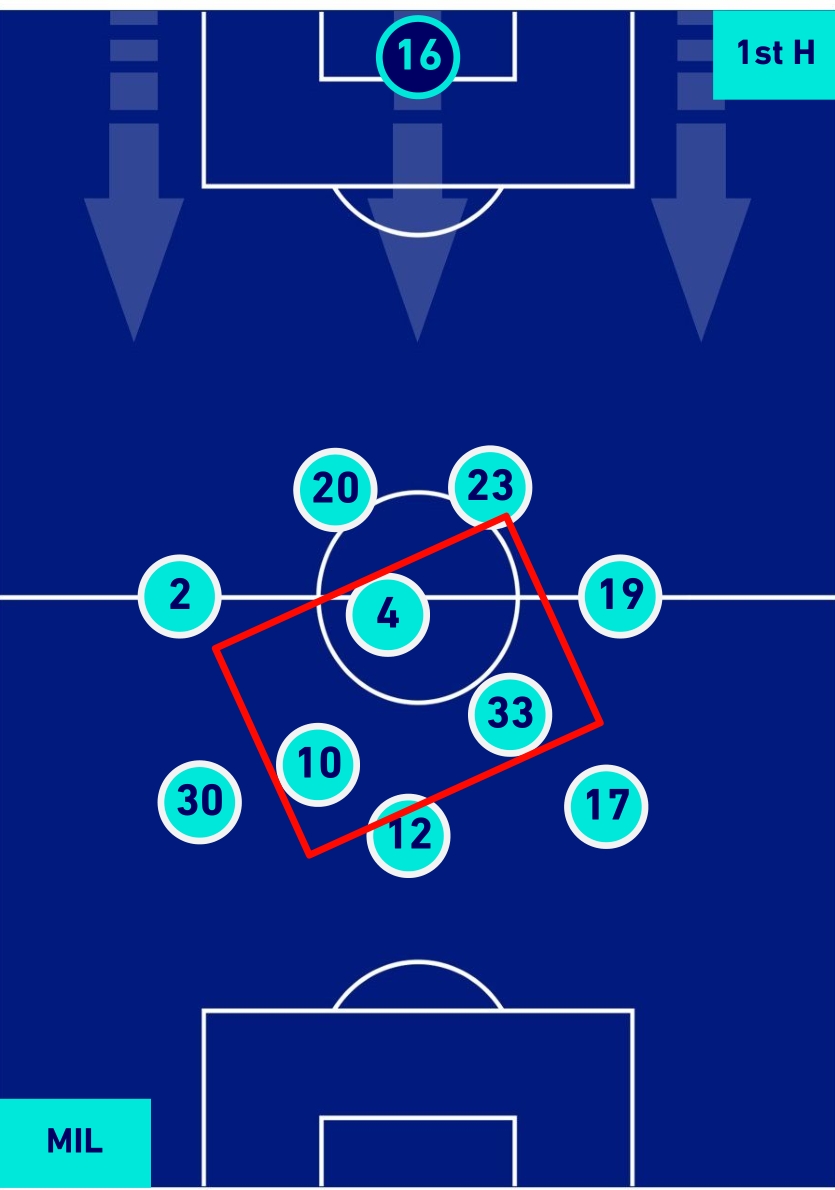 Here is an average position map from Diaz against Torino last season. You can see how closer he is to Giroud unlike in the game against Udinese. It is a masterstroke from Pioli and it could well help Brahim feel much more comfortable.
The stats
So how did Milan fare on the statistical side? Milan racked up an xG of 2.1 against Udinese's xG of 0.5.
What this translates into is that Milan created a lot of quality chances while Udinese scored from very difficult chances.
Milan had more Goal Creating Actions (GCA) and PPA (Passes into the 18-yard box).
In terms of winning the ball back by pressing Milan's success rate was 32.3% while Udinese's was only 25.3. Milan progressed the ball way better than Udinese well translating into how well the
The ball progressed around 1556 yards when Milan had possession while Udinese managed just over half of that.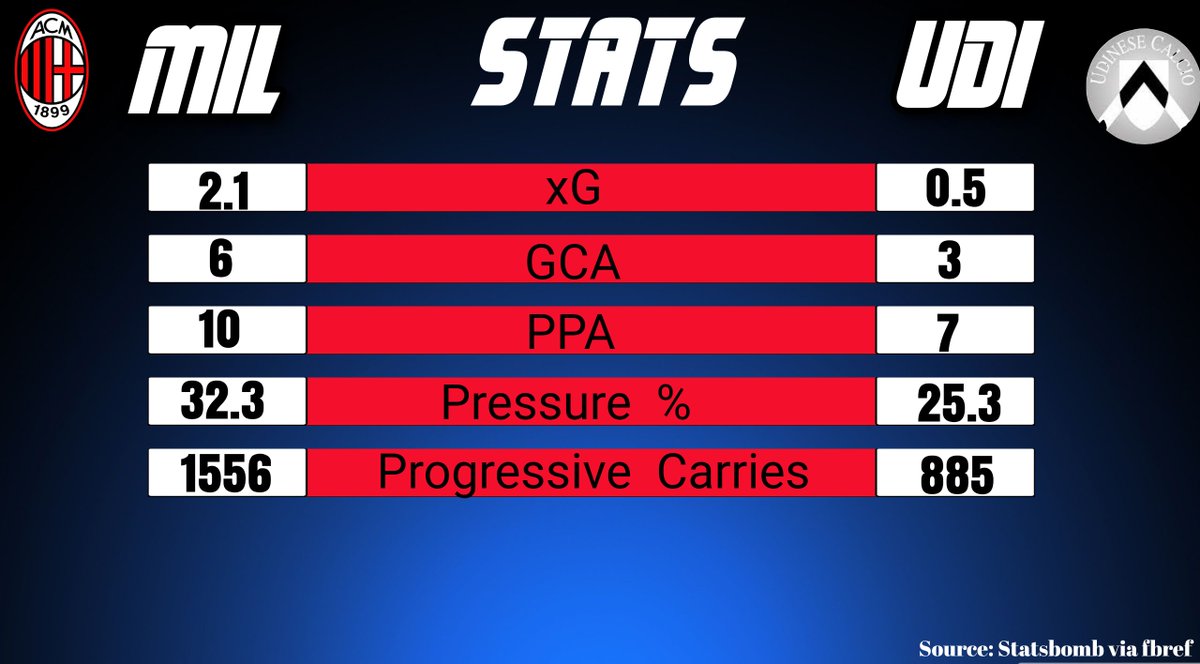 In terms of the physical statistics here is the data, with Milan's top five players in terms of yards covered covering significantly more than the visiting side.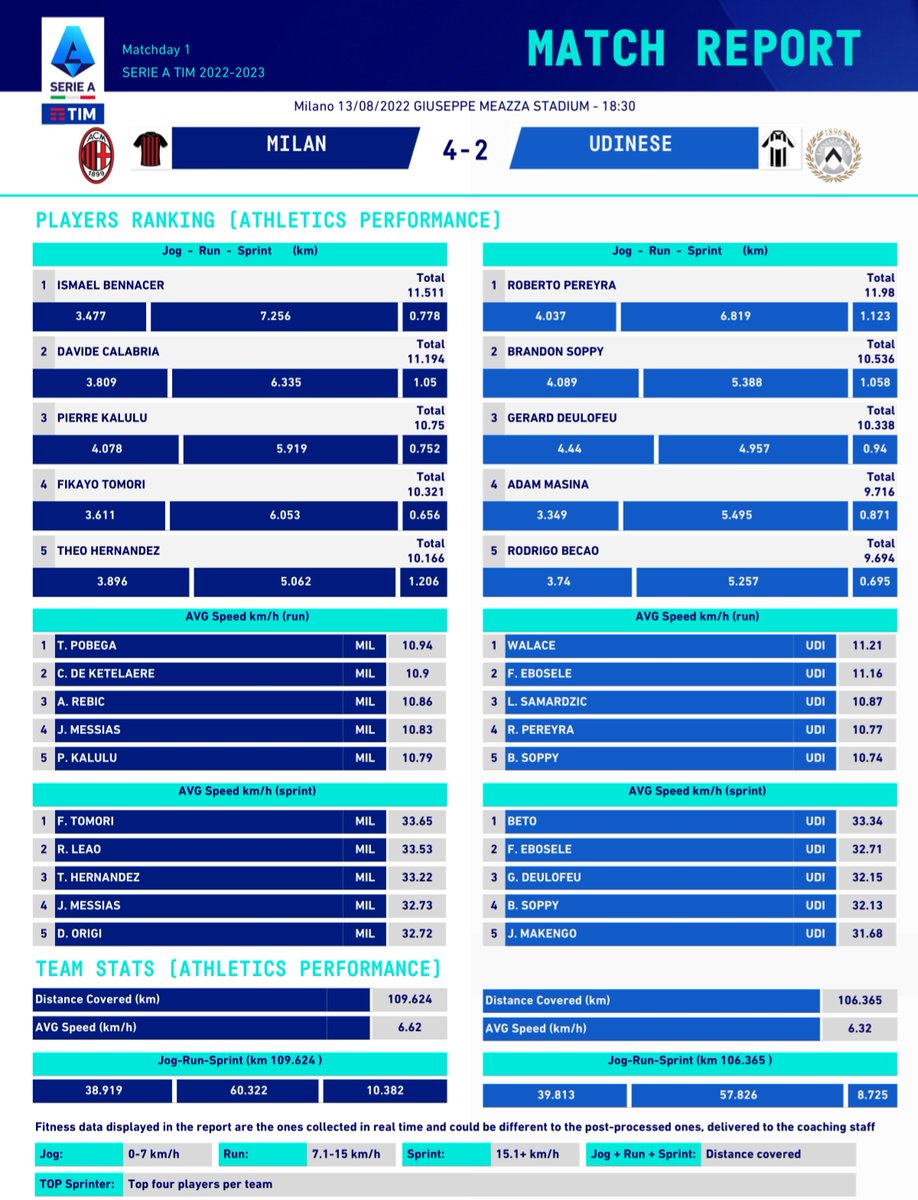 Conclusion
One of the biggest worries for Milan fans heading into the season was how the team would fare without Franck Kessie. With Krunic – a player who arguably has more ball control and passing than Kessie – we can see these moves
— Rohit Rajeev (@keralista_v2) August 15, 2022
However, it also leaves Milan vulnerable to these counter-attacks and Pioli may need a re-think regarding how he wants to move forward.
— Rohit Rajeev (@keralista_v2) August 15, 2022
All in all Milan have solidified from last season and have added more dimensions in their tactics and put on a good display, despite the MVP from last season – Rafael Leao – misfiring on Saturday evening.