Pinch yourself Milan fans, a UEFA Champions League semi-final awaits. It is strange to say that after a stagnant domestic campaign after the previous was overwhelmingly joyous many wanted Stefano Pioli to leave the club. 
In response, Pioli has done what he does best and exceeded expectations when the chips are down. Napoli have been one of the world's best teams this season, but Pioli has had Spalletti's number in almost each game.
Milan secured their spot in the semi-finals of the Champions League for the first time since the 2006-07 season as they drew 1-1 at the Stadio Diego Armando Maradona, sealing a 2-1 aggregate victory.
In truth it was fairly comfortable from the moment Olivier Giroud tapped in after Rafael Leao's amazing run to make it 2-0 in the tie, with Victor Osimhen's late goal a mere consolation.
Holding the fort
Despite Napoli's early dominance and desire to attack early on, Milan were never really in any danger. It was clear from early on that out of possession Milan were unbothered about pressing Napoli high up the pitch, the only time they had done this was at the Maradona in the league a few weeks back.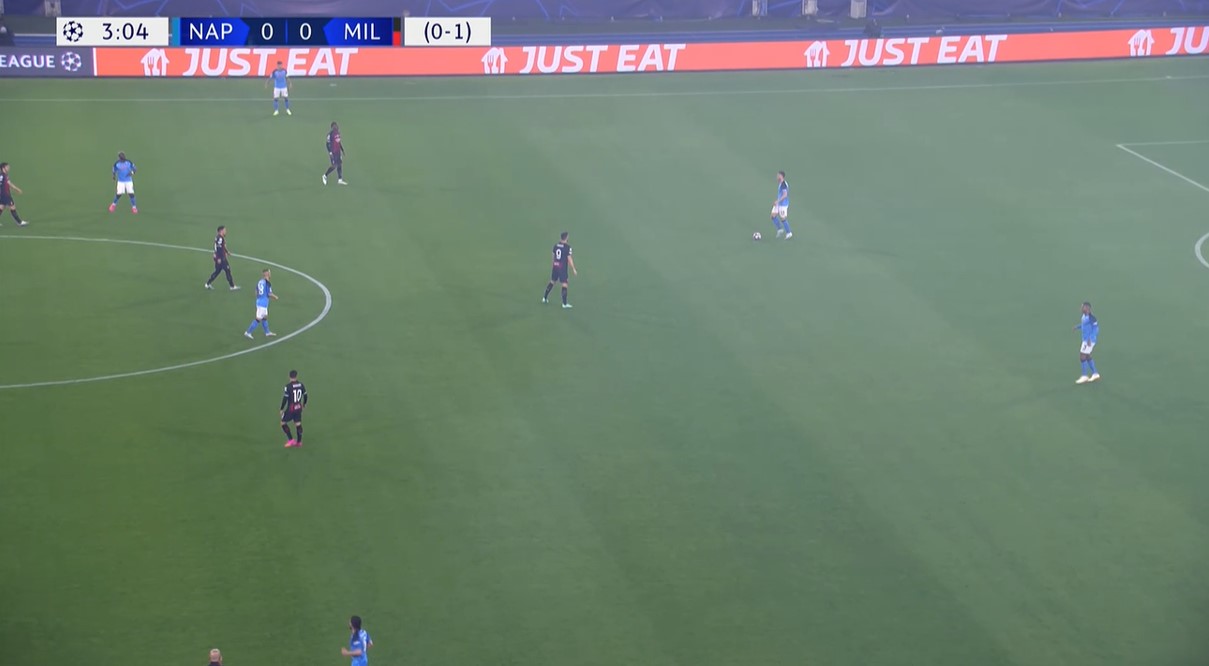 Milan believed in and were confident enough to basically stifle Napoli for most of the game and hit them on the break, or go long to Oliver 'Ball-Magnet' Giroud, it worked.
Even with Milan sitting off though the forward line was compact with Bennacer and Tonali making sure passing lanes to Ndombele and Lobotka were cut off.
It's interesting Spalletti started with the more expansive Ndombele, almost like he knew he had to come up with something different to pick the red and black padlock. 
The long way around
Instead of going through Milan, Napoli tried to go around them mainly having an emphasis on getting the ball wide and crossing for the returning Victor Osimhen.
The problem in doing this though was that it just wasn't much of a threat and he did not drag Milan's defence around enough.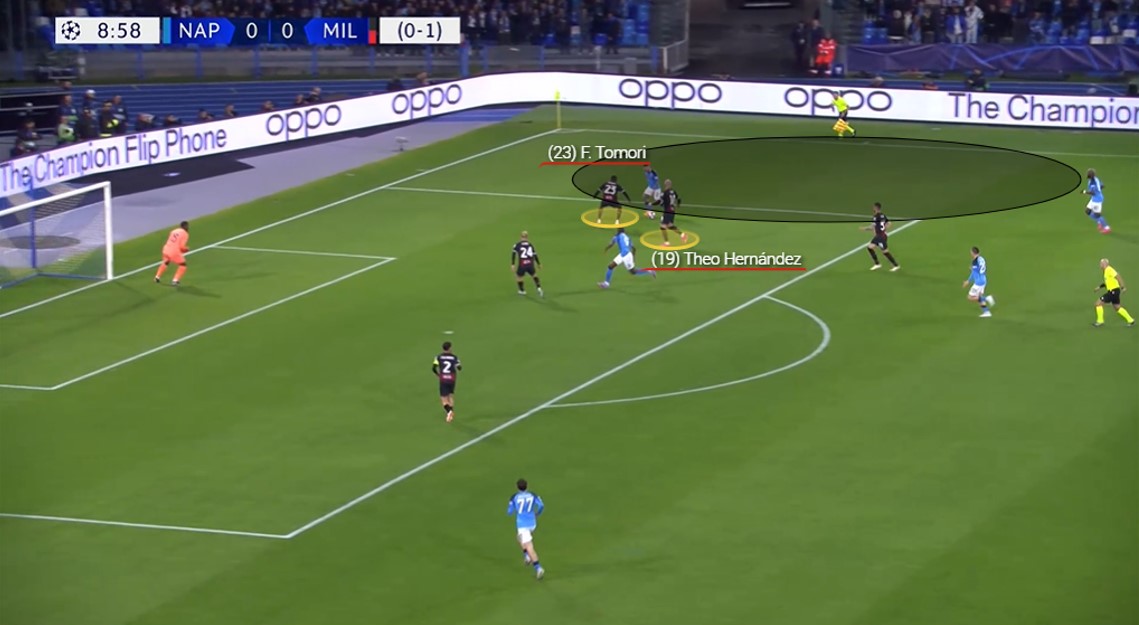 This was one of the occasions Fikayo Tomori had to leave from his central position in defence to come across and close Lobtoka down to cross who had made an overlapping run.
If the method of scoring from Napoli was indeed to push the ball wide and cross (it must've been with the frequency they did), it is baffling that there was no attempt to create more overloads.
Doubling up
It's all well and good having a player as spectacular as Kvaratskhelia but one of Milan's central midfielders would regularly come across to help out and shut the cross or dribble down.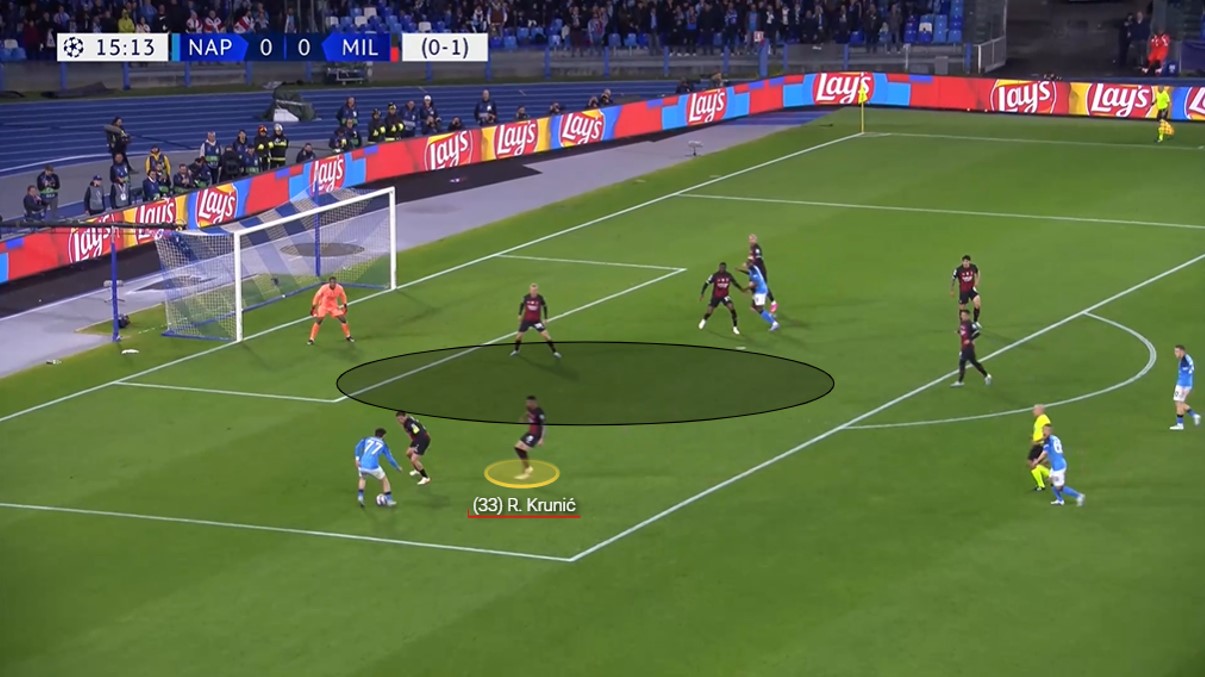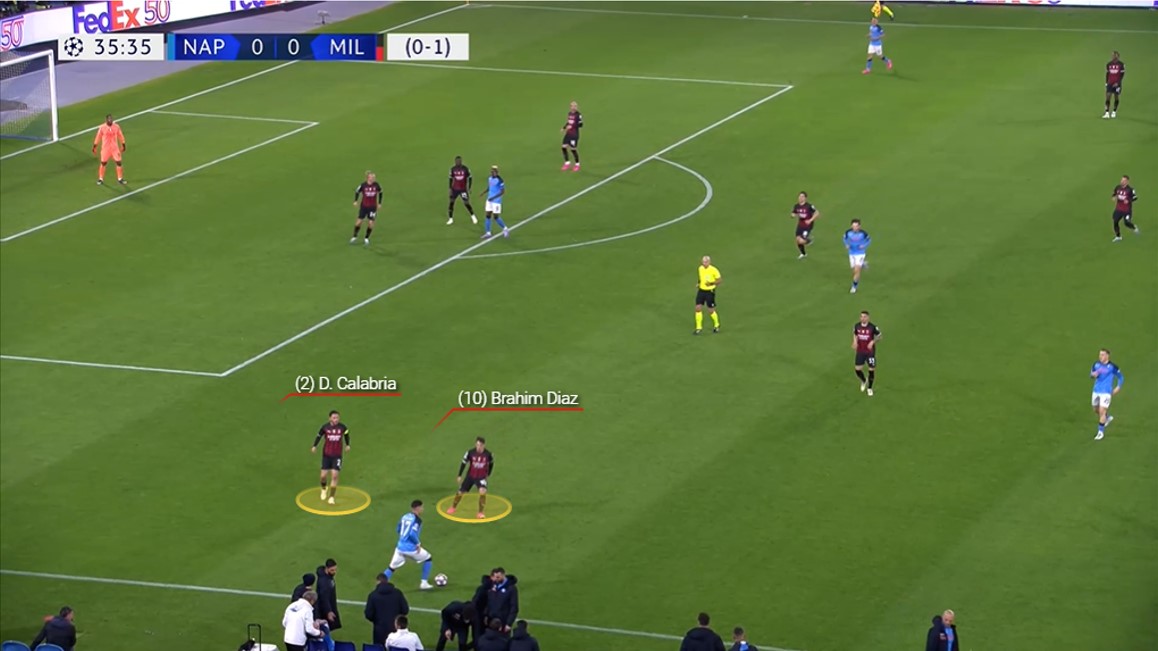 Milan were quite clear in their game plan: mid-block it out, defend well enough and cover to double up whenever a Napoli player has the ball wide. Whether it was Bennacer, Tonali, Brahim or Krunic every Milan player chipped in.
Omnipresent Leao
Pioli even complimented Leao's defensive contribution at the end of the game, something the Portuguese superstar is regularly criticised for.
Epitomised by his excellent sliding tackle on Lozano, Leao was aware of how big the occasion was and helped to seize Milan's chance to win it appropriately.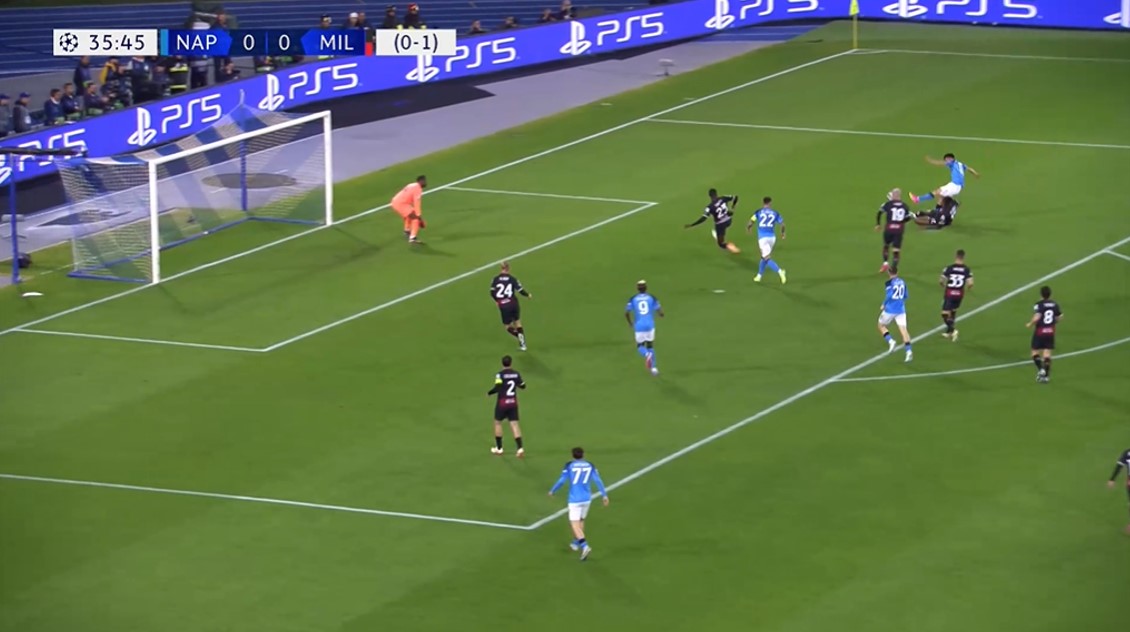 With Milan sitting in a mid-block in a 4-2-3-1 everyone but Giroud was back, and Leao would often help track a full-back overlapping on Theo Hernandez's side or simply have good defensive positioning.
Even just standing in the right place offers a team a heck of a lot more defensive stability and shape, because it reduces space.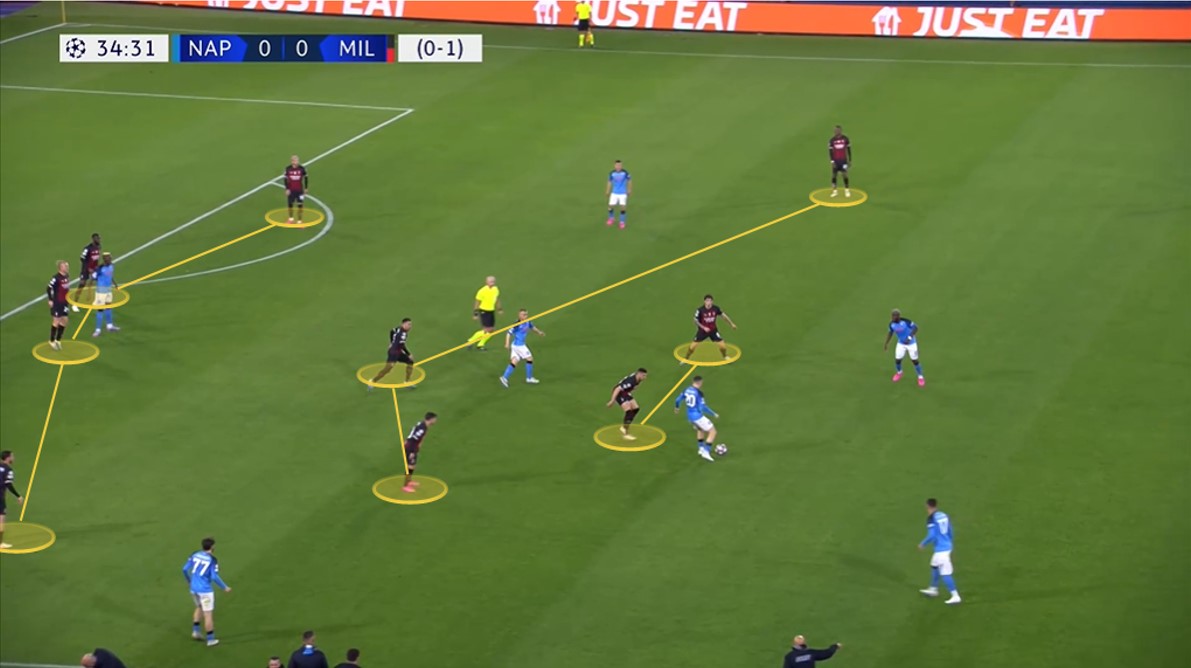 The times where Napoli did threaten the most is when a player – more specifically a full-back – finally did overlap creating a 2v2 situation on the wing, but this just wasn't done enough.
If you are going to resort to creating dangerous situations wide in football matches, you need to overload the opposition on one specific side to create numerical superiority, overwhelm the opposition in one zone then cross to Osimhen.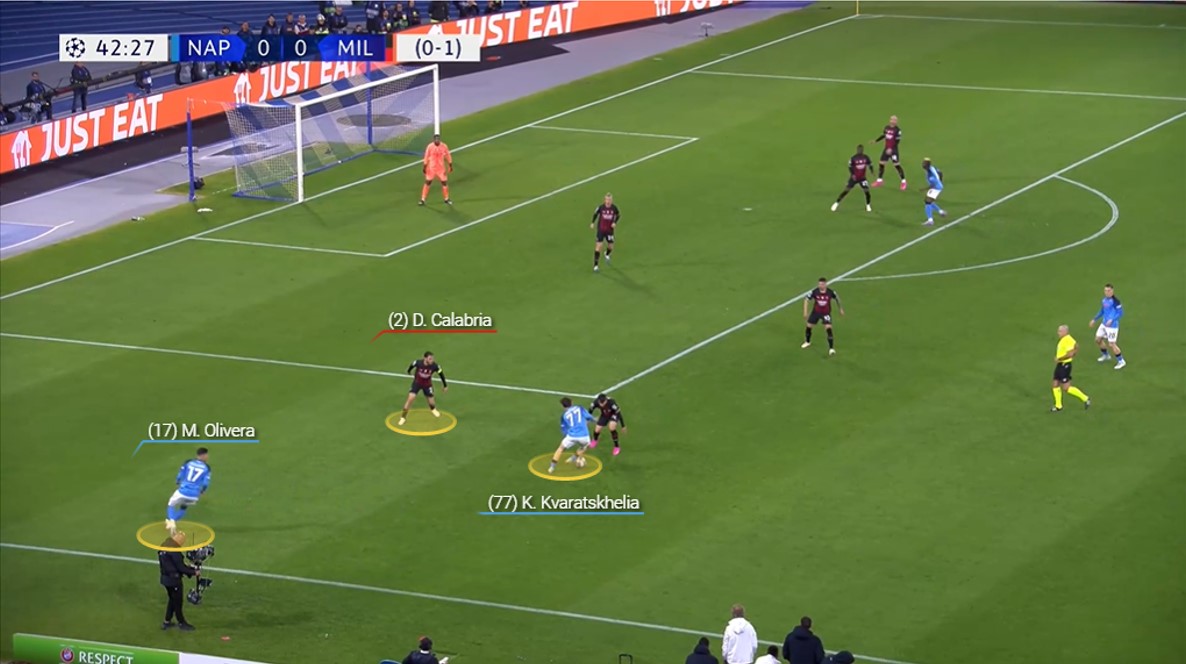 Aiming for the Nigerian's stunning ability in the air isn't a bad shout but pinging in hopeful crosses without the proper method to do it almost becomes counter-productive.
Conclusion
Milan have been miserly, street-wise and a difficult opposition to break down in this Champions League. Despite Pioli taking criticism on the chin, this team is still playing for him and knows how to play to it's strengths.
A tantalisingly, mouth-watering, iconic semi-final awaits against another wily manager who knows cup competitions well in Simone Inzaghi's Inter. Milan will need to summon everything they have and more to set up a revenge date in Istanbul.