AC Milan were well beaten by city rivals Inter as they missed out on a piece of silverware by losing the Supercoppa Italiana final 3-0 in Saudi Arabia.
Milan came into the game hoping that the Arabian Derby would breathe new life into a 2023 that has not gone their way so far, with a collapse against Roma costing two points, failure to break down 10-man Torino resulting in an early Coppa Italia exit, and a disastrous first half at Lecce needing a rescue mission to earn parity.
However, just like the Lecce game, Milan dug themselves a hole in the opening 30 minutes as they found themselves two goals down. The first came from Federico Dimarco who slotted home a square ball from Nicolo Barella, and then Edin Dzeko got the better of Sandro Tonali to double the advantage.
In the second half things did not get any better as the Rossoneri tried to get a goal to reopen the contest, but it was Lautaro Martinez who sealed things with a nice finish after beating Fikayo Tomori to a ball over the top.
It is another damaging result and another trophy hope that vanished before it ever came in touching distance, but what exactly went wrong?
Playing into an early trap
Before the game, it already felt quite obvious how each team would try and play. Simone Inzaghi's side specialise in the counter-punch, which means they hurt teams on the break in transition after winning the ball back thanks to a compact and organised defensive shape.
Milan, on the other hand, were likely to be awarded the lion's share of the possession and would of course look to progress the play to their danger men while having the midfield double pivot retain territorial superiority.
The Rossoneri found themselves in trouble in the first half against Lecce, but in this game they played straight into a trap. It took less than 10 minutes for Inter's contain-and-counter plan to bear fruit, with three passes cutting Pioli's side wide open.
As seen below, the run of Lautaro drags Milan's line slightly deeper while Dzeko drops into the space. The ball infield to the Bosnian comes from Darmian, who Theo Hernandez has an eye on rather than the run of Barella, who is played onside by Kjaer in the end.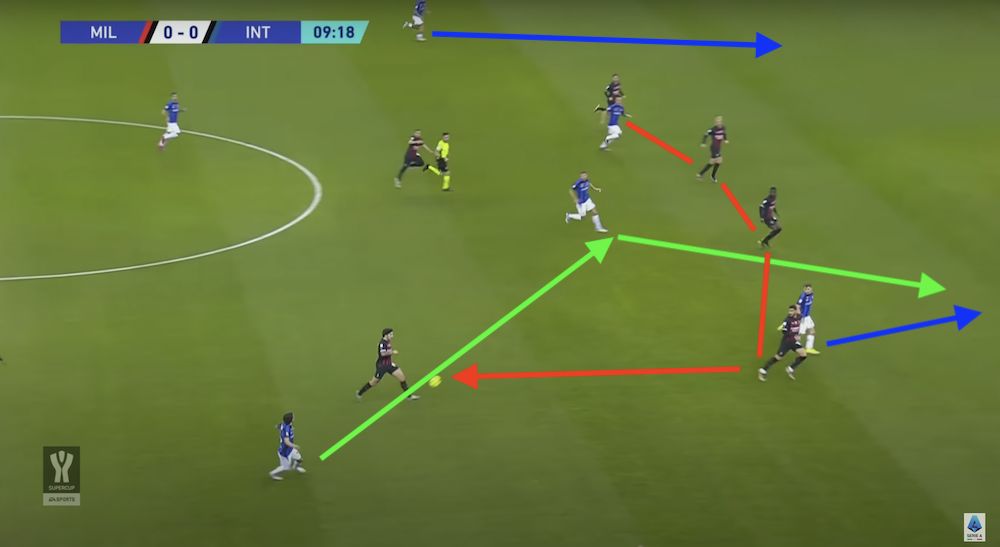 The result is that Milan's last line is quickly breached, and then the spare man on the far side is Dimarco who is not being tracked by anyone with Calabria tucking inside to watch the run of Lautaro. An easy tap-in results.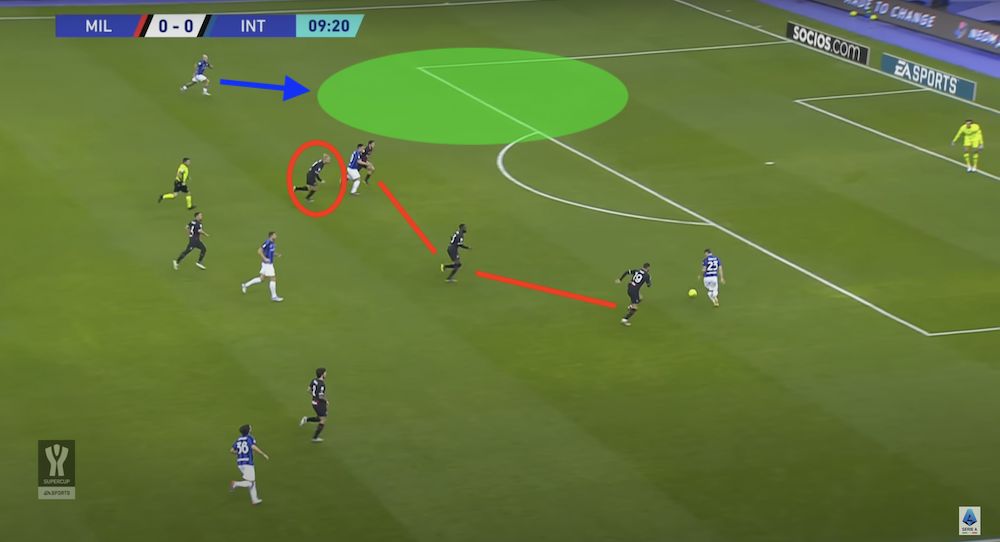 Arrigo Sacchi has been without doubt the main preacher of the fact that Milan this season have not been as compact. They do not attack as a cohesive unit like they used to, nor do they defend with the same compactness and understanding. Now, they are also walking into obvious traps.
Individual errors
If the first goal was a collective calamity, the second goal can pretty much be put down to one bad decision. However, what must be pin-pointed is how many Milan players are failing to really engage in anything in the defensive effort.
Kjaer has an eye on Lautaro, who throughout the night alternated with Dzeko in terms of dropping in for link-up play. Calabria this time is watching Dimarco, but just off the screenshot Dzeko makes a run into the very obvious channel that has been created.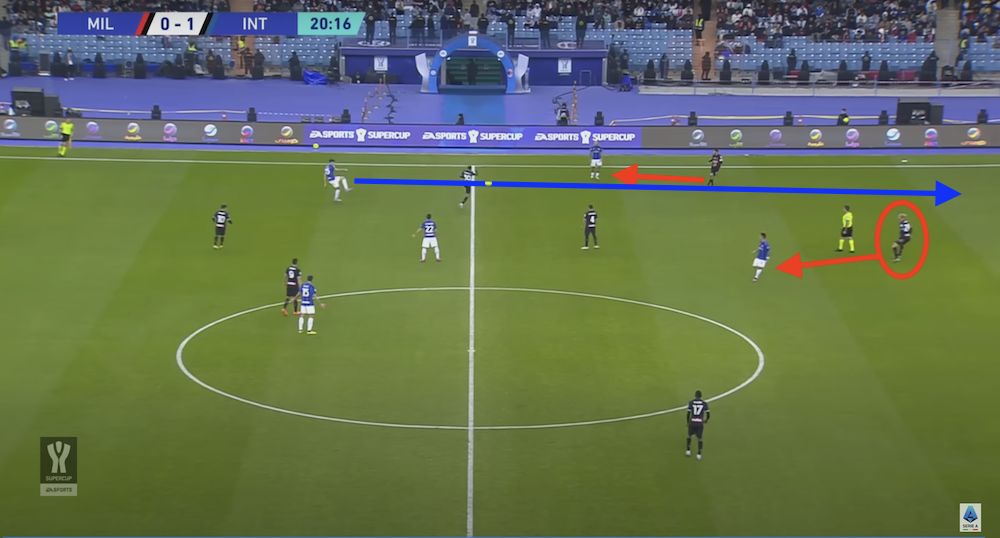 No stress though, because Dzeko isn't a very agile forward and he is not in a particularly threatening position, right? Plus, Tomori has the run of Lautaro covered, with Kjaer and Theo on their way back to cut out any pull-back, so everything is looking non-threatening.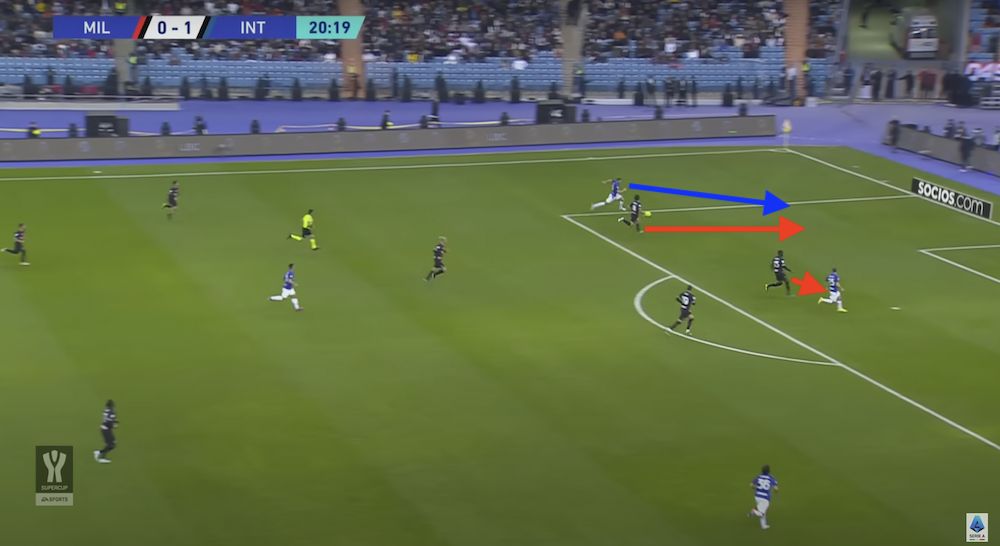 For whatever reason, Tonali thinks that the best course of action is to show Dzeko inside onto his right foot, thus freeing him up for a shot from about nine yards. The Bosnian is the kind of marksman that doesn't need a second invitation, yet all could have been avoided if he had been shown to the byline.
He may still have put in a ball that Inter scored from, but at least by ushering him to the byline on his weaker left foot Tonali would have removed any culpability for what followed. More strange and costly decision making.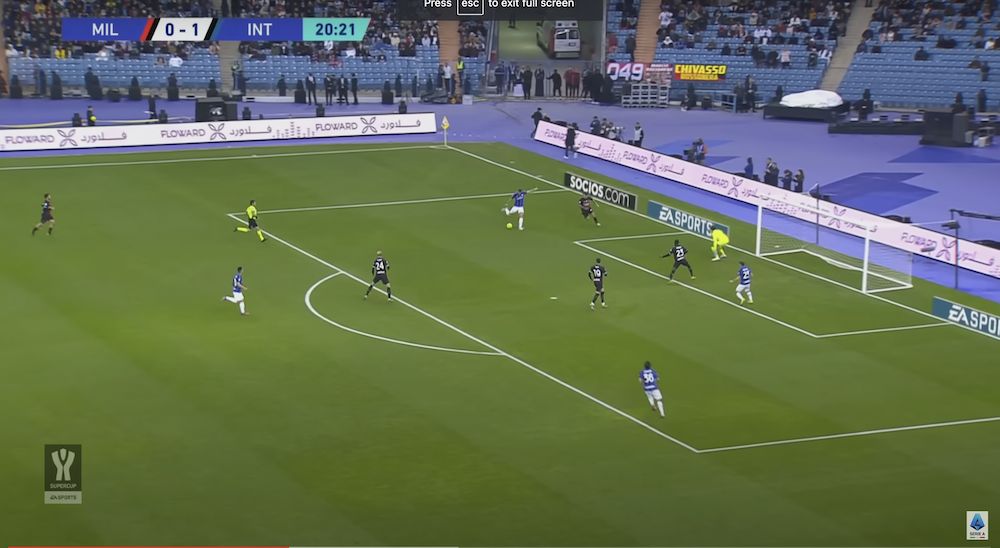 The worst of the bunch
Having watched this back several times, it is still pretty much inexplicable. A free-kick is sent almost aimlessly over the top from Inter who are by this point just looking to see the game out with a two-goal lead.
Lautaro is pinning Tomori, but as the ball approached the pair they engage with the Argentine backing in and the Englishman goalside, exactly where you would want to be as a centre-back given the ball is in front of you.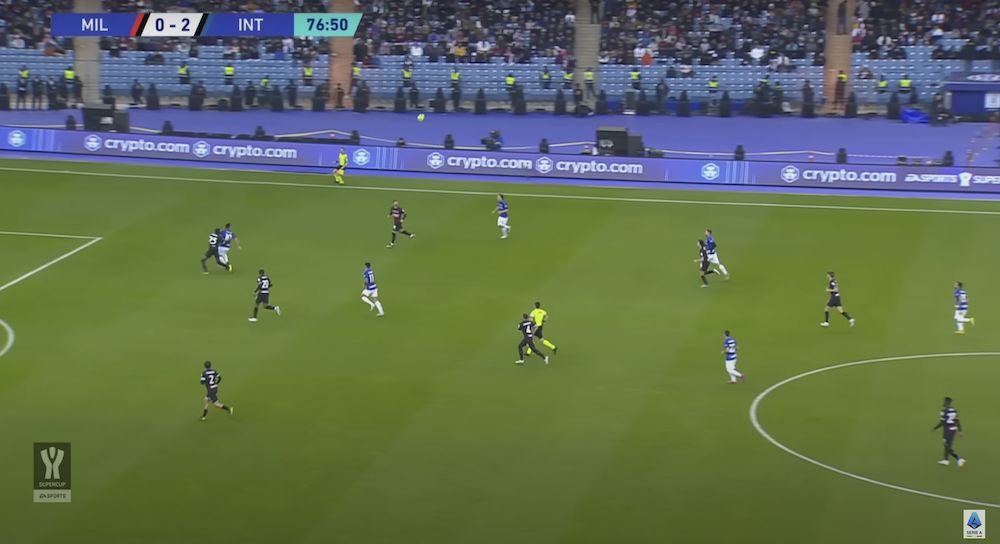 Tomori steps up towards the ball and eventually releases Lautaro after impeding his run slightly with a hold. Lautaro gambles on the ball making it through, and rather bafflingly the former Chelsea man does not step out to clear the ball on the bounce nor does he try to stay with his man.
He does neither, he does nothing. Inter's No.10 runs through on goal and finishes past Ciprian Tatarusanu to fittingly and symbolically wrap up a disaster.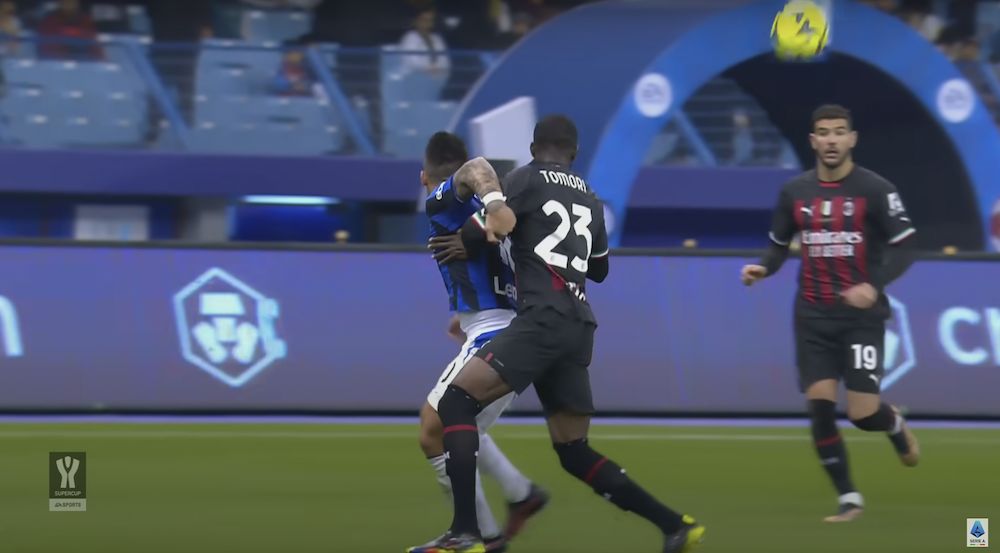 Conclusion
Milan needed a response against Inter after three bad performances in a row, and – perhaps with the benefit of hindsight – that was not going to come via a barnstorming 4-0 drubbing of Inter, who never lose that way.
The correct approach to the game was to try and improve the collective defensive effort, eliminate the individual mistakes or at least limit the impact of them, always maintain a foothold on the game, risk little, get the ball to the danger men and hope for things to click.
To be two goals down within half an hour meant the game was over, and for those goals to have been conceded via a collective disaster and then a strange individual error were just so emblematic of the recent failures.
This feels more than just a tough stretch where things aren't going the way of Milan. There are so many dysfunctional parts to the team that a serious inquest is needed, because the game was barely even a contest and it seemed to suggest a complete lack of big-game experience rather than growth.