AC Milan's Champions League return after a seven-year absence lasted just six games as Tuesday's defeat against Liverpool ended the Rossoneri's last 16 hopes.
Fikayo Tomori's close-range finish gave Milan the lead they craved and as it stood at that moment they were going through, but Liverpool hit back through Mo Salah's equaliser and then netted a second half winner with a Divock Origi header, condemning Stefano Pioli's side not only to a Champions League exit but also to bottom spot in the group.
We have already published a more emotive reflection on the lessons Milan learned upon their return to Europe's biggest stage, while below is a small analysis of what went wrong on the night against Jurgen Klopp's side.
Beating the press
The general theme of Milan's performance was one of sloppiness and a lack of intensity both on and off the ball. They made a lot of bad decisions in and out of possession, which was certainly alluded to based on the opening 25 minutes when the Rossoneri failed to create anything because they could not string two or three passes together to break Liverpool's intense press.
We have already spoken about the fact that while Milan's pressing style may be unique in Serie A, it is not in Europe, and in fact other teams do it better. It does not need explaining much further that Liverpool under Klopp are fantastic at getting bodies quickly towards the ball, to pin the man in possession and cut off his options, often using the touchline as an extra man.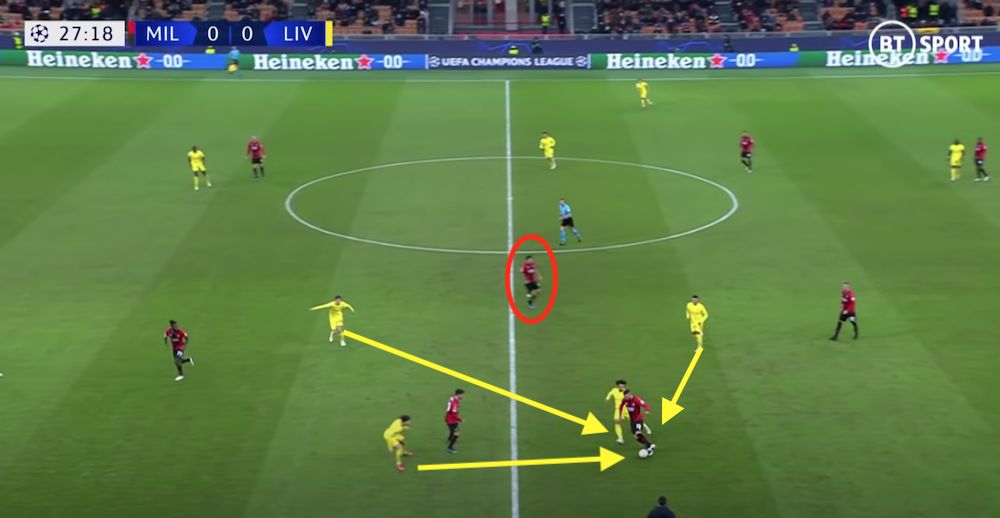 This particular sequence won the corner that led to the opening goal and the concept was quite simple: both Krunic and Tonali are on the same wavelength about what to do after the pass is released by Theo. The Bosnian lays it first time into the path of Brahim – using Kessie's run well as he has gone deep to draw his man over – and the Spaniard then slides it through to Ibra who is crowded out.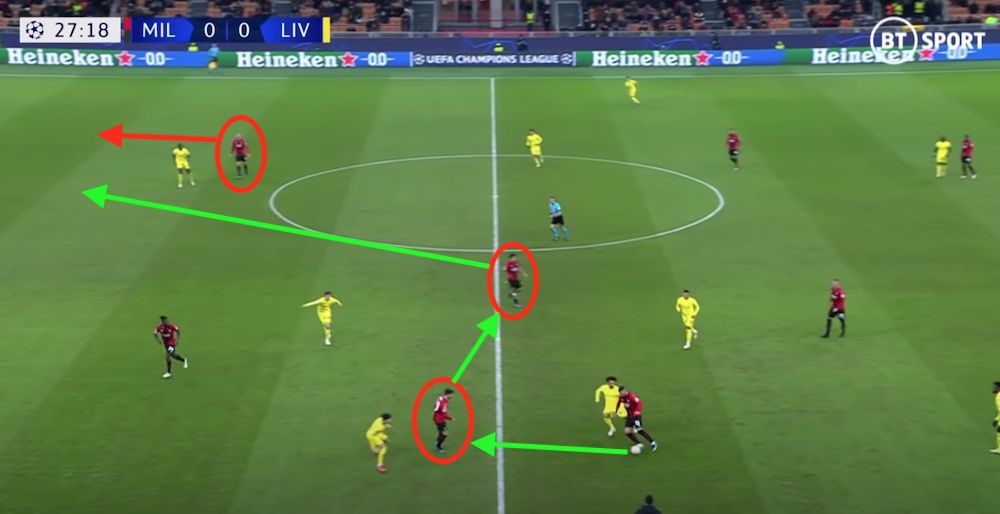 Familiar patterns
Remember the set piece corner routine against Torino (and not only that game) where the aim was to load up the front post, win a flick-on and capitalise on the space at the back post? Well, the opener against Liverpool came via this method albeit this time Romagnoli's header draw a save from Alisson.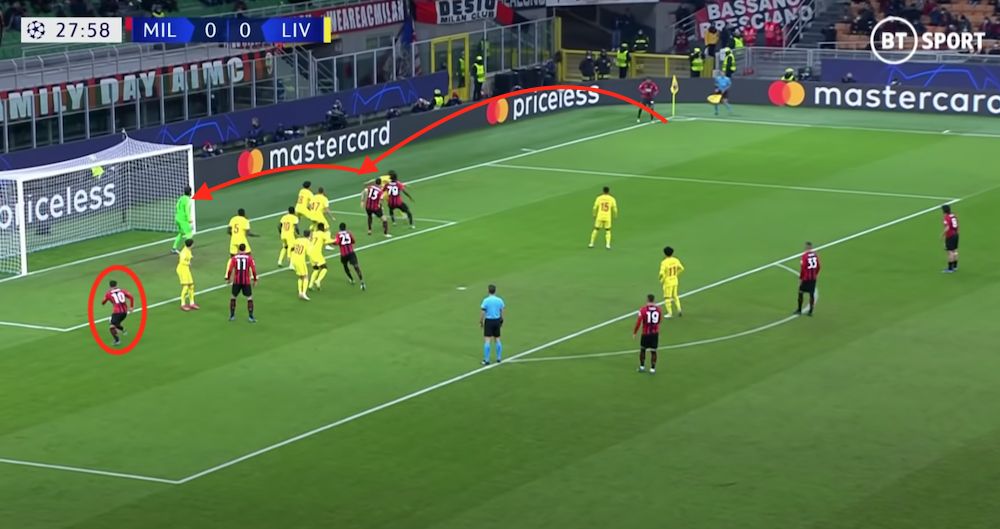 What seems remarkable from the shot taken above though is that Tomori was somehow able to wriggle into some space from this and finish the rebound unopposed from five yards out. Perhaps even the best sides have trouble with second balls, but more on that to come.
Amateur hour
Alessandro Florenzi highlighted the importance of getting small details right at the elite level, while Sandro Tonali also admitted that he and his team-mates learned this the hard way by paying for mistakes, and Liverpool's equalising goal provides the best example.
There is a chain of two crucial errors and both come from a failure to reset. First of all, as Williams gives the ball to Oxlade-Chamberlain, Kessie does the right thing by pressuring the ball carrier knowing there is adequate cover behind him. However, he then gets beaten far too easily on the dribble and then just gives up on the play.
Oxlade-Chamberlain is an agile midfielder and he has good technical quality, but he is by no means a world-beater and if Kessie is to keep demanding big money he must do better than sloppy mistakes that lead to goals.
The second error begins below though as three players are caught in No Man's Land, including Romagnoli who is in two minds whether to push up and try block the shot, and Sandro Tonali who has half committed to a pressure.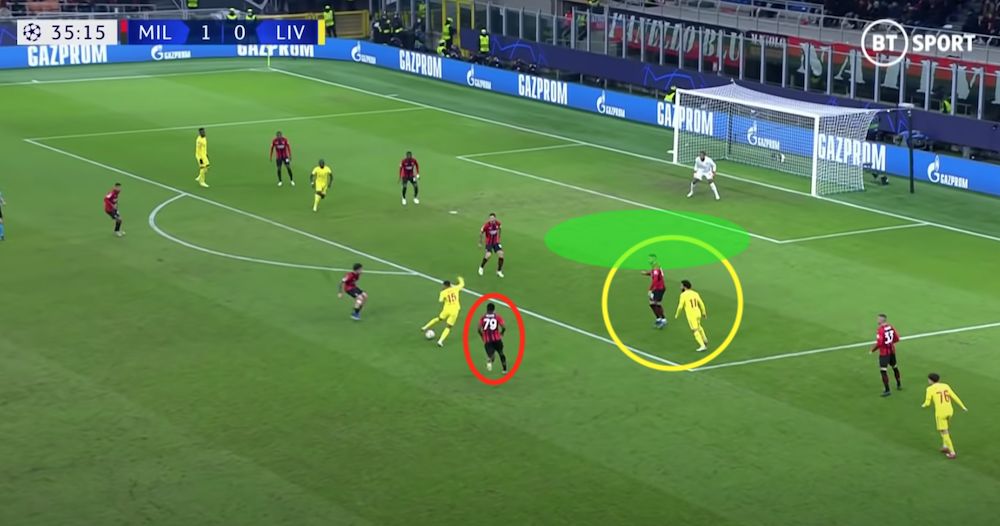 An instinctive inside forward like Salah knows when space is likely to open up and gobbling up rebounds (sorry Mike Maignan but that was a terrible one) is very easy for him. Neither Theo Hernandez nor Romagnoli decided to react to the second ball and by the time they realise, it's too late. Sound familiar?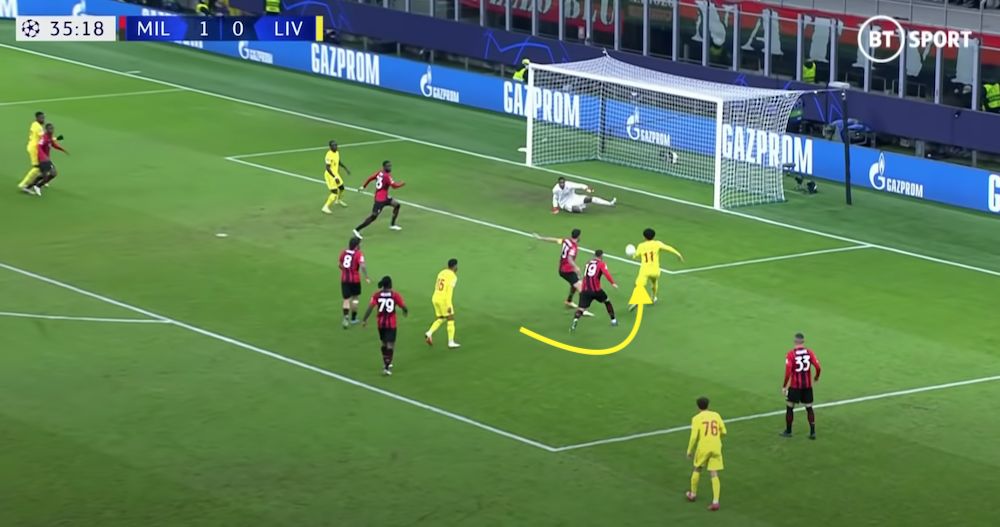 Lessons not learned
Obviously the main error leading to Liverpool's second goal – which was not at all against the run of play by the way – was Fikayo Tomori's giveaway to Sadio Mane. However, there should still not have been a goal conceded from this point.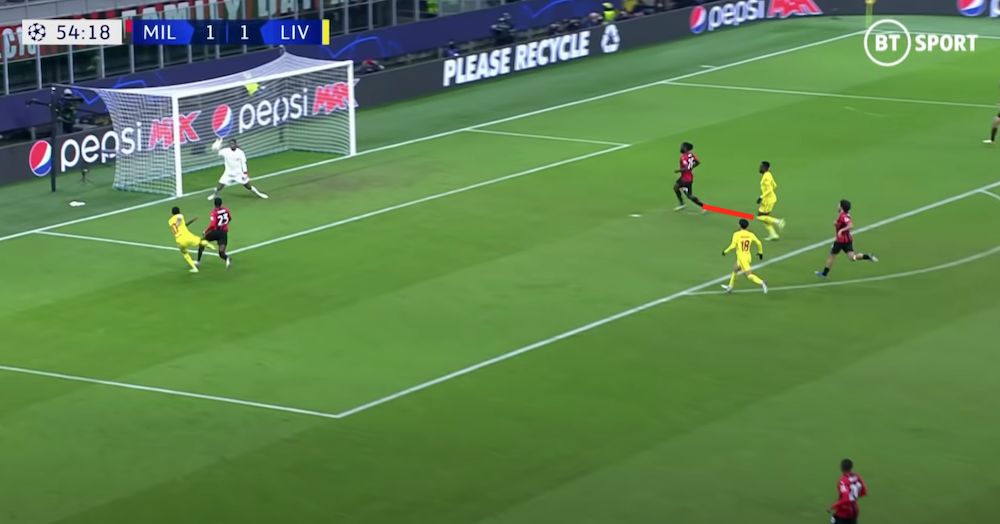 Kessie is the man who drops in well in anticipation of a potential rebound or even a cut-back from Mane, yet when Maignan punches (we have no idea why) and the ball balloons up, he lets Divock Origi charge onto the rebound and head in. How he was uncontested from the position above is baffling, but demonstrated yet more inattentiveness to second balls which is becoming a plague for Milan.
All at sea
Origi was a thorn in Milan's side all night, and it shows the difference in quality depth. The Belgian would start for most sides in Serie A without question and there are probably a great number of Rossoneri fans who would be happy to have him in the attacking rotation at the moment, but he has just three appearances in the Premier League because he isn't really near the top of Klopp's hierarchy.
Clever movement, great energy levels and a physically imposing presence are all the ingredients needed to be successful in a pressing system. He exploited the space well, positioning himself in dangerous areas such as below when he could have scored after getting between Tomori and Romagnoli.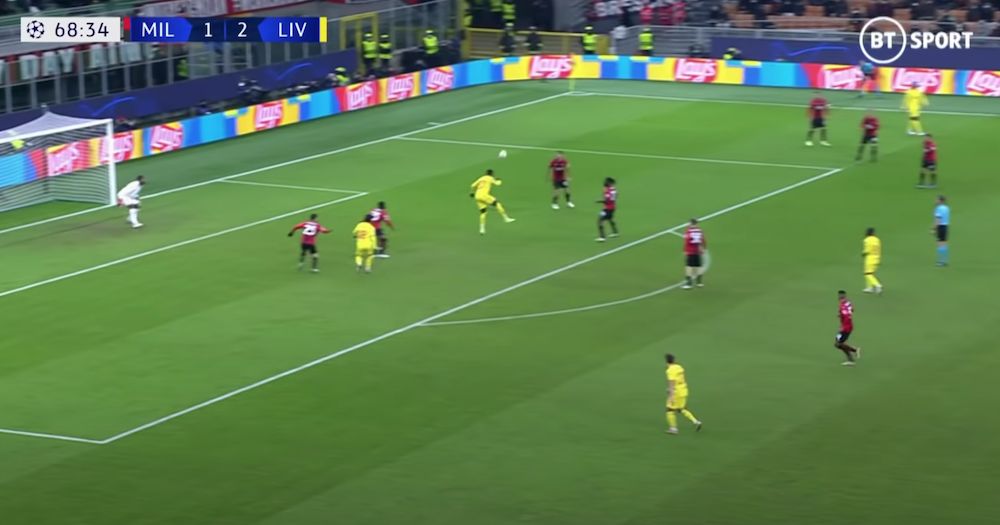 The data
This is one of those games where the eye test prevails above all and everyone who watched the game will have noticed that Liverpool's second string team – barring Salah and Mane of course – gave Milan the runaround with their effective pressing and the way they used possession smartly.
They also didn't try to reinvent the wheel. They presumed that Milan would be vulnerable down their left side and they attacked it well. Look at the heat map below to see how high Liverpool got up the left, and how little their own left-back Tsimikas was asked to do.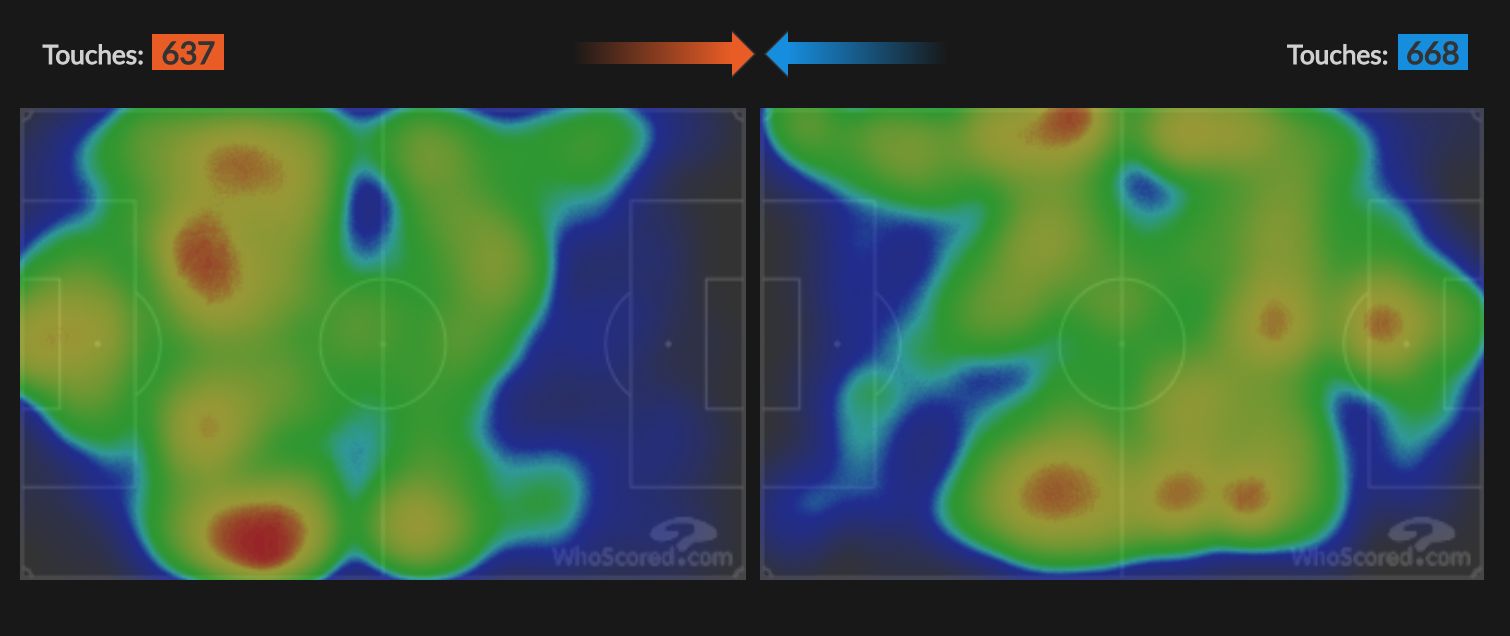 Liverpool had twice as many dribbles (22 to 11) as their hosts, which doesn't seem like an alarming stat on the face of things but it certainly lends a strong hand to the idea that the Premier League side are simply far more used to evading the press. Years of drilling from Klopp and his staff have even the second string and academy players feeling confident on the ball and able to cause disruption.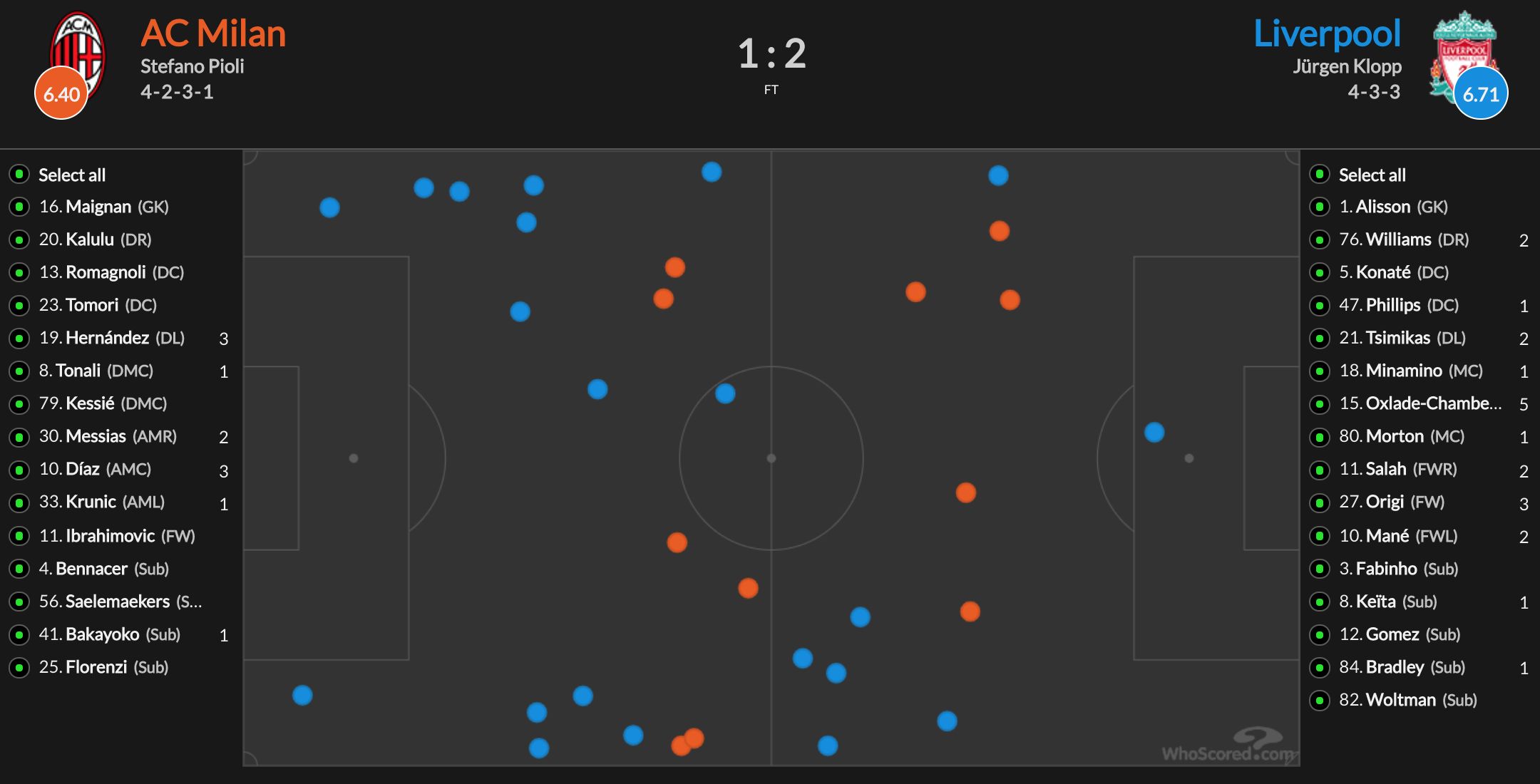 Conclusion
There is no point trying to sugar coat it, Liverpool's B team – which even featured some academy players – demonstrated just how far Milan have to go. While Pioli has created an identity that is strong domestically, the Porto games and Tuesday night showed that other clubs in the Champions League also have a similar identity based around intensity. They have been doing it for longer and they have more quality.
However, this is a journey that is still ongoing. Milan will be back next season to give it another go all being well, and they will be one year wiser, and hopefully two transfer windows stronger too. Now is a golden chance to perfect the vision domestically and go get some silverware.
---
READ MORE: Milan must prepare for a big investment in attack – Ibra's future the elephant in the room