AC Milan fell to yet another home defeat on Sunday night at San Siro as they were beaten 1-0 by Napoli, and it was yet another laboured performance.
The defeat allowed Luciano Spalletti's side to leapfrog Milan into second place as Stefano Pioli's struggles against the former Inter and Roma boss continued, against whom he is winless in 11 meetings now.
In the end it was a header from a corner from Elif Elmas inside five minutes, though there was late controversy as Franck Kessie saw a late equaliser ruled out for an apparent offside that still has us scratching our heads. Below is a brief tactical analysis…
Same old story
Time and time and time again we have highlighted Milan's problems at reacting to balls inside their box, and this one was an absolute disaster less than five minutes into the game. Piotr Zielinski gives it the 'one arm up' routine and Tonali is the man tasked with watching Elmas, who peels off slightly towards the goal line.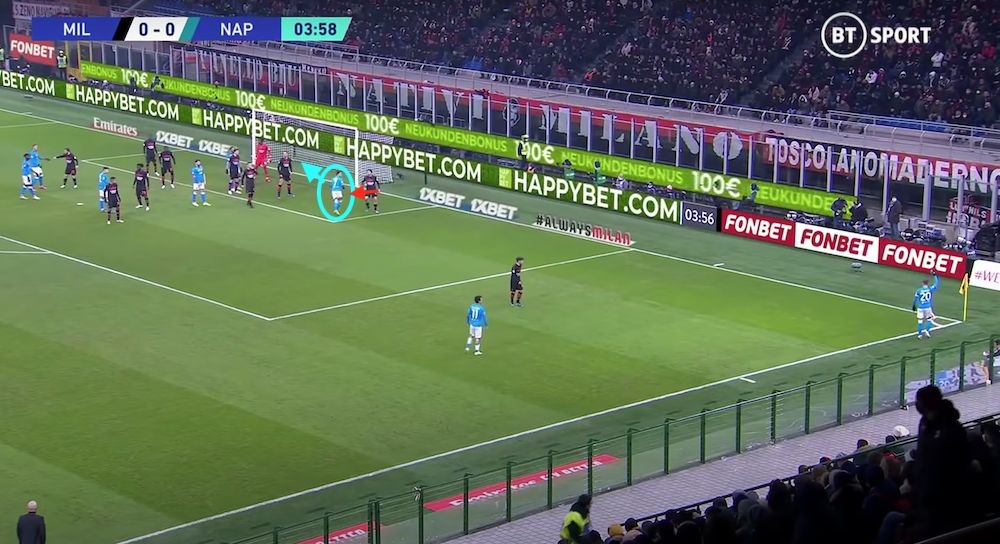 As the Poland international gets ready to cross up to the moment he strikes the ball, it doesn't even take a complicated movement from Elmas to beat the half-hearted marking attempt from Tonali – who may have been confused about his assignment – and steal in at the near post to score with a straightforward glancing header.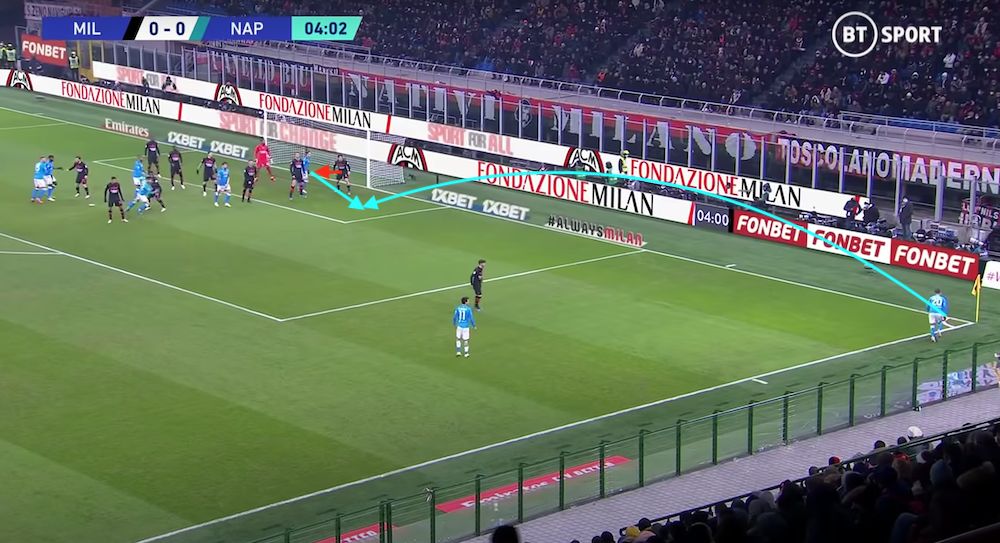 This is just defending 101: you watch your man at all times from a corner. The reactions were slow and lethargic, and it would go on to set the tone for the rest of the game.
Disjointed attack
We're at a point now where we feel like we must point out the lack of chemistry between Zlatan Ibrahimovic and Brahim Diaz. The pair are meant to play close to each other, feed off each other and almost function as a co-dependant front two, but they rarely seem to be on the same page.
In the sequence below it is the 171cm tall Brahim who is going up for a header under pressure from Rrahmani and Juan Jesus, which he loses while Ibra stands alone. The second ball falls and things look even more grim.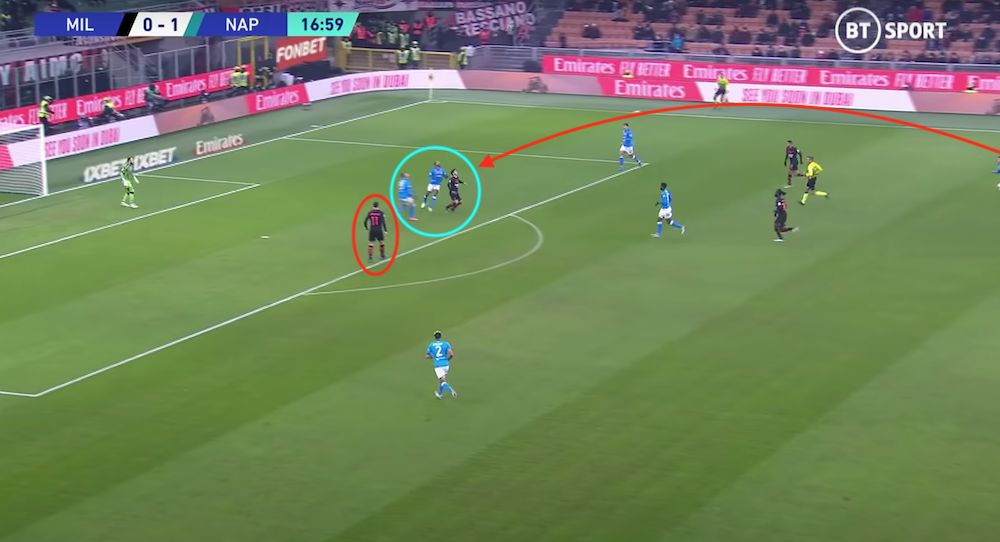 Napoli seemed to have a lot more energy in their press in the first half an hounded Kessie in possession nearly every time. The lack of options is clear to see though, as Ibrahimovic walks, Brahim decided he is going to try and pin a centre-back a foot taller than him rather than offer an option between the lines and Krunic stands still.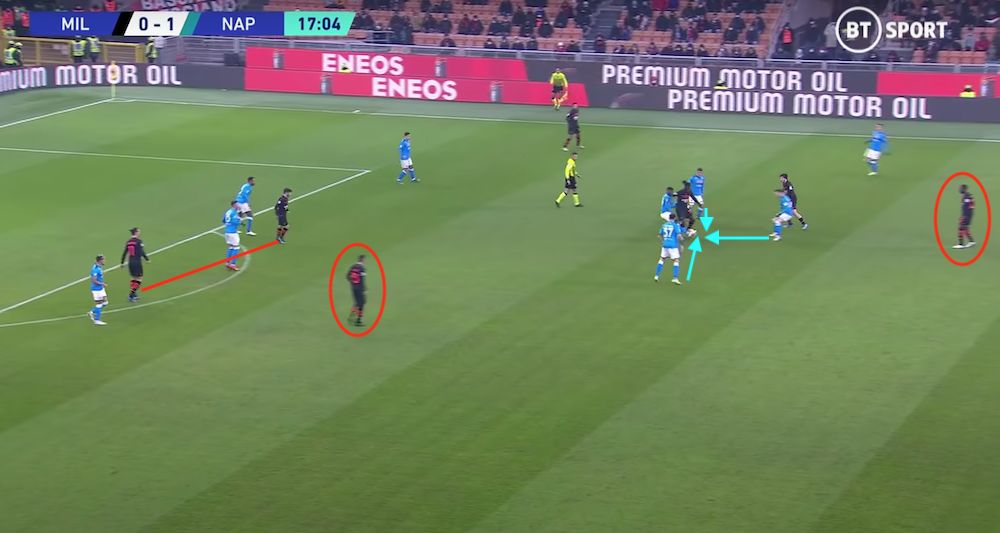 Kessie keeps the ball well though and with two quick passes Milan create a chance. A ball into Krunic goes out wide to Ballo-Toure and Ibra flashes a header close to the far post in what would have been a goal reminiscent of his opener in the 3-1 win early last season. It was never that complicated, just passing and movement.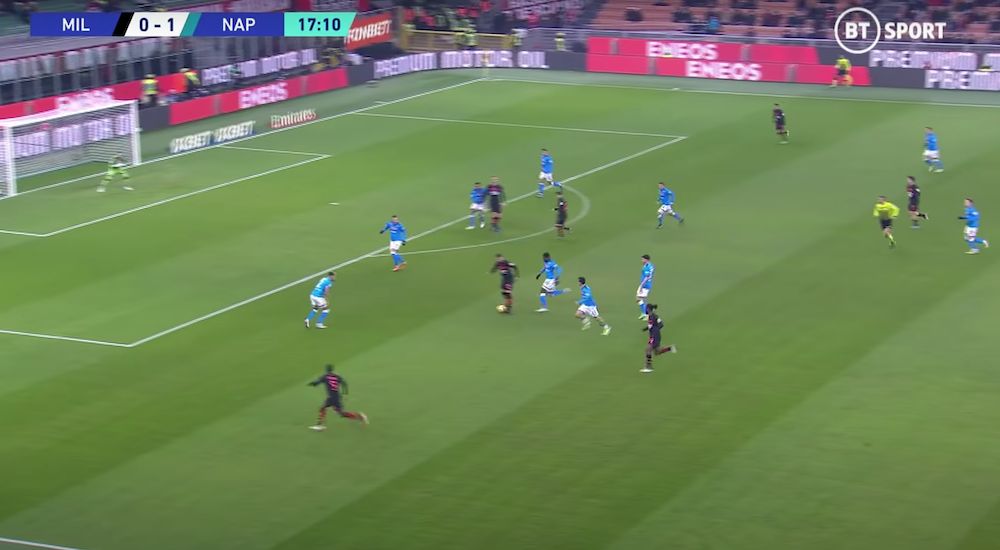 Wise words
Arrigo Sacchi's damning column for La Gazzetta dello Sport about the difficult period that the Rossoneri are currently enduring actually had an interesting point in there.
"It's a question of the game: the Rossoneri were aiming to move as a team. If the players are 60 metres from the ball carrier, there is no question of a team and this is exactly what is happening at Milan. The distances are critical: for this reason Napoli won, they were more compact," he said.
"The Rossoneri are in total confusion. I would like to give some advice: it is useless to try to solve all the problems together, it is better to start with the most serious one at the moment, that is, that this is no longer a team. It is a scattered group where everyone does what they want."
As Napoli grew in confidence with their press (which wasn't even that organised at times, they just put men on the ball carrier) Milan's plans faded. They wanted to get Messias in isolation more, to give Ibrahimovic support, to create a presence in the final third, and instead what we see below is nobody offering support and far too much space.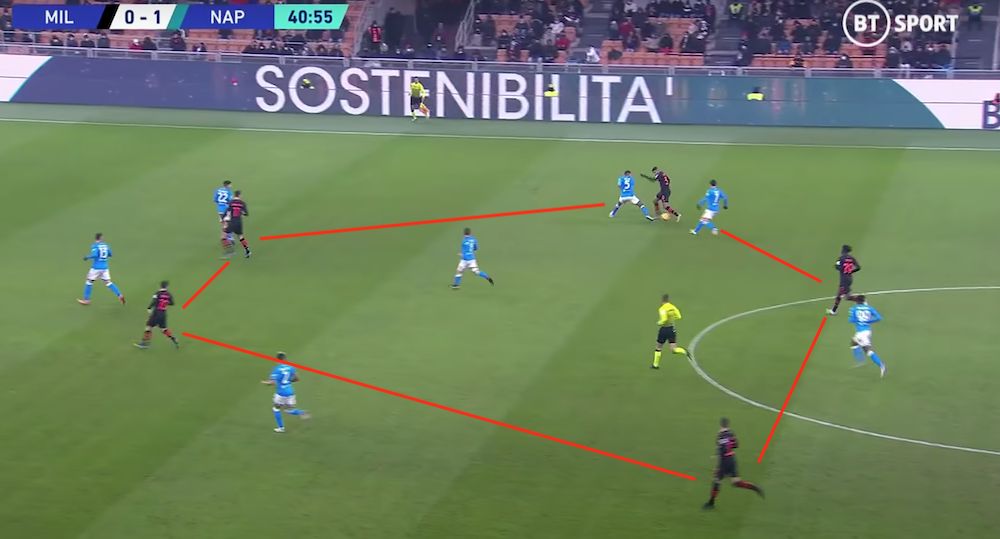 Milan have been battling injuries for basically over a year now and have found ways to look exciting, showing tactical plans such as passing triangles and clever overloads to pick the lock. Now, nobody seems to have the energy to want to do that.
Late openings
Milan pushed and pushed in the second half but created very little despite the opportunities that did emerge at various moments. In the passage below there is a huge gap between the defence and midfield that has opened up with six Napoli players within a 20 square yard box.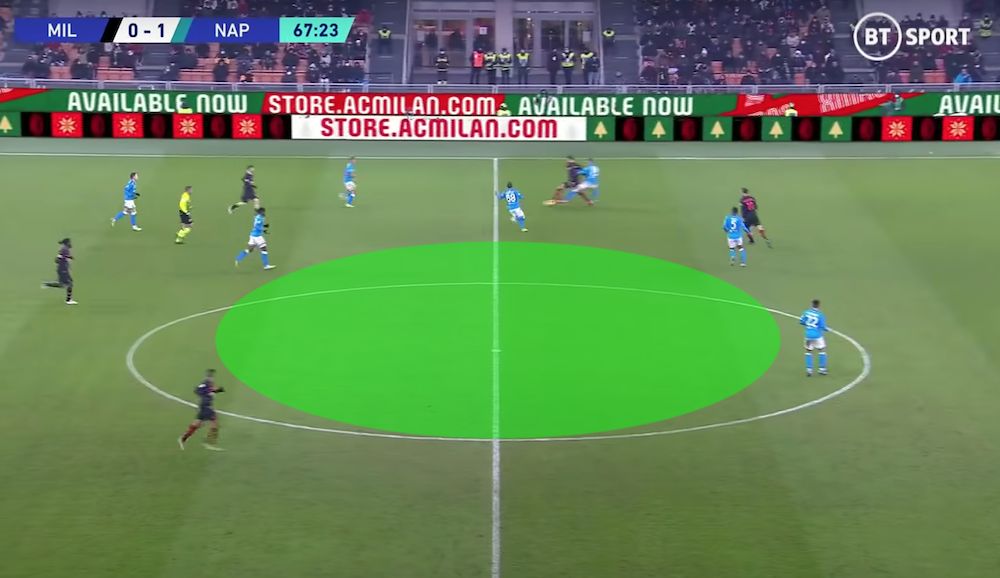 They eventually do labour the ball through the midfield and over to Messias – who Pioli has admitted he wanted in one vs. one situations – with some angular movement from the onrushing attackers at least opening some space up for a shot. It was something, not rocket science.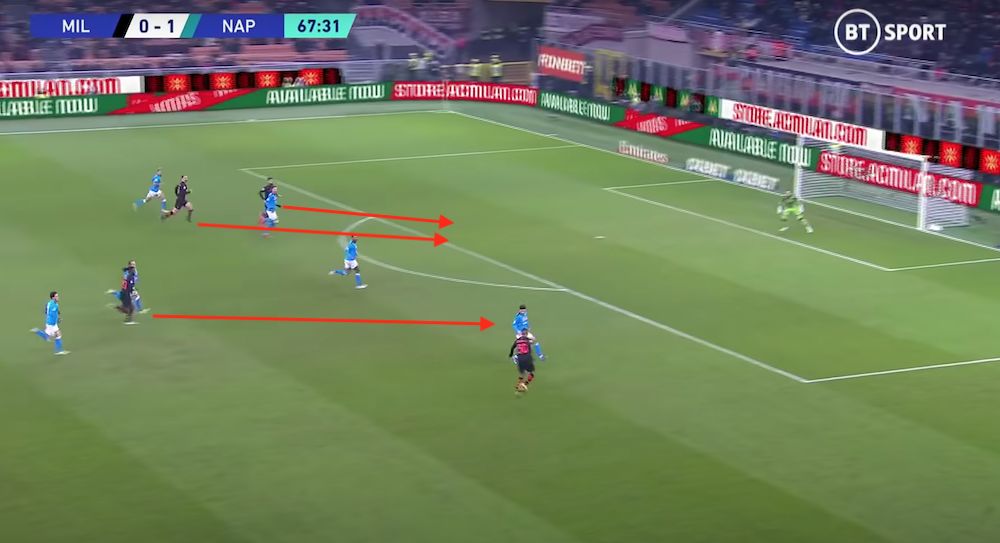 Last resort
Brahim was withdraw and the wingers were changed as Pioli went to a 4-2-4 with Ibrahimovic and Giroud up front. Panic was created at times but nowhere near enough for the amount that two 6ft+ strikers permanently camped in the 18-yard box should do.
It showed a bit of a lack of imagination in truth. It is a very English tactic to just lump it up to the big men in times of difficulty and though a late equaliser came from it that was ruled out, it should be a worry that the ideas appear to have run out.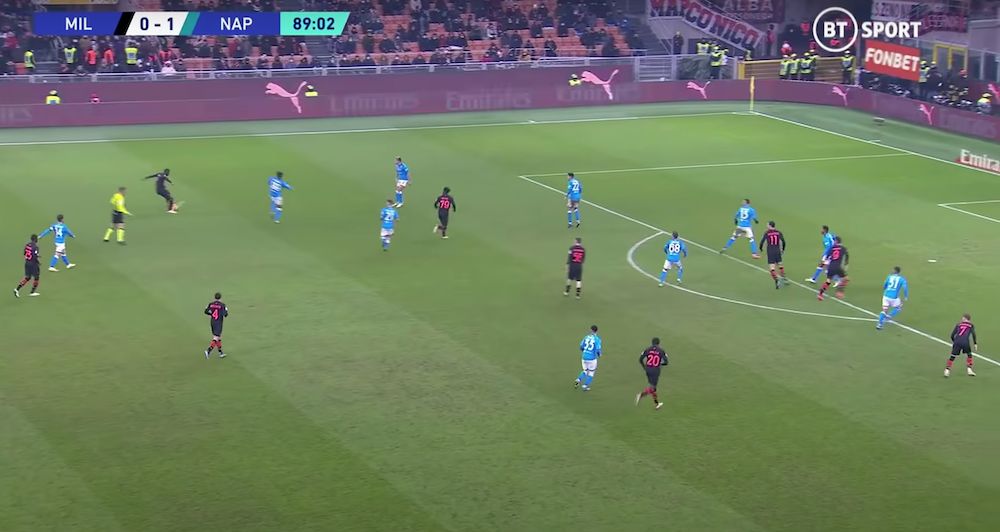 The data
Milan's problem from an attacking plays point of view is that they have been gone from being too reliant on the left flank to now being reliant on the right side, a side where goals have never come from in abundance. Just 3 of the 30 attacking moves went down the left, and just one shot on target came from inside the box.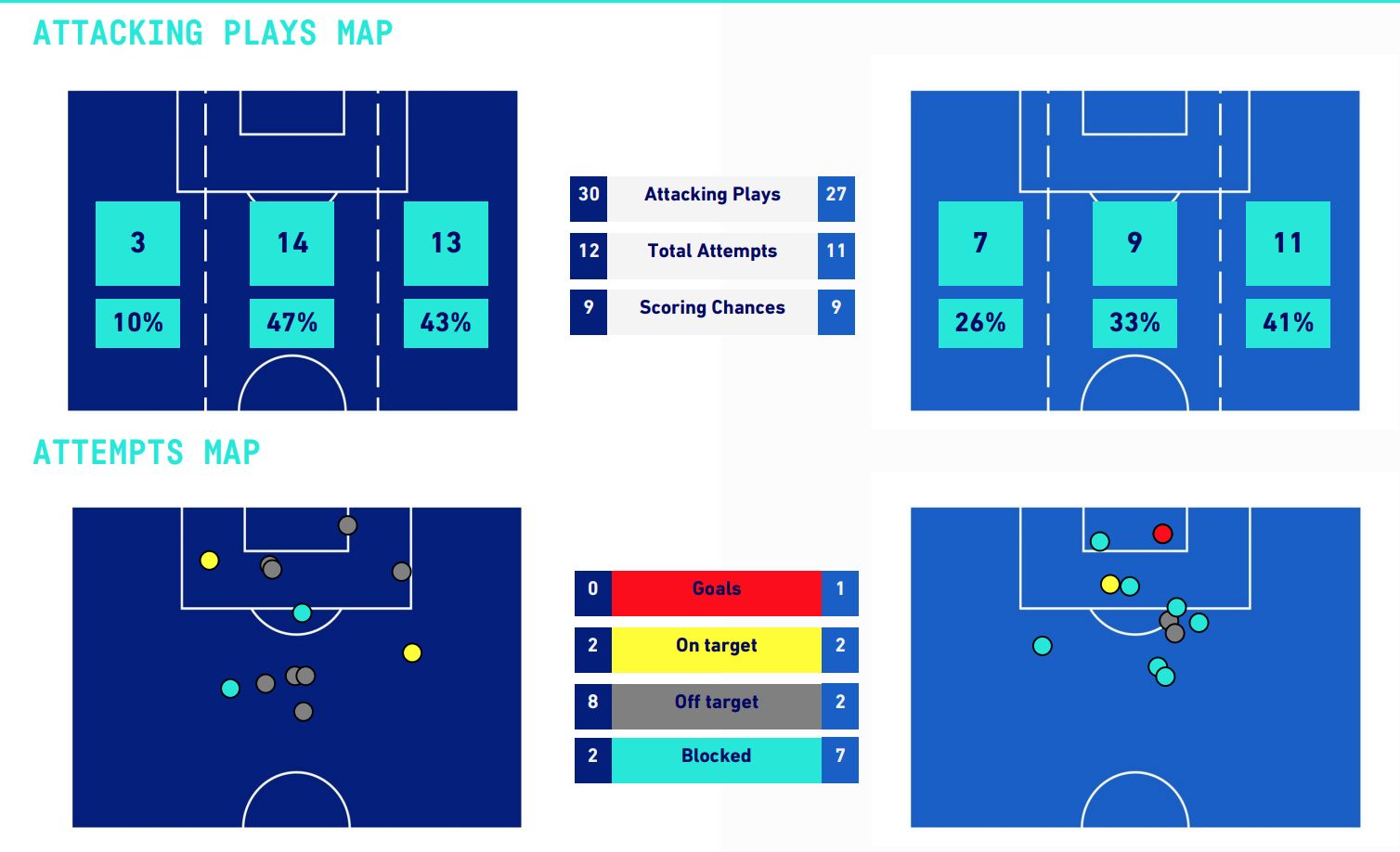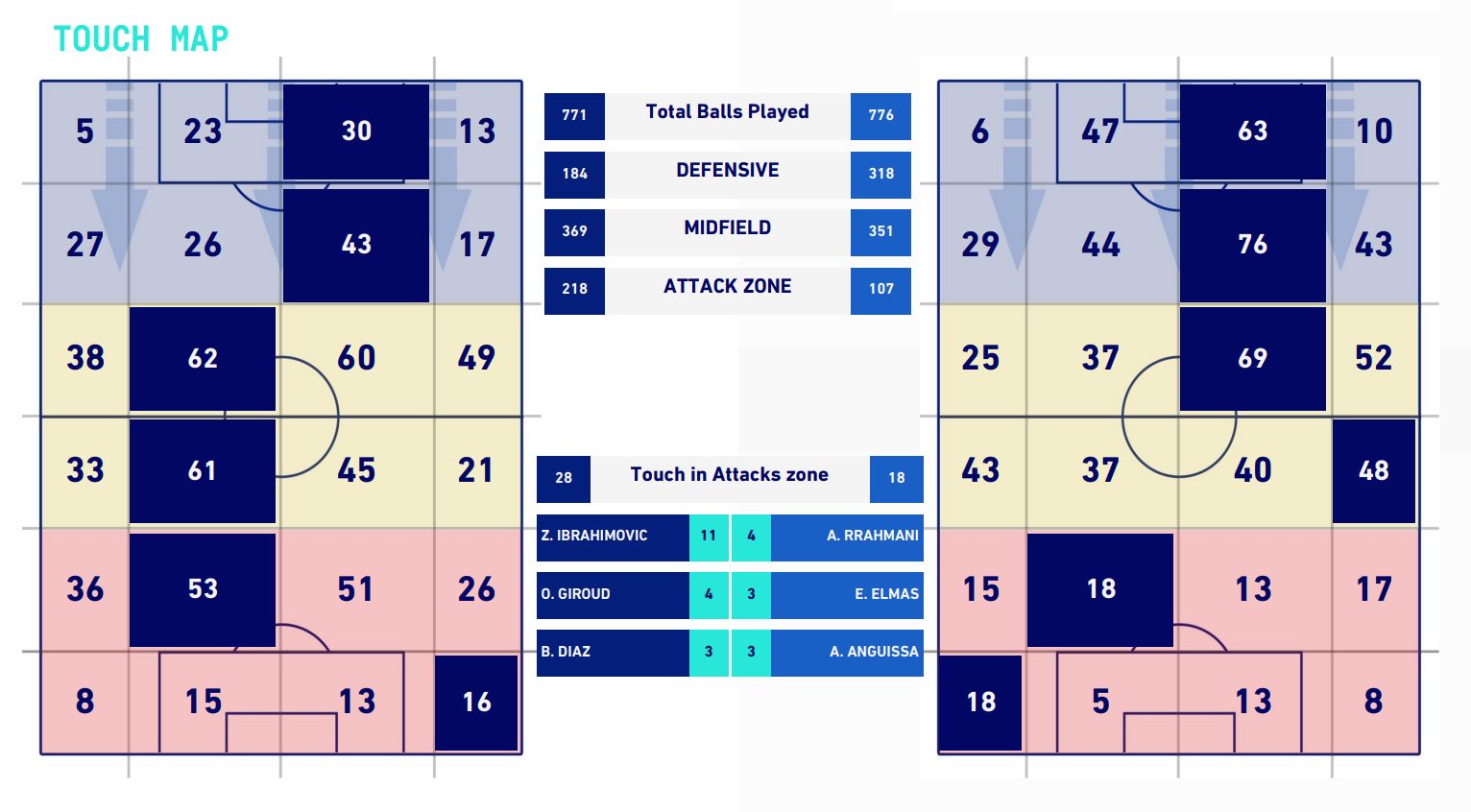 Conclusion
Milan look cooked. Whatever game plan Pioli is trying to transmit to his players they appear too tired to be able to carry out, either that or his ideas have gone a bit stale and he does not know a solution.
It was a toothless performance conditioned by another lapse in concentration. Roll on the Christmas break because these players need a rest and some depth in the attacking department is so badly needed.