AC Milan ensured that they will take an advantage south next week as they beat Napoli 1-0 in the first leg of their Champions League quarter-final clash.
Stefano Pioli insisted before the game that his side could not 'photocopy' the same approach as during the 4-0 win at the Maradona 10 days ago, but he chose the same line-up from that game with Simon Kjaer, Rade Krunic, Brahim Diaz, Rafael Leao and Olivier Giroud all coming back in.
It was an open and intense game where only one of the many chances was taken when Ismael Bennacer thundered a shot in at the near post to finish off a break that Brahim Diaz started in Milan's half.
While it is a slender lead to take back to the Maradona on paper, on the balance of play it is one that the Rossoneri will absolutely be happy with and it sets up a scintillating second leg.
Learning from mistakes
A fascinating sub-plot to this game is that we have another game to compare to between the same sides, when the Rossoneri were rampant and ran out 4-0 winners.
Spalletti learnt from the thrashing before as he pushed Anguissa-Lobotka back 10 yards to not leave space in behind them when Milan attempted to play through the press.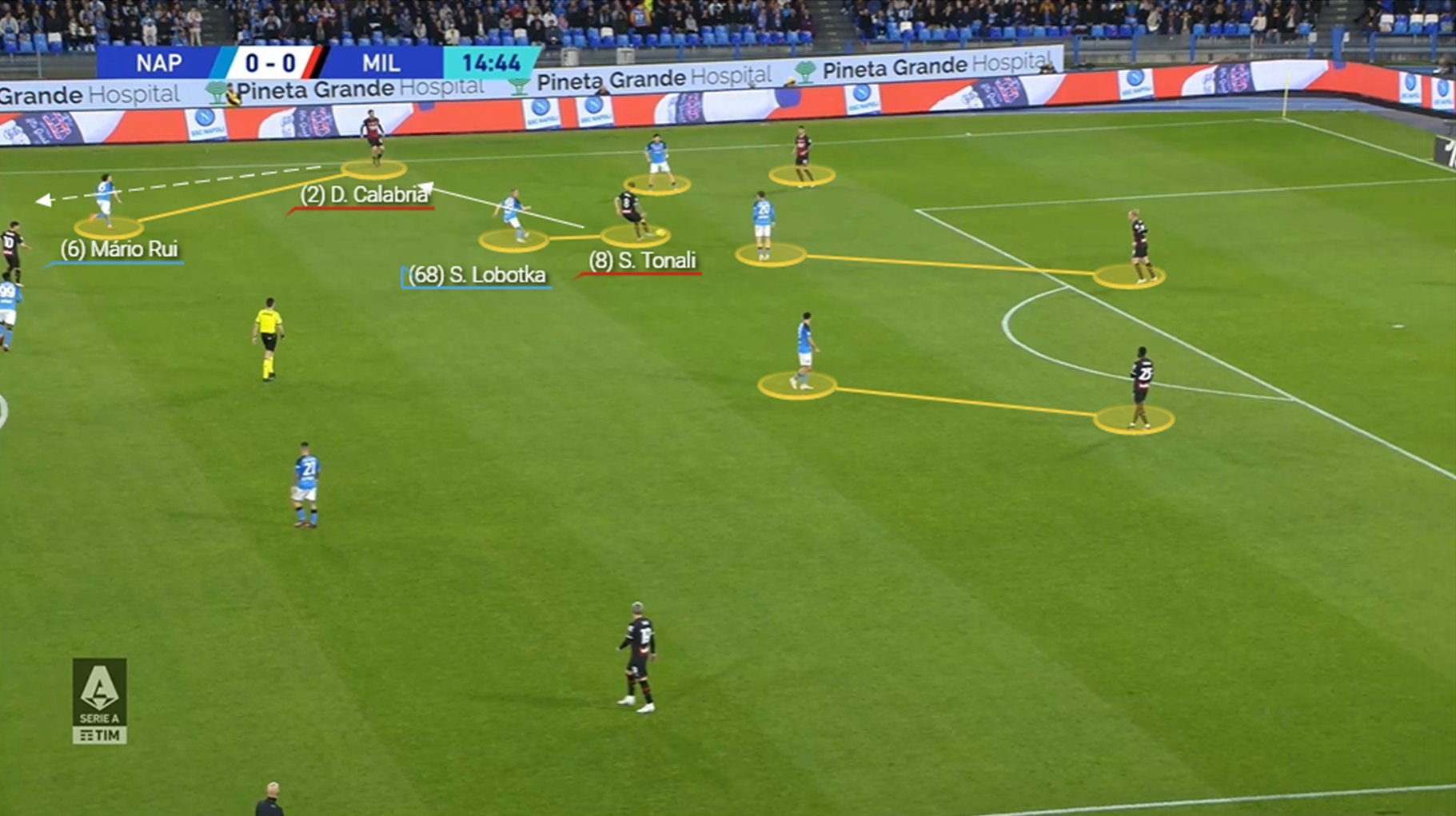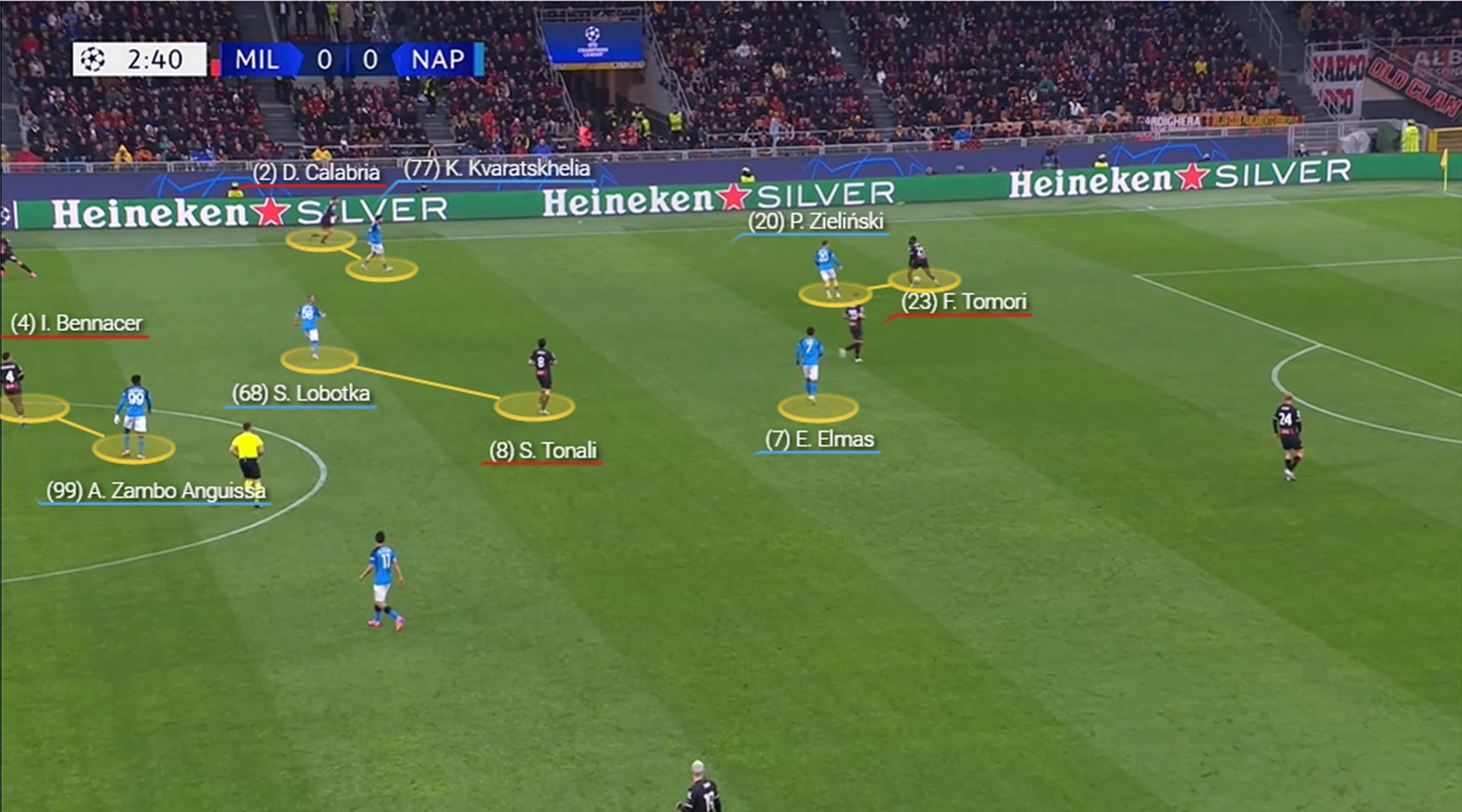 Instead Lobotka-Anguissa were more cautious about covering Brahim-Bennacer in the middle or matching up with Milan's midfield and keeping a compact shape rather than riskily pressing as opposed to the game at the Maradona where they overcommitted.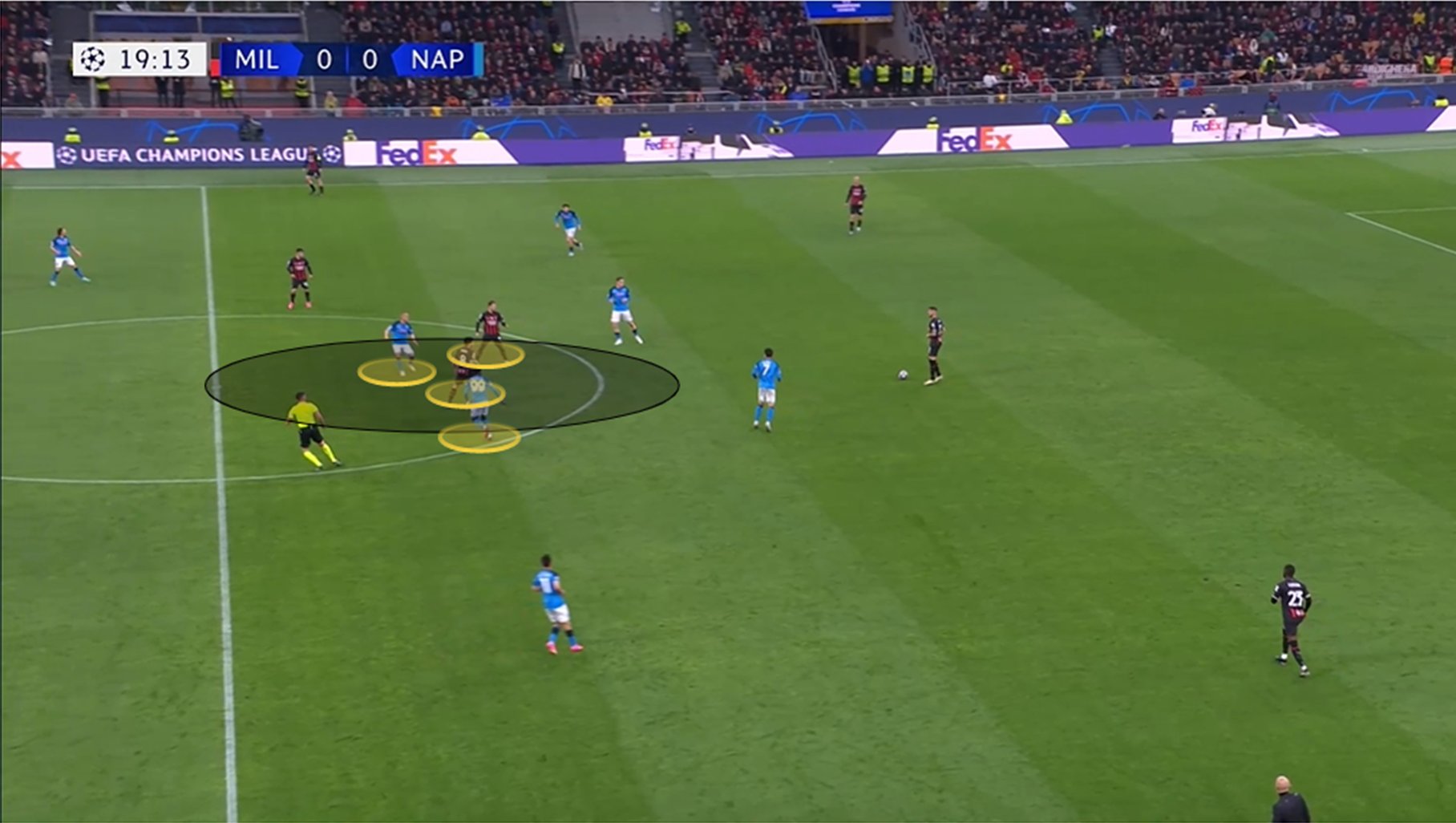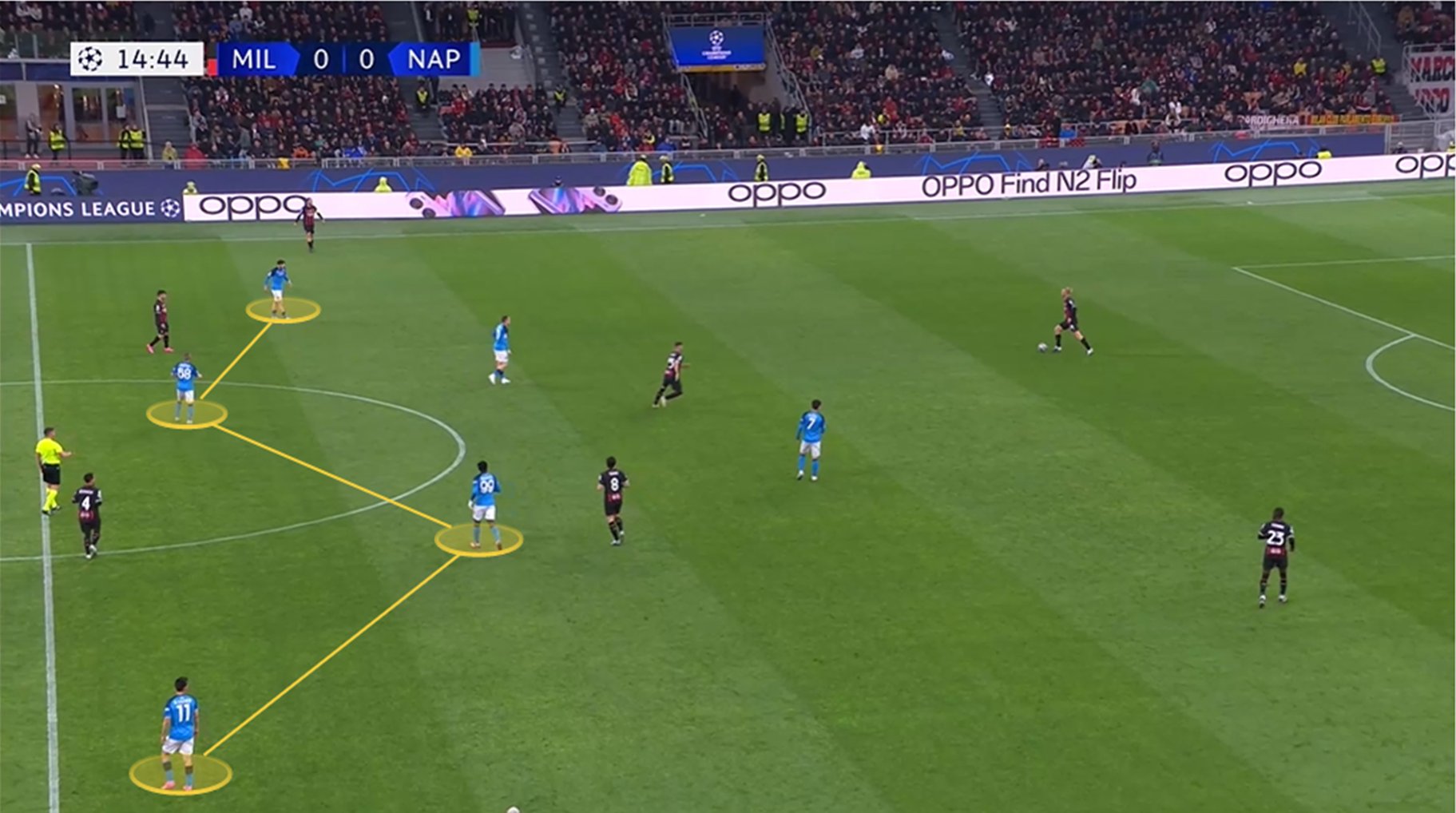 The pressing structure was still robust at times but more selective exercising caution to make sure the ball wasn't getting to Milan's midfielders in the middle of the pitch to progress the ball, sitting off in a 4-4-2.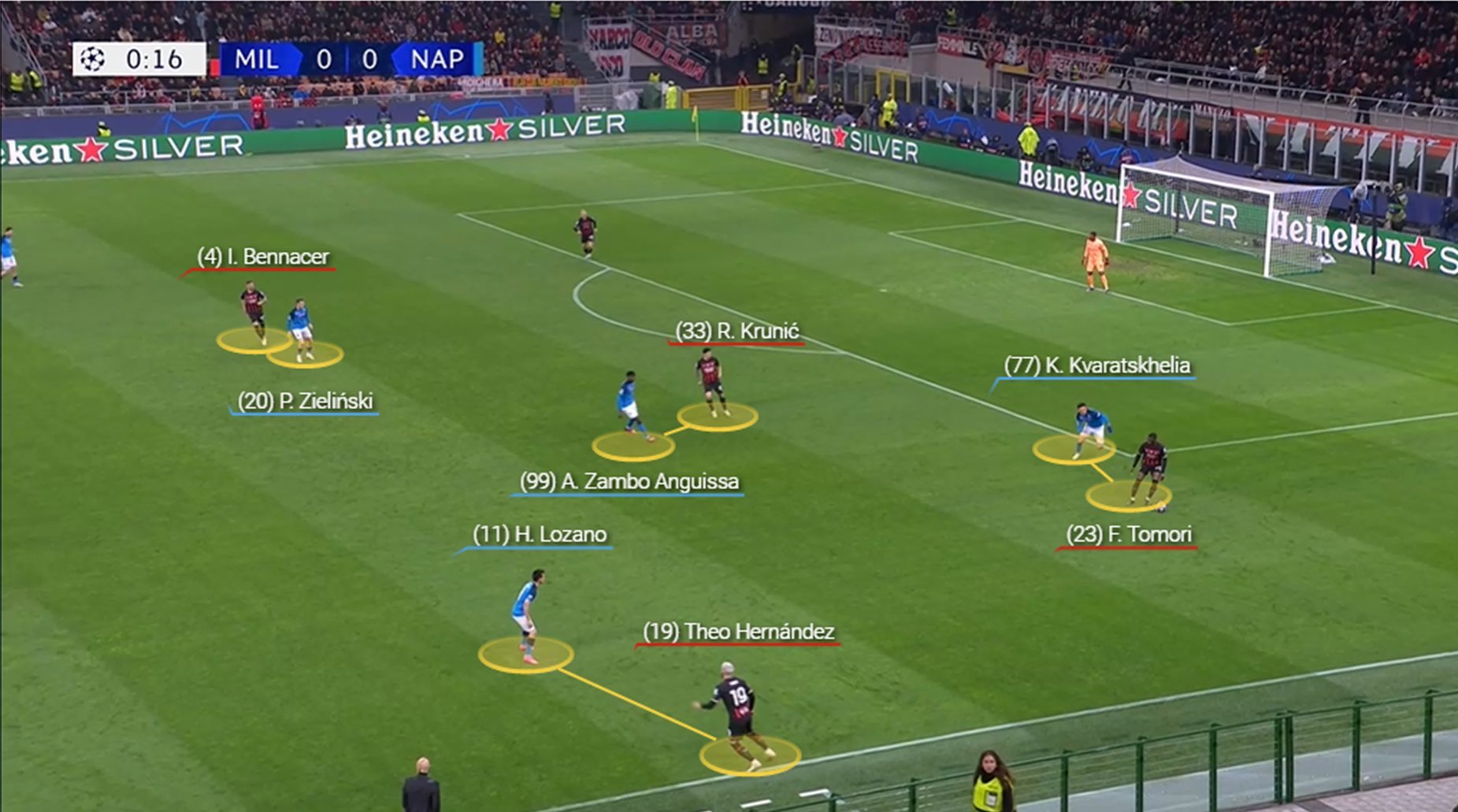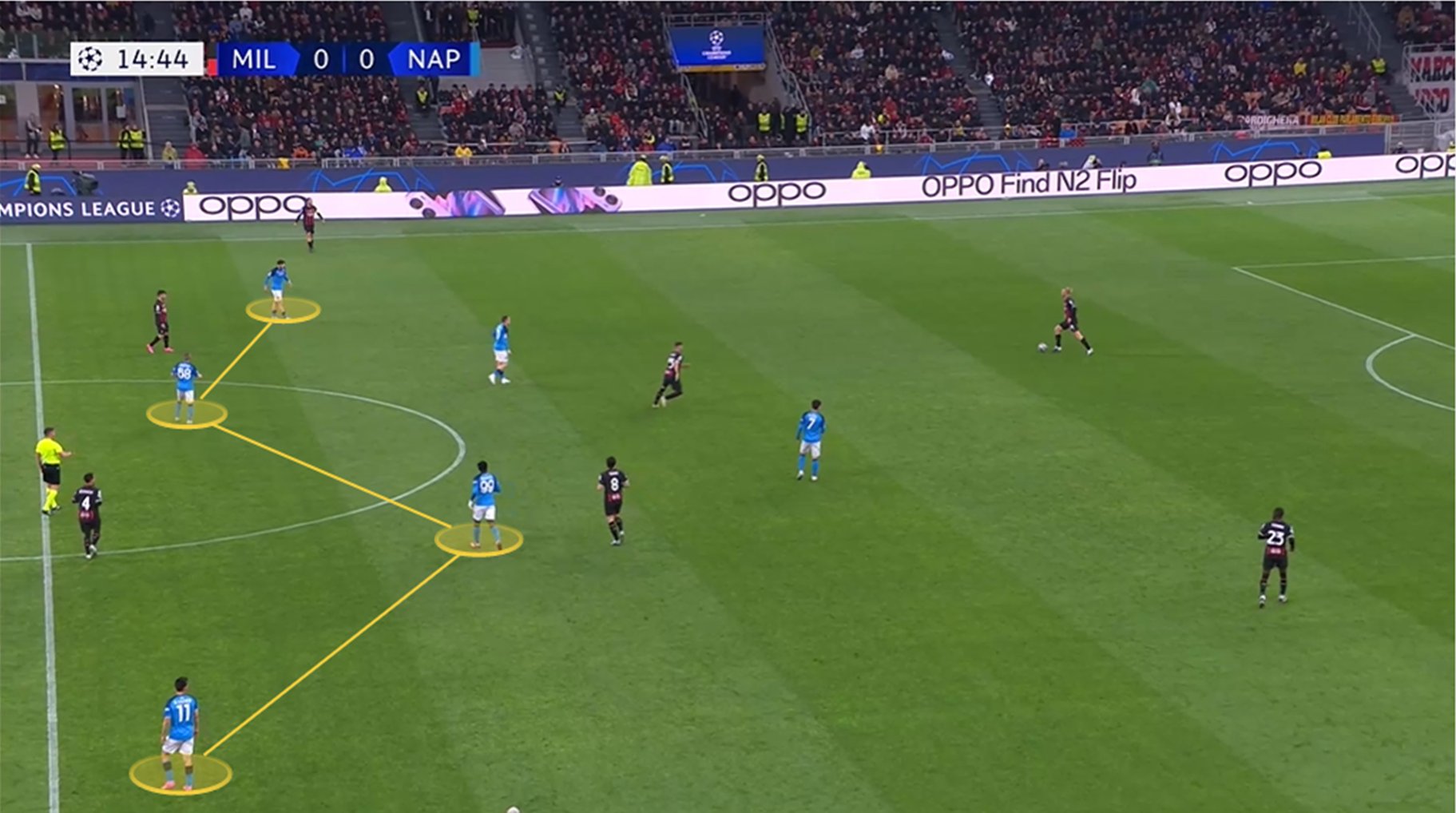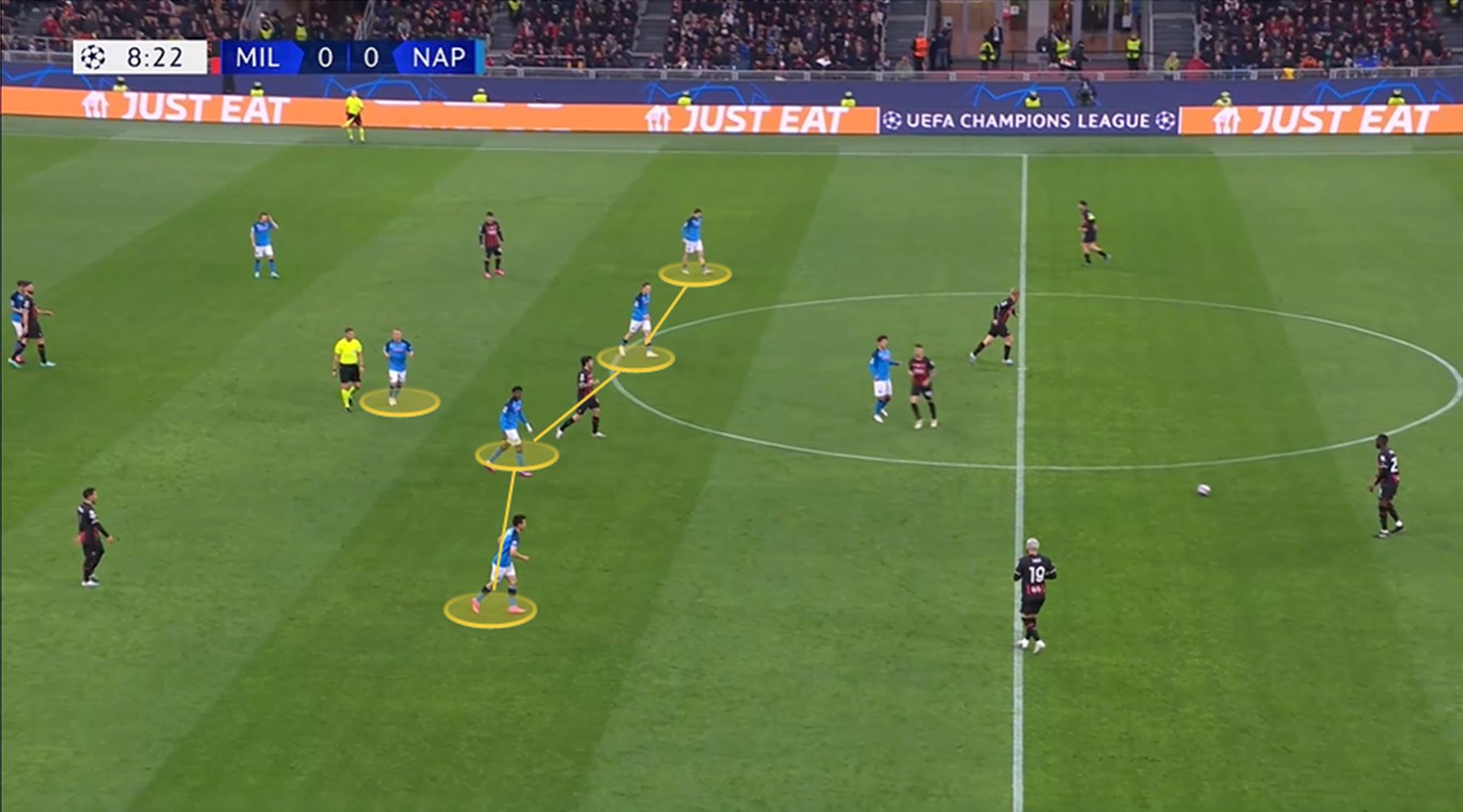 Spalletti pushed both pivots up 10 days prior to cause turnovers but it backfired as Milan could use the space vacated in the middle of the pitch passing through them, leaving the defence exposed, so at San Siro he changed things.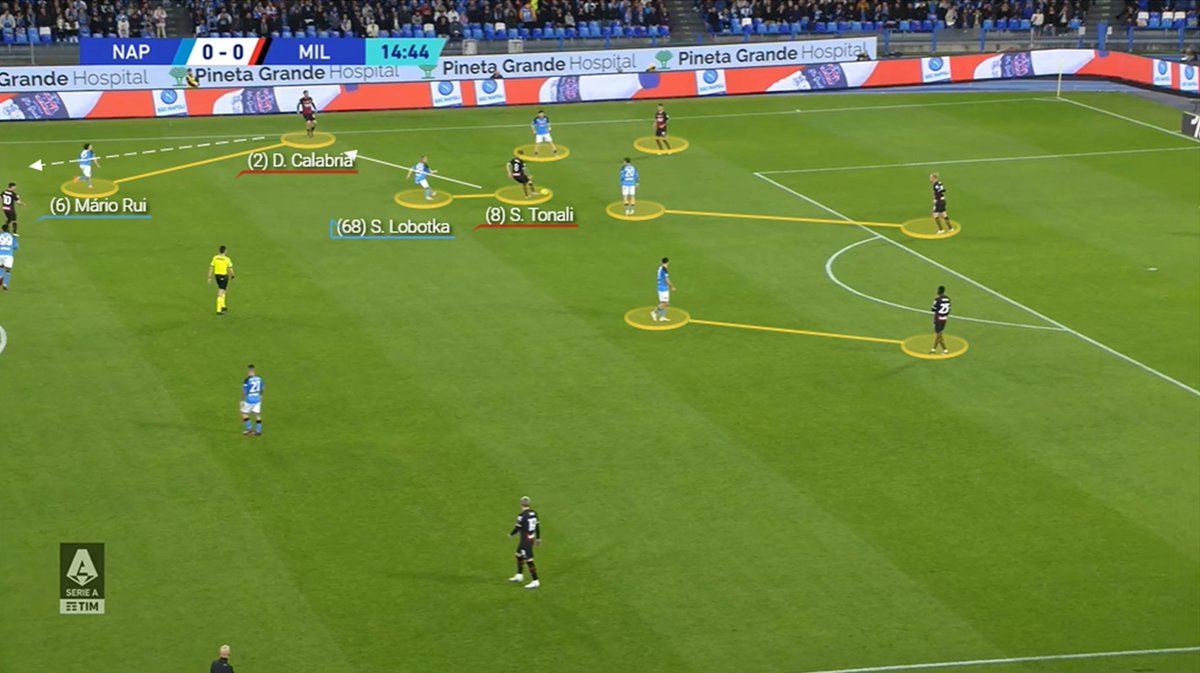 In a situation like this for example, Lobotka purposefully stands off and keeps his position rather than rushing to close Bennacer down, with Anguissa monitoring Tonali.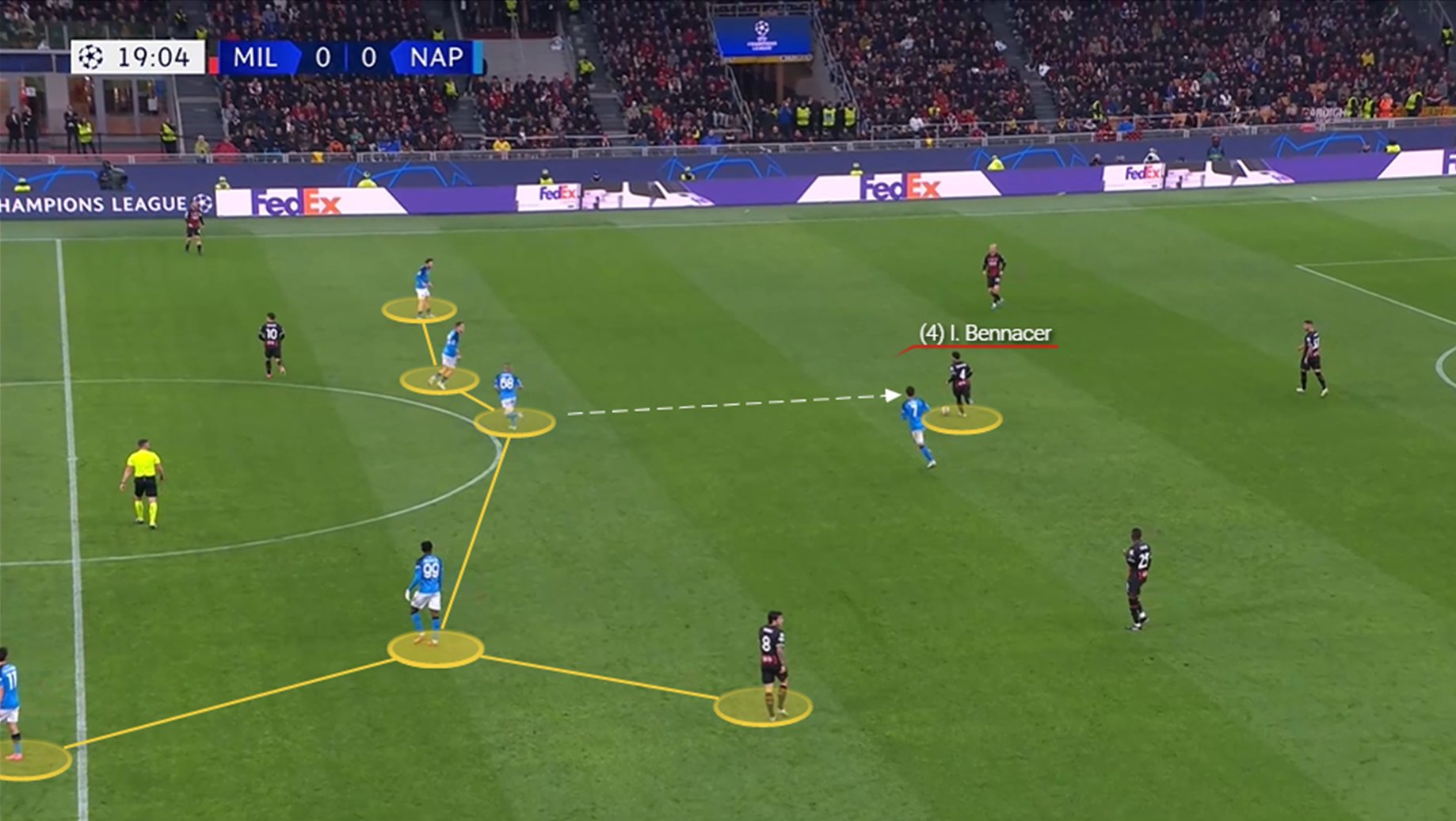 Milan were in turn less disciplined in terms of sticking man-to-man with Anguissa and Lobotka, look at the space for Anguissa to receive. Both were a little more switched on sticking close to each other and ball-carrying from deep to evade Tonali-Bennacer-Brahim.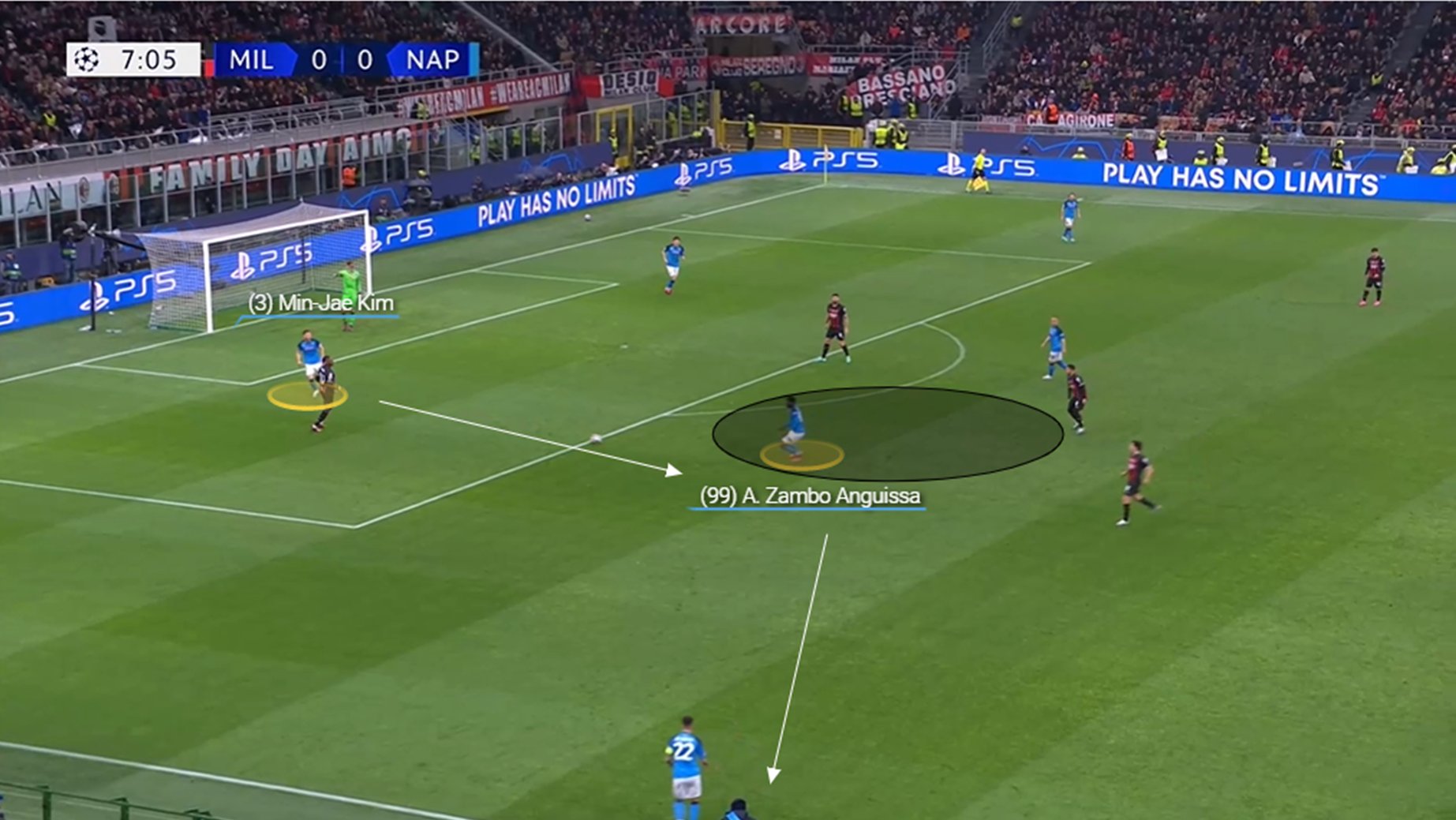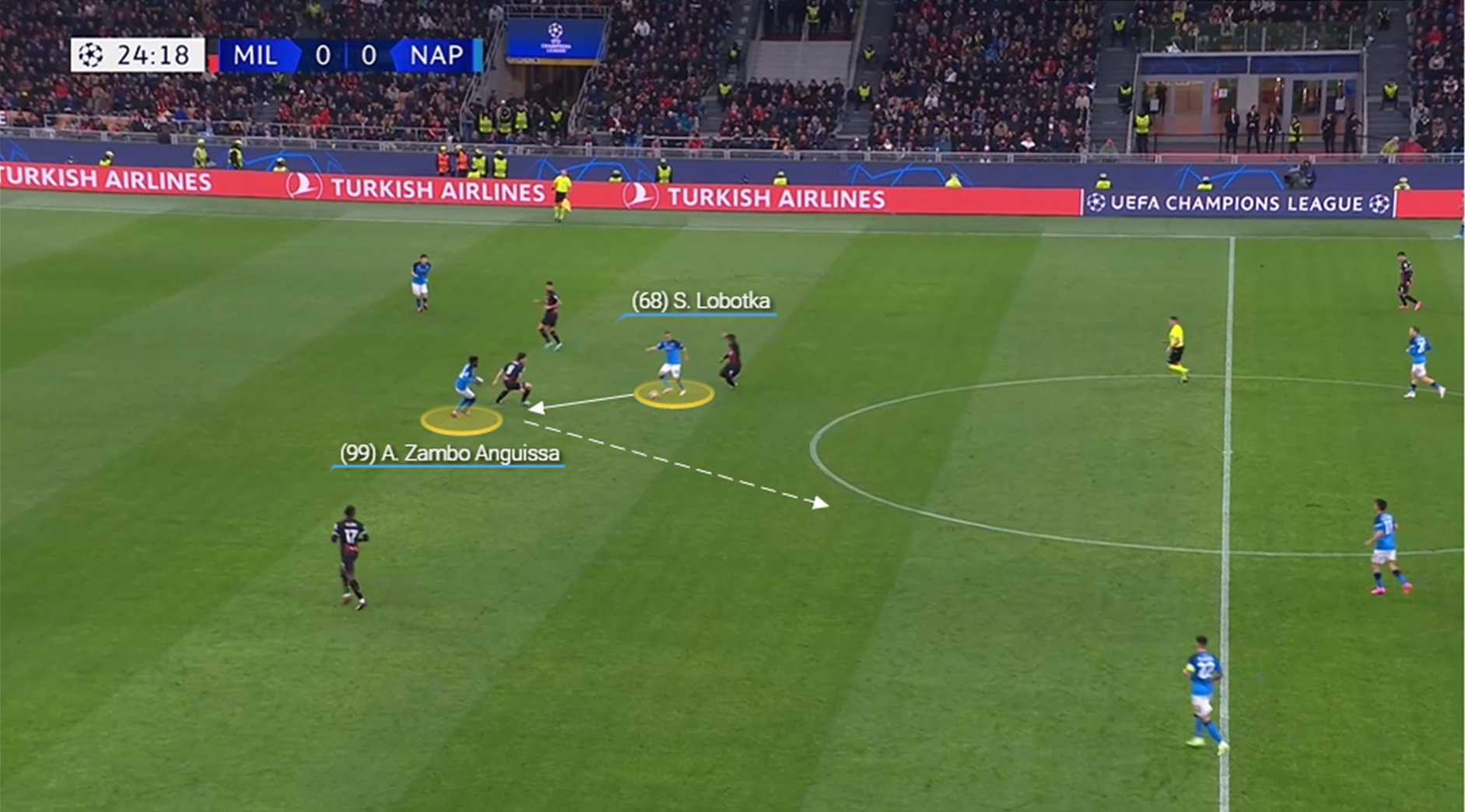 Milan were actually quite sloppy with the ball and passing early on with Napol's occasional press troubling them resulting in a few long-range shots from the away side.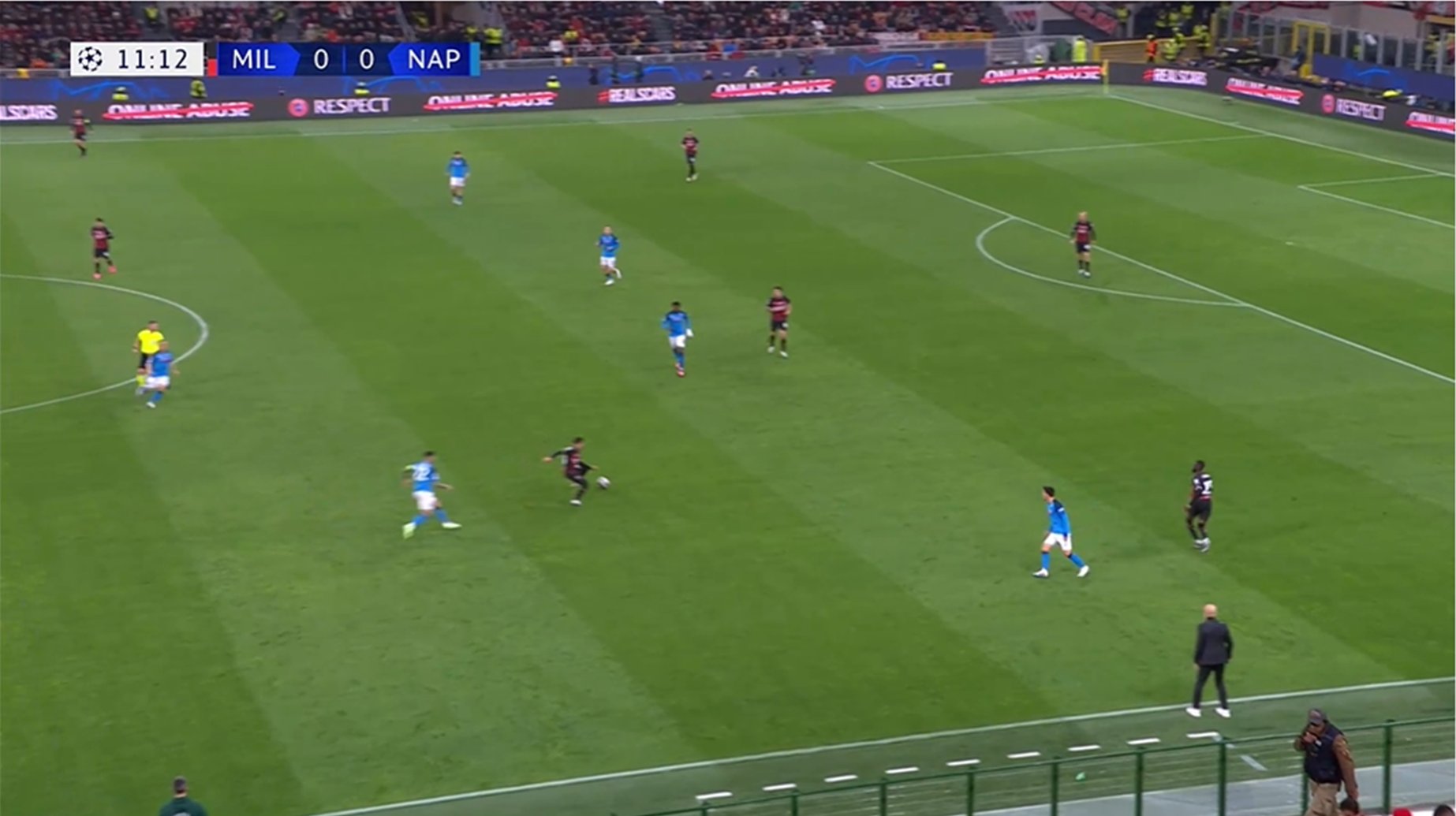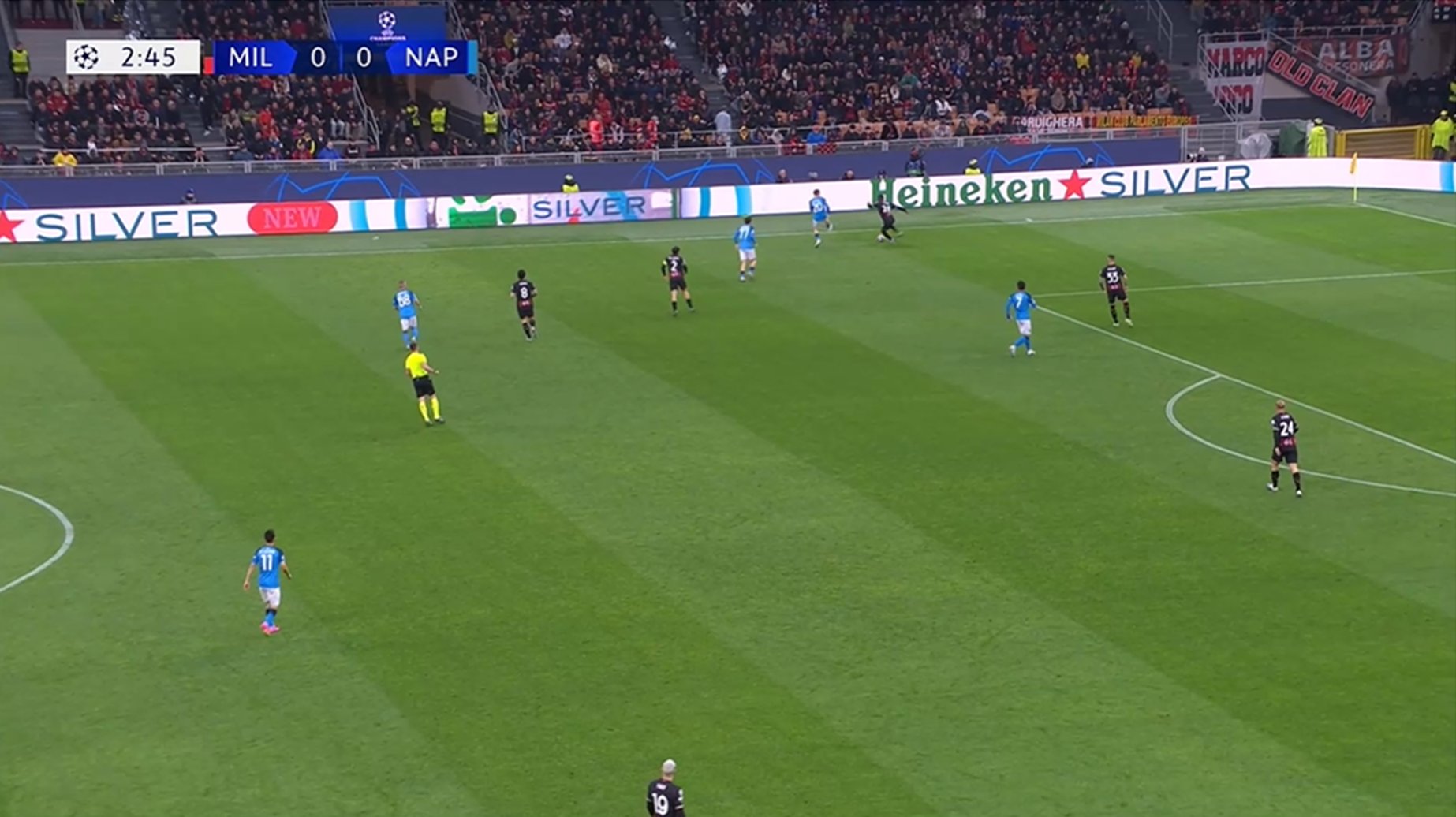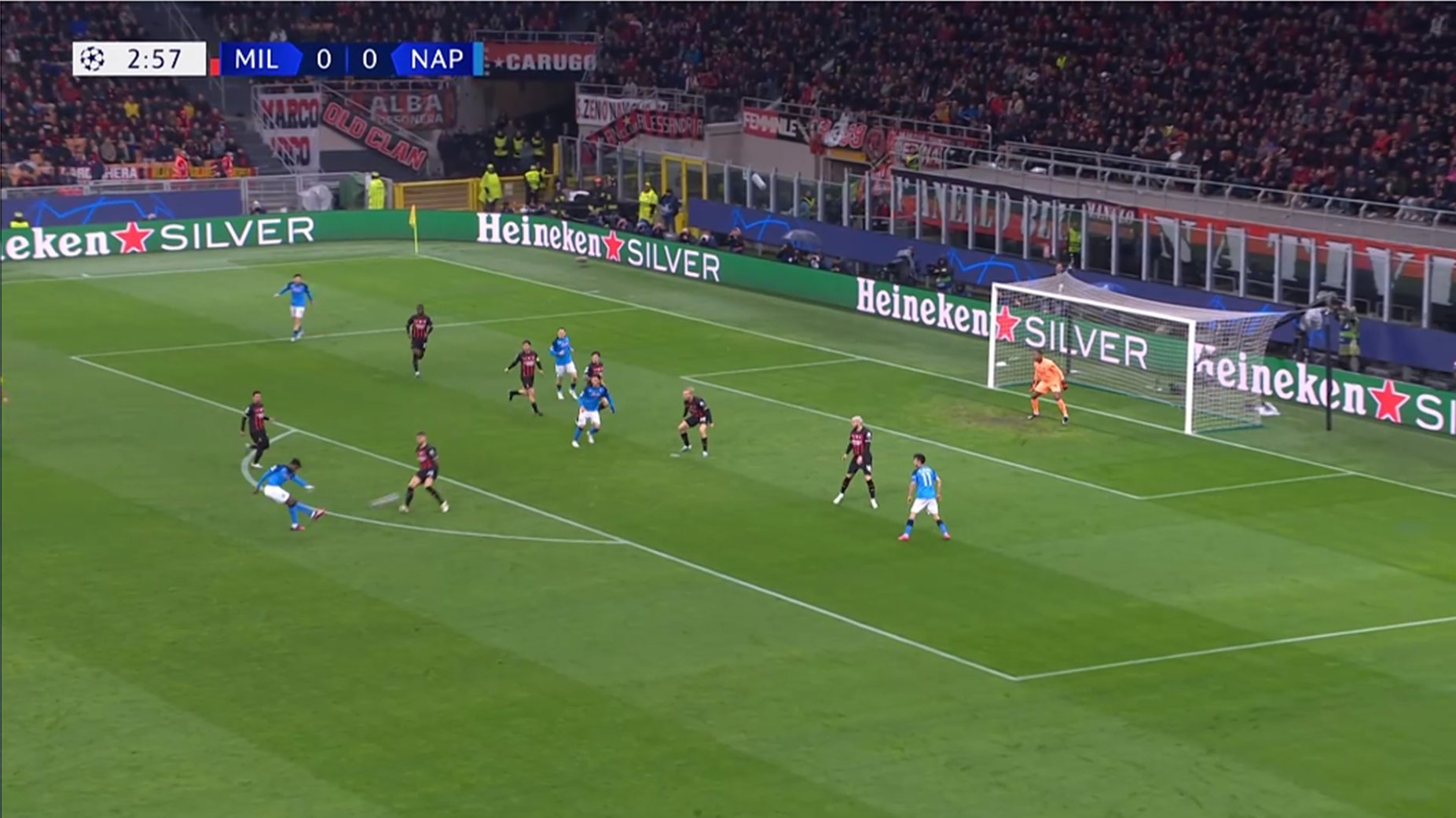 Milan's response
In the first half Milan went back to their effective man-to-man pressing structure attempting to wrestle the onus back from Napoli. It could be that this was spontaneous, or that it was Pioli's instructions as Theo even pushed up on Di Lorenzo with the forwards pressing and Bennacer-Tonali on Anguissa-Lobotka.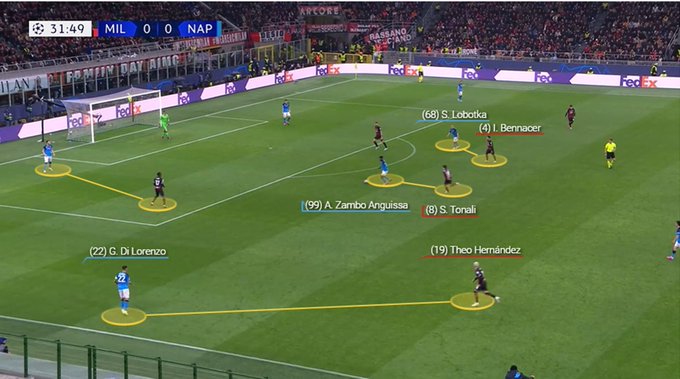 Even with Napoli tinkering the game plan and probably happy with the half, it is somewhat strange that Milan created the better openings with the Leao run, and then the goal.
The move for the opener started with Lobotka-Mario Rui-Anguissa all getting attracted to Brahim, who excellently dribbled past them showing his low centre of gravity and his ability to turn quickly.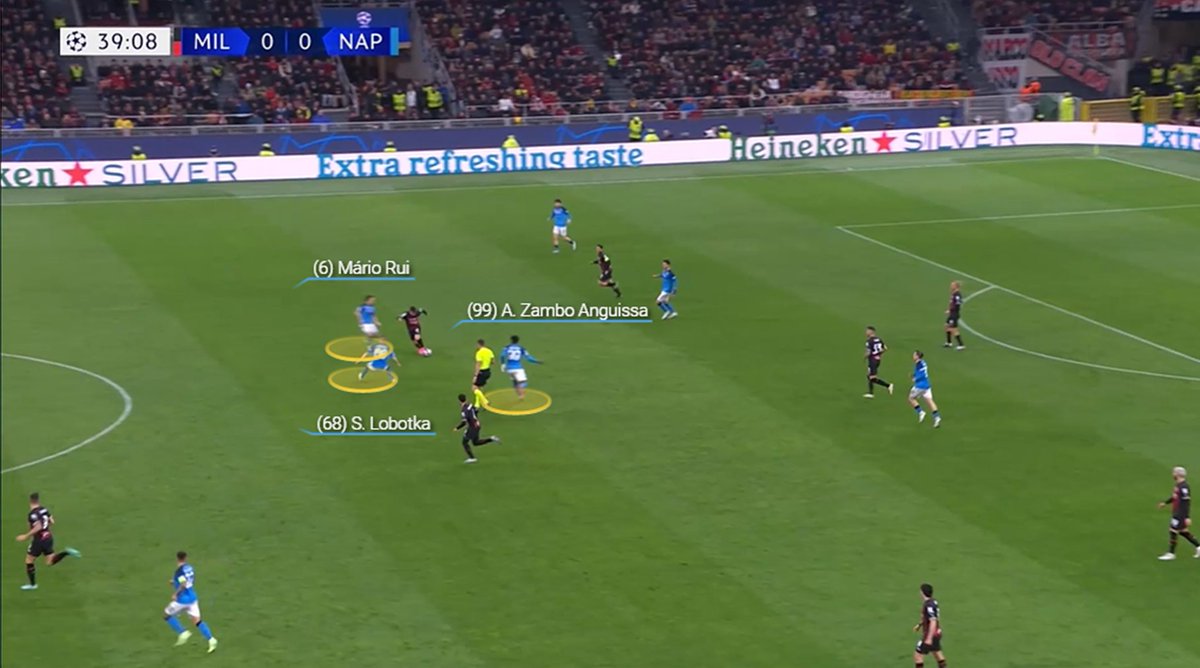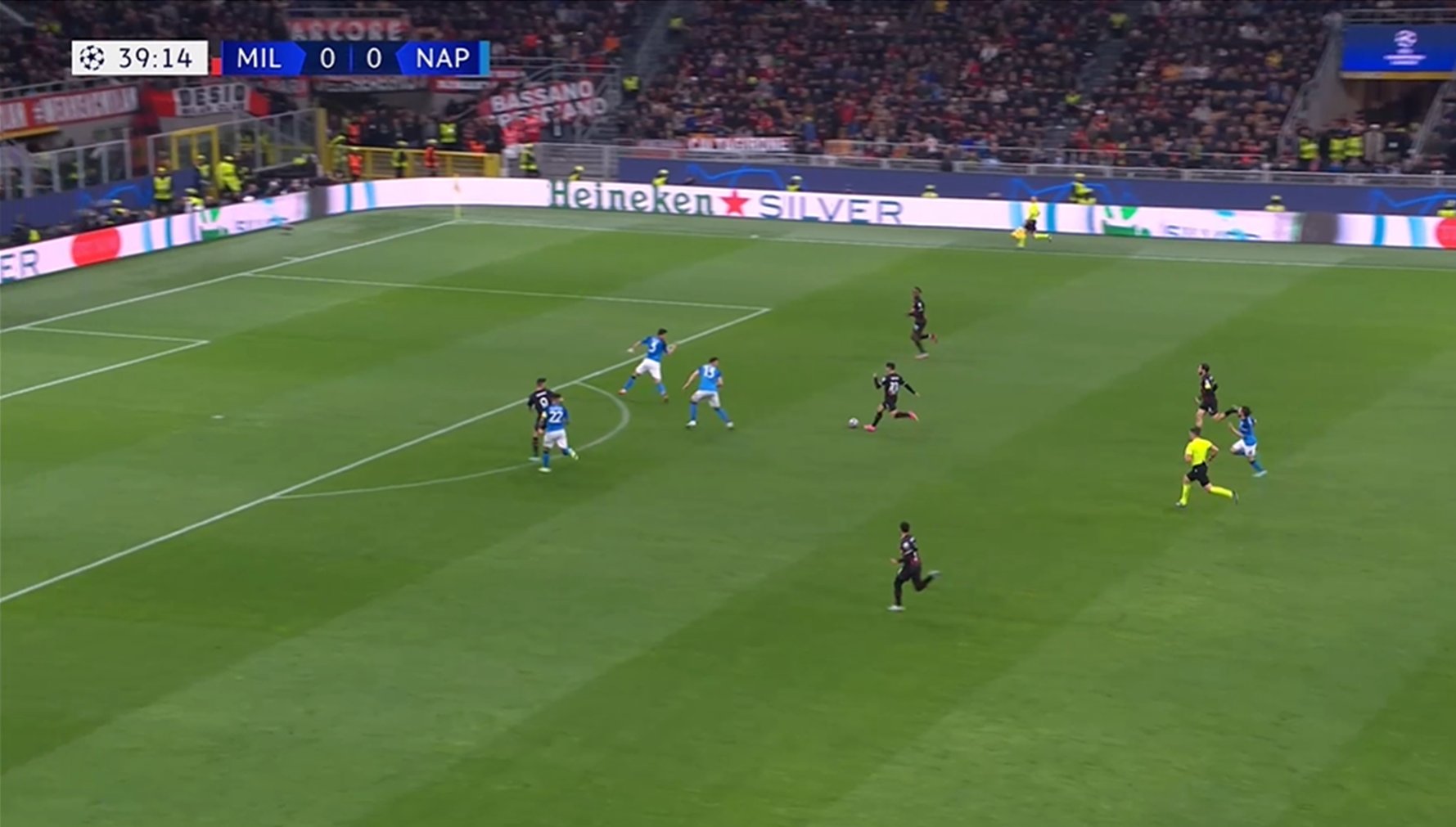 Searching for parity
In response, Spalletti pushed up the full-backs, with Mario Rui looking to overlap and double up with Kvara to try create space between Calabria and Kjaer at centre-back, but also get Kvara more into the game.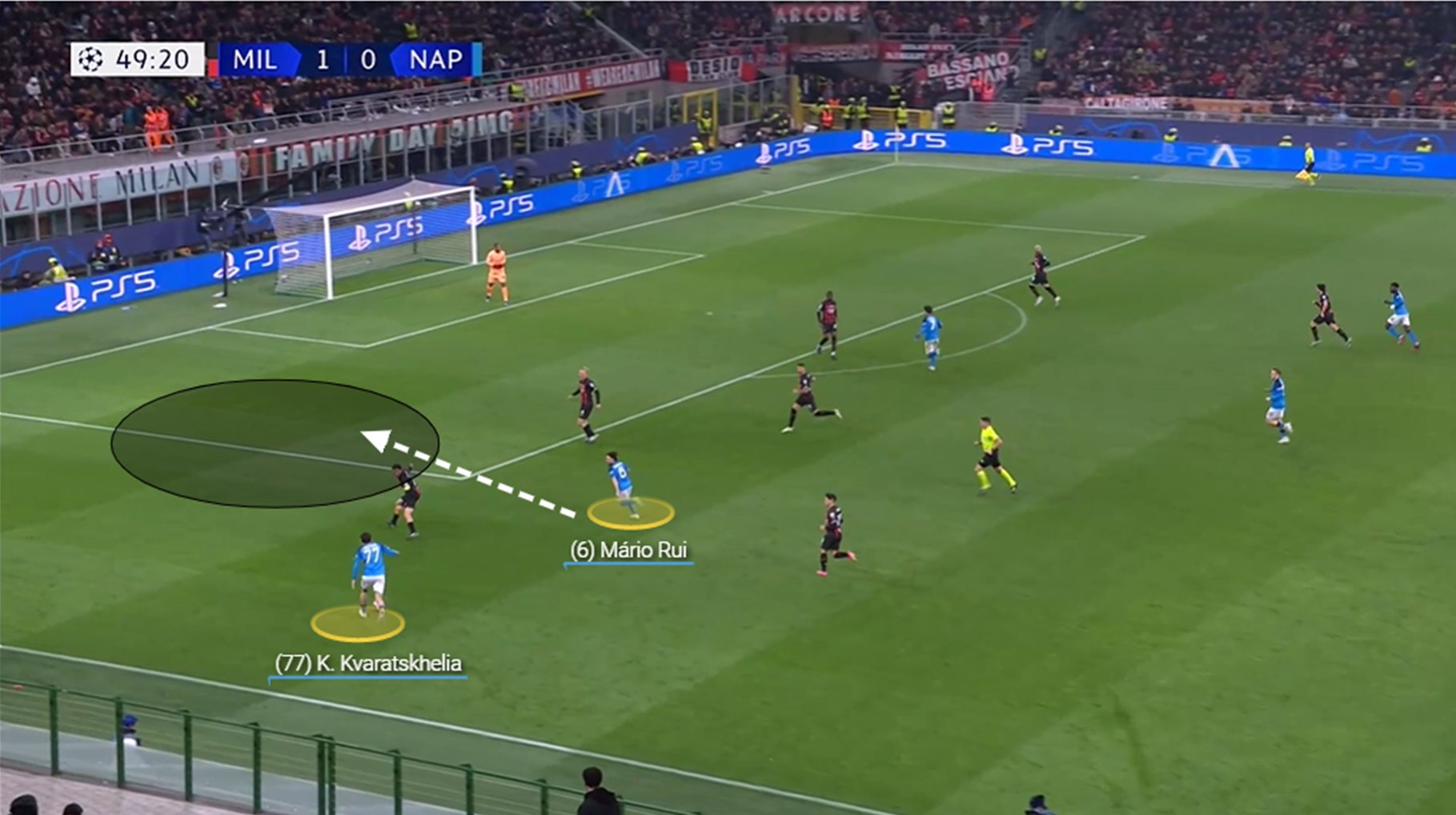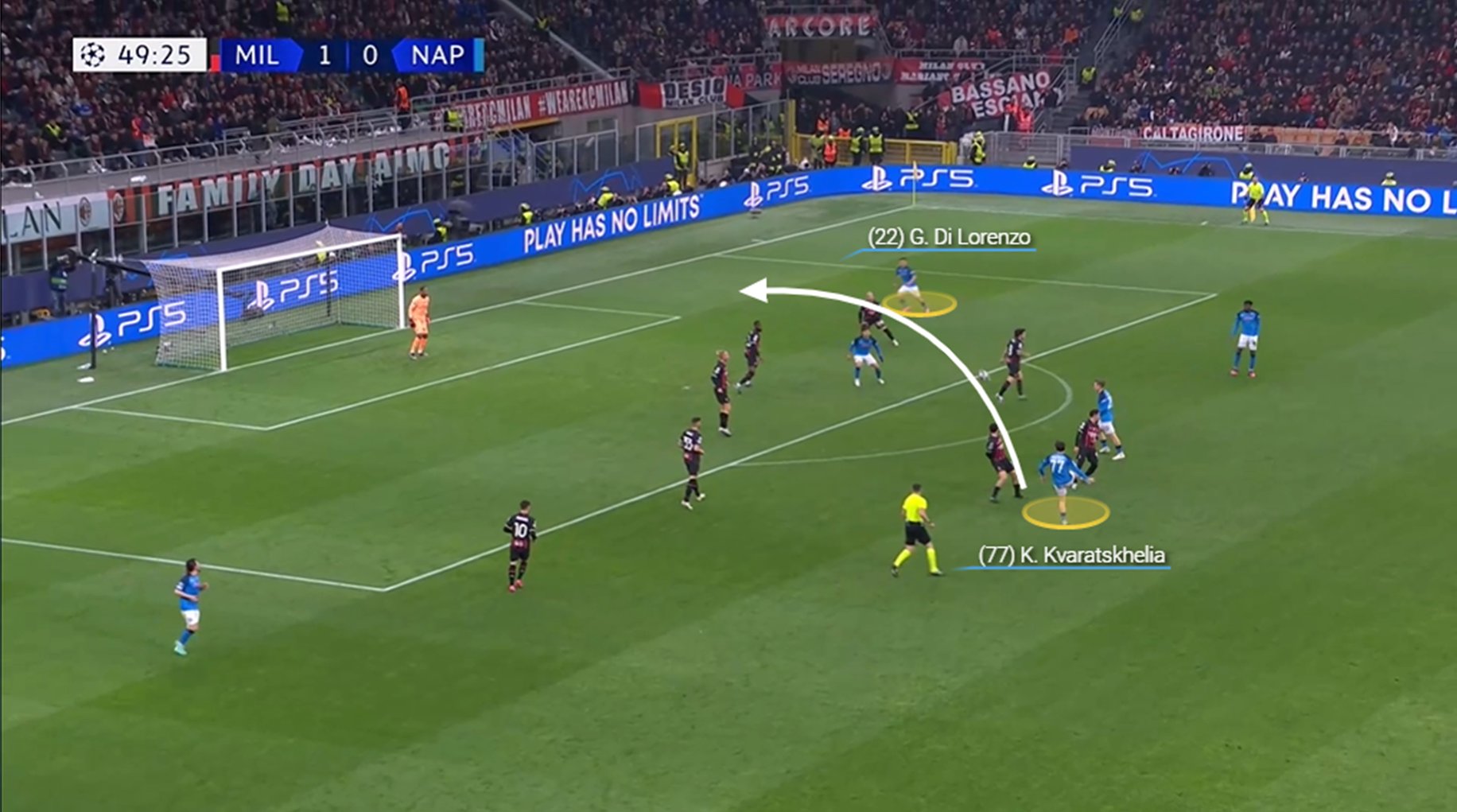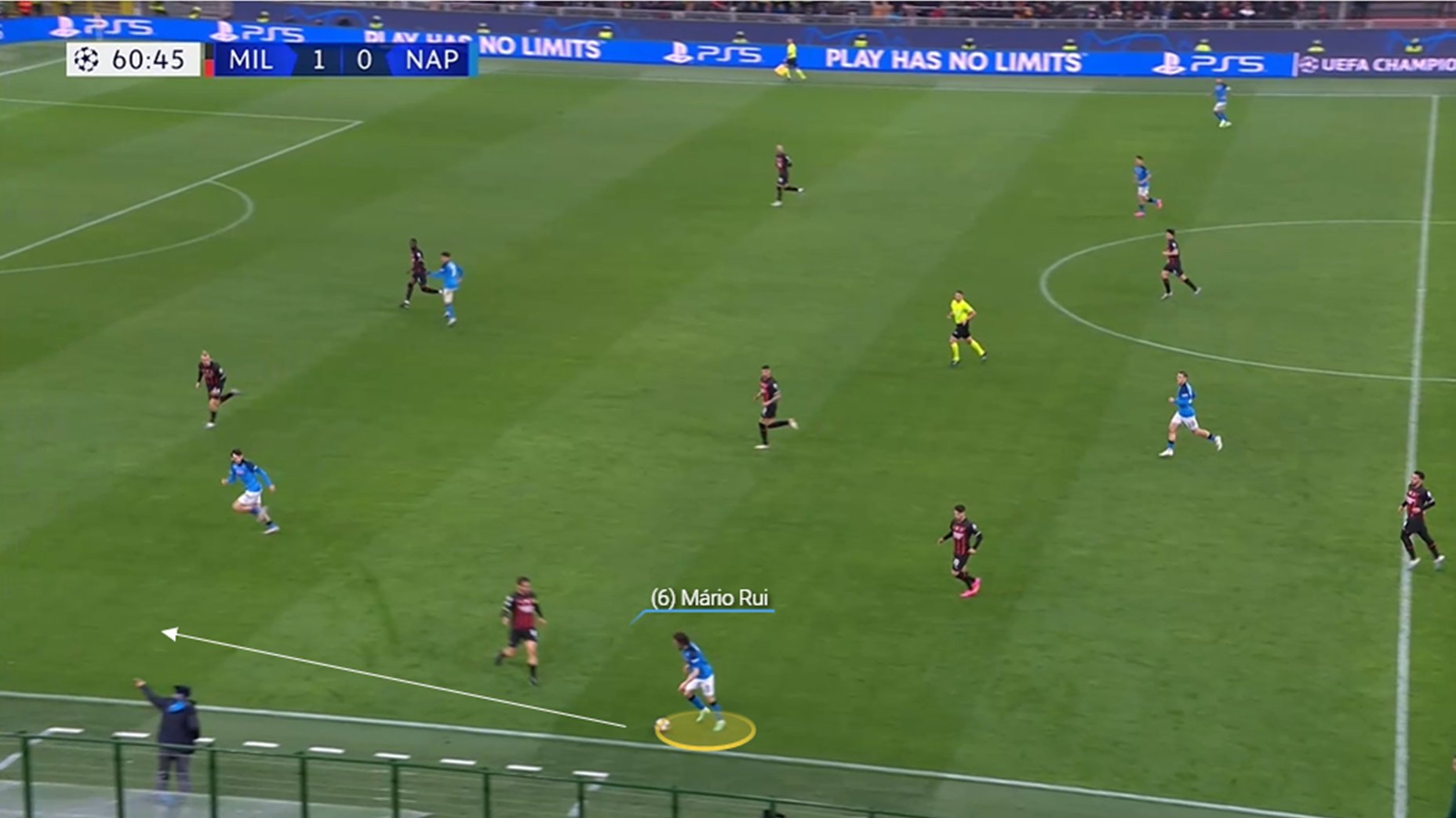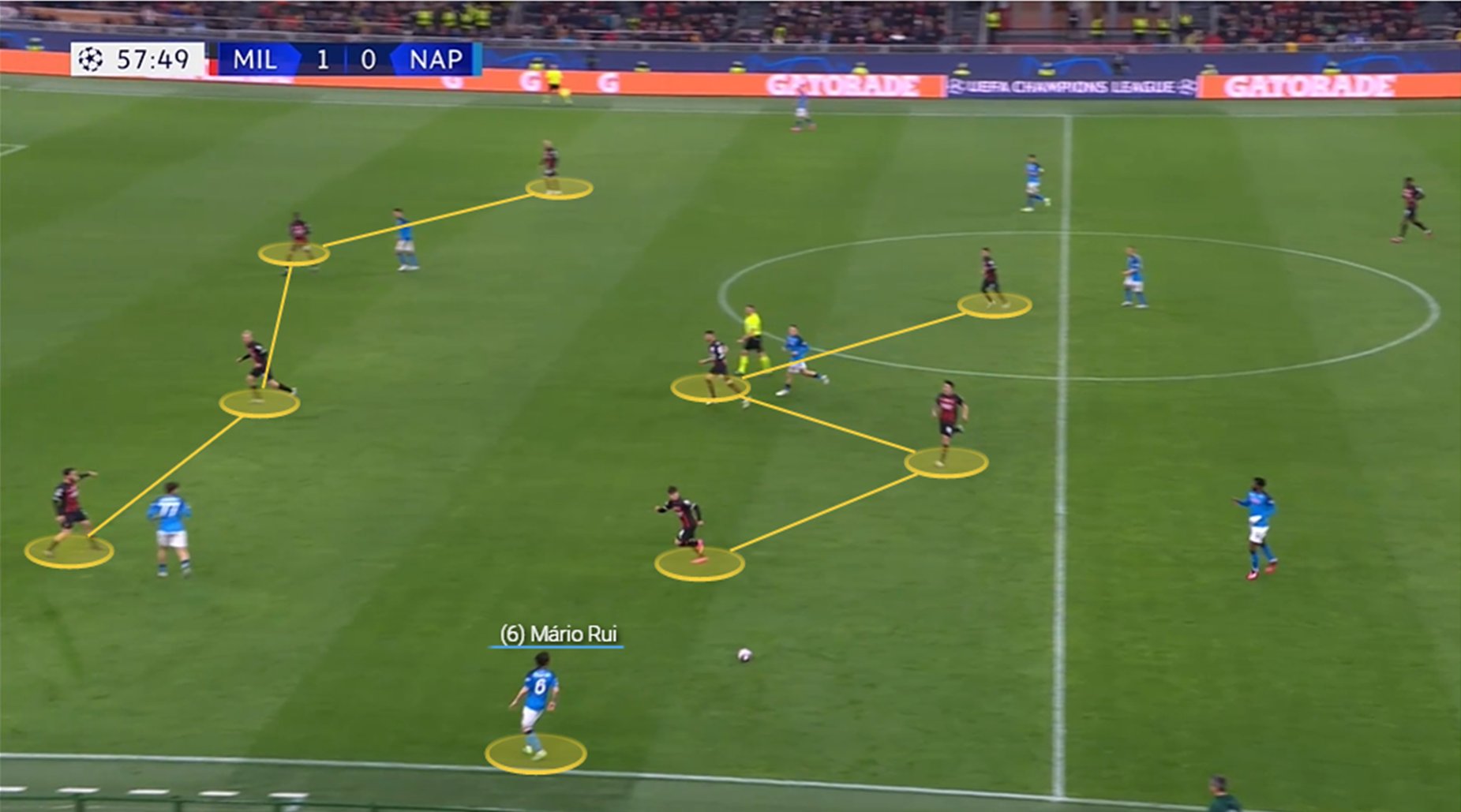 Napoli didn't create too many chances though when Milan were ahead as the home side were astute in terms of managing a lead dropping off into a 4-2-3-1.
The Rossoneri midfield also covered off options in the middle to stop them funnelling the ball forward, to the extent that Anguissa had to drop extremely deep.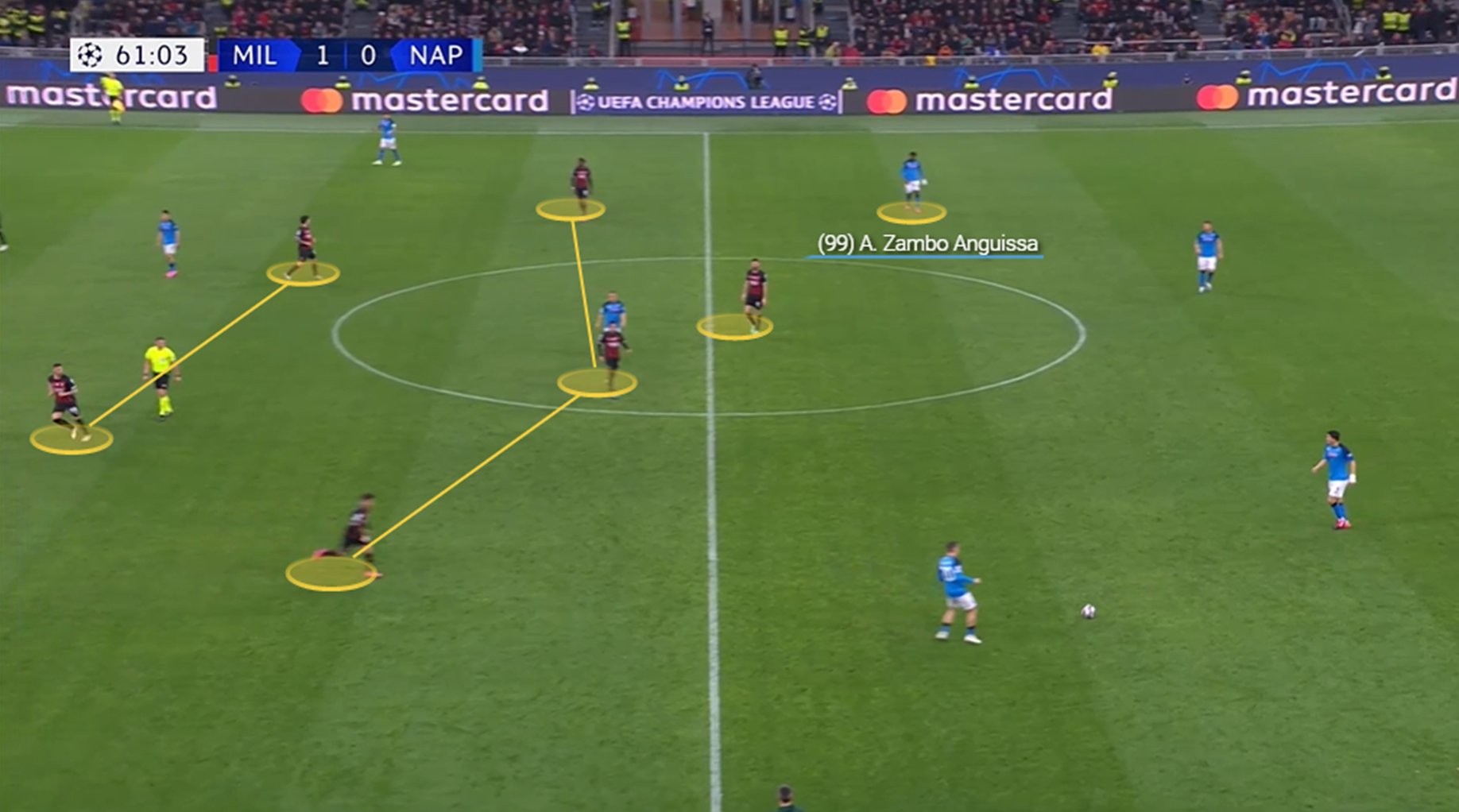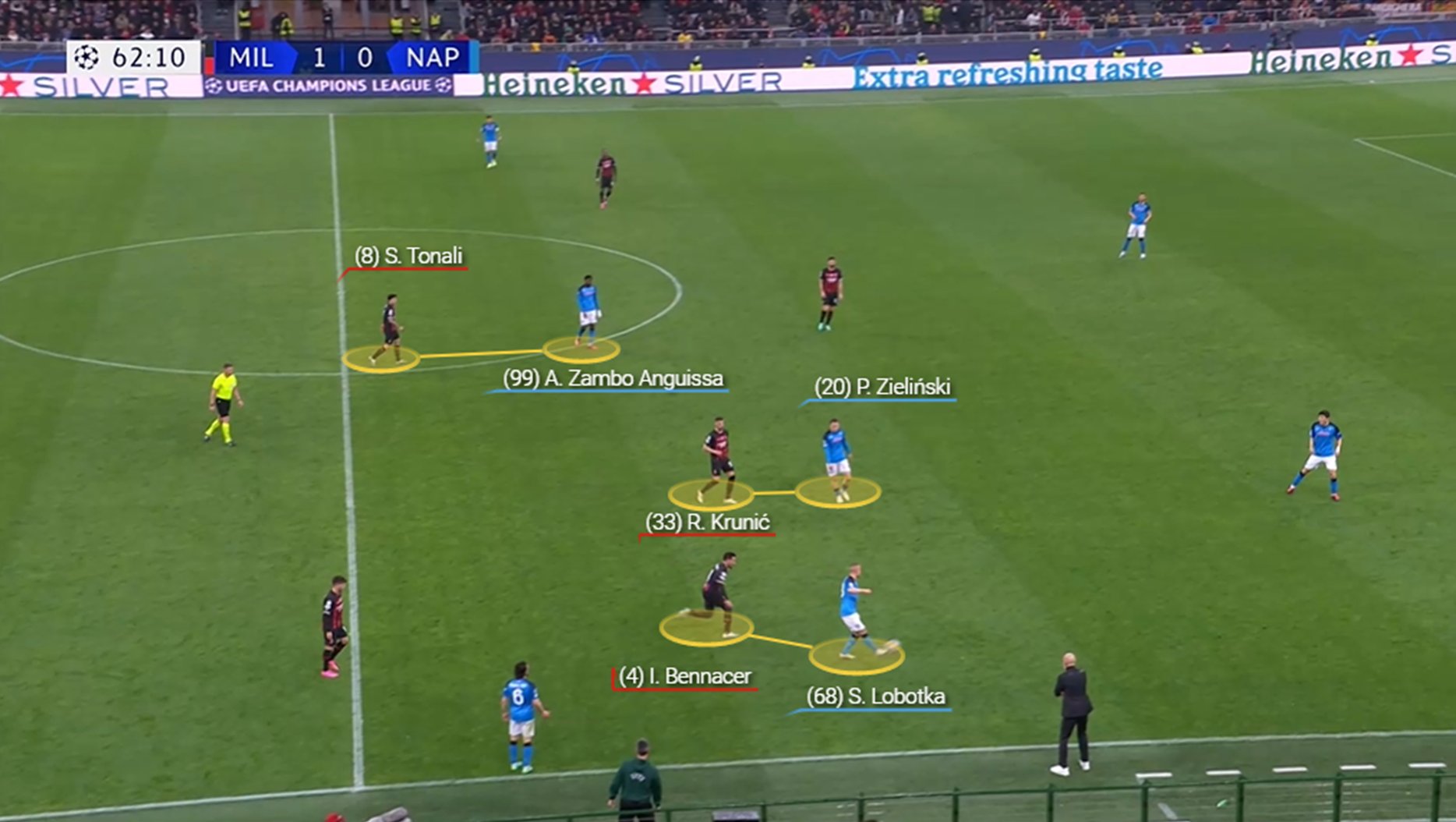 Pioli brought Saelemaekers on later to drop in and take care of Mario Rui's galloping runs. Milan though are a miserly side that can defend a lead, with Osimhen back next week it will be intriguing completion of the trilogy between the two teams.
Conclusion
In stark contract to the 4-0 victory at the Maradona earlier in the month, Pioli's side proved on Wednesday night that they can soak up pressure for periods when Napoli are clicking and then grow into the game, hurting them at the other end with pace, skill and attacking weapons.
However, the tie is by no means over and there may even be some regret about not getting a second goal with a man advantage. It sets up a fascinating return leg, where it feels the first goal will be absolutely crucial.