AC Milan fans would have been forgiven for thinking things couldn't get much worse heading into the Lazio game after the 3-0 loss to Inter. However, they were mistaken.
Milan needed a response after a dismal Supercoppa derby defeat in Saudi Arabia that had continued a terrible start to 2023, but it did not arrive. For the third game in a row Stefano Pioli's men found themselves two goals down at half-time, with Sergej Milinkovic-Savic and Mattia Zaccagni each netting for the hosts.
Unlike the Lecce game there would be no heroics this time though, as a penalty from Luis Alberto and a fourth from Felipe Anderson condemned the Rossoneri to a hiding in the capital.
The defeat not only probably hands the title to Napoli – who now have a 12-point lead atop the table – but it leaves the top four race wide open with Lazio climbing into third and Milan now sitting just one point above Roma in fifth.
Below is a tactical analysis of the game at the Stadio Olimpico…
Another baffling start
Milan conceded after three minutes against Lecce after a strange defensive mix-up. They then conceded after less than 10 minutes against Inter having been breached very easily. So, you would think that there may be an air of caution going into a game against a side with 31 goals scored in 18 previous games.
Nonetheless, the two sides had barely even settled into the match before Milan absolutely gifted a goal to their hosts. The sequence below deserves an in-depth exploration, because it has become a theme this season which is equal parts worrying and inexplicable.
The big strength of the Scudetto-winning season was the defensive record in the second half of the campaign, more specifically the final 11 games when only two goals were conceded. The centre-back pairing of Fikayo Tomori and Pierre Kalulu were in turn a large part of that.
When they were in-form and they were confident it seemed they could do no wrong; their aggression and athleticism was a huge asset, and it made things very difficult for virtually every opponent Milan faced because they could not establish a presence in the final third.
That confidence has totally evaporated but the aggression has not, which results in one thing: mistakes. The main errors have been positioning-related so far in 2022-23 and especially this calendar year (see Tomori's disaster in the Supercoppa) and Kalulu committed a big one inside four minutes on Tuesday.
He steps out of the defensive line to follow Felipe Anderson, who was functioning as a false nine in this game given Ciro Immobile's injury. That was a pre-designed plan by Sarri to suck a centre-back out from the four and then to have players occupy the space between Milan's defence and midfield, which is now virtually ever-present.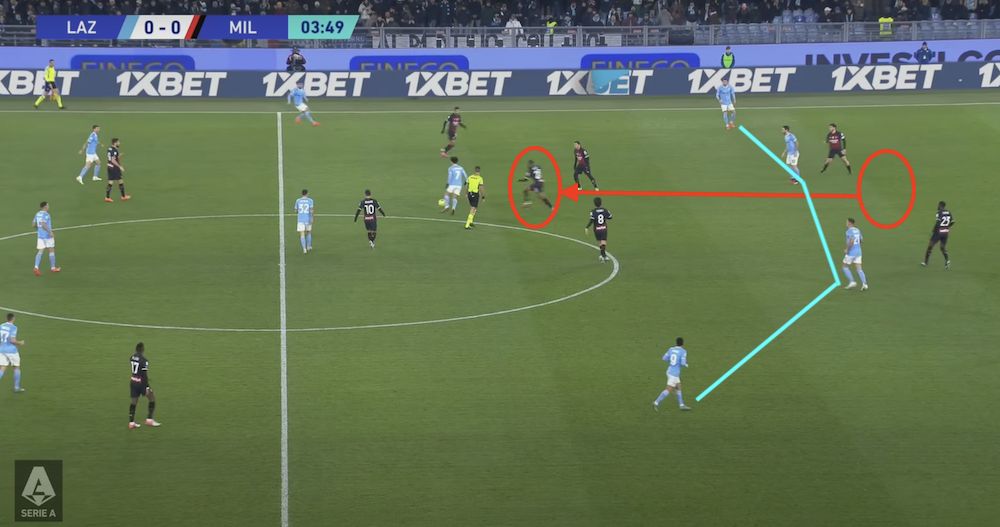 Kalulu follows Anderson towards the halfway line which forces Calabria to tuck inside and cover for Luis Alberto who has taken up a centre-forward position of sorts. Mattia Zaccagni – who gave Davide Calabria the run-around all night – is the spare man down the left flank, with Sergej Milinkovic-Savic pushing up to form a four-man frontline.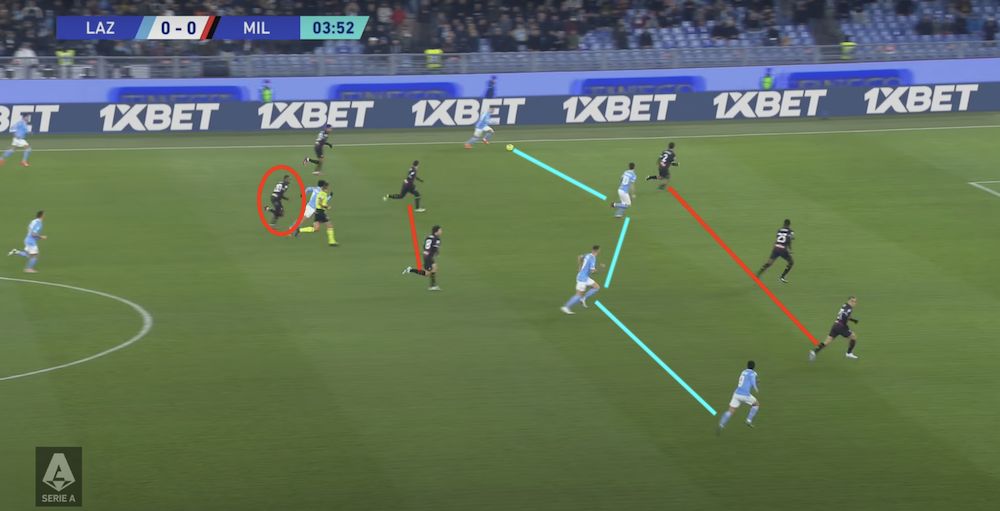 When the ball is released out to Zaccagni on the wing the problem becomes apparent. Kalulu (circled) is now way behind the play and the double pivot of Sandro Tonali and Ismael Bennacer see their men have got away from them.
Calabria is now concerned about the run of Zaccagni down towards the byline with Tomori eyeing the run of Luis Alberto and Sergino Dest checking over his shoulder to see Pedro is arriving. It didn't take much, but Lazio all of a sudden have a 4-on-3.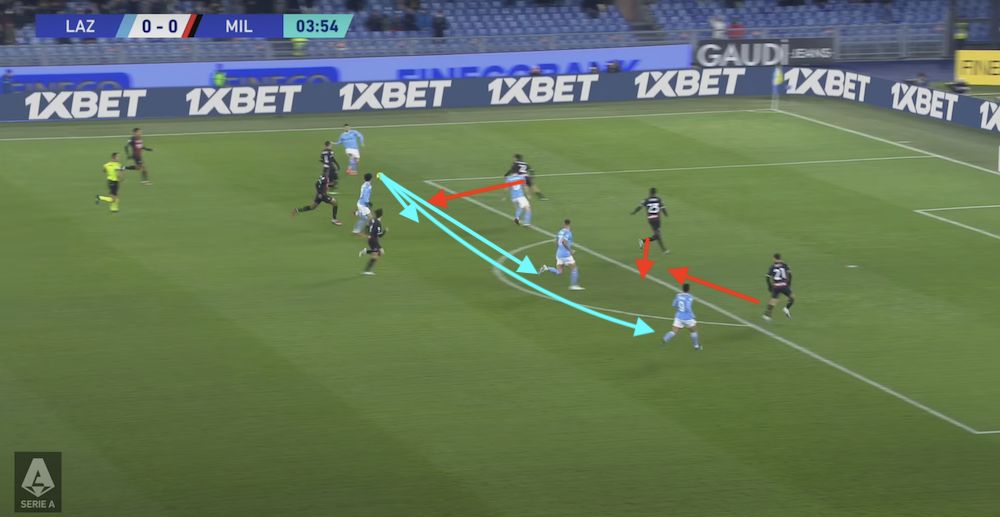 When Zaccagni squares up to assess his options, Calabria is the only man who pushes up to try and cut off the supply into the box and he almost does so.
Meanwhile the midfielders are trying to keep up with Felipe Anderson's run, Tomori is pointing for Luis Alberto to be covered essentially leaving Milinkovic-Savic and Pedro on Dest, who does not know whether to step in or drop.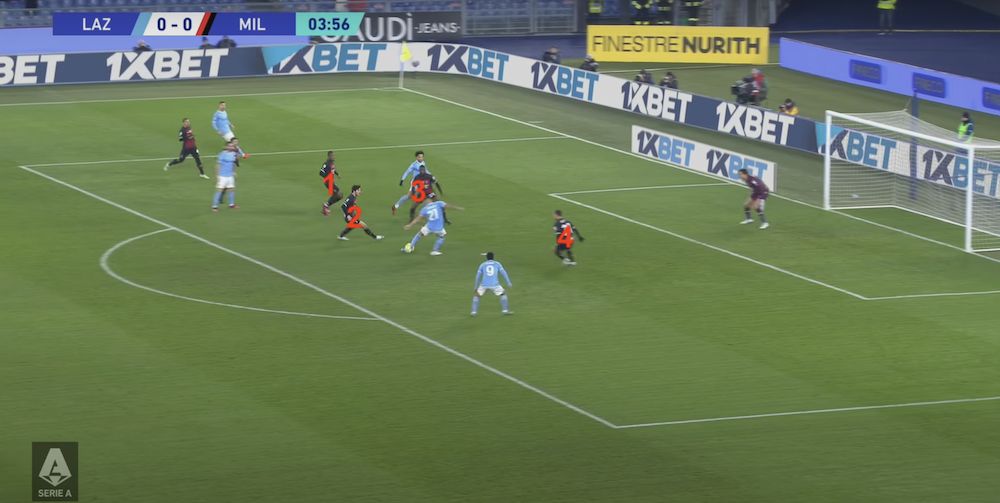 The end result is that there are four Milan players within five yards of Milinkovic-Savic as he shoots, but none of them get anywhere near blocking his shot. Football at the highest level is fine margins in each passage of play; last year the Rossoneri seemed so much more organised and sharp to cut out such danger.
As a brief aside – and he is by no means to blame for this goal – look at where Ciprian Tatarusanu is stood as Milinkovic-Savic shoots. He is hugging his near post, and yet still gets beaten very easily at that side, showing his very limited shot-stopping ability.
A little help from your friends
For those who question if there is an imbalance in the way the right and left flanks operate for Milan, the passage below should answer any of those doubts.
Rafael Leao is often the furthest forward of any Milan player, which is logical given he is a match-winner on his day and his pace in transition can unlock most defences, yet this is something Lazio exploited quite well to generate numerical overloads.
If on the right side Milan have a winger in Junior Messias or Alexis Saelemaekers who will track back and put in a defensive shift, the left side is not. In addition to that, Theo Hernandez was not at left-back and with Dest adapted to his non-natural side, Sarri saw a chance to exploit.
With Pedro in possession below as Dest coming out to challenge the ball carrier, there is space opened up down Milan's left side. Marusic goes on a bombarding run towards the 18-yard box aware that he is going to beat Tonali in a footrace, if the midfielder even bothers to go with him.
The rest of Milan's defenders are prevented from stepping over to help because Lazio have lined up with three forwards near the edge of the box. Leaving one of them would cause another outnumbering.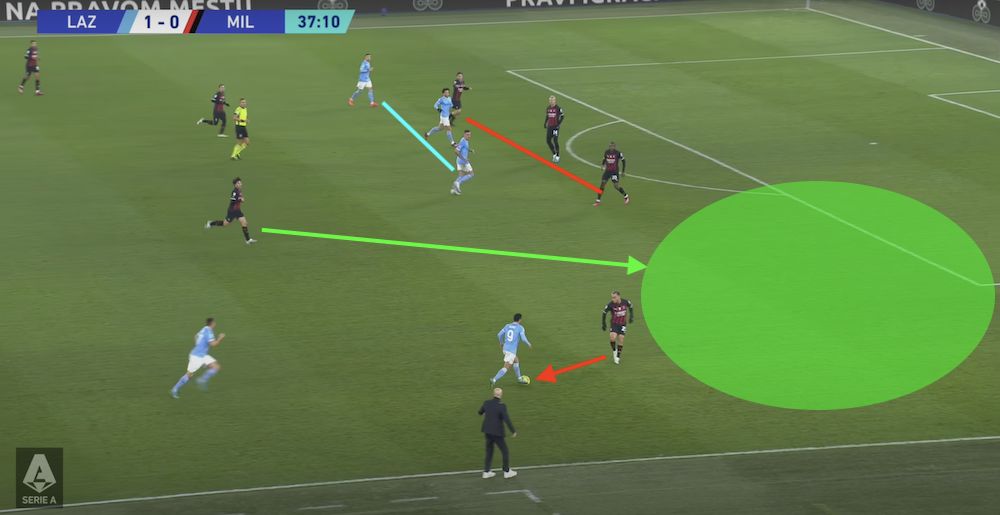 Pedro waits and releases a perfectly weighted through-ball to a virtually unopposed Marusic, whose shot glances off Tatarusanu onto the post where Zaccagni essentially fell into the ball to make it 2-0.
Two important notes to this: firstly, Dest got very little help from the midfield or the other players in the defensive department, so his share of the blame is not 100%. Secondly, Kjaer and Calabria actually did well to limit the passing options for Marusic and force him into a shot from a narrow angle that on another day could have come to nothing.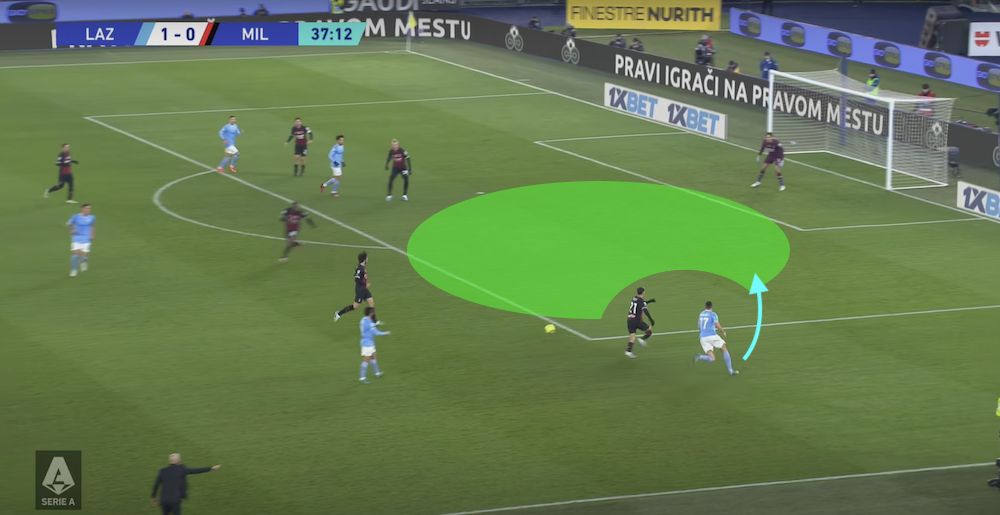 However, the same theme remains: it no longer takes much to carve Milan open and score against them. These are designed plays to target obvious weaknesses in individuals and in the collective approach, but they are far from elaborate blueprints.
Often one pass is all it takes, and the result is that Pioli's men were 2-0 down at half-time for the second straight game, left with a mountain to climb and needing to take further risks in order to get back into the game.
The importance of communication
We'd have a hard time picking which of the four goals demonstrated the worst defending, but Lazio's third certainly feels like the one that exposed the deficiencies the most.
It starts with the problem talked about above, as Milan found themselves 2-0 down and thus needing to commit more bodies forward to try get back in the game. The player circled in red is the left-back Sergino Dest, and in blue is his man Pedro, who comes into the frame in a decisive way later.
A ball is knocked in behind the right-back Calabria in the vague direction of Felipe Anderson who sets off running and was always going to beat Kjaer in a race. The deepest player in the picture is Bennacer, with Kalulu just off frame.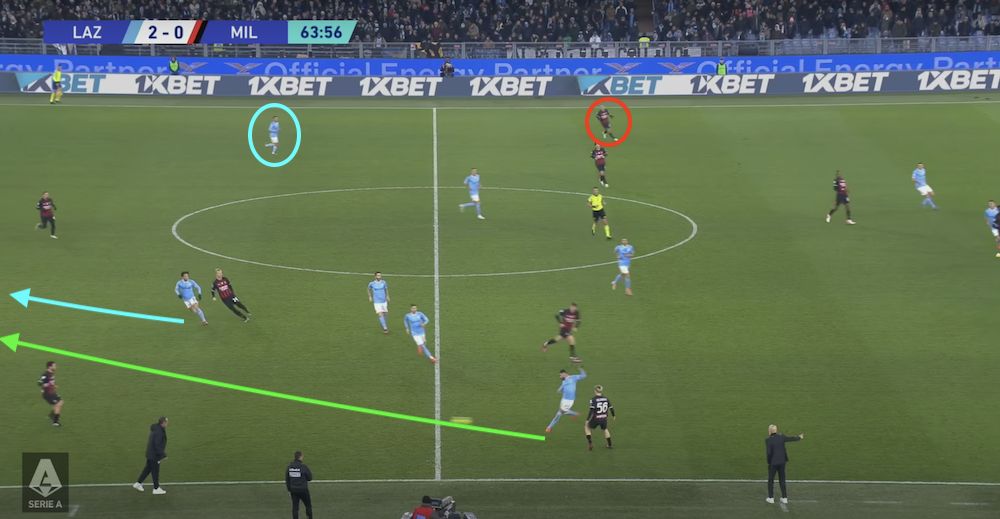 Moving along slightly, another important point about Tatarusanu comes to light. If Mike Maignan was fully fit and in goal, he sprints off his line to clear that ball and potentially even starts a counter-attack given his distribution.
However, Tatarusanu is static and allows the ball to run towards the area, by which point it comes apparently that Anderson is going to get there before all the backpeddling defenders.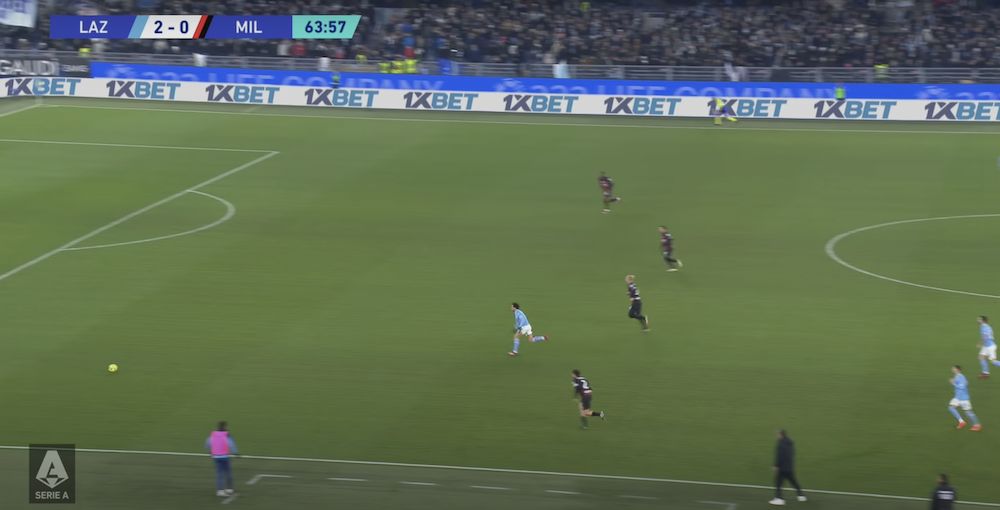 As the ball is cut back towards the penalty spot, Calabria and Bennacer can see that Pedro is rushing onto the ball. The man who cannot is Kalulu, with the Spaniard sprinting from behind him and getting to the ball first right as the Frenchman swings a leg to clear.
Could a shout have come from one of the players who could see what was about to happen? Did it all occur too fast? Possibly, Kalulu is also guilty of standing and waiting for the ball rather than rushing and clearing. Another collective disaster.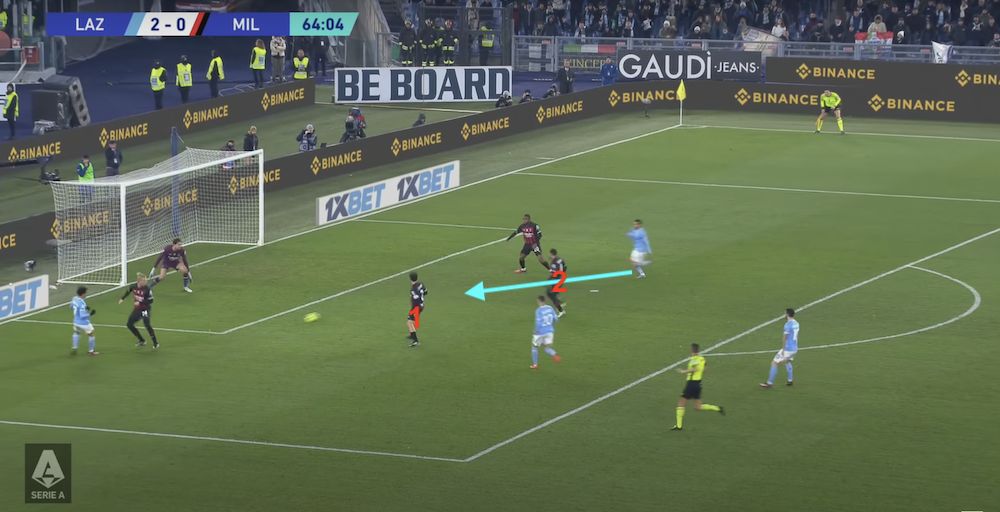 Bad to worse
Calabria had a torrid night trying to stop Zaccagni, who seemed to get the better of him on most attacks, so towards the end of the game Kjaer was being dragged over to try and help out.
The Dane vacating his usual position exposes Kalulu who now has acres of space ahead of him, which Luis Alberto attacks, and Bennacer does not follow the run of the Spaniard into the box.
Felipe Anderson meanwhile sees the opportunity opening up and drifts into an area around the penalty spot, hoping Alberto will get possession and feed him deep inside the box because of the lack of protection. Dest is on the far right of the screen, and again does little to help.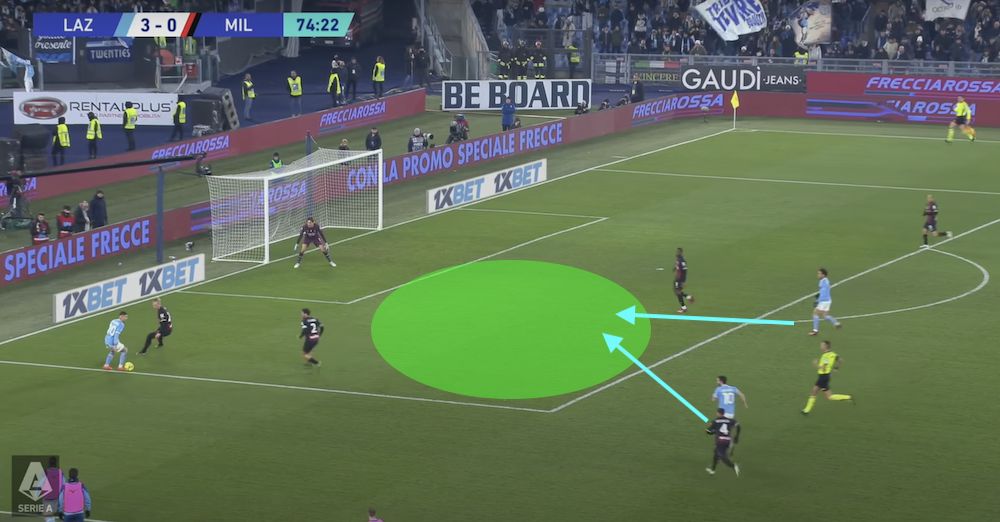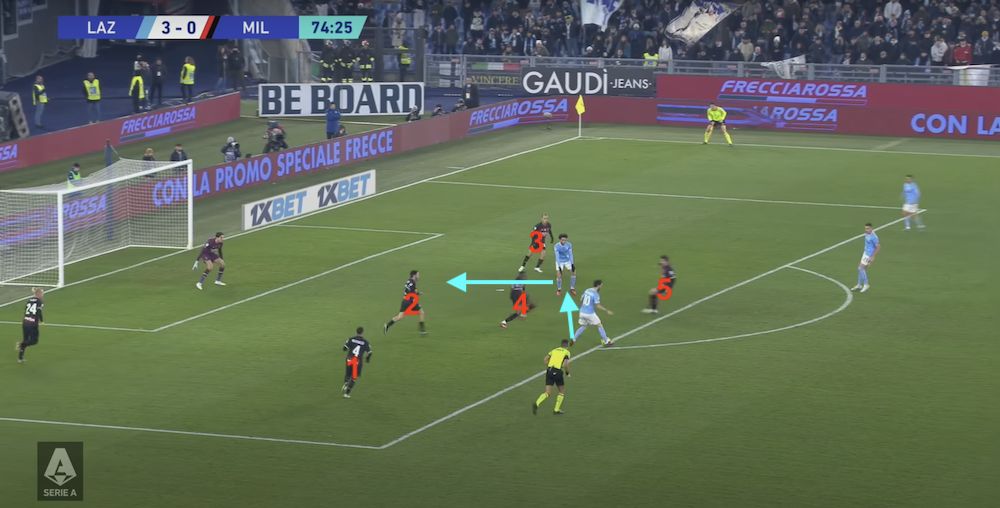 Notable difference
The incoherent mess that Milan are going through tactically also extends to the attacking department. There is no longer patient build-up play, and instead the focus is more on playing direct to Giroud and hoping for flick-ons, or looking for Leao regardless of the position he is in.
The two frames below are a demonstration of how the build-up has changed right from the back. Maignan's absence is being felt not only because of his leadership, aerial command and shot-stopping, but also his ball-playing ability too.
With the Frenchman, Milan used a 2+1 base to build from, with the centre-backs splitting and Maignan able to play the ball or a midfielder dropping between the centre-backs. This allowed the full-backs to receive the ball in motion and up the field. The below screenshot is from last season's game.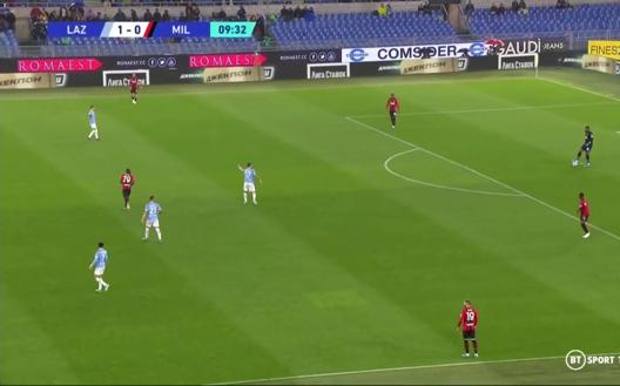 With Tatarusanu, Milan must bring an extra man back as the Romanian is not as good with his feet, so it is more of a 3+2 with three defenders playing the ball and the double pivot remaining deep.
This in turn attracts a more aggressive press from Lazio who are one of the better sides at hunting in a pack, and Milan have already shown for large parts of this season that they can no longer play their way out of numerical superiority.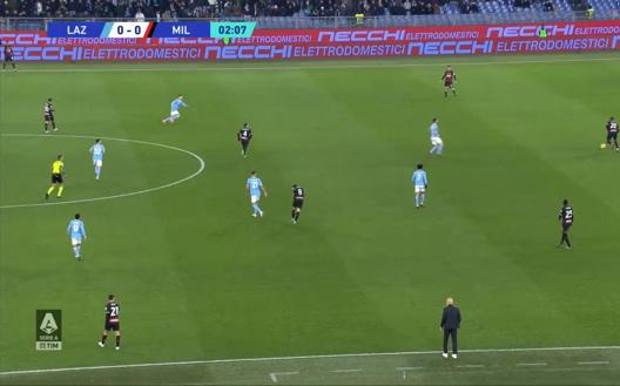 Conclusion
When it rains, it pours. Milan's defensive issues are not only remaining constant but they seem to be getting worse, and Pioli simply must take the players back to basics to stop so many individual errors the contribute to the overall chaos.
Failure to keep the first attack of the game at bay increases the pressure on the forwards to get things done, but it must be highlighted that the Diavolo again were as toothless as they were spineless. Lazio have been good defensively this season, yet Milan gave Provedel a very easy night.