AC Milan got the first win of their 2021-22 Champions League group stage campaign, and it came through an impressive scalp as they beat LaLiga Champions Atletico Madrid 1-0 in their own stadium.
The only goal of the game had its own fairy tale story too, as Junior Messias scored not only his first Champions League goal, but his first for the Rossoneri and it came from his first shot for the club too. It is the latest chapter in an incredible journey, as the Brazilian was playing in the fourth division a few years ago.
The win means that Milan's slender hopes of making the knockout stages remain alive, and below is a brief tactical analysis of the game…
Early intent
Even though the first half ended up being goalless, it wasn't for a lack of trying as both sides looked up for a dogfight, committing bodies to every action area. Milan's set up was interesting as they played a bold forward line often containing four or five men, hoping to catch Atleti's three-man defence out with a spare man at the far post. The position of Milan's full-backs was crucial in deploying this, with more on that to come.
In this sequence the ball is played over Kalulu who whips a ball into a general area knowing he has four options to aim towards. He overhits his cross (or perhaps it was intended all along), finding Theo at the far post who slashed over.
The effect of these moments of disorganisation and quick switches of play is seen in the fact seven Atleti players end up collapsing into the box but with only two of them actually marking anyone. A touch and cut-back to the edge of the box may have therefore been a better option.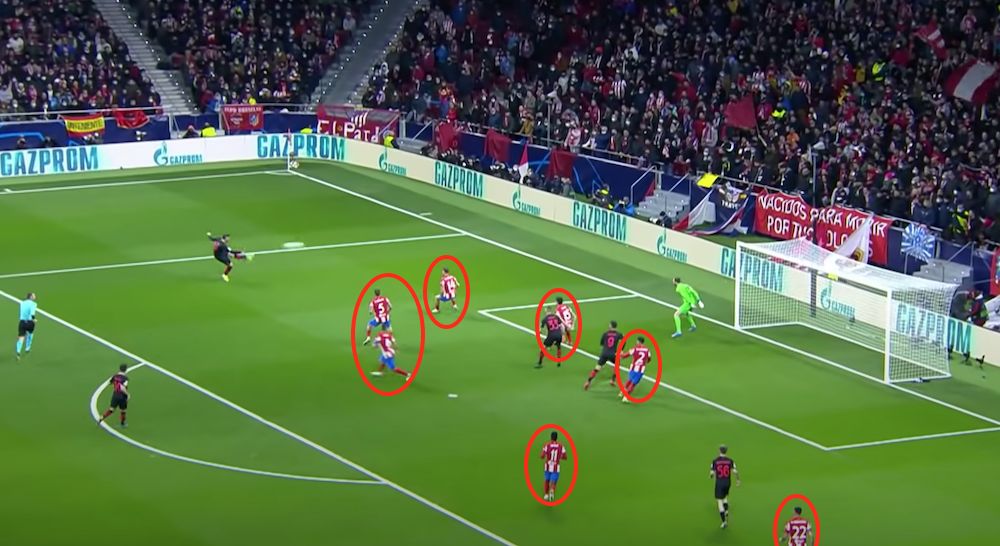 Brahim Diaz also found some early joy down the middle. An example of Milan's narrow attacking approach can be seen where the three players around the No.10 occupy the defenders in some capacity, and a space opens up for Brahim to weave into before shooting wide. His joy operating between the lines influences Simeone's instructions.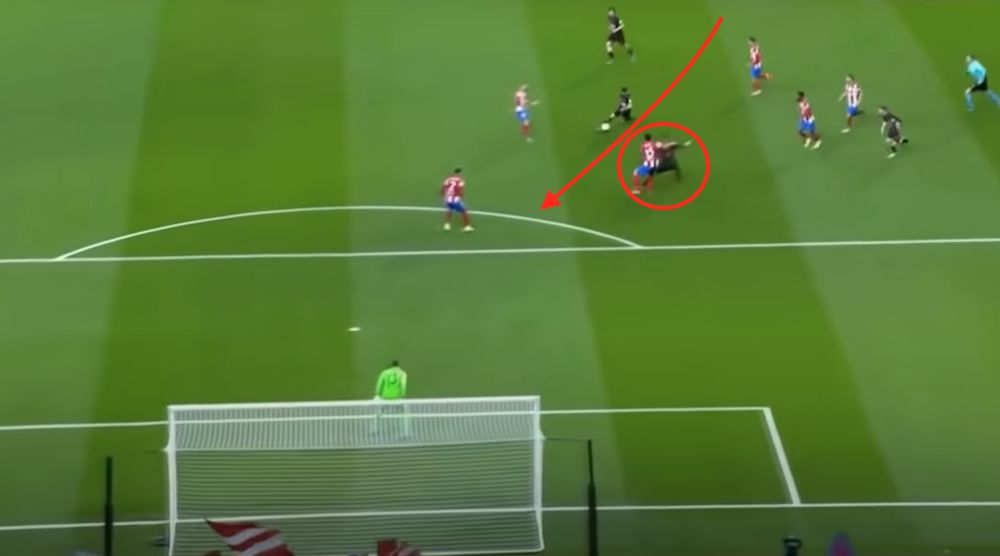 Defensive strategy
Milan put up a valiant fight at home against Atletico Madrid, playing with 10 men for most of the game before succumbing to two late goals. The equaliser showed that being flat-footed around a forward like Griezmann is dangerous, so this time Milan tried to cut out the crossing lanes by giving the man in possession very few options.
We have highlighted the three Rojiblancos players on the right side because it shows that Simeone may have actually been very cautious in his approach, knowing the risk of counters and perhaps also thinking that a draw would not be a terrible result, hence not committing bodies.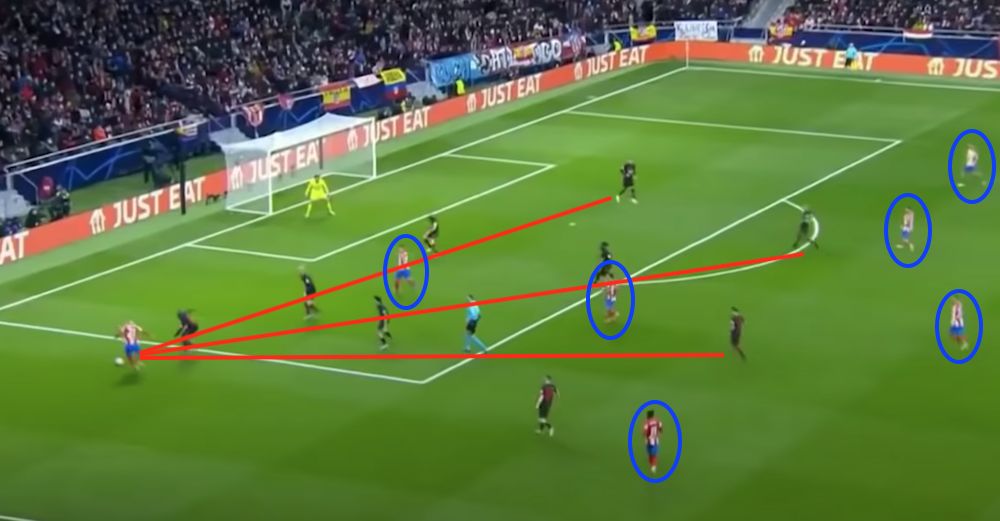 The Spanish side are a tad low on confidence which certainly looked to play a part as they have won 3 of their last 6 in the league, where they are fourth, and have won just once in Europe (vs. the Rossoneri).
Direct approach
Not every observation has some kind of deep-lying philosophical meaning, but one thing that was apparent from the first half is that Milan were quite direct when they got the ball, trying quick crosses on numerous occasions but often failing to execute.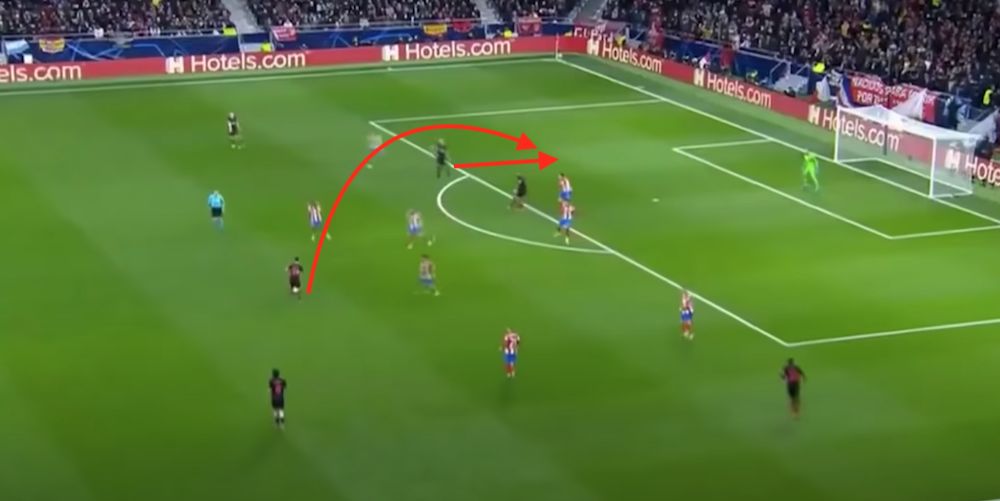 As the stills above and below show, it could have been a ploy to get Giroud and the second striker (Brahim or sometimes Krunic) quickly involved in attacks as they played close together when the balls did go over the top, implying some kind of knock-down strategy.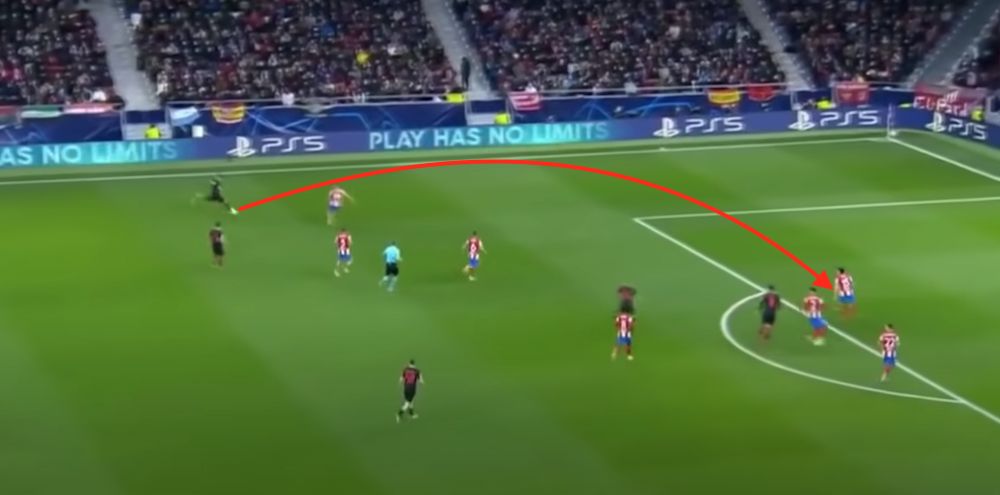 Growing in confidence
What was so pleasing to see was that Pioli again changed plans as he game went along. Some would criticise that as Milan were not able to impose their usual style, but what he did well was react quickly in a game that was precarious for both teams, realising there was an opportunity.
Compared to the wasteful crosses above, Milan began to commit more men forward to try and push Atleti's three-man defence and compact midfield back. The wing-backs enabled a spread threat while having players in and among the defensive line was a sign of things to come.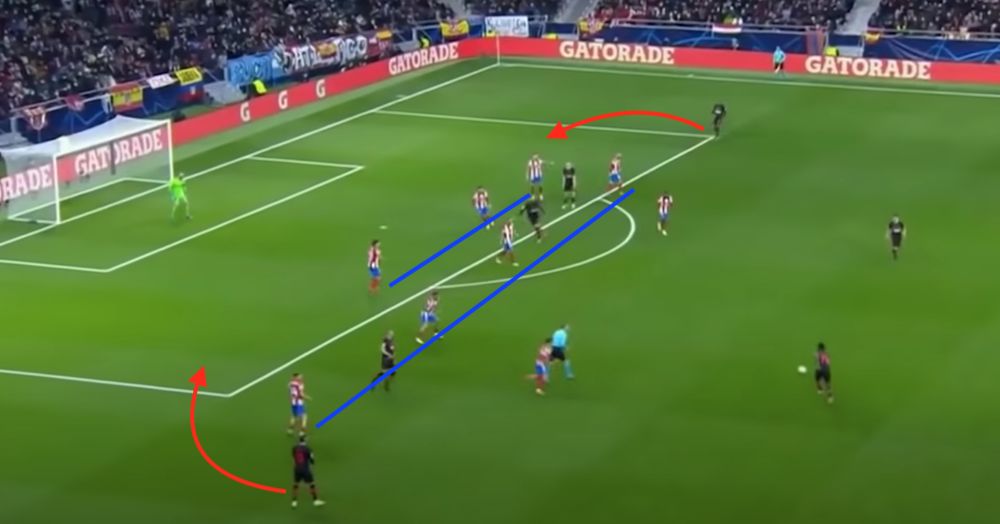 This is where the chances started to come. Not only did the Diavolo begin to get more players in the final third, but they were smart enough to recognise that the joy was coming down the left side of their attacks (as it tends to do).
There were several players in quick proximity which drew Atletico's half-hearted press over, freeing up a whole half of the field. Some quick interchanges and nice network passing – plus smart running off the ball – was all it took to get in behind twice.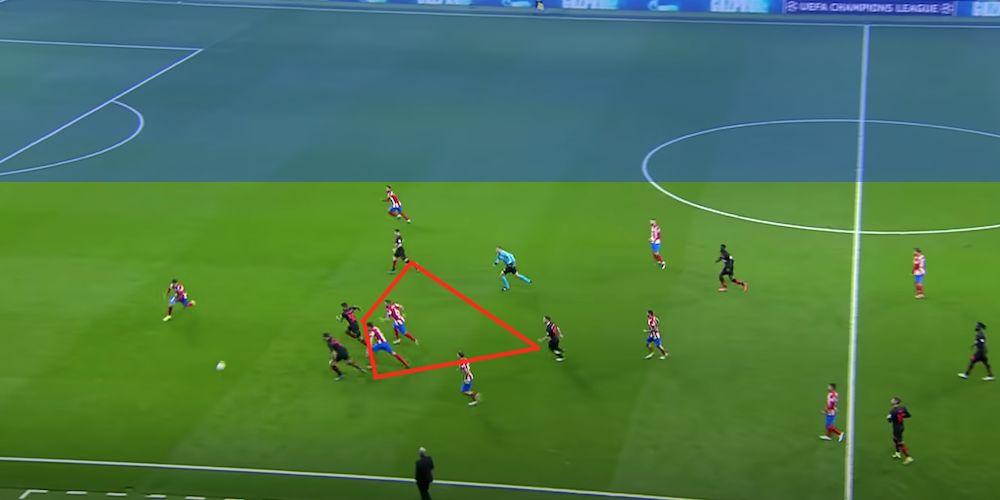 Messias took up an interesting position too as he seemed to roam across the forward line. Although a right winger typically or a No.10, he occupied the left here and laid the ball on a plate for the late arrival of Bakayoko who saw his shot blocked.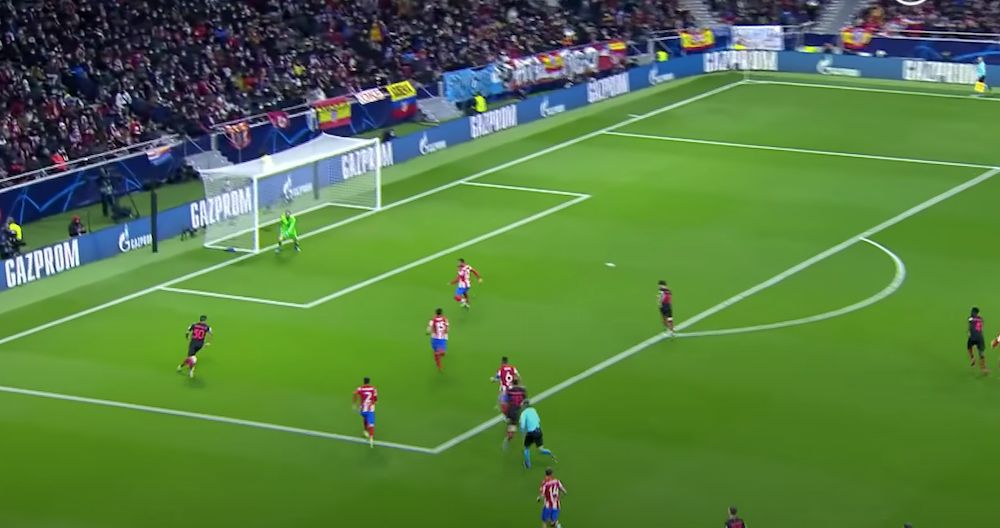 In this sequence, the premise is the same with six players in Atletico's half on the left side of the field, but this time the runner on the far side keeps the left-sided centre-back occupied.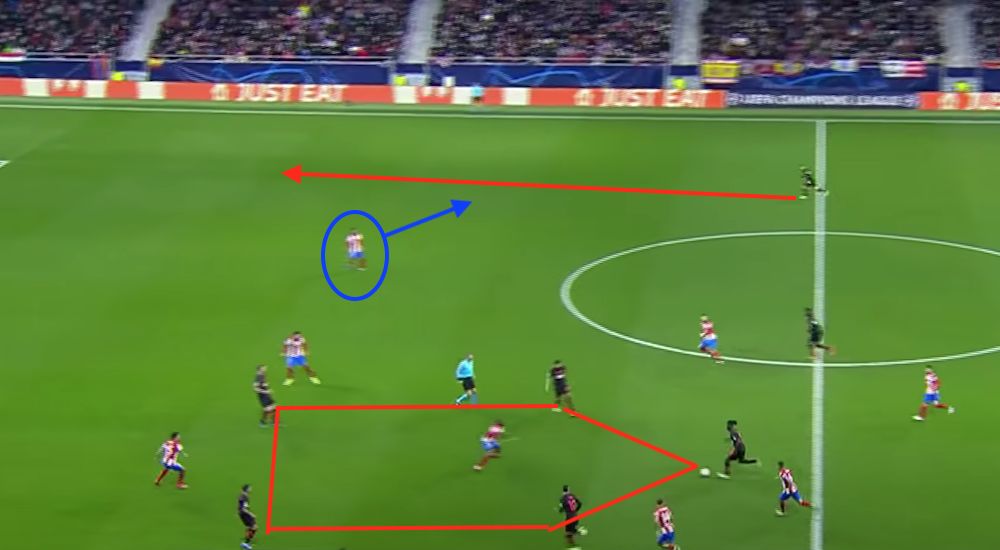 There is even more space and disorganisation to exploit as a result, with Ibrahimovic getting himself in behind but Oblak saving excellently.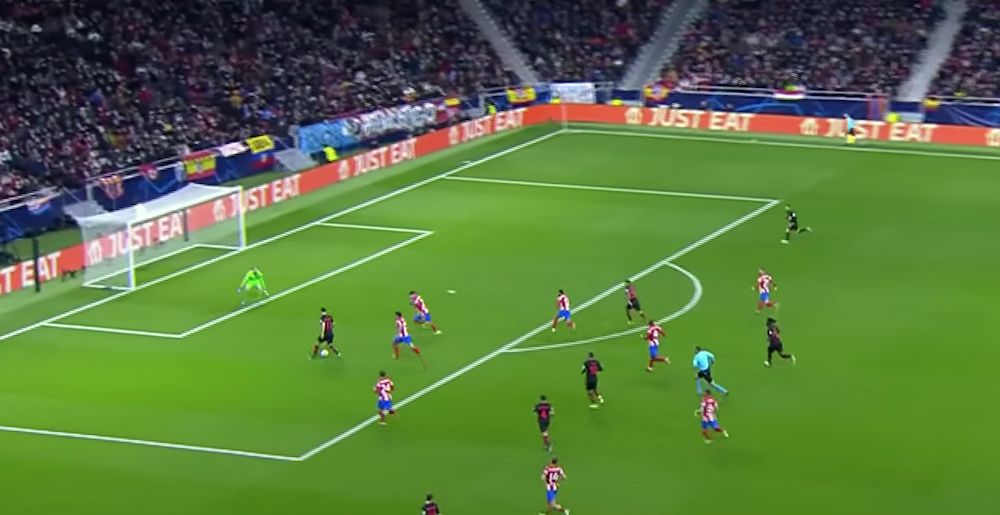 The breakthrough
The balance of play in the last 20 minutes has many people feeling Milan deserved to edge the game, and they are right because only one team wanted to win.
The goal actually begins in a different way to the left-heavy moves analysed above as Theo Hernandez has space in possession because the six men on the opposite flank had drawn a tiring Atleti rearguard over.
Three players are worth circling here: the man on the right is the goalscorer Messias, the man in the middle is Kessie making a run towards the left corner and at the bottom is Saelemaekers, playing on the opposite flank.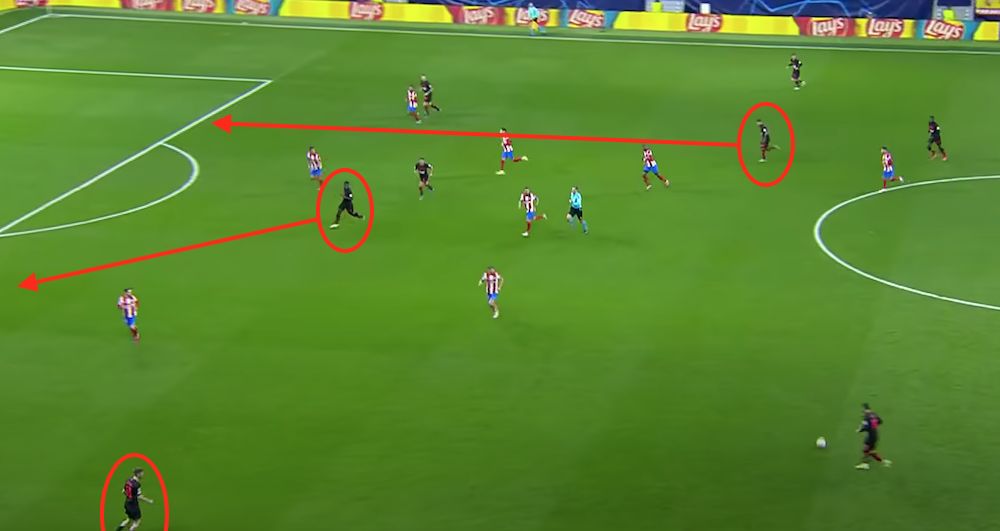 Kessie receives the ball and dinks in a fantastic cross, with Messias still in full flow from his attacking run to get between two centre-backs and finish.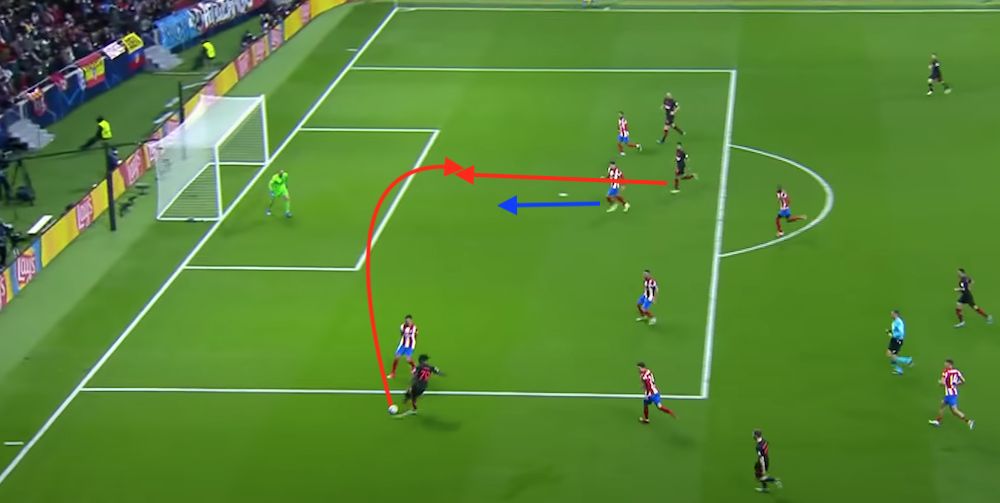 Warning signs
From what happened after the goal, Milan were lucky to emerge with three points as they switched off right at the end. With more men now committing forward, Theo gets beaten clumsily which allows a cross from a dangerous location.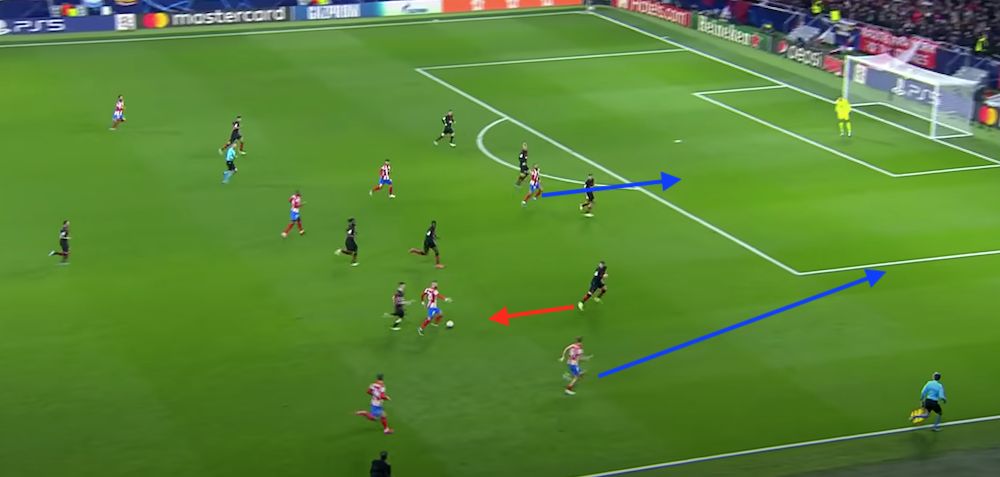 Being flat-footed cost the Rossoneri in the reverse fixture and nearly did here as Romagnoli watches the ball go across, him but thankfully the substitute Cunha didn't finish.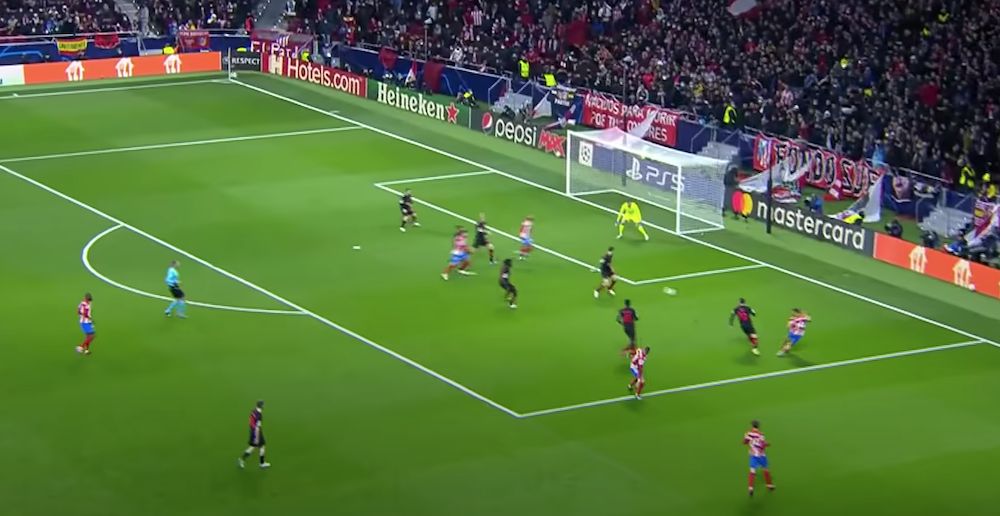 The data
La Gazzetta dello Sport had the average positions of each of the starting XI for the game, with some interesting points worth noting. The first is that Alessio Romagnoli (13) took up a deeper defensive role in general than his parter Simon Kjaer (24), most likely due to their different assignments in stopping the supply to Suarez and Griezmann, with the latter dropping in more.
The second point is how high up the full-backs were for Milan, and Kalulu (20) was actually further forward overall than Theo Hernandez (19), but both were over the halfway line. The double pivot operated where you might expect, but the cluster of four forwards shows a clear strategy.
The Rossoneri were trying to create an overload down the middle as seen by how narrow Saelemaekers (56), Brahim Diaz (10) and Rade Krunic (33) played relative to the No.9 Giroud.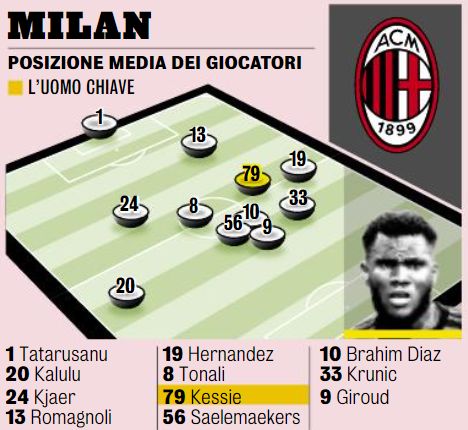 Finally, we finish with a couple of resources from WhoScored. Firstly, the pass completion percentage (display inside each player's circle) shows that Milan's back seven players – when including Tatarusanu – were much less wasteful as all had over 84%. Atletico meanwhile from Oblak up to Koke and including Lemar were all in the 70s or below, bar one.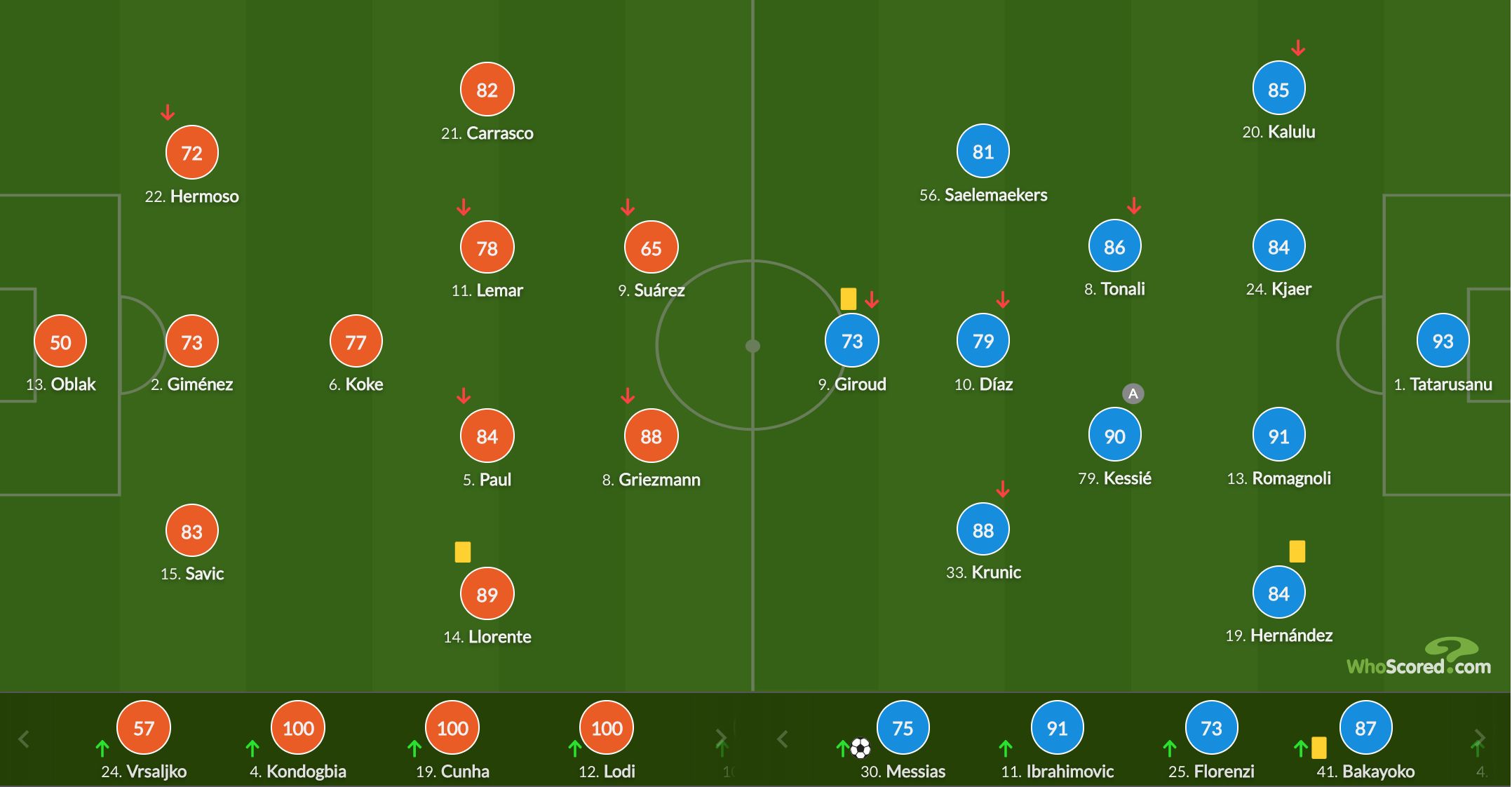 This is perhaps why Milan had so many more touches, and managed to establish a much bigger presence in Atletico's half than vice versa, as the heat map shows.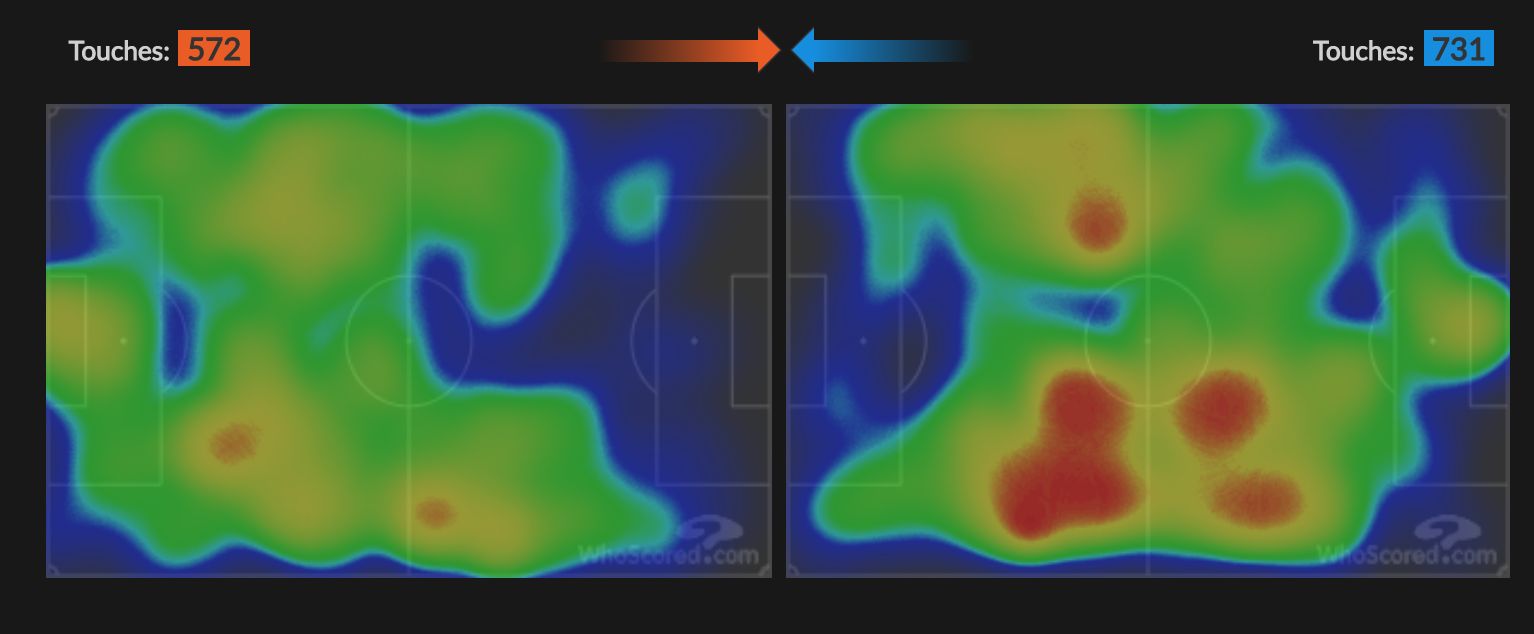 Conclusion
Even though it was not a vintage performance from Milan by any means, it was very reminiscent of some of the memorable European nights. Effective, calm and ultimately victorious. This is Pioli's first scalp in the Champions League and outfoxing one of the competition's veterans in Diego Simeone is something to be proud of.
Milan may not go through regardless, but this is the kind of game that shows another group of death draw next season might be dealt with better. Learning and growing are once again the operative words.
---
RATINGS: Atletico Madrid 0-1 AC Milan – Messias saves Rossoneri; captain shines