AC Milan managed to make it eight wins out of nine to begin the Serie A season by beating Bologna 4-2, but the scoreline doesn't tell the full story in what was a game full of drama.
It was a match that had Milan fans having their hearts in their mouths as the Rossoneri gave up a two-goal lead despite having a man advantage at the time, but a second red card proved too much for Bologna to deal with as Ismael Bennacer and Zlatan Ibrahimovic's goals sealed a win that moves Milan level at the top with Napoli.
Nine-man Bologna made Milan toil for their win and struggle as the Rossoblu never seemed to tire but in the end the numerical disadvantage caught up to them. Here is a small tactical analysis of the match…
Milan played their usual 4-2-3-1 line up with Ibrahimovic leading the line and Rade Krunic as a makeshift No.10 and Samu Castillejo as the right winger. They shifted into a 4-4-2 when off the ball particularly extending to the right flank, owing to the threat of young Scottish full-back Aaron Hickey.
They played a very high line (as can be seen below) trying to reduce the size of the pitch and limit Bologna's passing options.
Shape shifting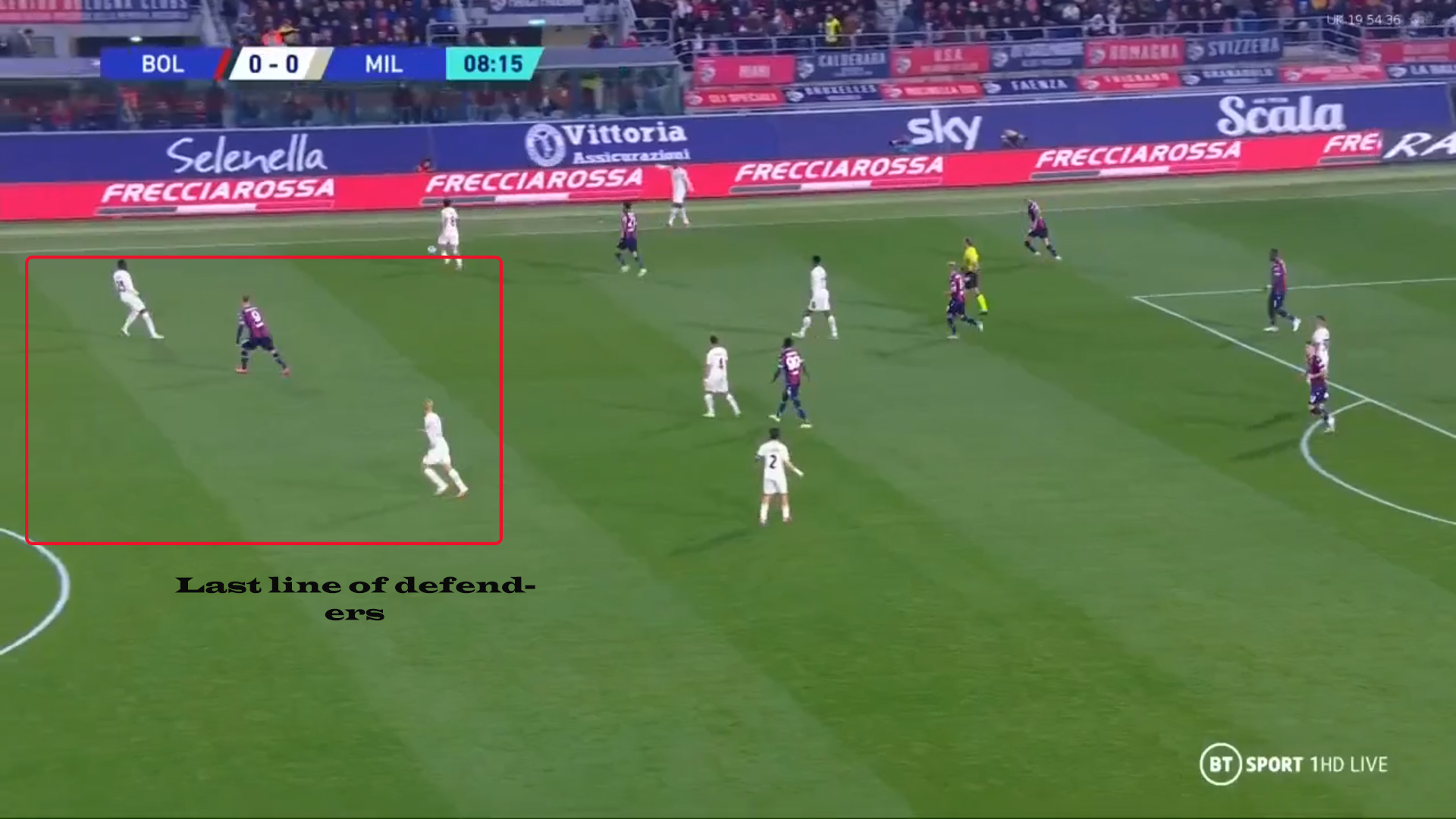 Bologna meanwhile lined up in a 3-4-2-1 changing to a 5-2-3 off the ball with Mihaljovic looking clog the centre and not allow the wings to be overloaded with a defensive double pivot.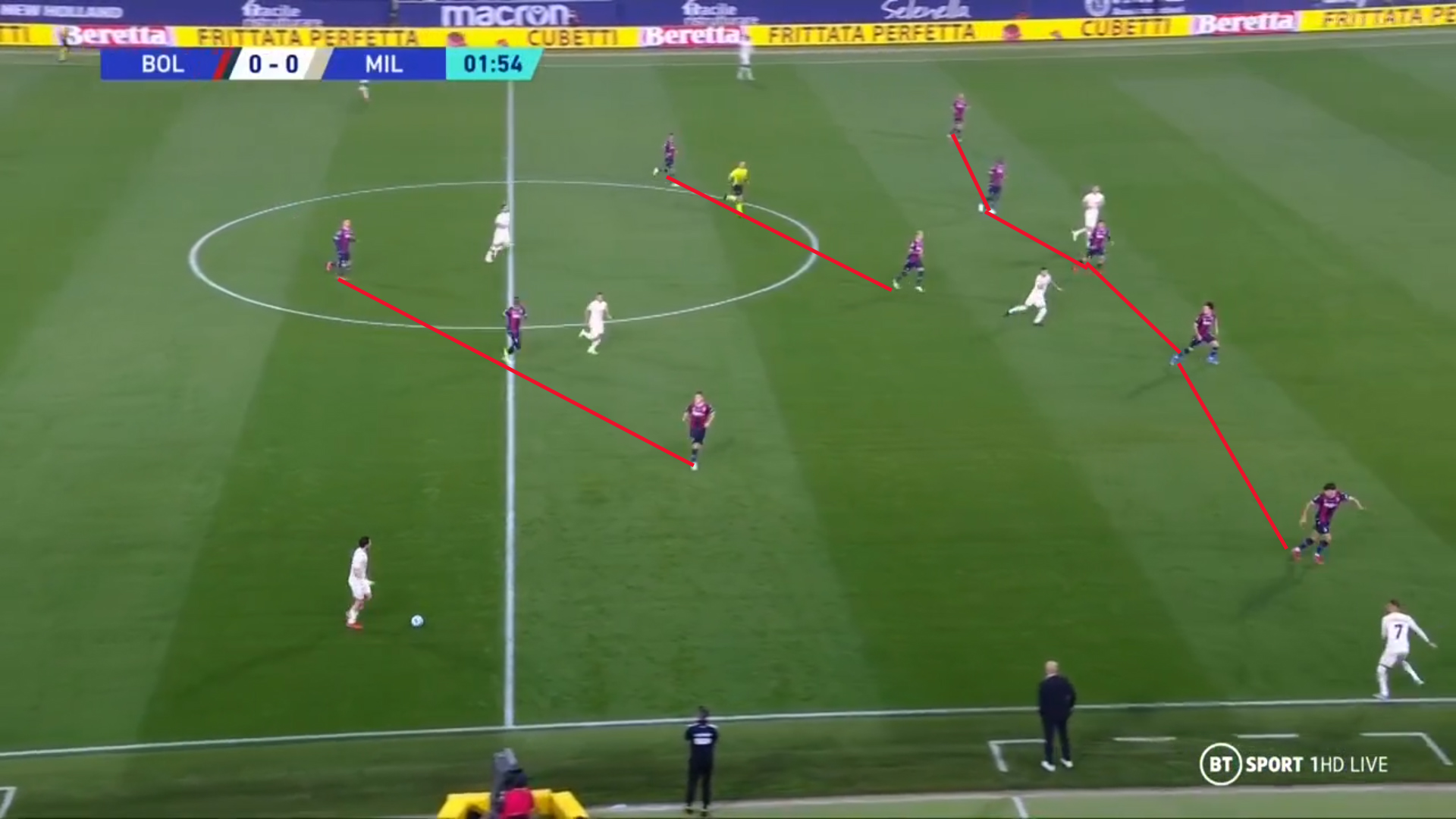 Milan often used positional rotations and passing triangles on the right to build play with Castillejo placing himself between Hickey and Theate, trying to create space for Calabria behind the defence.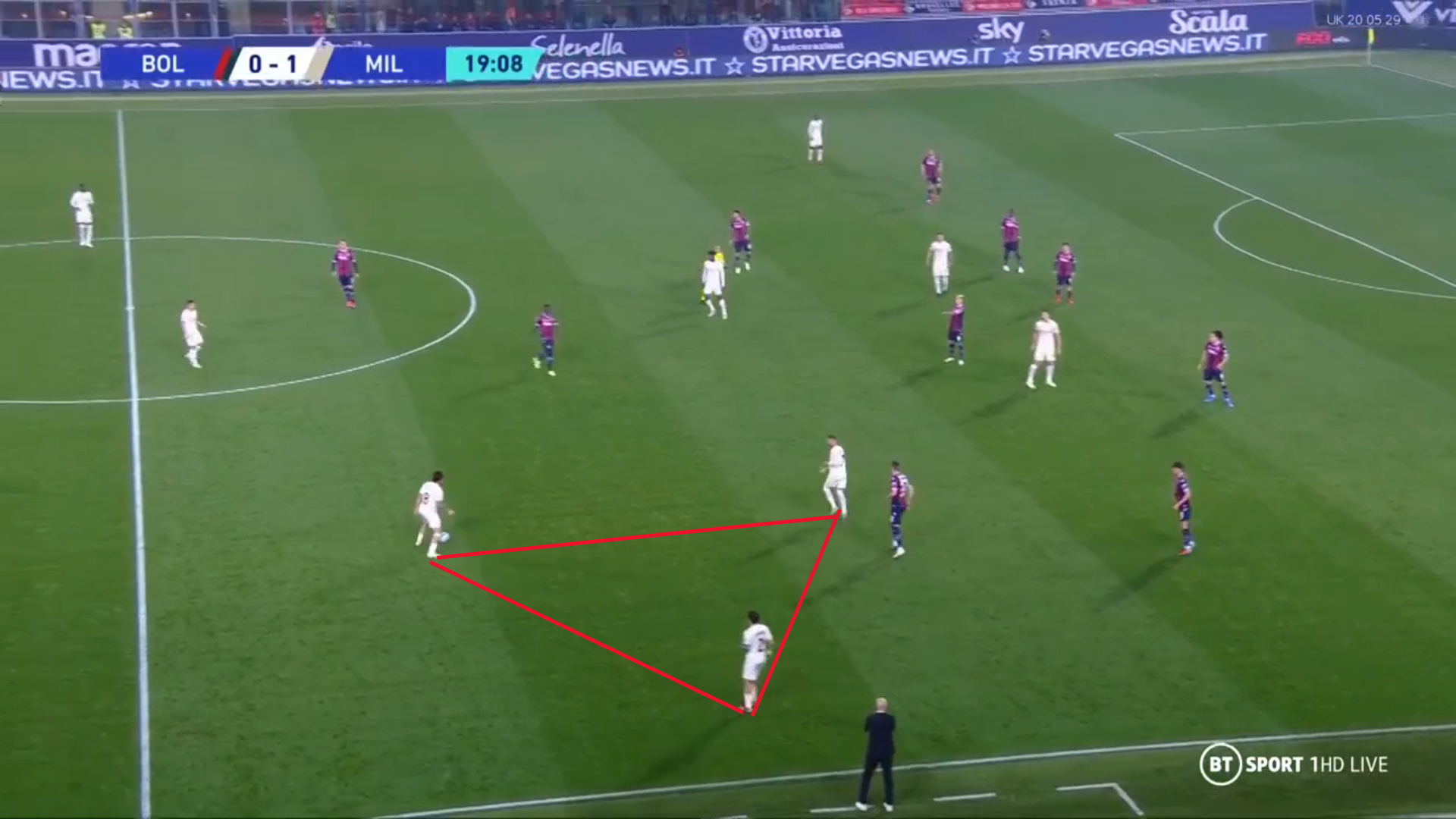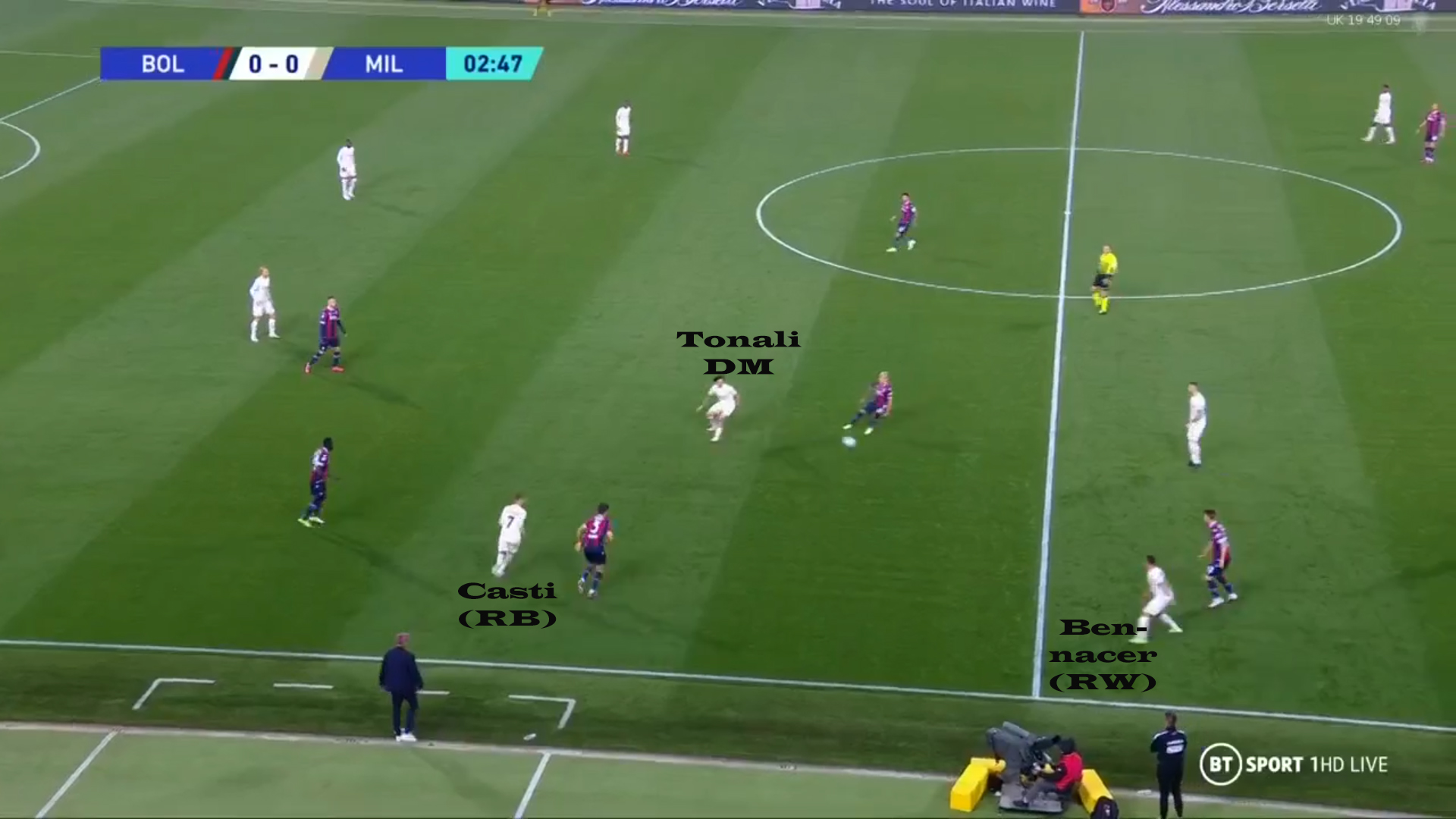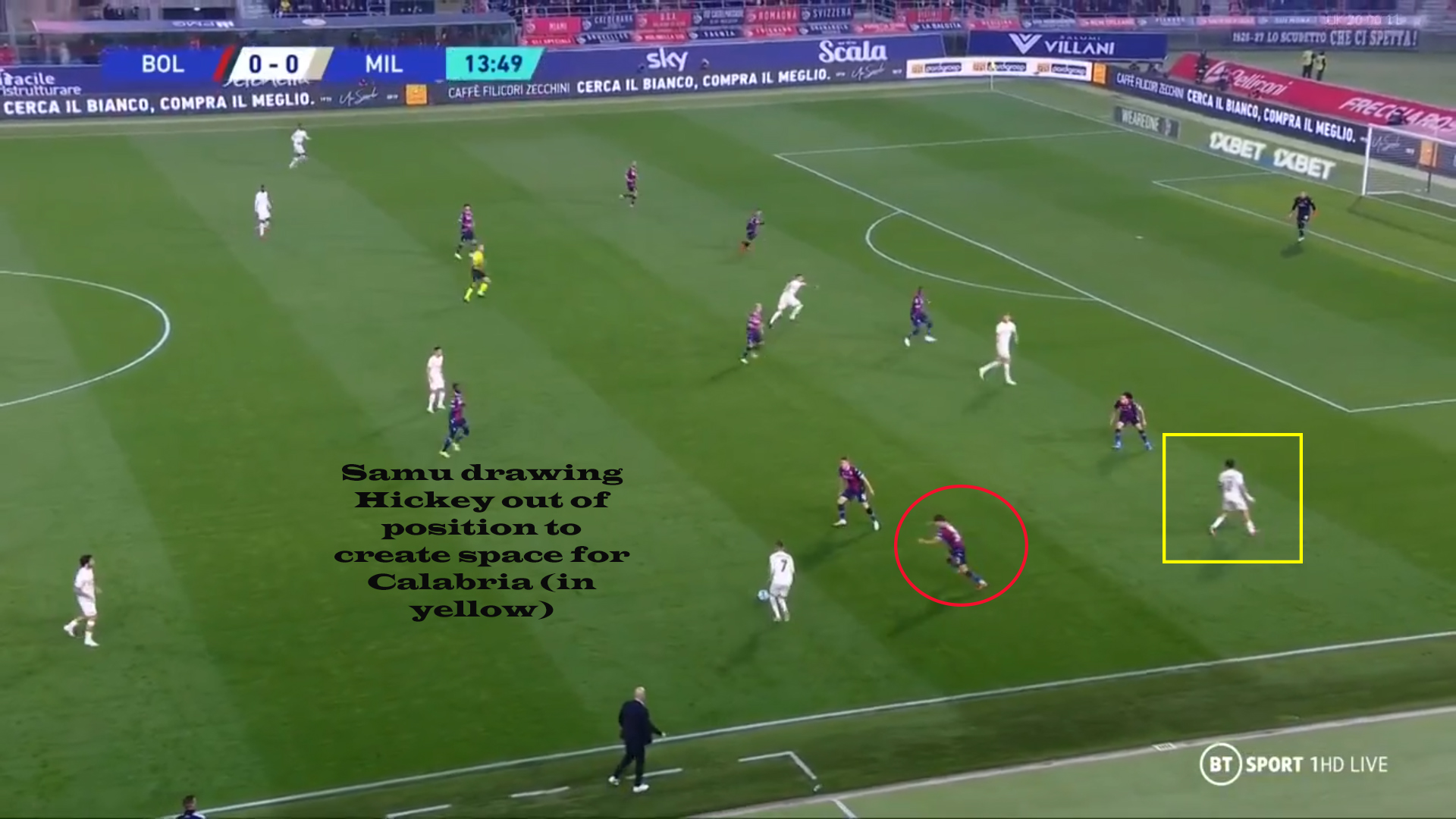 Milan often played with numbers towards the right side trying to prevent the wide overloads caused by Barrow and Hickey playing together.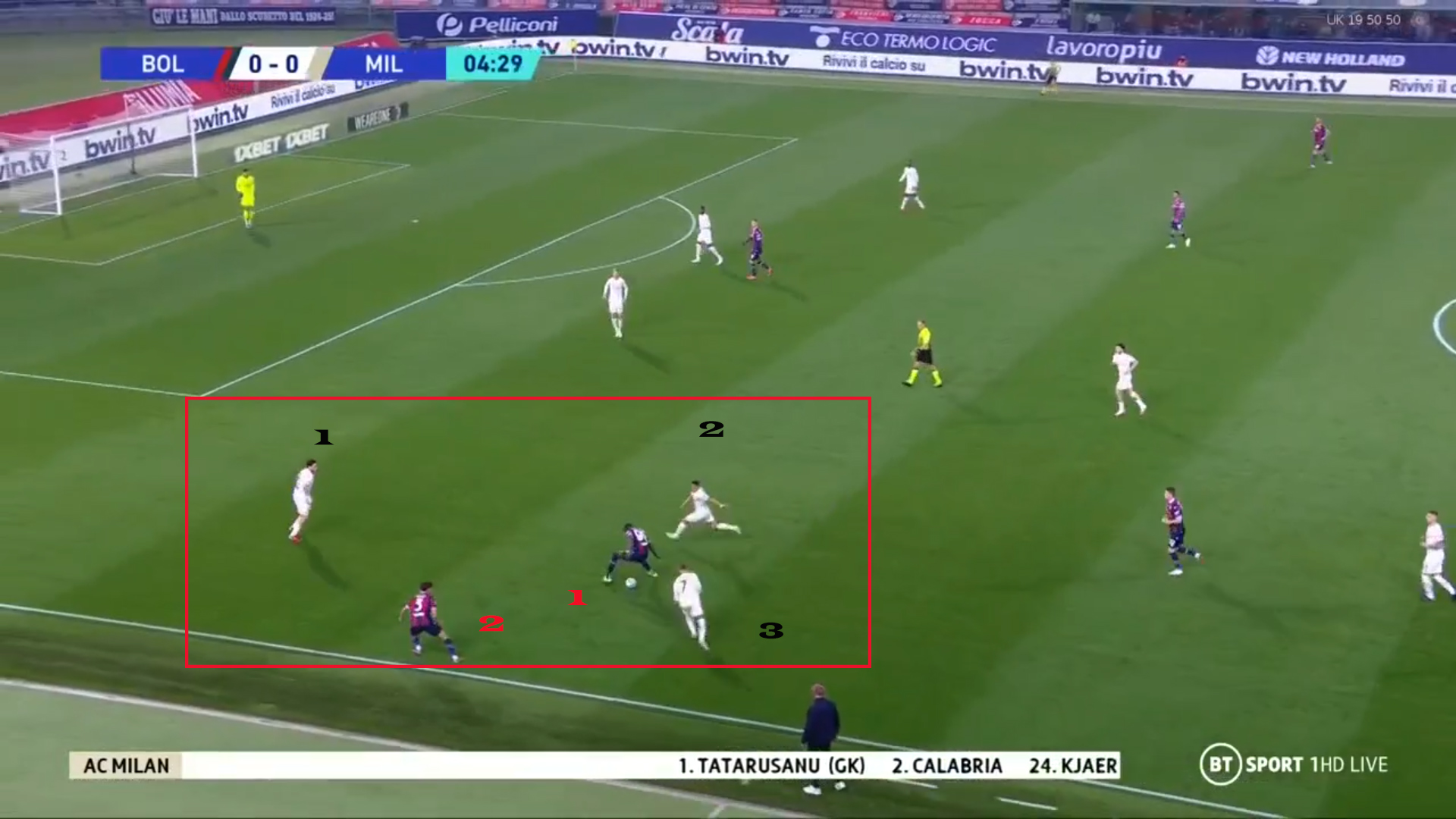 Striking first
As much as we think that the first goal was only a lucky break, it was facilitated by clever pressing trap set by Milan. They limited the passing options of Barrow forcing him to make a poor pass to Silvestri which enabled the Rossoneri to counter and score.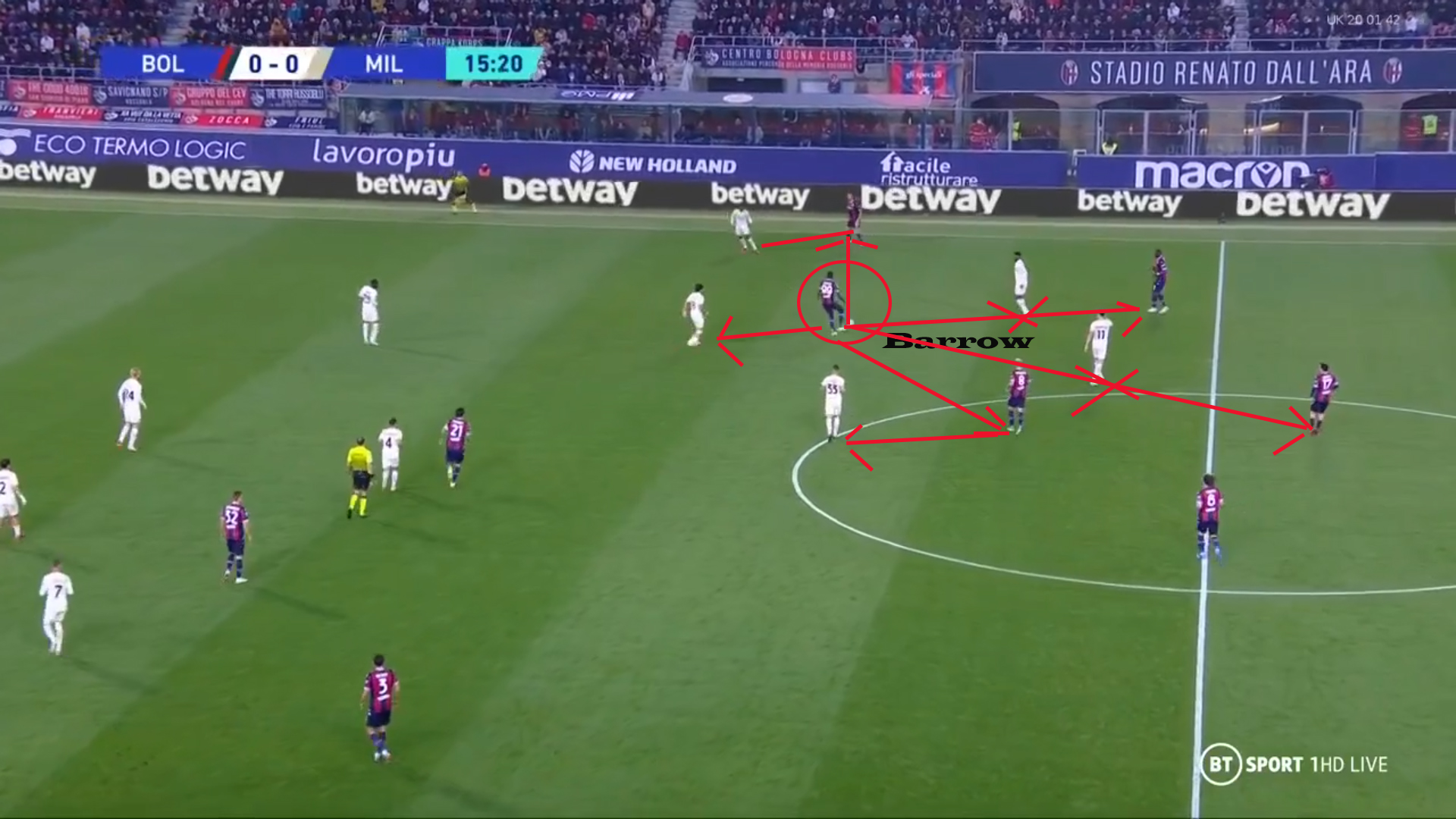 Once Soumaoro got sent off for a red card, Bologna sat into a 4-3-2 with Barrow playing as a second striker behind Arnautovic feeding off his hold-up play.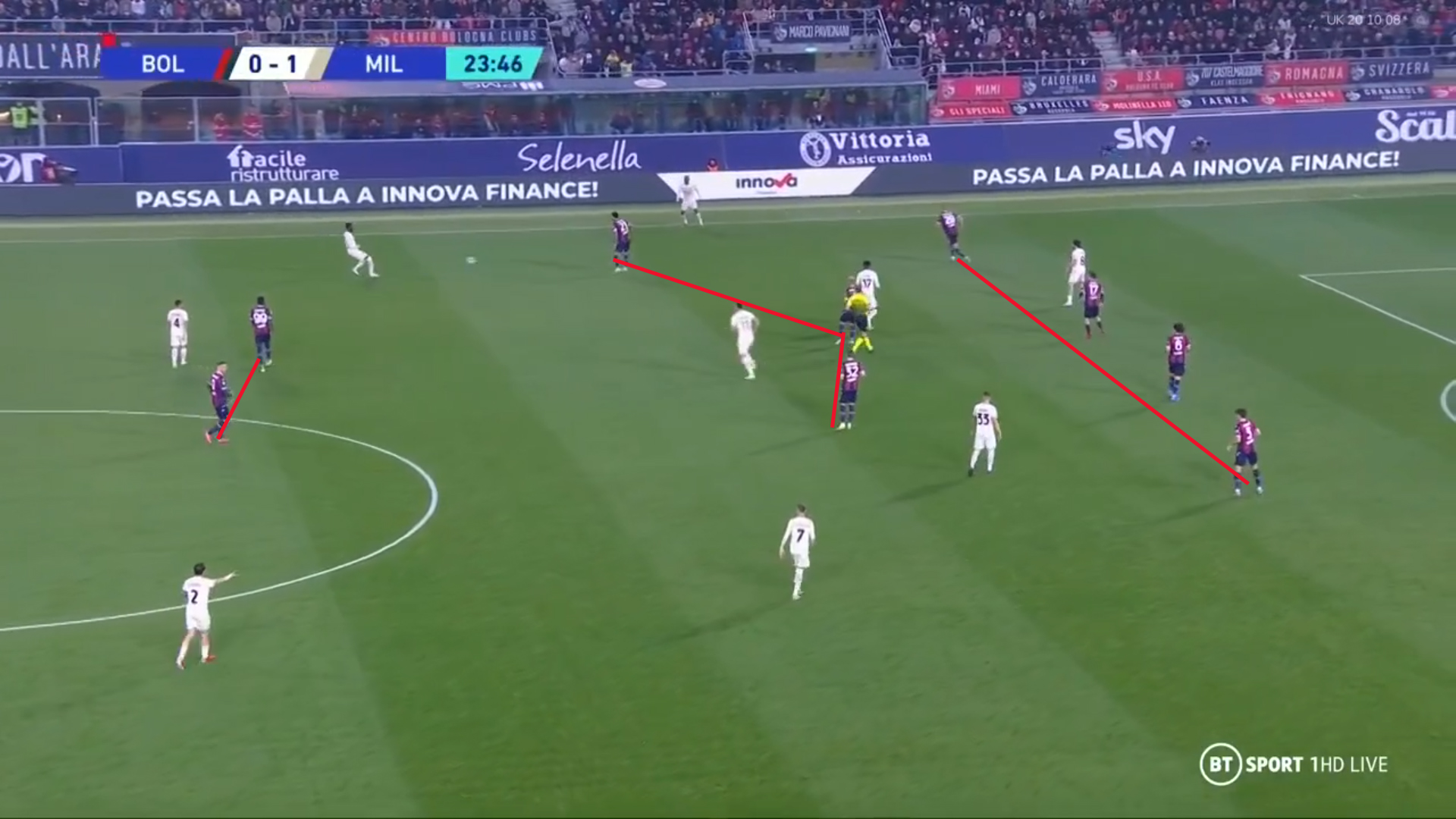 With this idea in mind Bologna tried to stay narrow and compact. This gave too much space for Ballo-Toure on the wings, and it turned into a catalyst for the second goal.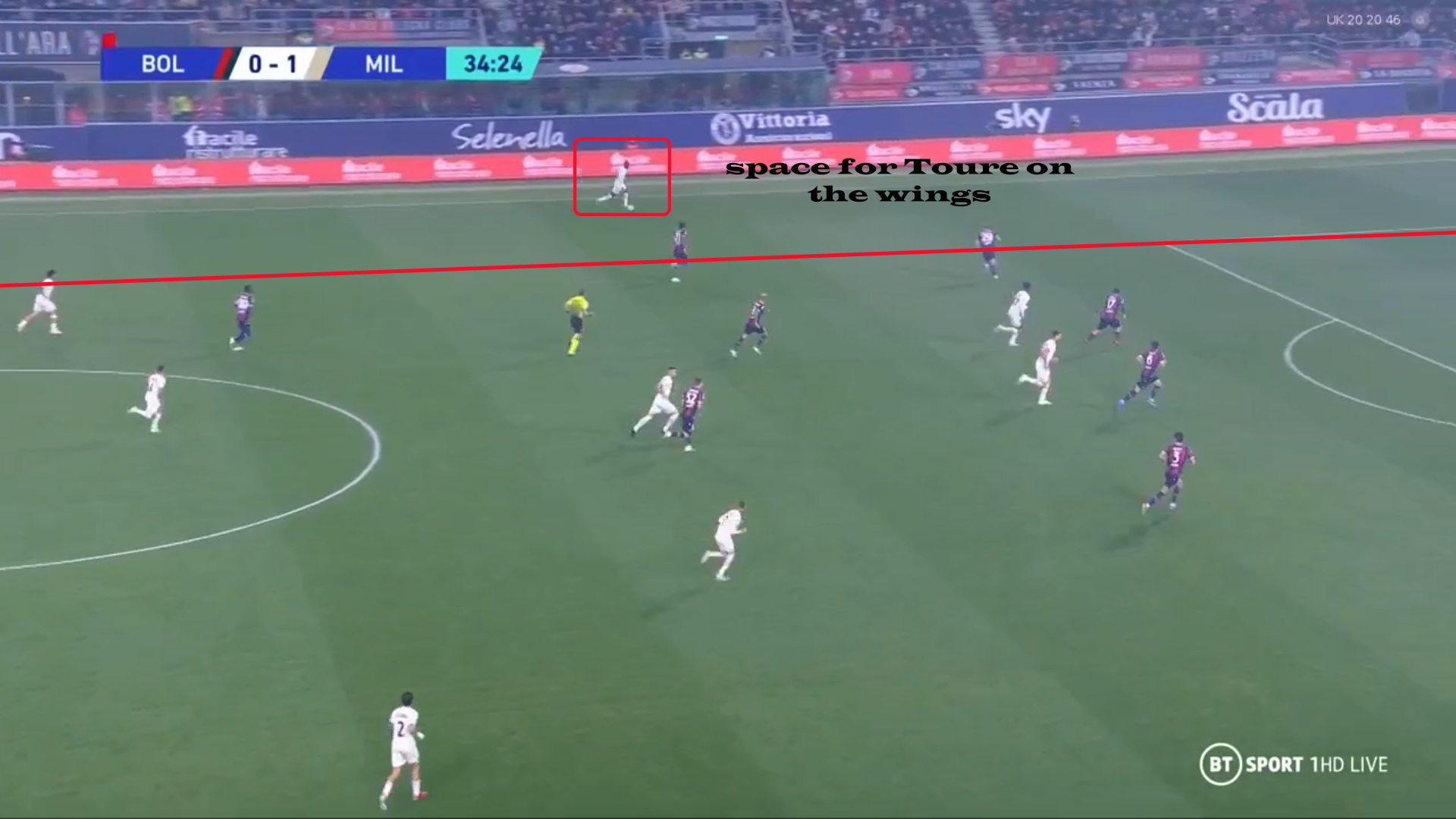 Press undone
One of the problems of a high press is that it can easily be undone with passing manoeuvres. Once Arnautovic pulls Tomori out of position, neither Bennacer nor Bakayoko manage to cover the space left vacant by the centre-back and Soriano used this space to slide Barrow in on goal.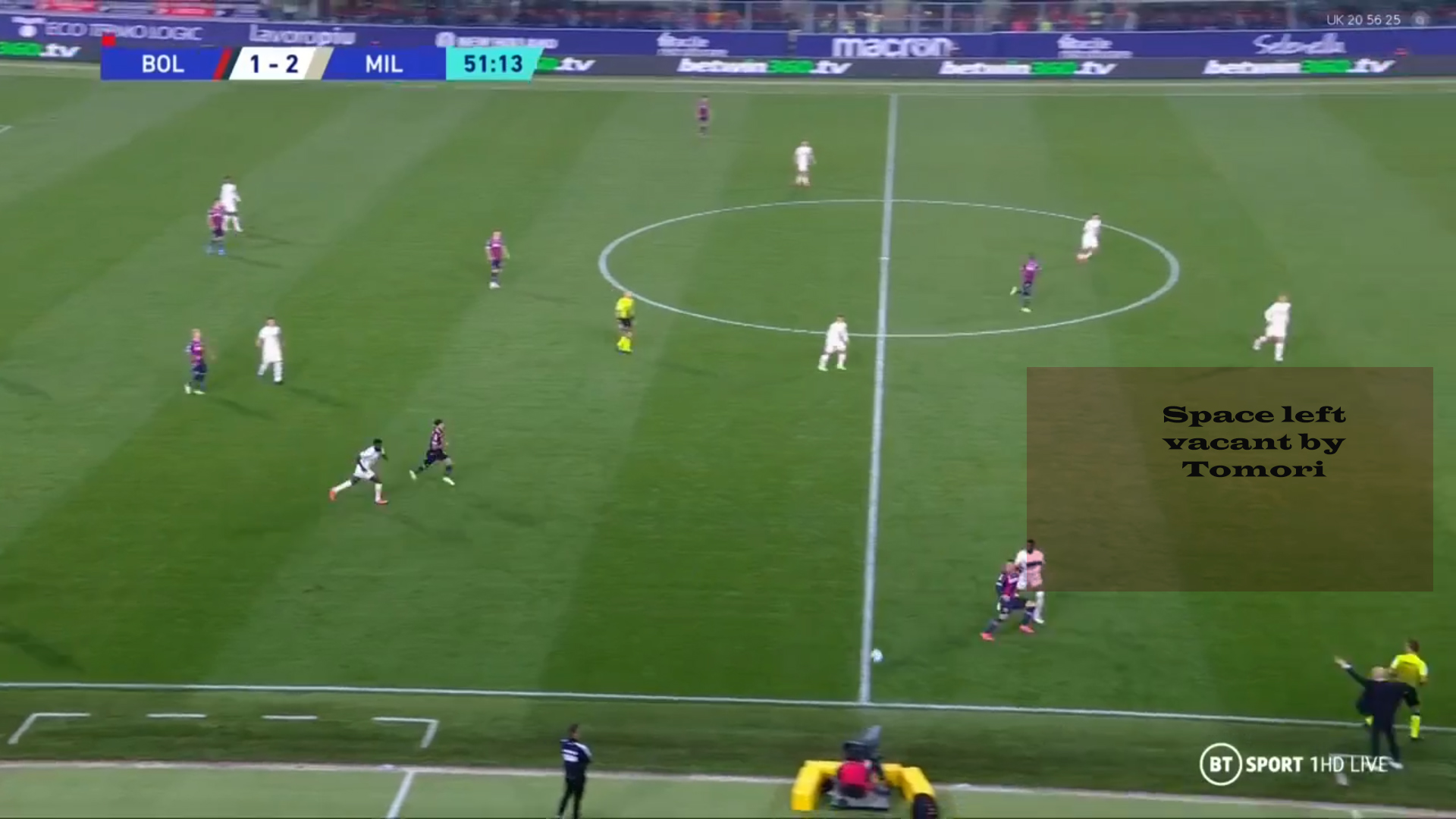 Needing goals to win, Pioli brought Giroud on for Krunic. It would have been fair to presume that this would mean a two-striker formation to load the box with two big men, but it was almost a man-for-man change as Ibra acted as a No.10 while Giroud played as a traditional No.9.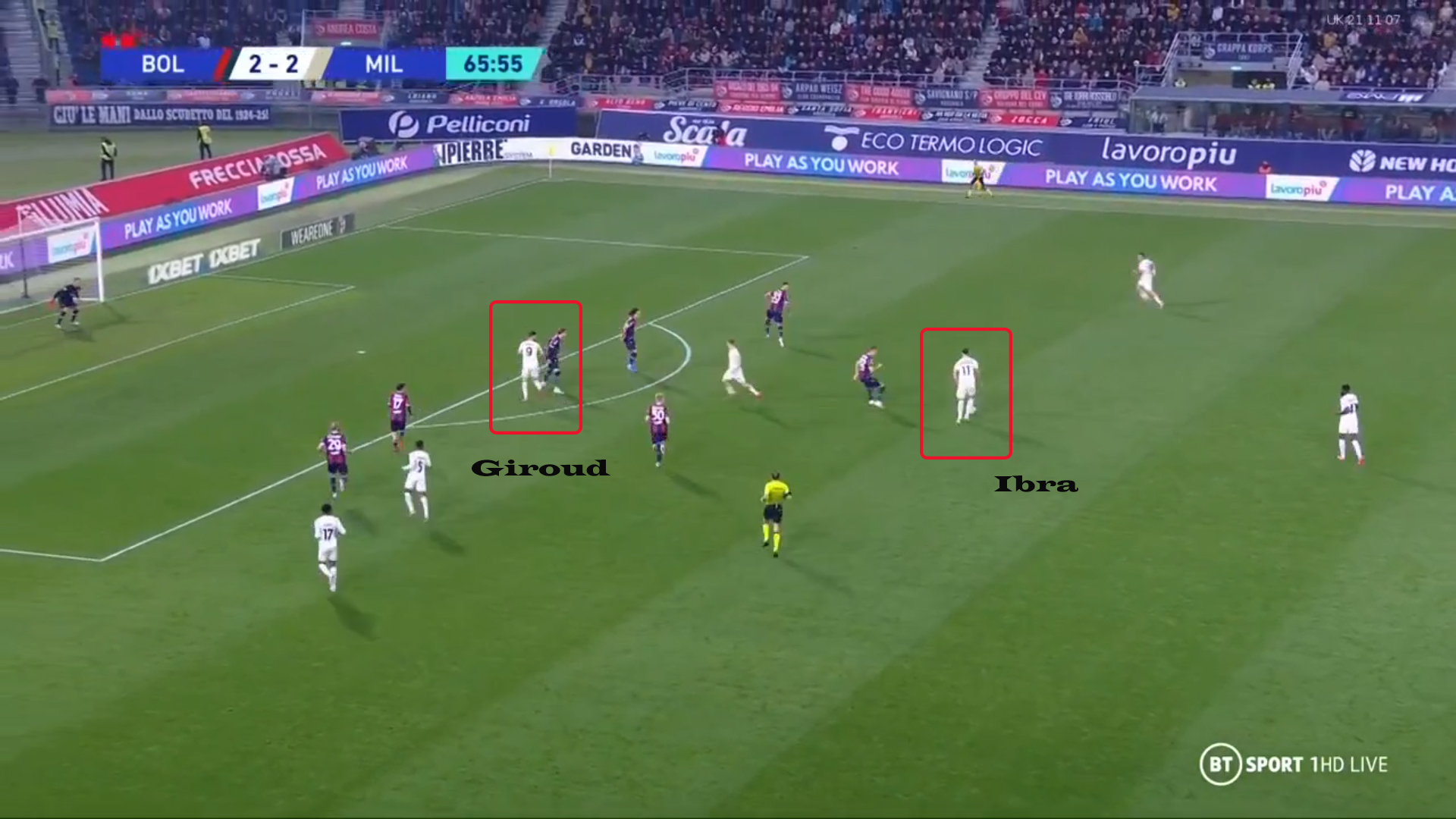 Stats
Something that was a worry was how much less ground Milan covered as team, which gives more evidence as to how fatigued the players are. From the 110km covered against Atalanta, Milan only covered 100km vs Bologna.

You can see how high and wide Milan played with the ball while Bologna stayed deep (especially in the second half) and narrow due to two players being sent off.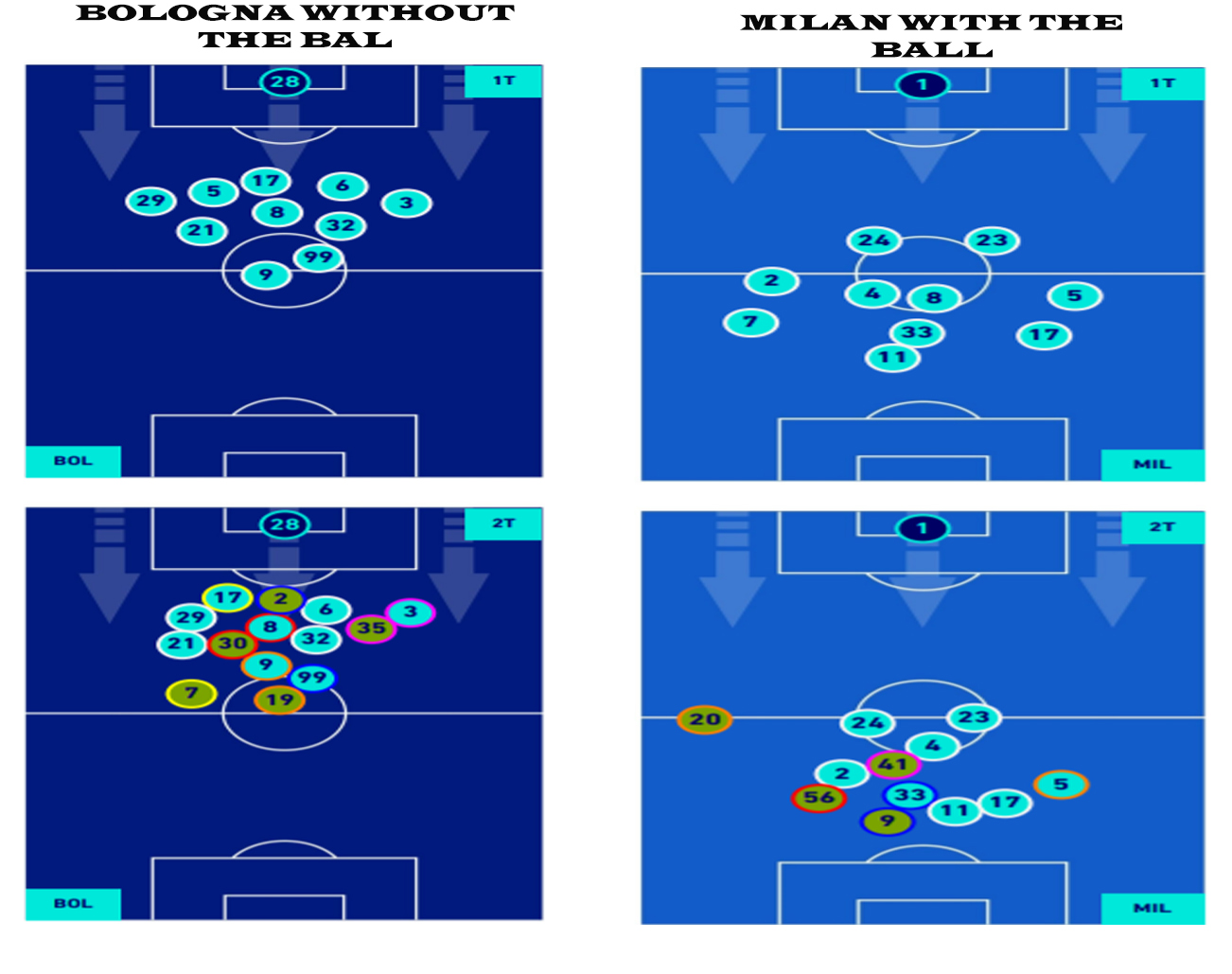 ---
READ MORE: Milan negotiating over renewal of star defender and are willing to offer €3.5m/yr