Saturday's derby was a night to forget for AC Milan as they were defeated 5-1 by city rivals Inter, ending their perfect start to the season.
Henrikh Mkhitaryan put the Nerazzurri ahead after five minutes following the home side's first attack of the game. Marcus Thuram capitalised from an Inter counterattack in the 38th minute to make it 2-0 with a stunning strike. 
Rafael Leao pulled one-goal back just before the hour-mark, but ten minutes later the away side conceded a careless penalty which Inter converted to make it 3-1. The home side went on to score a further two goals, courtesy of Mkhitaryan and Davide Frattesi, with both attacks coming from moments of transition.
In what was a painful conclusion for the Rossenri faithful, we asked @Tactics_Tweets for his tactical observations from the game to see if the performance was as disastrous as the scoreline suggested.
Set-ups
Whilst Stefano Pioli was forced to make a personnel change to his starting line-up, with Simon Kjaer replacing the suspended Fikayo Tomori, the Italian coach kept to a similar tactical game-plan as per the three previous Serie A matches.
This meant, in possession, Davide Calabria moved infield alongside Rade Krunić to create a situational double pivot and a 3-2 build-up shape. And without the ball, Milan employed a player-orientated pressing scheme that dropped into a 4-4-2 low block, with Rafael Leão staying higher.
For Inter, Simone Inzaghi used their trademark 3-5-2 / 5-3-2 system with Francesco Acerbi brought into the heart of the defence to replace Stefan de Vrij. The home side aimed to control the game without the ball and were content to sit in a mid-block and wait for opportunities to exploit Milan in orchestrated and transitional moments. 
Lack of central penetration
Post-match, Pioli commented that: "in the first 4 minutes, we were the only ones on the ball." And generally speaking, this was also true for much of the first half.
Looking at the below stats from Wyscout, you can also see how Milan dominated possession for the opening forty-five minutes, with the scale only shifting in the second half.

In the first half, the high accuracy and preference for shorter passess help give an indication as to what Milan were doing – or being forced to do – when in possession. The majority of their play involved circulating the ball in front of and/or around the effective Inter mid-block – often at a relatively pedestrian tempo too.
Being more risk-averse on the ball in the opening stages was likely part of Milan's gameplan, to avoid conceding any unnecessary turnovers. However, as the two visuals below from @markstatsbot help showcase, this trend continued throughout the game.
This first graphic shows Milan's passing network, with the thicker lines indicating more passes between the two players. Here you can see the circulation at the base of their shape between Kjær, Malick Thiaw and Hernández and also a lack of passes centrally, especially in comparison to Inter.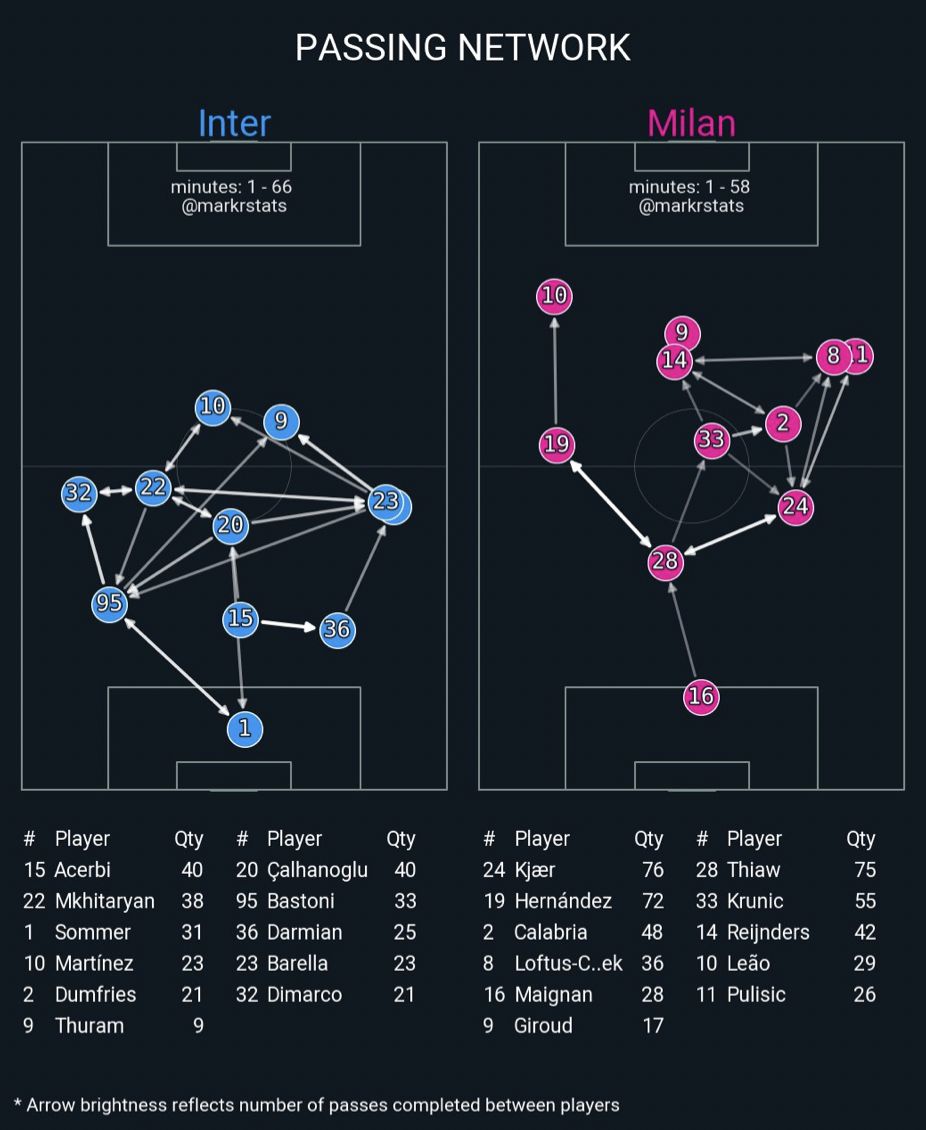 In this second graphic, it shows the clusters of Milan's most popular pass attempts. Here you can clearly see the direction of play to wider areas, around the Inter the mid-block.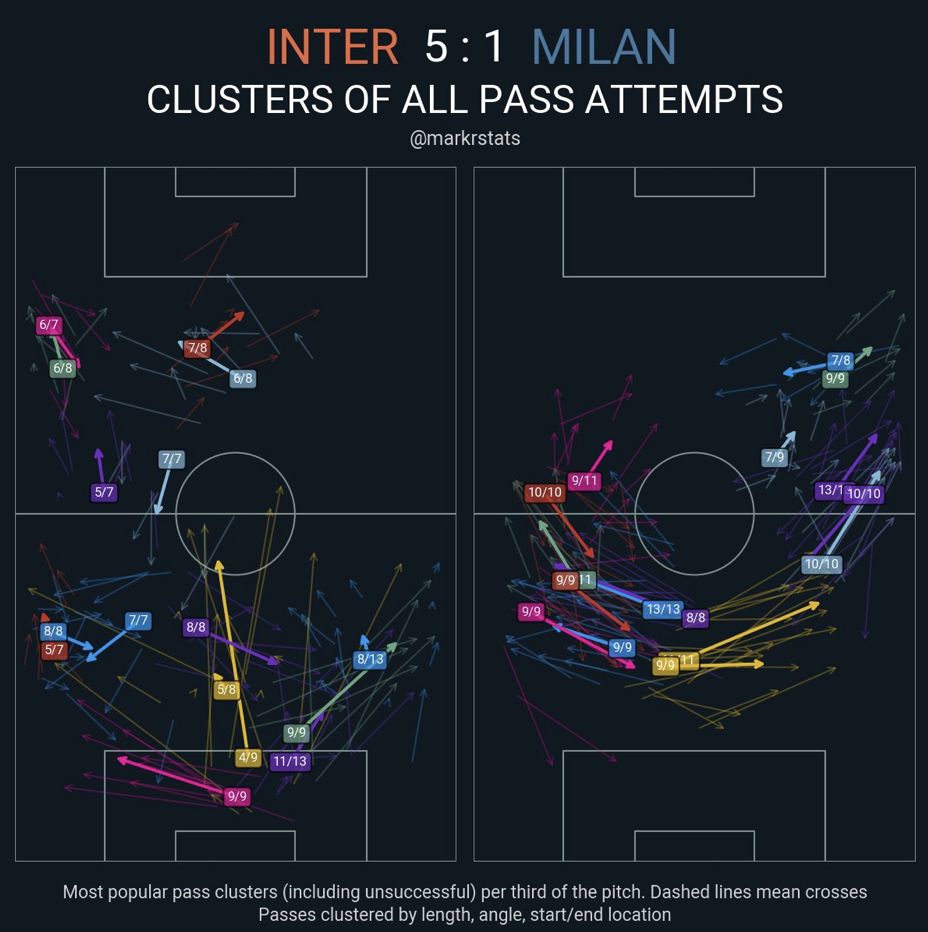 Now, passing centrally through an opposition defensive structure is a lot easier said than done – especially against a team as well organised as Inter.
And, as we've seen in other Milan games this season, a tactic of theirs has been to progress the ball via wider areas, with Ruben Loftus-Cheek in particular drifting wide to receive the ball. So, therefore, a central passing option is not always available nor their preferred route.
However, in the below instances picked out from the game, there are examples of where Milan failed to execute and capitalise on opportunities to penetrate centrally, even after reaching the final third through wide progression.
In the opening minute of the game, there was an example of Milan opting against central progression. Mike Maignan passed to Kjær who played more right-side of a back three when in possession and due this wider positioning, he could carry the ball past the Inter forward line.
In the screengrab below, the Danish defender has two passing options available; 1) inside to Calabria (which Tijjani Reijnders is pointing towards) or 2) down the line to Loftus-Cheek who like in previous games is pulling wider towards the wing.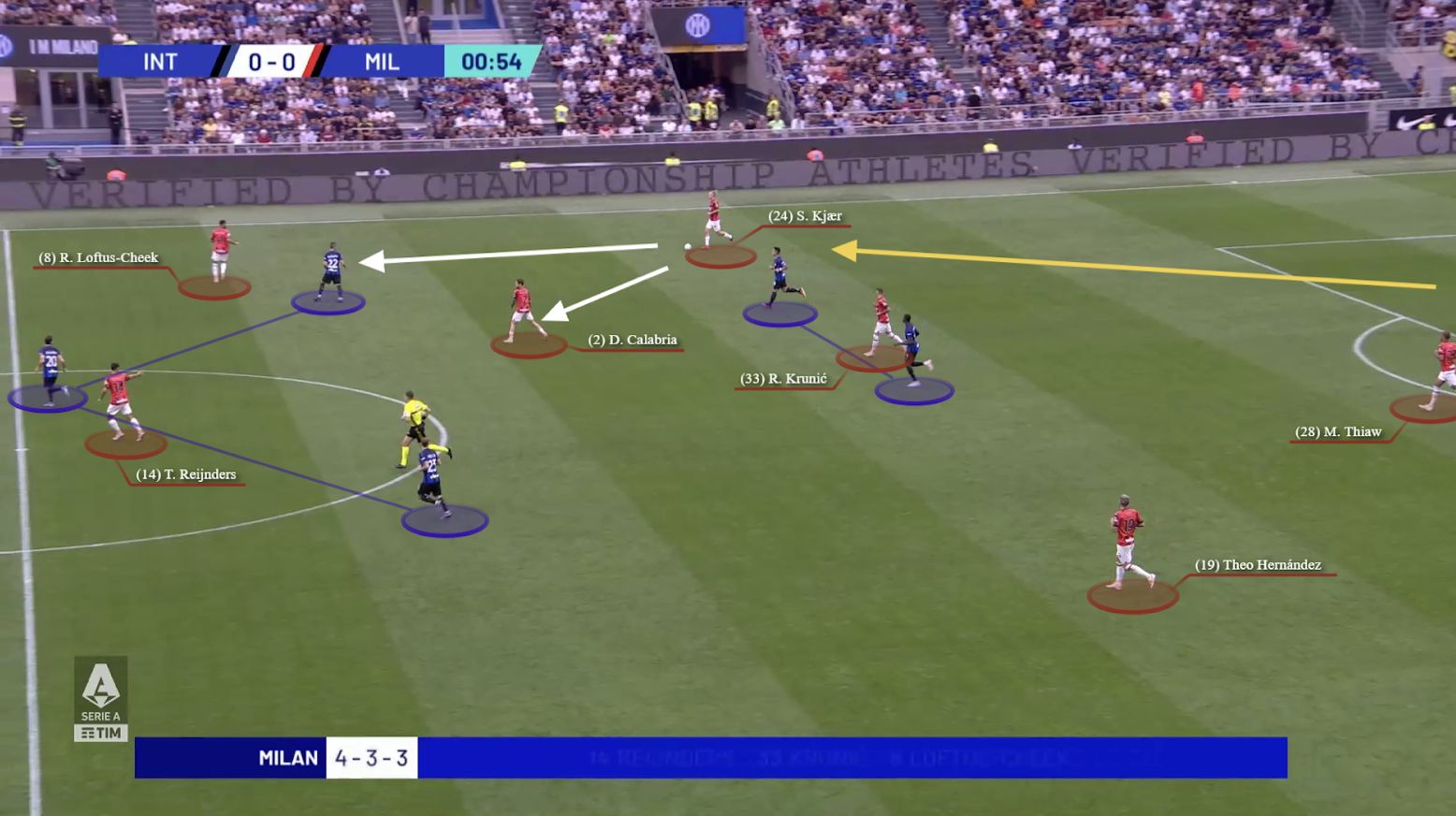 Kjær opted for Loftus-Cheek, when an inside pass would have given the Inter midfield a decision to make. But instead, the line pass allowed Hakan Çalhanoğlu to get close to Calabria and close off central access. As a result, Loftus-Cheek was forced to recycle possession back to Thiaw…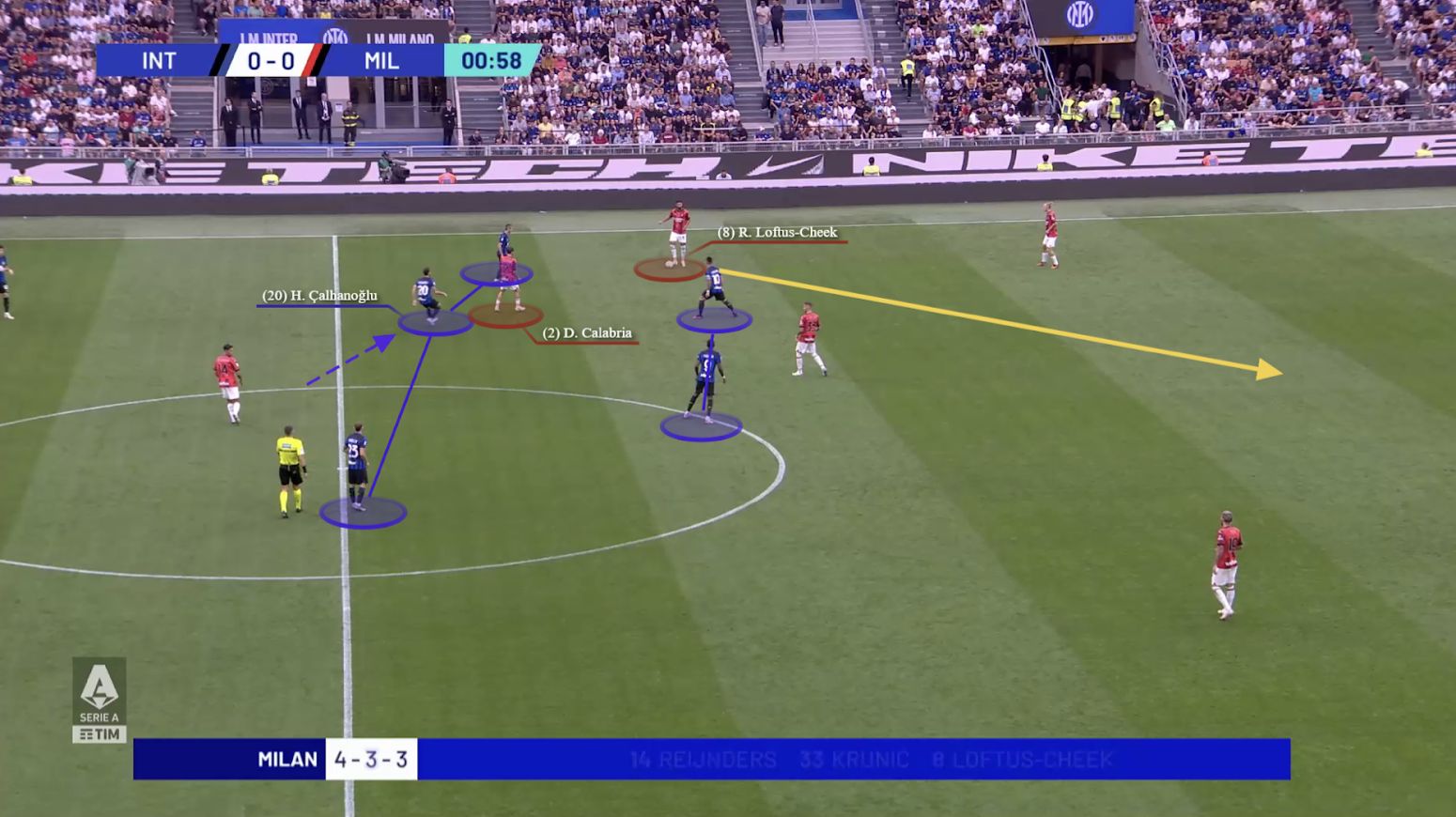 …who then passes onto Hernández. But as Inter have been able to regroup and get into their settled 5-3-2 mid-block, his only passing option is down the line to Leao but he was closely tracked by Denzel Dumfries so is forced backwards and Milan are limited to circulating the ball back along their base.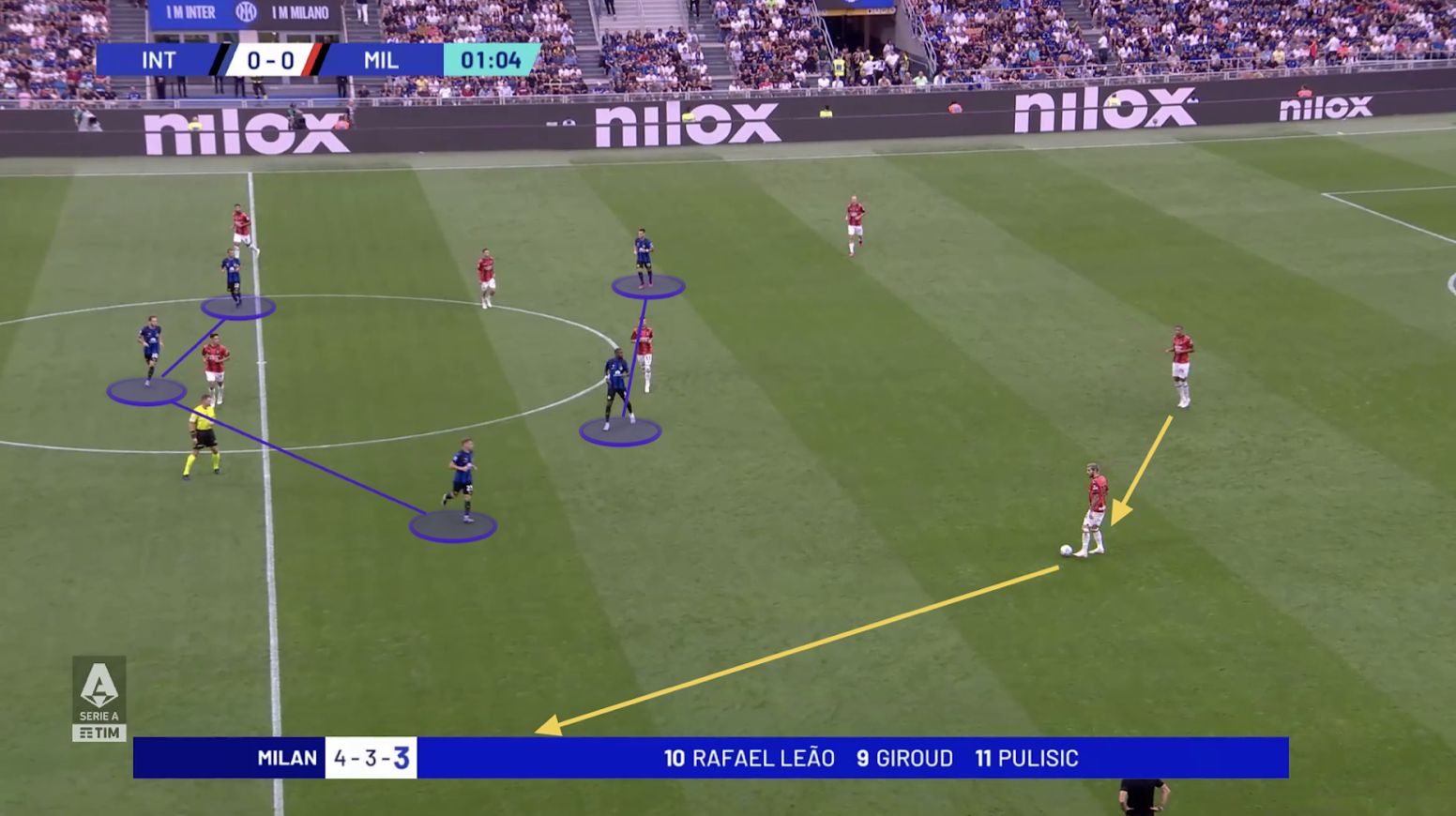 This was the first minute of a derby so perhaps can be understood. However, the patterns of failing to attempt, execute and capitalise on central progression continued throughout the game. 
Fast forward to the 26th minute and the start of a possession sequence for the away side which lasted just under two minutes but included various examples of the aforementioned patterns and Milan's general pedestrian tempo.
The passage of play starts similar to the last but this time Loftus-Cheek is found direct from the back after pulling into space wide right to receive the ball on the outside the Inter block. As mentioned, this movement and pass has been a recurring tactic of Milan's this season. Whilst it does not offer central progression…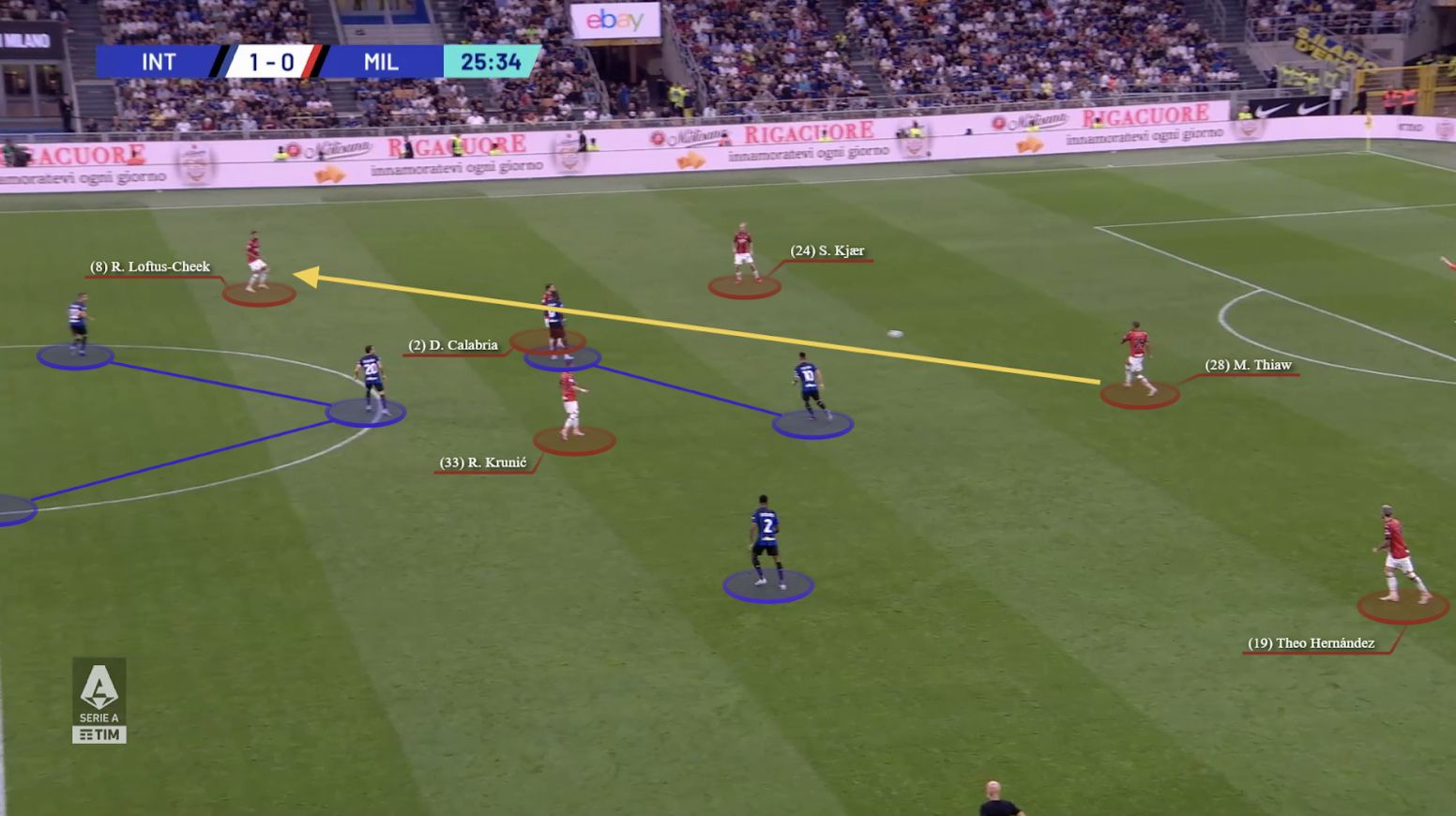 …as you can see below, it does allow Milan to progress the ball upfield using the ball carrying ability of Loftus-Cheek. This tactic is also aided by Christian Pulisic and Oliver Giroud's forward movements forcing the Inter defensive line deeper and creating space for the English midfielder to move into.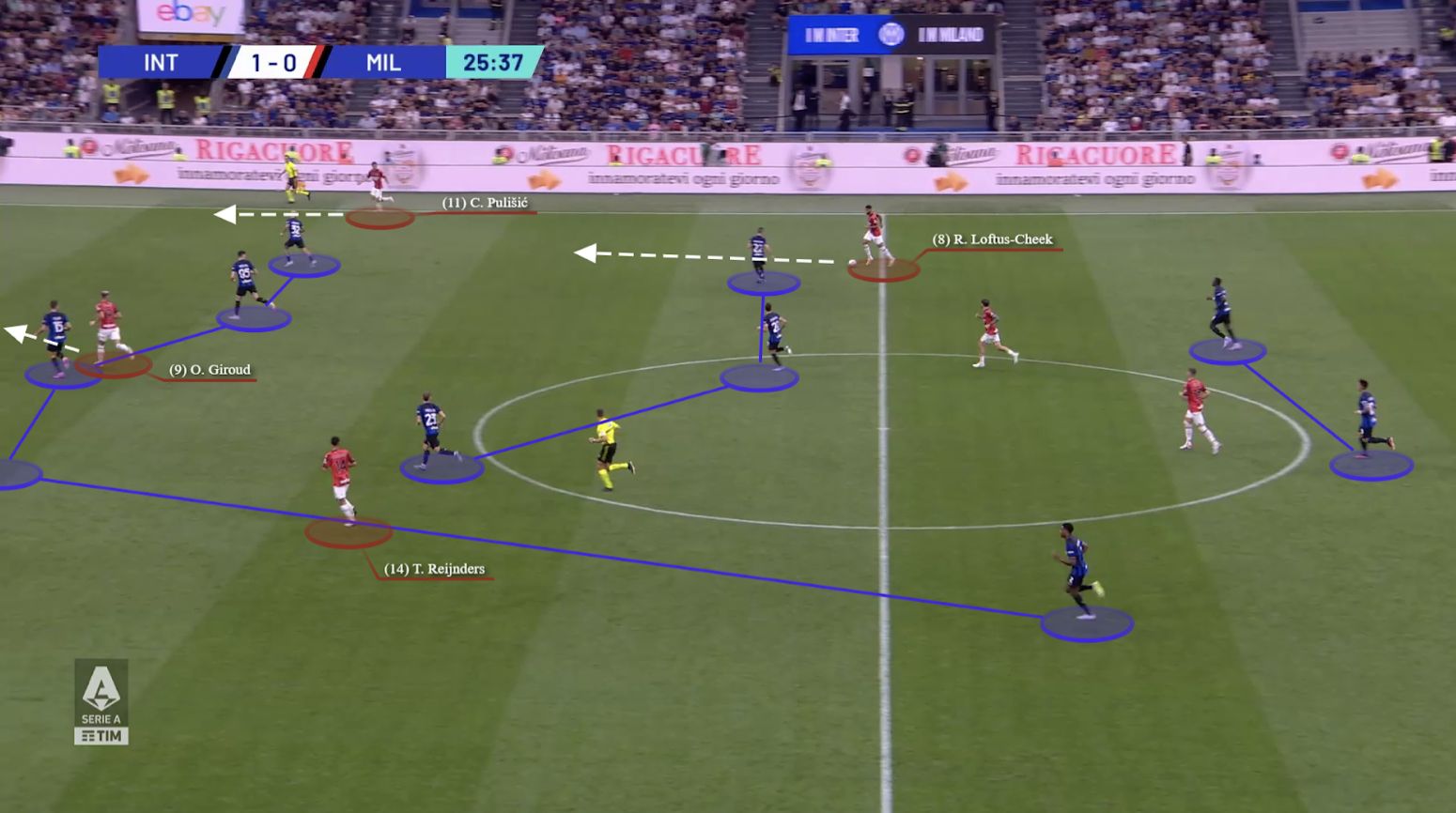 However, unlike against Roma where Loftus-Cheek regularly attempted to run at the opposition defence, on this occasion after approaching the final third, he decided to halt, exchange passes with Calabria and then recycle possession backwards which allowed Inter to get back into their compact shape.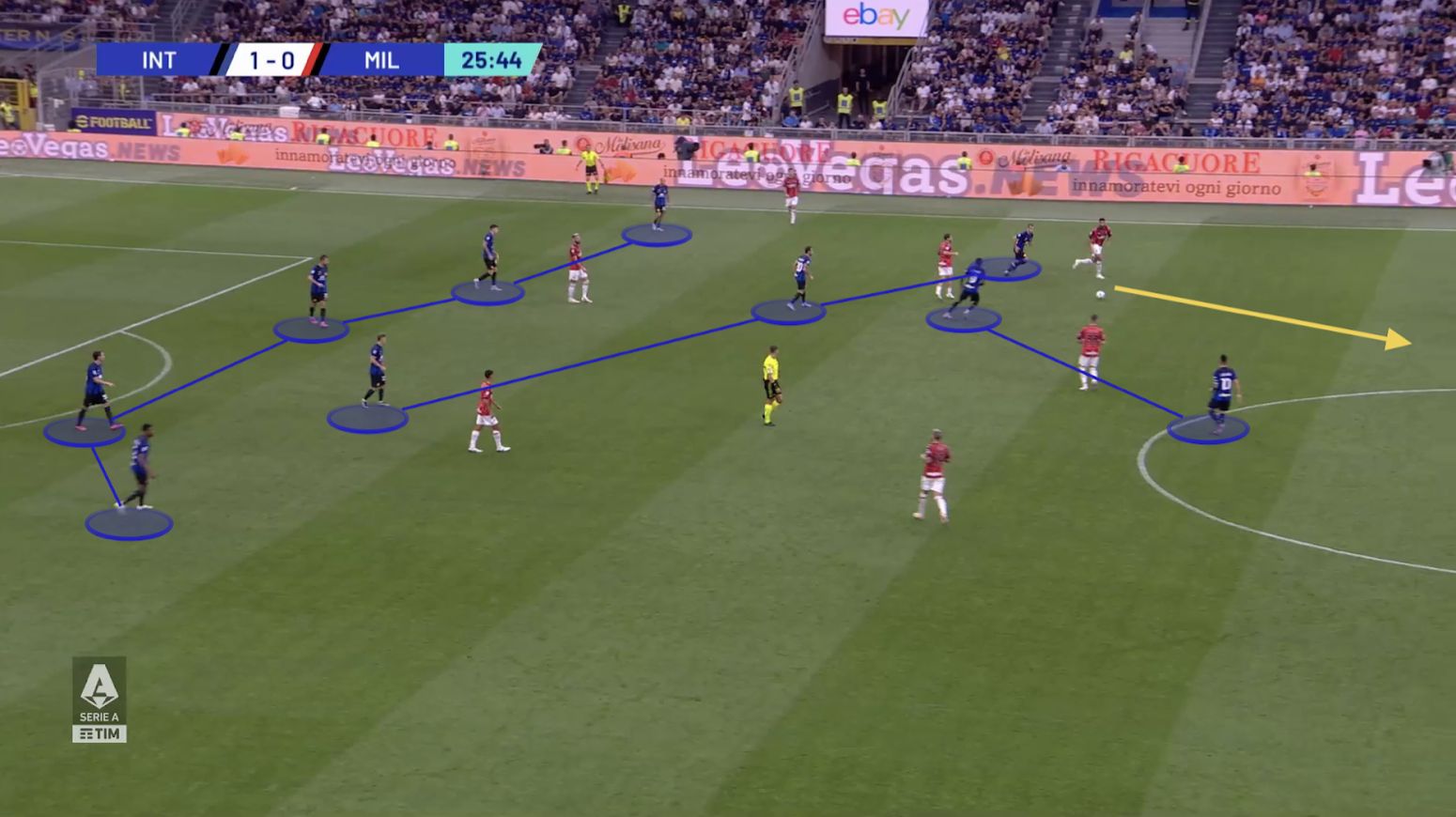 Milan ended up circulating possession between their backline before going all the way back to Maignan to restart their build-up play.
In the image below, Hernández has just received a pass from his goalkeeper but has no desirable forward passing option so he therefore goes backwards…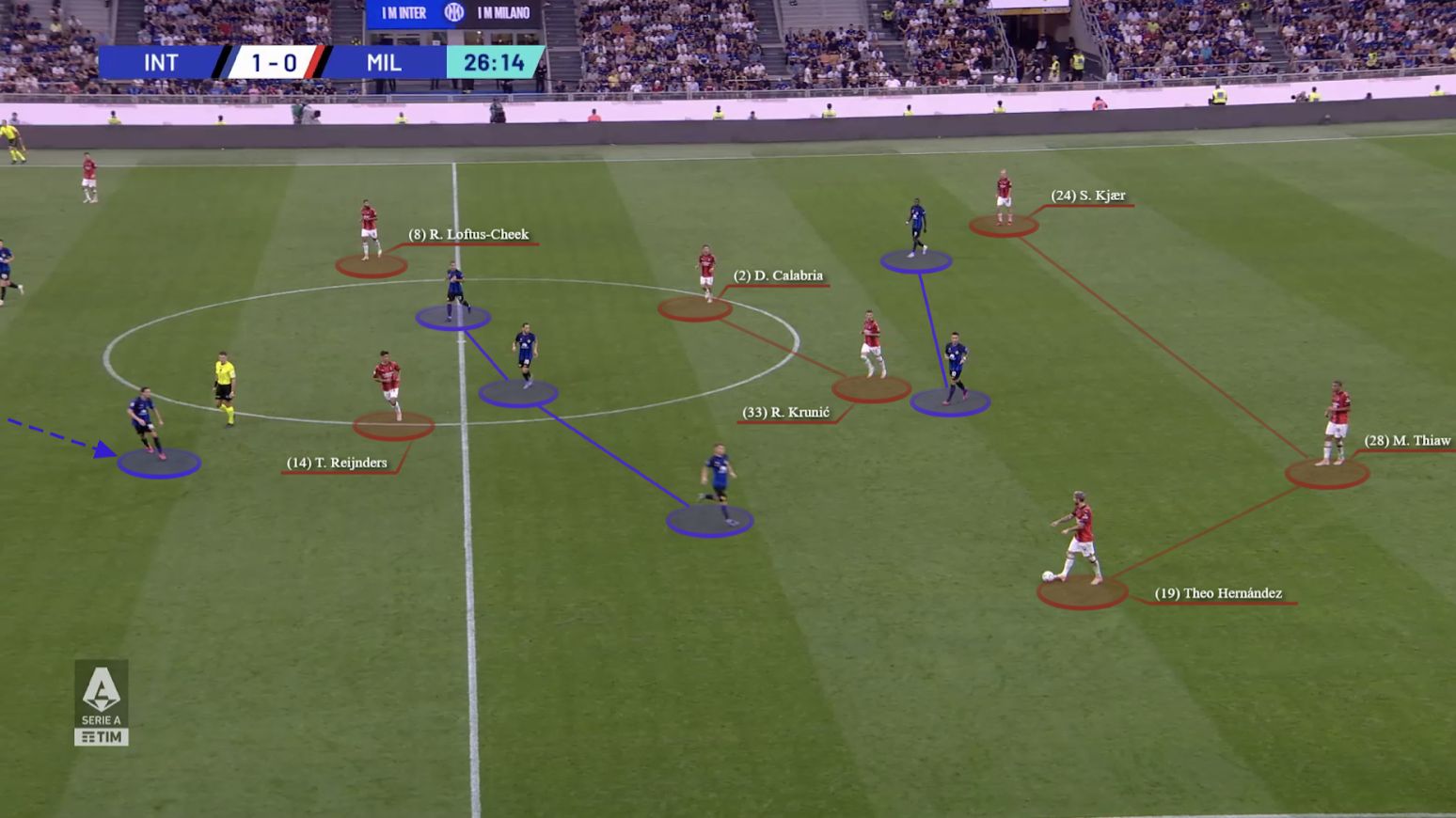 …from here, Milan exchanged some passes on their right-hand side before working the ball back up their left where you can see below Hernández and Reijnders have interchanged positions.
But despite this type of interchange being a common occurrence for Milan…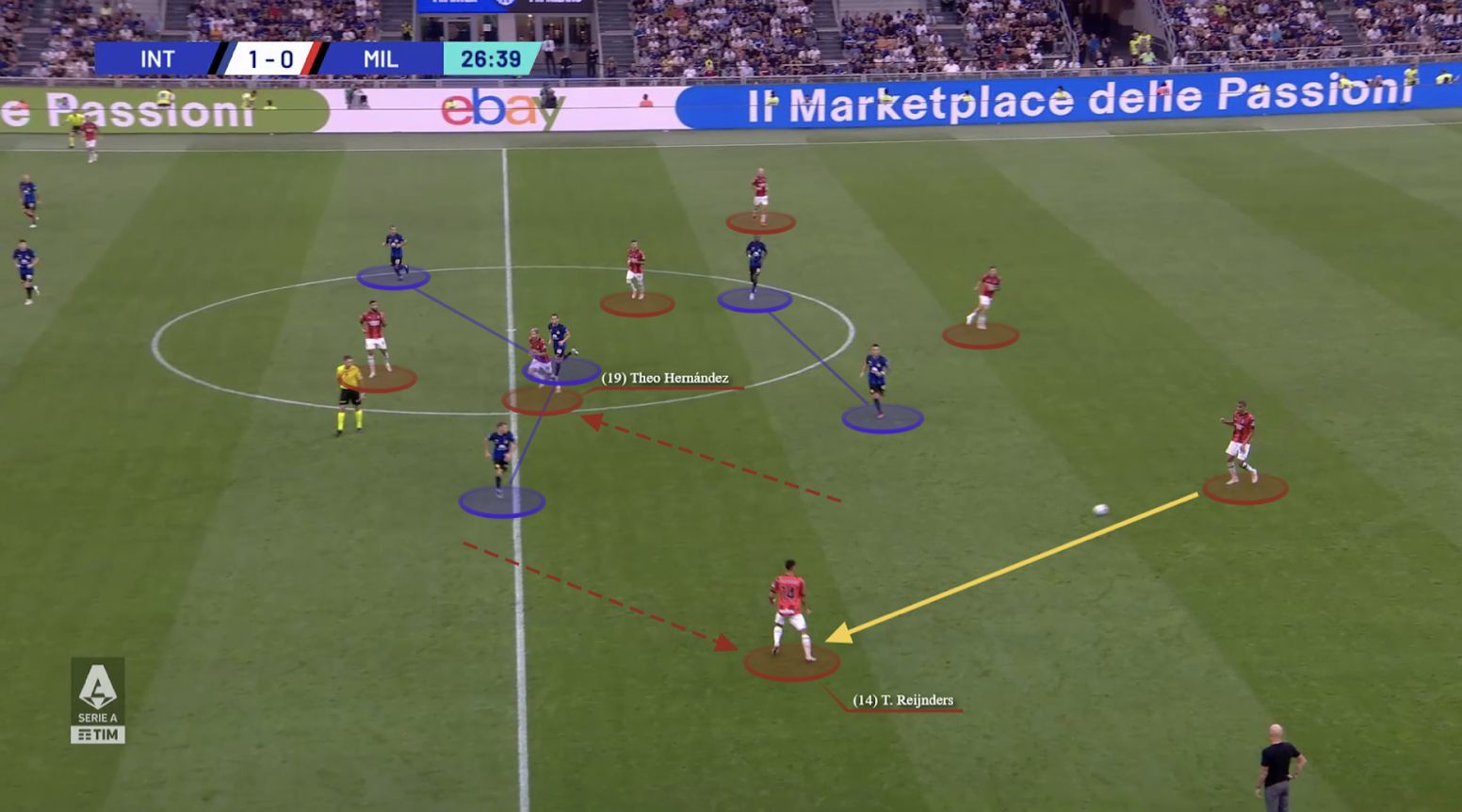 …the Dutch midfielder failed to attempt the pass for Hernández's run and instead opted to go backwards. Milan then worked the ball down their right-hand side and managed to enter the final third but Inter were able to retreat as a connected block so the away side caused no threat.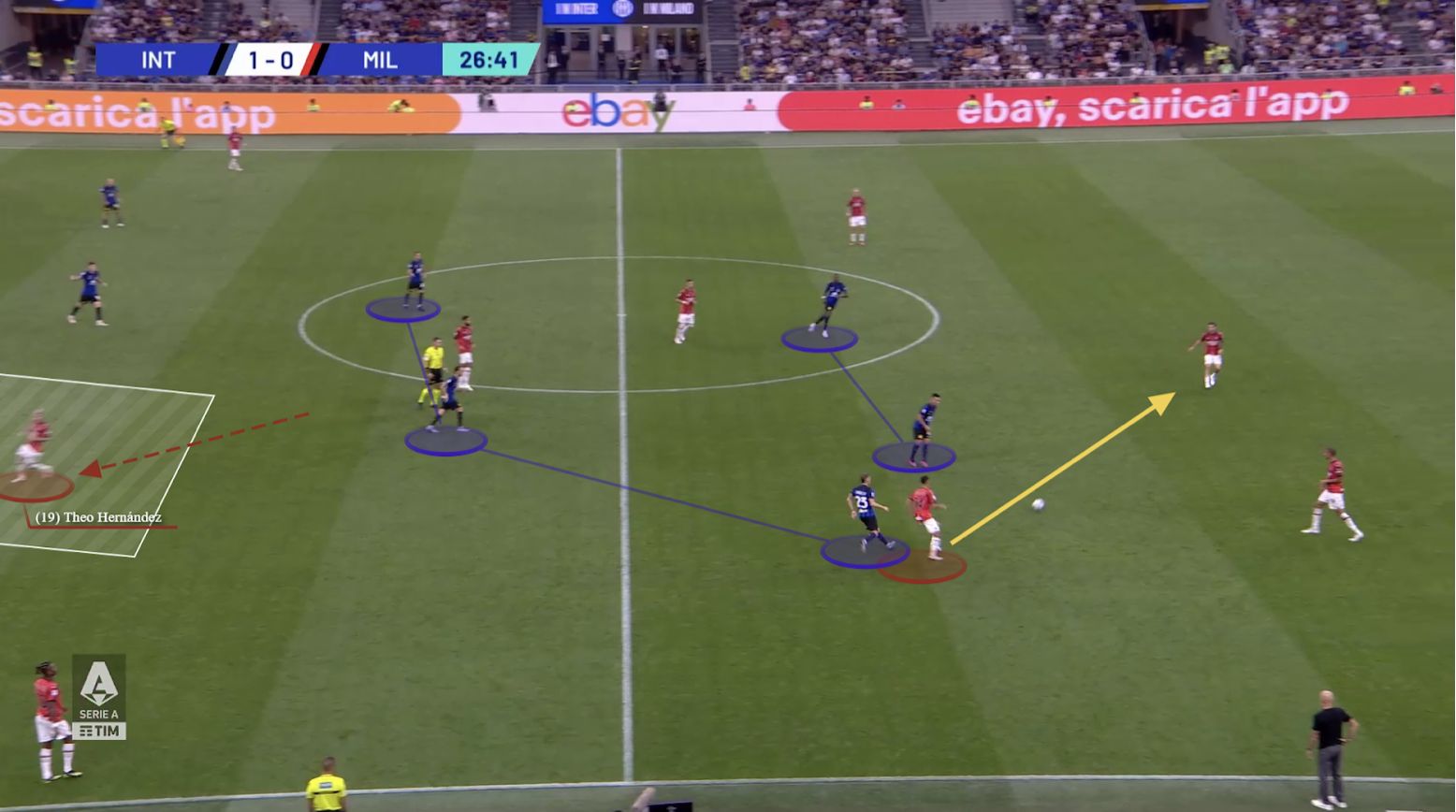 In addition to not attempting central progression, Milan also had instances where they failed to capitalise on opportunities. In the first half, their first real big opportunity to score came from an attempt to penetrate Inter's block centrally.
In the 31st minute, Hernández has the ball in front of the now familiar Inter 5-3-2 mid-block. However, on this occasion, as a result of Reijnders positioning drawing out Matteo Darmian…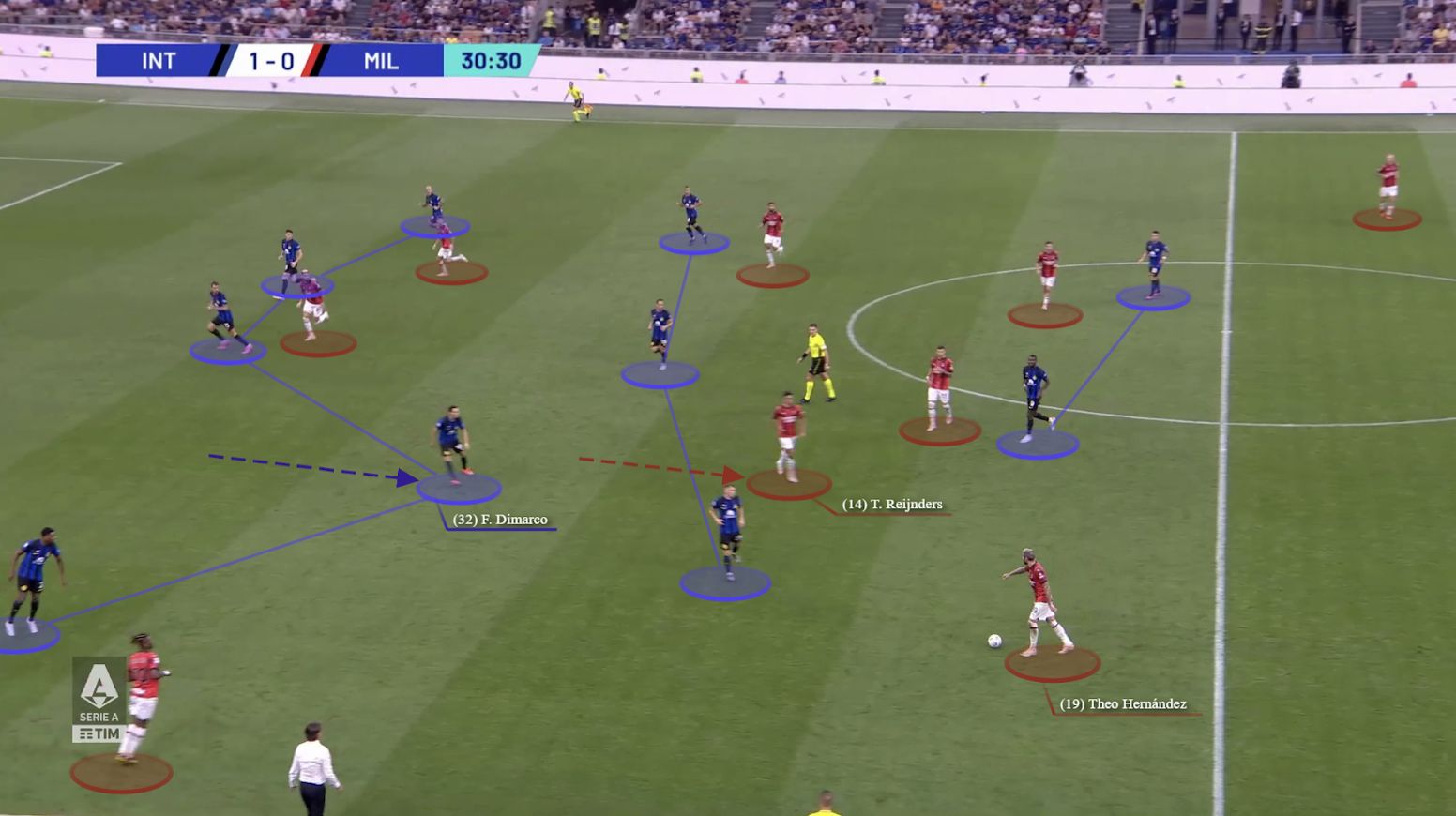 …the French full-back opts to make a penetrative pass into Giroud's feet who has moved over towards the space Darmian has vacated and then continues his run forward to receive any potential lay off from his striker…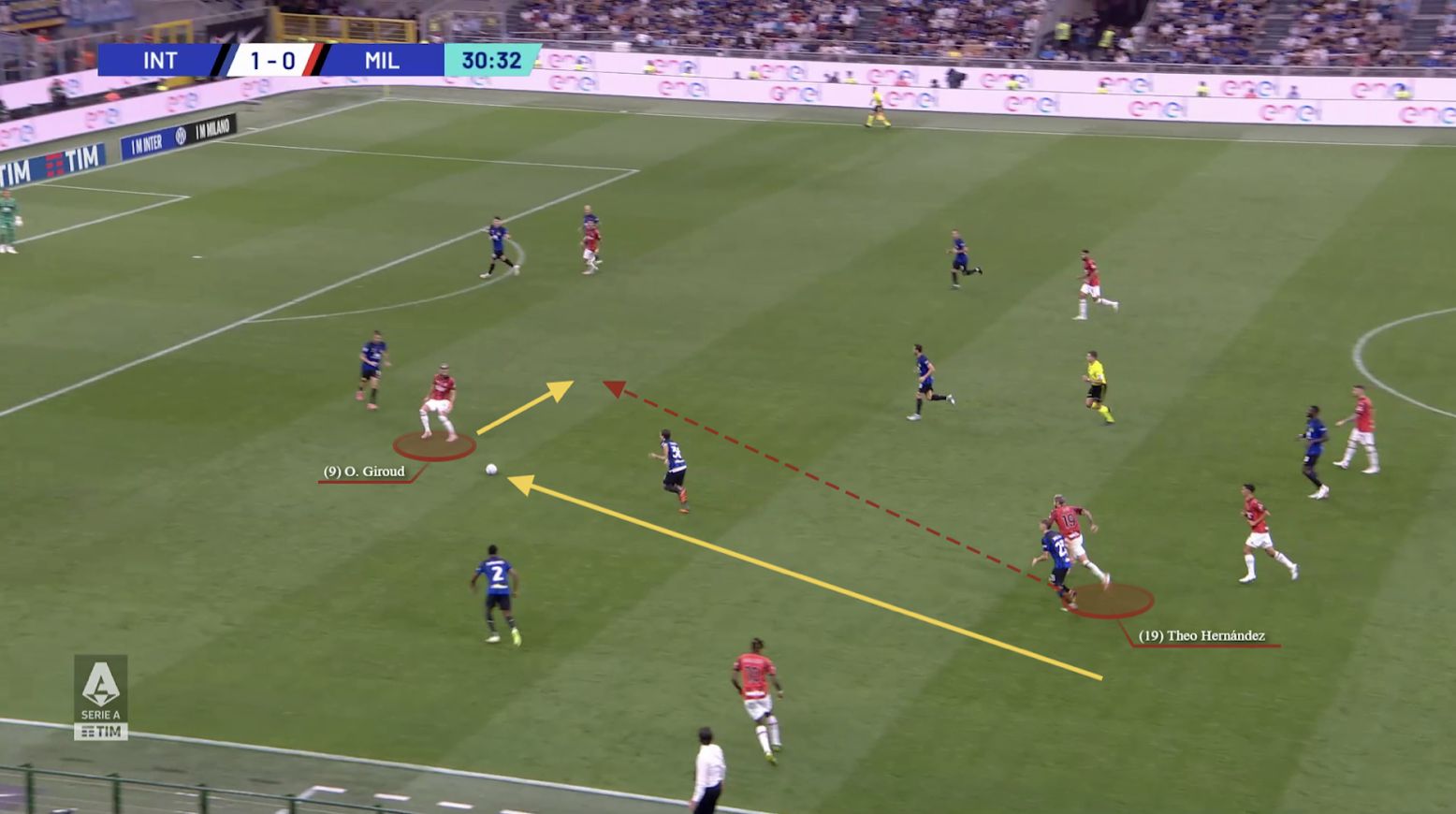 …which Giroud duly obliged. Now, on the edge of the Inter penalty area against a disjoined backline, Hernández pokes the ball past the covering defender to enter the box but begins to lose his balance before shooting so the ball ends up trickling past the far post.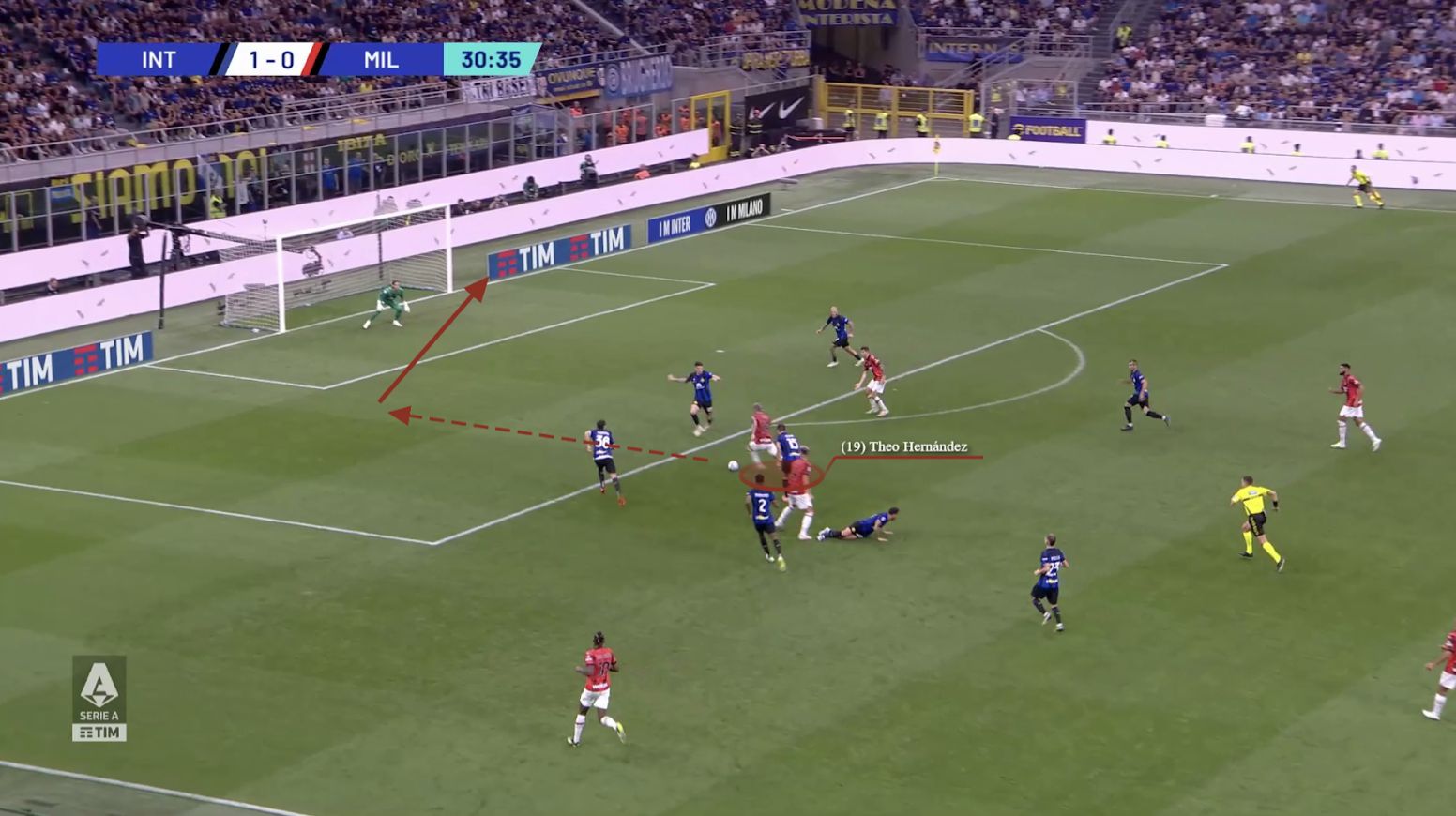 In another example, early in the second half, a recurring scene presented itself with Loftus-Cheek pulling wide to receive the ball in space. Again, for clarity, this tactic was a means of progressing up the pitch so not suggesting this was an issue, more what happened from these instances…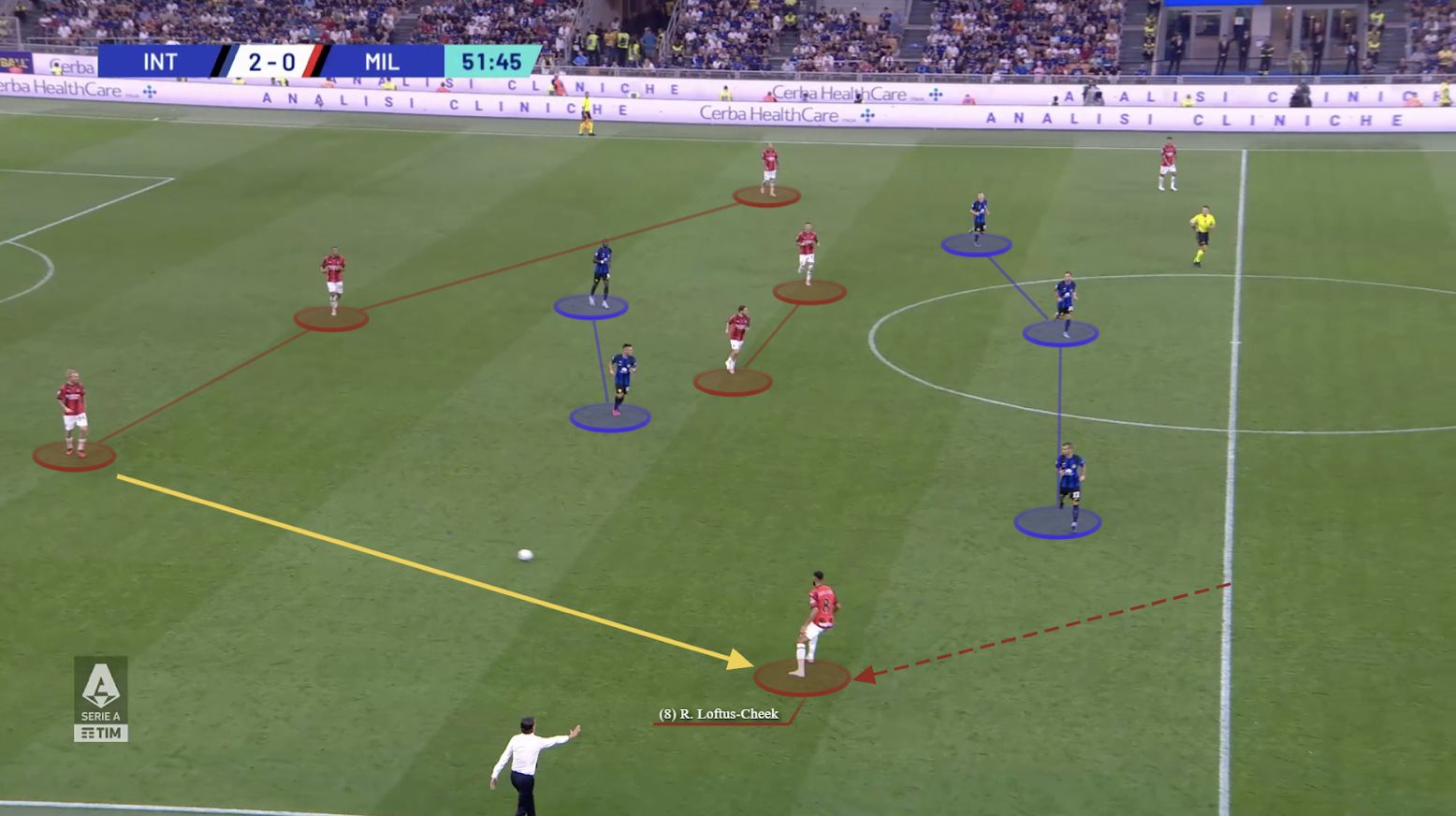 On this occasion, Milan did attempt to play inside the Inter block with Loftus-Cheek and Calabria exchanging passes. There was a slice of luck in this sequence as Loftus-Cheek actually got dispossessed but the loose ball fell to Krunić…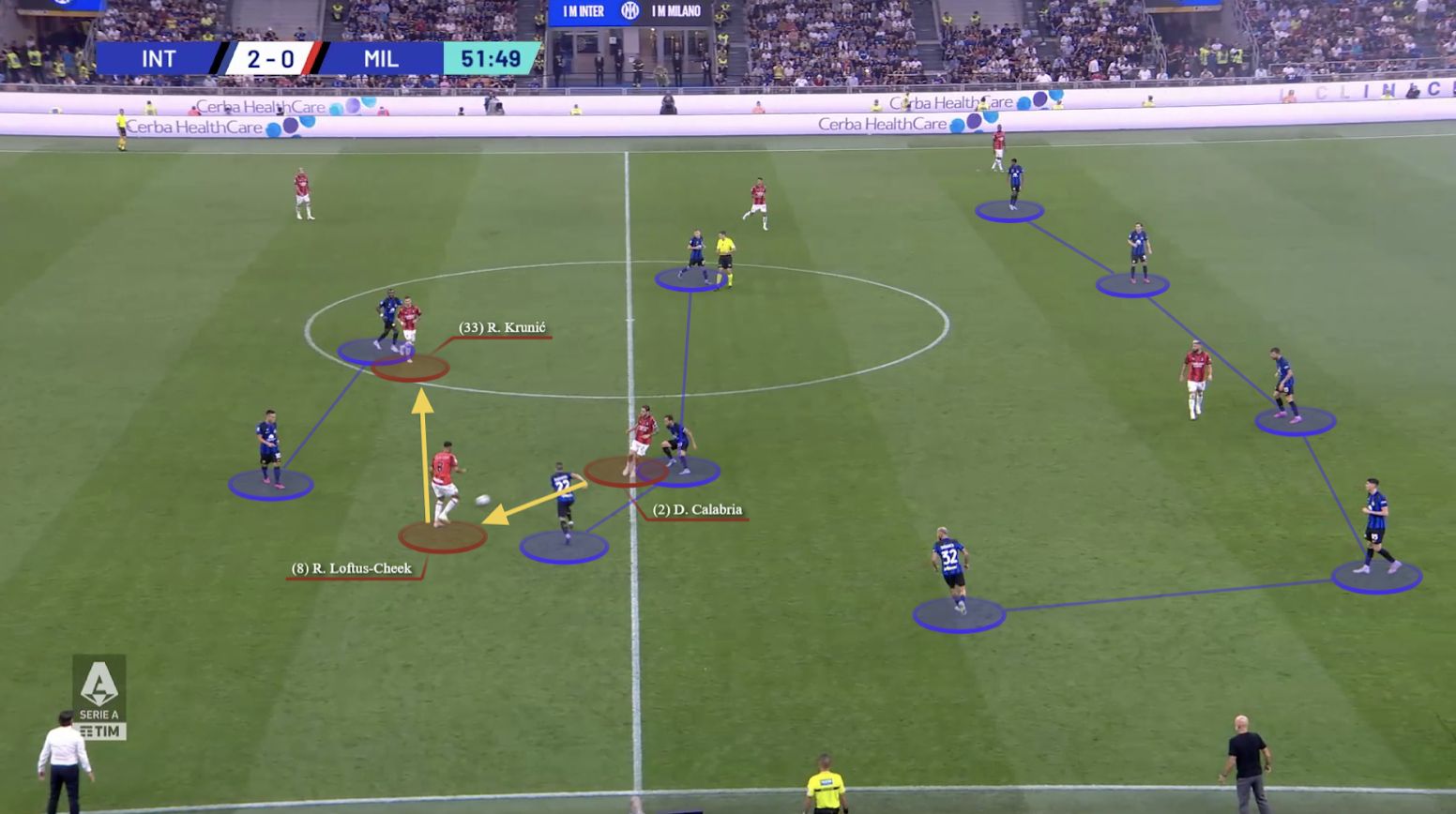 …who found Calabria in behind the Inter midfield and with space ahead to penetrate.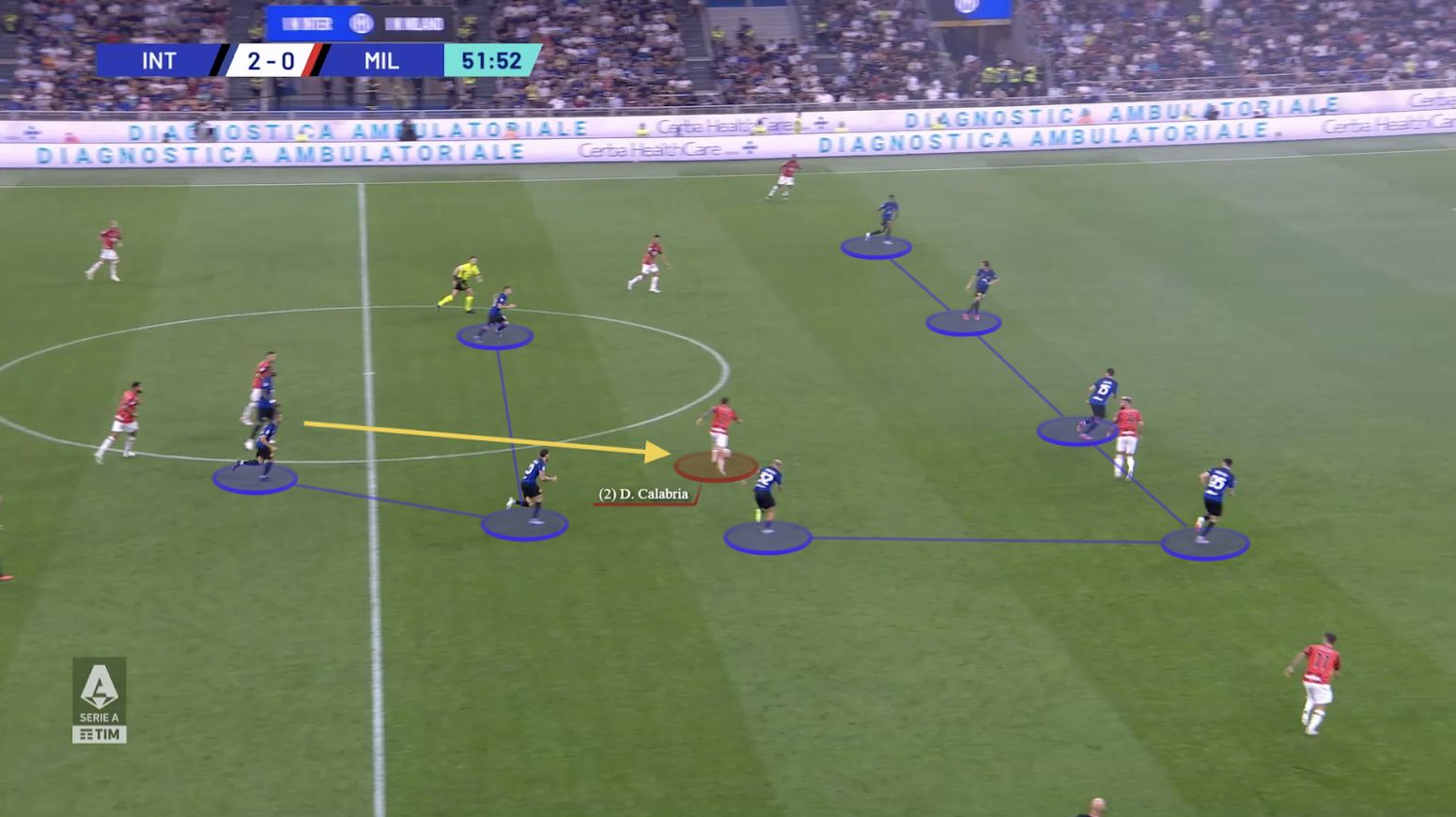 However, Calabria's diagonal pass to Reijnders lacked quality with the ball ending up behind his teammate and by the time Reijnders had sorted his feet out, Inter were back in shape and able to defend their box with the attack fizzling out.
The examples of Milan's central penetration were few and far between and by no means is it suggested that more successful attempts would have changed the outcome of the game. However, on the occasions it did occur, like the two examples shown, Milan looked more likely to penetrate the Inter block.
Whilst Calabria's central inversion is as much about occupying opponents and creating space for teammates – and to date in Serie A it has helped Milan bypass opponents by going on the outside and over the top – if Milan are to persist with this build-up structure, then they will need more variety to their play.
Granted, Pioli's side will not face opposition who are as defensively organised as Inter every week – who deserve a lot of credit, as on occasions Milan were simply bettered by their effective defending. 
But finding ways of playing through their situational double pivot to allow their advanced midfielders to occupy more central positions between the lines would help offer the team an additional route of penetration, especially against effective low blocks.
However, with all that being said, Milan's on-ball approach was not the only factor in this derby defeat… 
Inter's targeted attacks
As described in this preview, when facing a back three and wing-back system, Pioli implements a player-orientated pressing scheme. One of the roles in this scheme is for the ball-near Milan full-back to jump to the opposition wing-back.
One of the upsides of this approach is that this pressure can rush the opposition into mistakes and turnovers can be forced. One of the downsides of this approach is that it disjoints the Milan backline and opponents can target and exploit the vacated spaces left by the positional jump.
And that's exactly what Inter did throughout the game and which helped lead to the opening goal. In what was practically their first spell of possession in the game, a pass is made wide right to Dumfries which triggers Hernández to jump up and engage…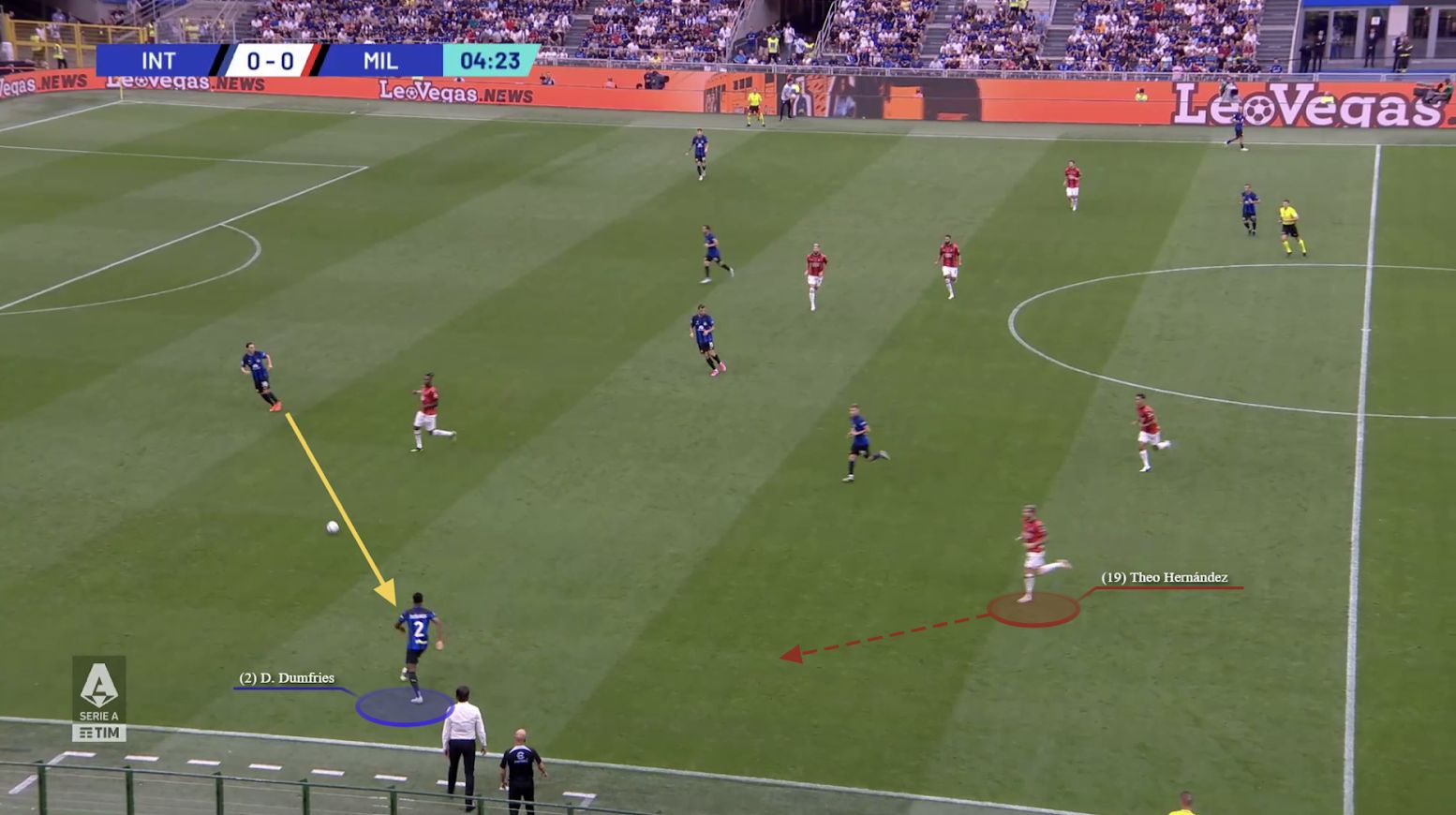 …and if you need any clearer evidence as to this being a premeditated tactic, take a look below. Dumfries did not hesitate to go direct into their forward line and Inzaghi and his coach were both pointing towards the intended direction of play…
…Thuram manages to get first contact on the ball ahead of Thiaw and poke into the desired area of space Inter want to exploit.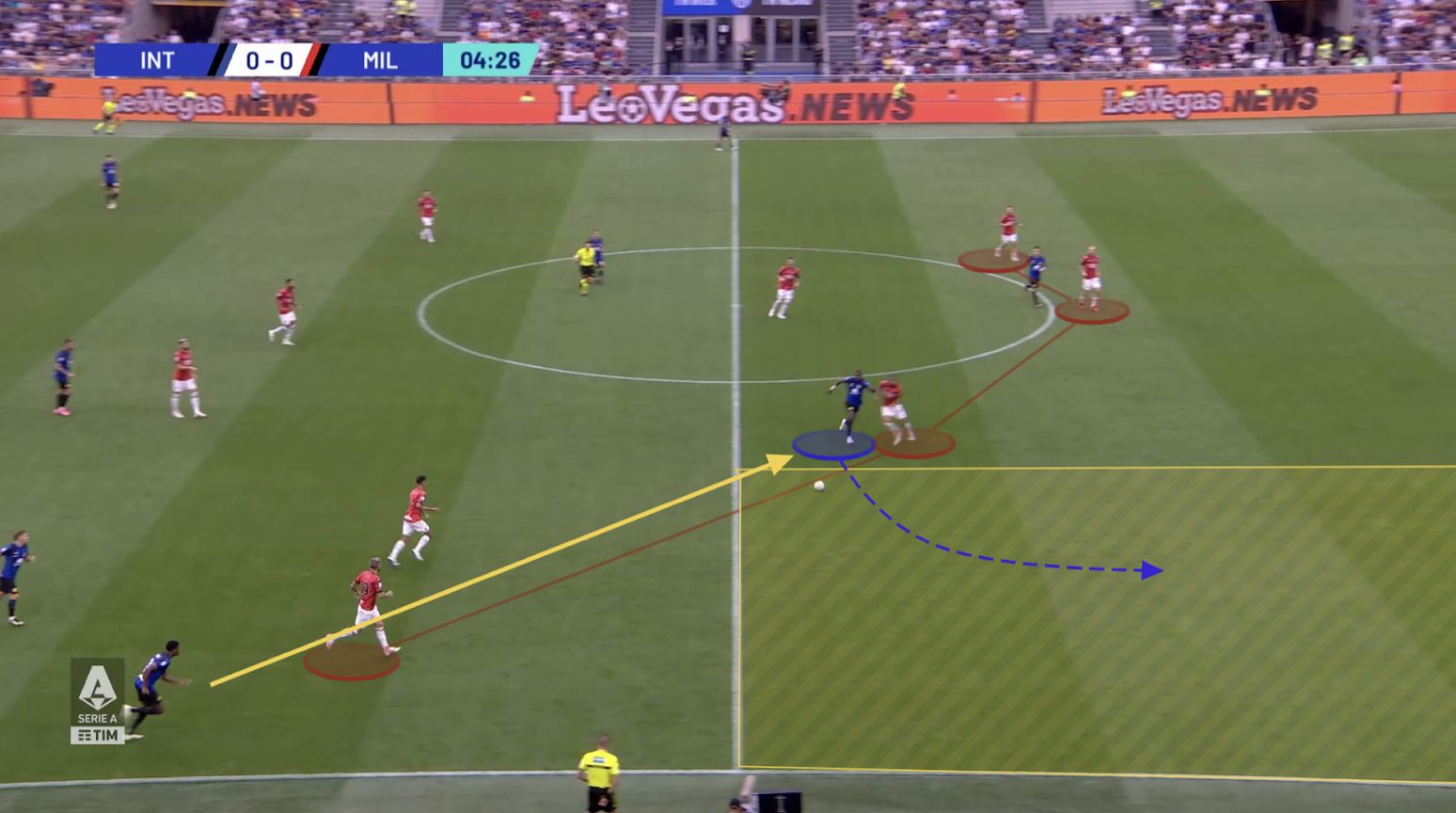 From here, Thuram carries into the penalty area where at the second attempt his cross finds Federico Dimarco whose shot gets redirected into the net by Mkhitaryan.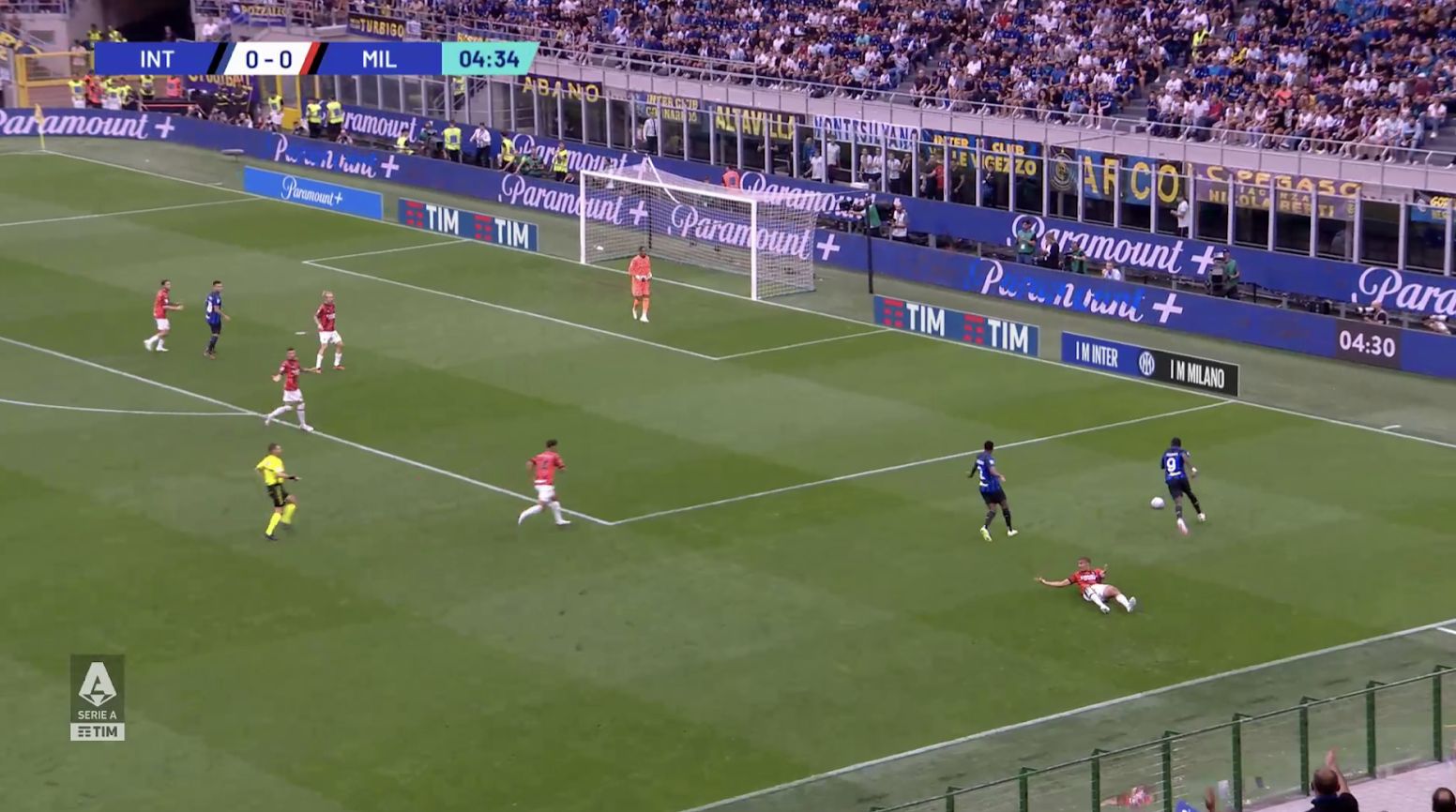 But this was not an isolated incident. In the 24th minute, Inter used a build-up pattern of play to manufacture another Hernández jump.
In the image below, you can see the start of the sequence with all Milan players locked onto their designated opponents and Barella dropping deep to receive the ball…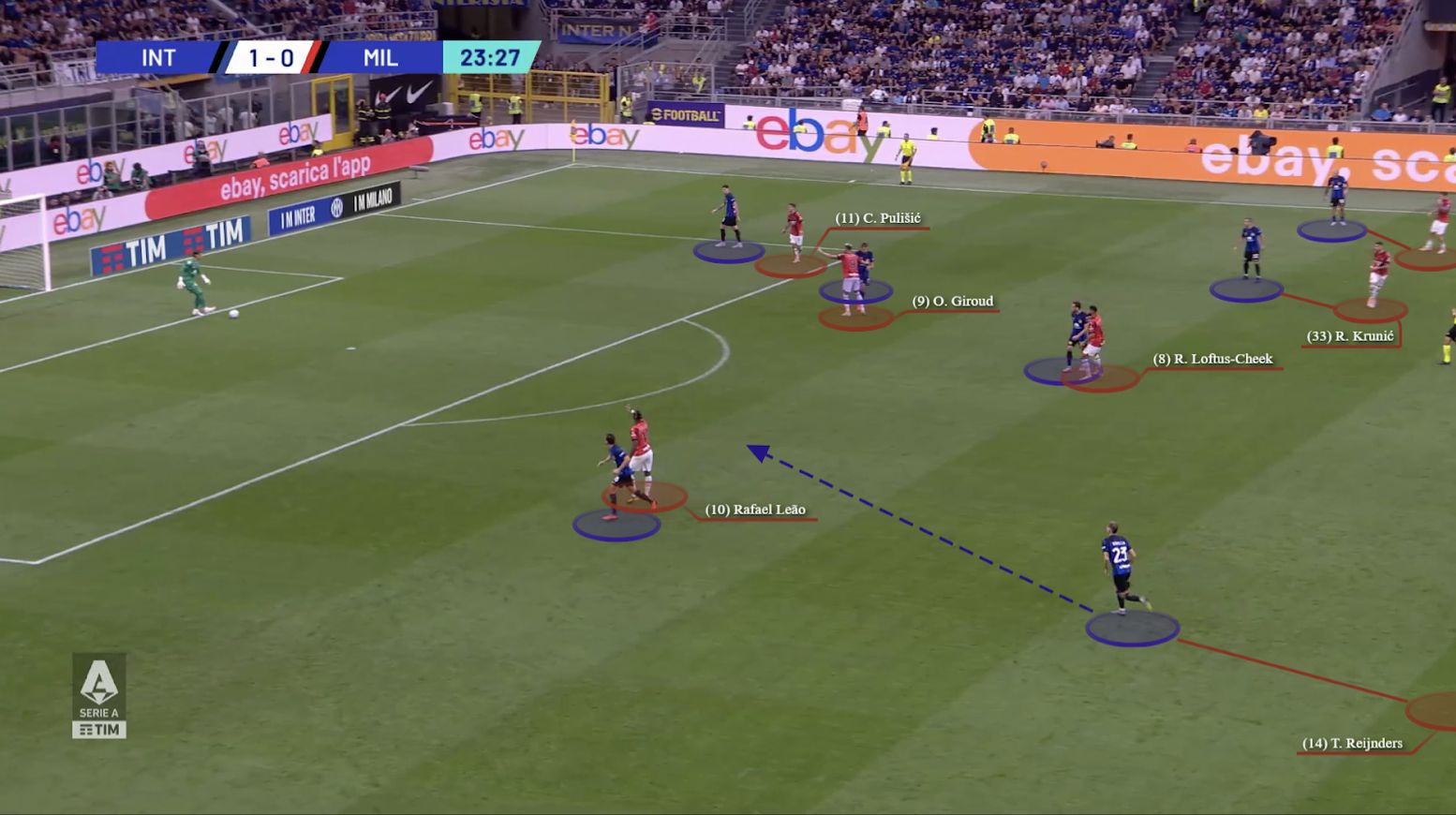 …the action preceding the visual below involved Francesco Acerbi making a blindside run off the back off Giroud to receive from Barella and then pass to Darmian and this movement helped disrupt the Milan player-orientated pressing scheme with no one now marking Acerbi – see both Reijnders and Leão pointing at the need to pass on opponents…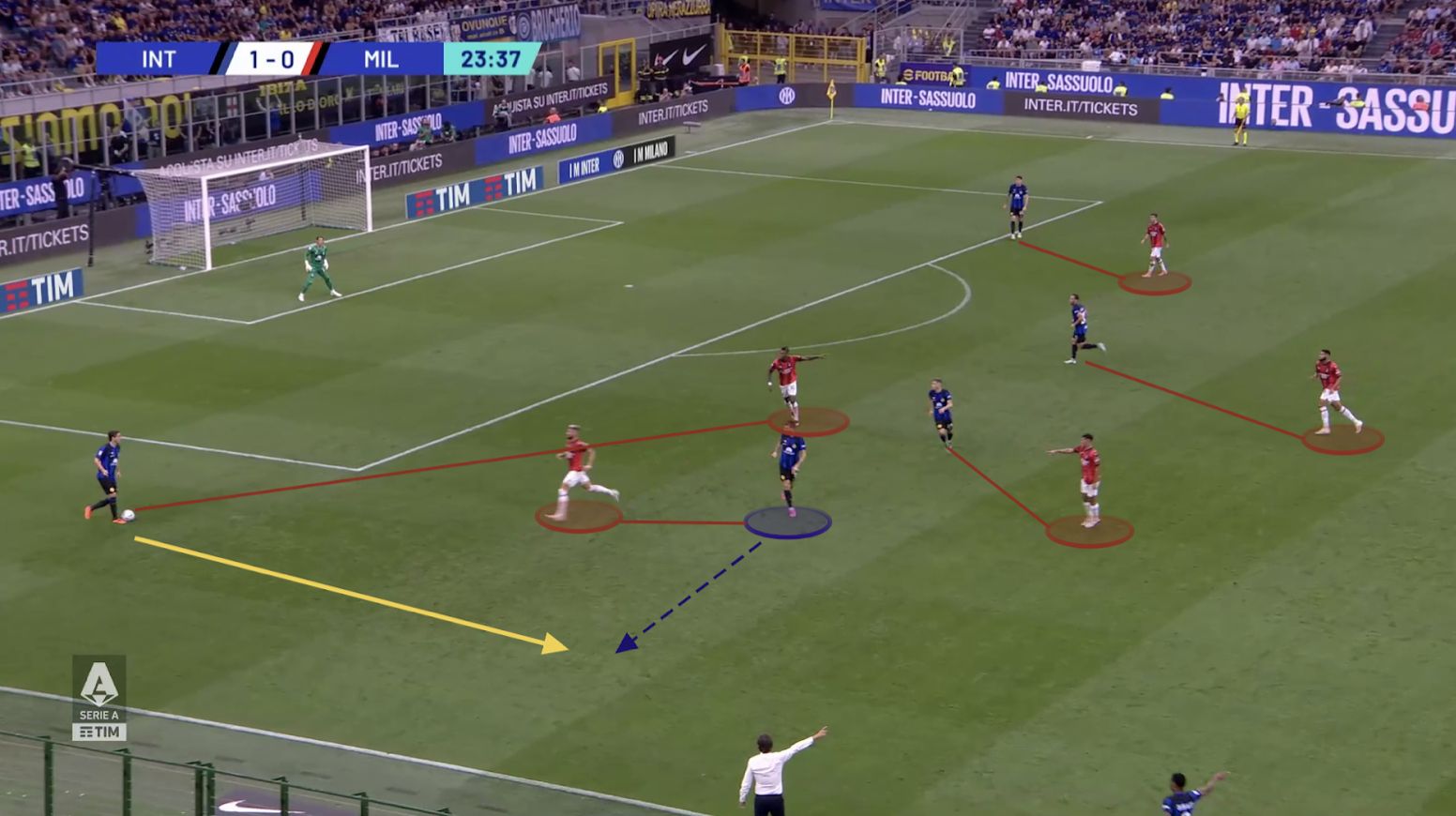 …but in the hesitancy, the free Inter player is able to receive the ball and, seeing Hernández has jumped up to Dumfries, plays a pass directly into the forward line…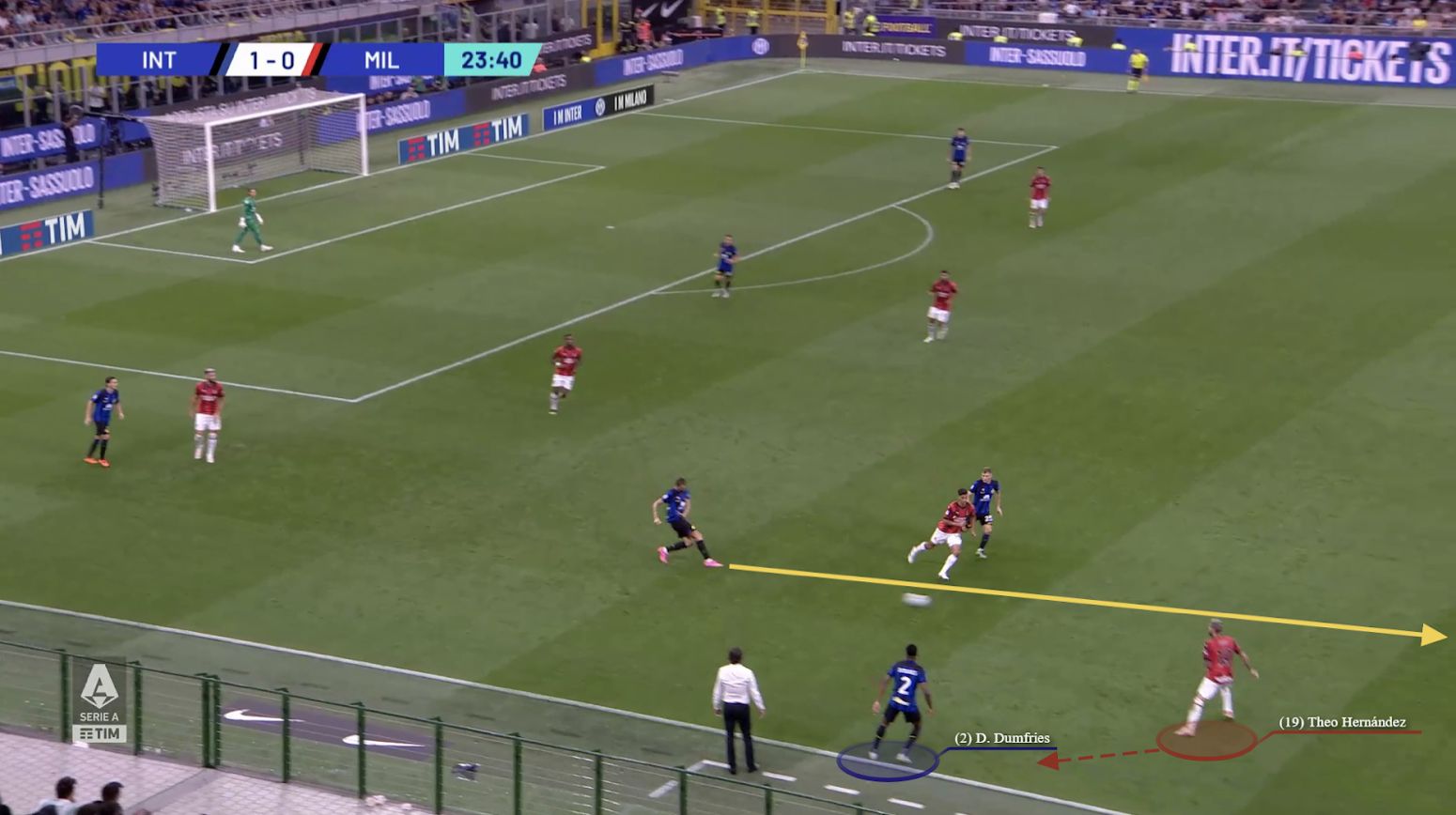 …who knew the plan. The three Inter players execute a slick passing move to exploit the space in the right channel…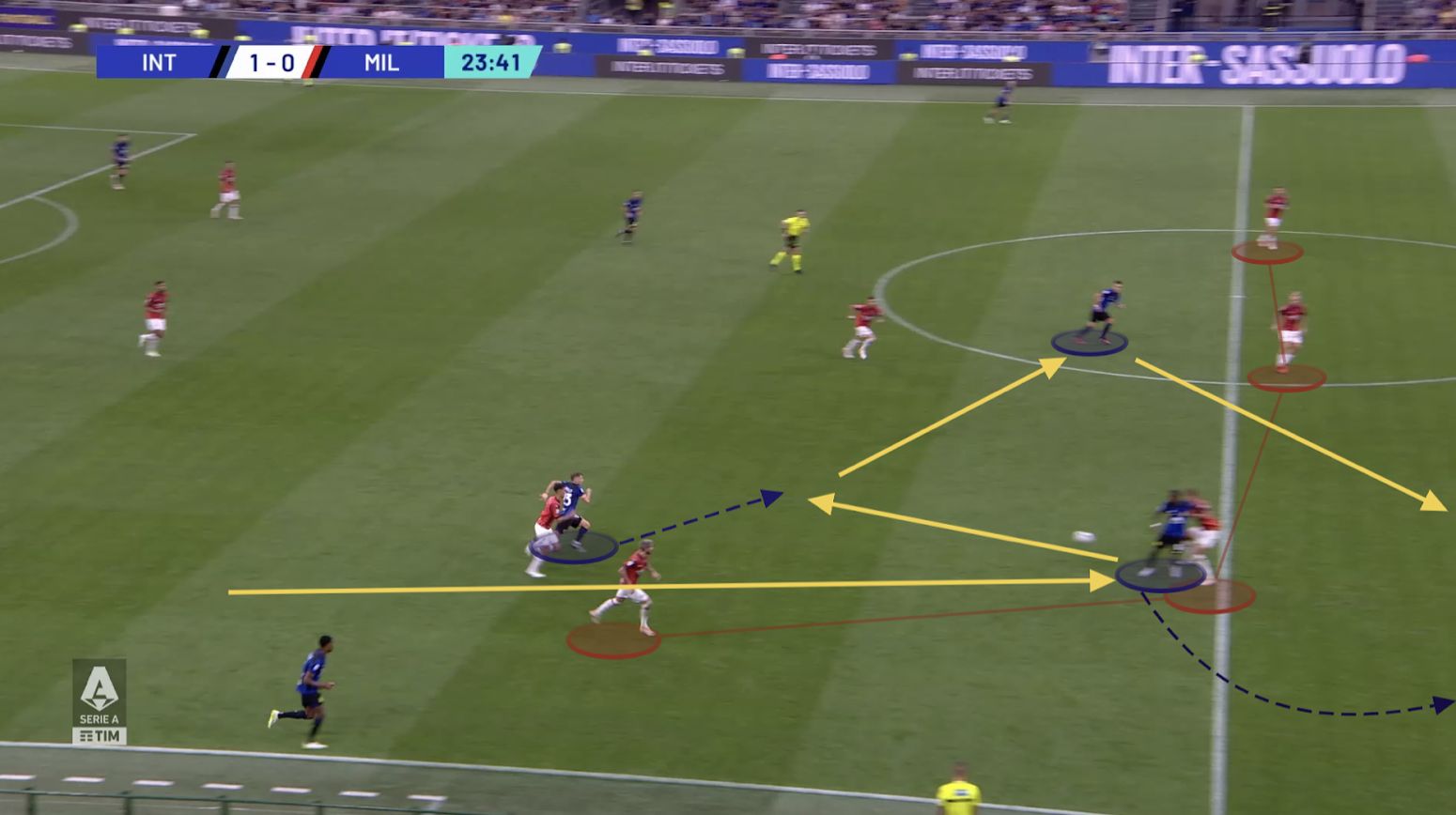 …in which Thuram is again one-versus-one against Thiaw but on this occasion the Milan defender concedes a foul.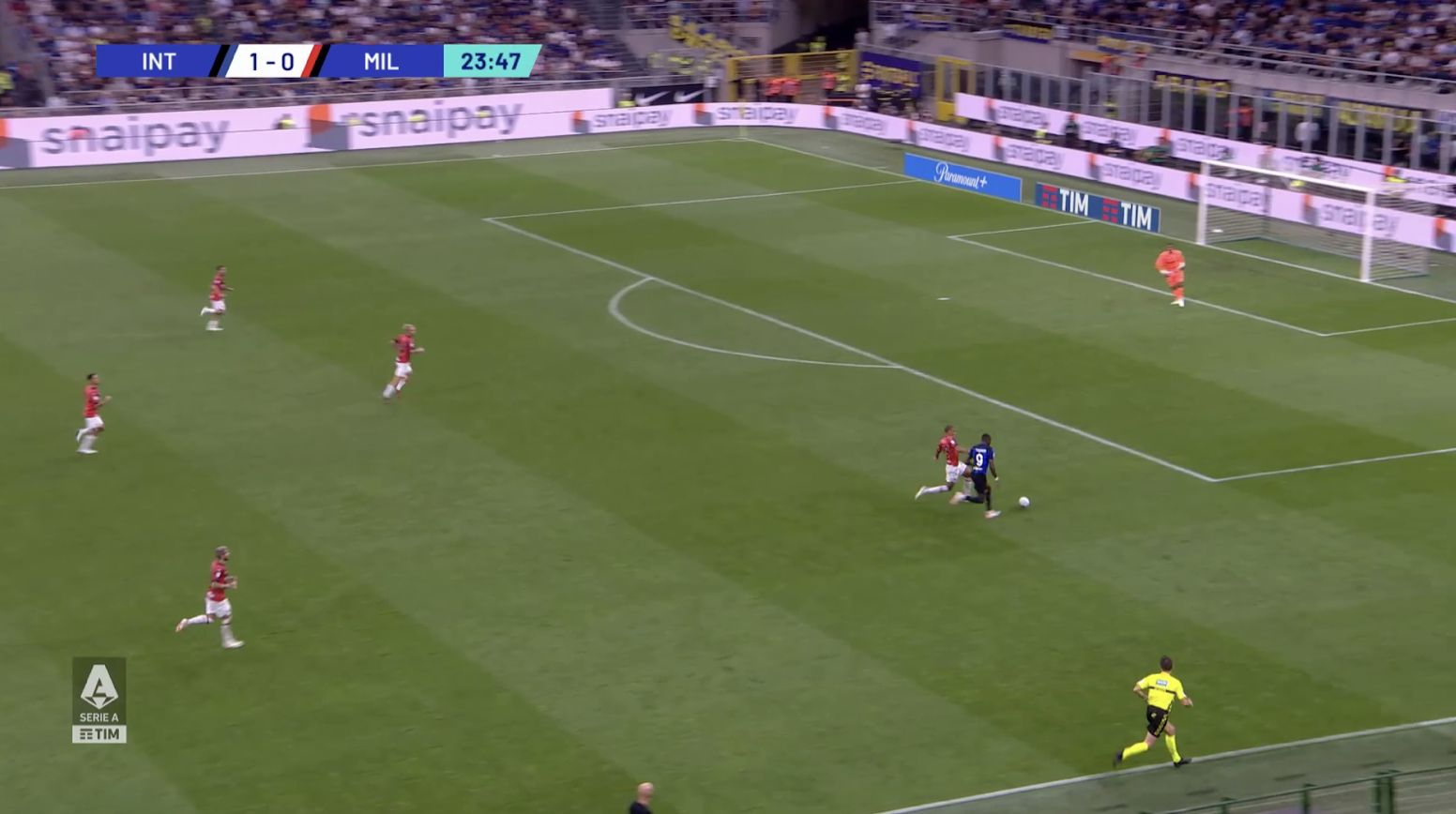 But it was not only in settled possession that Milan targeted the space behind Hernández, it was also in transition. And it was in these situations that helped lead to Inter's second and third goals.
And whilst Inter's game-plan to target these known vacated spaces against Milan deserves the majority of credit, as always with football there were some additional variables that fell their way on the day too.
Fine margins
It's a cliche Rosseneri fans will not want to hear following a 5-1 defeat to their city rivals, but there were elements of fine margins in the game too.
Notwithstanding Milan being unable to break through the Inter block and Inzaghi preparing this team with specific ways to exploit Pioli's tactical set-up, but, a number of small details seemed to go in the favour of the home side for nearly every goal.
The two potential fouls in the lead up to the first goal. Krunić being unable to control an Inter clearance (despite Milan on multiple occasions doing well to counterpress and sustain possession in the Inter half) and therefore affording the Nerazzurri the opportunity to counterattack and then score via a wonder strike for the second.
On the third, the bounce of the ball following Maignan's attempted long pass which fell to Inter, thus allowing them to counter and exploit Milan's unsettled defensive structure.
The careless swing of a leg from Hernández to concede a penalty. And for the fifth, a turnover following a tussle leading to a counterattacking opportunity.
No consolation no doubt, but some additional perspective on the final result perhaps.