AC Milan have progressed to the quarter-finals of the Champions League for the first time in 11 years, beating Tottenham 1-0 on aggregate. Down below is a tactical analysis of the second leg in London. 
With the Scudetto seemingly out of reach for the Rossoneri a favourable draw could see them go full tilt for a semi-final berth or at least being tricky opponents for the remaining clubs in the Champions League.
Contrary to what many reports said on the 2nd leg in London vs Tottenham I thought it was more of an interesting game than some have let on, with both teams deploying a back-five system and unable to take advantage of openings that would normally occur when one team was able to break free because of the other's pressing.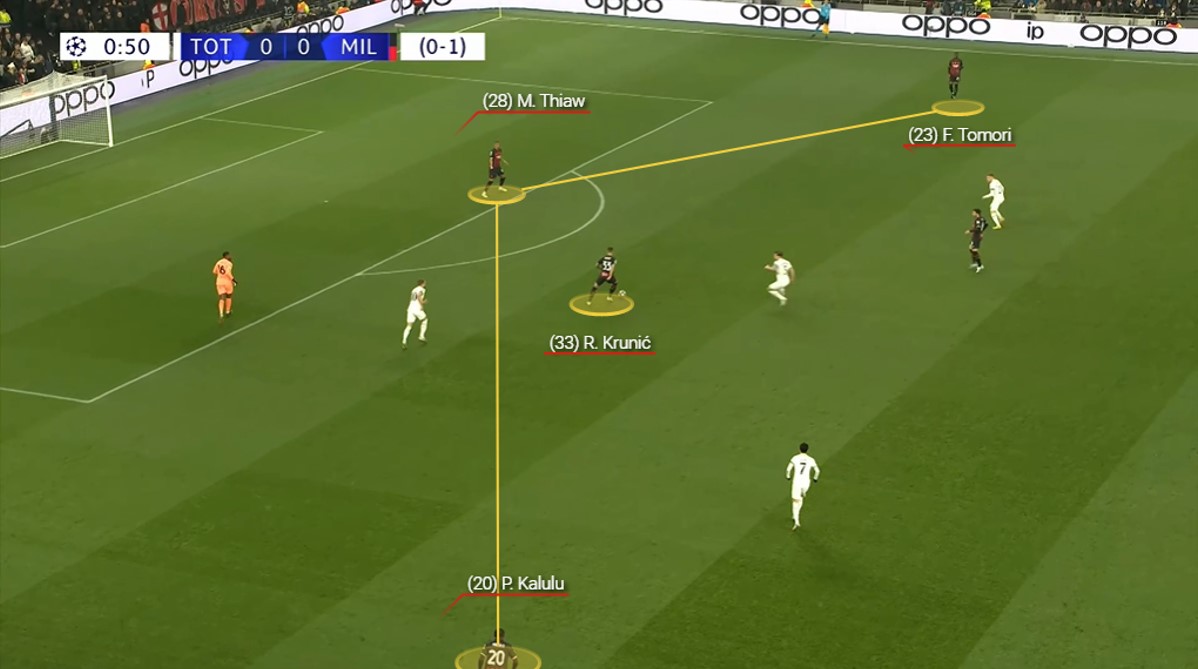 It felt as though Tottenham Hotspur when Milan had the ball deep in their own half in this first phase of play, sometimes involving Mike Maignan when Spurs pressed with four or five players. Harry Kane, Son, Hojberg and a wide winger in Kulusevski with a full-back sometimes pushing up.
Whilst the press from Spurs wasn't exactly stifling in its intensity it was rather difficult to deal with in terms of build-up and to counteract this Milan did something they've done an incredible amount of times in the last few games which is simply to go long to Oliver Giroud, or jump on second balls for Leao to dribble through.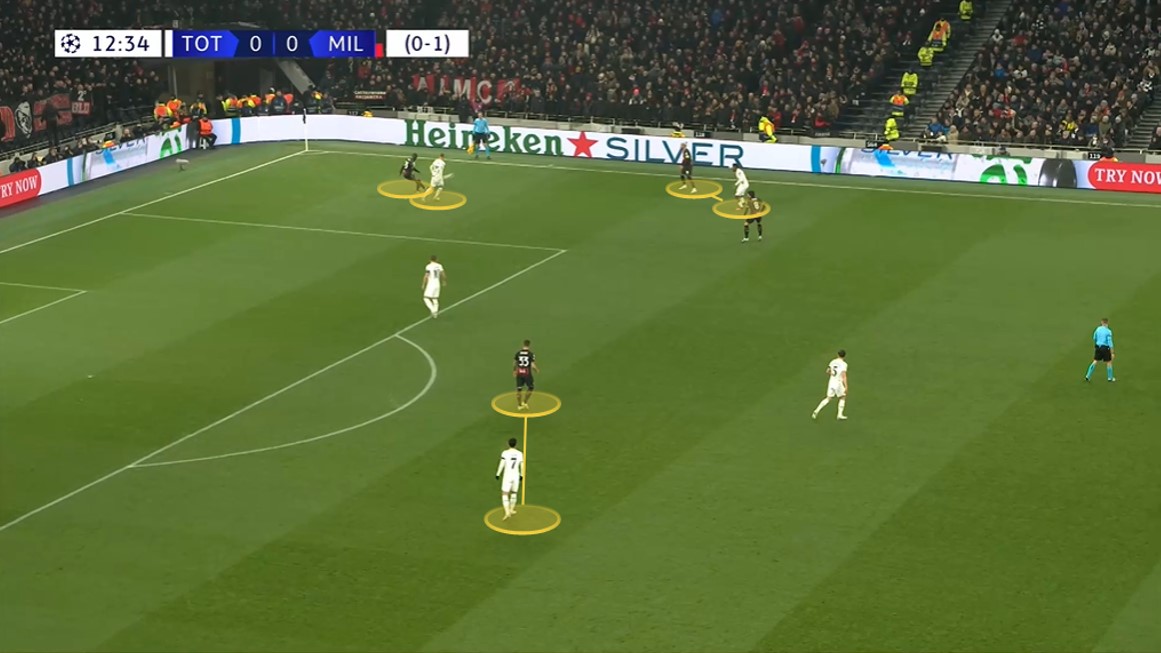 This is Kalulu clearing long for Giroud bypassing Tottenham's press. With Milan playing in a back five and seemingly no route to play it to Tonali to then link-up with Brahim or Krunic this has been the best option for Milan and has been extremely effective vs Atalanta for instance.
I'm not really sure how to feel about this because I can understand the fact that without Ismael Bennacer, there isn't a press-resistant midfielder that could show and be available for the ball successfully transporting it by ball carrying 20 odd yards and then looking to pass it after bypassing the press, but also Tonali-Krunic might be a pivot that might lack a little bit of industry.
It's absolutely fine, if you're looking to nullify the opposition and Oliver Giroud is an incredible ball magnet and can literally create something out of plucking a ball from the air, but I think Milan should probably look for different outlets in the build-up.
One of the few occasions they showed they are capable of doing this, is quickly utilizing Tottenham's press to play quick one-touch football, using the press as a mechanism to take players out of the game whilst moving up the pitch.
The idea of this is to use the opponent's man-to-man pressing, to create space in behind. Here, Krunic plays it to Leao who manages to use the fact Romero has pushed up close to him as Theo gallops past Emerson who is now out of position, the attack doesn't come to anything as Theo's cross for Giroud is poor but it is certainly threatening when Milan are able to string a pass and move sequence together.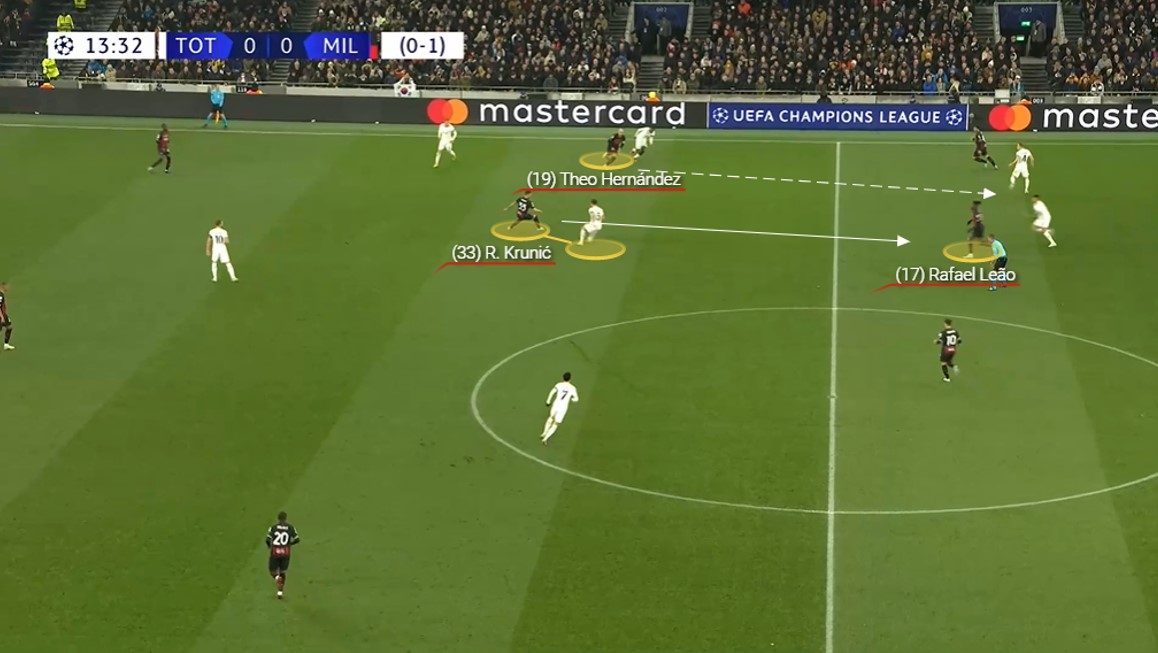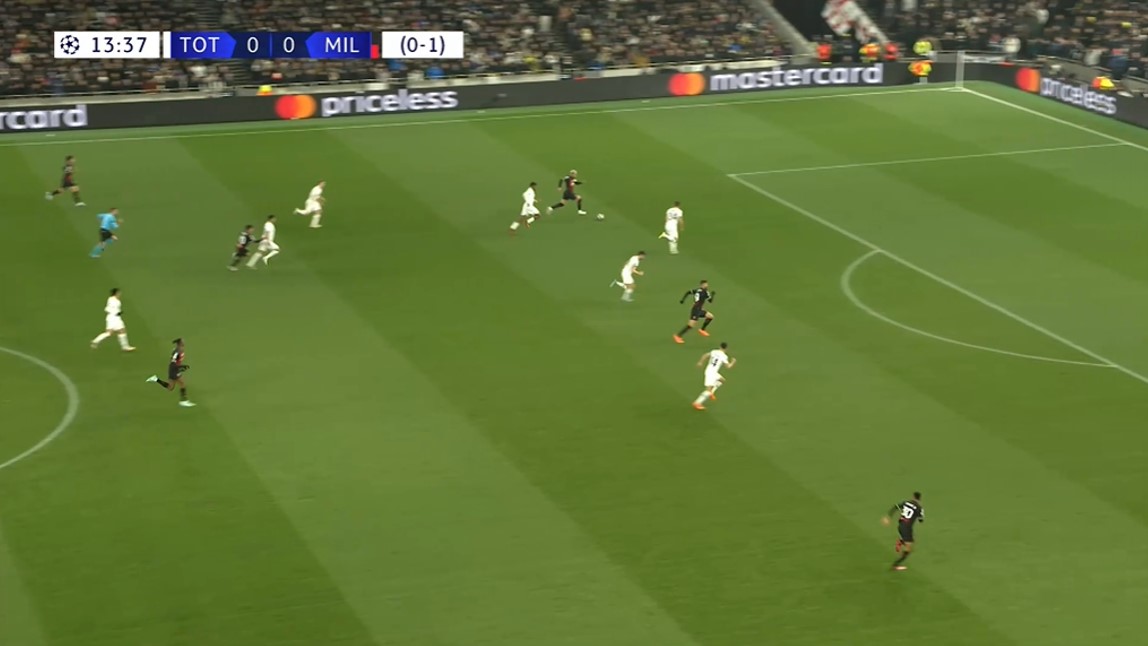 Similarly, AC Milan looked to press man to man up the pitch too, which is actually what Tottenham would want. As below they look to press with their midfield and attack, but when the ball is played up to Kulusevski, look how quick Milan are to get back into shape. Tottenham want teams to press them so they can quickly play it into Son-Kane who can lay it off to a midfielder/full-back close by and then dart to make a run in behind the defence, it leaves space behind a defence and the ferocity of a move from a Conte team is normally through how quickly the players pass to each other.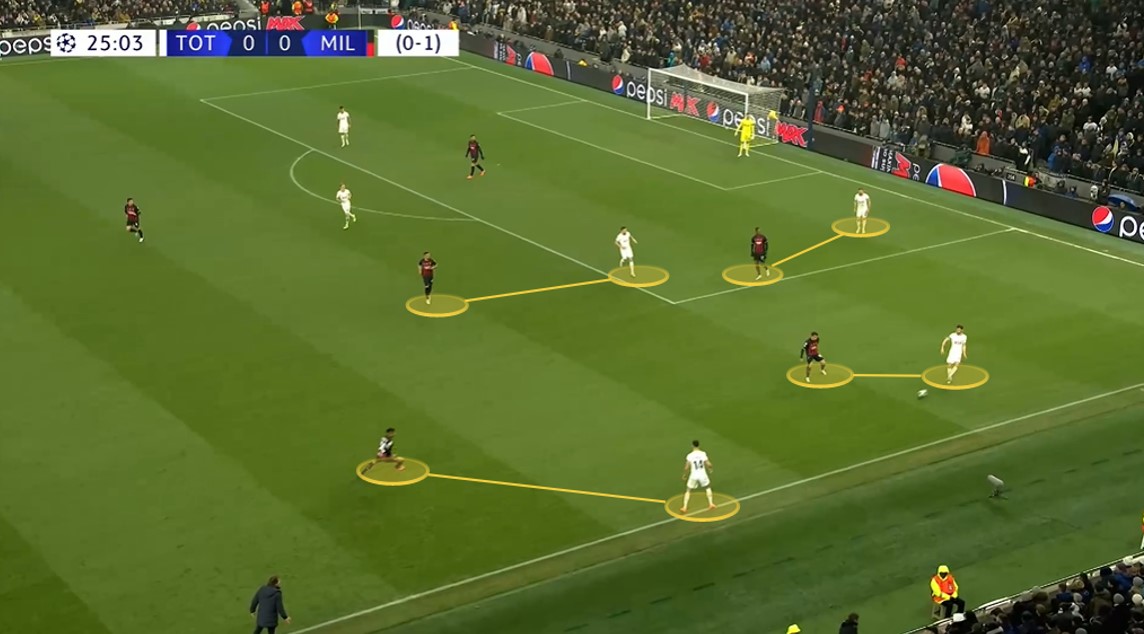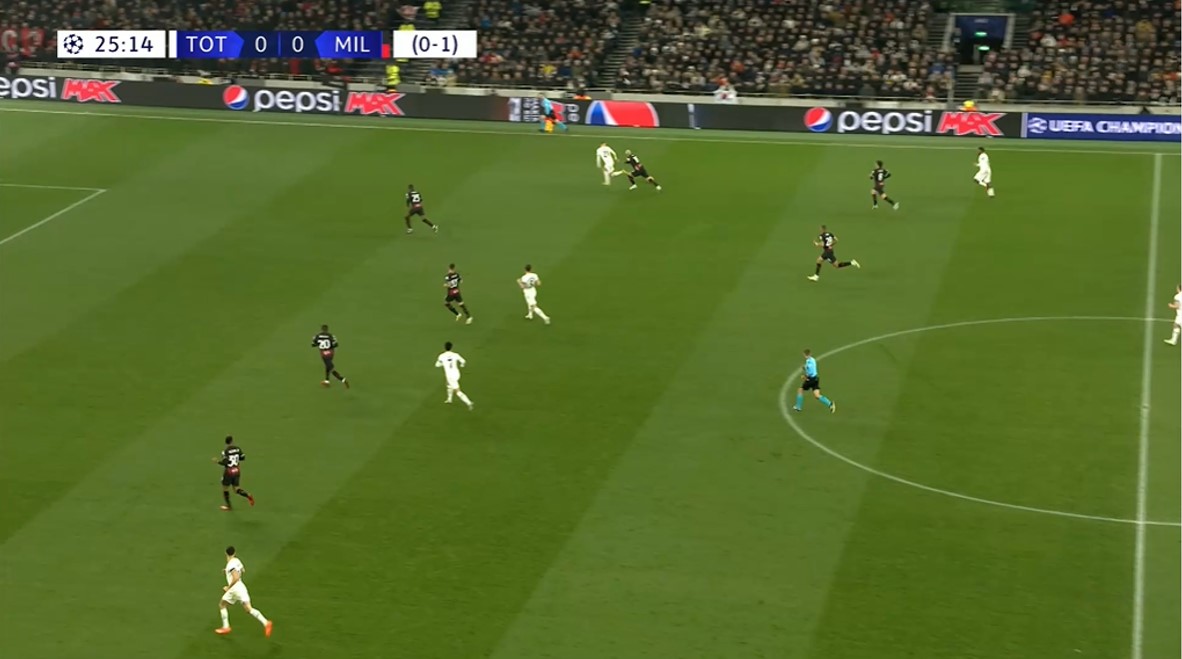 Tottenham's main threat occurred when Milan pressed them up the pitch and the ball would bobble loose to one of their players so they could break quickly, but the issues and poor decision-making they've had all year were on show, with a loose pass or a cross not reaching its man.
It did feel as though both teams would gather an opening when the other's move would break down as they quickly broke but the decision-making in a move would be poor or the pass way off.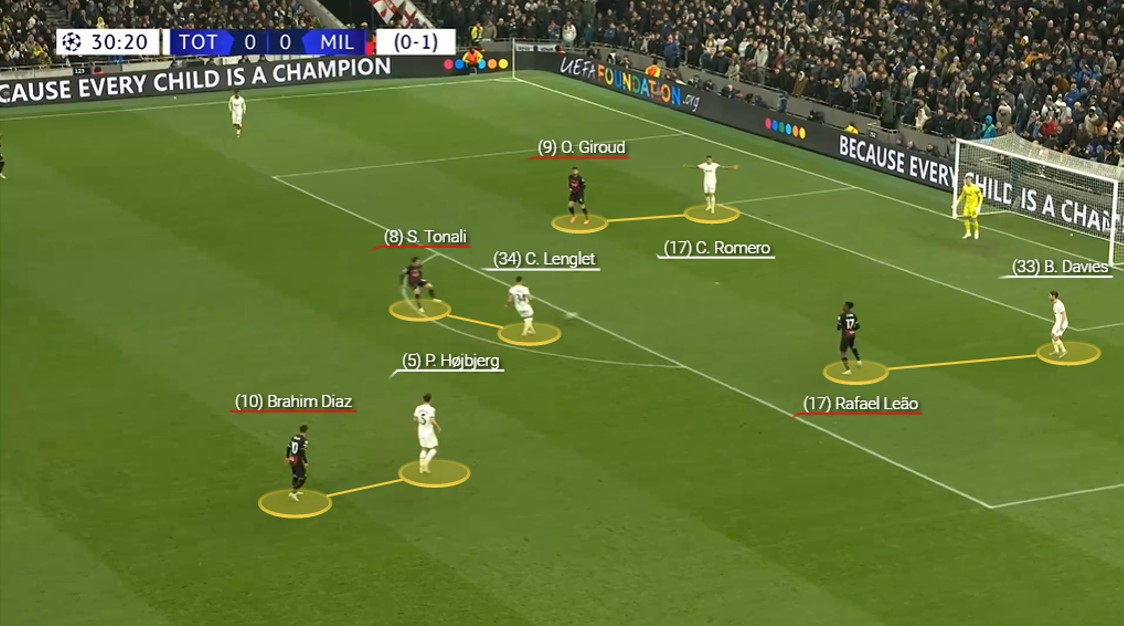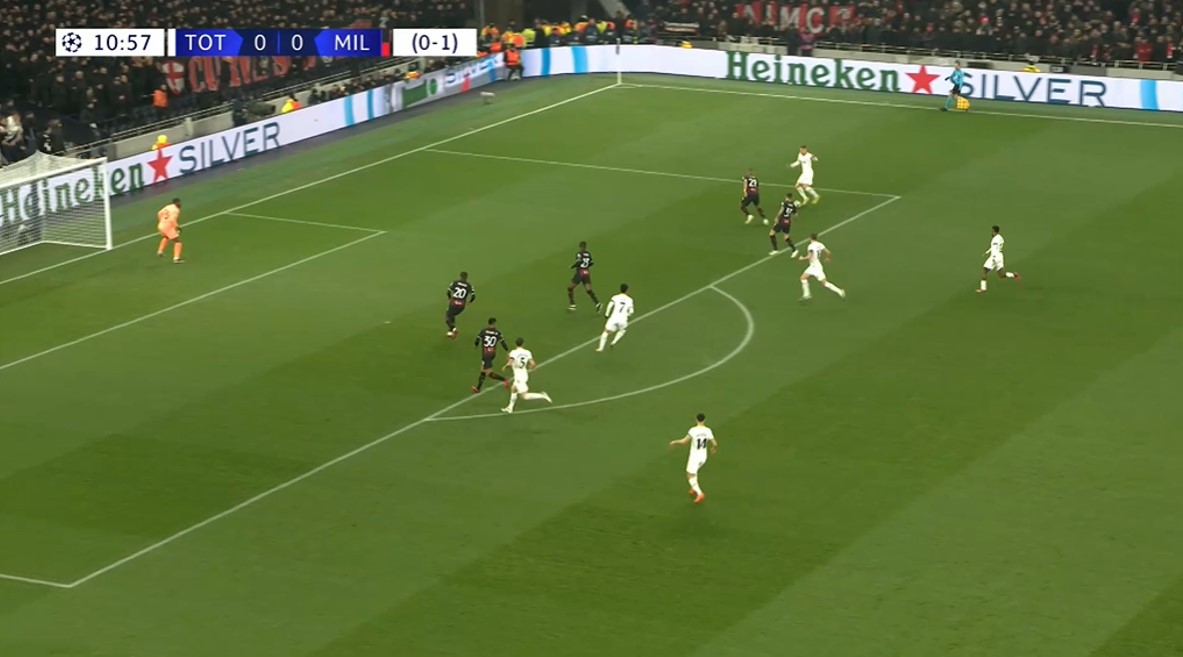 Aside from this Malick Thiaw and Pierre Kalulu were excellent and man-marking and following Kane or Son whenever they would receive deep in their own half. If you can cut off the link and threat in build-up for Spurs, you're probably not going to have to deal with the attack forming in the first place, and whenever Kane or Son did wriggle free the decision-making was slow.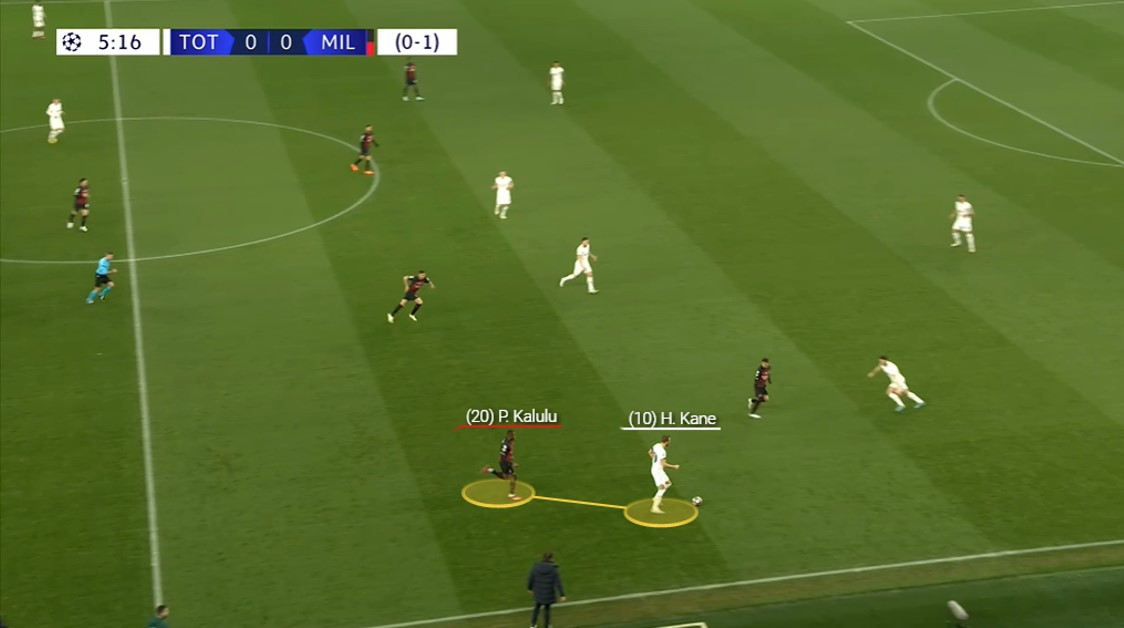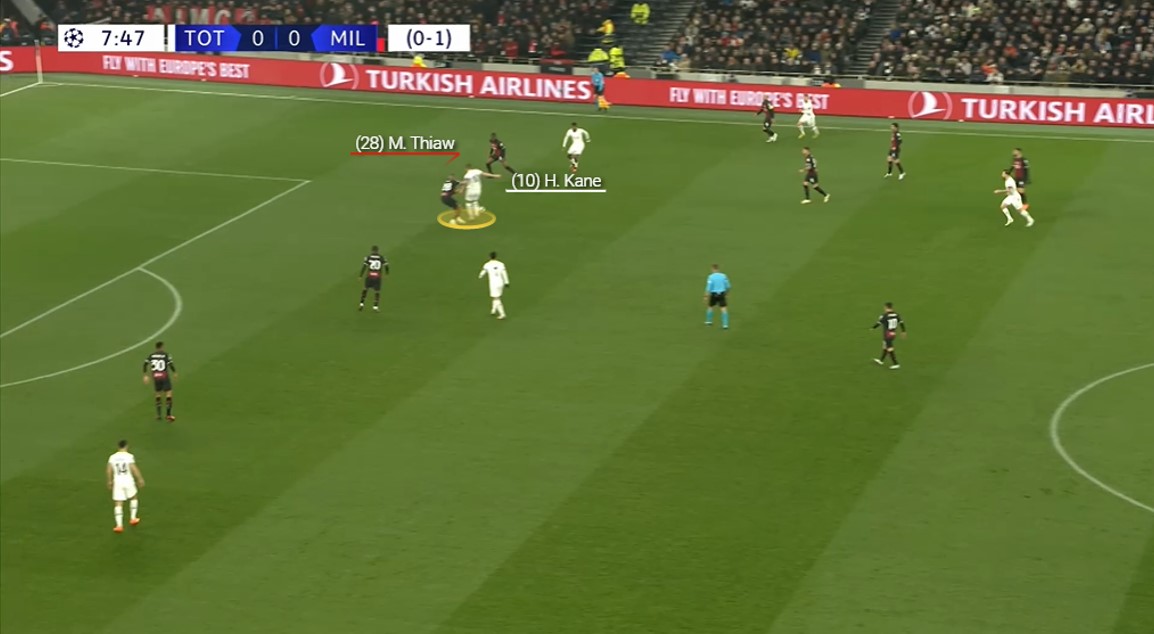 Milan can take heart from the fact that over two legs, they were just the better team and possibly could've won by a lot more. Even if Spurs have stagnated the way they have, under Pioli's tactically flexible new system they are able to keep some of the world's best strikers at bay.