AC Milan and Red Bull Salzburg played out a 1-1 draw in the opening game of their Champions League group stage campaign in what was a tactically intriguing affair.
Before the game there was a lot of talk about Salzburg's immense pressing ability, one that has certainly seem them have success in the competition so far given that they reached the knockout stages last season and even drew with Bayern Munich at home.
After the game, those among the Milan fans who not aware of their playing style certainly were afterwards, because the home side were uncompromising against the Rossoneri. Here is a demonstration of how their pressing mechanism works…
Salzburg's approach
Their new head coach Matthias Jaissle – who took over from Jesse Marsch after he left for Leeds United last season – plays a 4-3-1-2 or a 4-4-2 diamond meaning he gets a lot of central dominance but not a lot of width. For that, he needs his full-backs to push up.
In this sequence Red Bull Salzburg begin their press with their front two players Fernando and Noah Okafor. Passing into the centre would mean that Milan would get outnumbered 3v4, so they had to push the ball wide.
Here we can see Okafor follows Kalulu while Kjaergaard (LCM) pushes out wide to press Calabria. The job of the AM is to cut out the passing lane towards one of the double pivot while Capaldo comes inside to maintain a narrow playing space.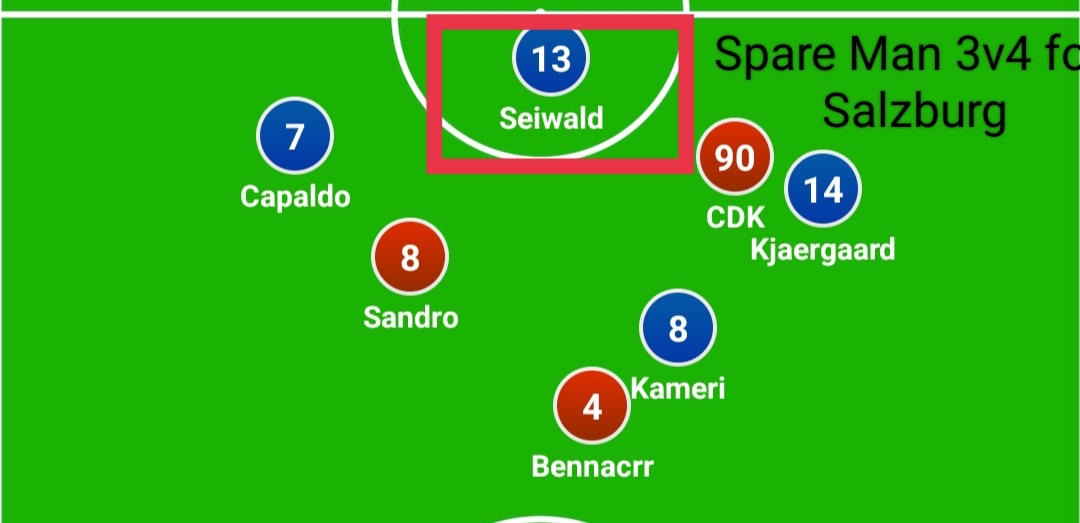 This allows their single pivot – Seiwald – to vertically backup Kjaergaard (LCM) giving Salzburg an extra layer of protection.
— Rohit Rajeev (@keralista_v2) September 8, 2022
Breaking the press
Milan had an intense derby and could not expend much more energy hence, they had to come out with ways to bypass Salzburg's press. With press resistant players like Tonali, Theo and De Ketelaere Milan were able to achieve it.
Milan won the ball back and Tomori passed it to Theo. The left-back sees Tonali and De Ketelaere in close proximity.
— Rohit Rajeev (@keralista_v2) September 8, 2022
To facilitate quick passing movements the best way is to shorten the distance between the sender and the receiver. Here De Ketelaere and Tonali were close to each other, and Theo's quick vertical pass meant Salzburg were disturbed and couldn't settle into their pressing structure.
As soon as Milan won the ball back both Tonali and De Keteleare scanned their options, and Theo's quick pass meant Salzburg's right-back Dedic had a decision to make to follow CDK and leave Leao.
De Ketelaere took two touches to allow Dedic to come on to him while Tonali pulled Seiwald out of the way to make space for Bennacer to run unmarked, and De Ketelaere made an exquisite pass to release him.
Once Dedic was pulled out of the move by CDK, it meant Leao had a free space to run and take on Solet and then the goal happened.
---
There were plenty of obvious points of comparison going into the game such as the commitment of both clubs on and off the field in scouting, signing and developing young players through an exciting and modern playing style, and both sides showed plenty of that in Austria.
Perhaps Milan will have more energy in the tank for the return fixture at San Siro and will have more players fully integrated to Pioli's mechanisms, because playing through the press is the only alternative to succumbing to it.