AC Milan had a chance to extend their lead over Inter to 4 points and put pressure on Napoli too, but they failed to do so as they drew 2-2 with Salernitana.
Milan travelled to Salerno to face Davide Nicola's side in what was his first game in charge since being hired, and although he was still finding his way around Salernitana's set up, it would be fair to say they produced one of their best home performances of the season.
The Rossoneri took the lead early on through Junior Messias but any chances of another uneventful and routine win like the Sampdoria game were thrown out of the window when Bonazzoli and Djuric scored either side of the break to flip the game on its head.
In the end a 2-2 draw was thanks to a speculative strike from Ante Rebic but it was an otherwise very poor display, albeit in a week no team in the top half bar Fiorentina won their games. Here are some brief tactical points on the game…
Poor decision making
Some poor passing and crossing from substitute Ante Rebic has already flooded social media, but that was far from the only mistake that Milan made all night.
In multiple situations whenever a Milan player had the ball and were being pressed by an opponent, instead of passing to a team-mate who were unmarked and available, the player would try to dribble past his opponent and progress the play. This meant that Milan lost the ball far too many times.
Passive midfield
Despite playing their best side – especially in the double pivot with the quick ball-moving duo of Tonali and Bennacer getting the nod – Milan barely used their midfielders to build the ball through the centre and tried to build up through their full-backs. This meant Milan's build up was usually predictable, especially when Leao was being double teamed.
Clever sequence brings the opener
Milan's first goal came via a sequence of clever movements from Giroud, Leao and Brahim Diaz, who successfully pulled Salernitana's left wing-back and left centre-back out of position.
This gave space for Giroud to occupy and he pulled Fazio out of his space for Messias to occupy and receive the pass from Theo.
Drop the Mike
Mike Maignan has been nothing short of sensational in recent weeks, and we don't want to accuse any player of being over-confident before we simply say they made lapses in judgement, but having previously gotten away with coming off his line it seems the Frenchman did not learn his lesson.
Salernitana wanted to use the height of their forwards to ask some questions of Milan inside their own box, and as Maignan failed to snatch the ball the defence again found themselves in a bad position to react to a second ball.

By the time the ball drops, there are four Salernitana players who have committed to catching Pioli's side in transition and are gambling on a loose ball, while only Theo can sense the danger coming for Milan as the rest of the players were left at sea. A fortunate ricochet helped the hosts, of course, but it was a fatal example of how size alone can cause disorganisation.

Crossed wires
Fikayo Tomori was solid during his return to the starting XI against Samp, but he struggled to deal with the physicality of Milan Djuric on more than one occasion. For the second goal, it seems as though he doesn't notice the danger developing and is perhaps banking on Kessie winning the header a few yards in front of him.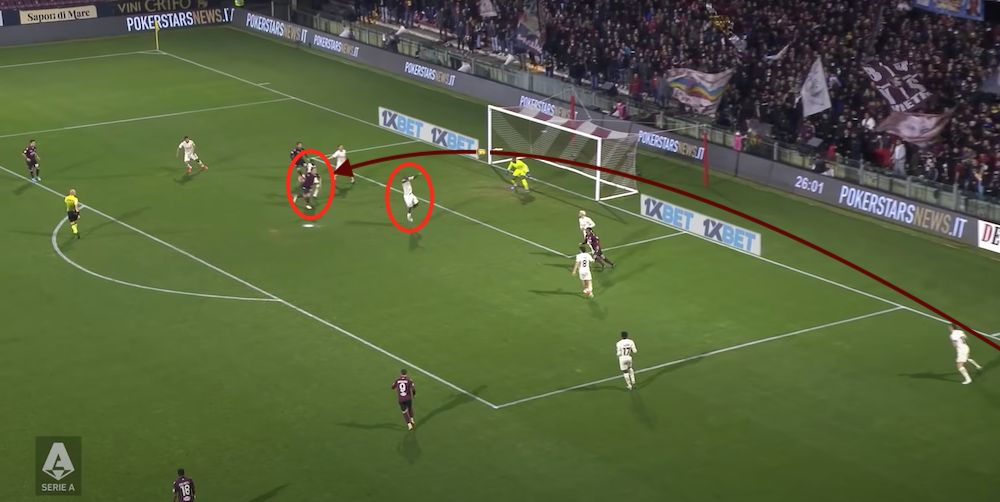 Instead, the Ivorian doesn't actually get anywhere near it and because the Englishman is flat-footed, Djuric uses his predatory instinct to stoop in first and power past Maignan with a great diversion.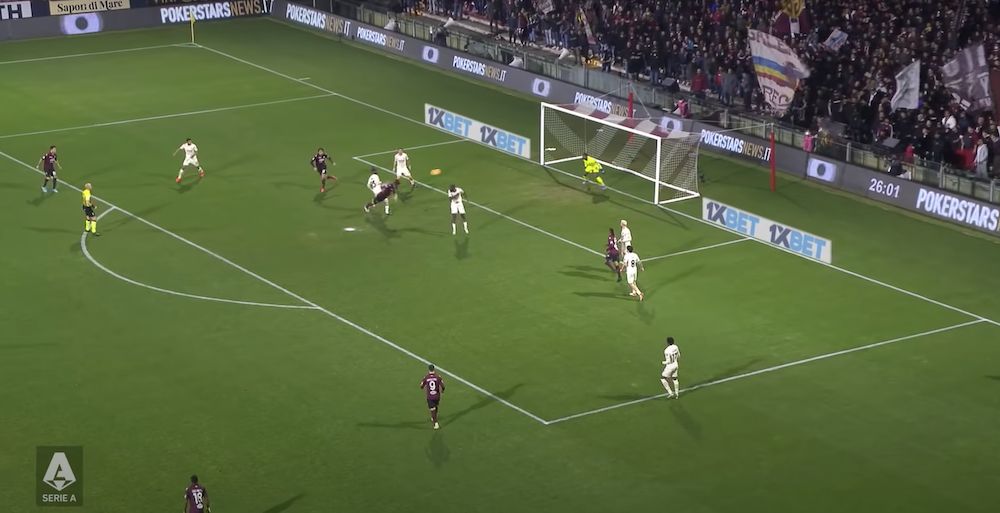 Set piece woes
Milan had seven corner kicks in total and even more free-kicks, but could not create a chance from set piece once again. Milan's frailties from set-pieces are becoming more and more of a worrying factor not only due to poor quality of deliveries and tactics but also with positions taken within the box.
Throughout the early stages of the season we saw a certain routine where players would run near post to try flick a header on goal or at least to a dangerous areas, but now there is no creativity and seemingly nothing off the training round to maintain that threat.
Intensity lacking
Finally, Milan's intensity is something that has to be questioned once again. As per the official data Milan were out-run and out-paced in the game by Salernitana. With no mid-week games or injury crisis, one has to wonder why Milan has had such a drop in intensity.
Something must change, the decision by Pioli to give the team two and a half days off after the win against Sampdoria – meaning the team started preparing for Saturday's match on Wednesday – has rightly been questioned by some because it disrupts natural rhythm.
Conclusion
The game against Salernitana had to be won at all costs with no ifs and buts, and it had to be faced with a different mentality, but instead Milan slipped into a lull after a string of positive results, suffering from mental lapses that put everything back into question.
Milan have been good this season at responding from performances that have been a let down and any result but a win against Udinese on Friday – something that is far from straightforward – will bring any title talk screeching to a hault.