AC Milan were held to their second consecutive goalless draw on Sunday night as they failed to score past Torino, loosening their grip on the Scudetto.
It was a game bereft of many clear cut scoring opportunities as Milan once again demonstrated an inability to replicate some of the fast and dynamic attacking play we grew accustomed to before the last six games, which have yielded just four goals. Below is a brief analysis…
Early warning signs
Torino actually created the better chances in the game and especially from open play situations, utilising the height and physicality they could get from extra runners. Milan's defensive record is the joint-best in Europe in 2022 but they still make some careless mistakes that have gone unpunished.
In the sequence below, Torino have created an overload down Milan's right flank with Tomori and Theo Hernandez each now monitoring Belotti's movement ahead of an obvious crossing situation.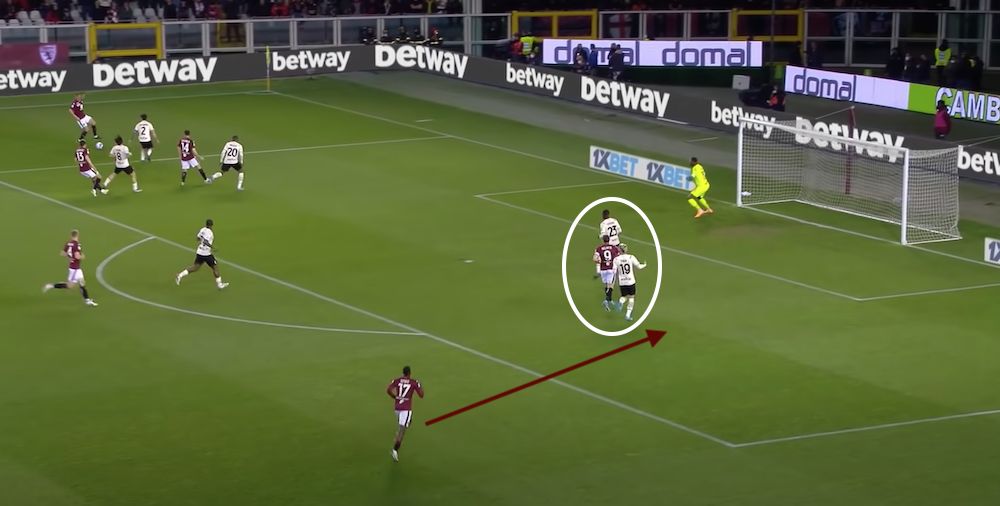 Wilfried Singo was impressive on the night for his energy and his dynamism, dominating the battle with Theo for the most part down the Rossoneri's left, and it is thanks to his size that he was able to create a bit of doubt in the Frenchman's mind about him attacking the cross late.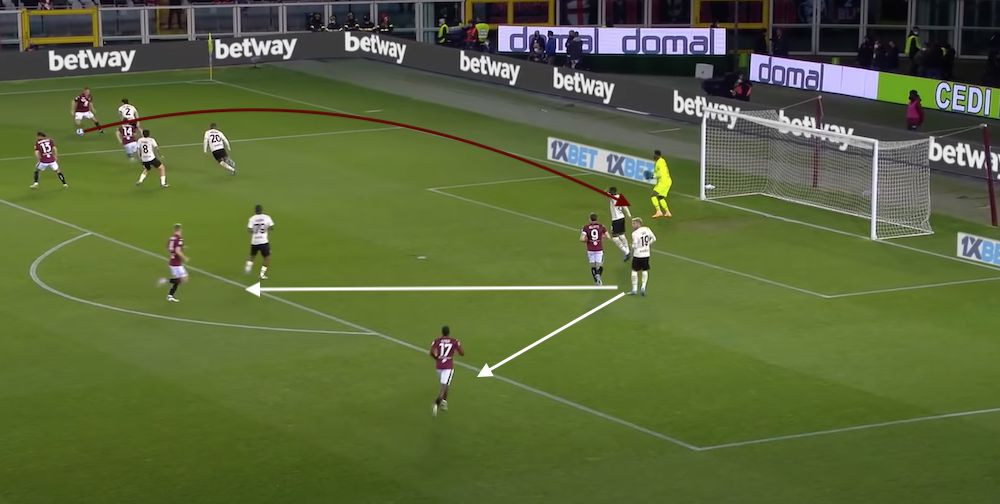 The result is that neither Tomori nor Theo actually end up attacking the ball and it allows Belotti to get in between them. Had the cross been a few inches lower, it's 1-0 and we are left questioning how he was unmarked from five yards out.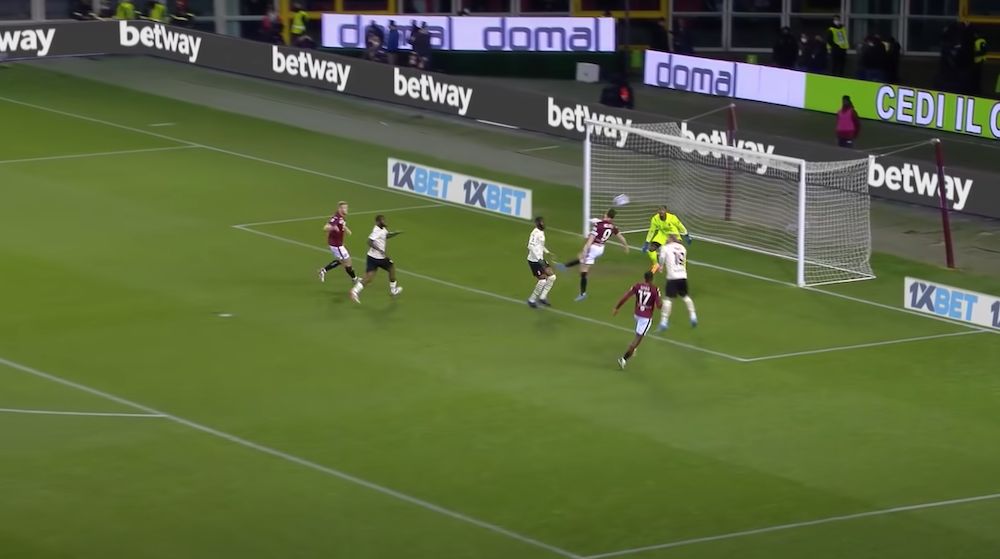 A brief opening
Rafael Leao has had very little joy since his surge of goals in the early weeks of 2022, and it is because of the increased attention he is getting from defenders. Throughout the game he will be double teamed by either a wing-back and a centre-back in a three-man defence or by a centre-back and a full-back in a four-man defence, at the sacrifice of leaving a 2-on-2 in the box often.
That is down to one simple thing that we have been talking about for months: Milan's attack is too one sided. If as an opponent you shut down the Diavolo's left wing, then the rest of the attack will very rarely hurt you, so the team will rely on moments of spontaneous quality (Kalulu and Bennacer got the last two winners with a shot from outside the box and a volley).
Leao did get some joy in isolation early in the second half, beating Vojvoda to the byline with the silky skill and close control we have become accustomed to, and there was space to attack thanks to the central presence of Tonali, Giroud and Messias.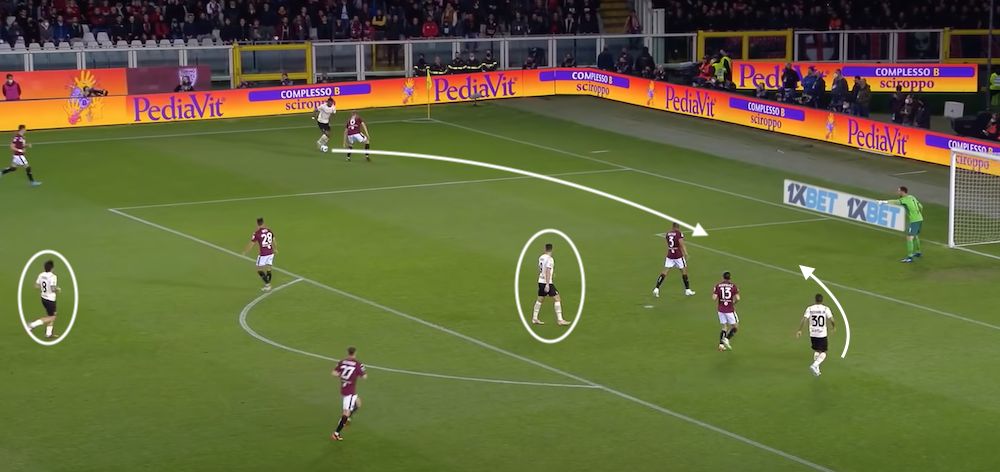 There was an absence of clever runs from the aforementioned trio but Leao still had options when he arrived near the six-yard box. He did not pick his head up in time to feed to Giroud, to lay it back to Tonali or even to dink it over to Messias who was at the far post. That kind of decision making under pressure has contributed to a goal drought by his standards.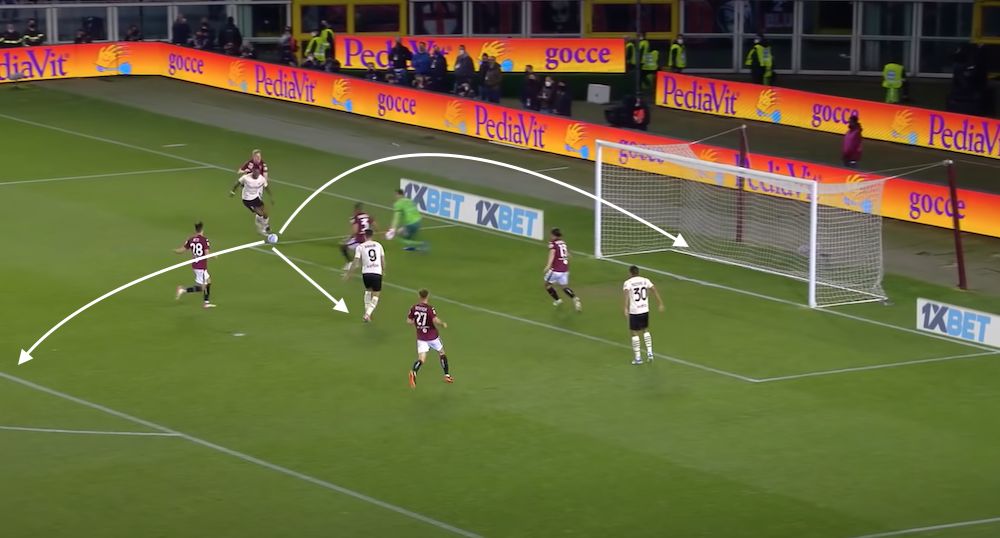 Alternative solutions
Unlike Bologna who parked the bus, Torino actually tried to win this game albeit without pushing the boat out too much, probably feeling aggrieved they did not beat Inter.
They began to get looser in their positional structure as the game went on, with former Milan man Ricardo Rodriguez carrying the ball well inside as the Granata clearly targeted an overload down Milan's left, which is where Singo had been finding joy all game.
The Rossoneri also found themselves being a bit more fluid with Tonali the man closest to the ball carrier meaning Saelemaekers – brought on to play in an unusual playmaker role for him – dropped into midfield to offer cover. Pierre Kalulu is in line with the midfield, and Franck Kessie dropped to cover at centre-back.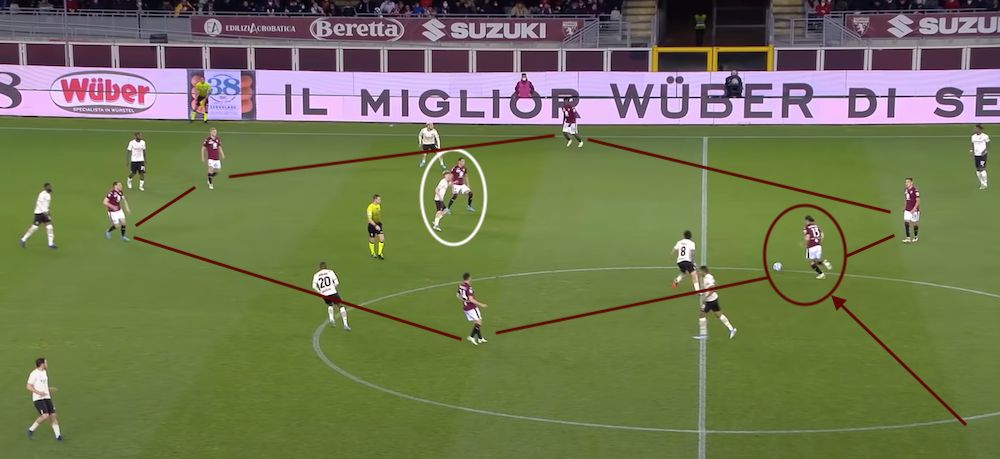 It was these moments of freedom that could have produced Milan's opener when Tonali made a marauding run forward and received a first time ball from Messias. He cut back inside and saw his shot saved, and it's hard to think of a bigger chance.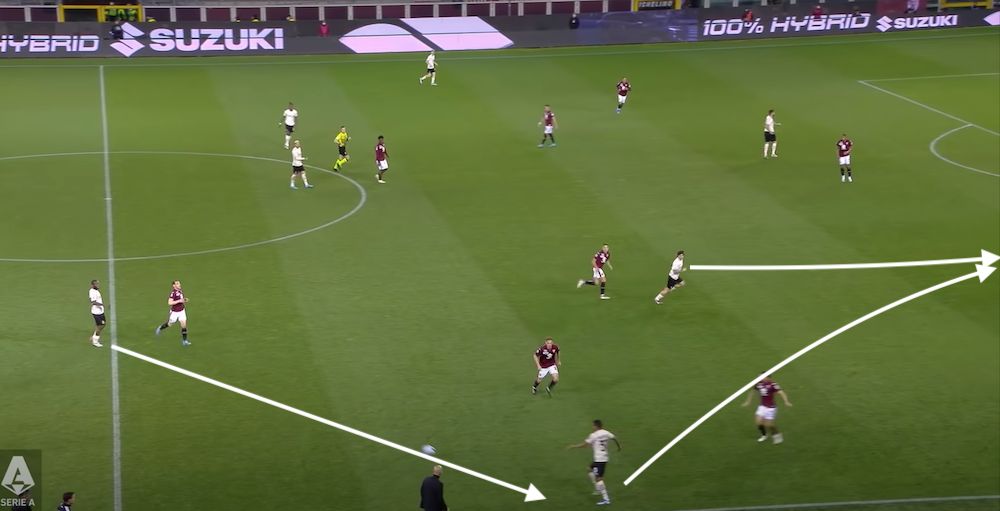 Other observations
➤ Milan have lost so many of the good things from earlier in the season that made them able to break down five-man defences and teams who play blocks. The positional rotation is no longer smart, there are no quick and accurate passing interchanges to create spaces, the exploitation of half spaces is not there and ultimately there is little directive to their attacking play other than to go direct to Giroud hoping the ball falls to a runner.
➤ Things are so bad down the centre and on the right side of the attack that it might be time to try Brahim Diaz on the wing. We know he enjoys time and space to dribble and to be one-on-one with defenders – he would find more of those situations out wide. Then, Krunic or Messias are a more fitting mould and present more problems as a playmaker, although neither should be part of the plans next season.
➤ Bremer's two performances against Milan so far this season have been so good that surely Paolo Maldini must be looking on wondering whether Sven Botman is the right man, if they are indeed available for the same price. The Brazilian is as strong and physical, but perhaps more importantly he has the recovery pace that the Dutchman does not have.
➤ Pobega's performance showed exactly what Milan should expect next season. He was the Torino player who won the most aerial duels (5) and made the most ball recoveries (7) but only had 38 touches and his passing percentage was 71%. He is very much centred around breaking play up rather than being a creative focal point.
➤ Samuele Ricci looks like a very bright young talent and Milan may regret missing out on him given they were linked with signing him last summer. A bit like Rovella of Juventus (on loan at Genoa), he is a multi-tool modern midfielder who seems to gear his game around advancing the ball and stretching opponents with smart runs, while being very competent defensively.
Conclusion
Games like this are what have cost Milan that title over the past couple of seasons. We hope to be wrong on this, but the consistent inability to break teams down with anything resembling creative or smart play suggests the team have finally burnt out.
Perhaps this is not to be surprised given that the effects of an injury crisis like the few Milan have had this season are often not felt in the immediacy but rather down the line when the depth players aren't in match rhythm and the other players are tired from working overtime.
As mentioned above, the team have lost the physical and athletic edge they have over opponents which means the lack of quality, experience and composure is shining through.