AC Milan ended the year with an important 4-2 win against Empoli, putting them back in second place as Napoli lost to Spezia. And with the second half of the season upon us, Inter are just four points ahead. 
The Rossoneri had a total of five players missing for the Empoli clash, including Zlatan Ibrahimovic and Simon Kjaer. It was a big test for Stefano Pioli and his men who were a bit under the cosh, having only bagged two wins in the six games prior. Down below is a tactical analysis of the clash.
XI experiment and pressing
Milan started off with an unusual line-up, with Pioli starting Kessie as the No.10, and as postulated by Gazzetta Dello Sport in their report this was to nullify Empoli's vital cog in their midfield diamond, Samuel Ricci.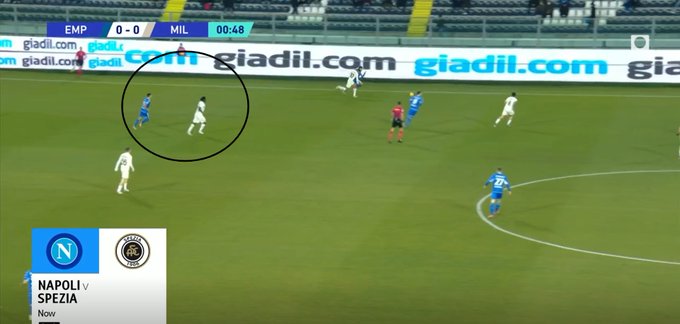 Milan's pressing was semi-effective in the first half with Empoli creating neat passing combinations and getting past the middle third of the field, but their chance creation was very poor.
However, Milan's poor pressing at times did create lots of space between the lines which players like Bajrami would exploit.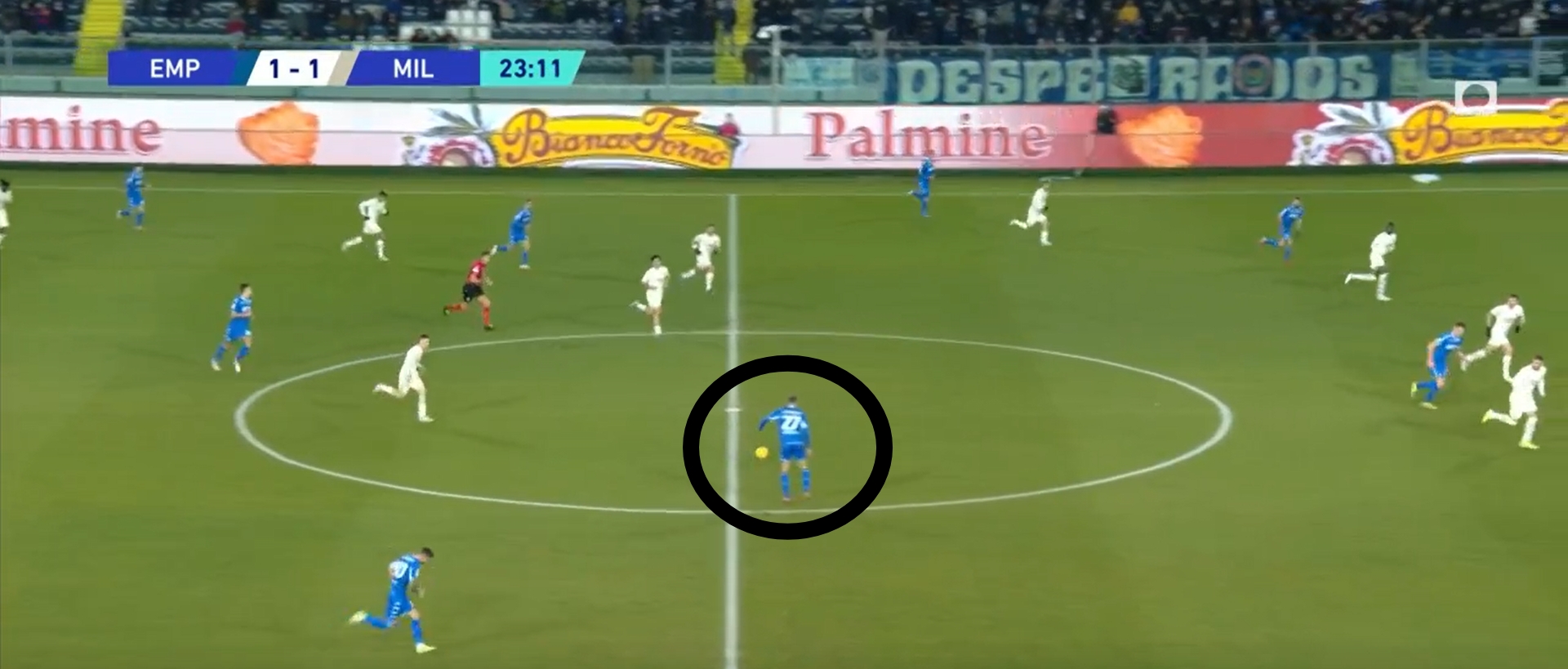 Empoli's smart solutions
Having a midfield diamond, Ricci sat back and dictated play while the wide midfielder of one of the sides dropped deep. The opposite wide midfielder then pushed up and joined Bajrami in attack.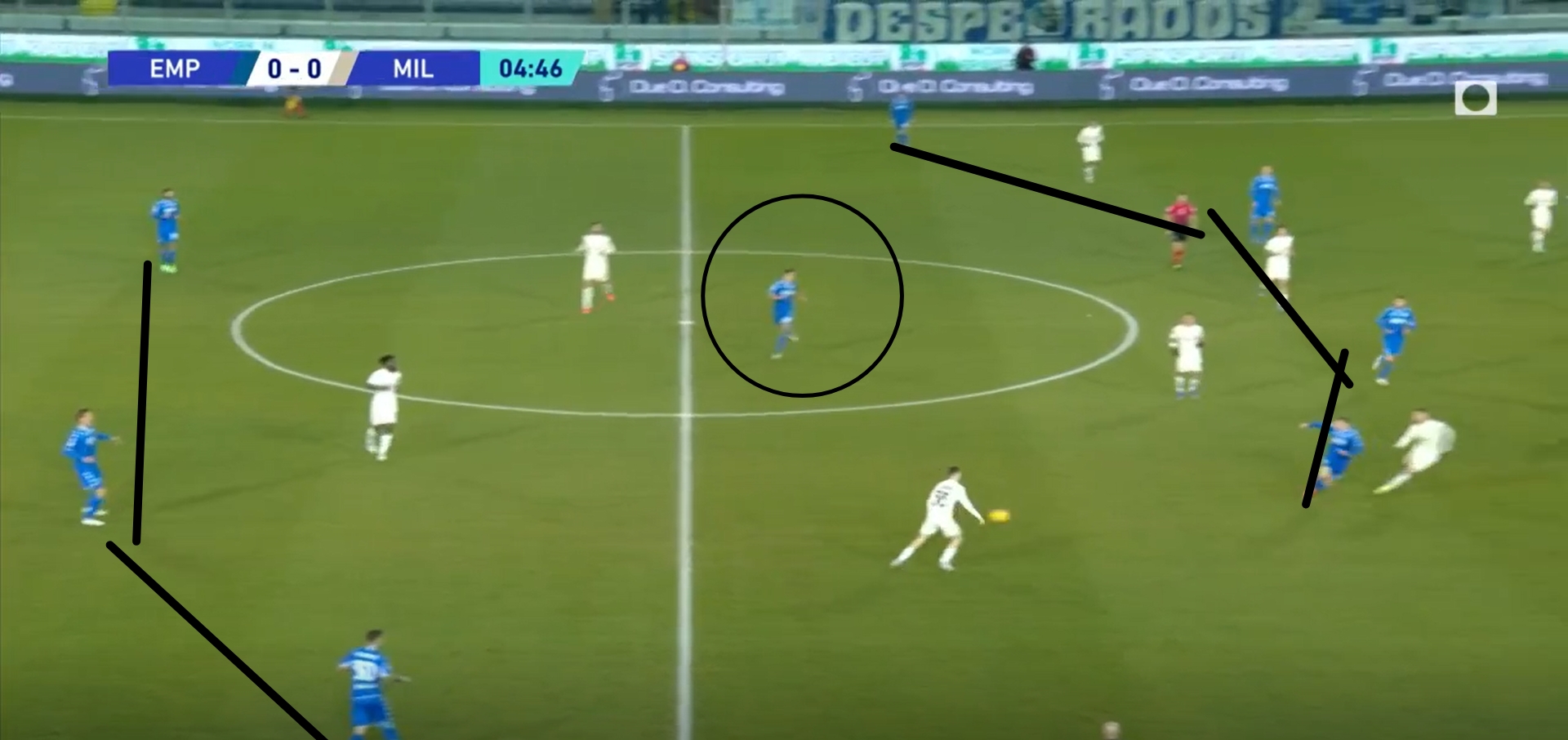 Empoli had a 3-1-4-2 shape when they had the ball, where one full-back stayed back while the other pushed up to create 2v1 on Milan's full-back.
And Empoli's midfield diamond meant they had a numerical advantage in midfield. Here Tonali gets a 2v1 in a challenge and Bajrami's pass makes it a 2v1 of Empoli's 2 vs Tomori.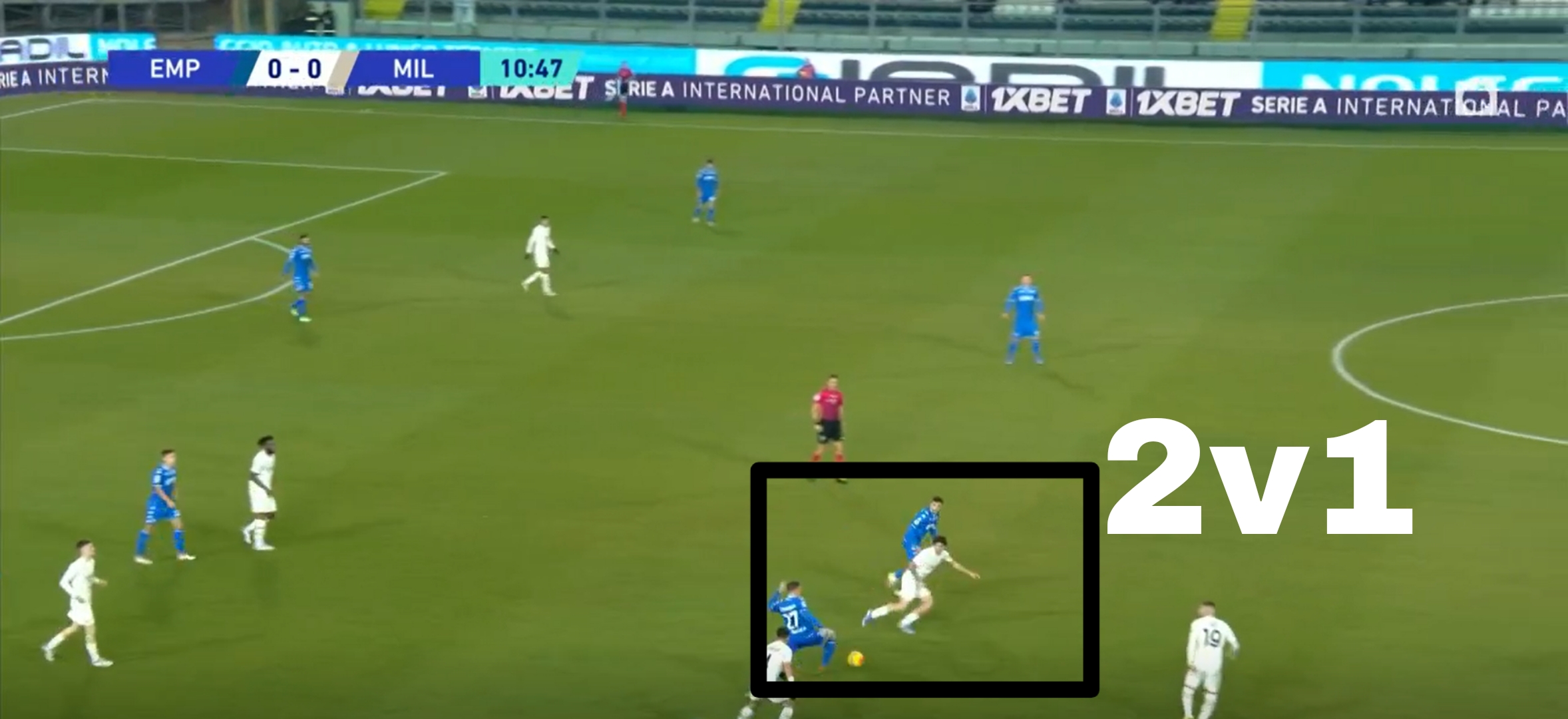 And Empoli pressed high using their three forwards: Pinamonti, Cutrone and Bajrami. They blocked all passing lanes towards the centre-backs and thus made it difficult for Milan in the build-up.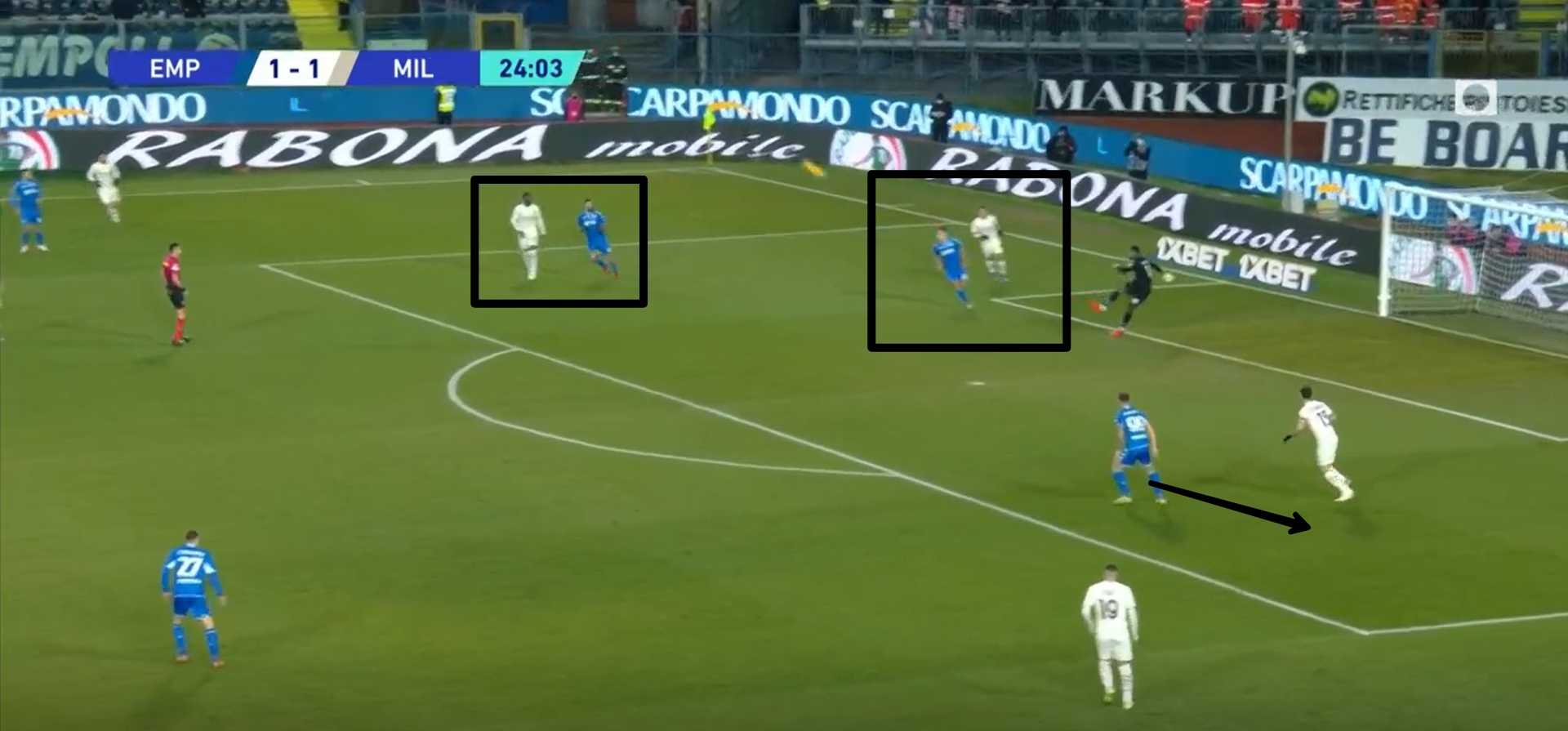 Pioli's counter-moves
Milan, owing to a lack of players in attack and a lack of team chemistry, mainly looked to counter Empoli. One main problem with a midfield diamond is how the player creates space in the centre and Pioli used the pace of Theo to exploit this.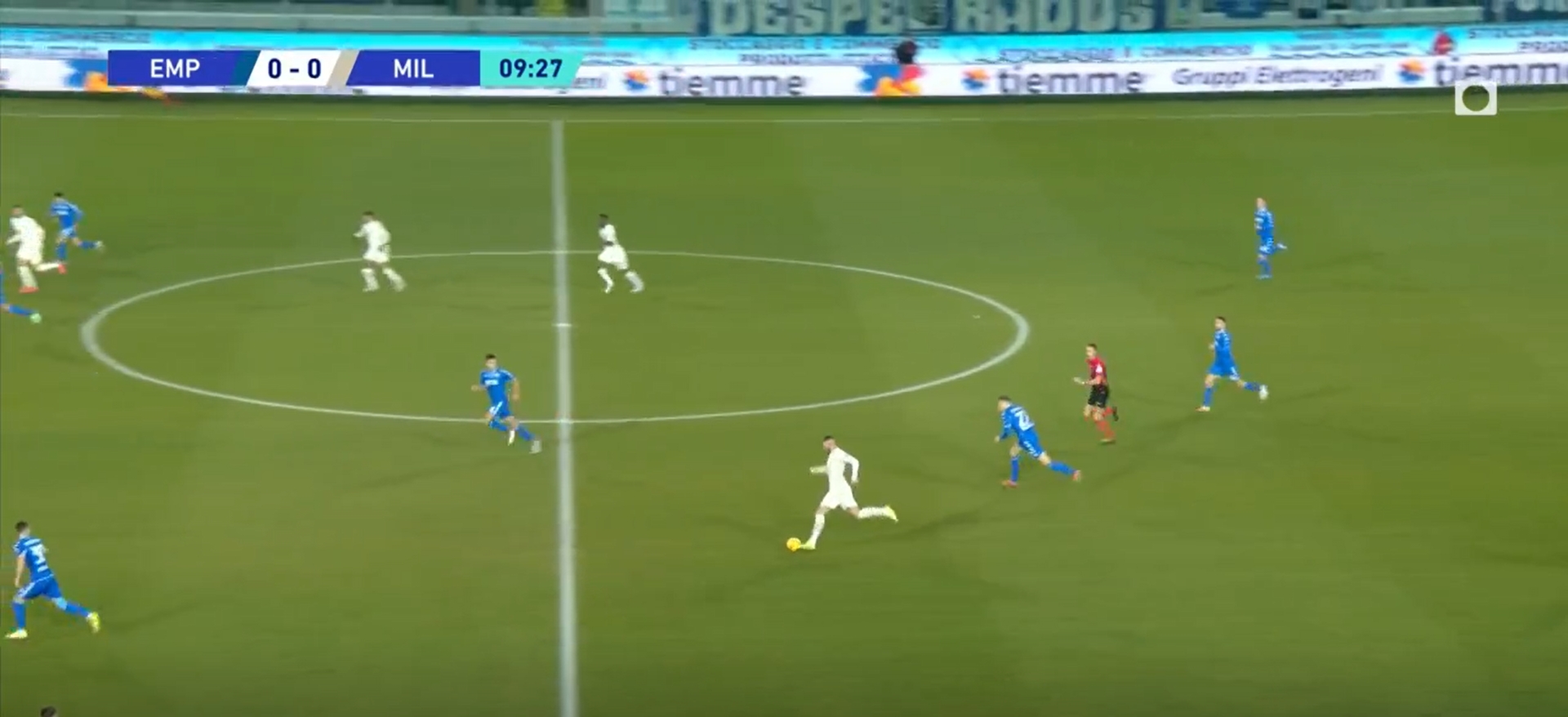 To allow more space for Theo to underlap and have space in the centre, and even have a more free role, Saelemaekers stayed wide on the left to create crossing opportunities.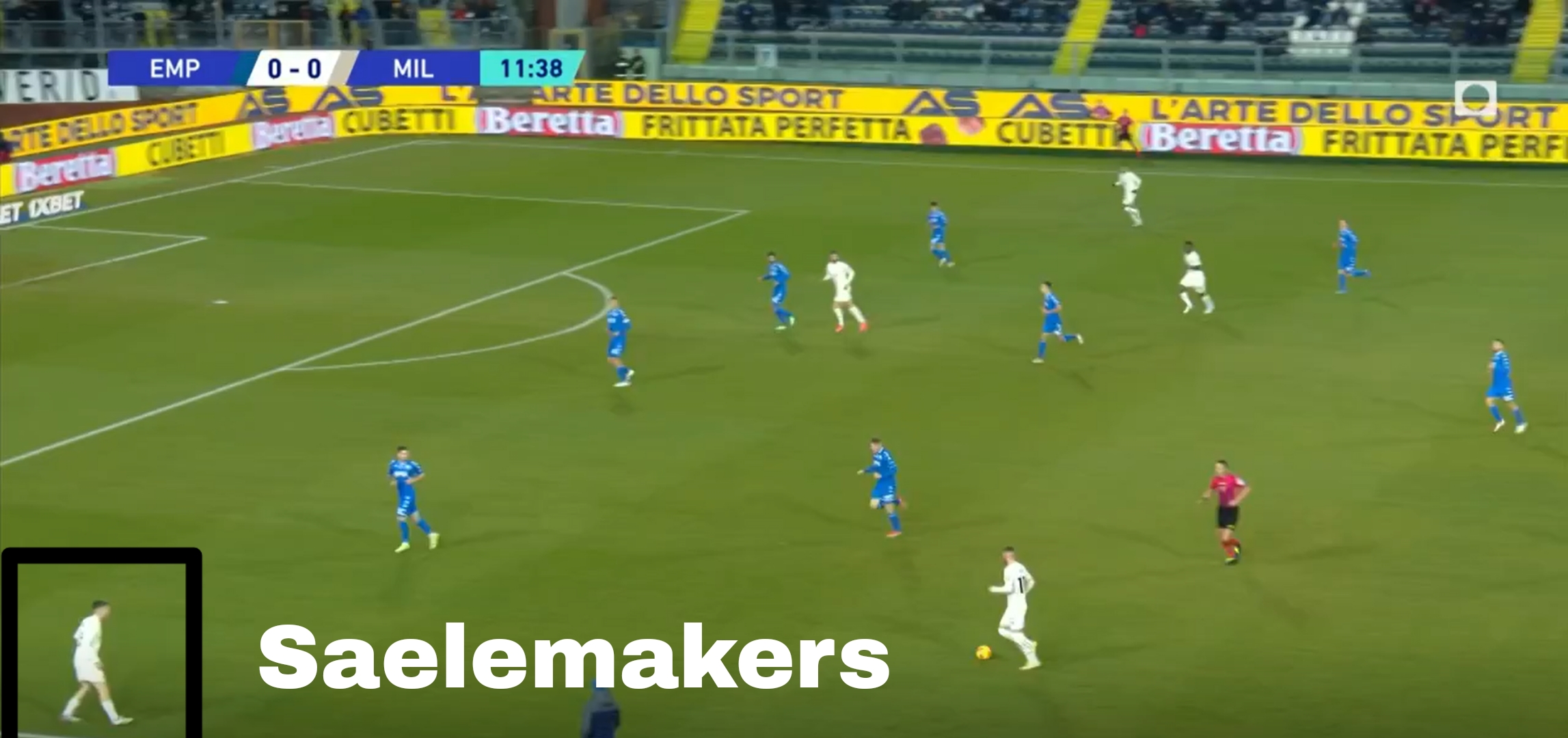 A big problem that surfaced for Milan was space that opened up in the left half-space, which created a clear cut chance for Bajrami to shoot in the game.
Milan used Tonali as their fifth centre-back whenever Empoli came forward with all of their attack-minded players, as seen in the pic below.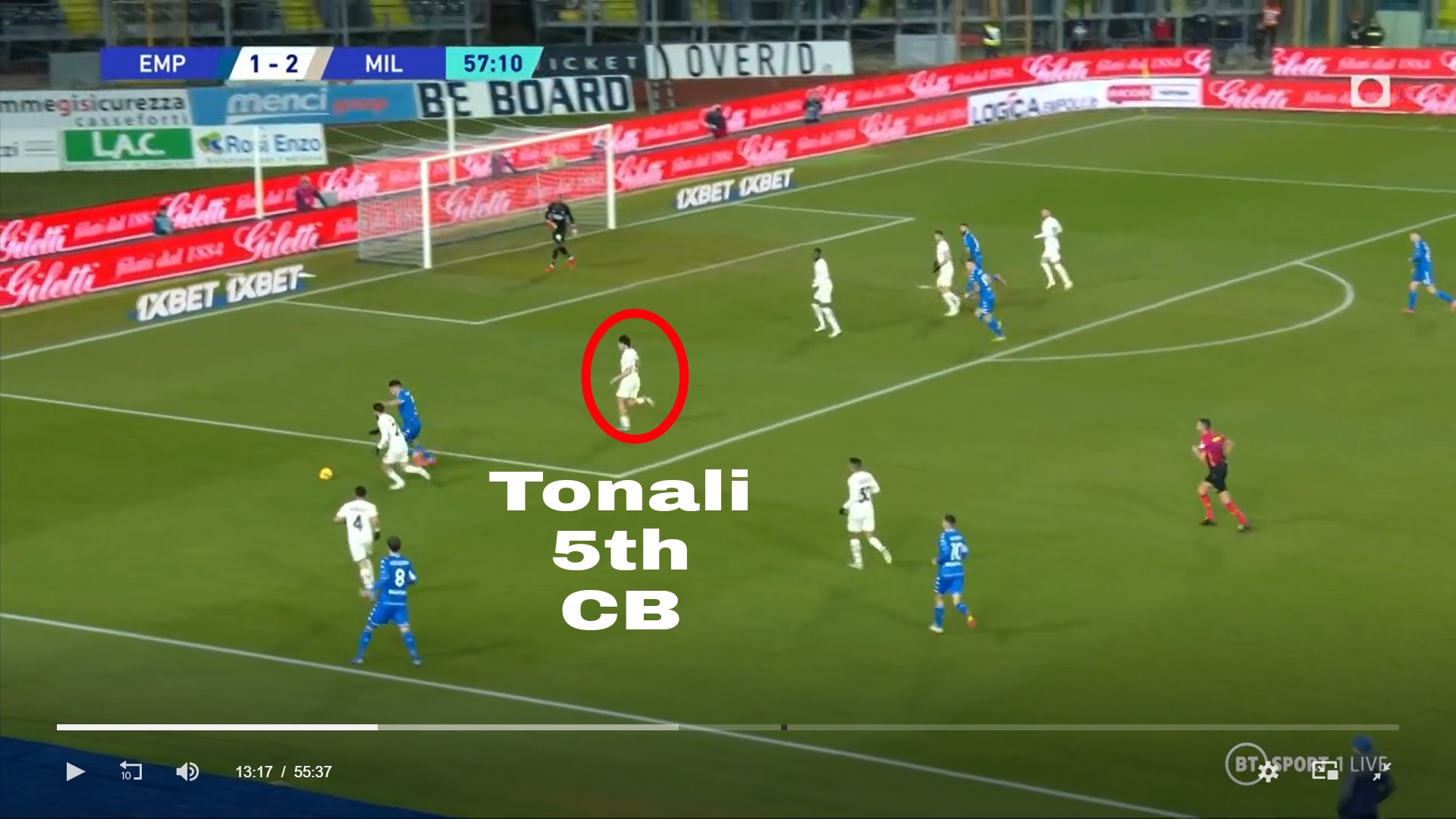 Some efficient pressing
Milan's free-kick that led to the third goal came courtesy of some very efficient pressing carried out by them. The Rossoneri blocked out all passing lanes of Luperto, who until then acted as the deep-lying playmaker of the team.
Luperto attempted a very risky pass to his teammate but it was intercepted by Saelemaekers and in the process, he was fouled by the Empoli player.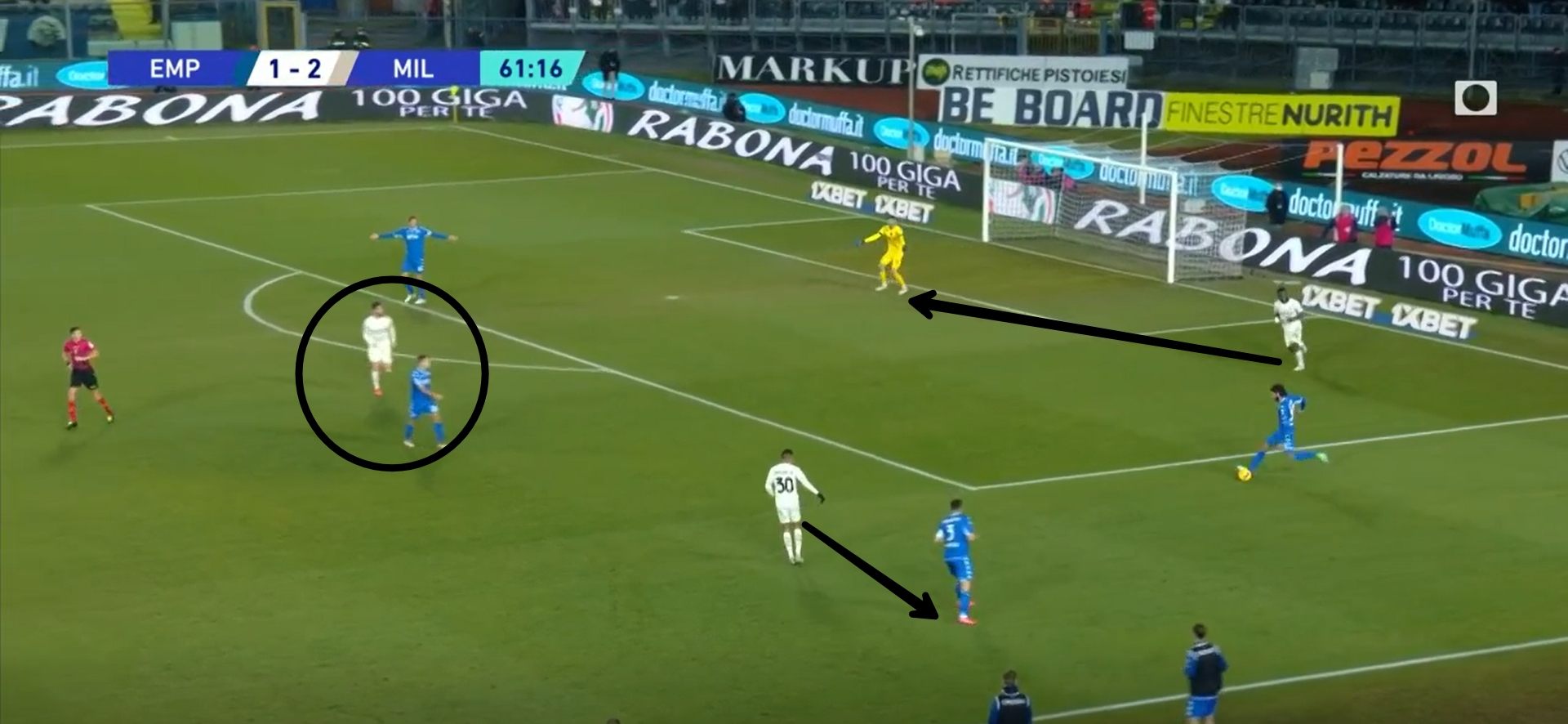 Milan, once they had a 3-1 lead, created a few one-touch passing moves but it did not have as much as a penetrative purpose. Perhaps with better players, Milan can attempt to do that.
Conclusion
It wasn't the most efficient or pretty performance but somehow Milan closed 2021 with a win. The scoreline didn't reflect how well Empoli played but they were in control for a good part of the match.
---
READ MORE – Watch: Highlights of Milan loanee Yacine Adli's performances in 2021