AC Milan managed to get the job done in the Coppa Italia round of 16 but needed 120 minutes of action to secure their progression against Genoa.
A lethargic and largely underwhelming first half performance proved problematic for Milan, with Genoa taking a deserved 1-0 lead into half-time following a header from debutant Leo Ostigard, but Giroud levelled after 74 minutes before Leao and Alexis Saelemaekers scored in extra-time to seal a spot in the quarter-finals. Below is a brief analysis…
Early frailty
Genoa were actually the better side in the first half as an under-fire Andriy Shevchenko decided to ditch his recently preferred 3-5-2 in favour of a more mobile 4-3-3 that at times functioned as a 4-3-1-2. The strength of the system was the clever movement and interchanging of positions between the three forwards Ekuban, Caicedo and Yeboah, who Gabbia struggled to deal with in the passage below.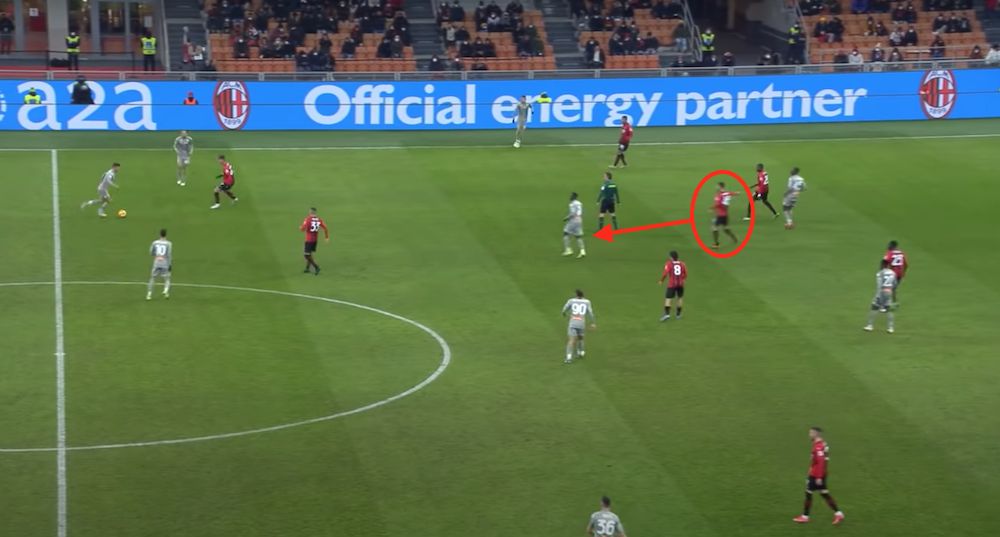 With Kalulu tucking in to cover a man Gabbia stepped up from the line but got caught in No Man's Land as to whether to challenge the ball carrier or stay tight to the runner. He ended up doing neither, as Dinho Vanheusden was allowed to unleash a low shot towards goal, which was forced behind by Mike Maignan.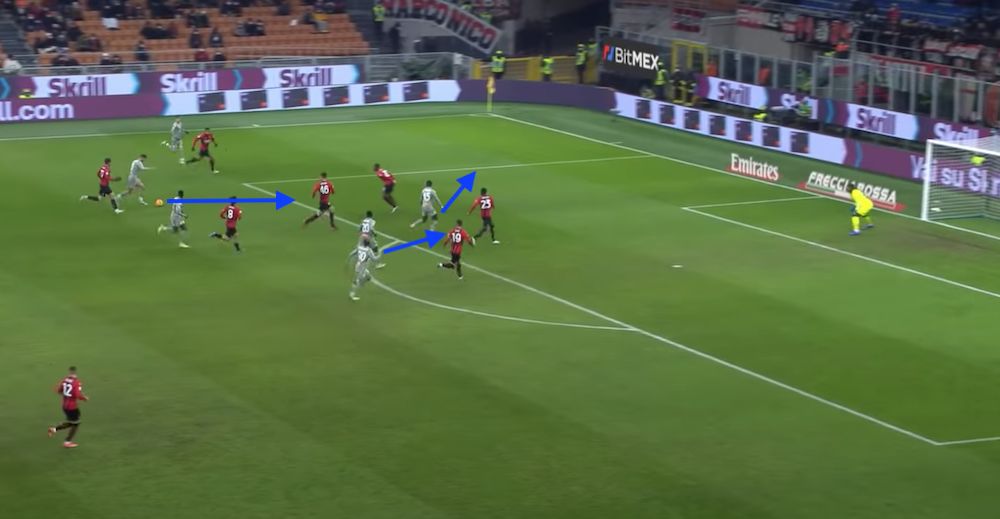 Gabbia isn't the only player who could have done better here, for the sake of clarity. It seems the back four – who are still lacking in cohesion and chemistry – were being thrown off by the numbers Genoa were getting forward and the front three moving constantly.
Set piece misery 
Milan's set piece struggles have drawn the ire of our analyses throughout the season and again a complete lapse in coverage saw the Rossoneri go behind. As the corner is swung in from the right, Milan have a mix of zonal and man-marking just as they have done for the majority of the campaign.
Everyone seems well set, but Messias and Theo (circled) do not check over their shoulder for the spare man. In this case, that spare man was Leo Ostigard who is a real size and stands at over 1.8m tall.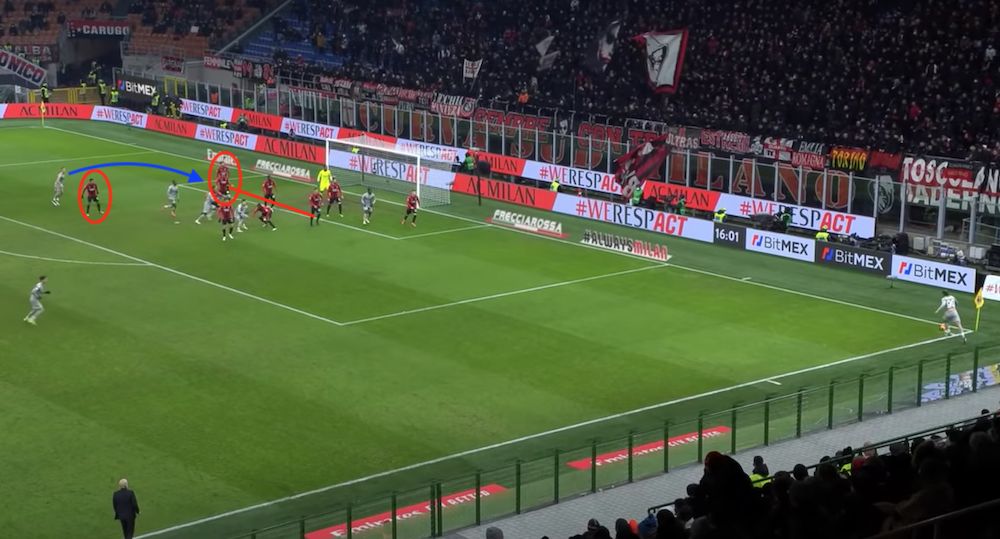 By the time he has ghosted in at the back post he still has a difficult header to plant into the goal, yet we find ourselves questioning how the situation could be allowed to develop. It may well be a clever routine from Shevchenko and his staff – i.e. one that focuses on isolating the play at the near post with runners and frees up space at the back post – but it was very simple.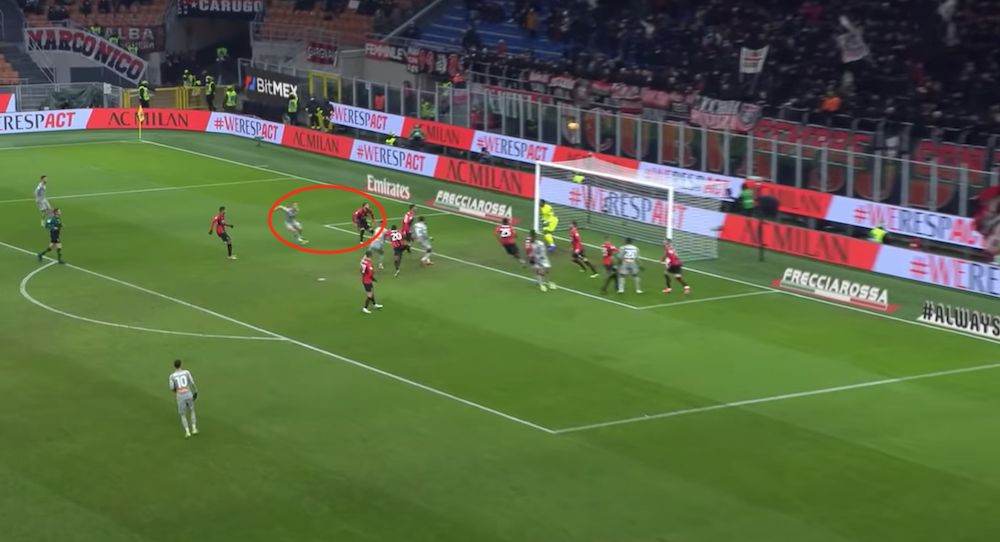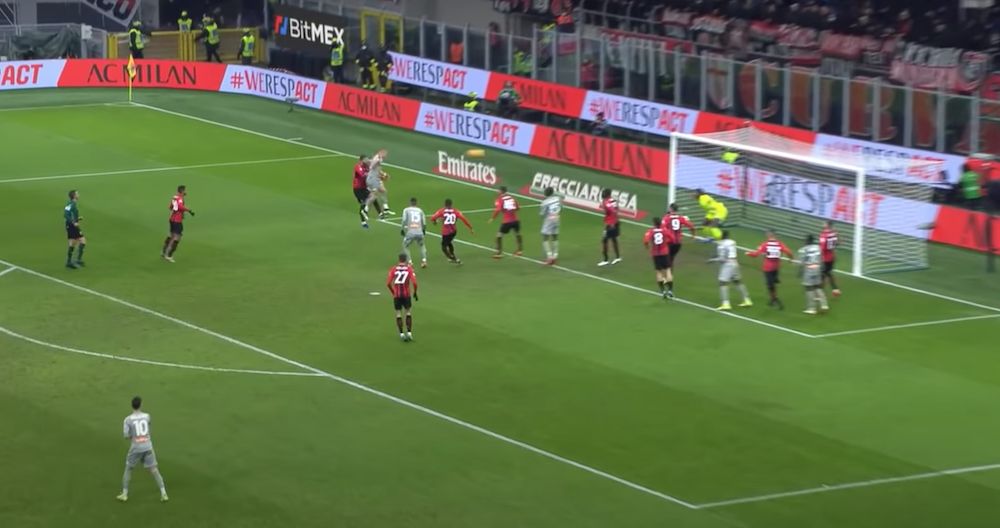 Lack of awareness
This game was bereft of quality for the vast majority of the opening 75 minutes or so, with little to draw in terms of tactical patterns, but the theme again seemed to be a lack of understanding in the back four.
In the sequence below, Genoa have exploited the fact that Milan like to press to the touchline and use it as an extra man almost as we have highlighted many times, as they had a player waiting once they popped it out of the press.
It is Florenzi who has got caught in a difficult place and has to try rush out to the ball carrier, and in the mean time Ekuban makes a dart in behind that preoccupies Gabbia.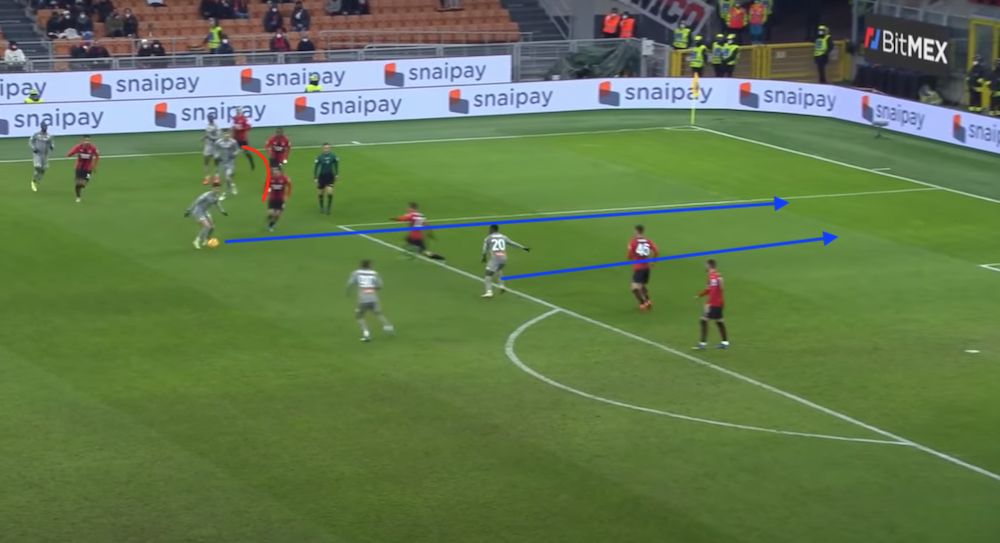 Gabbia's lack of confidence is clear to see sadly, even if he has not made any howlers directly leading to goals. Rather than making the intervention at the right moment by pushing Ekuban away from goal, he lets him dart to the byline.
Not only that, but Theo does a really poor job of picking up Portanova's run towards the edge of the six-yard box and the end product was that Milan were lucky not to go 2-0 down as the midfielder laced a point-blank effort into the side netting. Lazy and non-committal.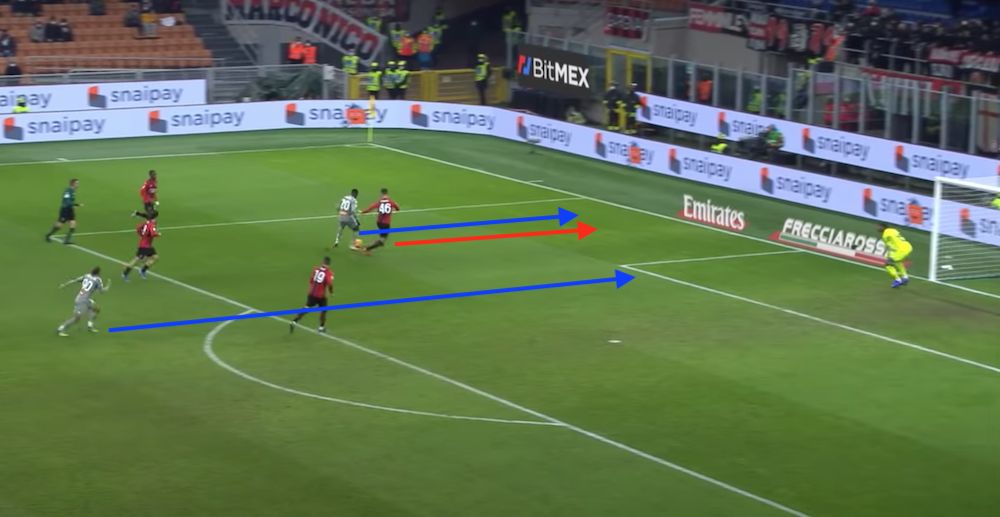 Restoring parity
Genoa had 16 minutes to see out a one-goal advantage and potentially save Shevchenko's job with the game becoming more and more stretched. The introduction of Leao saw Milan become more and more reliant on their left side for attacks so Genoa shuffled their defence around to combat this, shifting to almost a back three.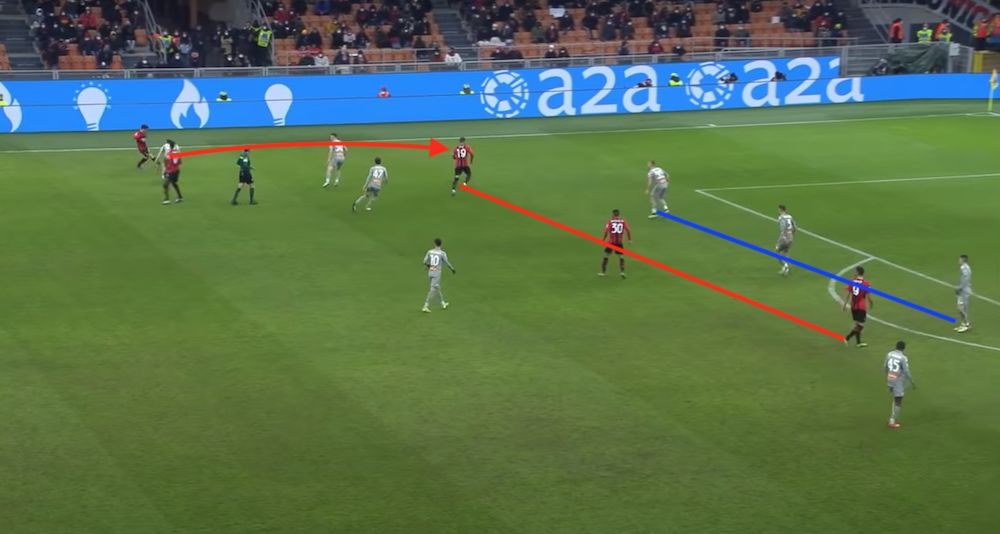 As seen above, Milan set up a line of forwards as they waited for the ball to be shifted into a crossing position. This had happened countless times in the second half so Theo decided to try something different: he swung his boot through it first time to cross, gambled on a moment of disorganisation in the Genoa rearguard and for his compatriot Olivier Giroud to be in the right place at the right time.
The latter two ended up being true and this is where Milan should have played to the strengths of Giroud more in the previous 74 minutes. When he is alone against a centre-back to attack a cross, he wins enough balls to score goals.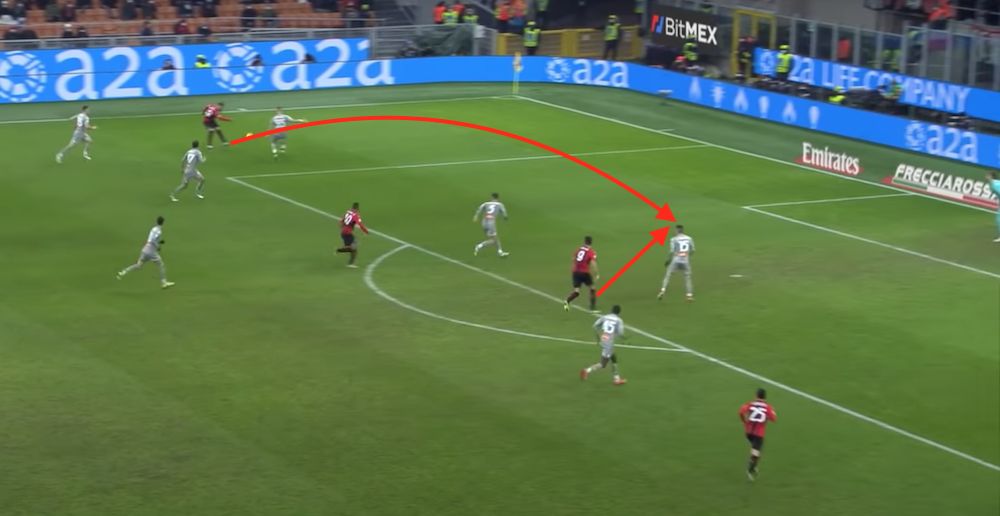 Stretching the game
Many will remember how frustrating it was when Milan were taken to extra-time and then penalties by Torino in the Coppa Italia last year, so this time they decided to step on the throat of a tiring Genoa side. They did this by committing bodies down the middle thus leaving Leao in isolation against his man, which is an ideal situation for the Portuguese winger, and he ended up clipping in a cross that hit the far post and went in.
The third goal came via a similar disfunction in Genoa's coverage, but an almost opposite method. This time Milan drew the press over to the left wing given their threat was almost exclusively passing down there, with Brahim Diaz and Alexis Saelemaekers operating between the lines and Giroud ready to make a run that ensured the space remains.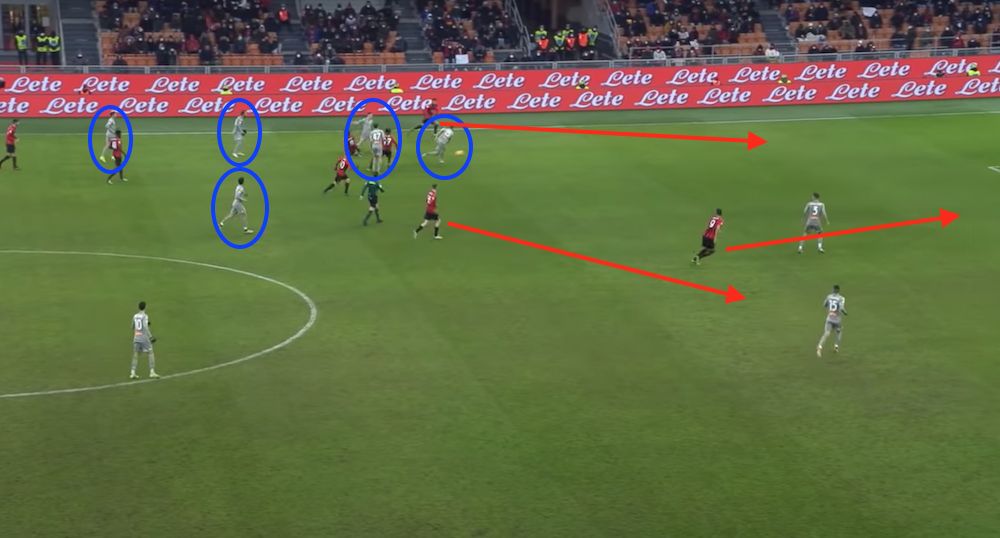 Tonali does well to work the ball down the wing to Theo who attacks the space in behind just as Leao had, making one of his trademark direct runs into the 18-yard box and Saelemaekers holds his run well to hit it first time.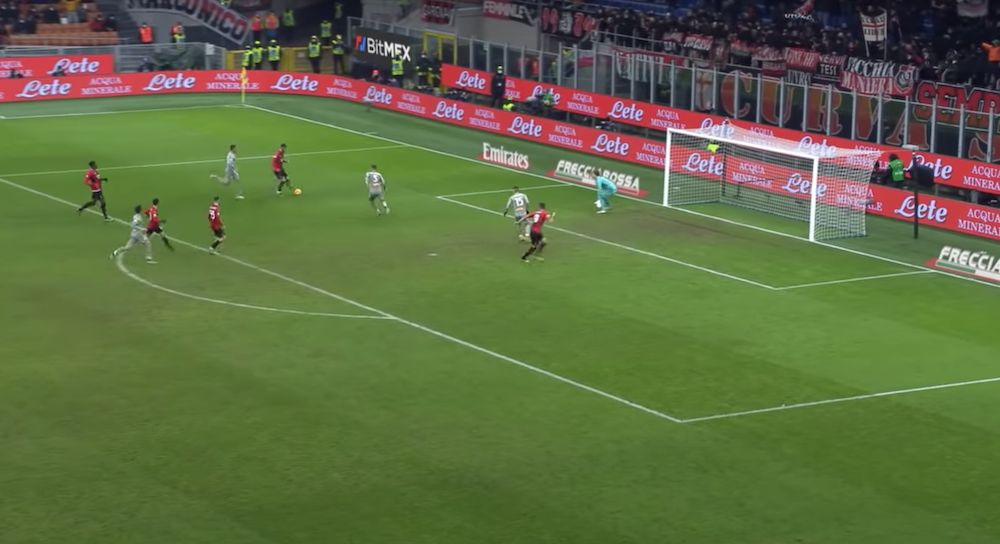 Conclusion
This was not a vintage performance from Milan and Pioli admitted after the game that he did not manage to stimulate his side in the way he wanted to. The main issue that was apparently was a lack of cohesion and familiarity in the attack and the defence, which is perhaps understandable.
The back four that started together of Kalulu, Gabbia, Tomori and Theo had never featured together, and then that was thrown further into jeopardy when Florenzi had to come on for the injured Tomori causing a shift in positions. The attack was Messias, Maldini, Rebic and Giroud up front, which again was a formation that had never started together.
The cup is of course the chance to try these things out, experiment with combinations, see if things click and get minutes into the legs of players who need match fitness and that was achieved, but this was a performance bereft of overwhelming positives and rather a win that came from individual excellence (and a mishit cross).
---
READ MORE: 'Better suited deeper' – fans call for Daniel Maldini to change position after Paolo-esque challenge