Milan played Atalanta in the penultimate game of the season knowing that a win would put them on the brink of the Scudetto, and a 2-0 victory was watched by over 75,000 at San Siro.
It was Rafael Leao who got the opening goal of the game after he latched onto a through ball from Junior Messias and finished through the legs of Musso, then an incredible solo run from Theo Hernandez moved Milan to within a point of the title. Below is a tactical analysis of the game…
Atalanta's approach
Atalanta used a dynamic 3-4-2-1 formation and had De Roon play as the RCB. There were rumours in the news about Gasperini coming up with a plan to neutralise Milan's best attacking outlet Leao.
Atalanta usually play a very high press and use man-to-man marking all over the pitch. Muriel picked up Kalulu, Pessina picked up Kessie, Koopmeiners picked up Krunic and Freuler picked up Tonali.
Given their three-man defence it helped them have a spare man to cover the other 2 centre-backs. What Gasperini plotted was to have Hateboer mark Theo – not too aggressively but to cut of all passing lanes to Leao – while De Roon man marked Leao suffocating Milan on the left hand side.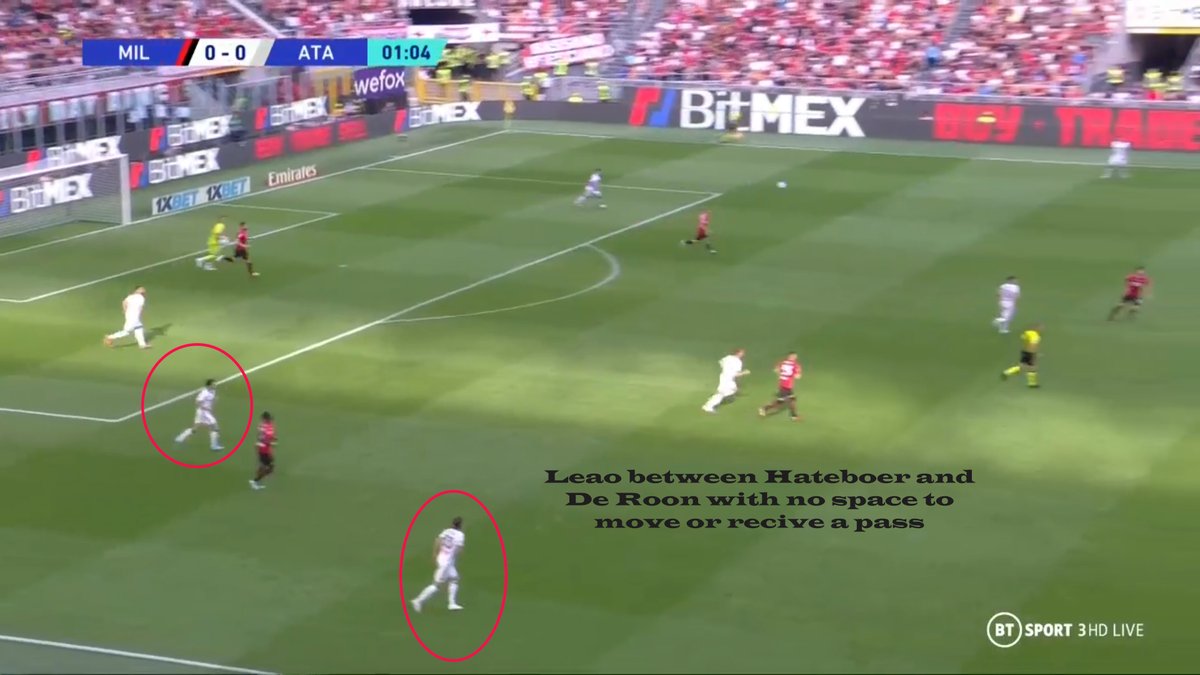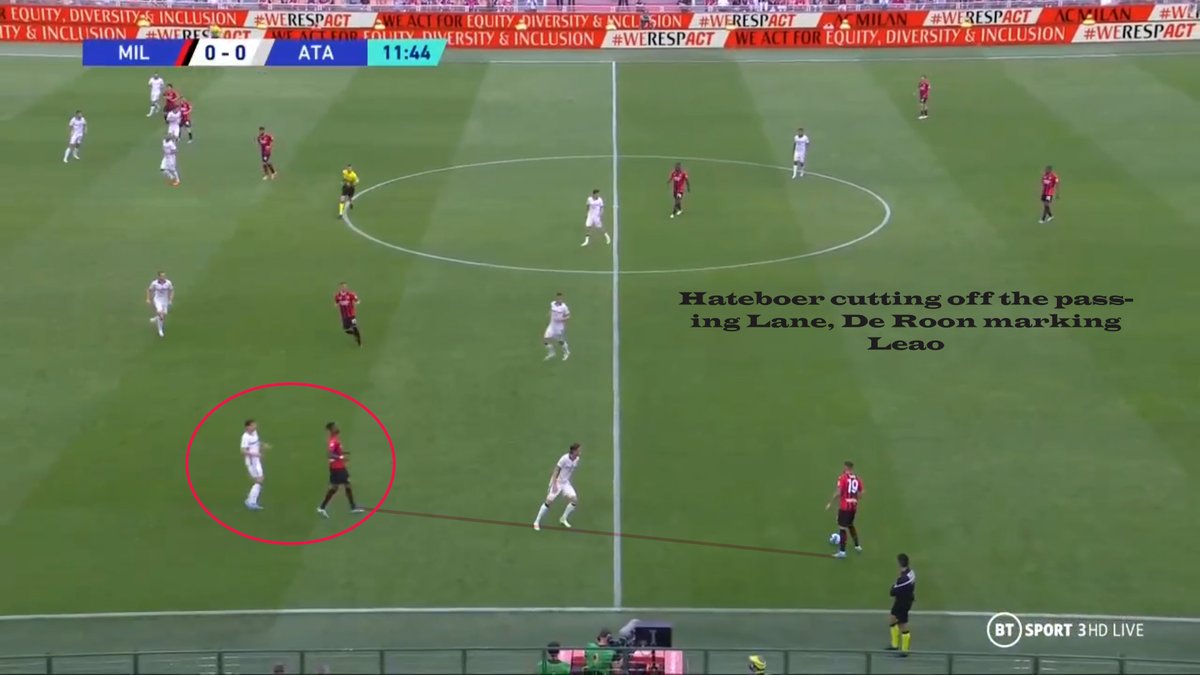 Milan did open up that side with quick passing combinations but the spare man in their defence meant Palomino could leave his marker (Giroud) and cover Leao while Djimsiti covered Giroud.
Atalanta (surprisingly) also played a much deeper line committing at one point all 11 players to the defence to block Milan from scoring a goal while using the pace of Muriel to transition.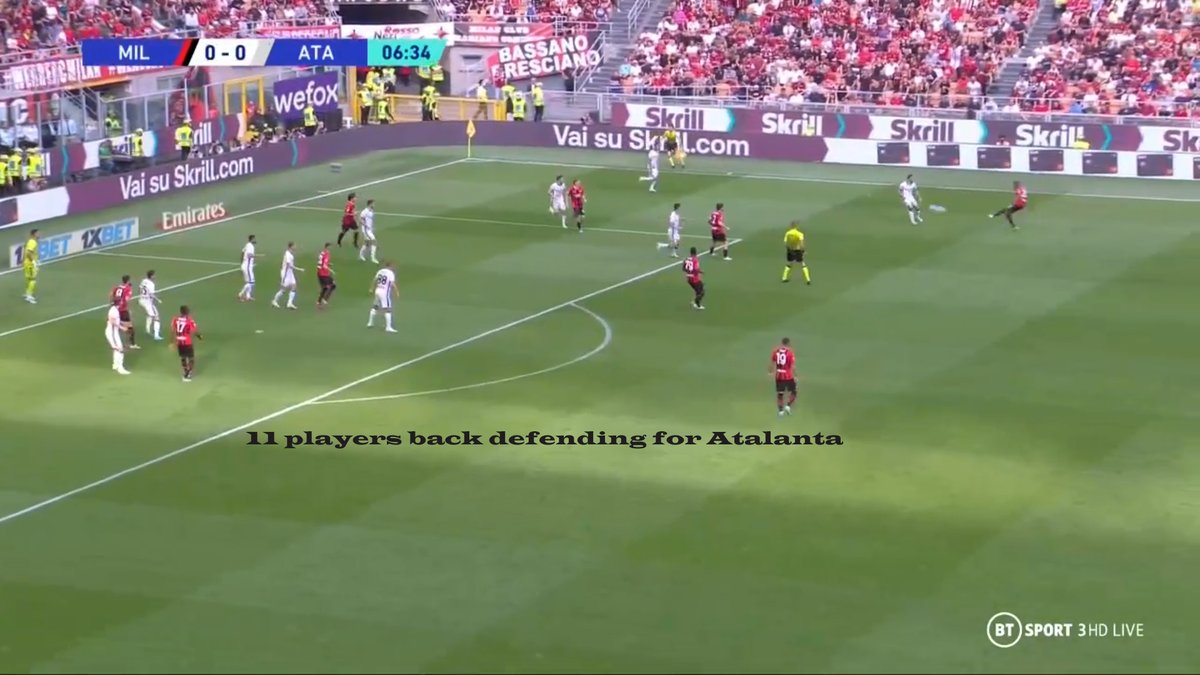 Milan's counter
Knowing that Gasperini would crowd out the left flank of Milan's attack, Pioli created a spare man with simple manoeuvre. When Milan got the ball, Kalulu would split and go wide and act as a right-back, with Theo as a left-back and Tomori a centre-back.
Kessie along with Calabria formed a make-shift double pivot in the midfield while Saelemaekers stayed wide to create width while Calabria shifted inside. Why did Pioli do this?
As explained above, Koopmeiners marked Krunic, Freuler marked Tonali, Pessina marked Kessie and so on, so Calabria shifting into midfield created a spare man. It essentially brought in a man Gasperini could not account for since he opted for having an extra man in the defence.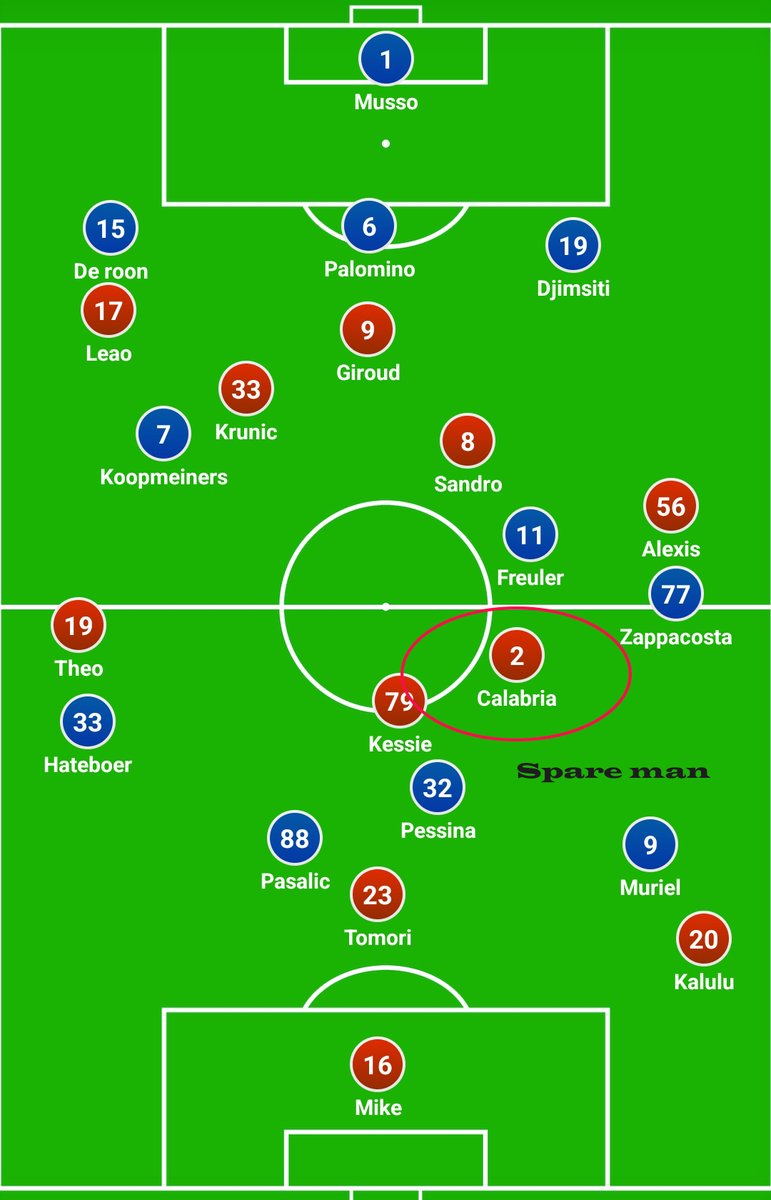 Freuler was occupied with marking Tonali that when Calabria occupied his zone it created the classic 2v1 resulting in many build-up opportunities. Djimsiti however could not vacate his space to come up and mark Calabria.
In terms of defending this scheme also helped Milan create a 5v3 on Atalanta whenever they countered.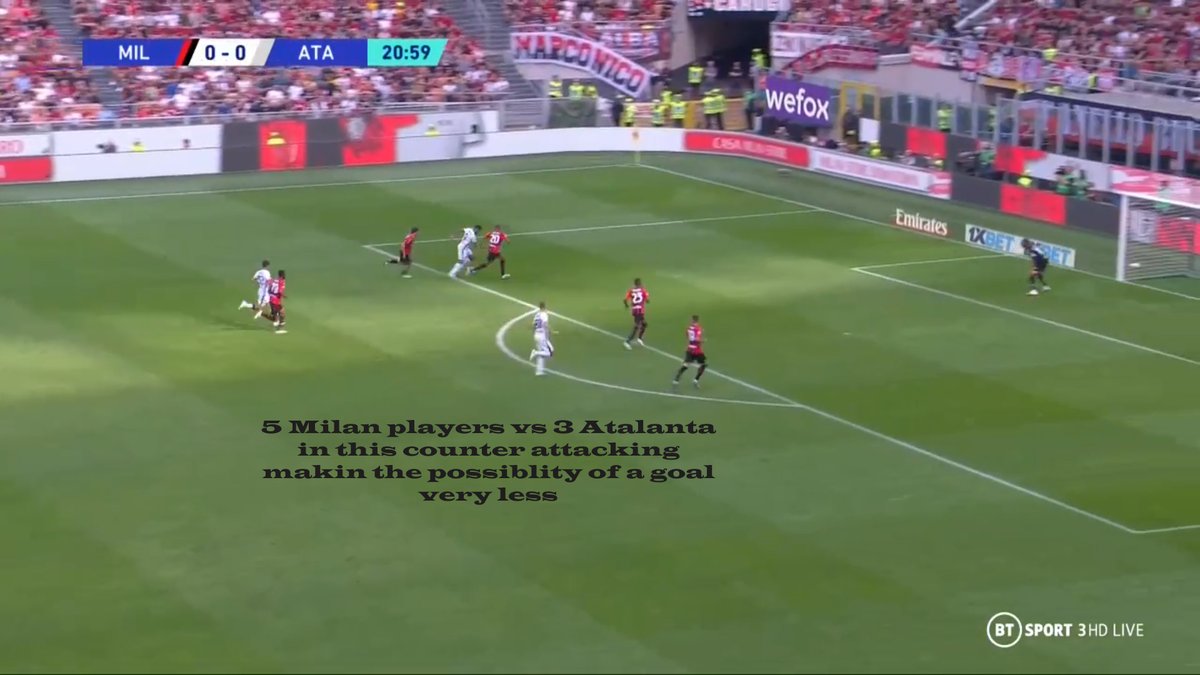 Tomori's surprise run
Having runners from deep is also an excellent way of breaking a man-marking pressing. Tomori here shows a brilliant example of it. Even though Pessina was chasing him he was well out of the game if Theo's ball had reached Tomori on time.
Explaining the substitutions
Pioli's plan was brilliant but Calabria was not up to the task. He botched passes and did not have the technical toolkit to play that role. So Pioli had to shift gears. He brought in Messias and reverted Calabria to his previous right-back position while Rebic was brought in for Giroud, who had a very bad game.
Messias was more gifted than Saelemaekers and had an eye for a pass while he also had the work rate to cover for the doubling down of Zappacosta and Zapata on Calabria.
The second half saw Atalanta pushing higher and change to a 3-4-1-2 with Pessina as a trequartista and Malinovskyi and Zapata as forwards. This gave Milan more space behind Atalanta's defence.
Counter-attacks are extremely difficult to defend because they give no time to organise and De Roon failed to spot the run of Leao behind the back line when Messias lobbed the ball over the top.
Bakayoko's introduction
Realising the need to change the game, Gasperini brought on Boga. Boga was able to find space between Krunic and Theo Hernandez and using his dribbling ability he was going 1v1 on Tomori many times. It forced Krunic into two tired sliding tackles, one of them resulting in Theo's solo goal, the other was an inch-perfect tackle.
So Pioli needed more defensive cover and he only had Bakayoko as a midfield option so he brought on the Frenchman to man mark Boga and keep the play ticking with simple passes.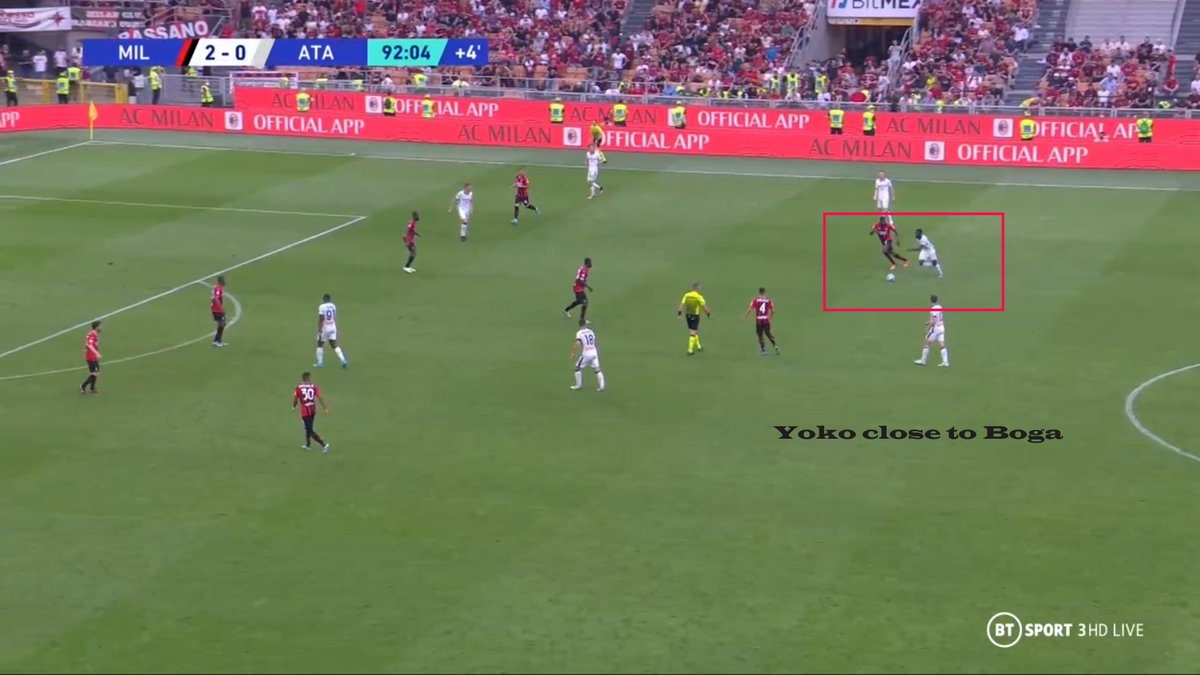 The data
Transitions are extremely important part of both teams tactics and here is the % of danger each team had with their counters.

As explained above Atalanta played a deep defensive line in the first half but came out of their shell in the second. Both the heatmap and the average defensive line confirm this.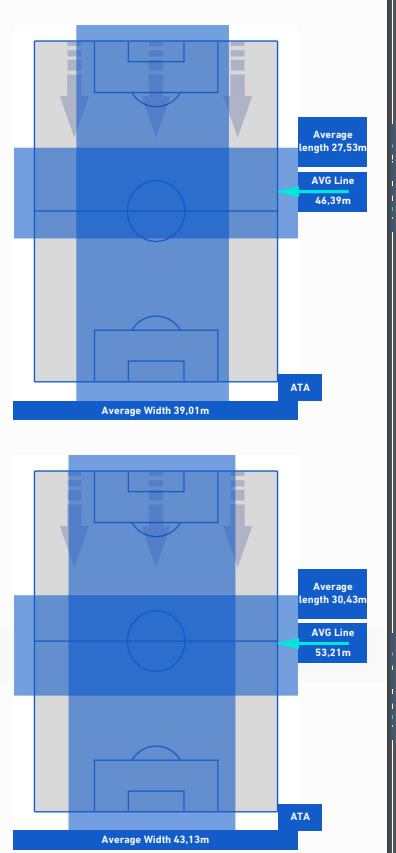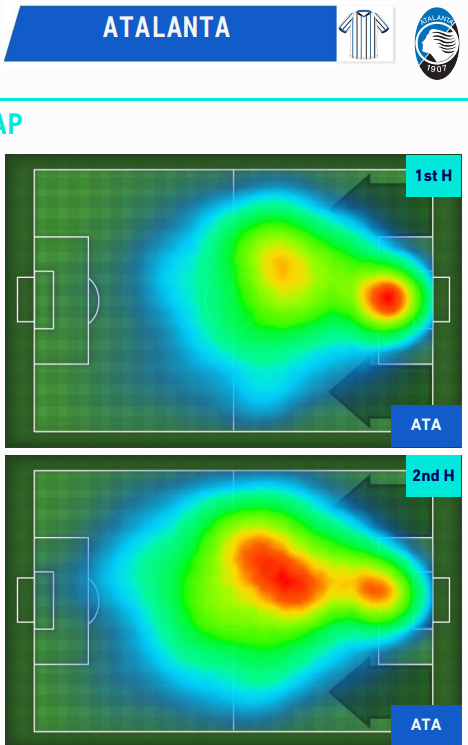 Conclusion
Pioli had a perfect counter-tactic to Gasperini's carefully prepared plan. His tactical astuteness should be praised, as should his remarkable growth as a head coach since joining the Rossoneri. He has learned, adapted and proposed solutions for every difficult situation.