AC Milan managed to obtain their first home Champions League win in over nine years as they beat Dinamo Zagreb 3-1 at San Siro on Tuesday night.
Milan went into the game against the Croatian champions knowing they would need to put in a good performance to win against a side that have 25 points from a possible 27 in the league and are 10 points clear of second place.
Milan negotiated the task well and won 3-1 with goals from Olivier Giroud, Alexis Saelemaekers and Tommaso Pobega, though Orsic did score just after the Rossoneri's second to halve the deficit. Below is a tactical analysis of the win…
Dinamo's deep block
Dinamo Zagreb coach Ante Cacic lined up in a 3-5-2/5-3-2 line up with no changes to the team that defeated Chelsea in Croatia. Cacic set up his team in a typical low block with Petkovic playing as a hold up forward and the furthest forward playing a 5-4-1 in defence.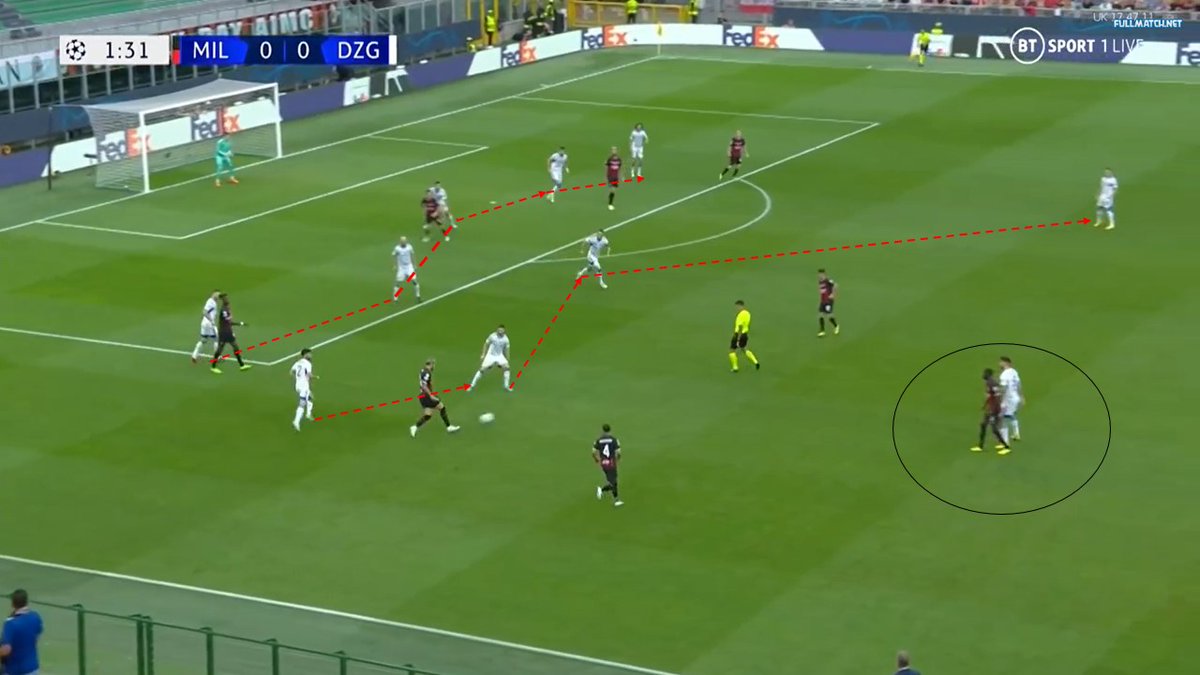 Zagreb did not press high up the pitch and the pressing trigger was only activated once Milan got into their final third (Zagreb's defensive third). The away side looked to overload the wings/half spaces and now allow Milan to stretch their structure and not allowing them to overload.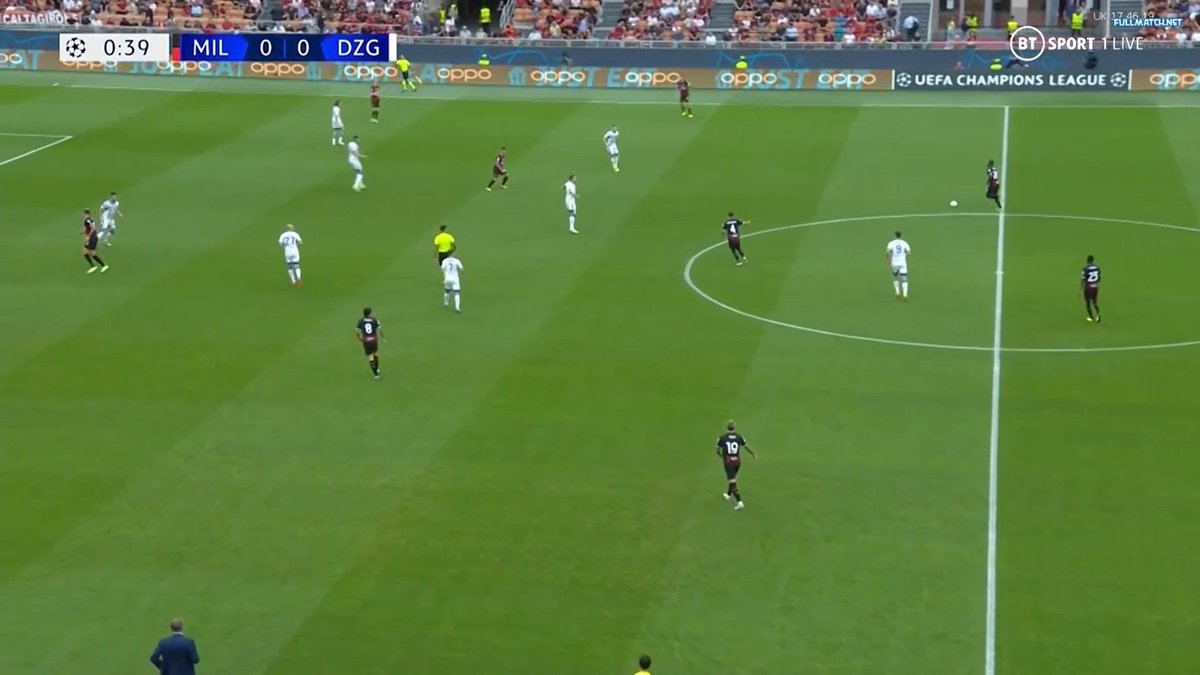 Milan's response
Milan meanwhile pressed Dinamo Zagreb high up the pitch. Here is one instance, where Petkovic tried to hold up the ball. Milan instantaneously switched on and man mark all his options while Bennacer cuts off the passing options of Ademi.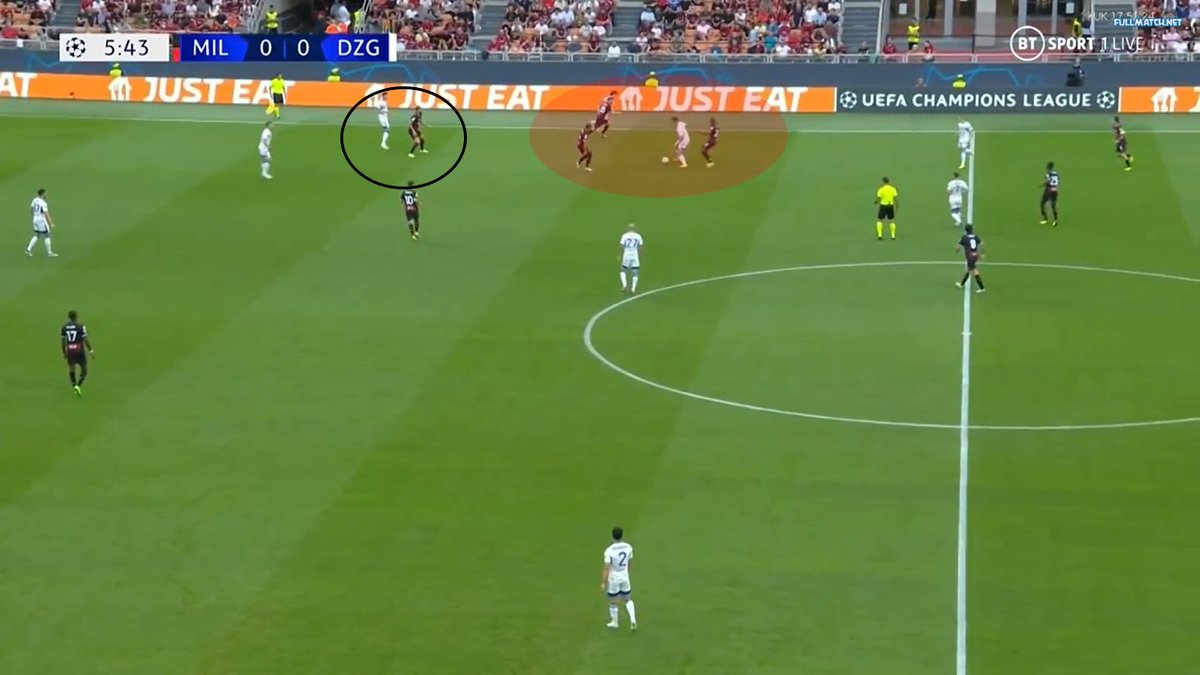 A characteristic of any low block is that it will be narrow and not utilise the full width of the pitch so as to not get stretched and have gaps in the centre.
Pioli utilised this and placed Saelemaekers wide on the right while he allowed Leao to come inside on occasions to pull Zagreb's right wing-back inside and make space for Theo to run into.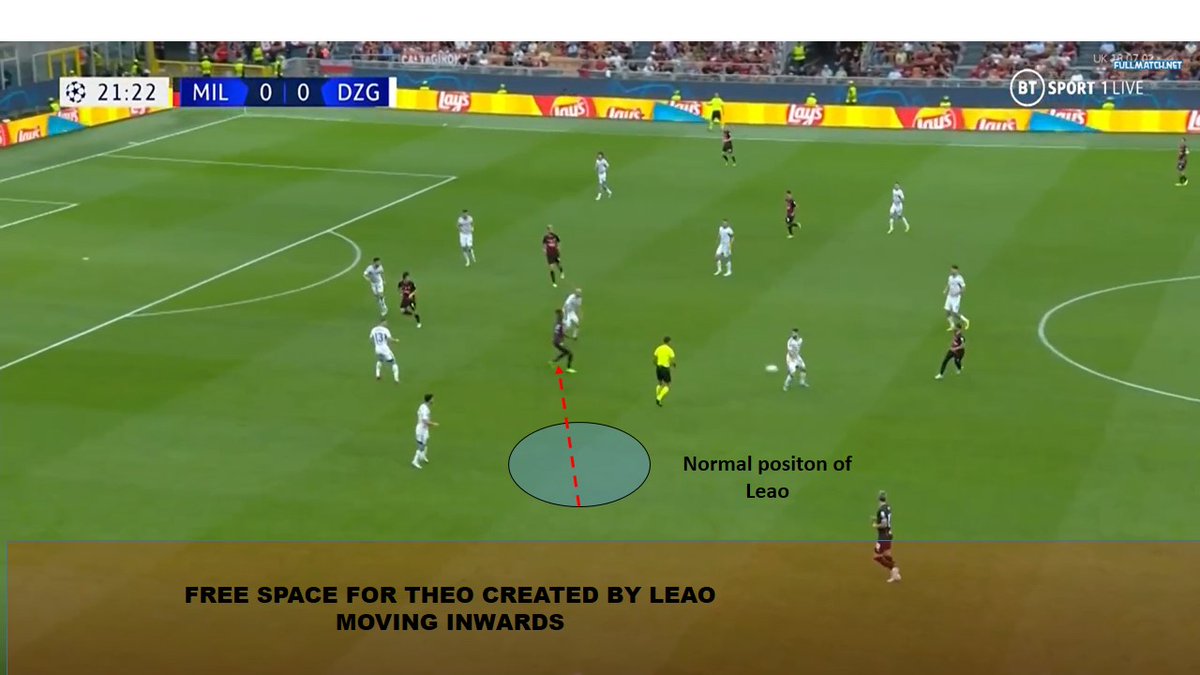 Milan would suck the play to one side and try to switch play or have Calabria overlap/underlap Saelemakers to create an overload and pull players from the centre to the right wing to create space or half-spaces in the middle.
The first goal then came as a result of smart possession and Tomori looking for the quick vertical option with Leao having tucked in to take up a position in the box.
Second goal
With Milan 1-0 up at half-time, Dinamo had to take risks and therefore they decided to commit more men forward to attacks.
Initially whenever Ristovski would go forward the defensive midfielder Misic would sit back as a third centre-back. To provide numbers in attack, Dinamo Zagreb sacrificed a centre-back but Milan kept Leao and Giroud high up the pitch creating a 2v2 with the centre-backs when Tomori sent the ball up.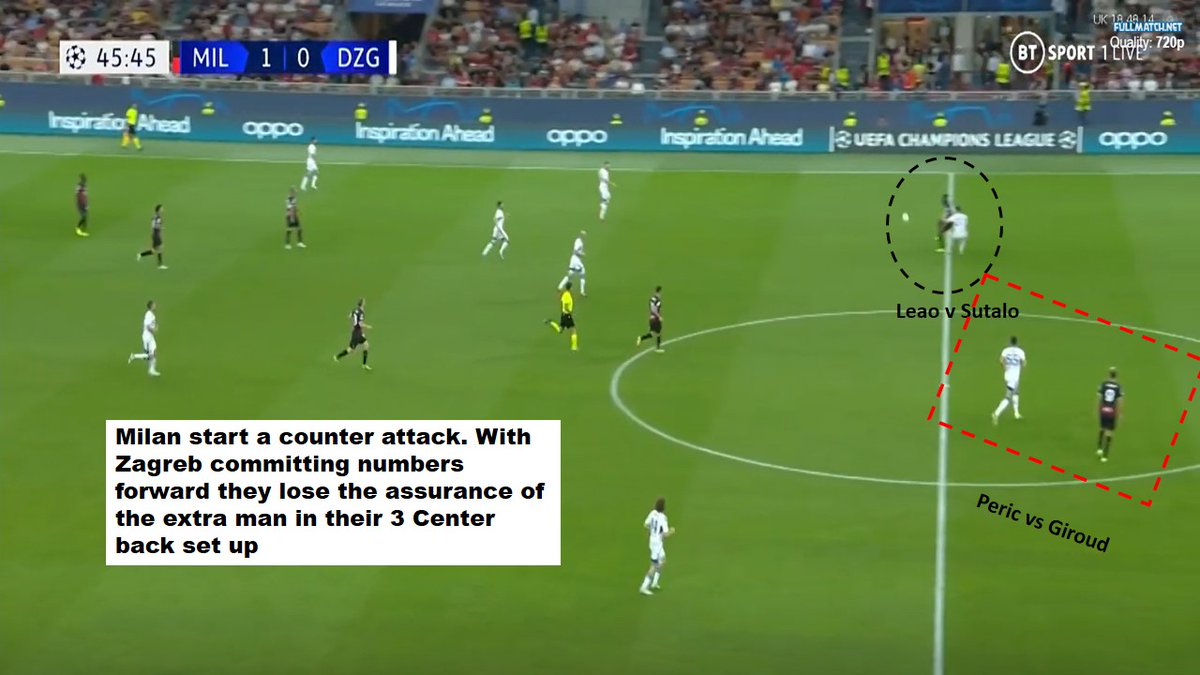 With a 3v3 created with Giroud, Leao, Diaz advancing, the 2 defensive midfielders of Zagreb were trying to double down on Leao on the left side and this meant Saelemaekers was 1v1 with his marker..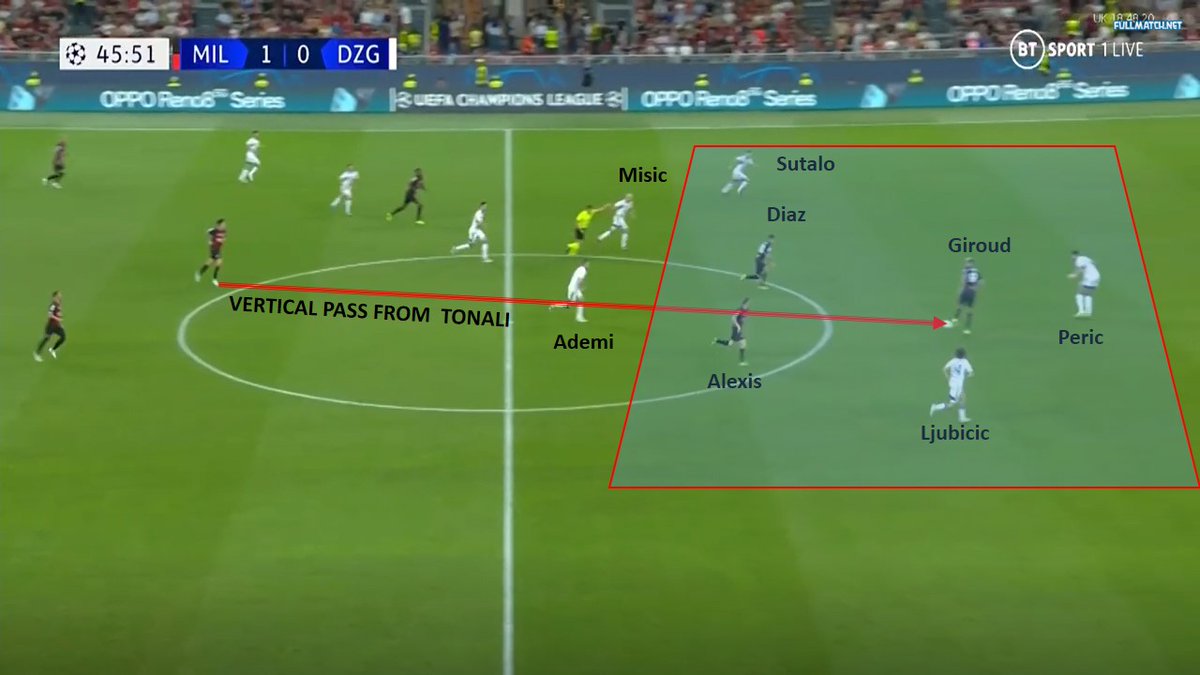 With three people trying to cover Leao, Saelemaekers makes a zig-zag run and beat Ljubicic for the header.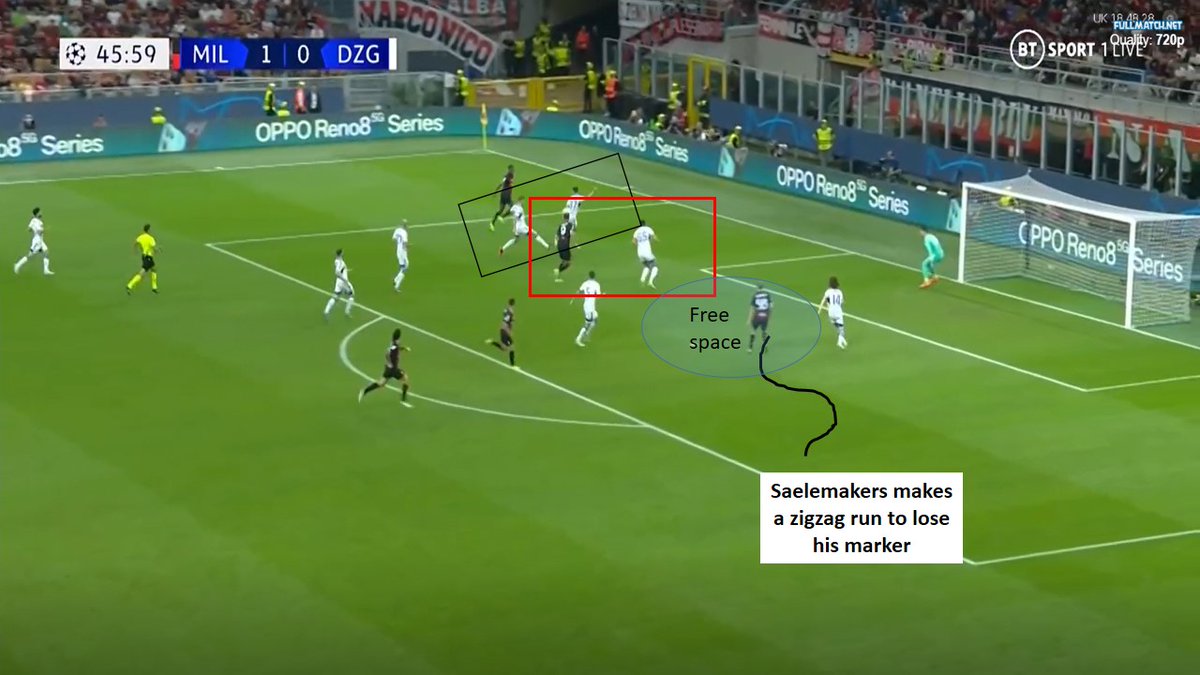 After conceding
Once Milan conceded their goal it meant they had to slow down play, keep possession and exert as little energy as possible.
Taking advantage of Zagreb's refusal to press high, Milan created multiple passing options for the person on the ball creating well-organised structures and maintaining their discipline to keep possession.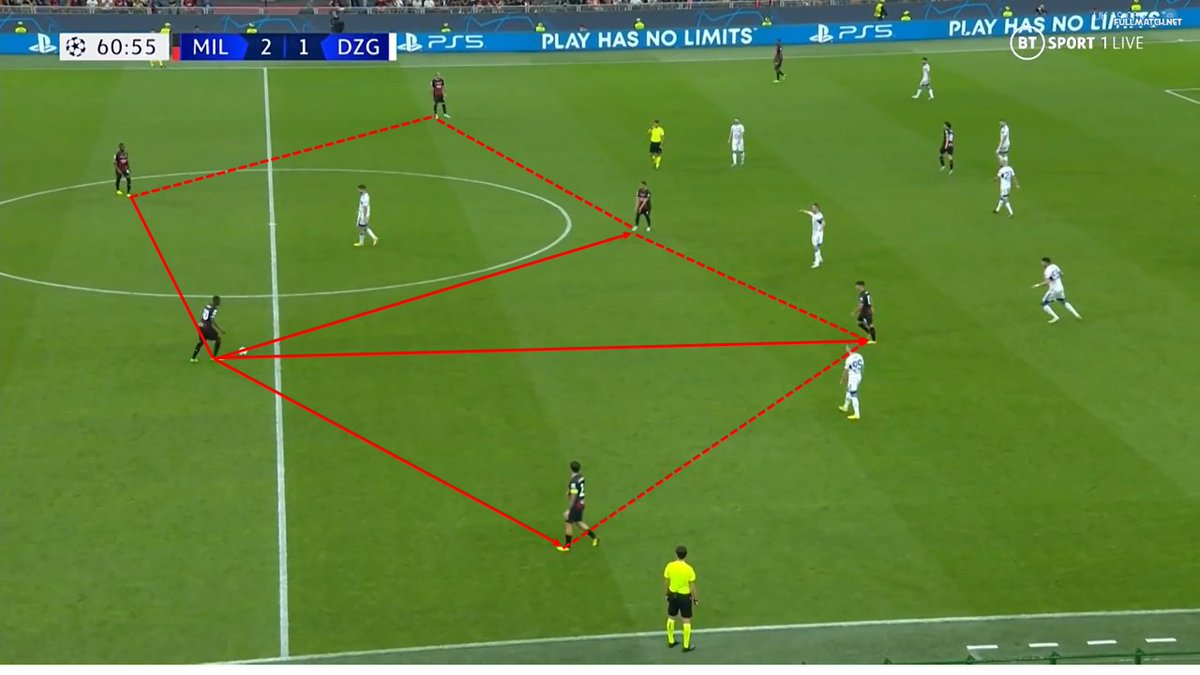 Third goal
We mentioned how Milan stretched Zagreb by keeping Saelemarkers wide and switched play to take advantage of the narrow block. With Zagreb players now tired, they were content to sit deeper but the enthusiasm to close spaces wasn't there.
Bennacer switched play to Leao and with the right wing-back engaged with Leao, Pobega had to be closed down by the right centre-back Ristovski, who left his station to close down Pobega.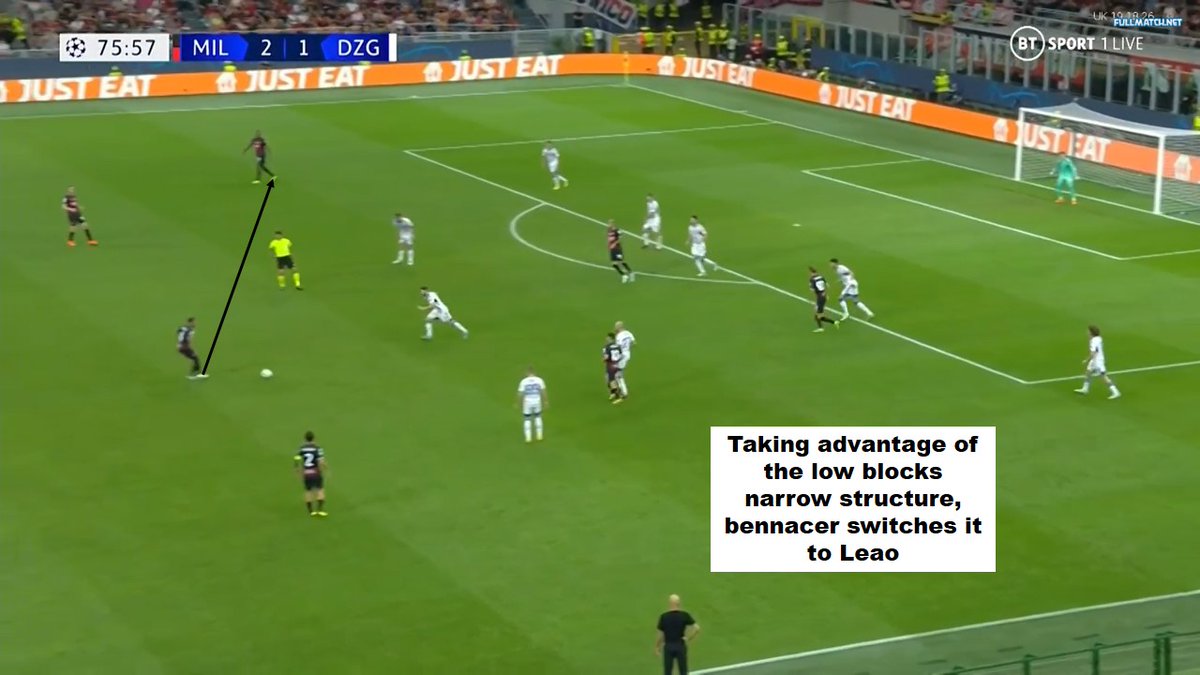 Taking advantage of this, Theo made a run behind the line to receive Pobega's pass and to close down Theo, Sutalo ran along with him creating a gap between the CB and RCB which was not plugged by the DM, Ademi, most likely because they were tired.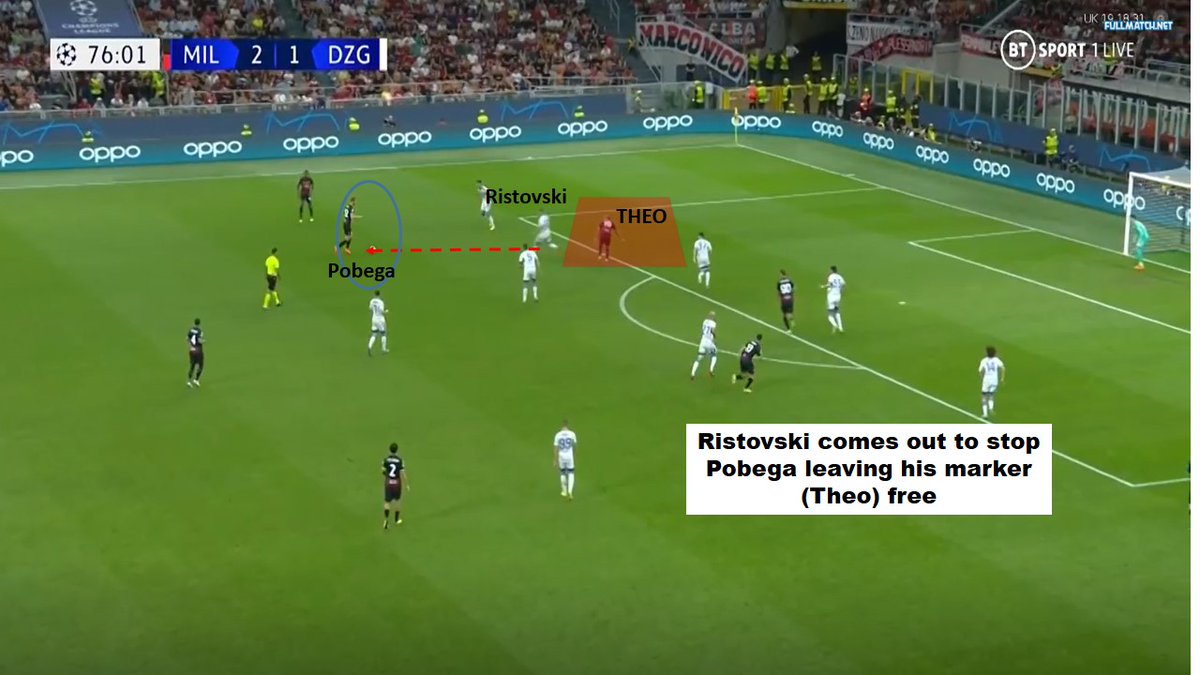 Pobega took advantage of this lapse in concentration and slammed the feed from Theo in off the crossbar for his first ever goal for Milan, and what a night to get it.
Bennacer's role
Bennacer played as a pivot in the game against the Croatians. In short, he was responsible for directing play from deep like a Regista.
The Algerian would switch play or initiate counter-attacks finding a player in space. He would also initiate pressing sequences, covering space left by others and there constricting the playing area for Zagreb.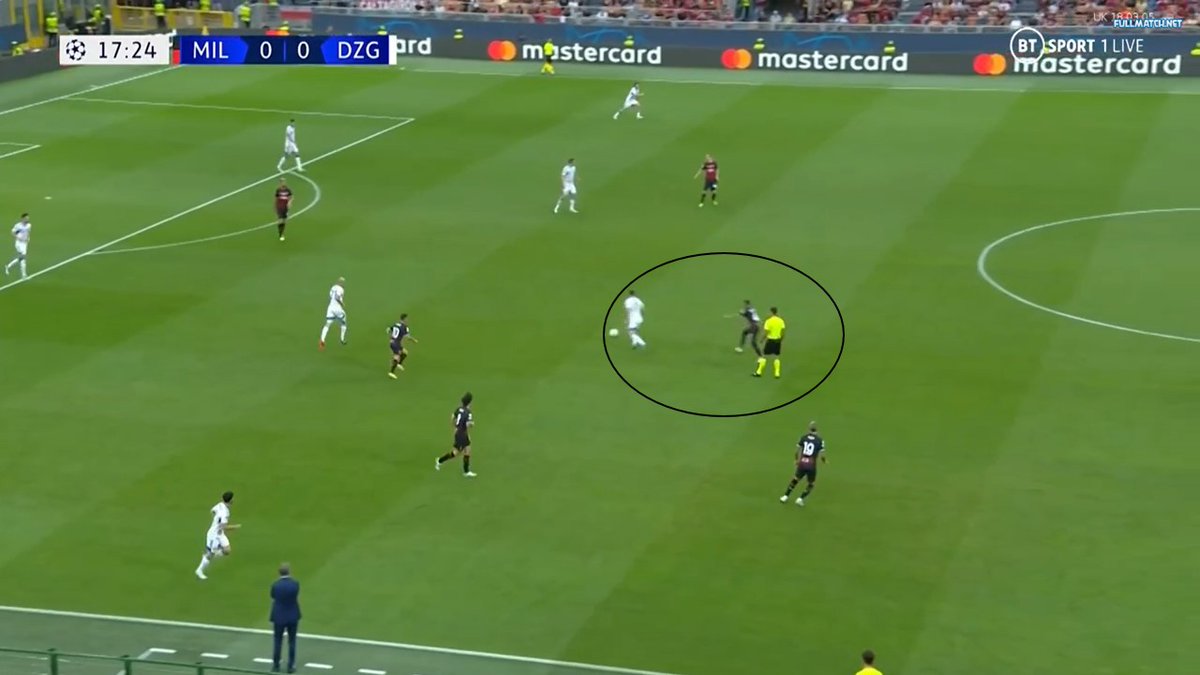 Conclusion
A home win in the Champions League was something that was taken for granted back in the day but now feels like a long-awaited luxury owing to the club's decline in the 2010s.
After an initial bout of nervousness and poor finishing, Stefano Pioli's men can gain confidence from the fact that their patient approach paid off and they managed to score three goals, earn three points and go top, which means there is less pressure ahead of the two fixtures against Chelsea.