AC Milan got their second straight win and their third clean sheet in a row to move clear at the top of the table, beating Empoli 1-0 on Saturday night.
In truth it was an unspectacular performance from Milan who at times struggled to play the intense and free-flowing football that they would like to, but unlike the Udinese game one goal would be enough this time as Pierre Kalulu got the winner with a sweet strike from distance. Below are some tactical points from the game…
Positive early signs
A common trend that we have seen from Stefano Pioli's side when playing the teams outside the top seven is that they like to commit to attacks early in the game to try and get their noses in front. It is no coincidence that Milan's most intense spells are generally in the first 20-30 minutes and that is also the period that they risk the most from a numerical point of view.
In the sequence below, Leao receives the ball on the left wing and Florenzi – who is underlapping due to the Portuguese winger being pinned – checks around to see the move developing, while Kessie takes up a space between the lines and Giroud keeps Luperto occupied.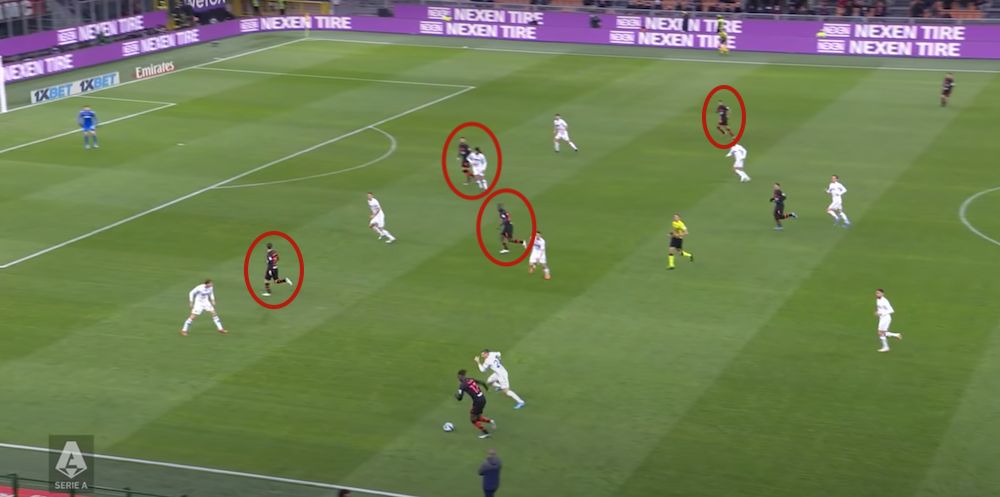 One of the ways to break down a team that want to play deep and compact in a low block is simply to move the ball quickly; to draw players out of the position they are meant to be in and to create chances in the half spaces left by disorganisation.
Leao rolls the ball into Florenzi who is already aware of Kessie's position, with a lovely flick on and then a run from the left-back to penetrate in behind, stretching the space.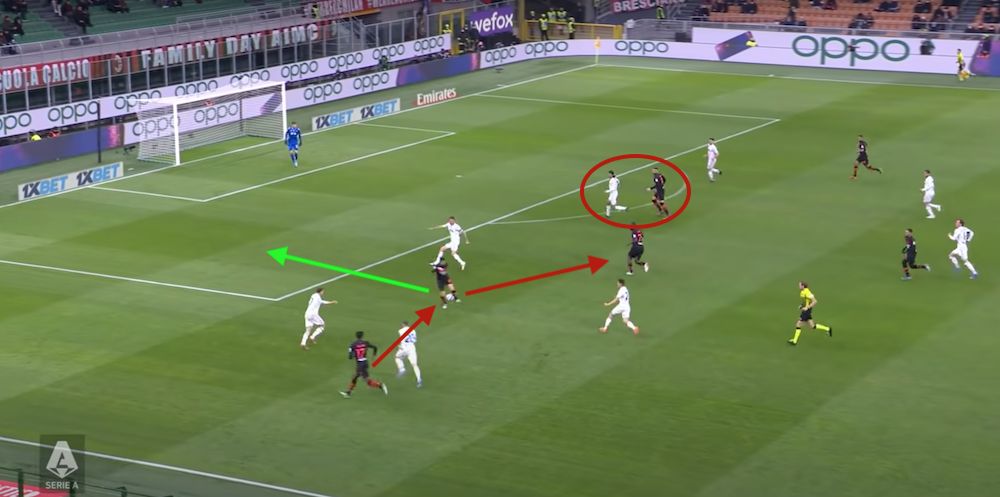 The return pass from the Ivorian might have just been half a yard behind Florenzi in truth, but he drew a fantastic save from Vicardi after opening up onto his favoured right foot. It was smart, fast and it cut Empoli open early.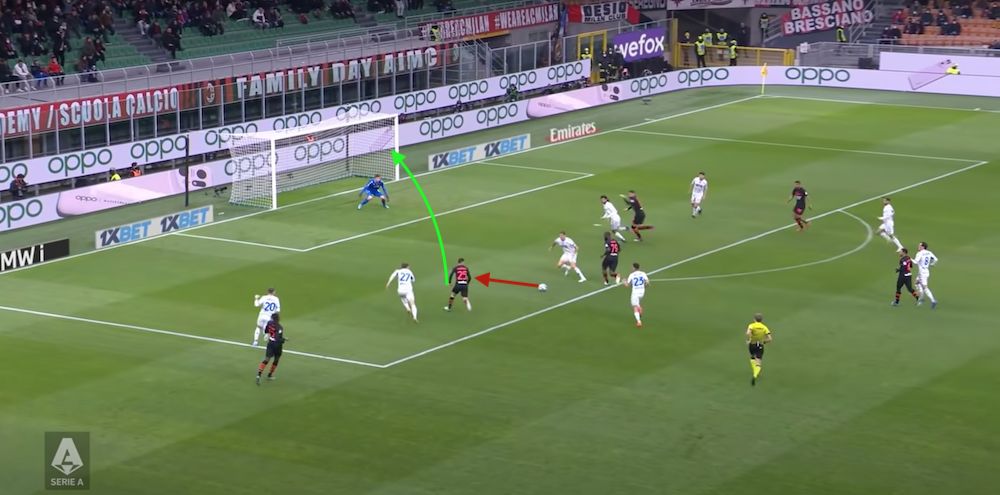 Kalulu makes his mark
We have often criticised Milan's lack of threat from set pieces and their inability to defend them, and while this might not be the most shining example it does at least show that the coaches and the players are trying new things.
With the help of Mike Maignan, Milan position a four-player wall in front of Empoli's six-man wall with the aim of trying to obscure sight lines for those players and of course for Vicari, which is where Maignan's expertise came in.
What is also worth noting is that there is a large space free in front of the box as Milan have just two men central in front of the goal when that might usually be five or six.
Giroud thumped his effort into the wall, but they then dispersed and it became clear that the plan had somehow worked in a way the team probably never intended. Empoli's players couldn't get to the loose ball quick enough, Tonali provided a basketball-style screen allowing Kalulu to stride into it and fire through a cluster, meaning Vicari was left motionless.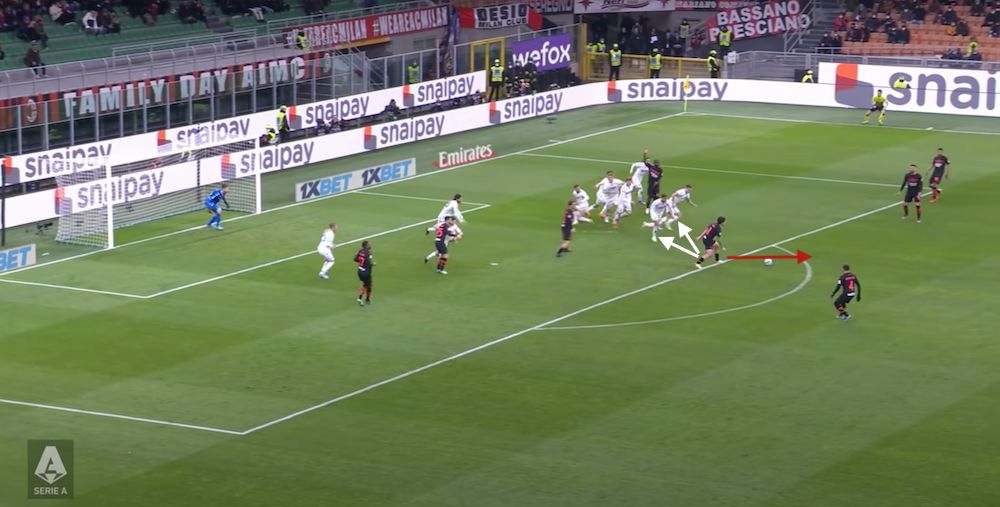 Using presence
This was one of Giroud's better performances in a game where he didn't score. Although often isolated, he got himself into more areas to influence play and he utilised his physique to cause issues.
In the sequence below he steps towards a ball that is about to land in the box and gains leverage over the opponent, with Leao and Florenzi showing some surprising chemistry (given they have played together once before on the same flank) to create an opportunity.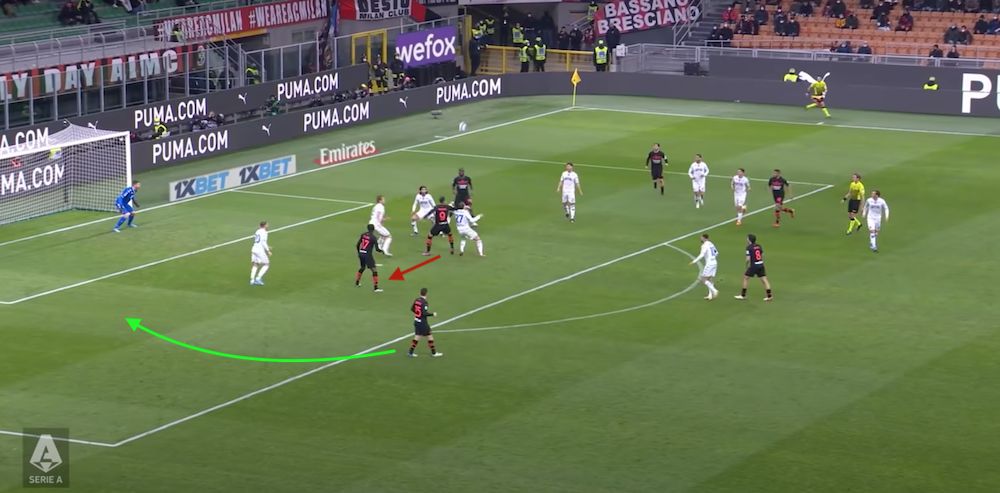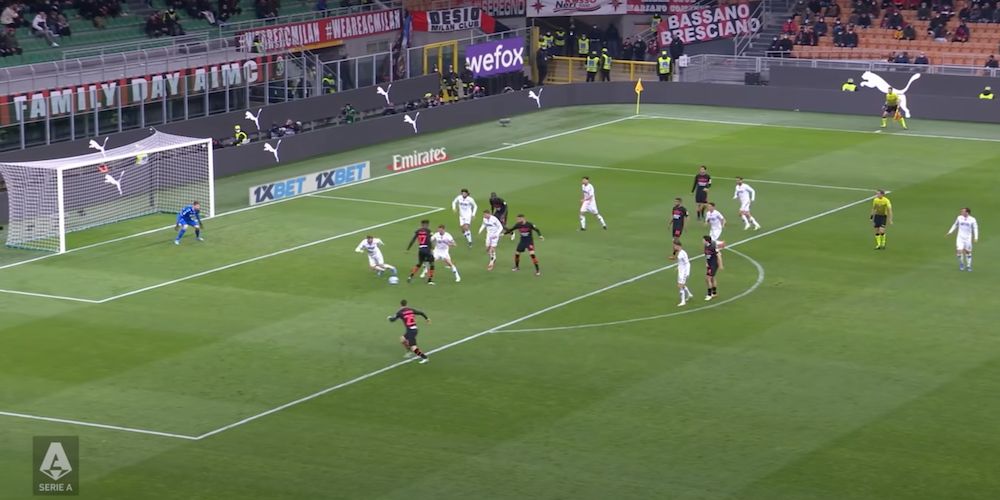 Slow reactions almost costly
When considering the game ended 1-0, Maignan actually made a save that preserved the two extra points for the Rossoneri. It was incredibly sloppy defending in an otherwise excellent game from Kalulu and Tomori as neither see the danger coming and pick up Empoli's centre-back Luperto.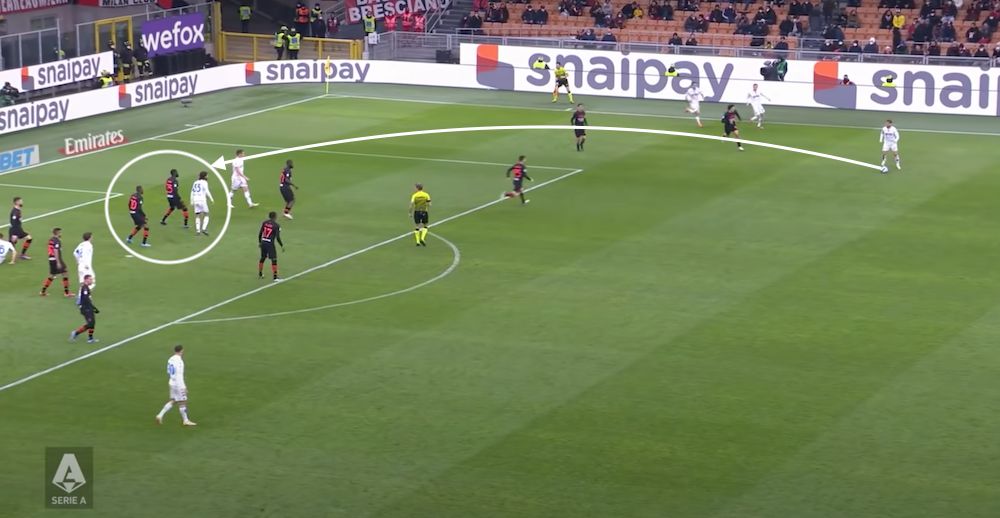 As the ball is fizzed in, the group of Milan players in and around the penalty spot find themselves flat-footed (how many times have we said that before?) and can only watch on as Maignan saves the header at full stretch. A let-off.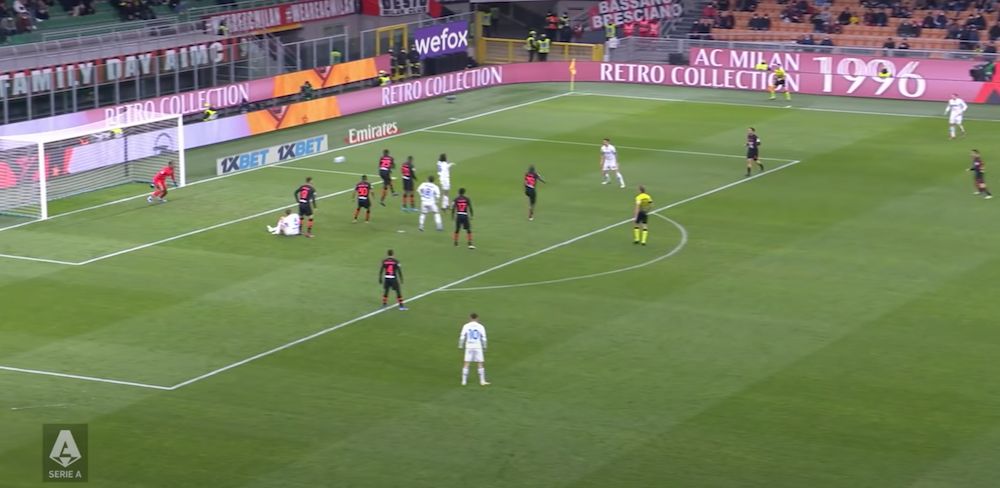 Food for thought
There are growing reports that Milan are after a new right winger, with Domenico Berardi the main name linked. Three times during the Empoli game Milan worked the ball to Messias on the right who found himself in his preferred situation: isolated with the left-back, and with runners ahead to create space.
In the sequence below, Messias squares up to Parisi and is looking to cut into a shooting space around the area highlighted in green, which he anticipates because of the runner in behind dragging the Empoli man deep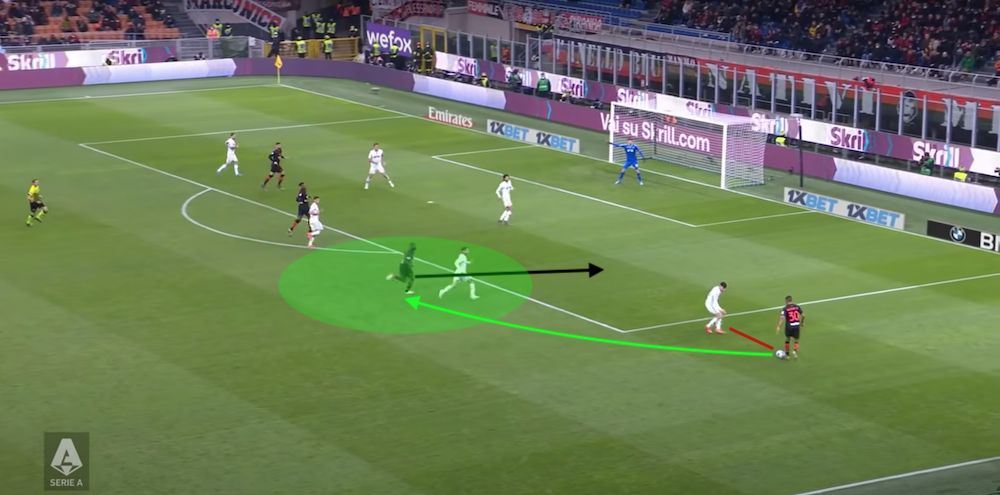 The situation unfolds exactly as planned, but like the other two shots he let off from a similar range, it did not result in a threatening shot. These chances are being repeatedly created through cuts inside because of how Milan focus so much on the left flank thus creating space on the right.
Would Berardi have scored any of the chances the Brazilian had? Who knows, but with 12 goals to his name so far this season there is a strong argument that a better left-footed right winger could add another string to Milan's bow.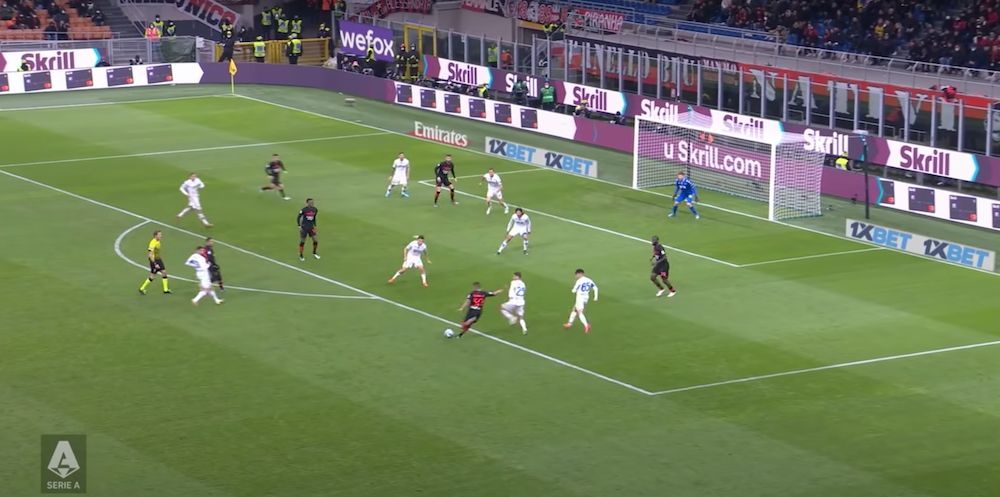 Theory time
It was a huge three points, yet the performance felt quite underwhelming as the Rossoneri failed to open up a comfortable lead and created very little. Why might that be? For this, we thank Rohit…
Familiar struggles: Milan cannot break down teams who play a deep block. Teams like Udinese – who sit in 16th do not come to Milan to target a win – are conducive to sitting back and squeezing the space, occasionally countering in the right moments.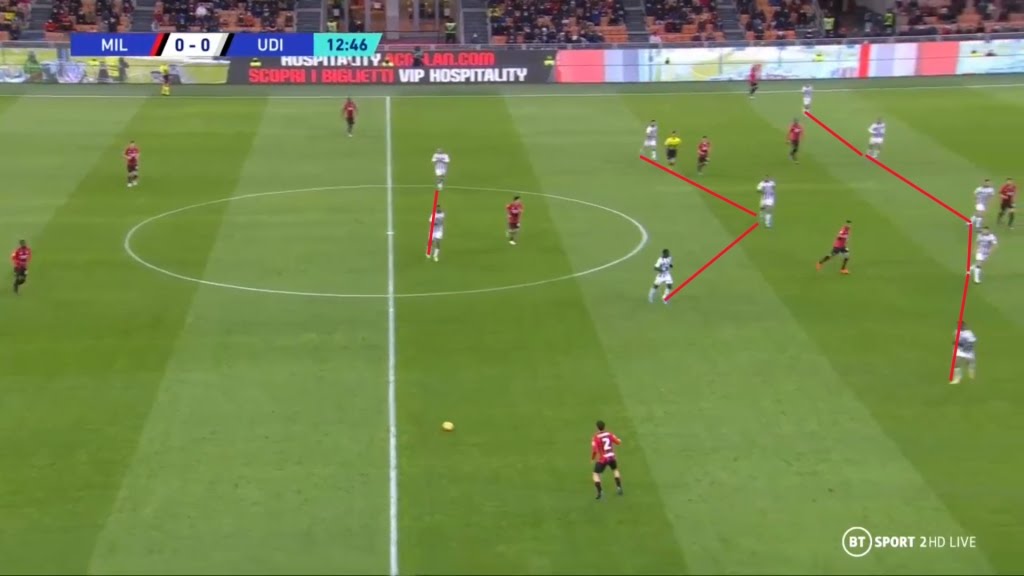 This mentality of teams below 10th place means the impetus to create chances and score is down to Milan. With Leao often being double or triple teamed, Milan have no real answers.
Against the bigger sides there is actually more joy, because teams like Napoli and Inter will look to attack because they want to win. This would mean that they play a higher line and this gives more space for players to run into.
Drop in intensity: Of course Milan can press with intensity and cause havoc, but Pioli seems to be reluctant to instruct his players to do so after two huge injury crises this season as well as last season. Against Empoli, Milan wanted to suck Empoli out when in the lead to create space at the back and to counter-attack.
However, once the pressing stopped the team seemed to become much slower in moving the ball, which meant very little creativity given Empoli were happy to keep it at a one-goal game and play their chances.
Conservation: Milan have a stretch of difficult opponents coming up and there is a solid theory that Pioli want to save up some energy for these games, while also avoiding key injuries.
The data
The heat maps from the game show how Milan managed to create a big territorial advantage as they dominated most of the field with Empoli barely venturing beyond the half way line. The away side are also shifted over to their right, showing the plan to half Leao and Florenzi down Milan's left.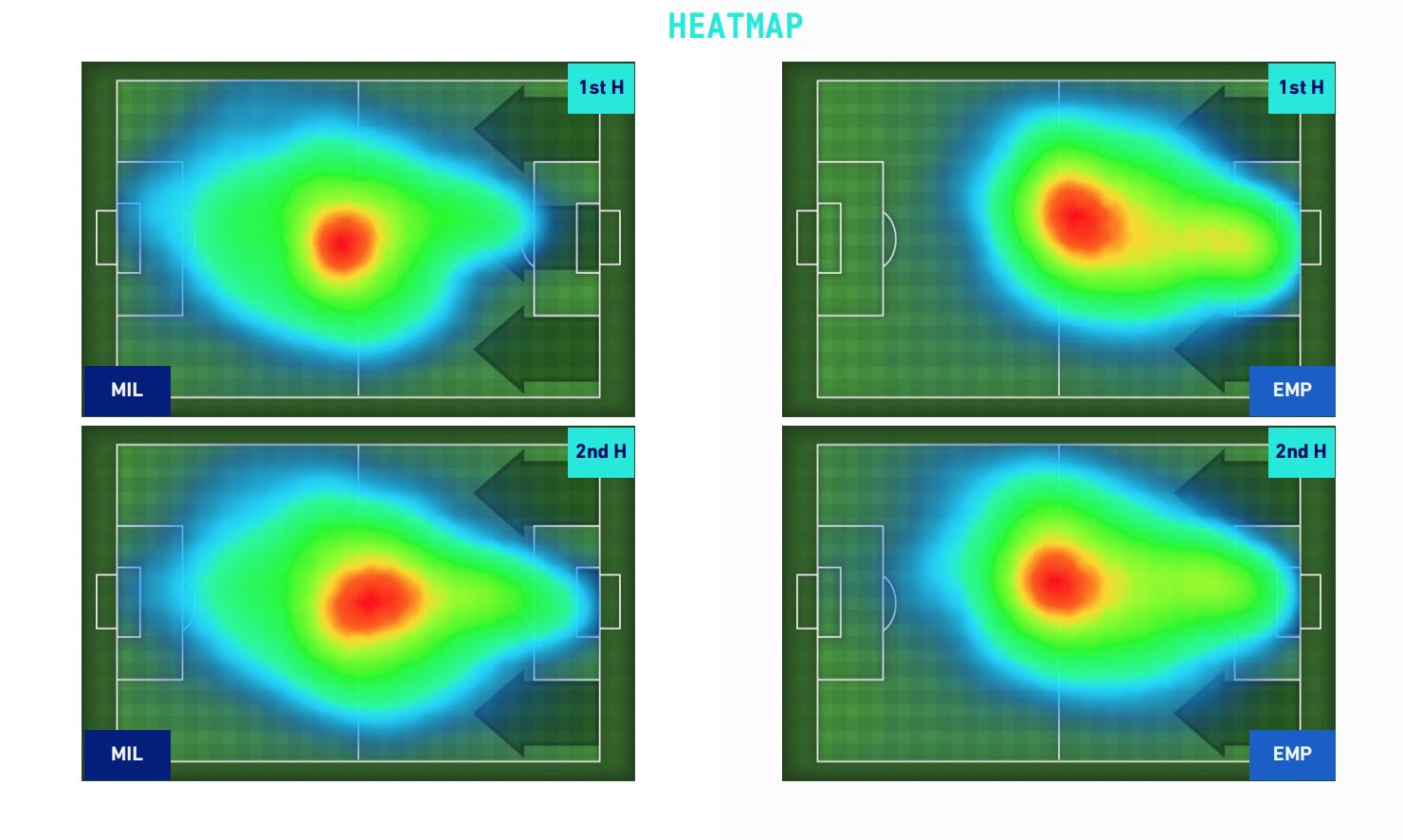 The first half position maps show that Milan tried to have Leao playing off Giroud, functioning almost as a second striker. Instead of it being a disguised move like the 4-3-3 against Napoli, this time Kessie did occupy the No.10 role. Given the dominance of possession, it led to a shape more resembling a 2-4-2-2. Empoli, meanwhile, were incredibly narrow and compact.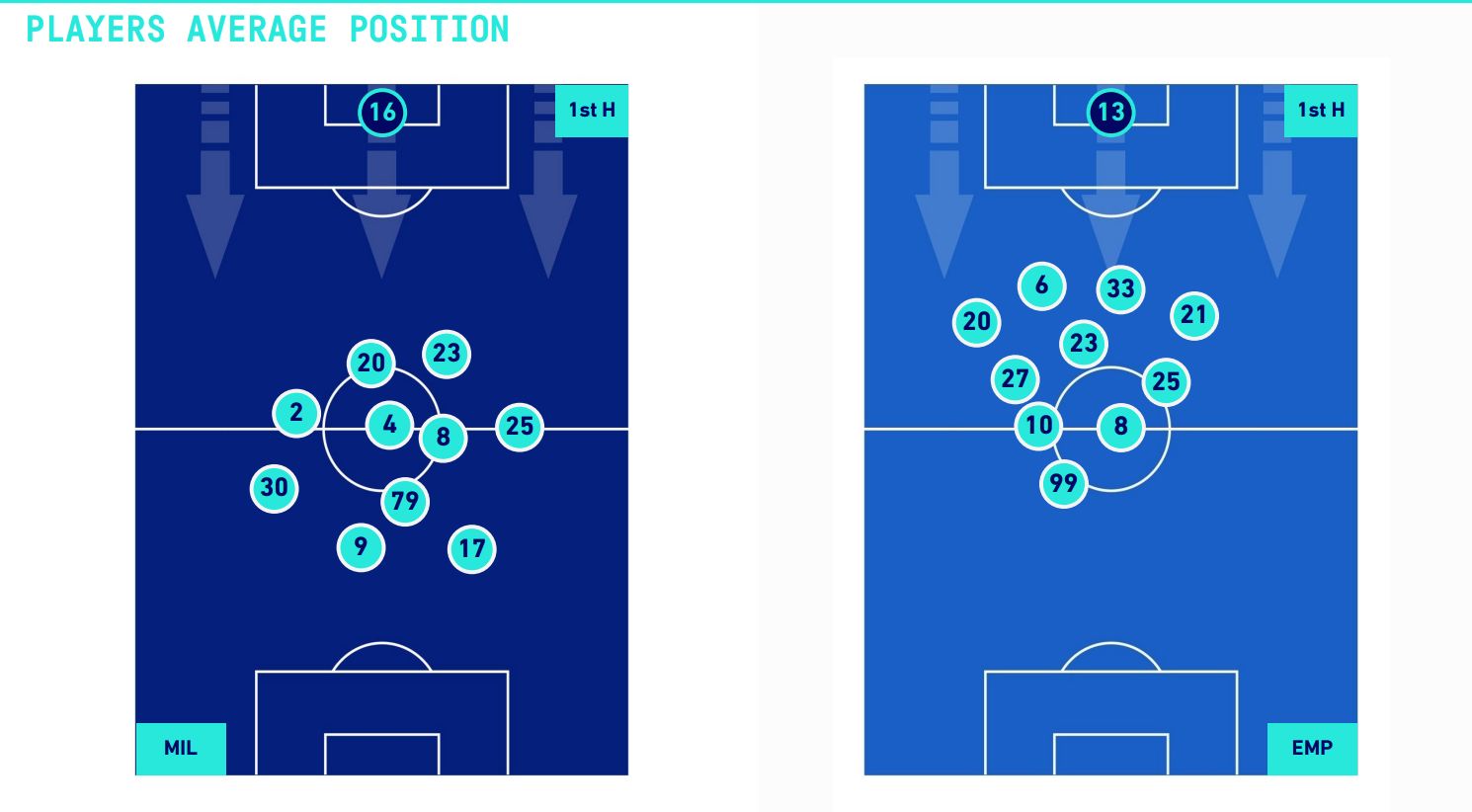 Finally, the touch map shows how Andreazzoli's side tried to work their moves down their right wing, perhaps indicating a plan to target Florenzi playing on the opposite side by having Bajrami drift over to that flank.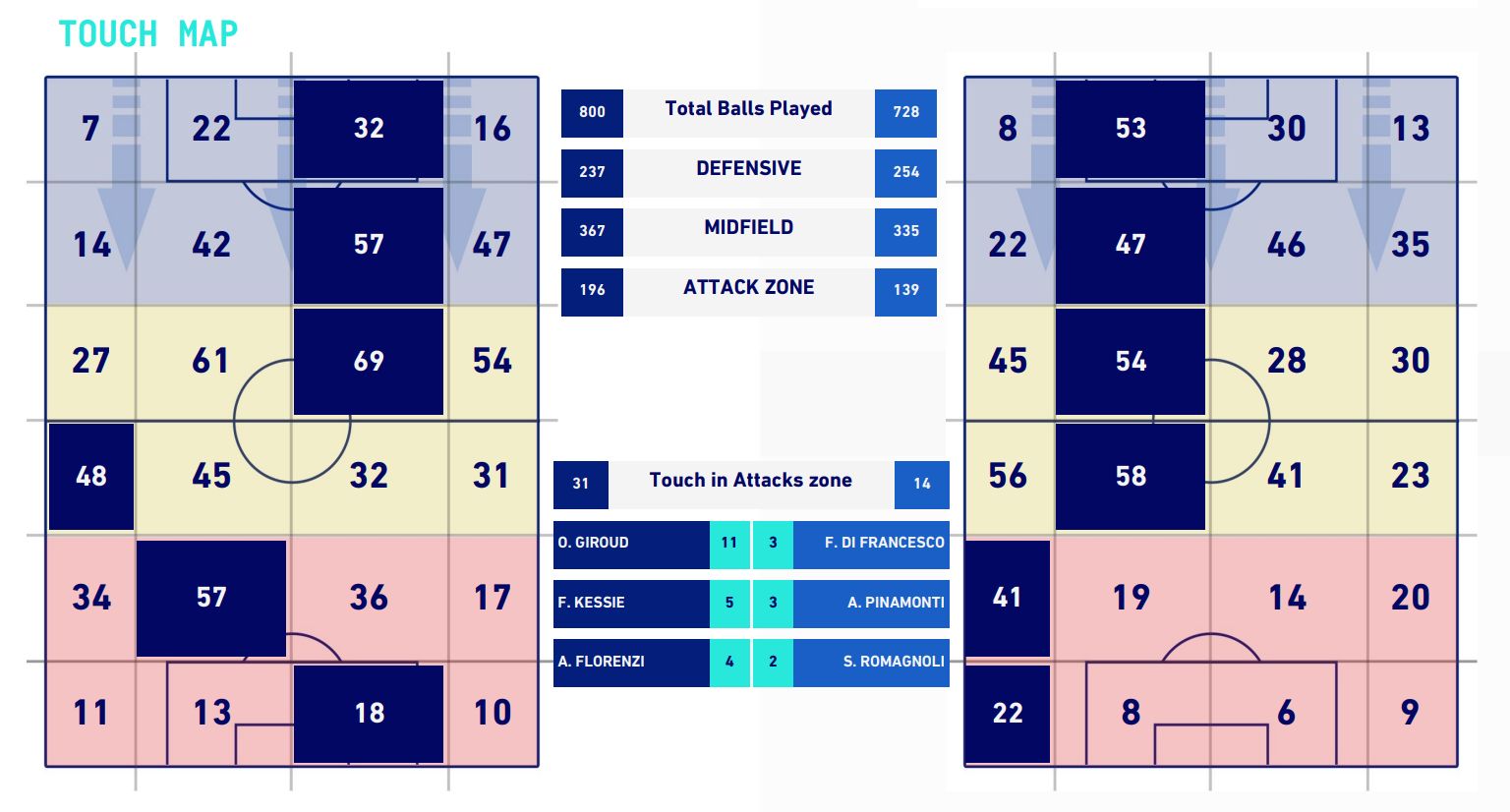 Conclusion
It was far from pretty, but points are the only currency that matter at this stage in the season, and it is impossible to cash in performances.
There are understandable worries about a lack of creativity and tempo against a struggling side that haven't won in 2022, with plenty to work on in terms of understanding and precision on the training ground, yet enough was done and this allowed a degree of game management.