A head to head clash between two challengers for the Scudetto in Napoli and Milan took place at the Stadio Diego Armando Maradona on Sunday, and it was the away side who got three huge points.
Stefano Pioli had not beaten Luciano Spalletti in 11 previous attempts and was looking forward to the tactical tussle, and perhaps rather fittingly it was just one moment of composure from Olivier Giroud that was enough to settle the game. Below is a tactical analysis…
First half
The main piece of Napoli's system are the functioning of the double pivot. Used by Spalletti to build up play using various combinations and maneuvers, the double pivot was and is crucial and they use a sequence of movements in the different phases.
When the ball is closer to the goalkeeper and the build up is starting, the double pivot stay closer to each other to resist a pressing attempt from the opposition.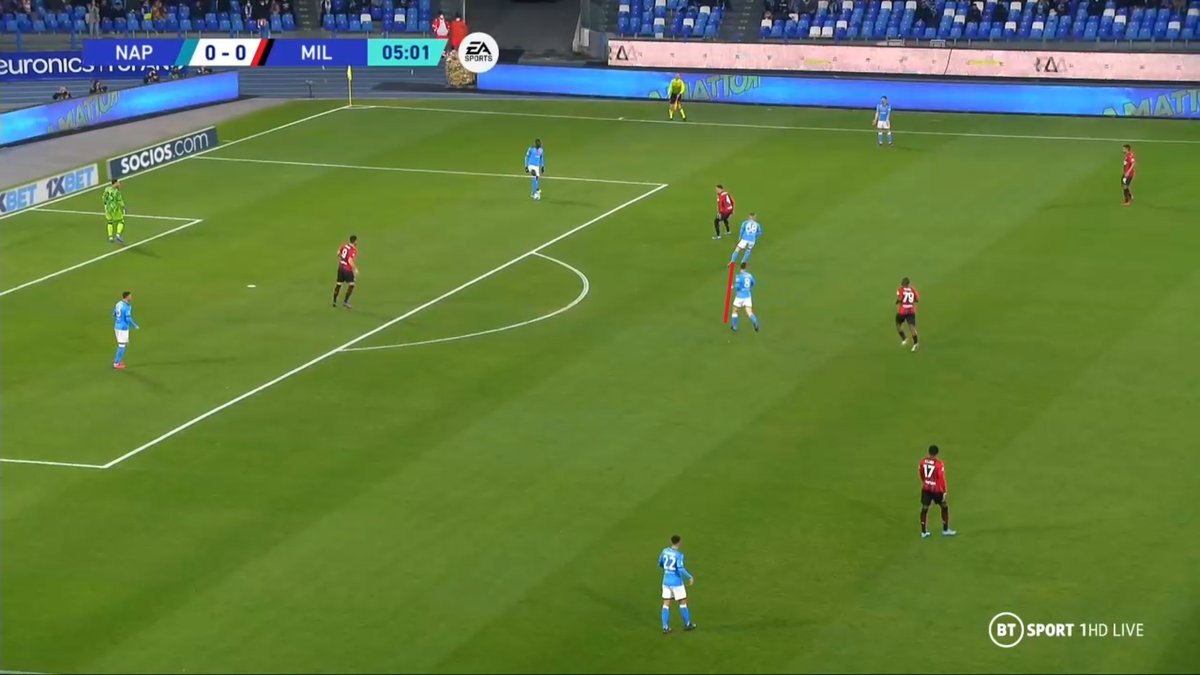 Once they reach the middle third, the horizontal pivot becomes vertical and one of the players – in the example below it is Lobotka – occupies space between the lines to open up passing triangles on the wings or in the centre.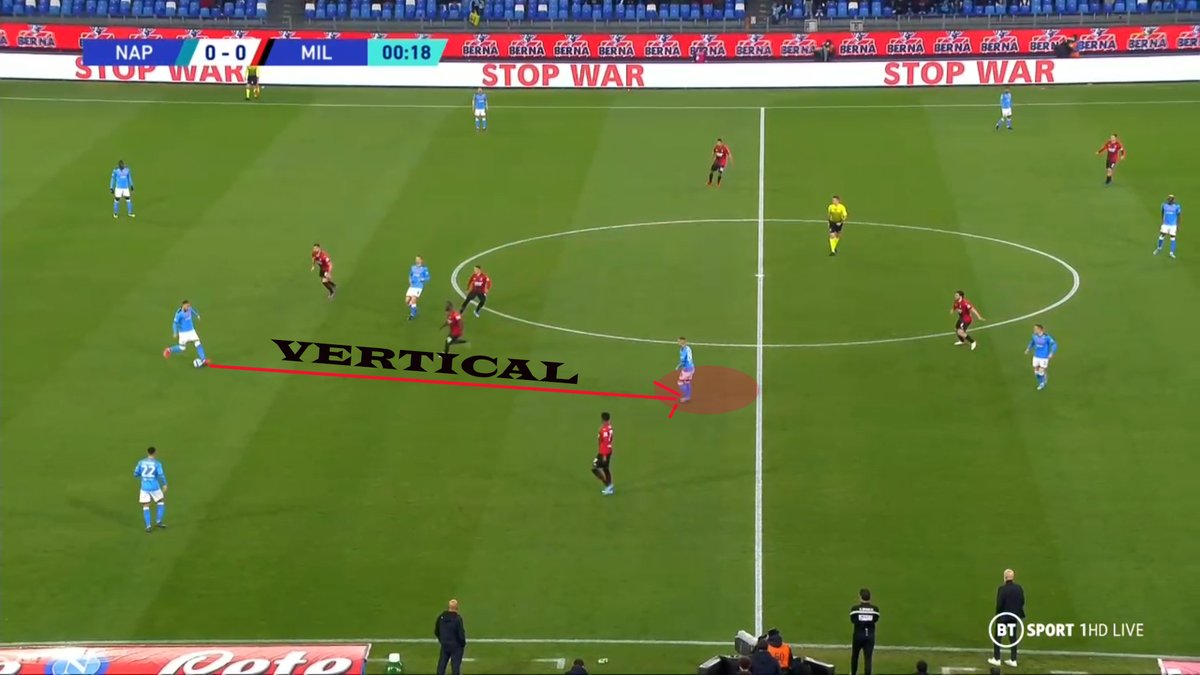 One such movement resulted in Napoli having a passing hexagon and progressing play.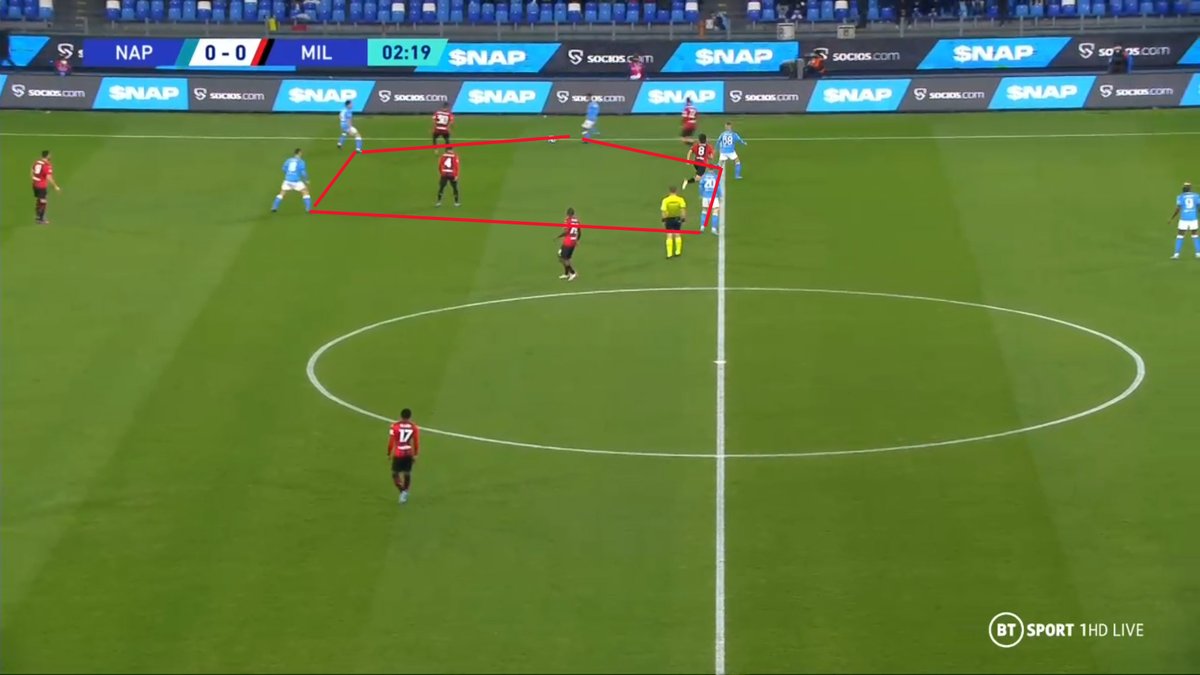 To counter this, Milan – although down as a 4-2-3-1 on paper – played a 4-3-3 hence using a man-to-man marking system with Kessie and Bennacer tightly marking Ruiz and Lobotka while Tonali marked Zielinski.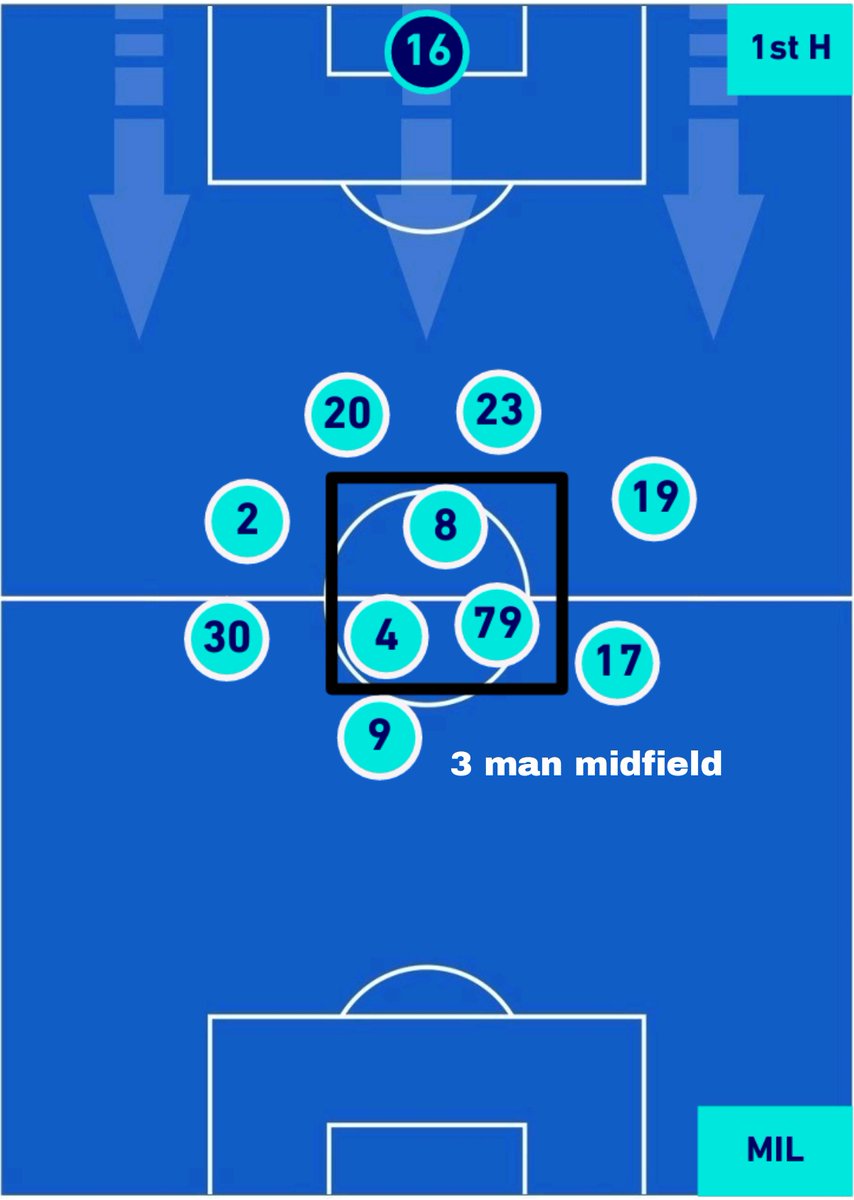 Milan identified the danger man as Lobotka, thus pressing him more tightly than they did other players.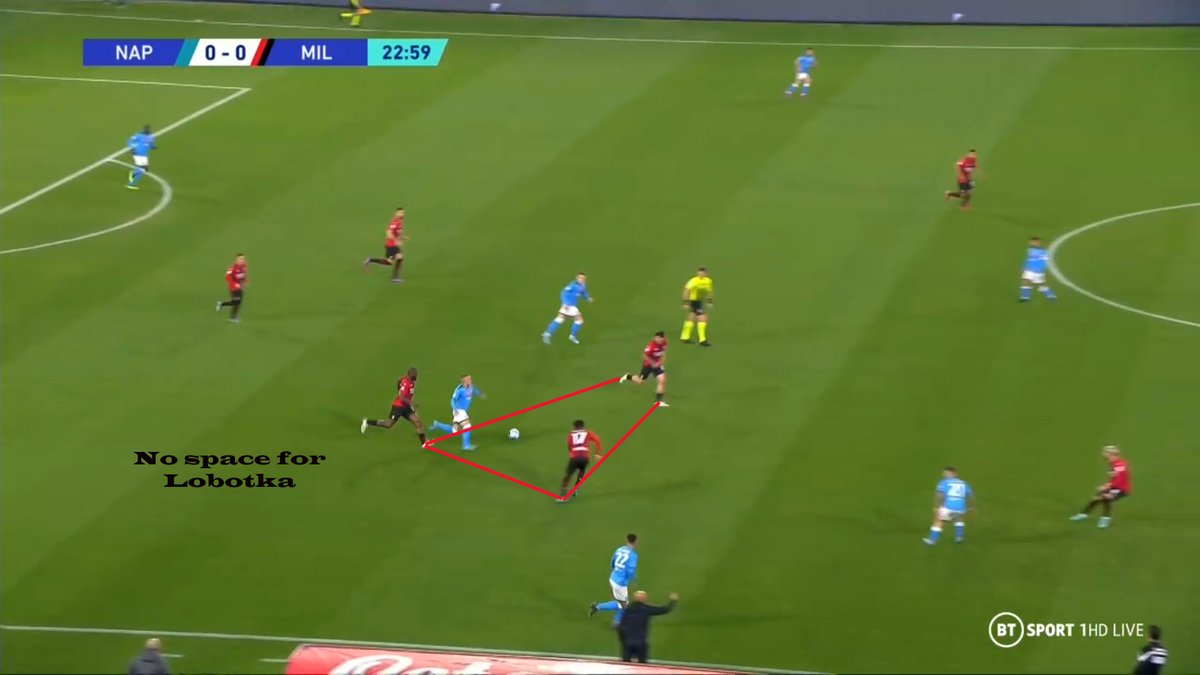 Milan in attack played a 2-1-4-3 formation or a 3-4-3 with Tonali trying to form a passing triangle with the centre-back pairing.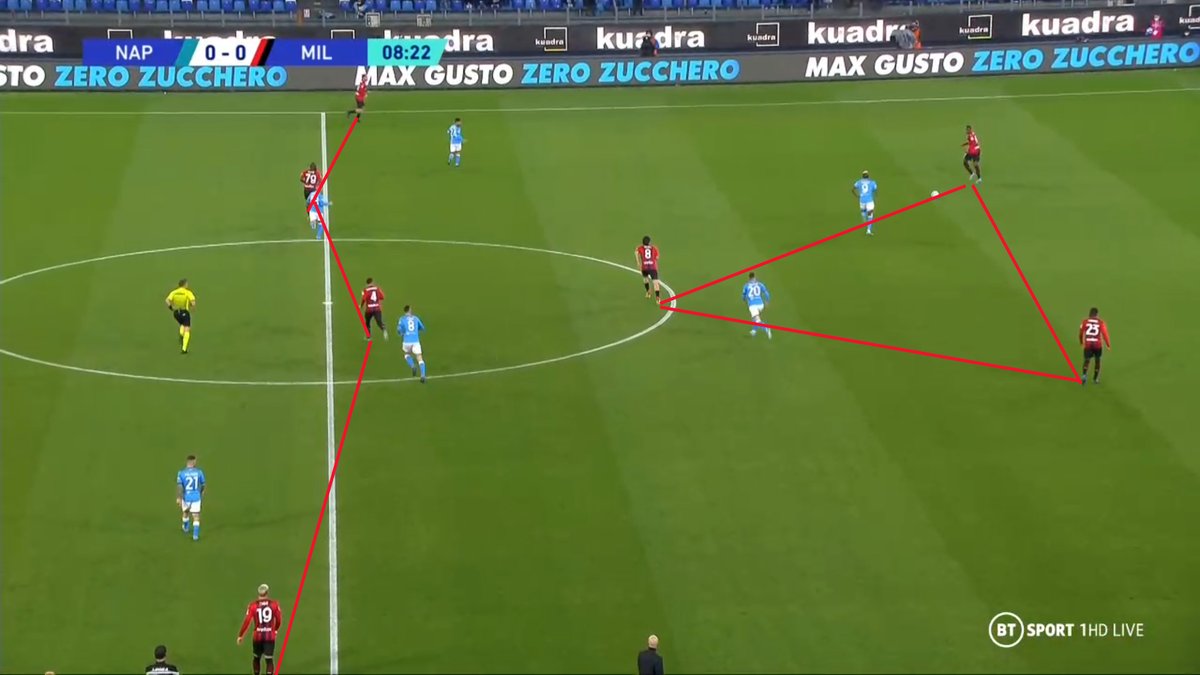 Napoli pressed high but to stretch this Milan had their CB's split wide and Tonali came short with Maignan pushing up. This allowed Milan to push their full-backs, especially Theo Hernandez.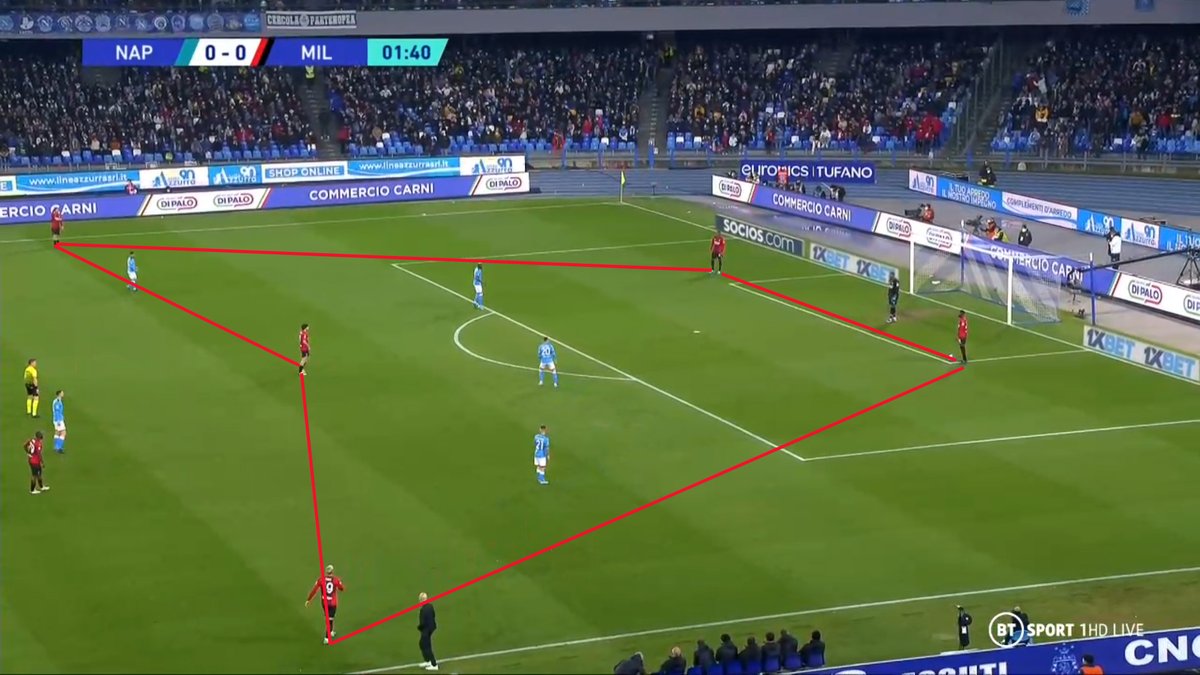 Napoli were often forming passing triangles/diamonds in the half spaces and to counter this, Pioli would cause an overload by plugging the sides.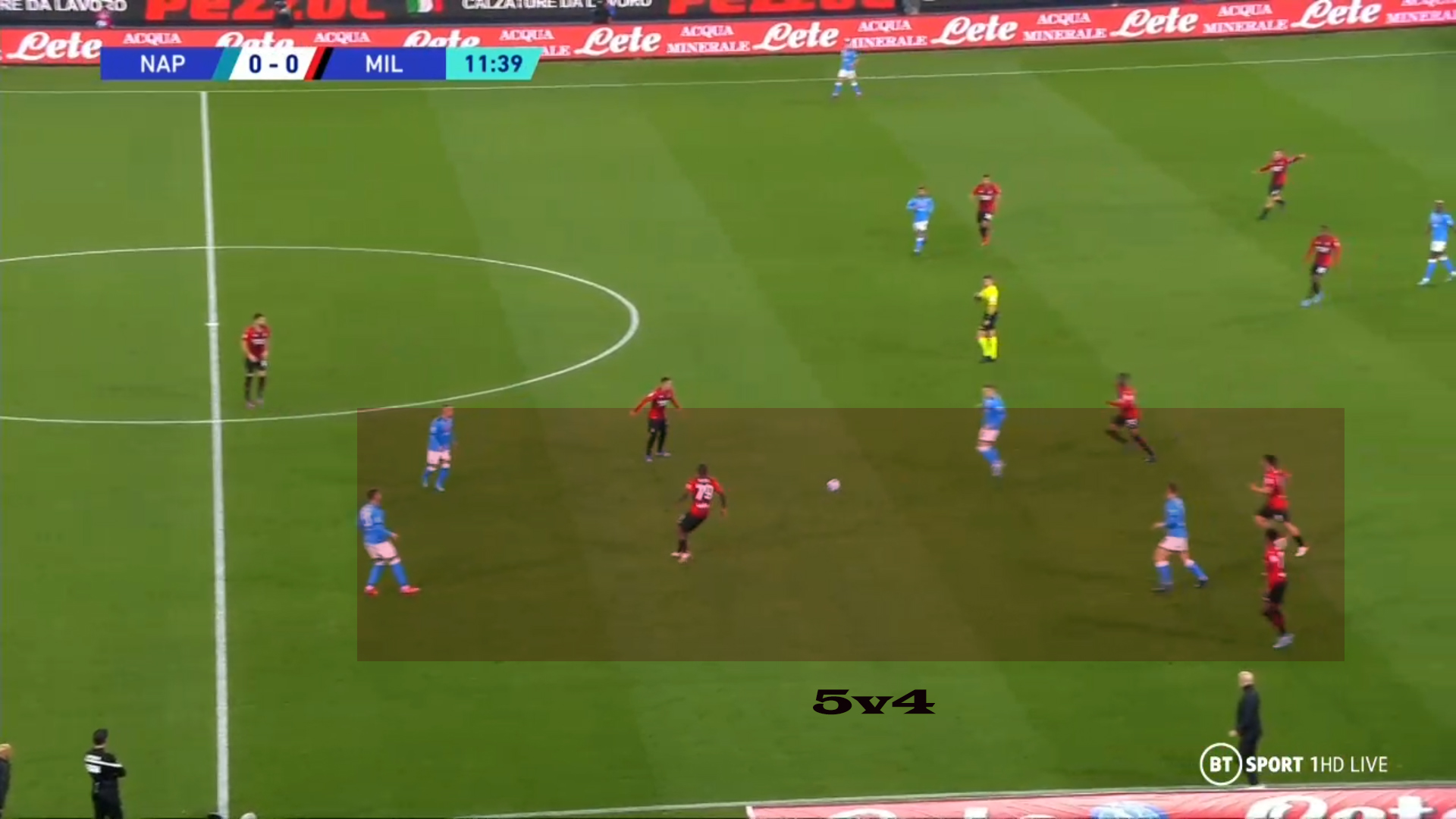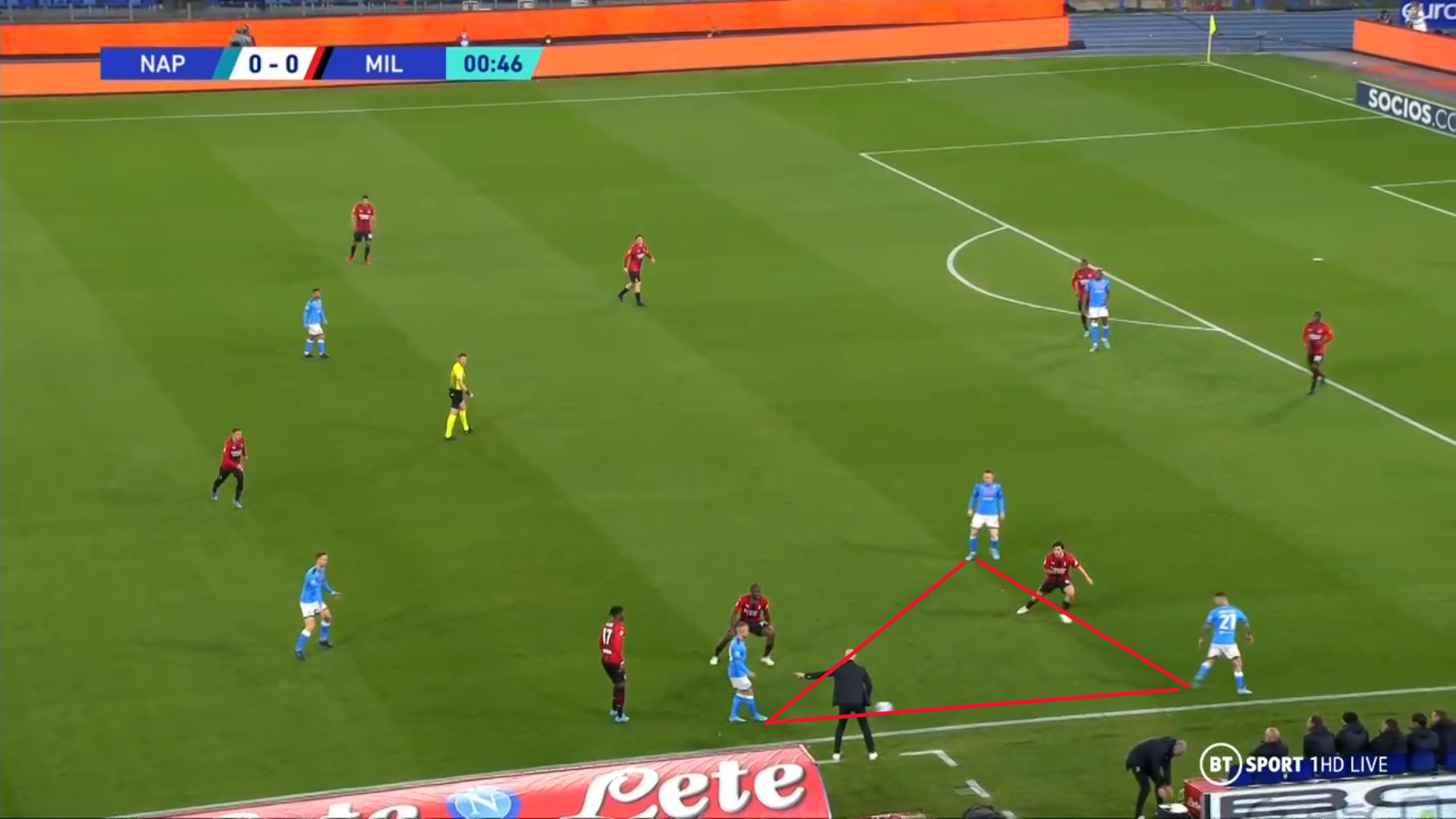 To break this man marking oriented press, Spaletti instructed Koulibaly to make forward runs. In the frame below we can see that Koulibaly was assigned to Giroud but once he crossed the middle third, Giroud did not follow him and this created a spare man for Napoli in the final third.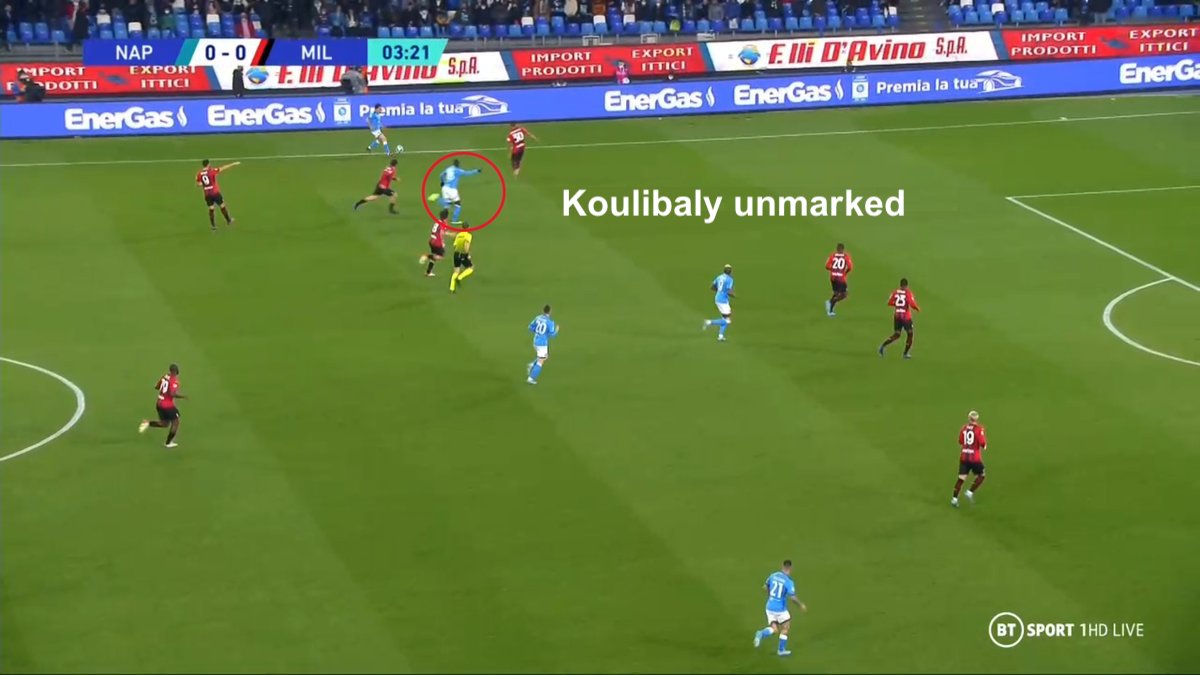 Milan played a very narrow game. Knowing that Napoli have scored only seven goals via headers and prefer to play more centrally, Milan blocked the passing lanes through the middle forcing Ospina to kick it long to Osimhen and Insigne cutting inside to create a 2v1 on Tonali.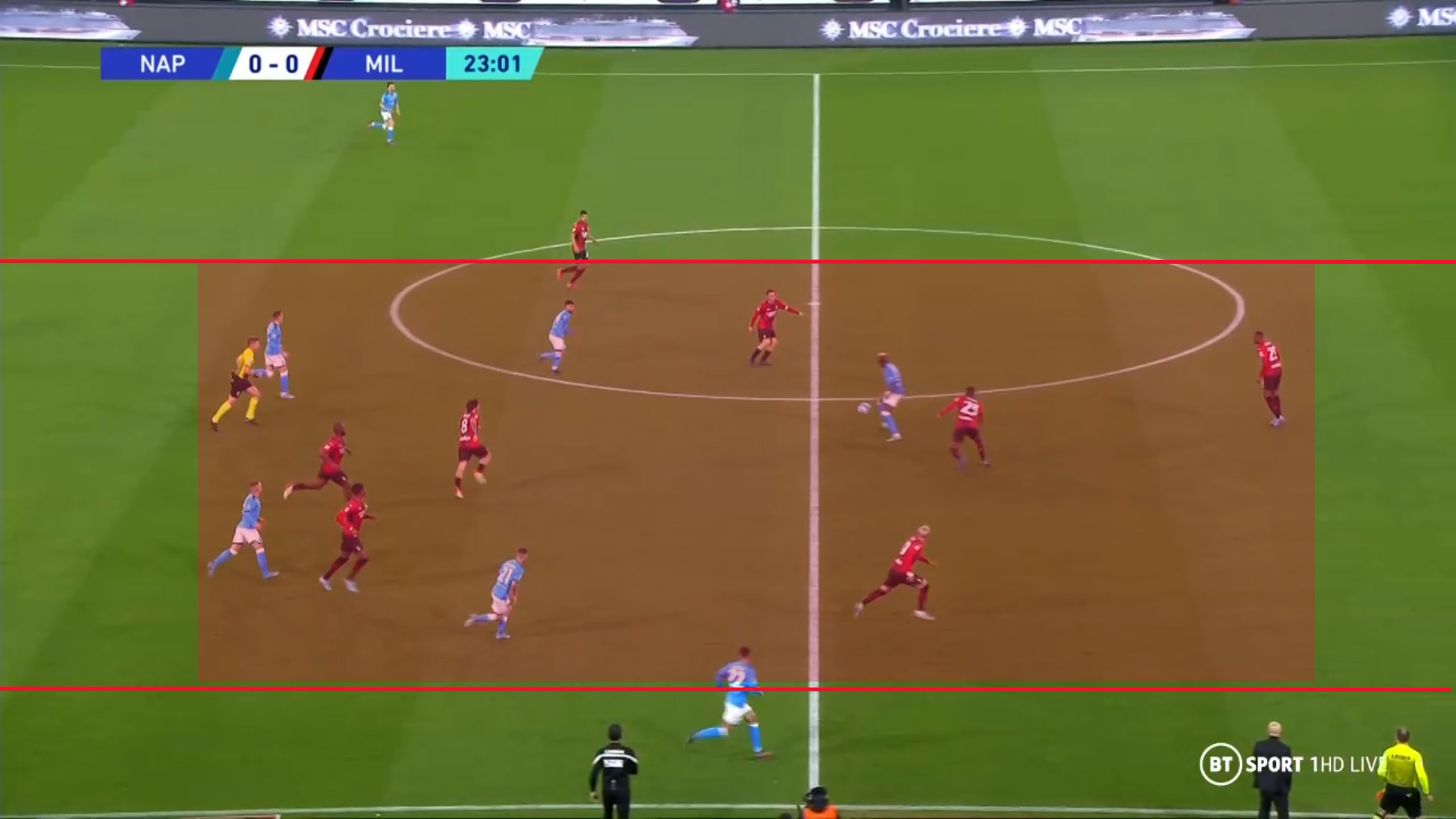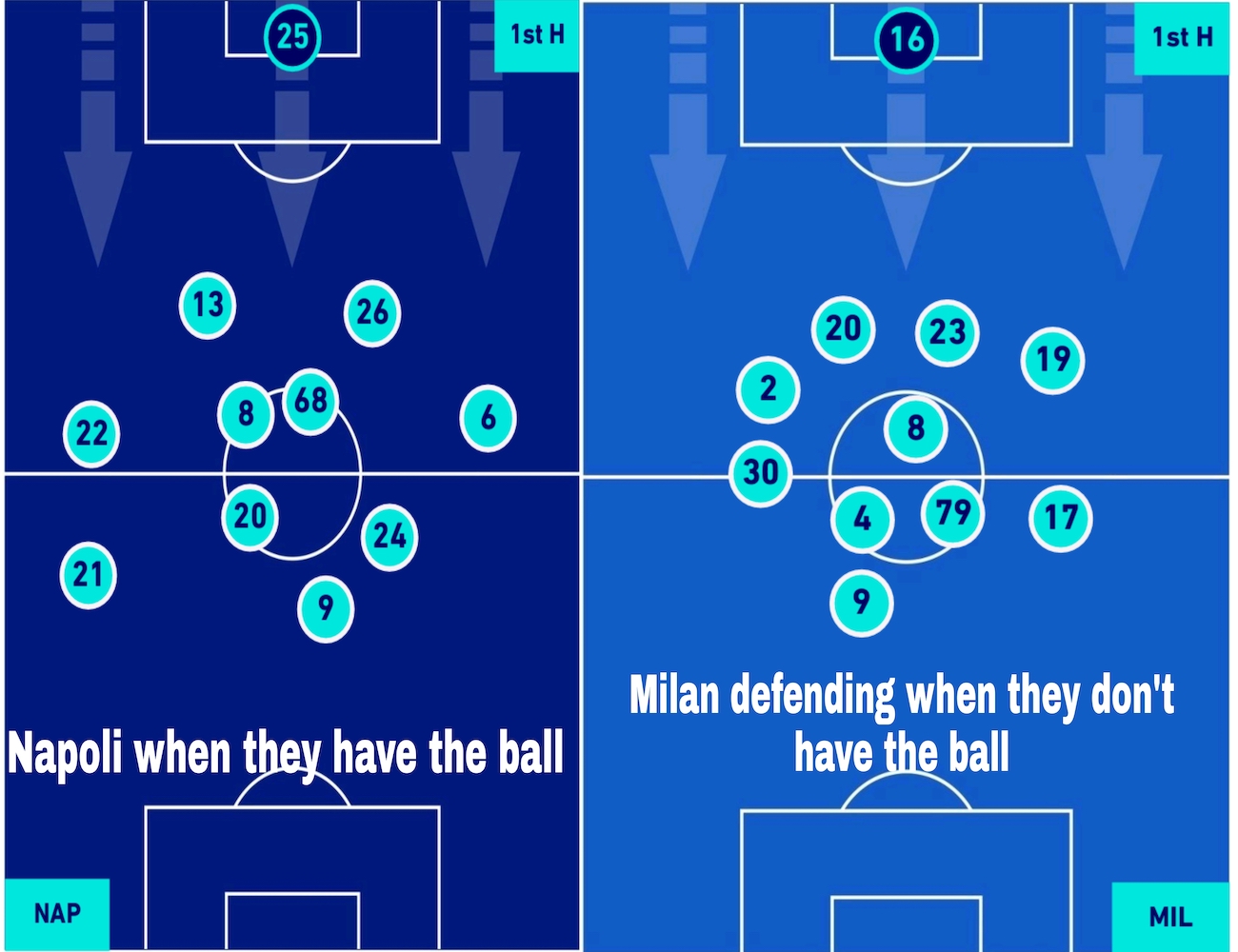 With Osimhen not being provided any service, Milan's centre-backs doubled down on the striker, not giving any opportunities.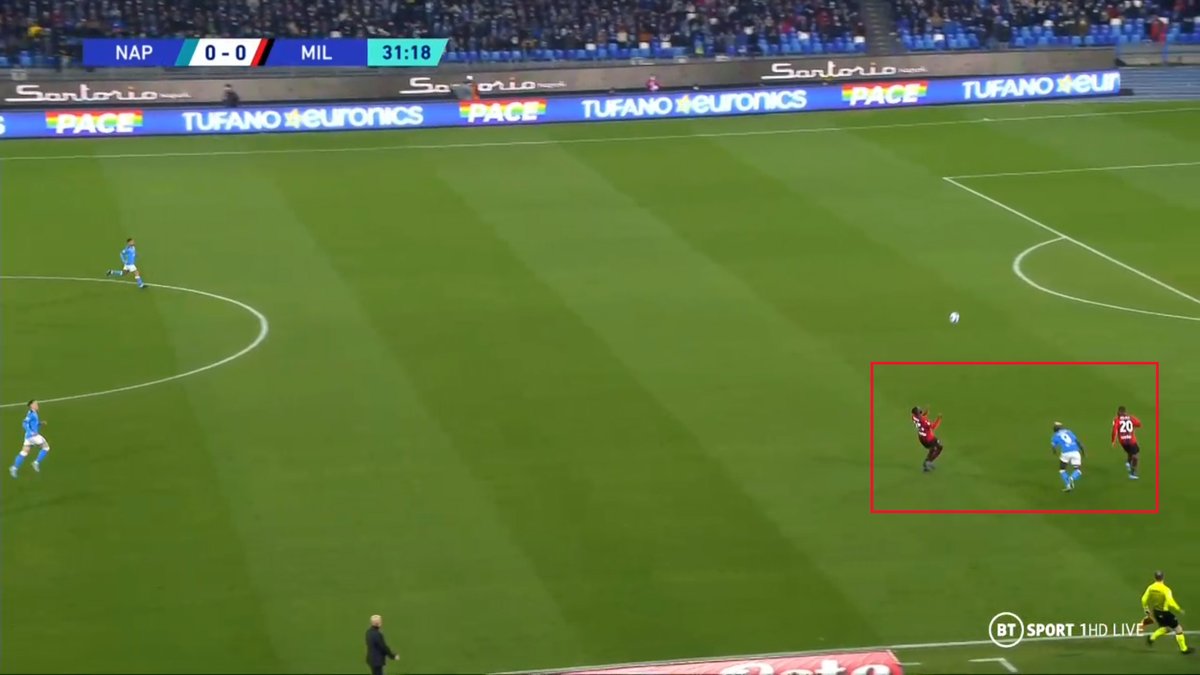 Napoli meanwhile tried to create 2v1 situations on Milan's full-backs with Di Lorenzo often underlapping Politano while Zielinski pulled Tonali or Kessie away.
Second half
With Kessie playing as a mezzala he would often pull wide creating underlapping situations for Theo Hernandez.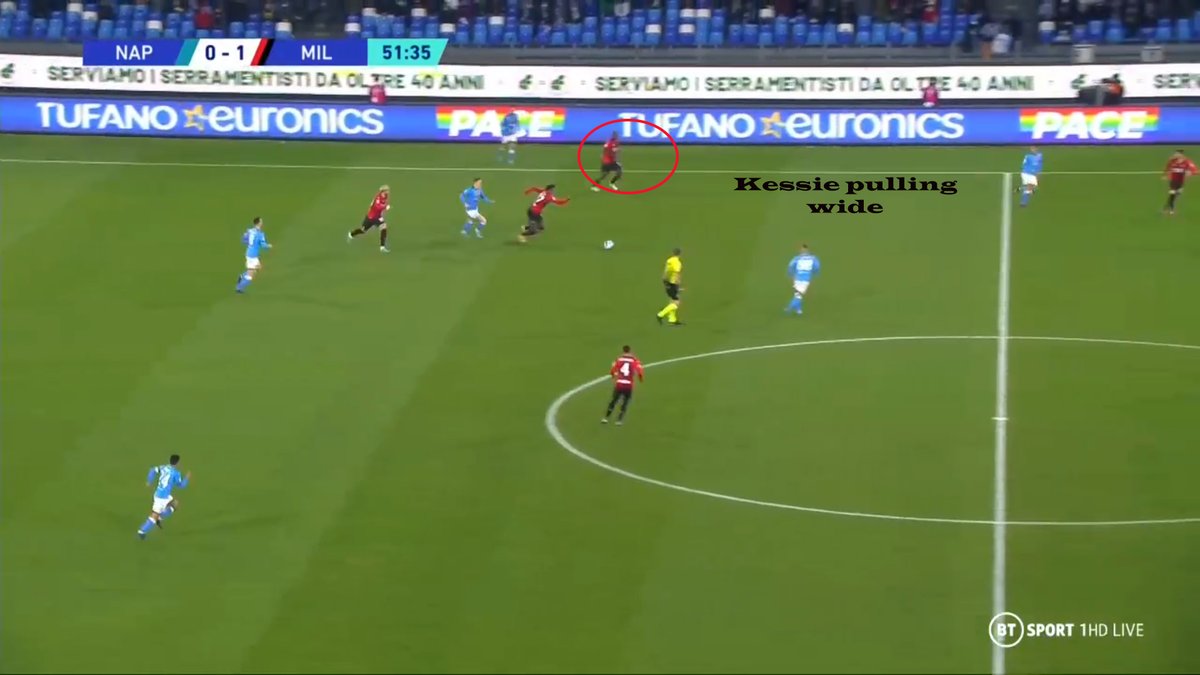 Once Milan scored the goal it opened up a lot of space between the Napoli lines as they went in search of a goal thus pushing higher up.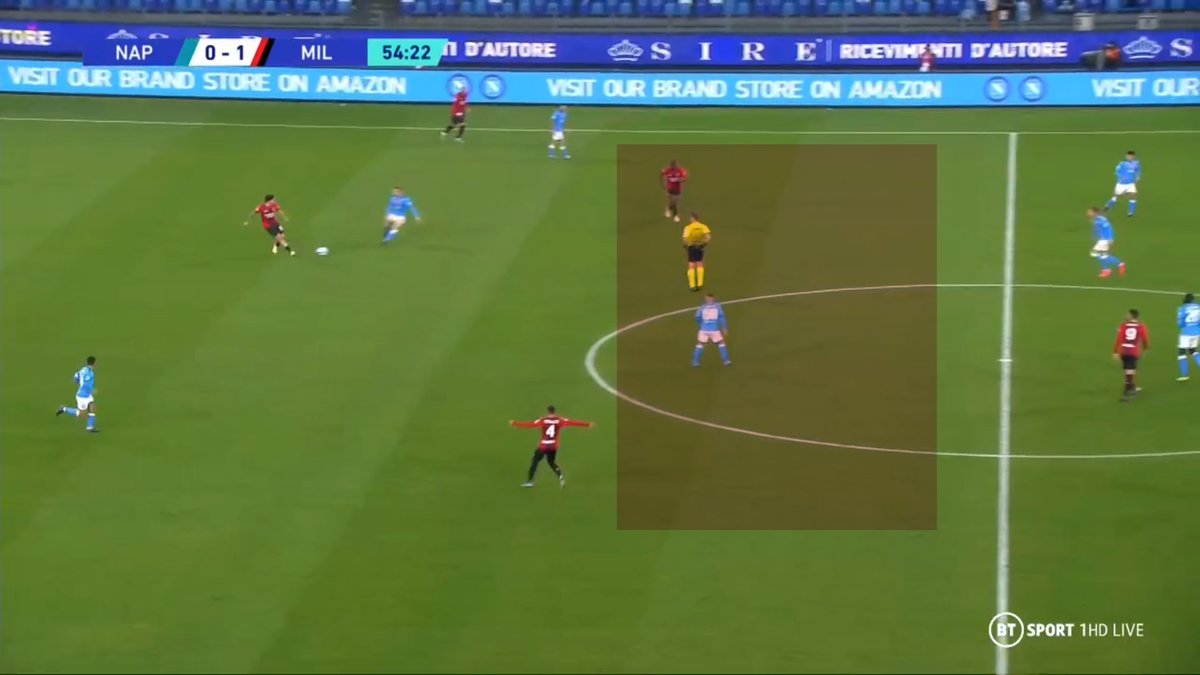 Napoli had a shot on target thanks to a clever run by Insigne as he dragged Calabria away and Messias was covering Mario Rui. This opened Milan's right half-space with Bennacer not being in his usual double pivot position to cover these areas.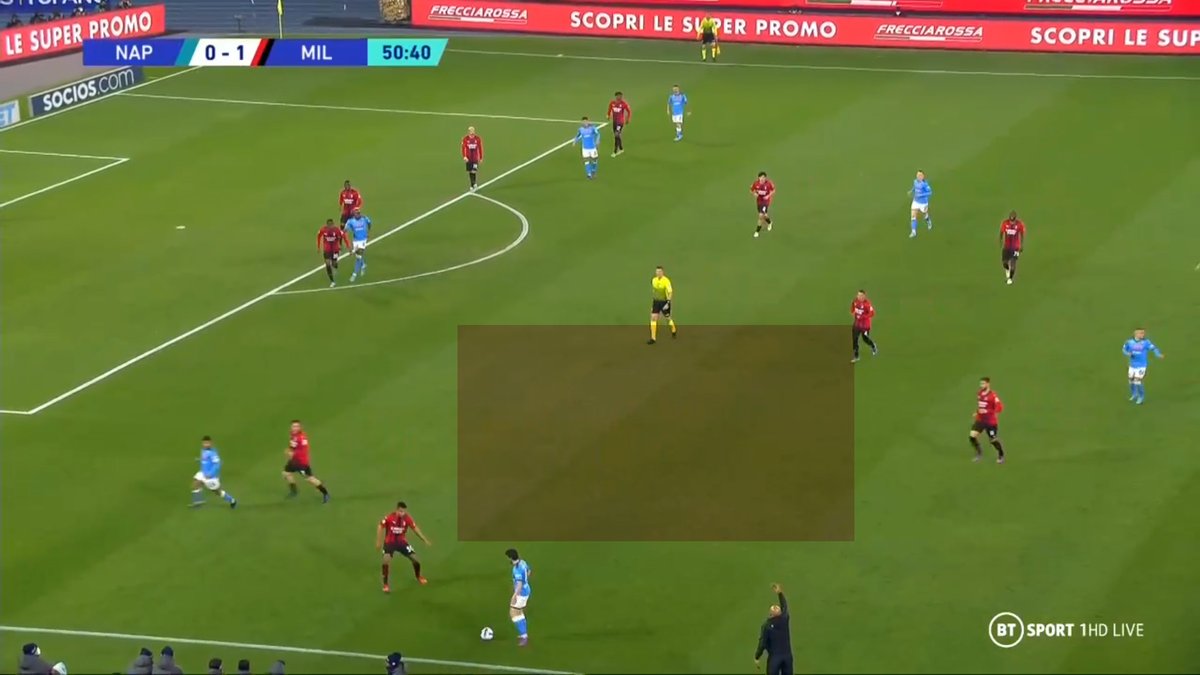 With Ounas, Elmas and Mertens brought on, the home side started playing more centrally and in the half spaces. Osimhen began to get more support from Mertens.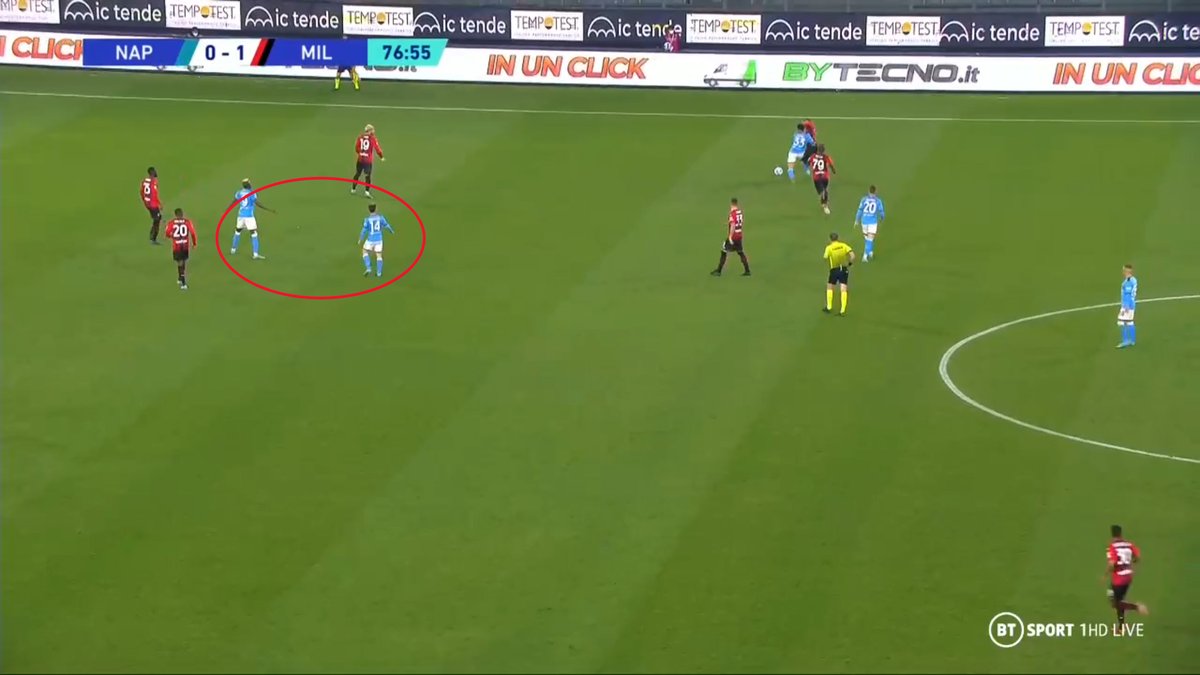 To pin Napoli's high line back, Pioli brought Rebic on who kept pressing the centre-backs of Napoli and also stretching them with runs in behind. Once Ibrahimovic came on, Rebic shifted to the left and this meant Di Lorenzo had to stay back and defend, easing the pressure on Theo.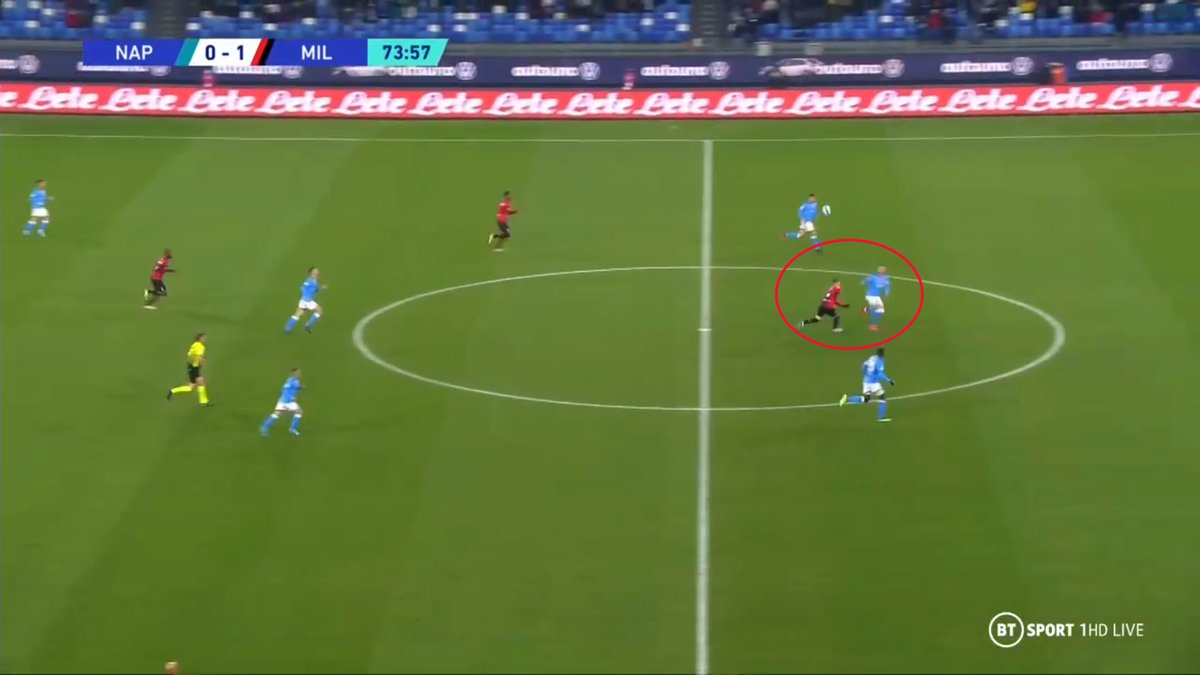 A game of speed
Who said pace doesn't matter? The modern game has evolved so much and Milan's new found jewel Kalulu can be seen matching his opponent Osimhen for speed. Milan's intensity also has been amazing with them, covering 3km more than Napoli despite having played in midweek.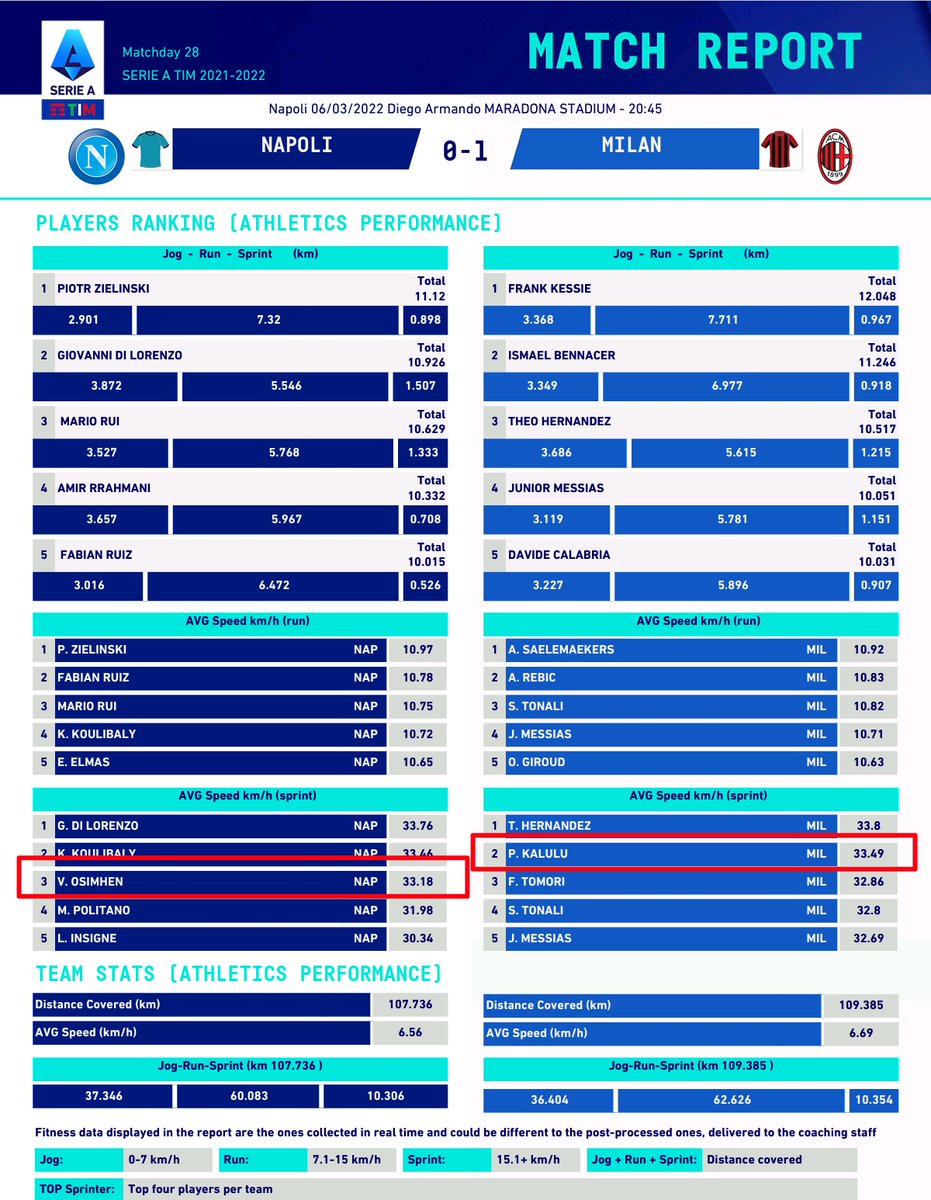 Stats
According to Understat, the xG for the game is as follows…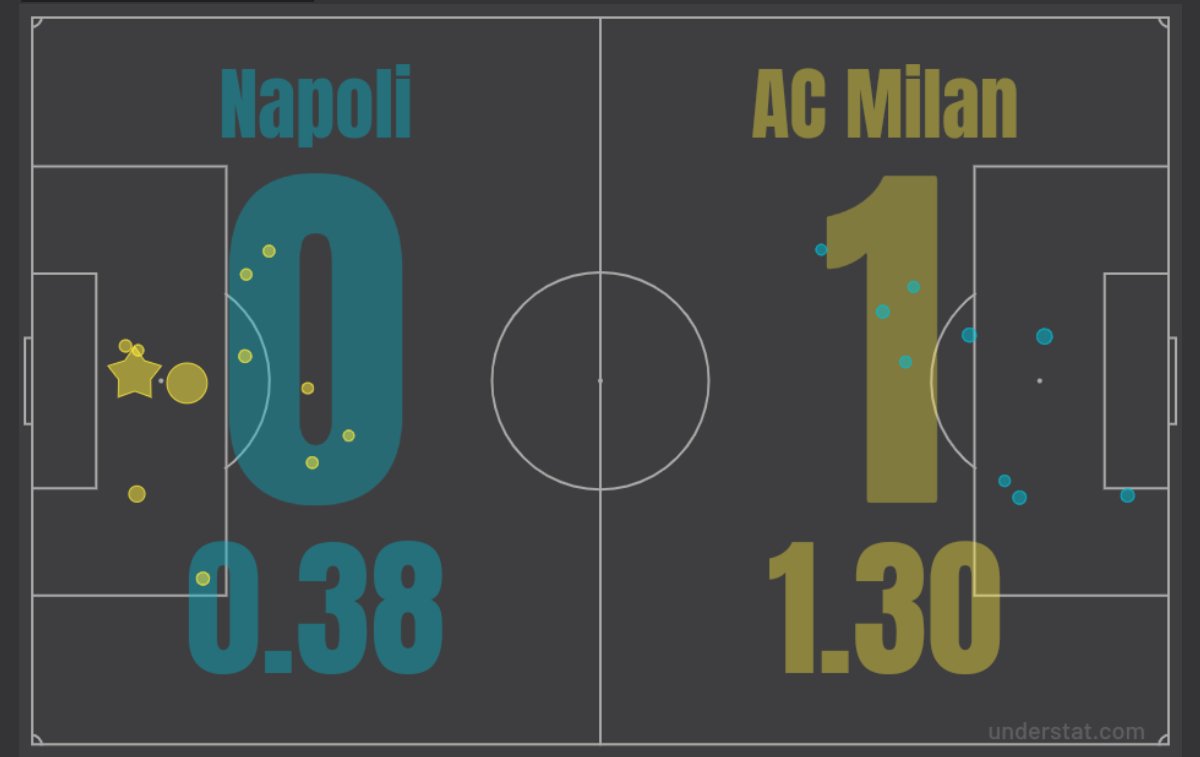 A metric used to measure pressing is PPDA (Passes Per Defensive Action). Napoli's PPDA stood at 8.43 while Milan had a PPDA of 12.96. This could be due to Milan sitting back after the goal was scored. Milan tried to sit back and counter Napoli, having over 40 minutes to defend after taking the lead.
Conclusion
It was a first win for Pioli over Spalletti in a game very beautifully set up by two astute tacticians. Although it was a low goal-scoring affair, both teams pressed well and attacked, but the 35-year-old Giroud was the different on the big stage again.