AC Milan managed to put themselves top of the table for the time being as they ran out 1-0 winners against Sampdoria at San Siro early on Sunday afternoon.
In the end it was a combination between Mike Maignan and Rafael Leao – which featured a pass over 75m from the goalkeeper – that was the difference maker as the Portuguese winger moved into double figures in goals for the season so far. Below is a tactical analysis of the win…
Lightning strike
The big difference between this game against Sampdoria at home and the ones from the previous two seasons which features costly draws is that the Rossoneri were able to break through their last line of defence quickly and thus negate the away side's entire game plan.
The play that created the goal was quite familiar too. Those of you with a good memory might remember how Maignan sprayed a long ball to Davide Calabria in the 1-0 win at the same opponent Samp in the opening game of the season, with the full-back then finding Brahim Diaz for a first-time finish.
Then there was the opening goal against Lazio that served a similar purpose: to stretch the defensive line of a side that were determined to try and stay in the game as long as possible by sitting deep, compact and looking to frustrate.
In the case of the goal against the Biancocelesti, it was just another example of the fact that Milan had worked on going long and direct, looking to catch their opponents early on through a moment of disorganisation, and with the pacey and technical Leao running off the shoulder of defenders it causes problems.
Fast-forwarding to the win over Sampdoria, and the plan worked again. This time it was Maignan and not Romagnoli who was given time to survey the field ahead of him to see if a quick route to the Samp half was available, given time to do so by the fact the visitors did not commit to a full press and therefore he still had several passing options.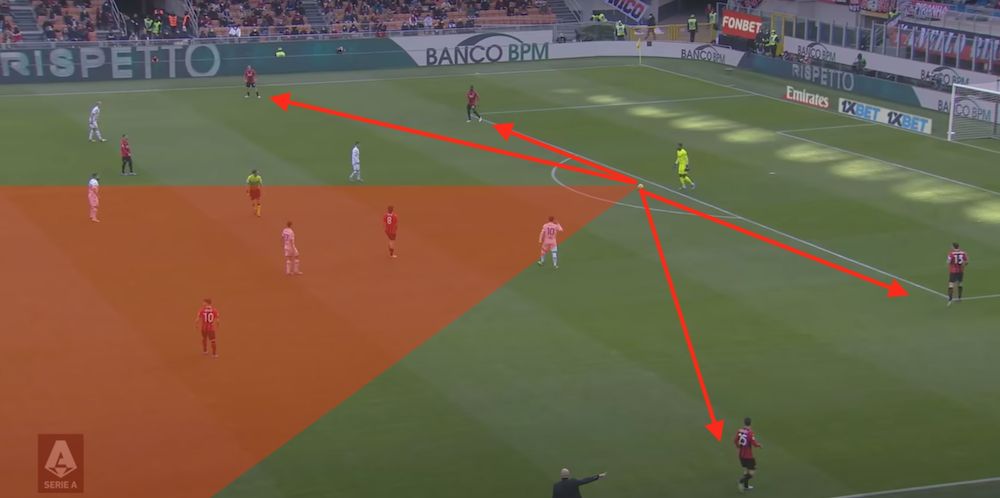 What Milan have in Mike Maignan is a goalkeeper with incredible distribution, and in this case he was looking to land a pass from over 75 metres away in behind the Blucerchiati back four, ideally springing Leao into an isolation in transition against right-back Bereszyński.
As seen below with the ball a few yards from landing, it worked a treat. Sampdoria's rearguard are all at see with Leao ready to latch onto the ball and a huge space between the back line and midfield demonstrating how any structure was wiped out in a matter of a few seconds.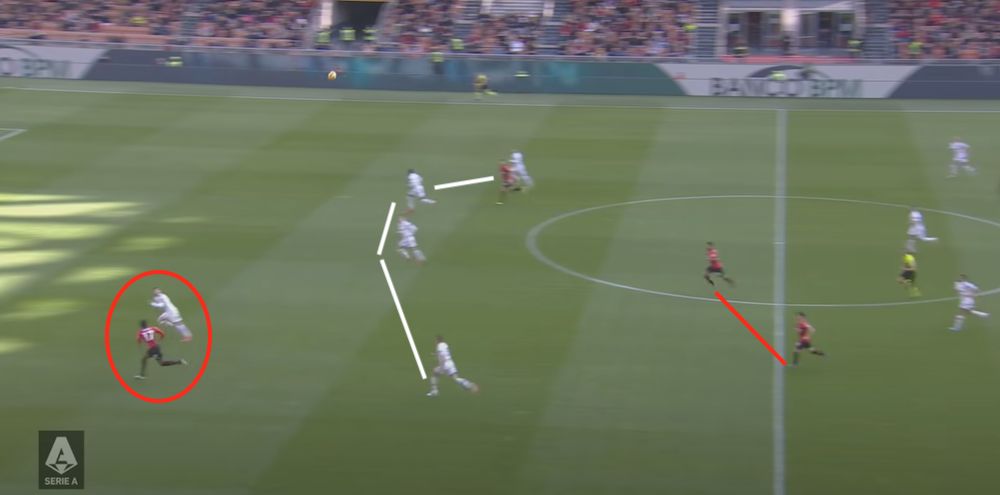 The actions of Bereszyński are what allowed Leao to get through on goal. The Polish full-back might well have been expecting his opponent to take a touch towards the byline or to cut inside and get more central on goal (as seen by the blue arrows), but instead the former Lille man gets his head down, bursts onto the ball at pace and glides around him. Smart work.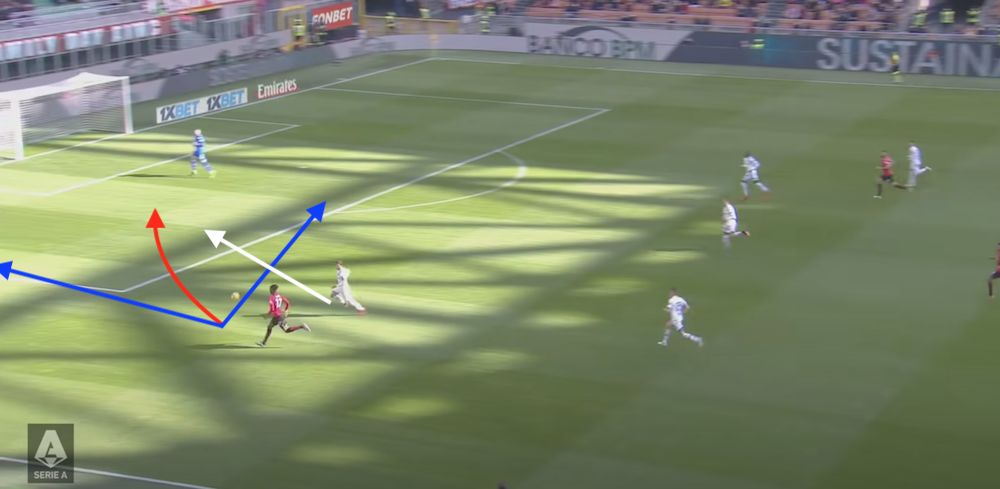 Interchanging roles
If they play for the first goal was drawn up at the training ground, there were further indications of set plays looking to catch Sampdoria out as they attempted to sit deeper having been rocked by Leao's opener.
In this sequence, Brahim Diaz is carrying the ball in transition and with Leao looking to receive the ball Giampaolo's side begin to spread over to the left side to avoid a repeat. This frees Giroud up who is able to nestle in at the far post and make himself available for a cross.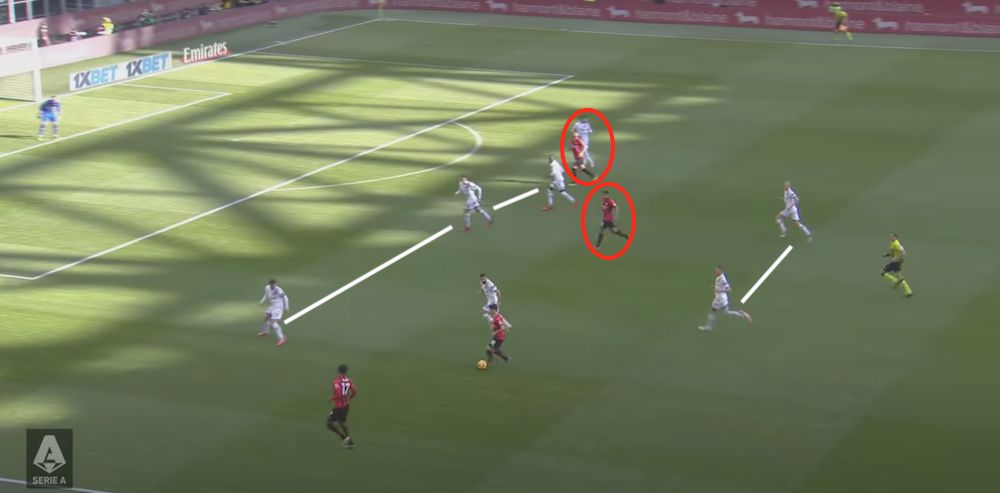 It is the positioning of Junior Messias that draws intrigue though, because he operates very centrally and remains so even when the cross is drifted over, implying that there is an instruction to stay in and around the box for second balls. In the end, Falcone produces a great save.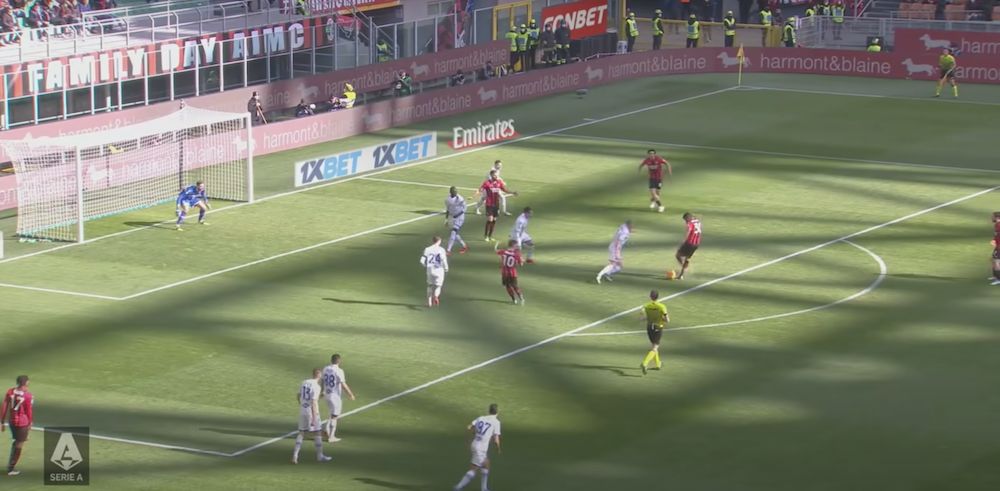 Chances keep coming
To say Sampdoria were underwhelming after kicking off Giampaolo's second stint as head coach with a 4-0 win over Sassuolo would be an understatement. They offered very little threat from an attacking standpoint and seemed to suffer lapses in concentration when looking to keep out a second goal that would have ended the contest.
A simple 1-2-3 passing move (as highlighted below) was enough to prise the away side open, with Messias finding space on the right edge of the box thanks to Milan having three other players inside the area which created gaps down the sides.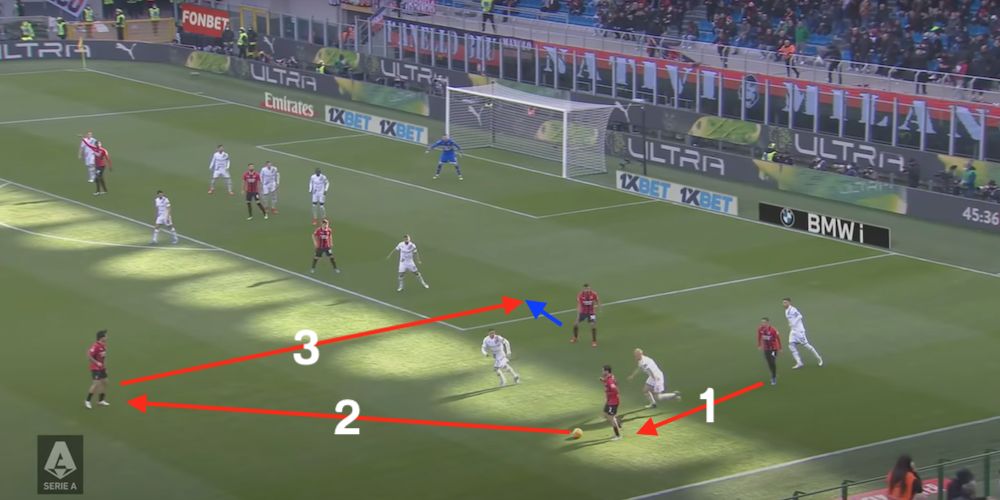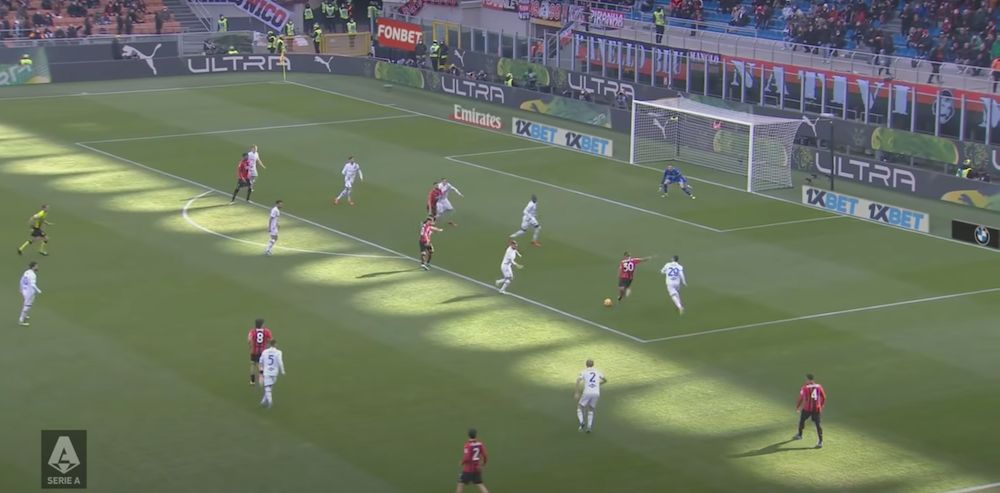 Getting on the wrong side
Overall Alessandro Florenzi did a fine job of filling in while Theo Hernandez was out through suspension. Generally speaking though full-backs – especially those who have shown versatility before like the Roma loanee has – will be competent from a positioning and covering point of view on either flank.
The difficulty often comes when they are squared up by a winger and have to try and invert their style of defending in isolation. Antonio Candreva is a veteran winger who will have known to try and target this, sizing Florenzi up who should have covered the inside channel given Romagnoli and Tomori were occupied.
Instead of showing Candreva outside (blue) he decides to step up and try take the ball off him (red). The problem is that he is breezed past because he makes the tackle like a right-back would, i.e. showing him to the left.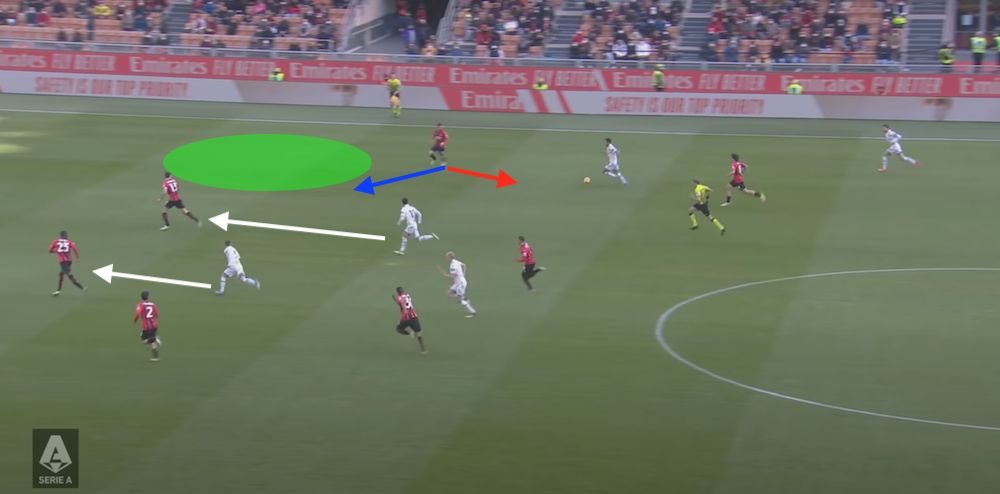 This causes a moment of panic as Candreva drives towards goal with three men level or ahead of him but ultimately his shot – the only one on target for Samp in the game – was saved easily.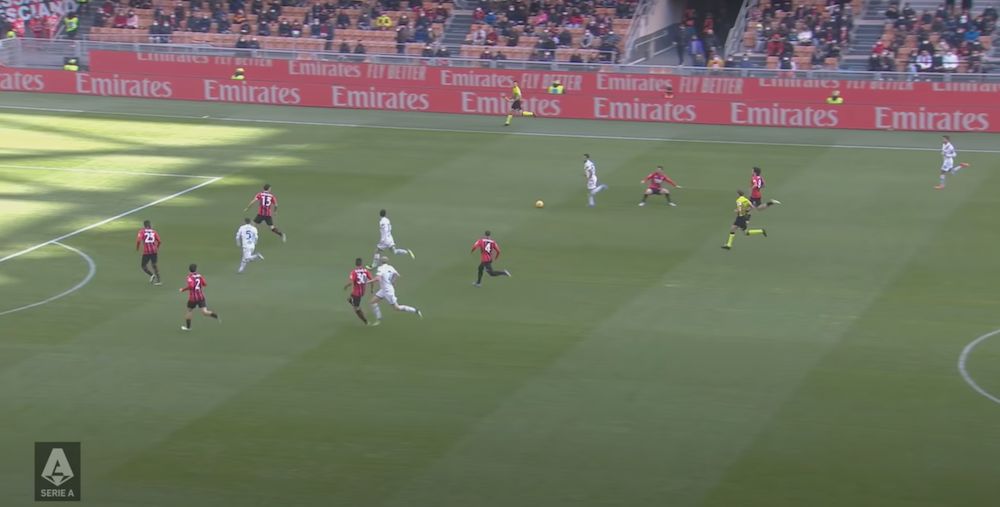 Squandering chances
If Milan were at their lethal best against Lazio in midweek, the same can't be said for Sunday. In the opportunity below Rebic stands up a cross to a completely unmarked Giroud at the far post, another sign that Sampdoria were tiring and not sticking to man coverage, but his acrobatic volley from a few yards out failed to double the advantage.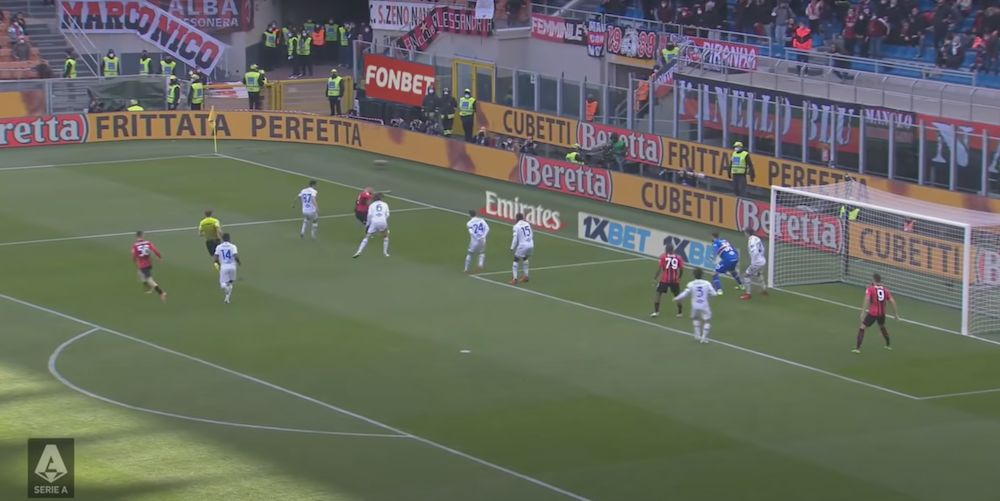 Then there is one of the two times that Milan managed to win the ball back and push forward to create an overload on the counter. Below the obvious choice seemed to be to slide Giroud through though instead Rebic was put in behind yet Falcone saved. It should have been more than one.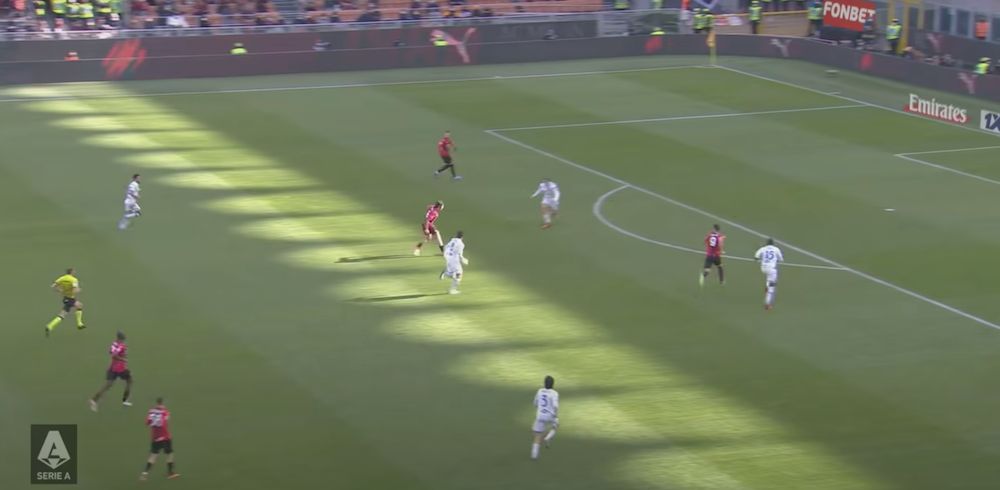 Other notes
➤ Both managers made triple subs in the second half. Giampaolo threw on Augello, Vieira and Ekdal and it was a move imitated immediately after by Pioli who took off Diaz, Messias and Leao for Kessie, Saelemaekers and Rebic, ensuring there would be no gulf in energy.
➤ Brahim Diaz continued a theme spotted against Inter and Lazio by taking up a position between the lines rather than dropping deep and/or following the ball, thus allowing himself some space to operate. However, this contributed to him being a bit less effective against Samp because the defence and midfield were more compacted thus reducing the space available, and he was watched closely.
➤ Milan seem to be trying some different set piece routines to vary their threat, including balls to the far post for knock-downs and some short sharp passing plays (as seen above for the Messias chance) rather than whizzing balls in for near-post flick-ons.
The data
Despite the absence of Theo Hernandez and thus removing the chemistry he has with Leao, Milan still attacked mostly down the left side. This was helped by Brahim pulling over at times to try take up pockets of space near the corner of the box, and also through Bennacer's ball progressions.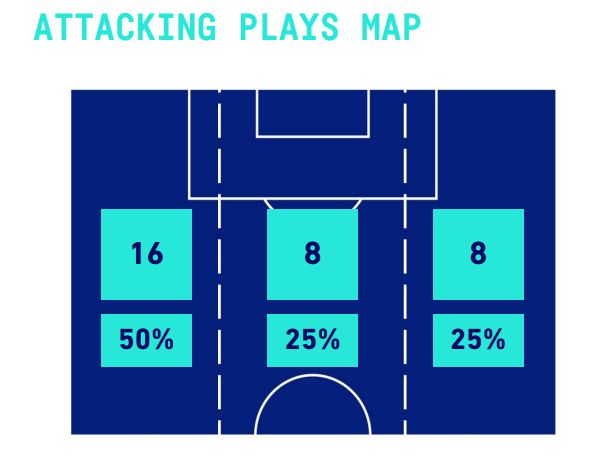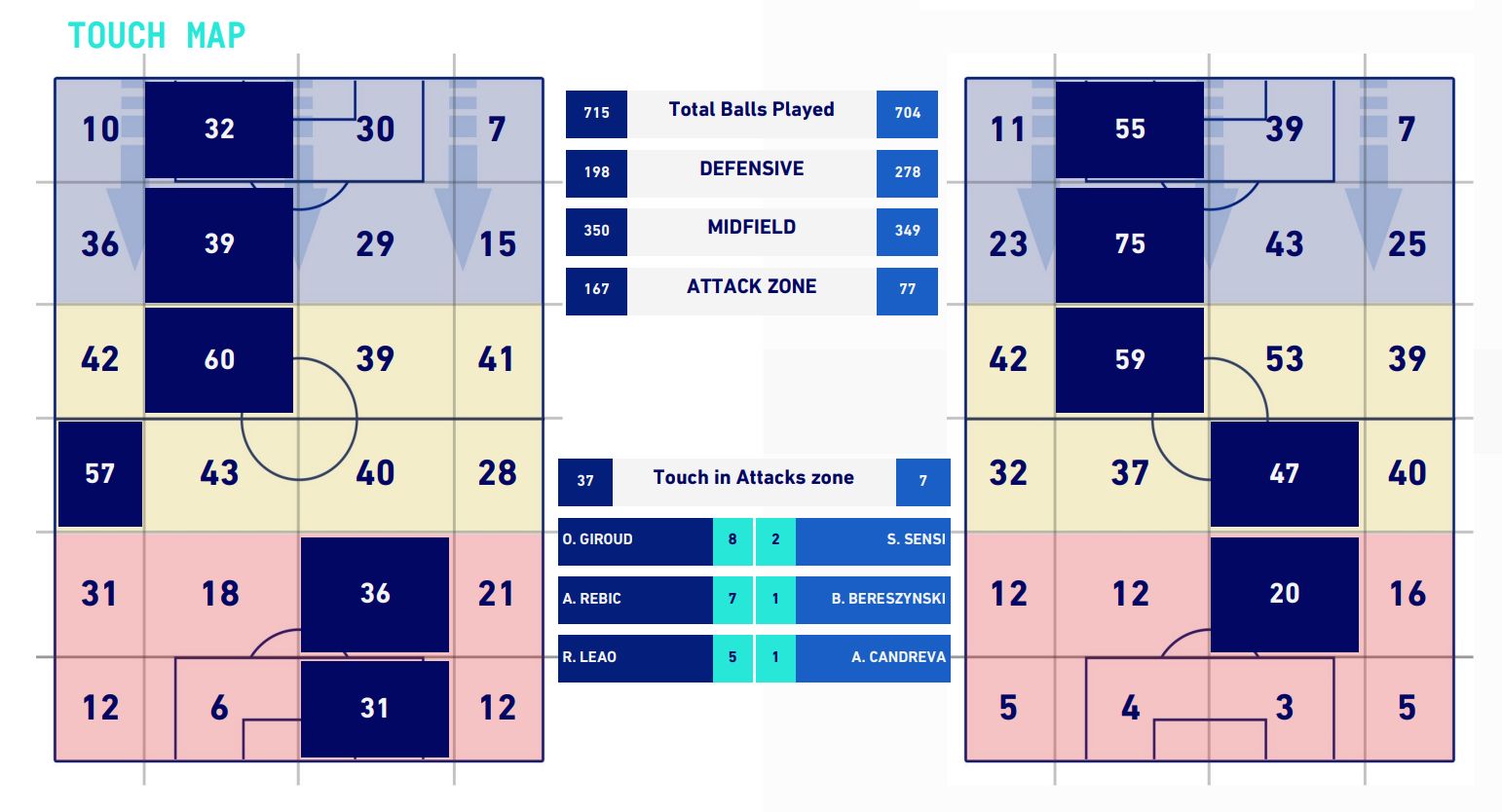 The noticeable thing about the touch map above is that Milan controlled virtually the midfield and attacking thirds with 90 more passes in Sampdoria's defensive third than vice versa.
Also, Stefano Sensi had the most touches in Milan's third for Samp with just two, while Giroud had 8 for the Rossoneri, Leao 5 and even the substitute Rebic had 7 showing a clear presence in the attacking areas.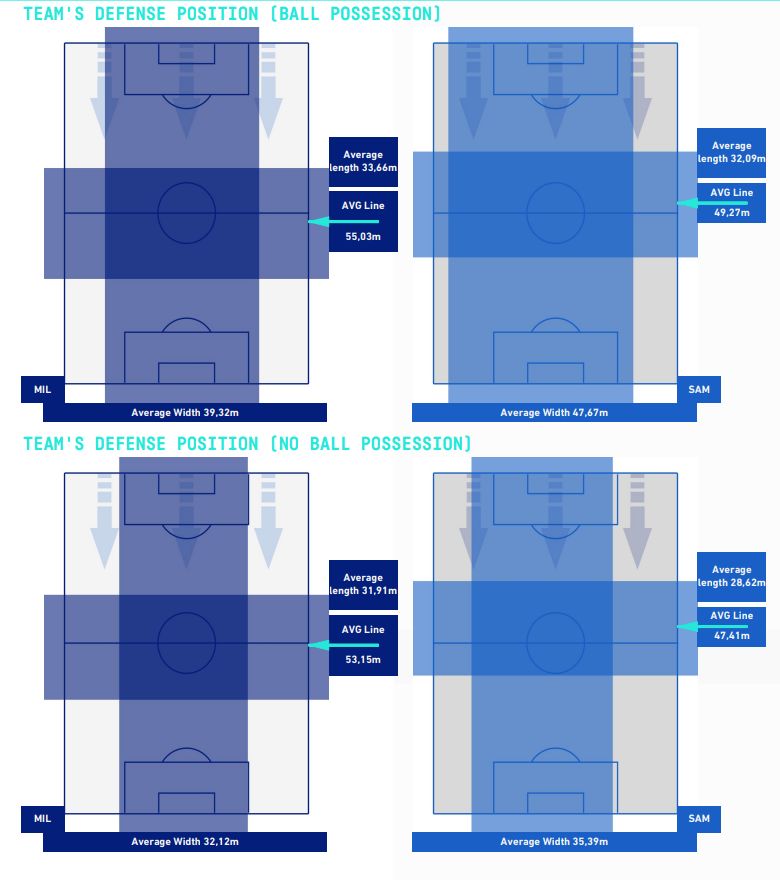 As seen above, Milan played a line that was on average 6 metres higher than their opponents both in and out of possession, which is often closely linked to holding key territorial advantages and dominating the midfield.
Looking at average positions, Milan were very uniform overall barring the obvious stand out which is Leao playing almost as high up as Giroud while Messias played narrower and more alongside Diaz. Sampdoria's 4-4-1-1 yielded little.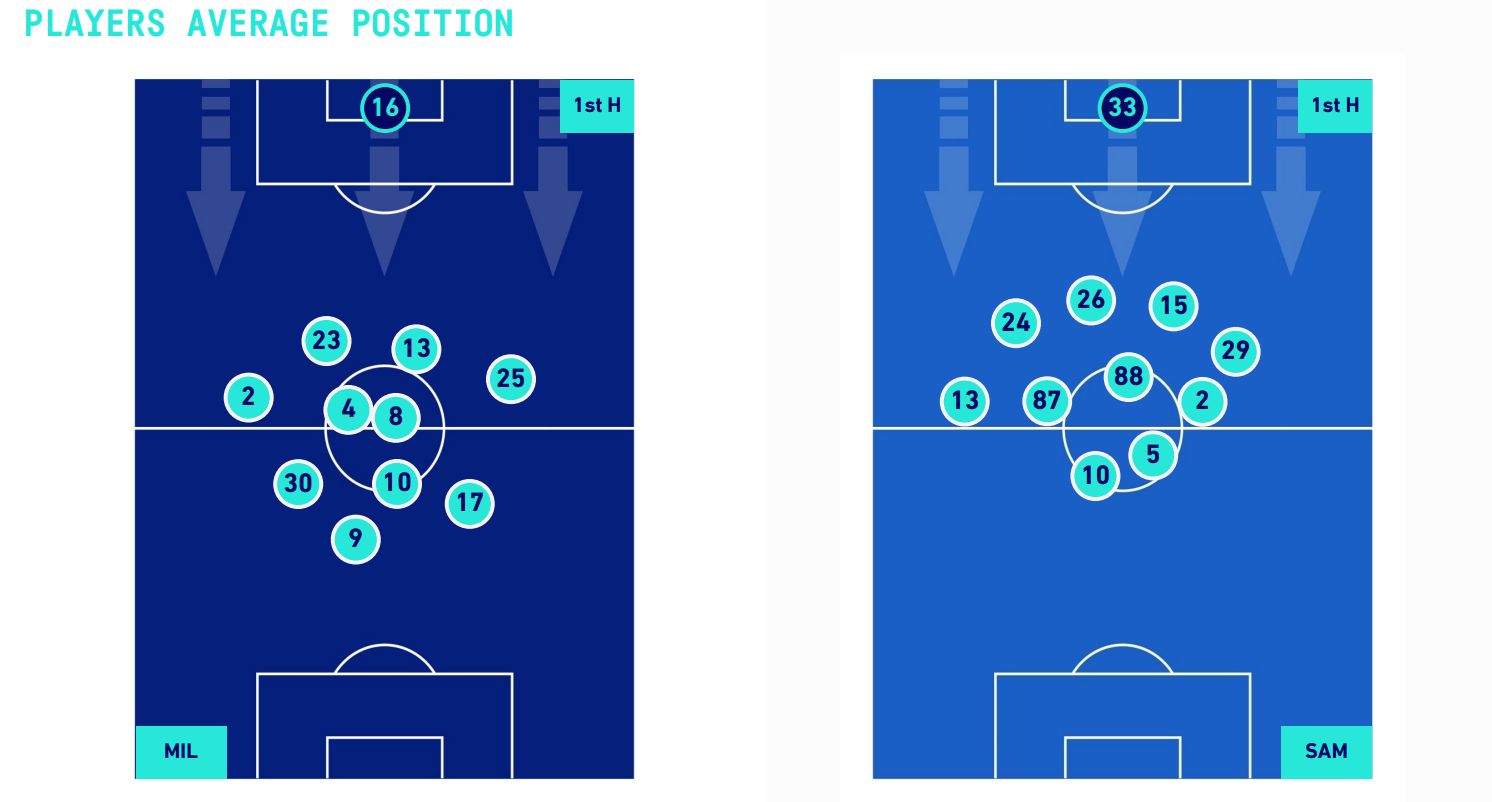 Conclusion
This is a game that Milan might well have drawn last season, when they at times lacked the patience and the ingenuity to strike early against sides who were going to frustrate, but the early goal conditioned a comfortable afternoon and led to a big three points.
It could have been more if we are being critical, especially given that a game is never dead at 1-0, yet it was a solid and organised game plan.
---
READ MORE: €300k well invested – Milan set to reward Kalulu's rise with a new deal