After 11 years of waiting, AC Milan can finally call themselves the champions of Italy again after they romped to the result they needed against Sassuolo on Sunday.
Milan went into the game needing just one point against the Neroverdi to secure a 19th Scudetto, but they were 3-0 up after 36 minutes and that ultimately put the issue beyond doubt. Below is a tactical analysis of the first half, the one in which all the action happened and was among the best of the season…
Sassuolo's approach
Sassuolo played a 4-3-3, which was shaped as a 4-5-1 as part of their defensive formation and an asymmetric 3-5-2 as their attacking system.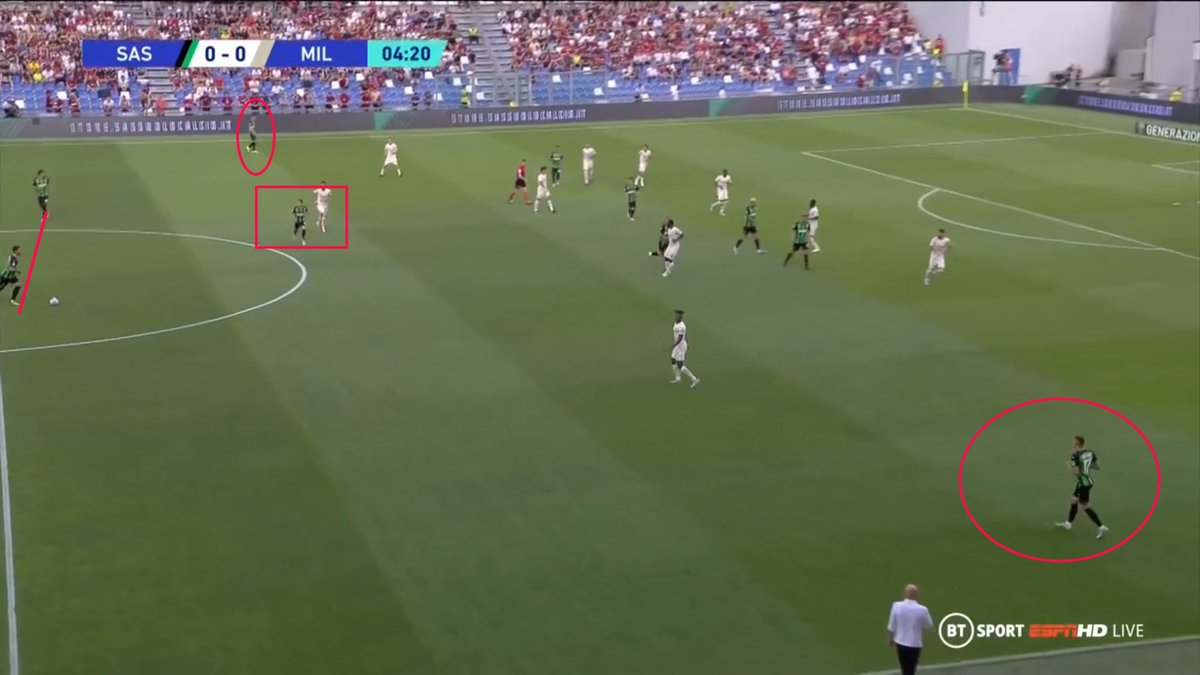 Sassuolo used a single pivot instead of a double, so they had two box-to-box players either side, hence they had advantage in the half-spaces and wide areas. Sassuolo would press Milan to the wide areas and try to outnumber in order to win back the ball.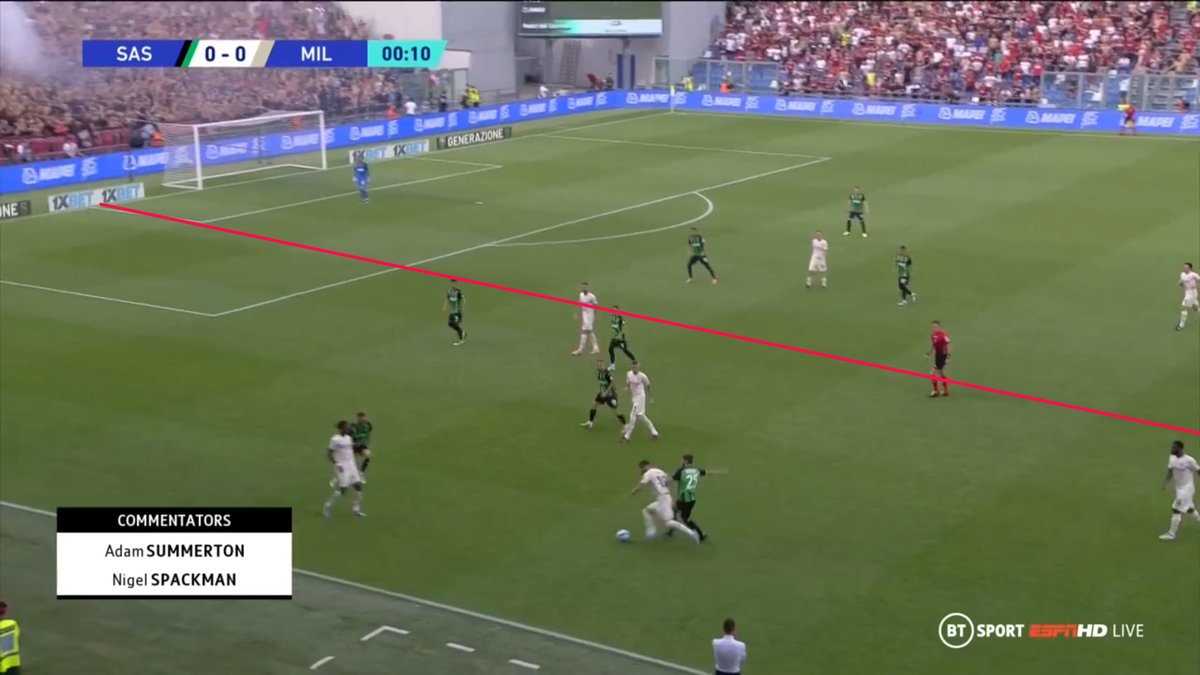 They played a high line and formed small passing triangles towards the half spaces trying to break the press of Milan.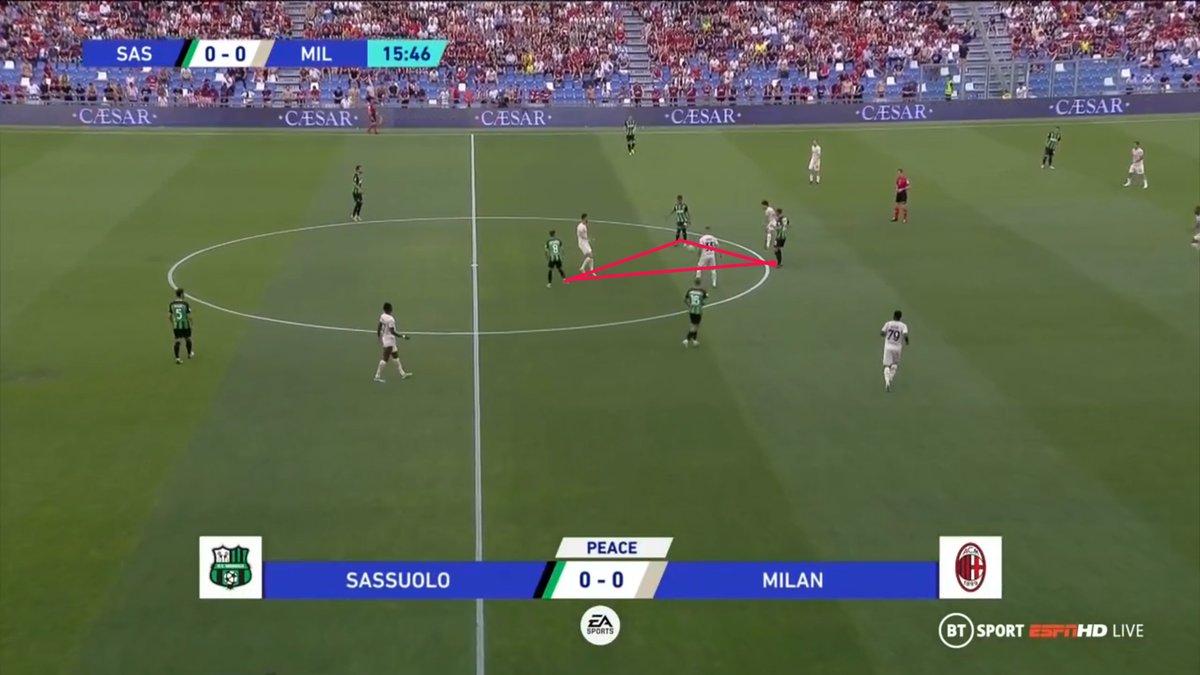 The wingers would tuck inside allowing the FB's to overlap while the mezzala players would make runs.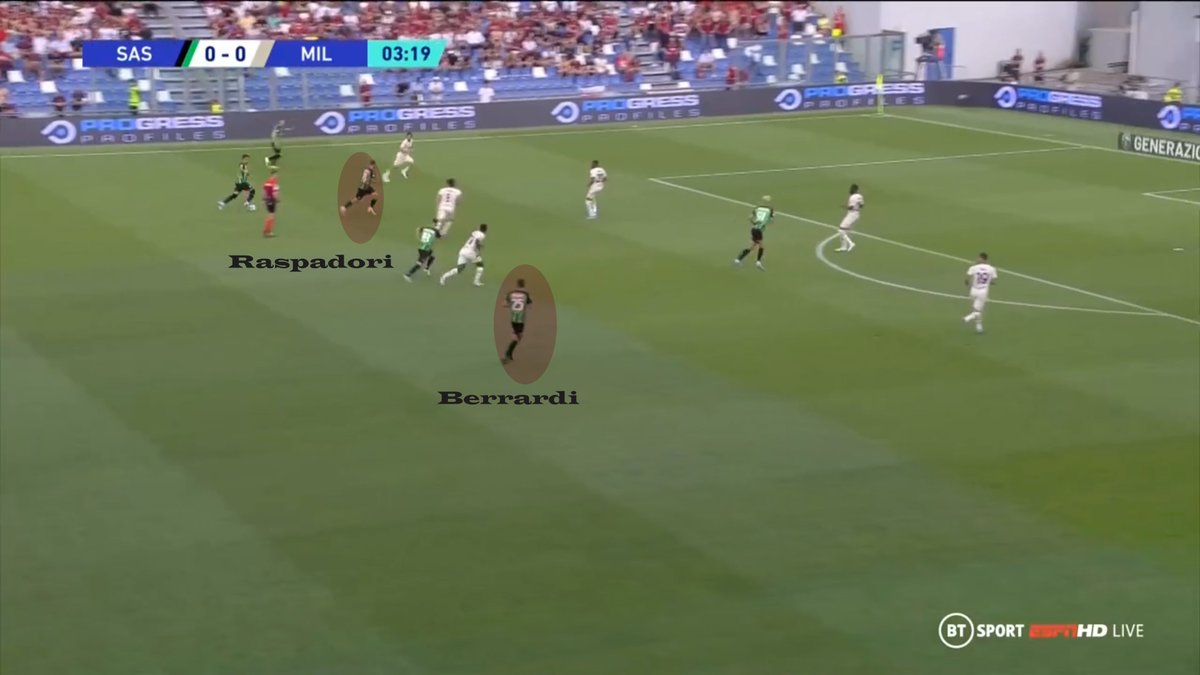 One important part of Sassuolo's style of play was how Dionisi would have his two centre-backs come narrow when they have the ball in the opponents half and use one centre-back (usually Ayhan) to switch wings.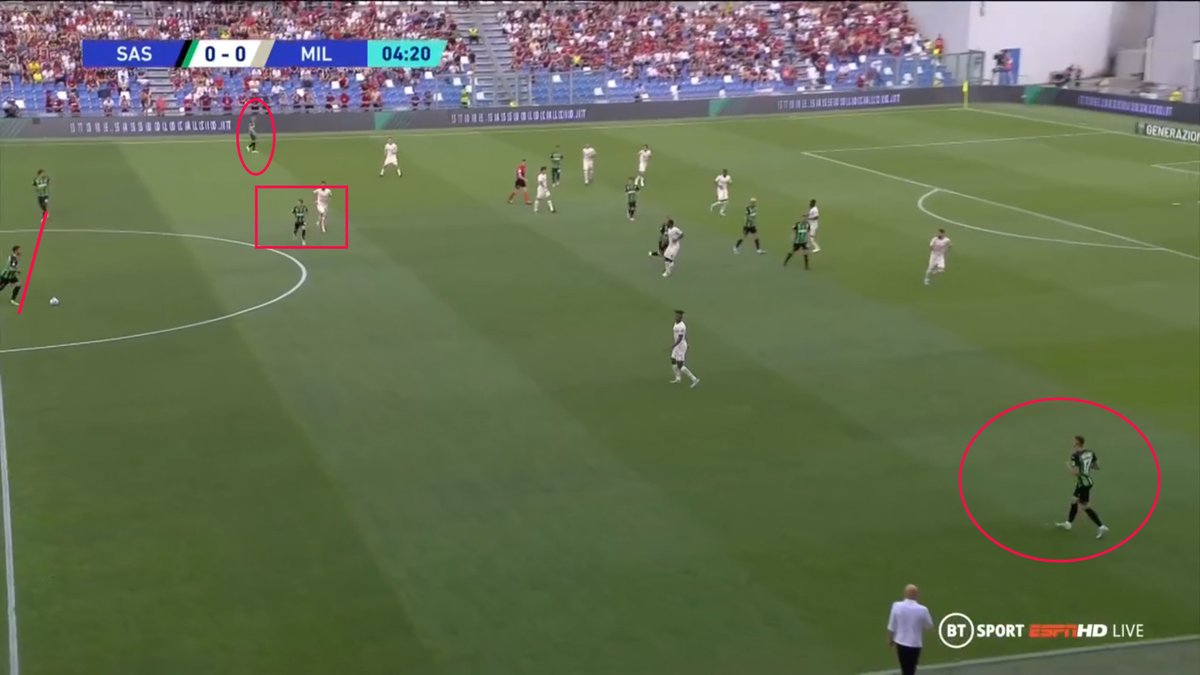 One such switch created a lot of space for Muldur to run into on the left side with Leao and Theo Hernandez tucked inside.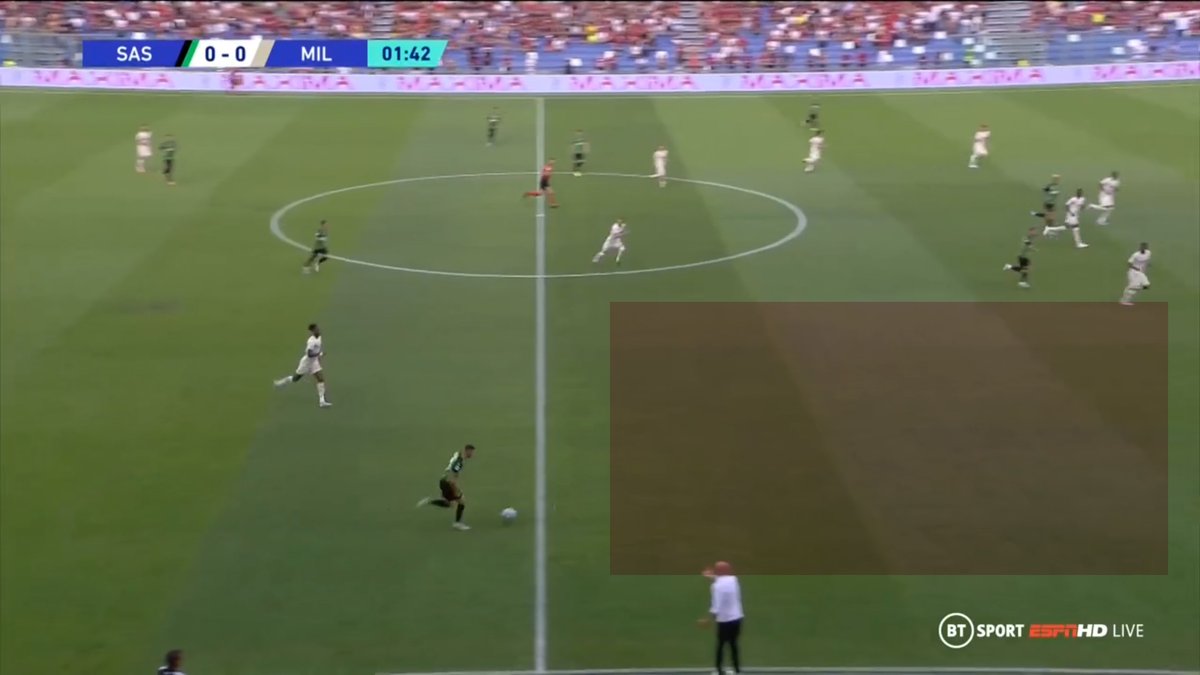 The key difference
The point of difference and the most crucial one was how both side pressed. Milan pressed very high up the field, restricting the size of the pitch as we can see how high up Tomori is.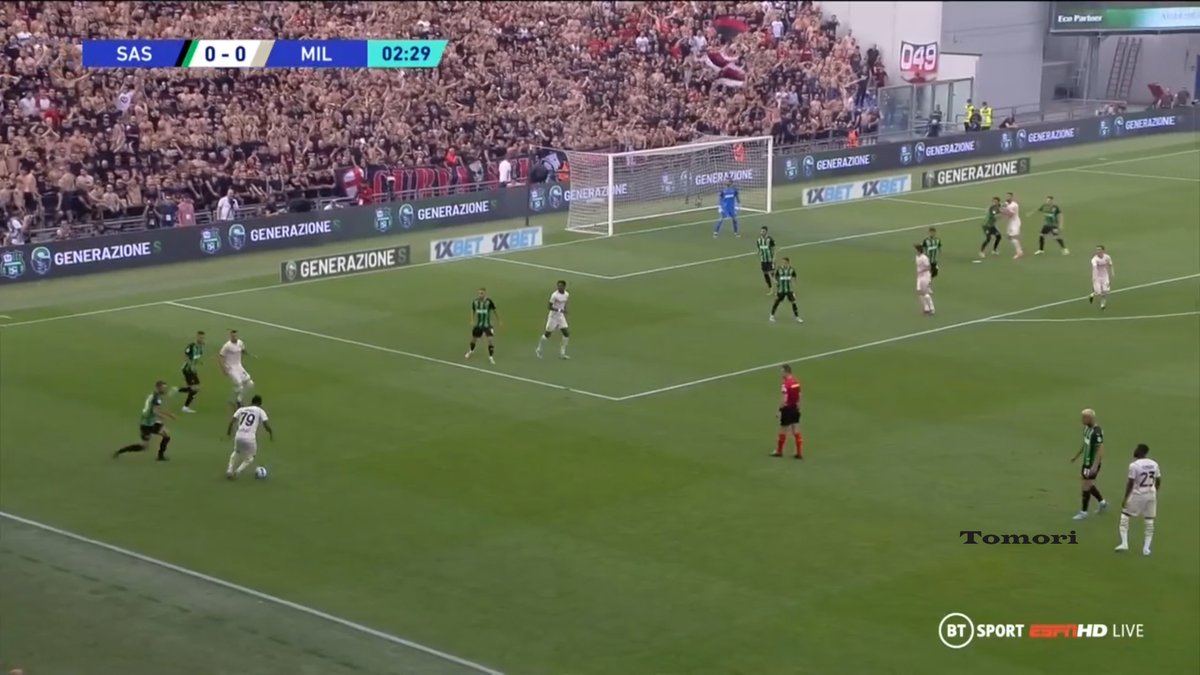 Sassuolo used man marking and marked players high up the field with Pioli asking Kessie to act as a left centre-back and push Theo forward, targeting Berardi.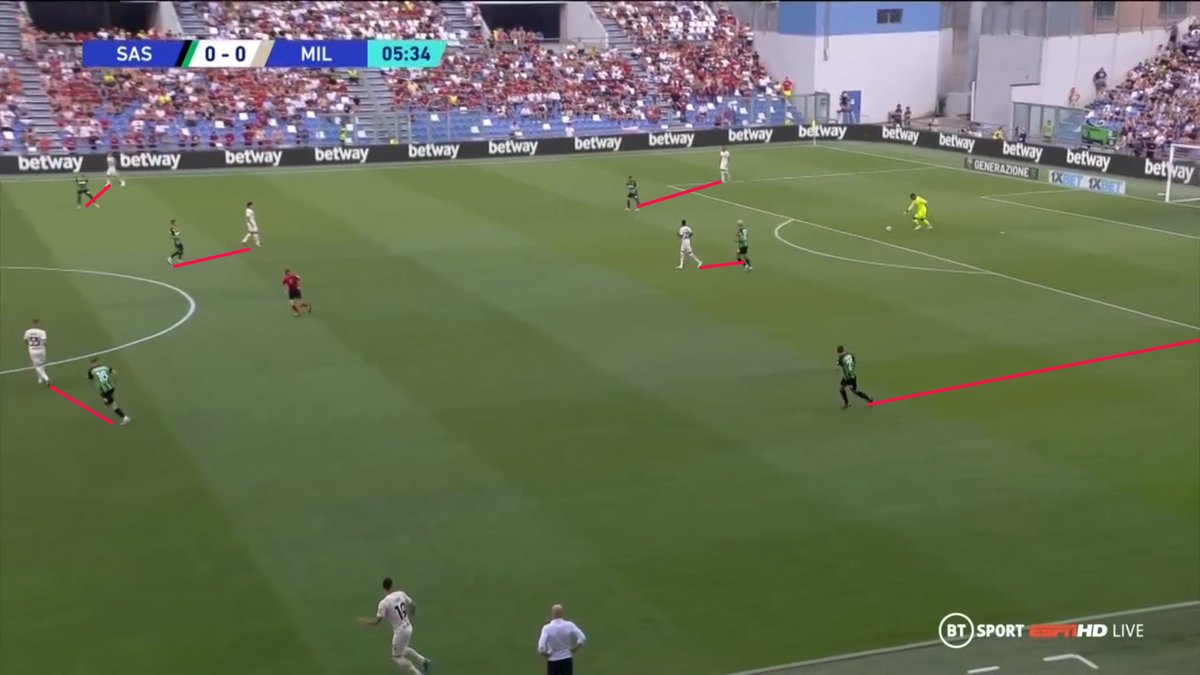 Once Milan had created a good chance for Giroud and Tomori saw an effort cleared off the line, confusion arose in the home side's ranks. Berardi below can be seen in no-man's land not picking his marker Theo and not tracking back creating a 2v1 on Muldur with Leao.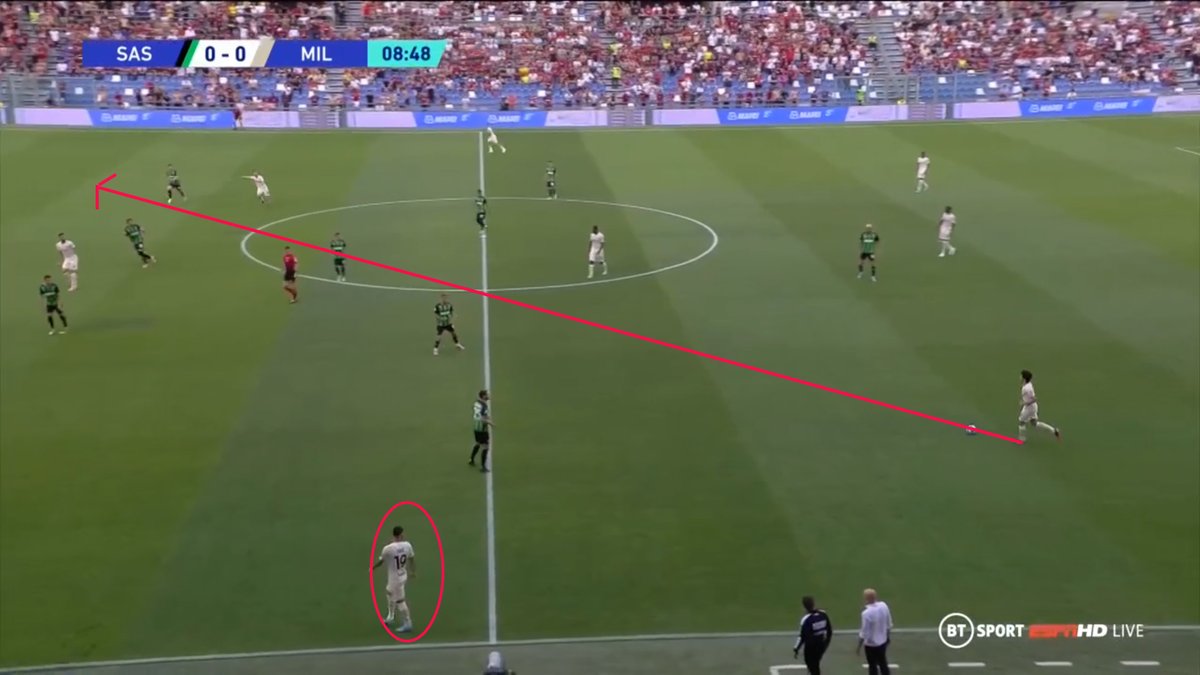 Once again we see here Berardi not picking up Theo and this time the Frenchman whipped in a cross which missed Leao by a few inches.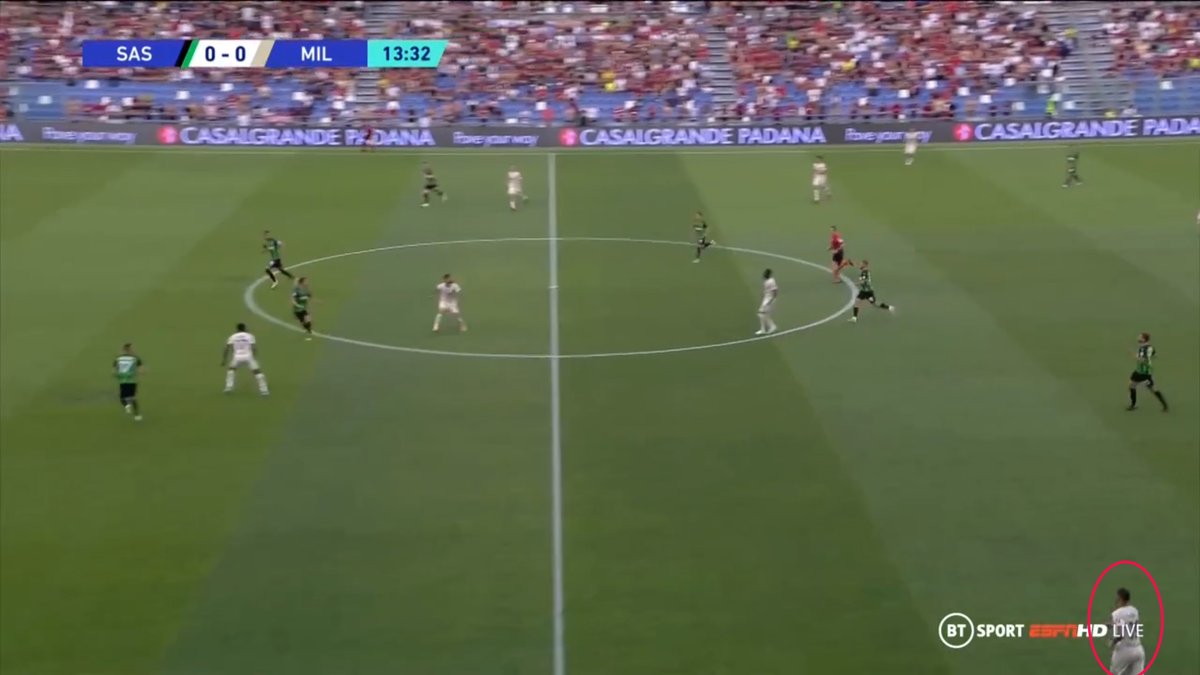 So it was clear, Sassuolo used a man-oriented press while Milan used a more aggressive version of the pressing having one man press the ball carrier while others marked the player's passing options.
If anybody wants to see the genius of Pioli here is a real example. As mentioned before, Dionisi uses Ayhan as a way of switching play or creating chances from the back. Milan smartly covered all his options.
Meanwhile, Pioli sensed Ayhan's slight hesitation and screams at Leao to press him. His only outlet was to try a long pass to the left-back. As we know Leao pressed him, he lost the ball and Milan scored the goal.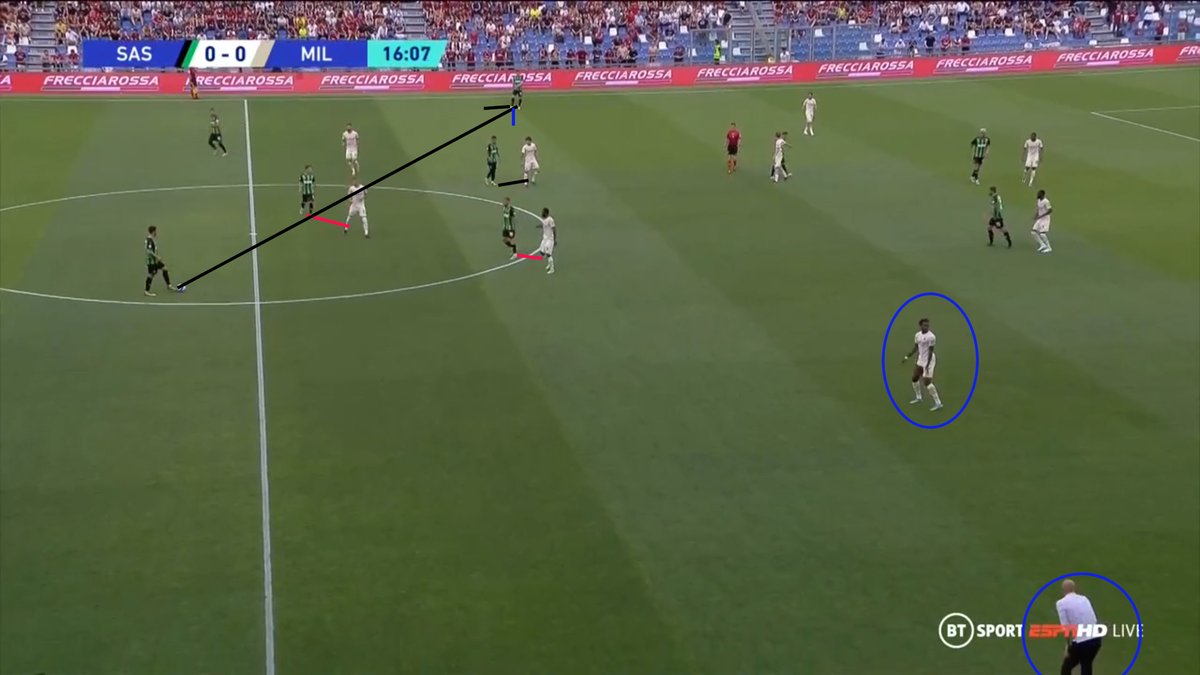 The third goal is similar. Krunic pressed Maxime Lopez physically while Saelemaekers and Tonali covered his passing options. He could not turn to Consigli because Giroud is covering him. Lopez hesitates for a second and Krunic steals the ball. Milan score, 3-0.
Conclusion
It was a long arduous season for the Rossoneri, but the end prize – a well-deserved Scudetto – makes it absolutely worth it. As much as this was a 'tactical masterclass' from Pioli this was a clear show of character and grinta from the players too.
The thirst to prove naysayers wrong had them stop at nothing, not even despite leading 1-0, instead going on to clinch the game by half-time. That is a very big winning mentality.