AC Milan managed to snatch their second successive win in Serie A thanks to a 3-1 victory over Chievo on Sunday night.
The Rossoneri are now unbeaten in the last five Serie A games and Vincenzo Montella seems to have finally taken the right path towards an attractive style of play which is combined with positive results. AC Milan have 15 points in Serie A and share the second spot with AS Roma. Both sides are five points behind Juventus with Montella's side that will face Max Allegri's squad next Saturday in a key Serie A clash.
Our pundit Federico Montaldo has analyzed yesterday's Chievo clash to highlight the strong and weak points of the Rossoneri squad.
Ball possession is known to be one of Montella style's cornerstones. AC Milan have been registering growing figures in terms of ball possession in the last few Serie A games. 47% against Sampdoria, 52% against Lazio and Sassuolo, 55% against Chievo, yesterday night.
Now, we all know that keeping the ball possession does not automatically mean to win games, but it is a key factor for Montella's football.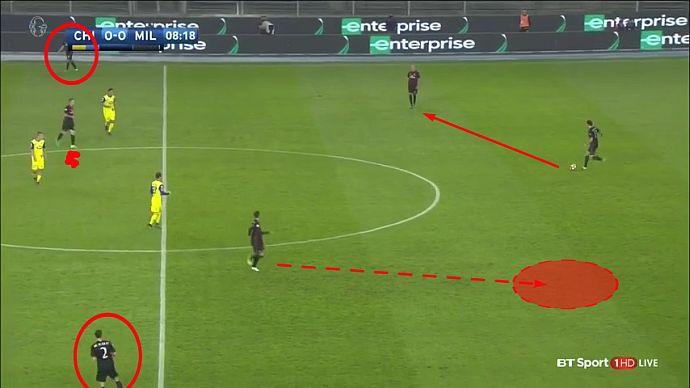 Against Chievo, Alessio Romagnoli, and Gabriel Paletta were the players who registered the most passes. As you can see in the picture above when the two centre-backs have the ball possession, the two fullbacks run forward to reach the same line of midfielders with the playmaker – Locatelli – who slips between the two centre-backs creating a three-man defence.
Milan also try to build attacking actions switching the play. This strategy works out especially against teams that sit deep like Chievo. Montella's lads have been reaping the rewards of putting this idea into practice and managed to score many goals through these kinds of attacking actions.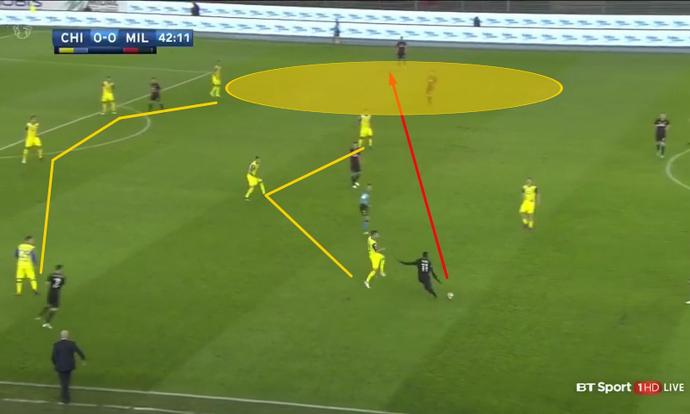 AC Milan's attack is one of the most prolific of the entire league with 15 goals scored so far (two less than Juve and 4 less than Roma). The Rossoneri made 16 shots against Chievo yesterday night but, on the other hand, defenders still allow too many goal chances to their opponents. Chievo registered nine shots yesterday and there is still a lot of confusion when opponents raise the rhythm and push forward trying to score goals, like Chievo did yesterday night when they were just one goal down.
There is still plenty of room to improve, but Montella seems to have finally taken the right path.
Federico Montaldo, translated and adapted by Lorenzo Bettoni, via calciomercato.com